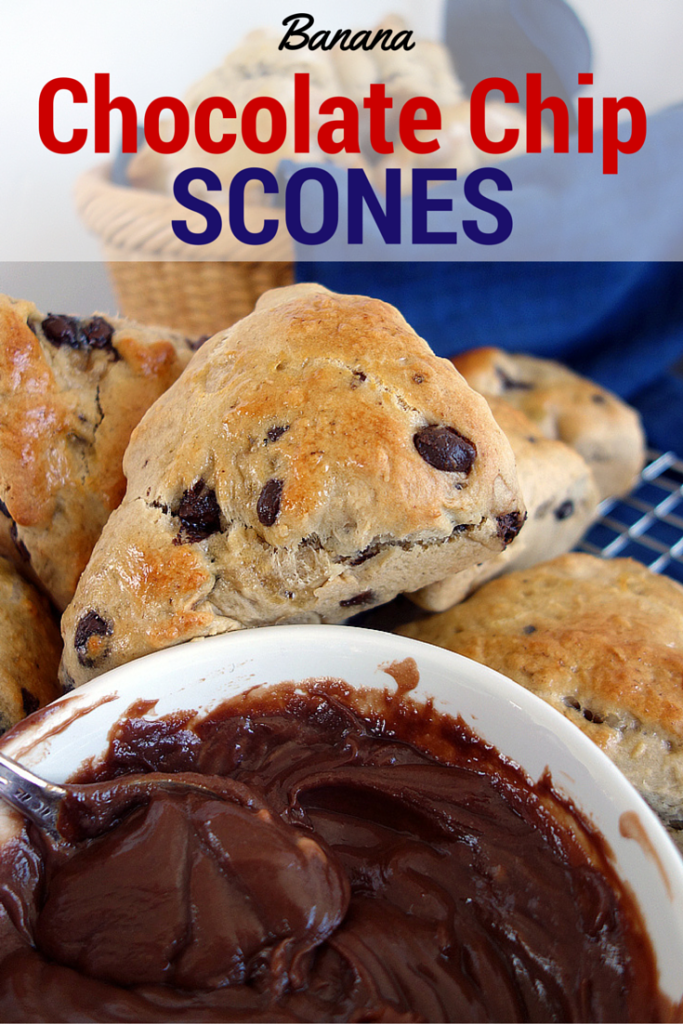 Banana Chocolate Chip Scone Recipe
Author: Sunny London
Prep time: 20 mins
Cook time: 10 mins
Total time: 30 mins
This recipe combines traditional English scones with banana and chocolate. It works well with a seasonal afternoon tea menu.
4 cups all-purpose flour (have extra to dust rolling pin and biscuit cutter, plus to add if dough consistency is too sticky)
½ cup sugar
2½ teaspoons baking powder
1 teaspoon baking soda
¼ teaspoon salt
12 tablespoons cold butter (1½ sticks) or margarine, grated or diced in to small cubes
2 small bananas, very ripe and mashed
½ cup low-fat Greek yogurt, or regular
1 cup milk chocolate or dark chocolate chips
1 egg beaten with a teaspoon water (glaze)
Chocolate Cream Cheese:
1 cup milk chocolate or dark chocolate chips
¼ whipping cream
1 package (8 ounces) whipped cream cheese
Preheat oven to 425 degrees.
Grease or spray scone baking pan and/or cookie sheets.
Make Chocolate Cream Cheese: Add chocolate and cream in a small saucepan over very low heat, stirring until chocolate is smooth and mixture is melted. Set aside and cool to room temperature. Stir the mixture into cream cheese in a small bowl. It may be covered and refrigerated for several days. Serve at room temperature.
To begin making scones, use a sifter to mix first five dry ingredients together in to a food processor fitted with a metal blade or in a mixing bowl. Process or mix at a low speed, or until combined.
Add cold butter cubes and blend until mixture resembles coarse crumbs.
Add banana, yogurt and chocolate chips. Mix until all dry ingredients are moistened.
When dough is sticky to touch but manageable without overtaking your hands, remove it to a floured surface like a marble slab.
If using a scone pan, flatten the dough a bit with your hands and then pull sections off to half fill a wedge in the pan. Repeat until pan is full. Take remaining dough and use a rolling pin to create a circle approximately ¾ inch thick. Using a 2-inch round, square or heart-shaped biscuit cutter dipped in flour, cut out biscuits. Place them about 1 inch apart on a greased baking sheet. Gather up the scraps of dough and pat them into a ¾ inch disk. Continue cutting and patting out dough until all dough is used.
Brush tops of scones lightly with egg glaze. Discard extra glaze.
Bake 7-10 minutes, or until scones are golden brown.
You may wrap scones well and keep overnight at room temperature or freeze. Reheat them at 350 degrees for 5 minutes or until hot.
Serve warm with Chocolate Cream Cheese.
Recipe by
Sunny in London
at https://sunnyinlondon.com/banana-chocolate-chip-scone-recipe/