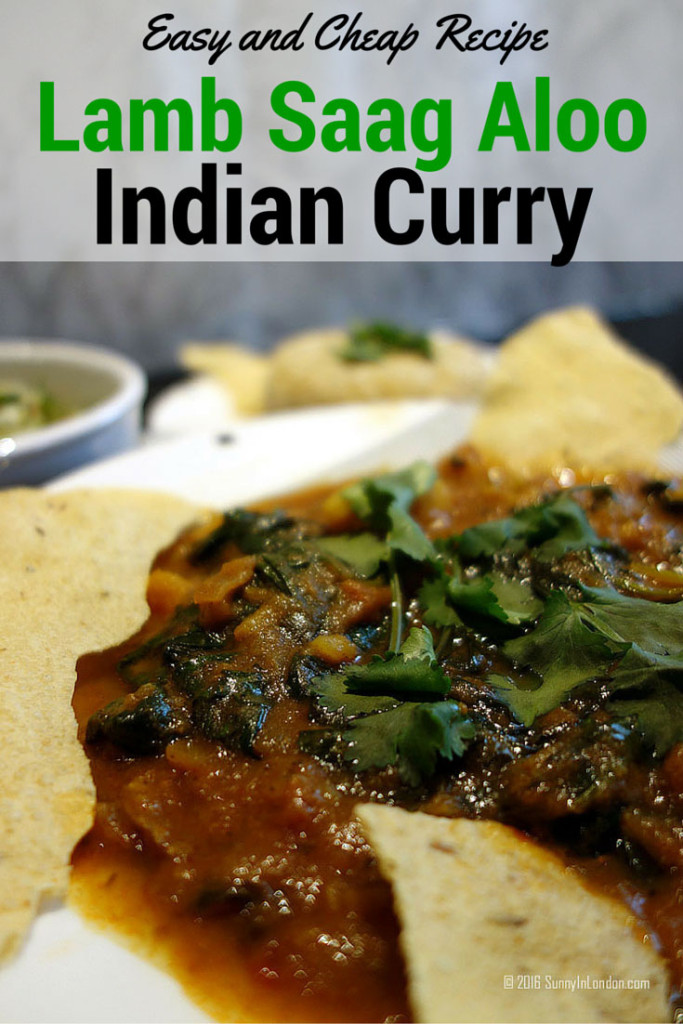 Lamb Saag Aloo Recipe (Spinach and Potato Curry)
Author: Sunny London
Prep time: 5 hours
Cook time: 45 mins
Total time: 5 hours 45 mins
This is a Londoner's easy recipe for delicious Lamb, Spinach and Potato Curry. The lamb needs to marinate 4-5 hours before serving.
21 ounces of cubed lamb (600g cubed lamb)
2 tbls tumeric (plus a tsp for cooking)
2 tbls ground cumin (plus a tsp for cooking)
7 tbls tikka curry powder
3 tbls organic rapeseed oil (plus 1 tbls for cooking)
5 New potatoes
1 tsp salt
½ white onion
3 shallots, diced
3 garlic cloves, minced
1 bunch coriander
1 bag of washed spinach leaves
24 ounces (2 jars - 350g) Keema Curry Base (or equivalent curry base)
9 ounces (250g) brown basmati rice or pilau rice
1 package papadum
To make marinade, add lamb to large bag and then 3 tbls rapeseed oil.
Seal plastic bag and massage meat for approximately 1 minute.
Add Tumeric, Cumin, and Tikka Curry Powder.
Seal bag and massage mixture approximately 1 minute.
Place in refrigerator for 4-5 hours before meal.
To prepare potatoes, peel potatoes and cut in half or quarters, depending on preference.
Place potatoes in medium size saucepot. Add water, salt,1 tsp Tumeric, 1 tsp Cumin. HEat until slow boiling, approximately 10 minutes. Strain and leave in saucepot to cool.
Approximately 20 minutes before cooking meal, remove lamb from refrigerator to bring to room temperature.
Add 1 tbls of rapeseed oil to medium saucepot. It should be just enough to cover bottom of the pot.
Add lamb and brown, using a wooden spoon and stirring constantly (approximately 6-7 minutes).
Add garlic, shallots and onions to lamb in saucepot.
Once onions are soft (approximately 3 minutes), add the jars of Keema curry base. Fill half of one empty curry base jar with water and add to saucepot.
Add potatoes.
After simmering lamb for 30-35 minutes, add the spinach leaves and chopped coriander.
In a microwave, prepare the rice according to package instructions.
Serve the Lamb Saag Aloo immediately with rice and papadum.
Recipe by
Sunny in London
at https://sunnyinlondon.com/lamb-saag-aloo-recipe/