Each time I pack my blogger photography kit when I travel from London to my home state of Florida, I reflect back on the days when worrying about how many heels I could shove in to my carry-on suitcase was my biggest travel dilemma.
As I enter my third year of blogging, my blogger photography kit is overwhelming.
It nearly takes my entire suitcase! Even though I am not happy about all the gear I have to use when I want to blog, vlog, or broadcast livestream video on Facebook, I value every single piece of equipment.
So, that being said, what are some of my vlogging essentials?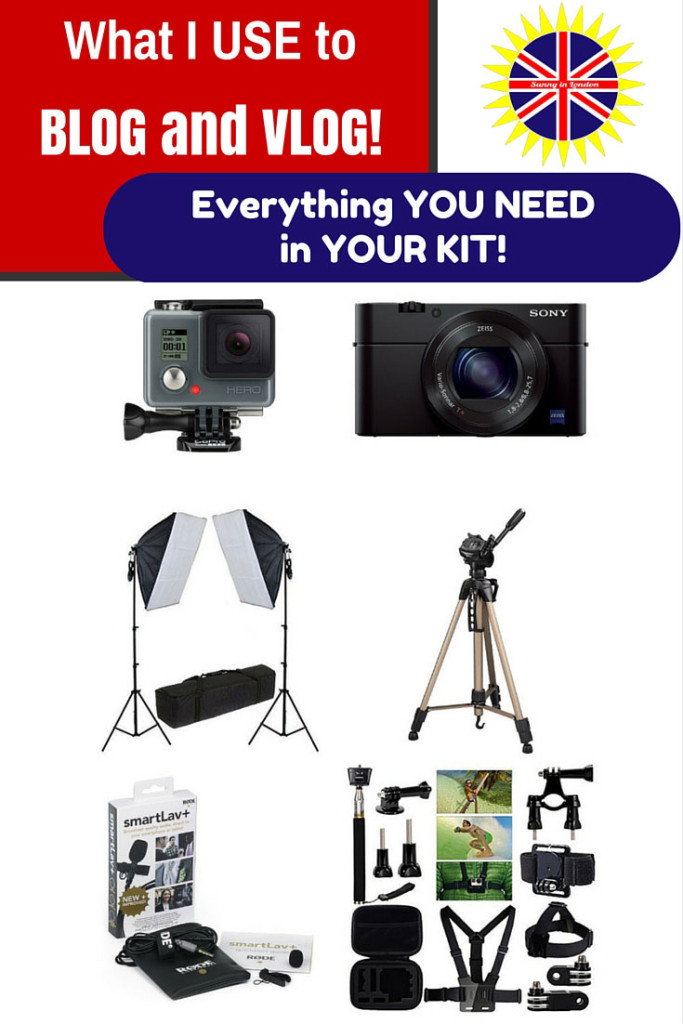 These are all of the products that I purchased for my blogger photography kit:
Blogger Photography Kit: Cameras
Obviously, the first item a blogger needs is a camera. I love my Sony RX100 M3 Advanced Camera
for so many reasons.
US READERS Click here for the Sony Cyber-shot DSC-RX100M3/B Digital Camera
It's super small, so it easily fits in to a tiny evening bag. Also, the picture quality is fantastic. Battery life is impressive too. All of my YouTube videos were created with this camera, so I can also vouch for its excellent vlogging ability.
Next, I use the GoPro HERO
, which my husband bought for me as a birthday gift.
If you're looking for an entry-level action-adventure shooting camera, this one is perfect! While I agree that the lack of a monitor or viewing screen makes framing shots difficult, it's certainly a great option for a vlogger who is just starting to explore action and film. I love its waterproof ability, as it comes in very handy for capturing video on the beach and water sports.
I love both the cameras so much that when I went to The View from the Shard I couldn't decide which one to use…
http://youtu.be/_iVcfKUzs5U
US READERS can find the GoPro HERO here.
Blogger Photography Kit: Stability
The life of a
Blogger is far less glamorous than it seems. To get a truly great shot, you need some type of stabilizing device for a camera or mobile phone. This means having a tripod that's durable and sturdy.
I didn't spend much money on my Tripod
, and you shouldn't either.

For around £17, this tripod has more than produced its ROI. I love the carrying case that comes with it. It's very easy to throw over a shoulder and go! When you're fighting for a great shot in the streets of Central London, you need a tripod that hits the ground running and doesn't cost a fortune. This tripod has more than proved its worth through street tough scenes with me.
US READERS can find a similar Lightweight Tripod with Bag here.
Equally as impressive at home is this little holder honey…
I originally ordered a Joby GorillaPod Original Tripod
. While the description lead me to believe I couldn't go wrong, I made the decision to return it within 60 seconds of opening the package. It barely held my phone and wouldn't work in both horizontal and landscape settings. #EpicFail
Mr. Sunny suggested I order the mini tripod above. This one holds my iPhone 6 either vertically or horizontally, and easily manages my iPhone 5 if I need it instead. Now I use this Universal Mini Tripod Holder Mount Stand
to hold my mobile phone. Oh yeah, and it cost me less than £5.
Blogger Photography: LIGHTS, Cameras, Action!
You can have a fantastic camera in a stable position, but if your lighting isn't great, you'll be a shadow in the blog picture. Literally.
For this reason, I use the BPS Softbox Studio Continuous Lighting Light Box
when natural light isn't accessible.
The diffused lighting is nice at night, and the carrying bag that comes with the kit is great too. However, I will say, the lighting kit hasn't left my flat yet, since it arrived. I haven't had a production big enough to warrant dragging these lovely lights outside.
US READERS can find a similar Softbox Light Lighting Kit here.
Bloggery Photography: Sound Check. 1,2,1,2
Again, you can put images that have great framing and lighting in front of the camera, but if your viewers can't hear your comments in a vlog or livestream video, you're absolutely wasting your time and money on other equipment.
This sneaky Rode Smartlav+ Lavalier Microphone
saves the day for me when I am broadcasting from attractions and events in London that require concentrated audio from a commentator.
In all honestly, I can't even imagine doing a livestream broadcast inside or outside of my flat without this lavalier microphone. It's obviously so light and portable that not putting it in my handbag for any event would be silly.
US READERS can find the Rode smartLav+ Lavalier Microphone here.
Blogger Photography: Accessories
While there are tons of electronic toy options to get a blogger's job done, there are also simple accessories that are foundational to your very existance. Without power and memory, nothing else can happen. As a closer, I recommend the two products I bring with me everywhere…
SanDisk Extreme 32 GB
and Anker Astro E1 5200mAh Ultra Compact Portable Charger External Battery
.
I purchased both of them and can't imagine why you wouldn't too. A charged phone and the ability to store data, pictures, and information is the core of what bloggers need.
US READERS can find the SanDisk Flash memory card – 32 GB here.

The Anker Astro E1 5200mAh Ultra Compact Portable Charger External Battery Power Bank is available in the US here.
Blogger Photography Kit/Equipment:
Blogger friends, what's in your blog bag? Do you suffer from carrying more equipment for your blog than pairs of shoes in your travel suitcase?
This page was updated on 11 October 2015.