King Arthur: Legend of the Sword Exposes Great Britain!
How is a film review of King Arthur: Legend of the Sword on a travel and food blog? It's not because it was a 'slow news week' due to a slightly dreary and rainy May. I'm writing this film review because this film makes you want to travel to Britain. No joke.
Aside from being a masterpiece from director Guy Ritchie, this film has epic scenery highlighting the gorgeous land in England, Scotland and Wales. I've learned that's something that Americans visiting Britain don't really know. It's insanely picturesque here outside of London! Don't believe me? Well then, you'll have to see the film for yourself 😉
I have always been a fan of Guy Ritchie. I think the best acting of Brad Pitt's career was when he worked with Ritchie on the now cult classic film Snatch. Ritchie's editing and ability to rock a film soundtrack have exploded since that 2000 production.
While I did work in the film and television industry, I am not going to dissect the cinematic attributes of King Arthur: Legend of the Sword. It would be uncharacteristic of what you expect from Sunny in London. Rather, let's chat about the 'sets' and British views the film shows you.
King Arthur: Legend of the Sword Sights to See
I was delighted when Visit Britain sent me an invitation to a private press screening of the film. To prepare for the event, I went to see the stars arriving on the red carpet the night of the London premiere on 10th May. If you're curious of what stars do at these, watch the video of me sharing all the tips of how to get selfies with celebrities on the red carpet.
That night I was particularly impressed with how much time Guy Ritchie and the film's star Charlie Hunnam spent with fans. Aidan Gillen did as well, but there's only so much commentary a YouTube audience can handle, so I don't highlight it in the video. David Beckham spent about as much time with people in my press area as he has screen time in the film.
Just before the exclusive press preview started on 16th May, the two lead location scouts for King Arthur: Legend of the Sword did a Q&A with our small group. They discussed how they wanted to present all locations within Britain to the director. This is because of their interest in aligning with the integrity of Arthurian legend. Smart move!
They revealed some of their favourite locations used, which obviously were from each of the countries featured (England, Scotland and Wales).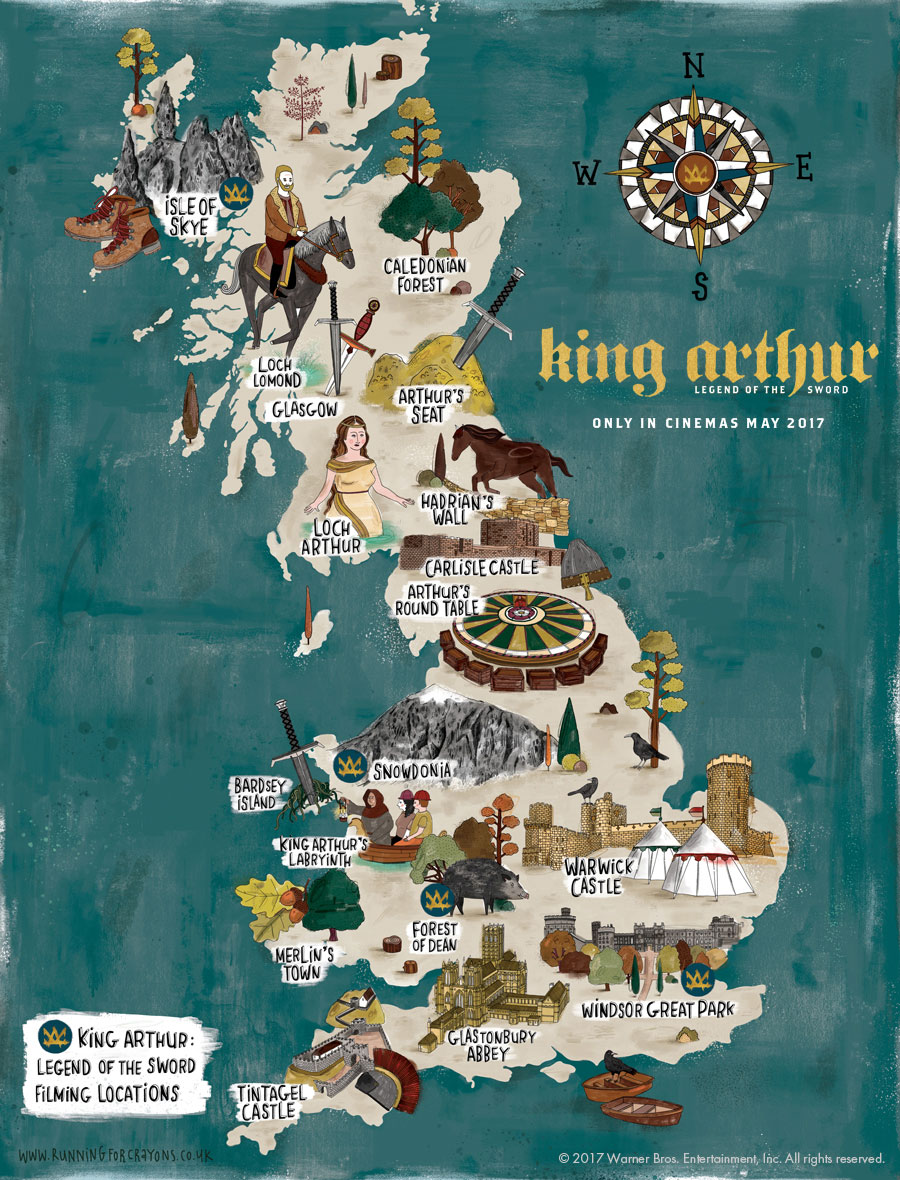 As they talked, we all were envious of what their job involves on a daily basis, even against a blogger's alleged 'glamorous' life! After seeing the movie, I was even more jealous.
I loved the film. If you like Guy Ritchie's style, looking at eye candy like Charlie Hunnam, Game of Thrones and films based on literary characters, don't miss this movie. It hasn't been received surprisingly well by critics, but don't let that deter you. I look forward to seeing it again in a theatre with Mr. Sunny, who was gutted about not going to the preview with me. This isn't one that you wait to see at home on a TV. The effects and sound (plus Charlie's six pack) are best viewed in a cinema.
If someone wanted a 'criticism' of the film, I would say that it might not get full marks for accuracy. Some dialogue and costumes probably weren't characteristic of the time period. Rather than finding it distracting and disappointing, I felt it gave the film a modern vibe and occasional humor. There are scenes that will make you giggle a bit, especially Beckham's. I don't think our audience found comedy in David Beckham's acting portrayal. If I could guess, I think the light laughs were due to the prosthetics applied to his face for his character. Let's just say it isn't his best look. 😉
If you're planning on visiting London and want to take your trip to an epic level, the Visit Britain website has an interactive map showing areas used for the film. My favourite scenery was from Snowdenia. Don't be surprised if you see some of these places popping up on the Sunny News YouTube channel. After all, seeing is believing. You can get a little view of what I mean in the video below. It's what they showed us just before the film. And there's more to read about the legendary travel opportunity here.
If you have a chance to see the film, please leave your comments below. The people I know who have seen it, loved it.