Do you know where you can find London's sexiest afternoon tea? It's without a doubt at The Playboy Club London. And what's even better is anyone over the age of 18 can enjoy it. It's open to non-members of the Playboy Club. And it truly is… an afternoon tea 'with a playful twist and a tail'!
How do I know all this?
Because it's the most recent adventure I've had via Sunny in London.
The Playboy Club London is located in a very discreet building on Old Park Lane in Mayfair, just near Hyde Park Underground Station and across from Green Park. Prior to attending, I was filled with curiosity. I wasn't the only one who was excited. You guessed it- Mr. Sunny joined me, as we made it part of our Saturday night date. In fact, this is the only afternoon tea that he's attended with me since starting the blog. Gee… I wonder what caught his attention this time? 😉
Before even sitting down in Salvatore's Bar, where they host the Playboy Club London Afternoon Tea, I was quick to grab a picture with a Bunny.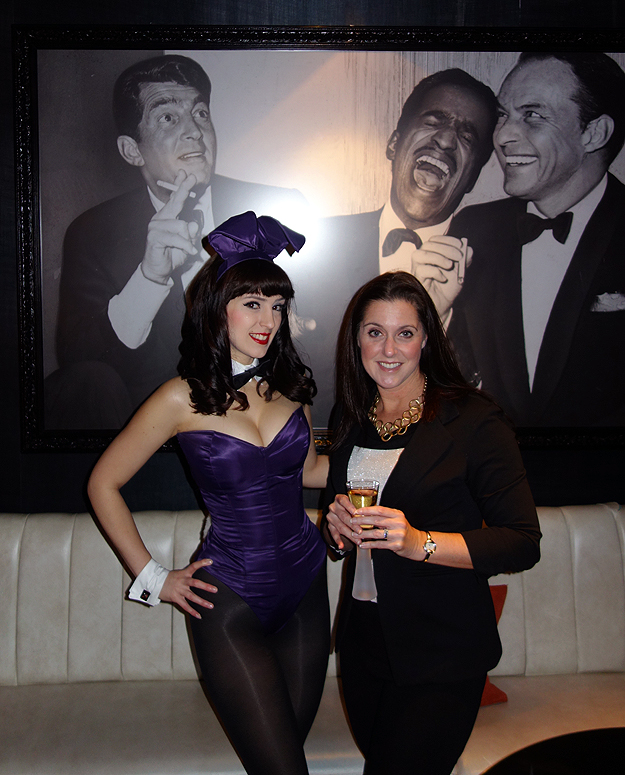 Isn't she gorgeous?
Salvatore's Bar is named for Salvatore Calabrese, a master mixologist who is known as 'The Maestro' and is one of the world's leading bartenders. My only regret from this entire experience was not having the chance to meet him.
We arrived just before 5pm, when they start serving afternoon tea. Luckily no one else was there yet. I was able to get a few pictures for you to show the bar's interior.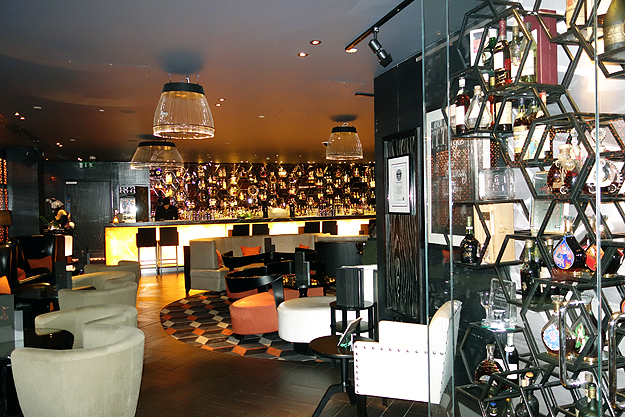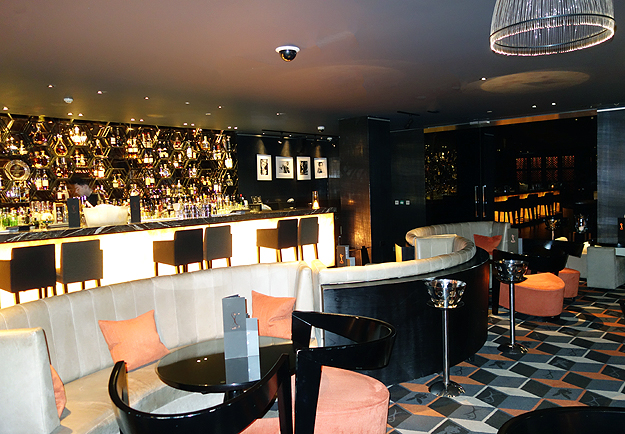 It's sexy, plush and very classy but has very low lighting. While that definitely created the right ambiance, it wasn't the best for blog pictures. I did my best.
There was only one Bunny in the bar. She quickly and gracefully poured us each a glass of champagne and had some time to answer a few of my questions.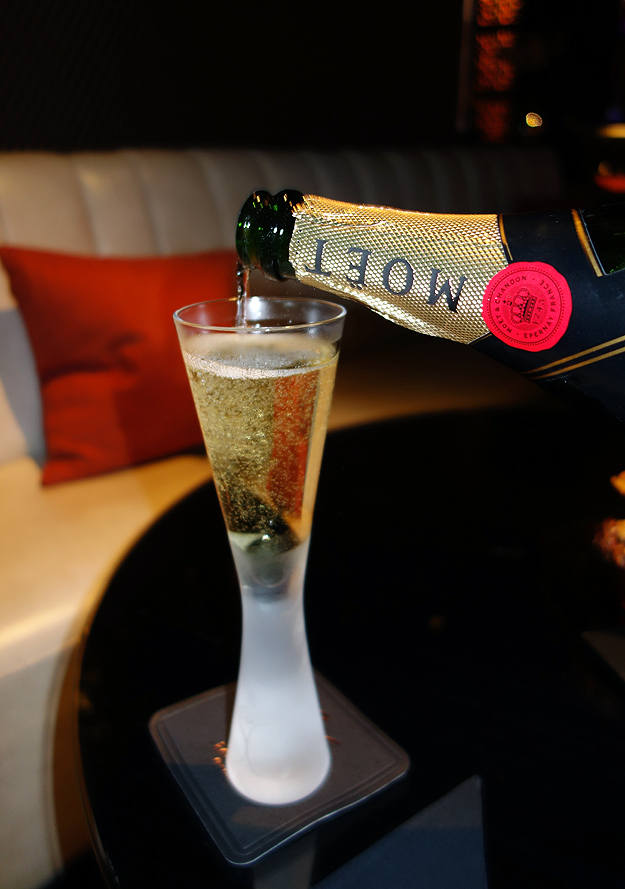 Despite many trips to Hollywood, I've never been to the Playboy Mansion. This was my first encounter with a real life Bunny. It was a bucket list moment.
When I asked what she would want people to know about Playboy Bunnies, she said it's meaningful to clarify misconceptions. Playboy Bunnies aren't giggly toys involved in indecent activities. At this Club, they are cocktail waitresses who happen to wear a specific costume. Her ease of answering my questions and interest in making sure blog readers have accurate knowledge was impressive.
After this, Mr. Sunny and I chose our teapot cocktail from Salvatore's carefully crafted list. Mr. Sunny picked Fruity. I had Floral. They other two options are Traditional or Spicy.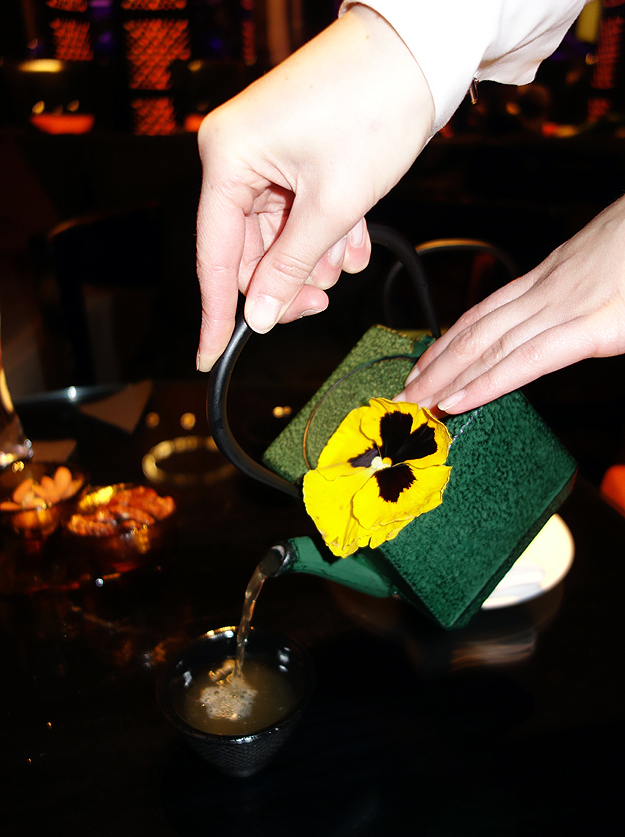 Different from most afternoon tea selections, these two drinks were served chilled in teapots. Mr. Sunny really enjoyed his. Mine was divine, and I still can't stop thinking about it .
The blends of Jasmine blossom tea, Hendricks Gin, agave infused with lavender flowers, Maraschino, orange blossom water and fresh lemon juice created a delicate, silky texture with such an elegant mix of just enough floral flavour. While I had expected drinks that would most likely drop me to the floor with an alcohol punch, the understated cocktail mix was a definite highlight.
Our greatly aniticipated afternoon tea food hit the table and was equally as delicious.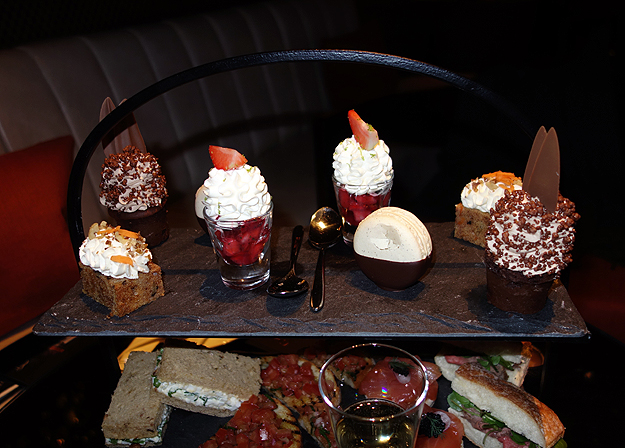 The sandwiches are fairly standard. They include: Tomato Bruschetta, Roast Beef Baguette, London Smoked Salmon Blini, and Egg Mayonnaise and Asparagus Finger Sandwich. However, they are exceptionally tasty.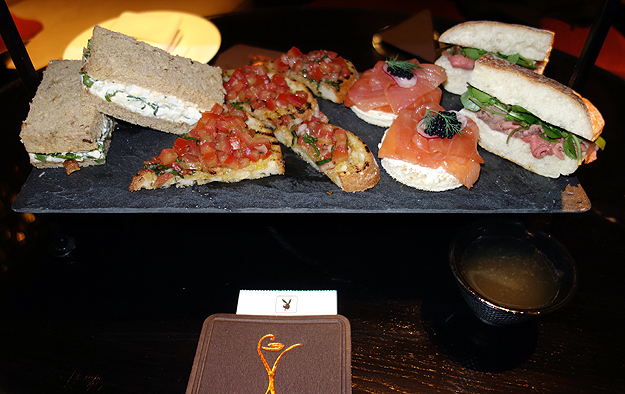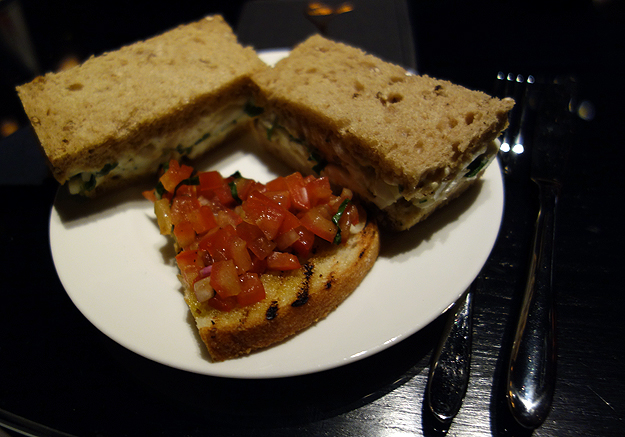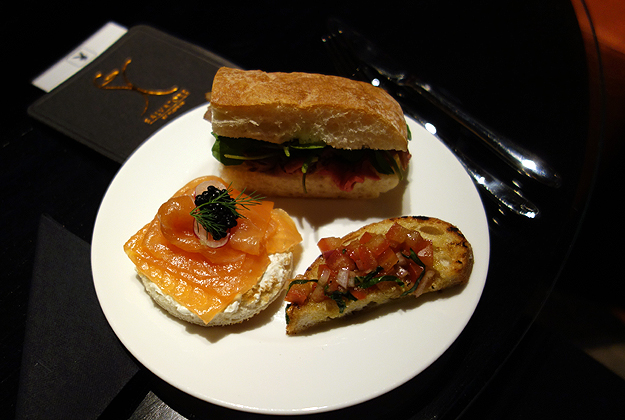 Now, this is where die hard afternoon tea fanatics might have heart failure. The tea does not feature scones. Did I care? Not at all.
The sweet selections were loaded with cream and popping candy and weren't too heavy when served together.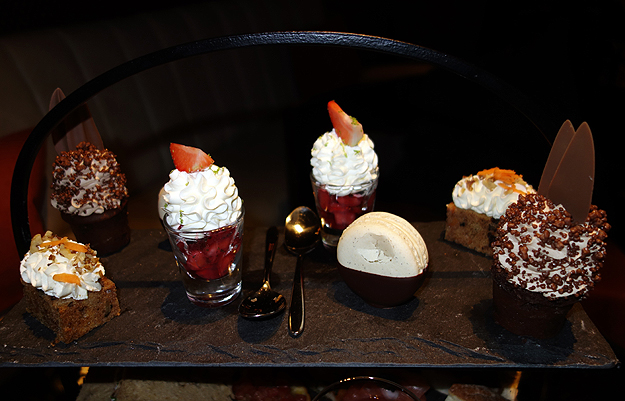 Here's a close up of the top tier which has Bunny Ear Cupcake, Macaroon, Strawberry and Clotted Cream Shot Glass, and (naturally) Carrot Cake.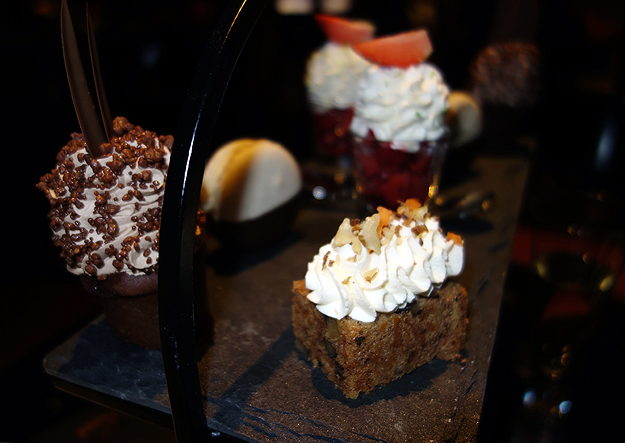 And, I like to call this one the 'Bunny Shot':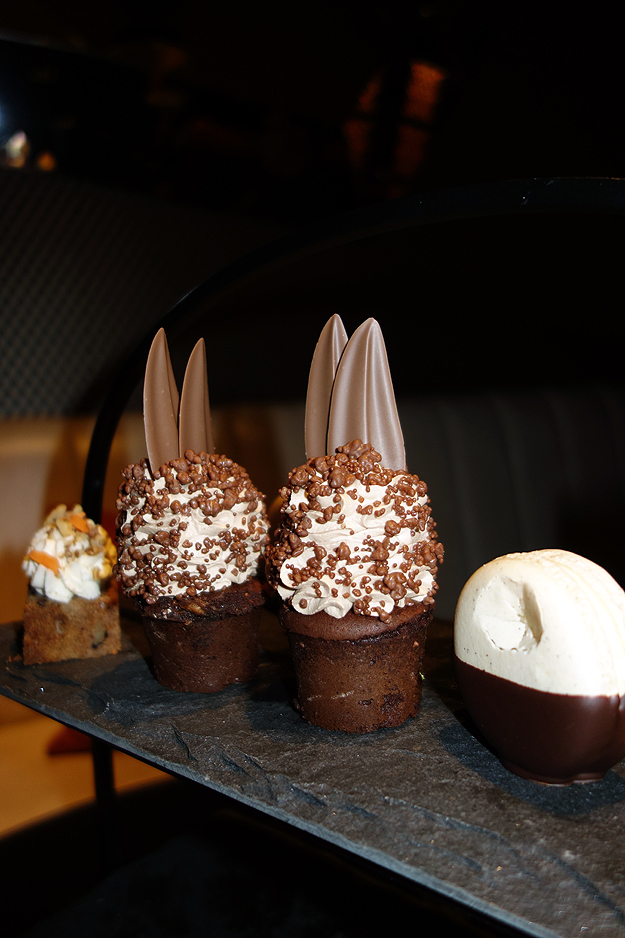 We also had the pleasure of meeting the Bar Manager, Antonio Dandrea. He was equally as friendly and informative as the Bunny. I also noticed he spent time with each table, so he didn't just meet with us because we were writing a review. That was impressive too.
This afternoon tea was launched within the past six months, and I think it's rock solid genius.
Interesting facts about Afternoon Tea at Playboy Club London:
– After we arrived, Salvatore's Bar filled with numerous other couples.
– Everyone was dressed smart. Leave the jeans and trainers at home.
– Mr. Sunny noticed they have Buffalo Wings on the menu. Guys, if you want to give your girl your sweets from the tea and order a side of wings, you'll still be a winner.
– You don't have to be a member of the Club for this experience. That's reserved for the second level where there is a casino.
– For £30 per person, it is one of the most affordable afternoon teas with exceptional quality in London.
– They had a Super Bowl Party, will have a Valentine's Day offer, and host numerous other events throughout the year.
Our afternoon tea was complimentary for the purpose of a review. This doesn't affect my opinion of the experience. There's no doubt in my mind that this is London's sexiest afternoon tea. I look forward to returning soon so Mr. Sunny can try the Buffalo Wings and I can meet 'The Maestro', Salvatore Calabrese.
Final thoughts on the Afternoon Tea at Playboy Club London:
– When I asked Mr. Sunny to say something funny about afternoon tea with a Bunny, he said, 'There's a lot more up at that tea than Doc!'
– And, yes, Mr. Sunny finished his afternoon tea with a nice. cold. beer.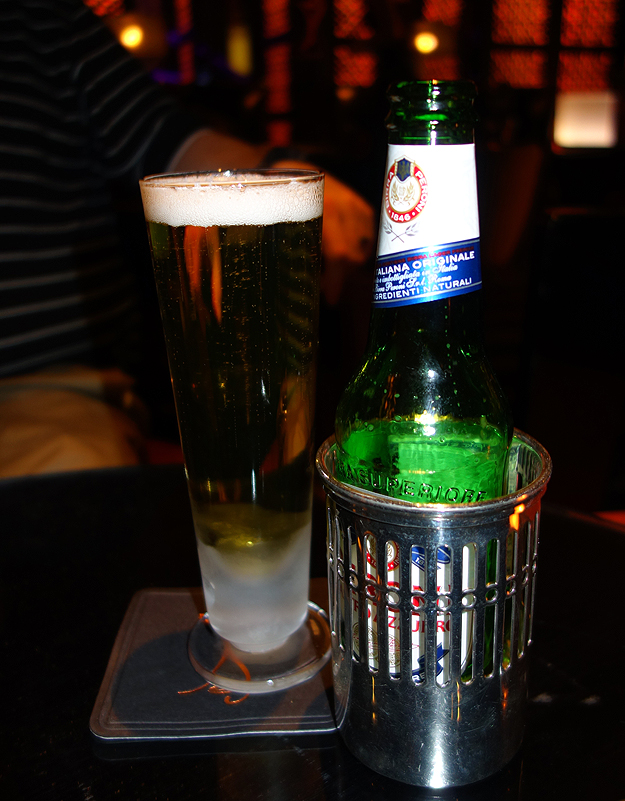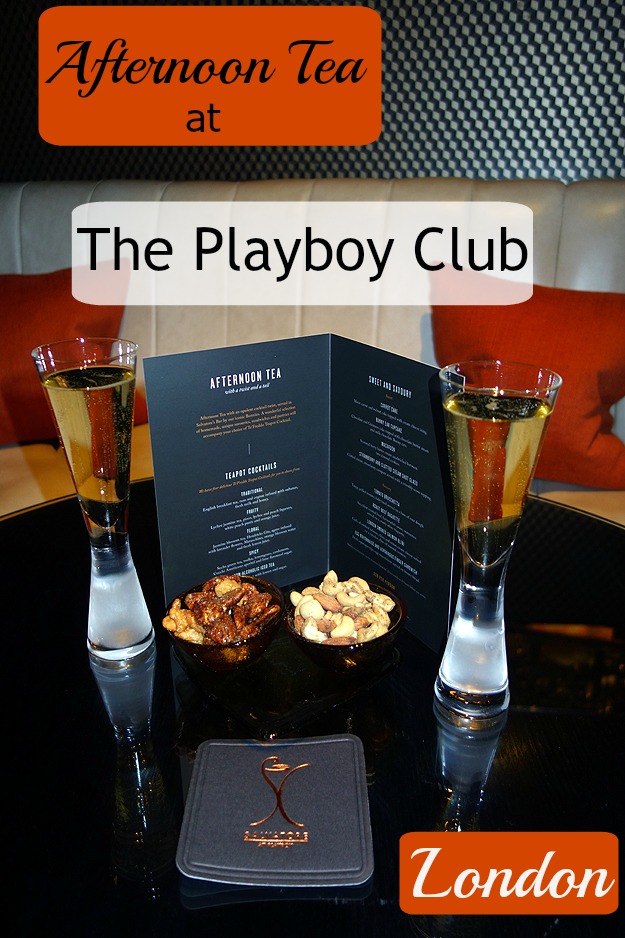 Have you ever been to an afternoon tea that appeals to both men and women? What themed afternoon teas do you recommend?