Muse of London Review- My 'Not-so Frozen' Makeover
When someone tweets you about a makeover opportunity, should you be flattered or concerned?
In my case, I was grateful for the VIP Experience at Muse of London with Creative Director, Jason Cocking.
When I decided to leave the United States in 2012 to get married and move to London, I knew it would involve some lifestyle sacrifices. One of the top cuts I made to account for the cost of living in London is regular visits to the spa. It made sense to save money on things like manicures, pedicures, facials, and even hair colour by doing them myself.
Therefore, when someone tweeted me to let me know that Muse of London was seeking bloggers for a complimentary hair makeover experience, my media kit immediately flew out of my mailbox.
Ok, that's not entirely the truth.
Let's be honest. A girl's hair is pretty much her most sacred possession. In fact, girls with long hair are even more particular about who gets to touch their tresses. So, before I hurled my contact details at Muse of London, I gave the salon a thorough search.
Obviously, I liked what I learned and figured I'd give it a go. Some of the impressive details that caught my attention were Jason's 18 years of experience, which include working with clients such as:
– the Olsen twins
– Shenae Grimes from 90210
– MTV Presenter Becca Dudley
– Britain's Got Talent Star Lucy Kay
Since the word 'makeover' was being used for the U+ Me experience, I figured it would be likely I could lose 6-8 inches of my hair and might be coerced in to life as a blonde. It's a look I've had before, so I figured que sera, sera.
That wasn't the only song I was singing on the days leading up to my visit. To prepare for my appointment at The Muse of London, I began channeling my inner Elsa, Princess of Arendelle, by gleefully belting out 'Let it Gooooo! Let it Gooooo!' each morning as I stared at my 'uncoloured' 'frozen' roots stemming longer and longer from my head.
I couldn't wait for Jason to save me from myself. And, finally, the day arrived…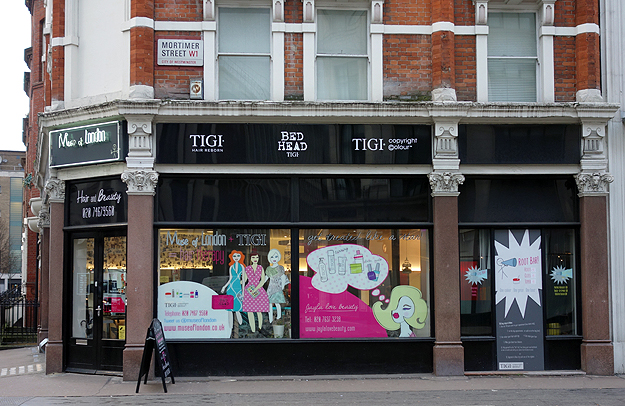 After sitting less than two minutes in the waiting area of this quirky salon in Fitzrovia, Jason Cocking greeted me and whisked me over to his chair. As promised, he used his iPad for a consultation. He listened carefully as I said I would be open to any of his ideas, trusting his experience. However, I indicated that it would be essential for me to have the ability to pull all of my hair back in to a ponytail when I go for a run. Also, I said that every stylist tries to dump red in my hair, and it's a look I really didn't care to have.
He flew through his bank of celebrity pictures on his iPad as I talked. Then, he flipped it around to show me ideas. With skin tone, face shape and lifestyle in mind, the celebrity hair he showed me was… Elizabeth Hurley!
Never in a million years would I have picked this bombshell for me to mirror. It was very flattering. Let's just say, I felt he had his work cut out for him 😉
Here's my before shot…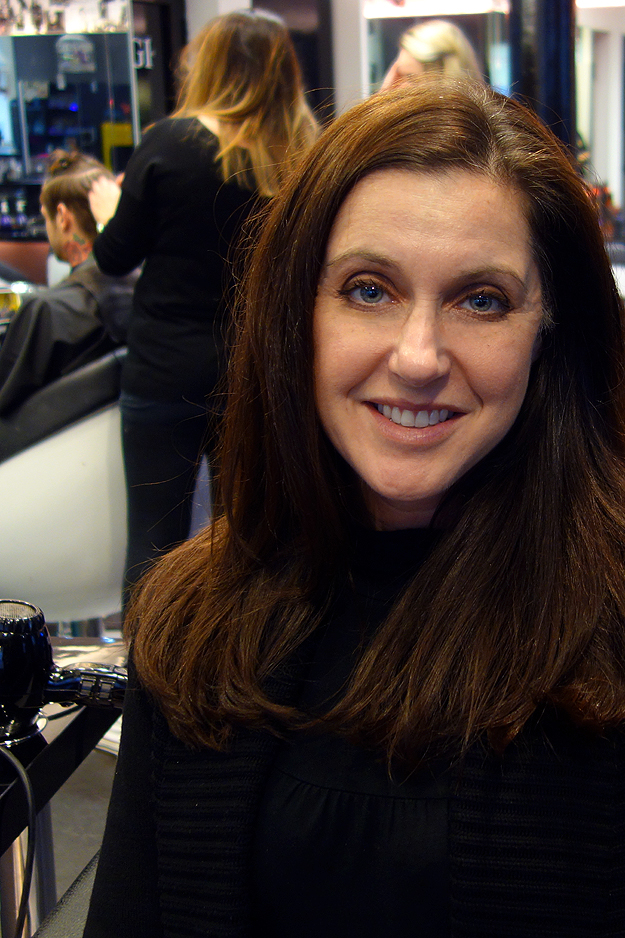 Jason started by colouring my roots and then applying highlights around my head. To an untrained eye, someone would have thought he was being haphazard. However, since the ombre trend is still strong, his method had a rhyme and reason. By slightly teasing my hair, then applying colour to the strands, it created a very natural, unpainted look to my locks.
Once the colour was rinsed, he applied a toner and then moved on to the cut. While it wasn't dramatic, it took off excess weight from my hair, and I actually think it made my face look a bit thinner. Here's my before and after shots…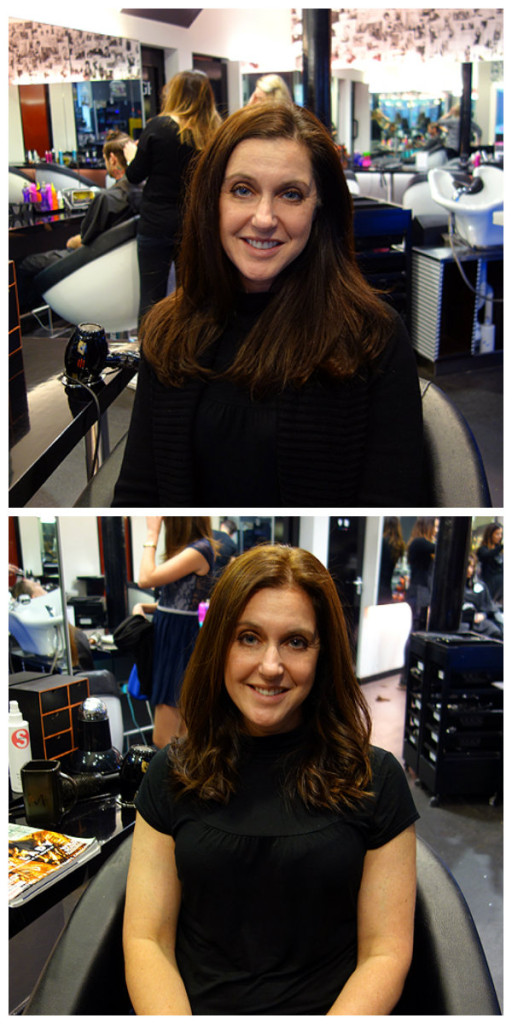 While I'm not going to be mistaken for Liz Hurley any time soon (or ever, really), my new hair colour and cut definitely compliment my face more than my previous look.
What I loved about the Muse of London U+Me Experience:
– True to the booking, I was in and out of the salon in under two hours. Jason was by far the fastest hair stylist I have ever met. He credits this to his previous time at Selfridges, where time was of the essence.
– I wasn't tossed around to every stylist in the salon. I'm not a fan of a salon that puts you in contact with 3-4 different people during your visit.
– Jason didn't make a drastic change to my look and potentially make me disappointed. Despite convincing myself to just 'Let it Go!' and let the stylist take charge of my head, the whole Frozen anthem wasn't necessary. Phew!
– The edgy, fun and friendly atmosphere didn't make me feel like I was in a pretentious Central London salon.
– Jason didn't get involved in mindless chitchat while working on my hair. He concentrated, did his thing, and sent me on my merry way.
– The salon is open until 9pm on weekdays. They also have Saturday and Sunday hours.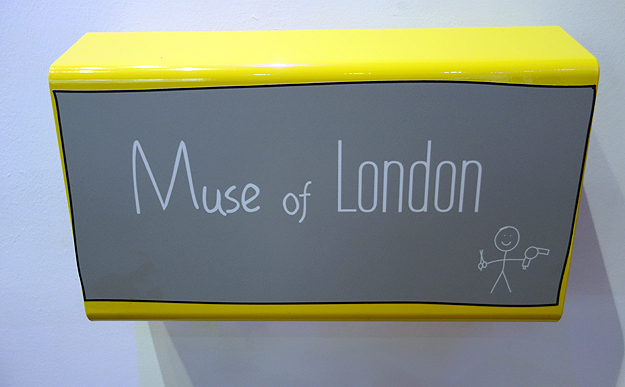 What I learned at Muse of London:
– Jason predicts that champagne blonde will be the rage this summer. However, he says the hair industry really revolves around the latest celebrity haircut to make waves.
– As the Creative Director, Jason frequently works with all clients during their consultations, so booking an appointment with any stylist at the salon is encouraged.
– Stylists truly value honesty. Jason said his favourite type of client understands that it takes at least three visits to solidify a relationship. Being able to communicate what you do and don't like from a salon visit is vital to being happy with your hair.
– There's a term called 'break-up hair.' Jason says the freshly single girl is a stylist's most dreaded client because it's nearly always a lose-lose situation for stylists. I had no idea there's a phenomenon of ladies who have just been through a break-up going to a salon and saying, 'Chop it all off! Do something extreme!'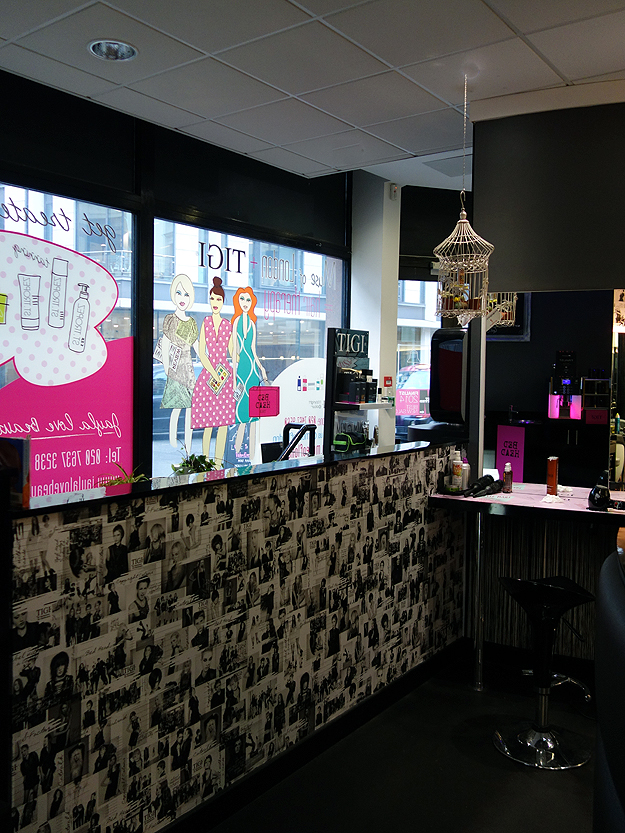 My Favourite Service at Muse of London:
–  For just £18 you can hit the Root Bar as one of their Express Services. This means you can pop in to have them colour your roots with TIGI. After they rinse it, you can finish it yourself at the Dry Bar or upgrade for a professional blow dry. When you consider the price of a DIY hair job at home, this minimal increase for professional colour is a win-win for any London girl.
Be sure to check out Muse of London for other services.
Oh yeah, and one more amazing thing… New clients receive 35% off their first visit!