Who turns down the chance to have the Covent Garden Hotel Afternoon Tea?
Not me.
If you're wondering why, then you need a little insight on the London scene. Luckily, I can help you with that.
You see, the Covent Garden Hotel is one of six Firmdale Hotels in Central London. If you aren't familiar with this extraordinary hotel group, grab a chair and get ready for mind-blowing visuals.
As of this blog feature, I have visited and enjoyed food at three of the eight Firmdale Hotels. Since I have always felt the Charlotte Street Hotel Afternoon Tea is where to have the best afternoon tea in London for the price you pay, I felt certain the Covent Garden Hotel afternoon tea would be top-tier as well.
These are the reasons why I feel the Covent Garden Hotel also wins this 'Afternoon Tea Trifecta.'
Covent Garden Hotel Afternoon Tea: Quality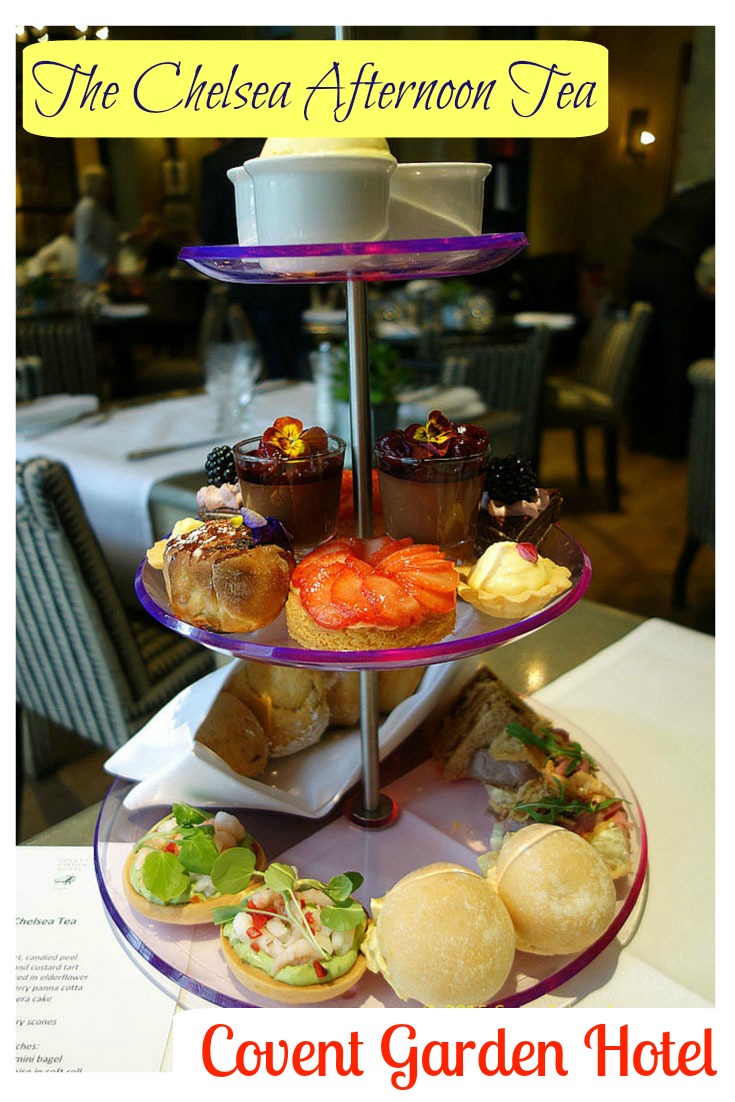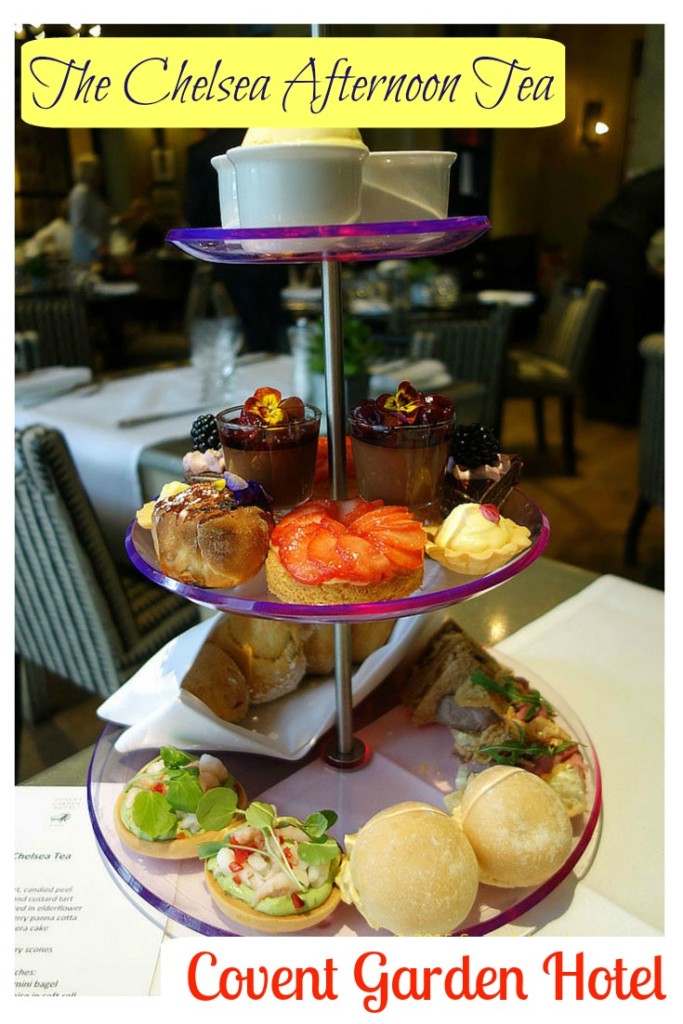 When my friend Nicole and I arrived for our Covent Garden Hotel Afternoon Tea experience, we each anticipated ordering the Covent Garden Tea. However, our exceptional server, Emilien, told us that for a limited weekend, the hotel was serving a special edition afternoon tea to celebrate the Chelsea Flower Show in London.
We both decided to honor the floral occasion and selected the seeds of celebration for our food. Here's a side view of what arrived at our table: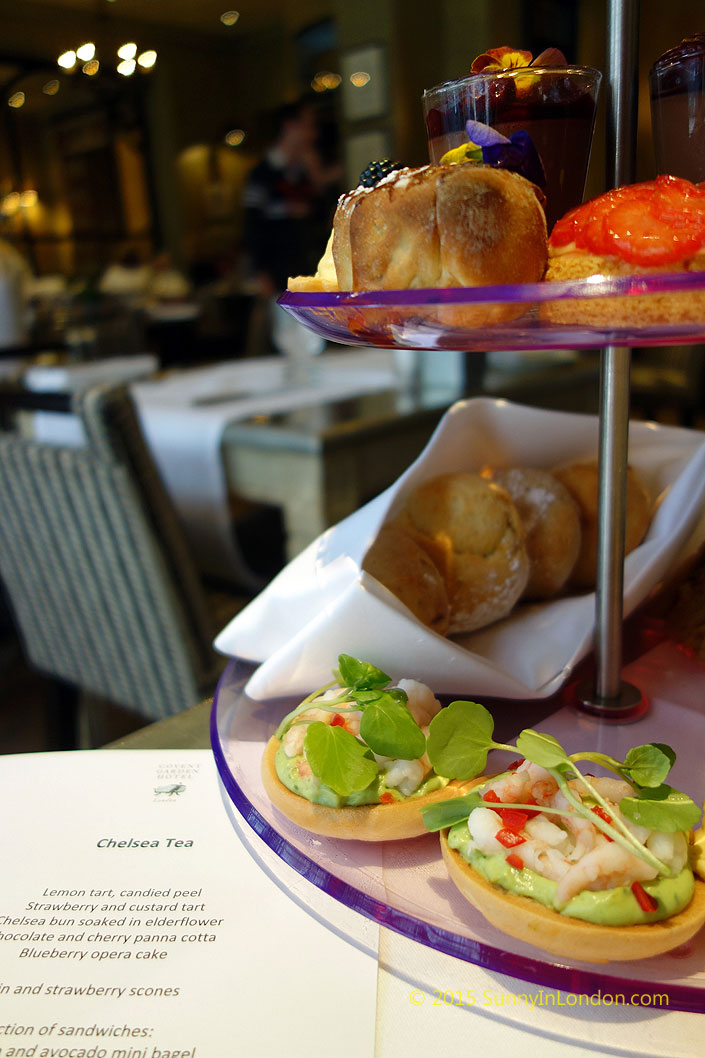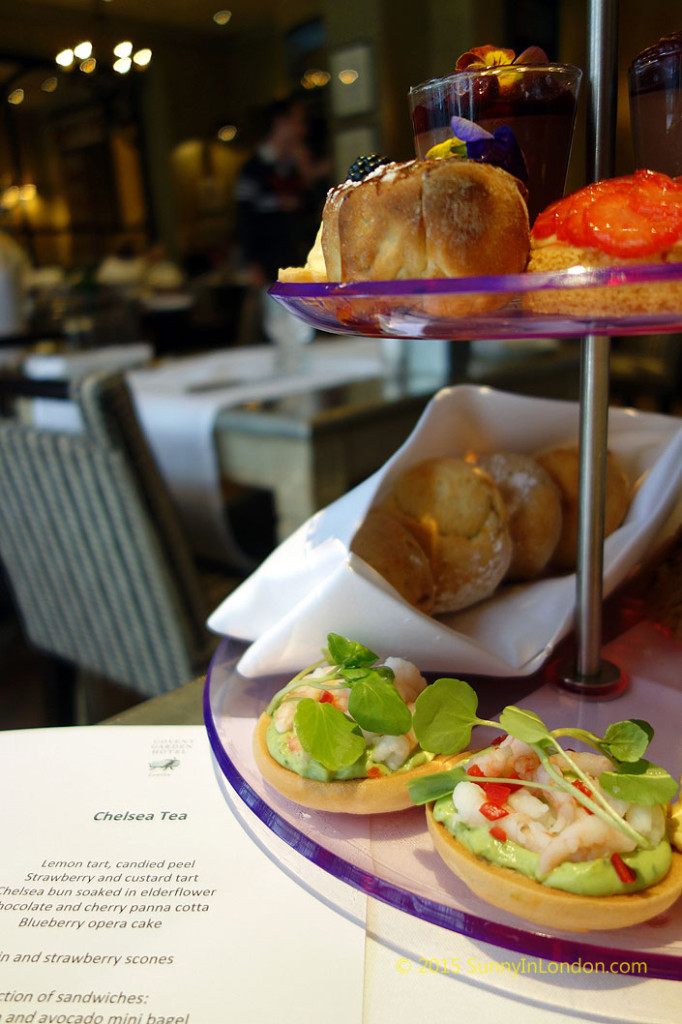 After Emilien gave us an extensive tutorial on the food before us, we toasted our glasses of champagne and hit the sandwiches.
Chilli prawn and avocado mini bagel
Coronation chicken and mayonnaise in soft roll
Montgomery cheddar cheese and pickle on brown
Rare roast beef, foccacia, crispy onions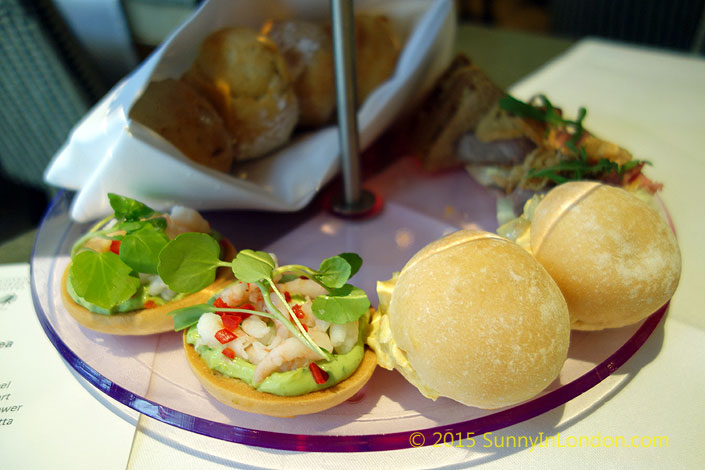 The coronation chicken was outstanding, but all of them reflect the infamous Firmdale Hotels quality.
The scone flavours  plain and strawberry, and are baked perfectly sized and baked. They are of course, served warm. The dessert this Chelsea Tea includes are:
Lemon tart, candied peel
Strawberry and custard tart
Chelsea bun soaked in elderflower
Chocolate and cherry panna cotta
Blueberry Opera Cake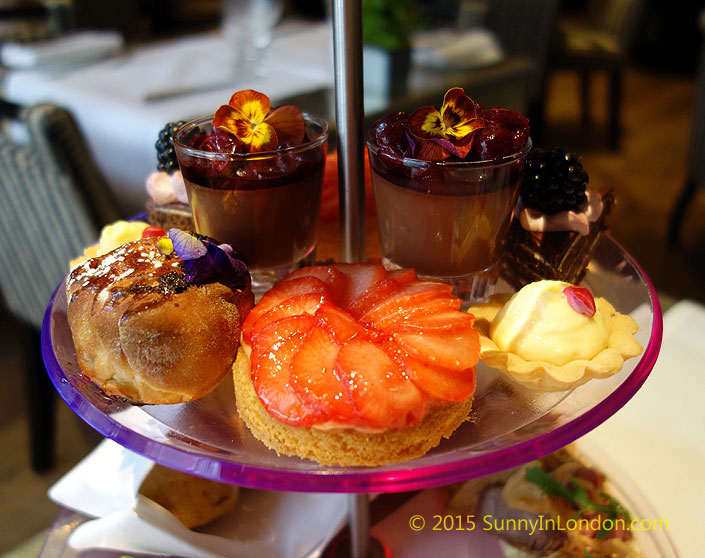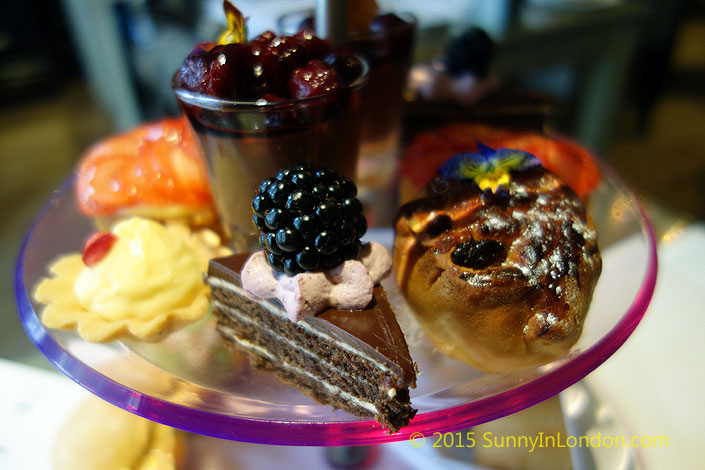 Along with all those delicious bites, we sipped on Jasmine Pearls and White Jasmine tea after our champagne.
The Chelsea Tea was only available for the weekend in honor of the world-famous Chelsea Flower Show. The food was simply dazzling, and I find the price even more impressive. At just £28 per person, you can't beat it. You can read the blog for tons of afternoon tea reviews at London's luxury hotels which range anywhere from £45-£90. The Covent Garden Hotel afternoon tea is undeniably the best valued tea in town.
Covent Garden Hotel Afternoon Tea: Service
However, beautiful quality and combined ingredients is just the beginning. Our server Emilien even further magnified this fantastic experience. He is fairly fresh in London from Bordeaux and is is named after an equally gorgeous red wine.
His knowledge of the food and genuine enthusiasm for his role easily hits my 'top service experiences in London' category. I encourage you to ask for him when you go to dine at the hotel. His personality, charm and wit will surely add positively to your overall experience.
Covent Garden Hotel Afternoon Tea: Atmosphere
It's no wonder that Emilien is so pleased to be at work. The atmosphere at the hotel is one of its most alluring features. This is standard for Firmdale Hotels. The owners are responsible for the interior design of the properties. For this reason, after our Covent Garden Hotel afternoon tea, I requested a private tour of the hotel for me and my friend.
First, we walked through the Drawing Room and Library.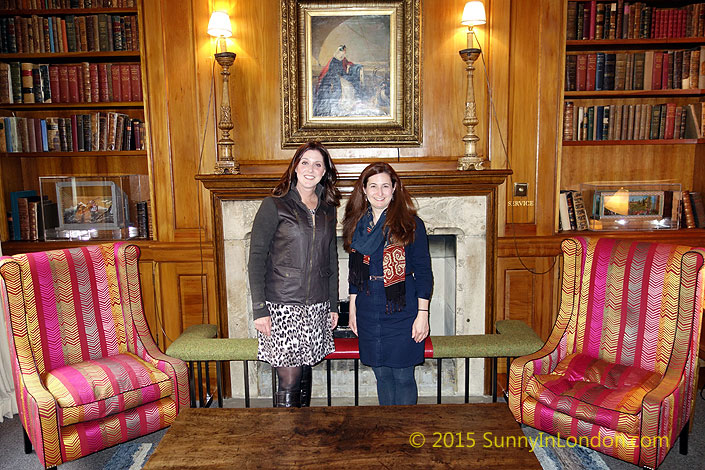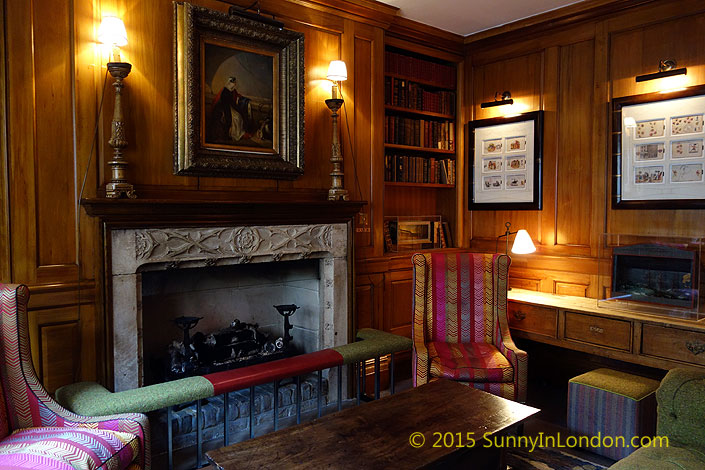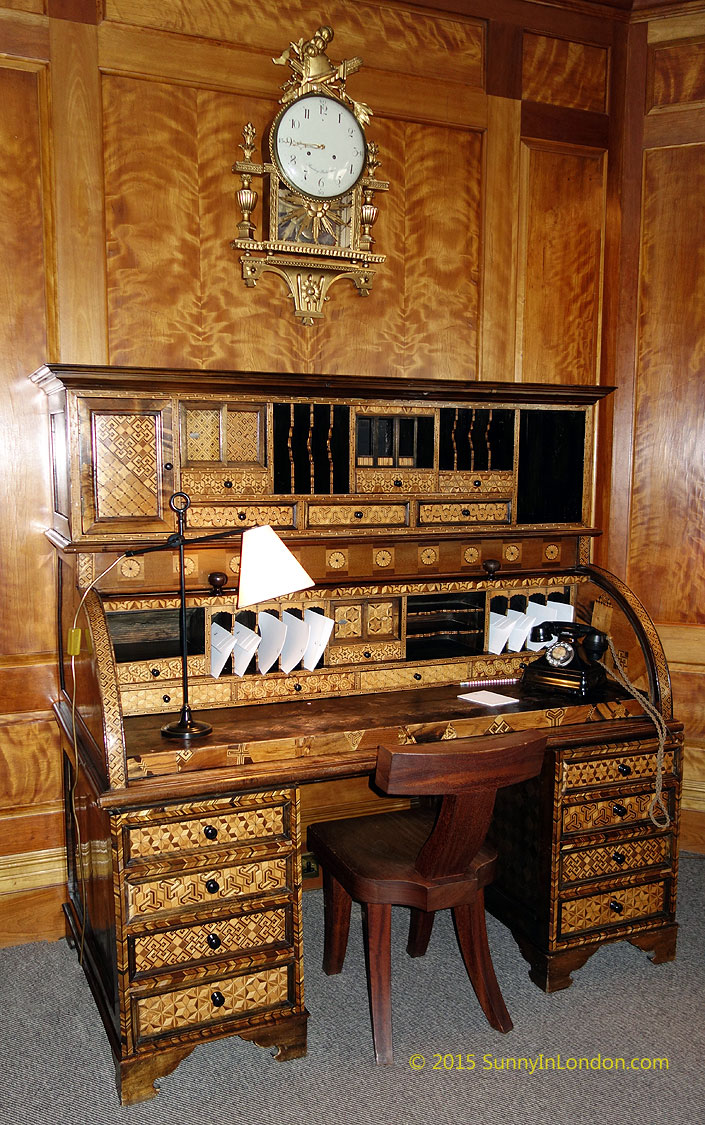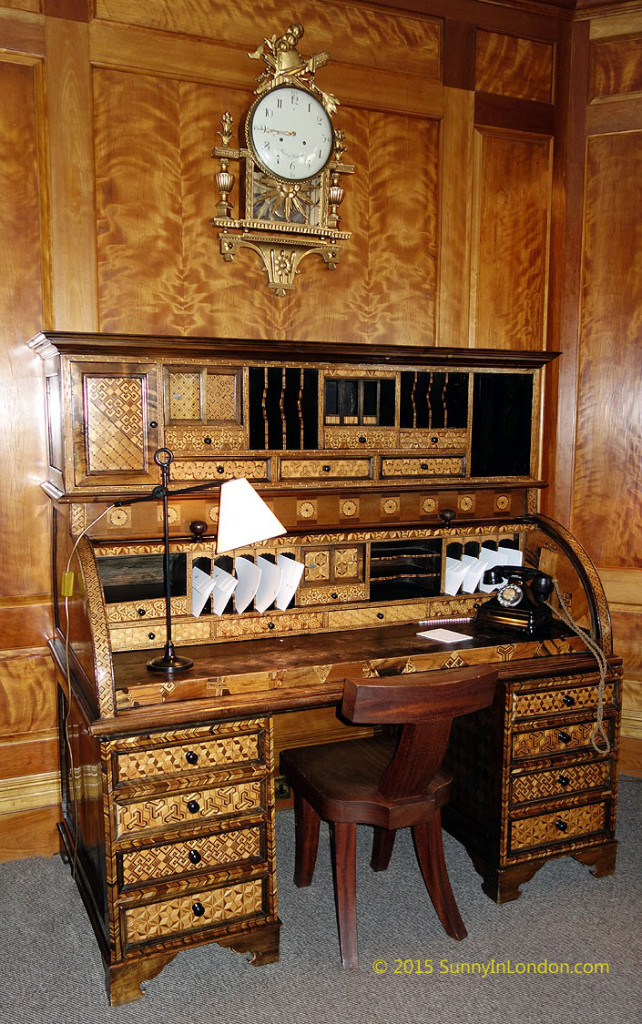 There's also an 'Honest Bar' on this floor that allows people to enter, retrieve what they need, and honestly write it down what they take so the hotel is aware of what is gone.
Next, we visited a guest room. Each room is decorated differently. Materials used are often displayed outside the room.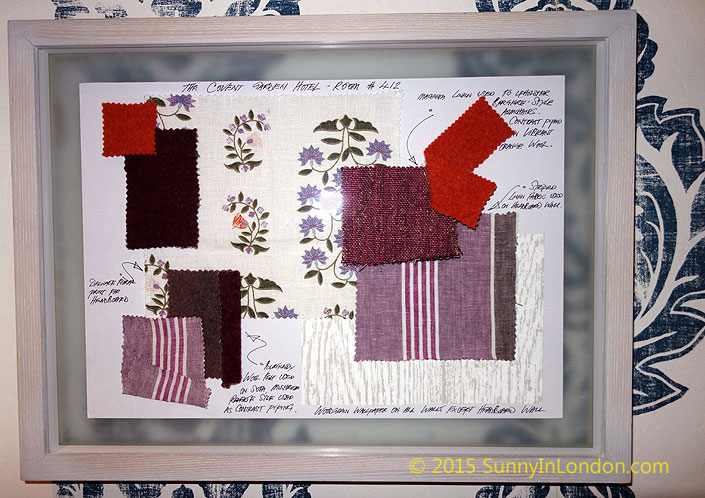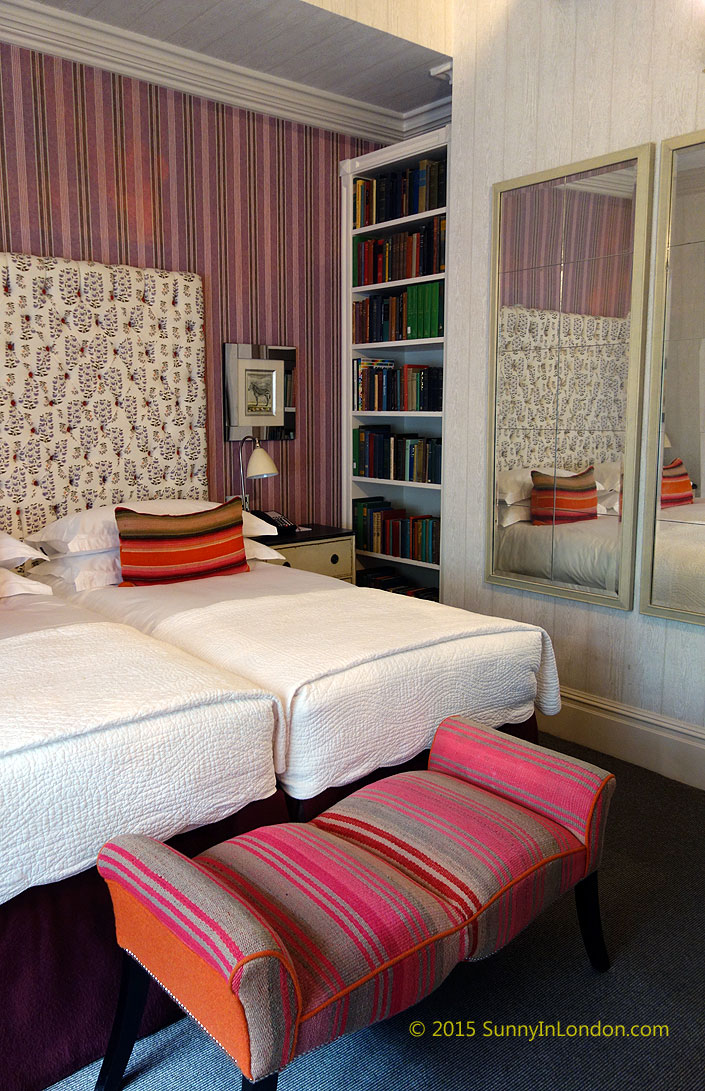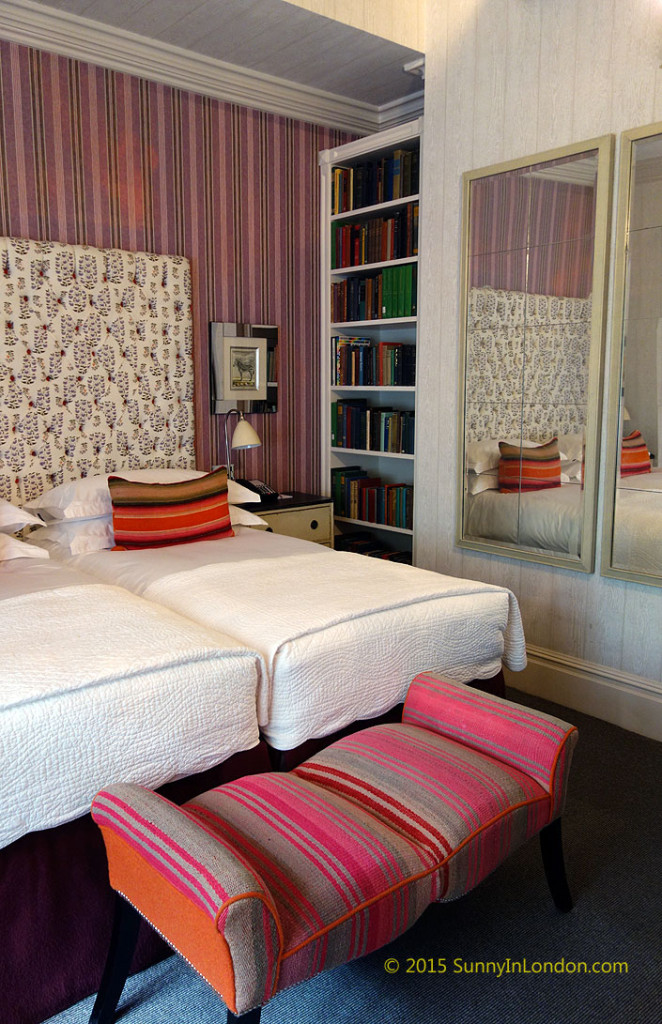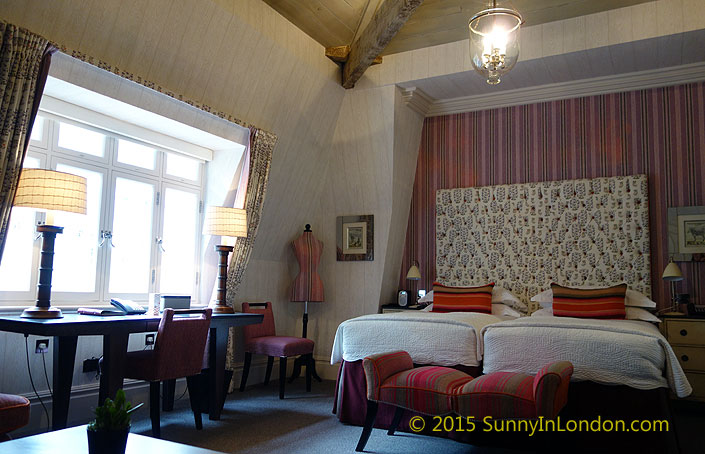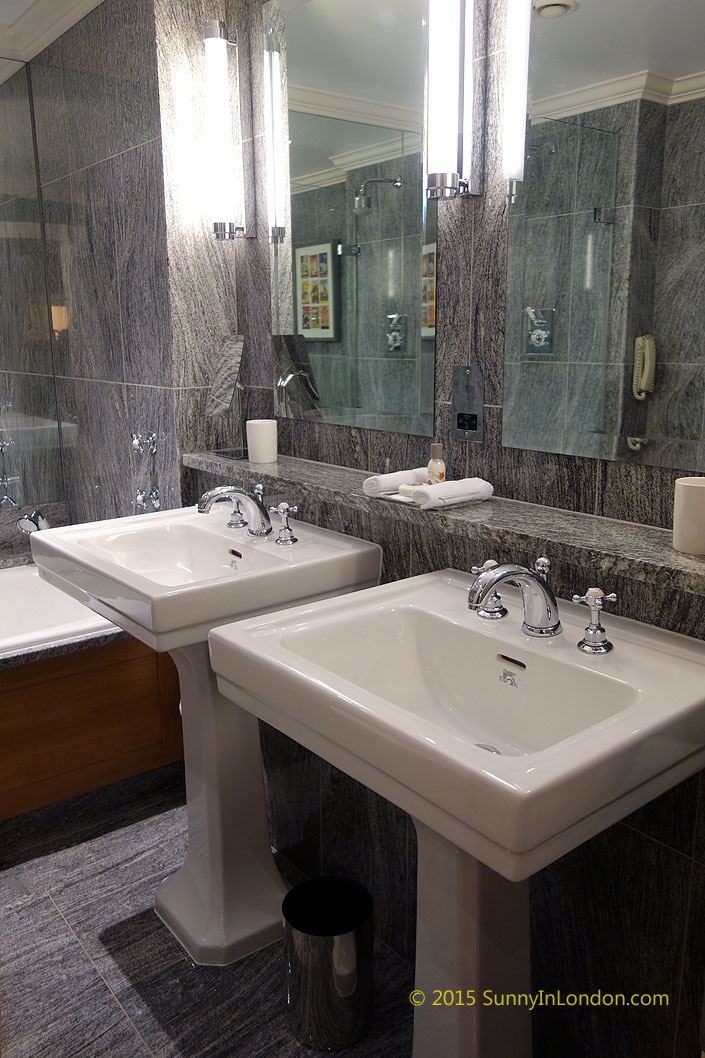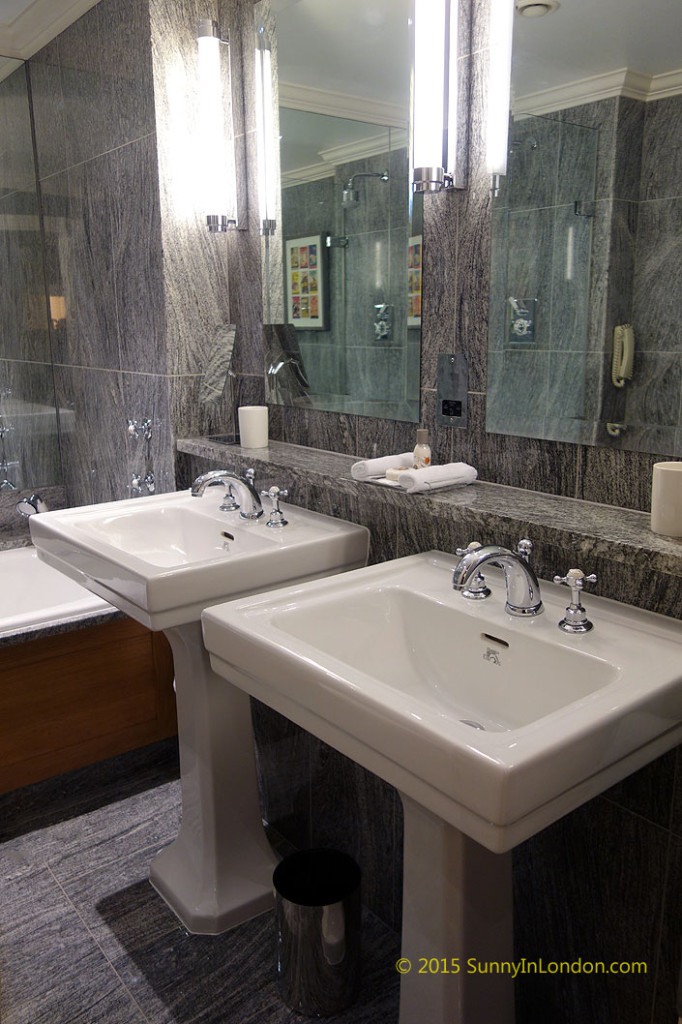 While Firmdale Hotels is known for its vibrant use of colour in the interior design, you can see the colours beautifully balance together to create a warm and inviting ambience. Even better is the fact that while in the room, I couldn't hear one sound from the bustling area outside.
Here's the second room we toured…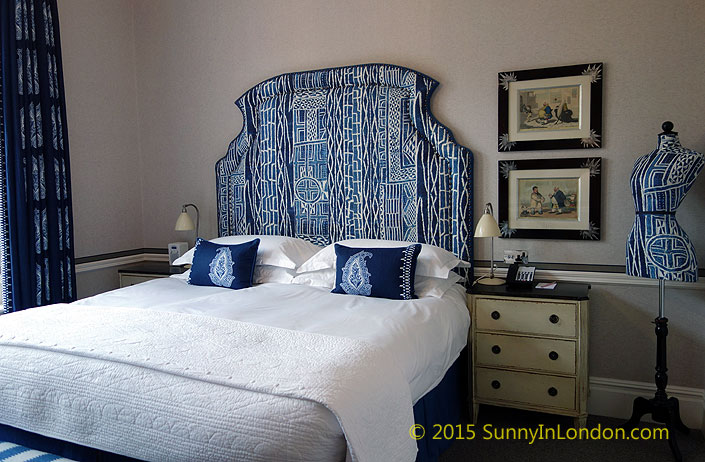 Again, the cheerful fabrics dance together around the room to create an atmosphere of tranquility.
Our hotel representative explained to my friend Nicole and I that 60% of their guests are frequent visitors. Easily, you can see why. I didn't want to leave either.
However, if you aren't in need of an overnight stay in London, the hotel also has other amenities for you.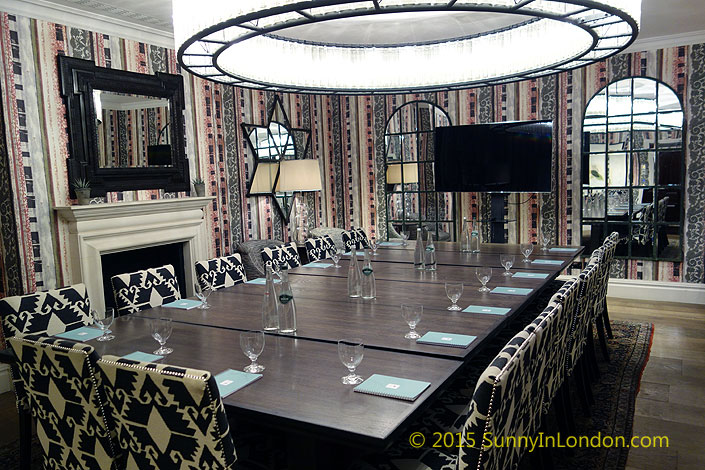 That's a conference room that people can book. I bet if you were scheduled for a meeting or work seminar in that space that you would actually be excited!
Or perhaps you would like to host a film screening?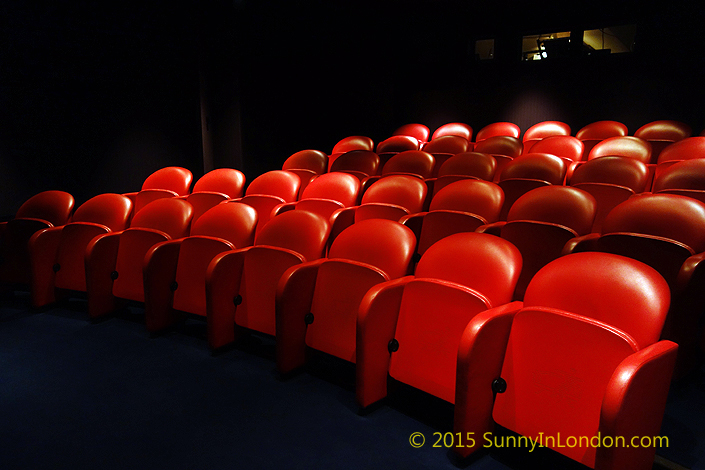 We learned that this space is used for celebrities and executives to preview films, as well as hold press launches and corporate presentations. Further, it's utilised for the hotel's Film Club activities. Here's a link to their film series events that you can attend.
Covent Garden Hotel Afternoon Tea: Final Thoughts
My friend and I arrived for our afternoon tea booking fully prepared to savor their regularly offered 'Covent Garden Tea.' However, the surprise of the special Chelsea Tea offer made our evening. We arrived at 4pm on Saturday, and the restaurant was bustling. Brasserie Max appeared fully booked by the time we left, so I strongly recommend booking a table in advance.
If you agree with me that all of this sounds like the Covent Garden Hotel is a fantastic place to stay, you can visit their website, email the hotel to learn more about rooms, or follow them on social media. They also have hotels in New York City.
Finally, if you aren't in London or near the hotel, you can find Kit Kemp's book 'A Living Space' on Amazon
. It features the owner's secrets on how to 'leave behind design rules to create truly beautiful, original interiors.' I highly recommend it for yourself or as a gift for someone who appreciates cheerful, exquisite designs.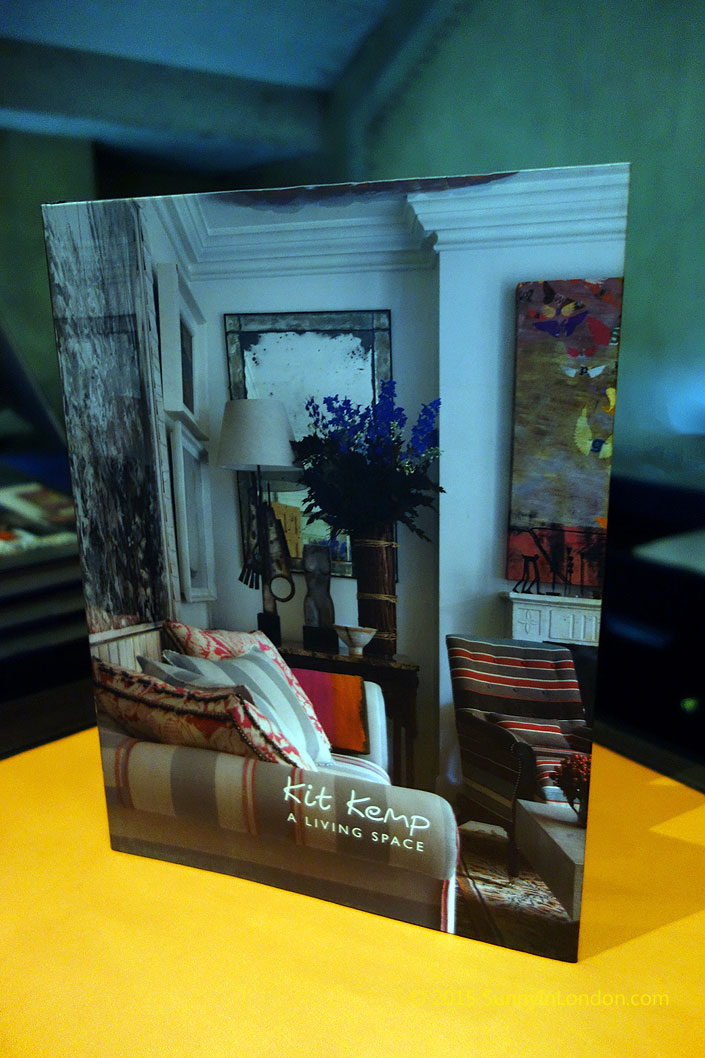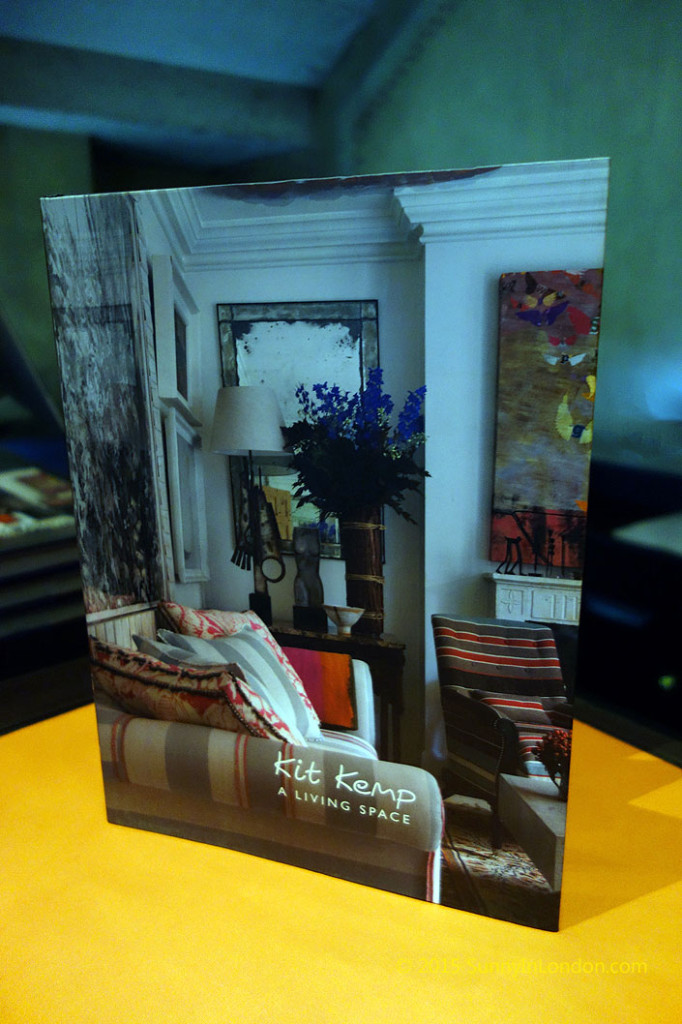 Our Covent Garden Hotel afternoon tea experience was complimentary for the purpose of a review. This in no way influenced my opinions expressed above. I regularly tell people the Firmdale Hotels offer the best value for food in London. Make sure you ask me when you see me!
The Covent Garden Hotel is located at 10 Monmouth Street, Covent Garden, UK WC2H 9HB
So, Sunny friends, what do you think of all these images of food and fun in one of London's most unique hotels? Fancy a meal or stay at this location? If so, I'll happily meet you there 😉