Have you ever eaten alligator? At the Ocean Deck in Daytona Beach, Florida you can have Gator Bites. Yep, you British readers are probably staring at your screen in awe right now. But, it's true.
Oddly enough, even though I lived in Florida most of my life, I had never eaten gator until this past Christmas holiday. Why is that?
Well, to be honest, it just didn't sound appealing to me.
I knew when planning Mr. Sunny's first trip to Florida that I wanted to take him to all the iconic beach bars in Daytona and have him eat like a local. As I explained the restaurants and bars to him prior to our trip, he fantasized about what it would be like drinking beer on the beach at Christmas. He was born in London, and despite travelling all over the world while working for NBC News and even living in Los Angeles for a year, he had never made a trip to visit Florida.
While visiting the Ocean Deck's website during out travel pre-planning, Mr. Sunny spotted Gator Bites on the menu. It's all I heard about for the next few days. And then, on a December afternoon around Christmas, we hit the deck. The Ocean Deck.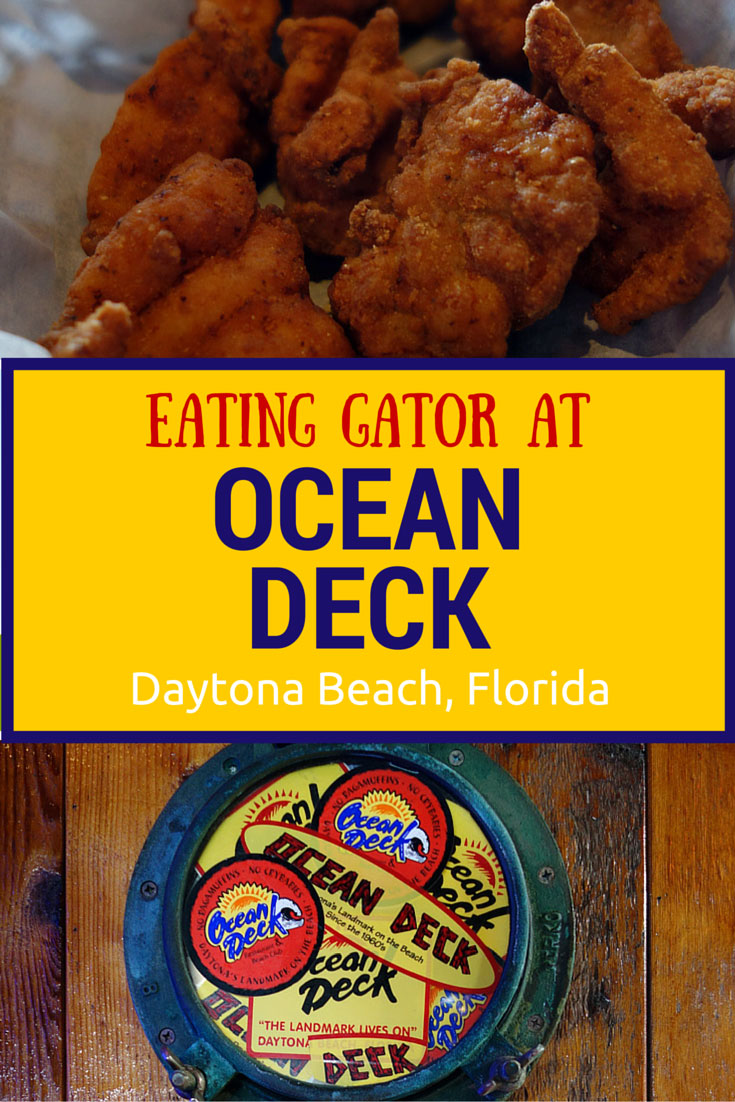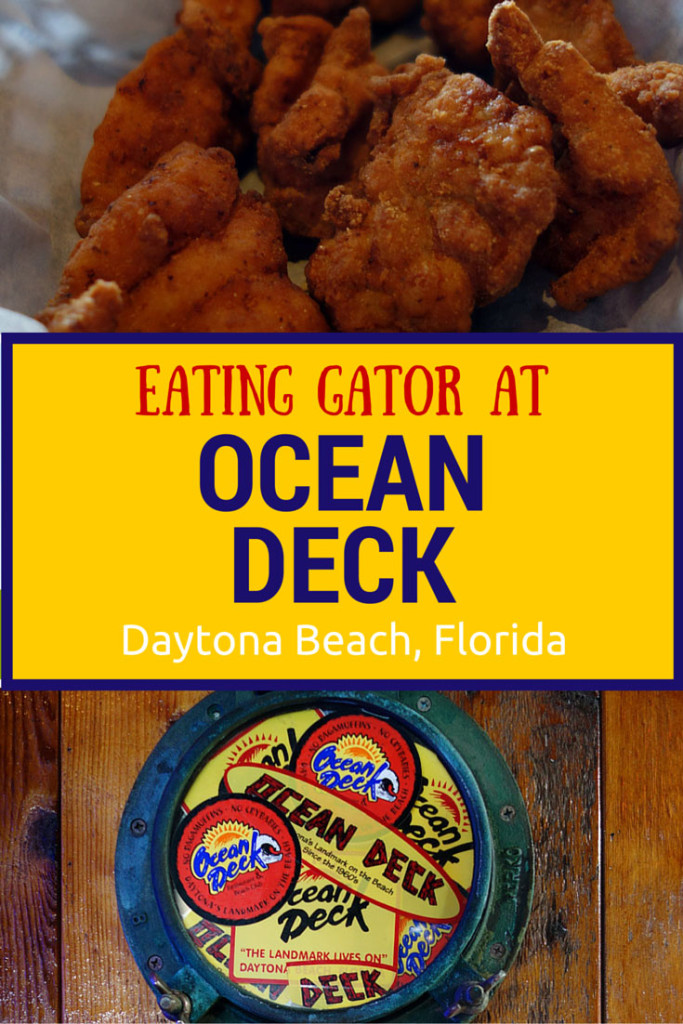 Starting as a hot dog stand in 1957, the Ocean Deck is an iconic place to eat and enjoy live entertainment in Daytona Beach, Florida. This restaurant, also known as 'The Legend on the Beach', is a popular hangout for locals as well as tourists. It has music festivals, volleyball tournaments, 5k Fun Runs and many more events to keep you 'dancing in the sand with a drink in your hand.'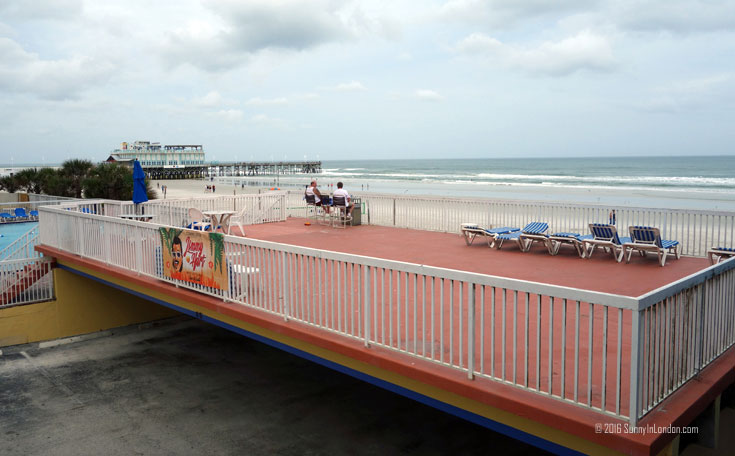 We arrived just after 11:00am as I didn't want to bring Mr. Sunny there when it was too crowded. Unfortunately, it wasn't a particularly beautiful sunny day.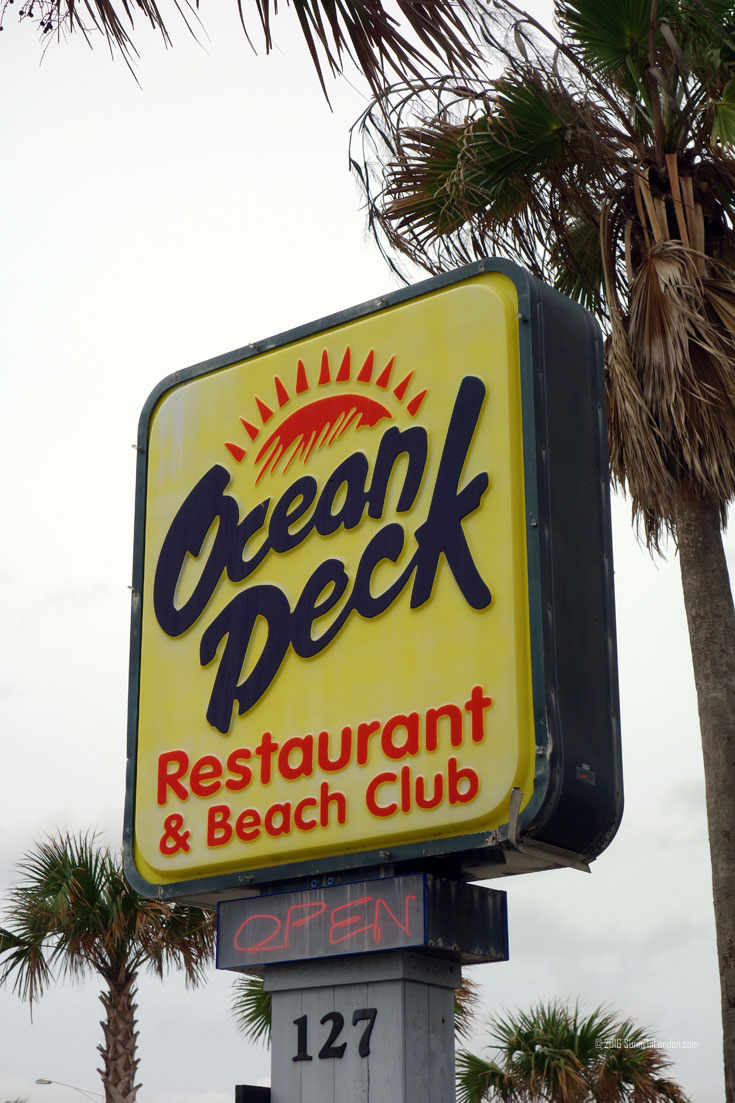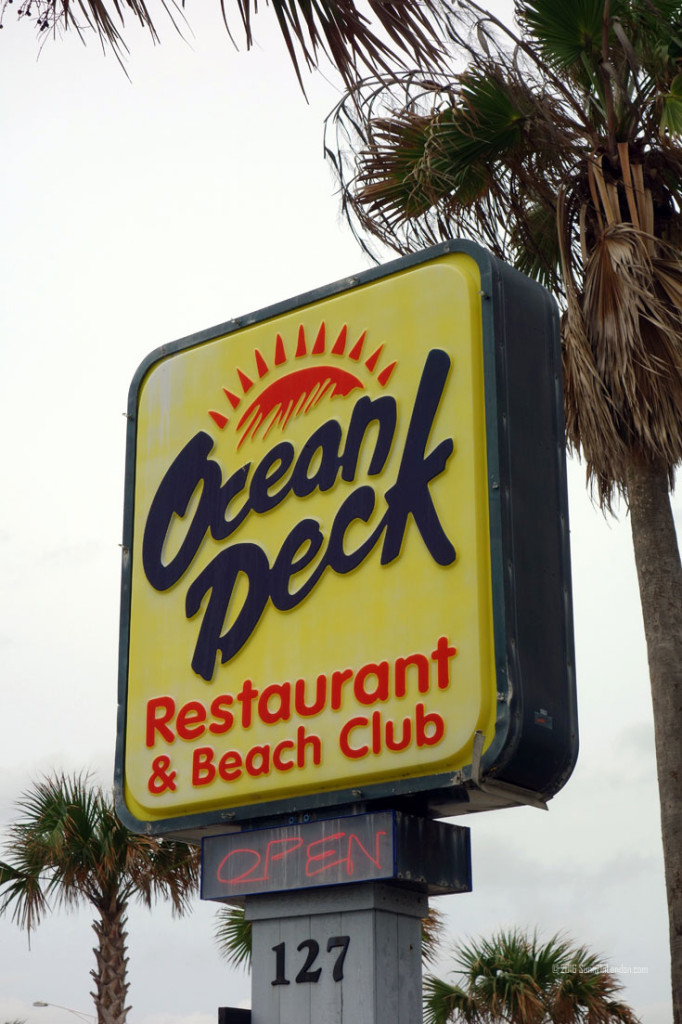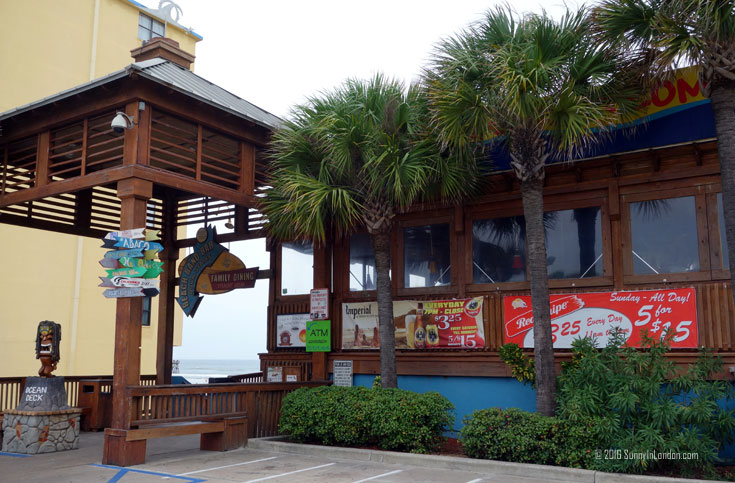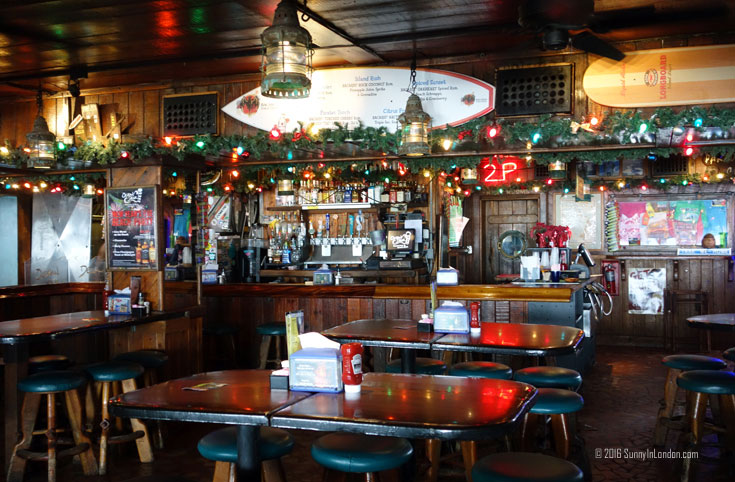 Because Mr. Sunny had already fully reviewed the menu, it didn't take him long to order what he wanted. Once it all hit the table, he realized that all of his food choices were fried. This destroyed any hope of him having a healthy lunch. In fact, gator meat is generally known as a healthy meat source because it's high in protein and low in fat.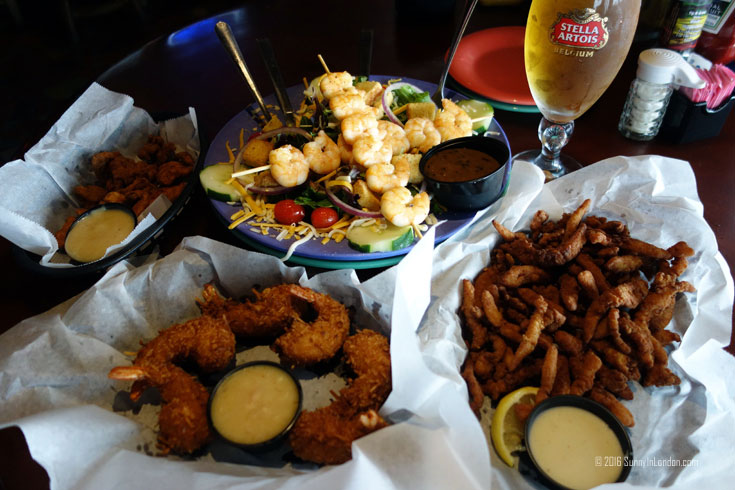 Can you see my salad sitting there in the back? It's just behind Mr. Sunny's Caribbean Coconut Shrimp and the Crispy Clam Strips. Individually, the Grilled Shrimp Salad is pretty colourful. Let's take a closer look to see what I mean…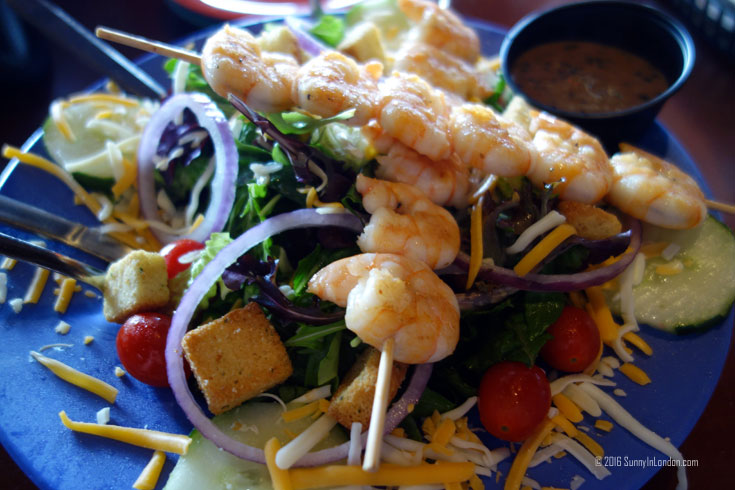 I did try one mouthful of the Gator Bites. The meat was a little tougher than what I anticipated. Truthfully, in all that batter you can't really taste anything bizarre. My husband really liked them.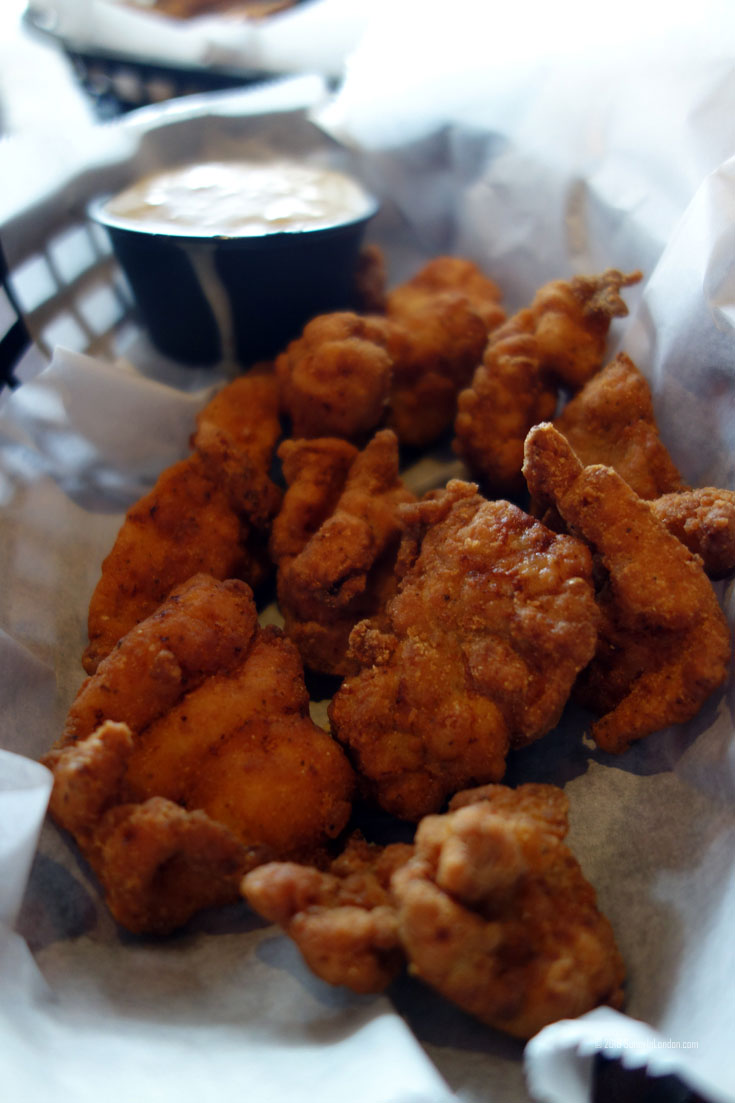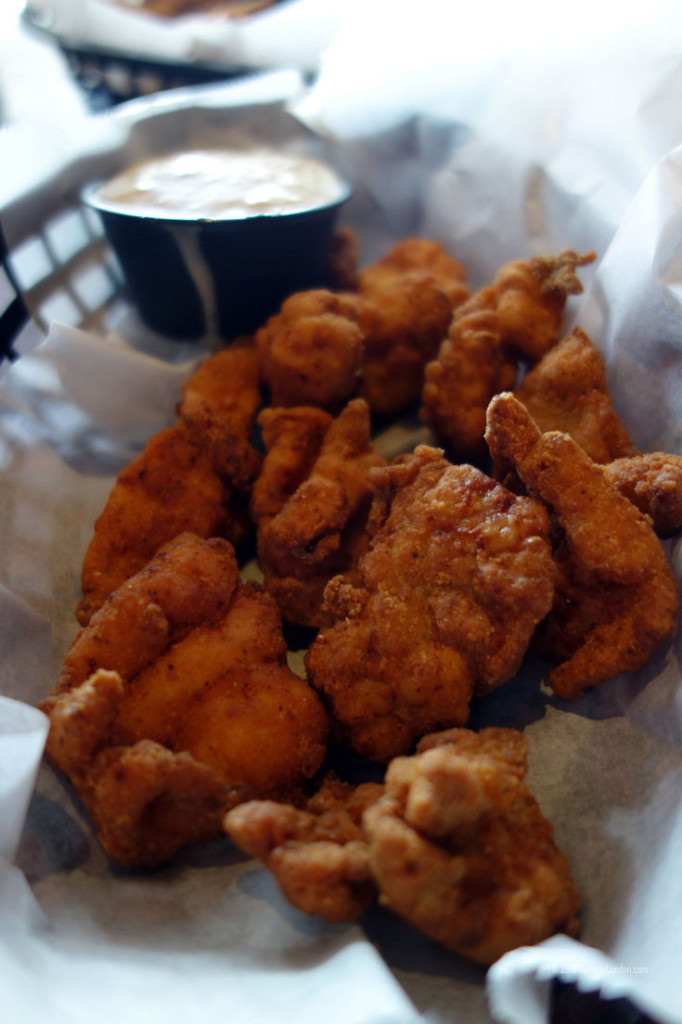 In less than an hour, the tables were full at the Ocean Deck. Because we were doing a beach bar pub crawl, we started to make our way out of the restaurant. Mr. Sunny loved the personality of the place and thinks the toilet and other signs are pretty clever.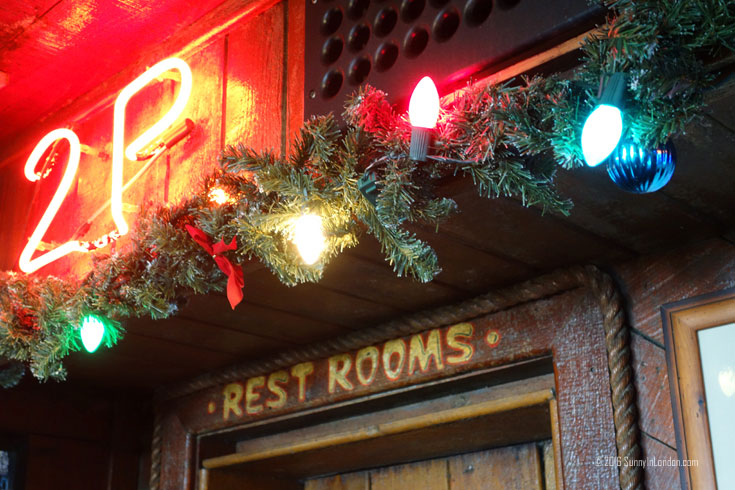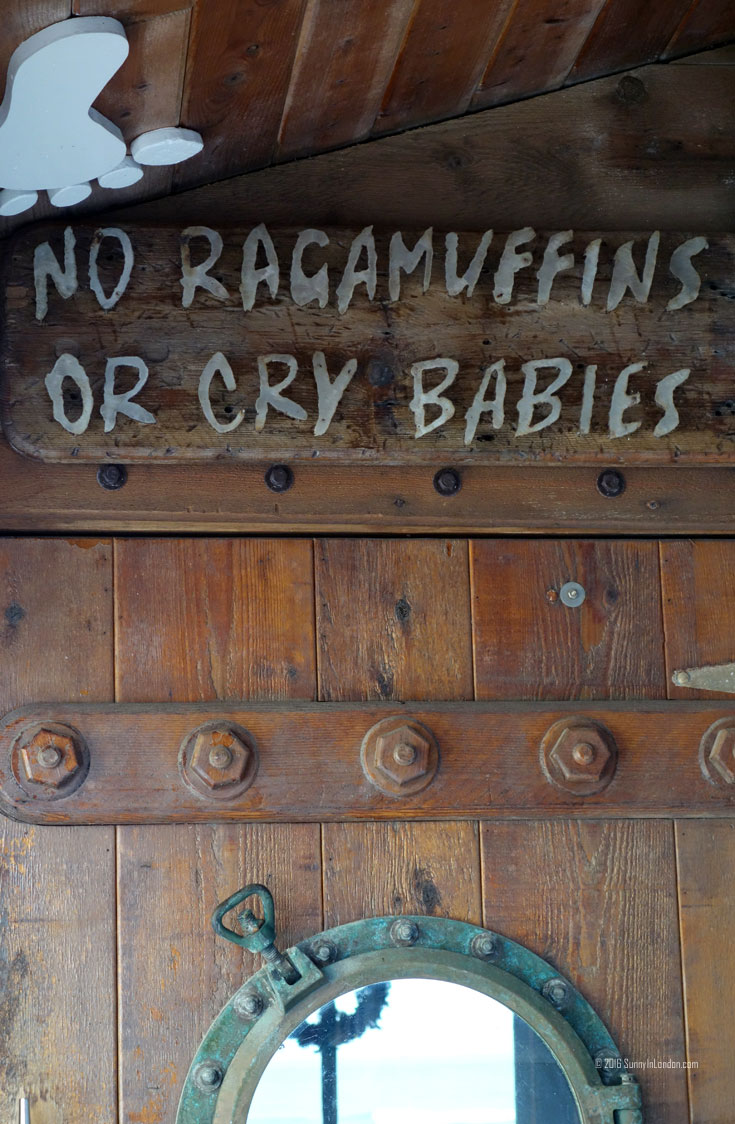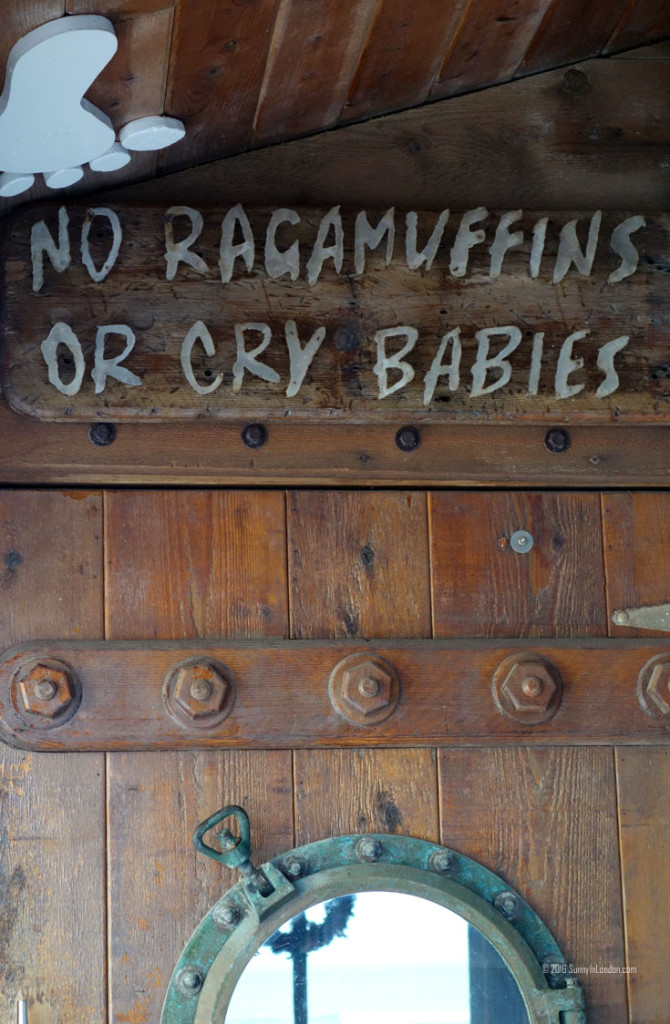 He also had a real treat in the gift shop, as the person working was from England and moved to Daytona Beach twenty years ago. We all had fun picking out a bar shirt for him, as that's one of the souvenirs he always likes to get. However, because people in London don't generally wear clothes with bright colours, we didn't get any of the traditional style shirts they sell. He bought a white one with the logo.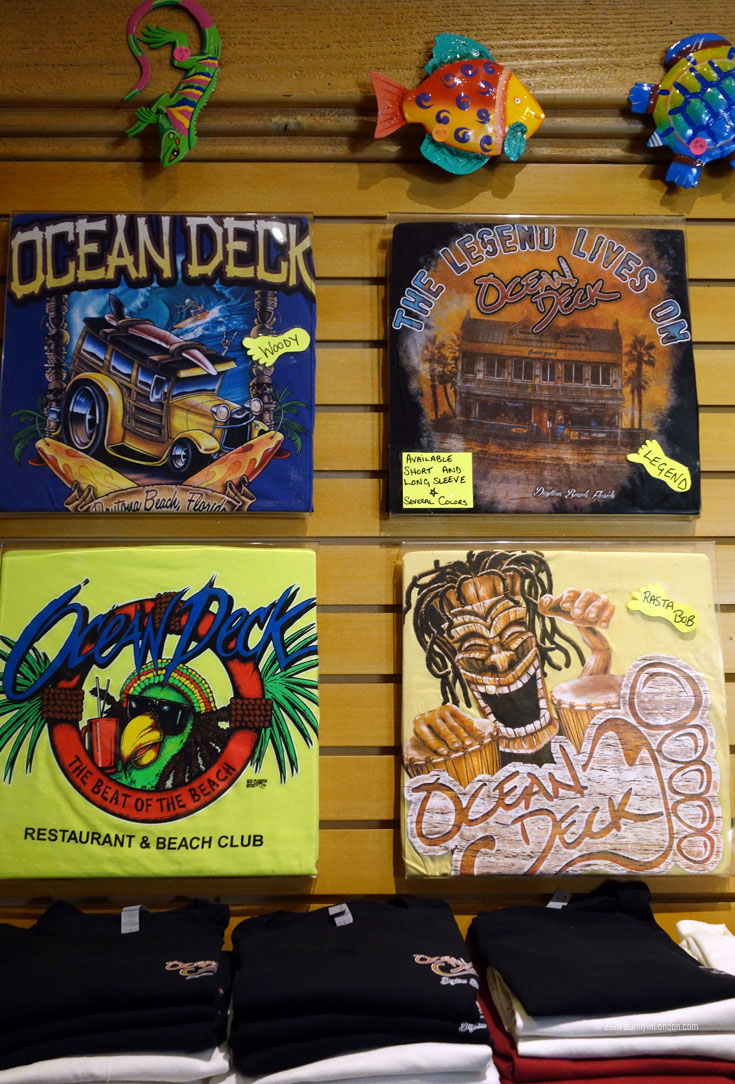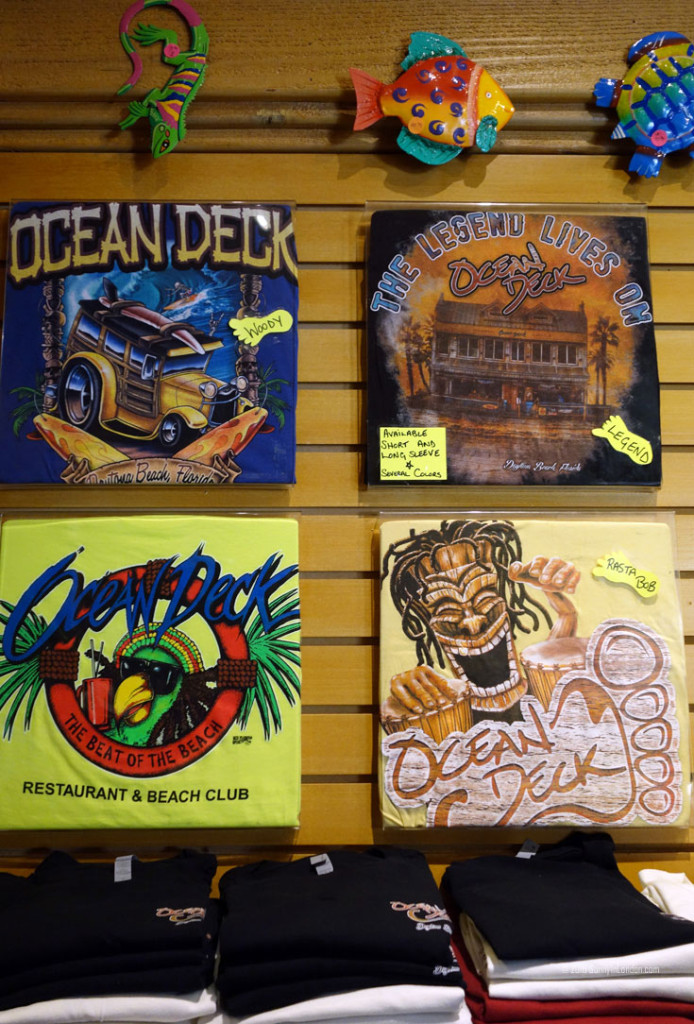 As we headed to our car in the parking lot, Mr. Sunny enjoyed hearing the tiki doll exclaim, 'Ha!Ha!Ha! Haaaaaaa! Welcome to the Ocean Deck' in the same way it's been said for decades in commercials. Just in case you aren't from Daytona Beach and don't know what I mean, you can hear it for yourself as soon as you visit the beach restaurant and club's website.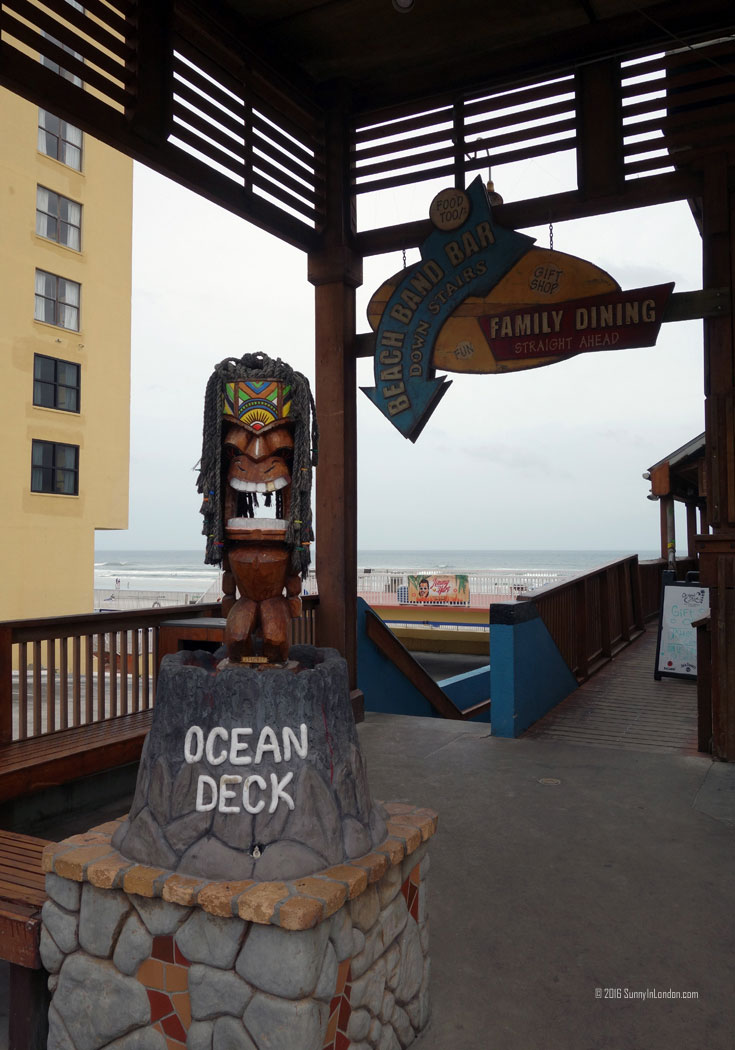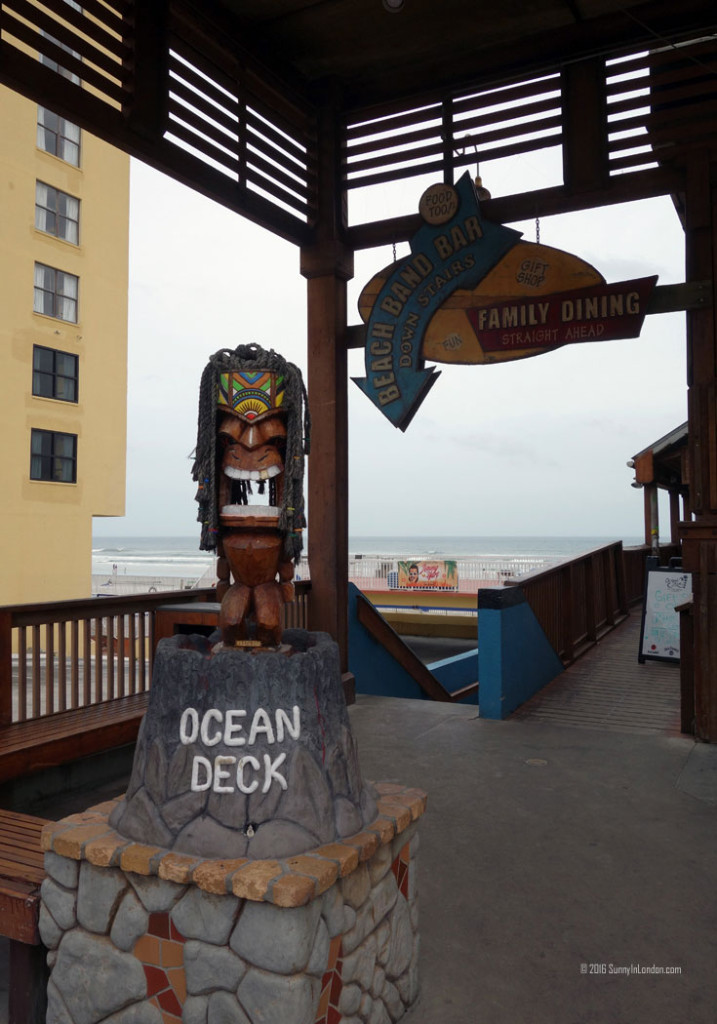 Our only regret with our visit to the Ocean Deck was that the weather that day wasn't too picturesque Florida. But that just means we'll need to make a trip back the next time we travel to Daytona Beach together.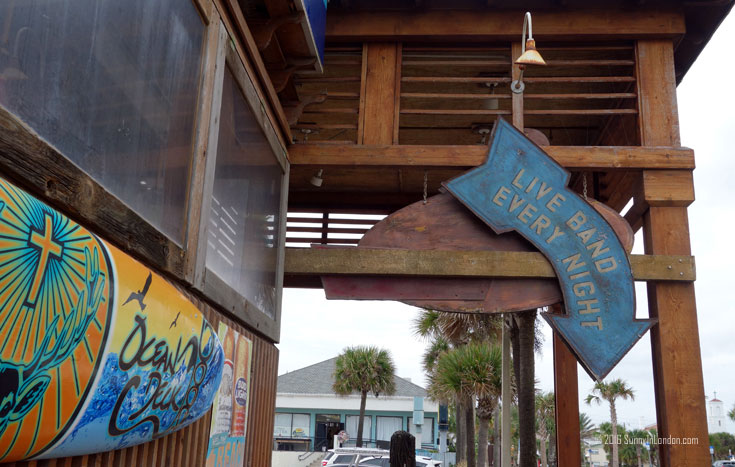 Are gator bites on your food bucket list, Sunny friends? Have you tried them already, and are you a fan?