Fun, FREE Christmas Things To Do in London!
Finding free Christmas things to do in London is not as hard as you might think. In fact, when you live in one of the world's most expensive cities, you are constantly looking out for discounts or free events and opportunities.
For Americans or other travellers to London who have a limited amount of time for a holiday, it's nice to have a guide to direct you to ways to save money and effort on research. London has so much to offer during the most wonderful time of the year. Quite a few things will put you in the Christmas spirit while not costing anything!
To keep it simple, this guide is arranged by area. Further, all the suggestions are within walking distance of each other and can easily be seen in one day. For the most part, the focus is on the West End and surrounding borders.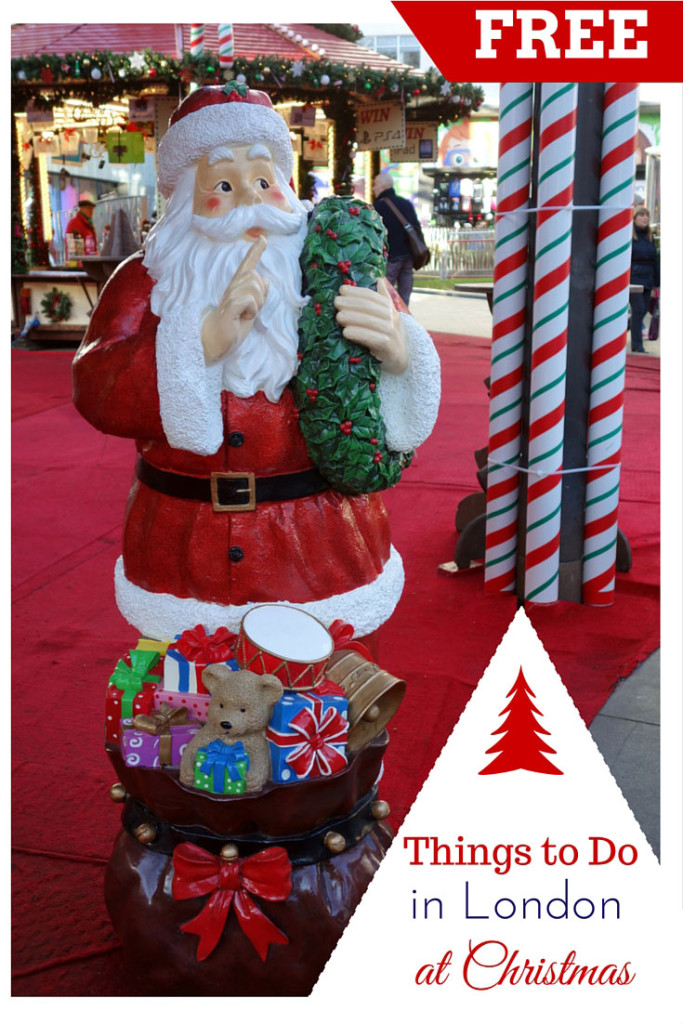 Christmas Things to Do in London: Covent Garden
Naturally, we'll start with the area that's my blog favourite. Packed with theatres, shopping, restaurants, bars and hotels, Covent Garden offers loads of activities year-round. The free Christmas activities range from the obvious to hidden neighborhood treasures.
The decorations in the Piazza contribute to some of London's most popular Instagram moments. This year's theme is Mistletoe, which means the piazza is truly lovely!
After strolling through the Jubilee Market and Apple Market, you can spend some time taking selfies in front of the Covent Garden Christmas tree and watching the very entertaining street performers.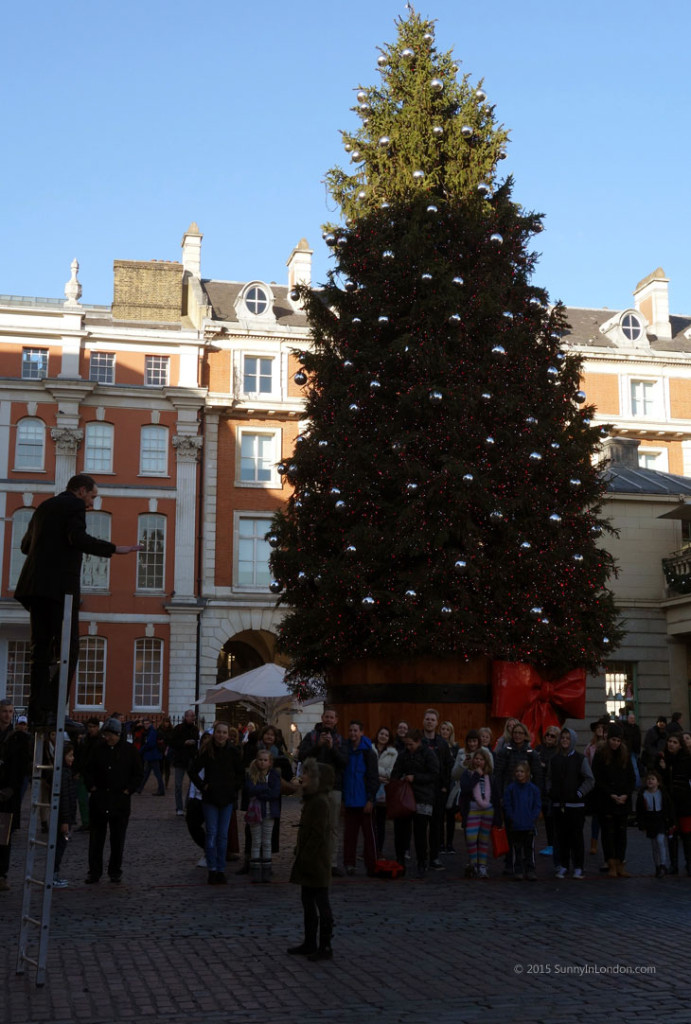 In the past there have been Santa's reindeer on display for a series of Saturdays. I'll be sure to update this list when they publish this year's dates.
Walking North from the Piazza, you'll find St. Martin's Courtyard. Aside from numerous restaurants, you'll be able to see the floral displays of the Covent Garden Academy of Flowers.
Just like the tree and decorations in the Piazza, the arrangements outside create fantastic picture opportunities.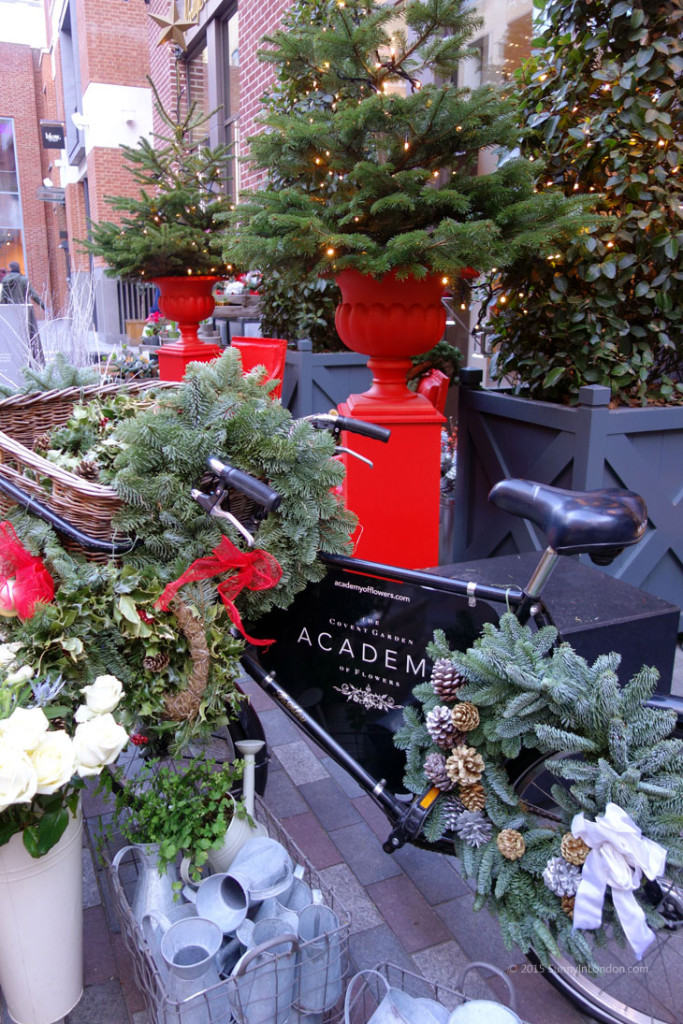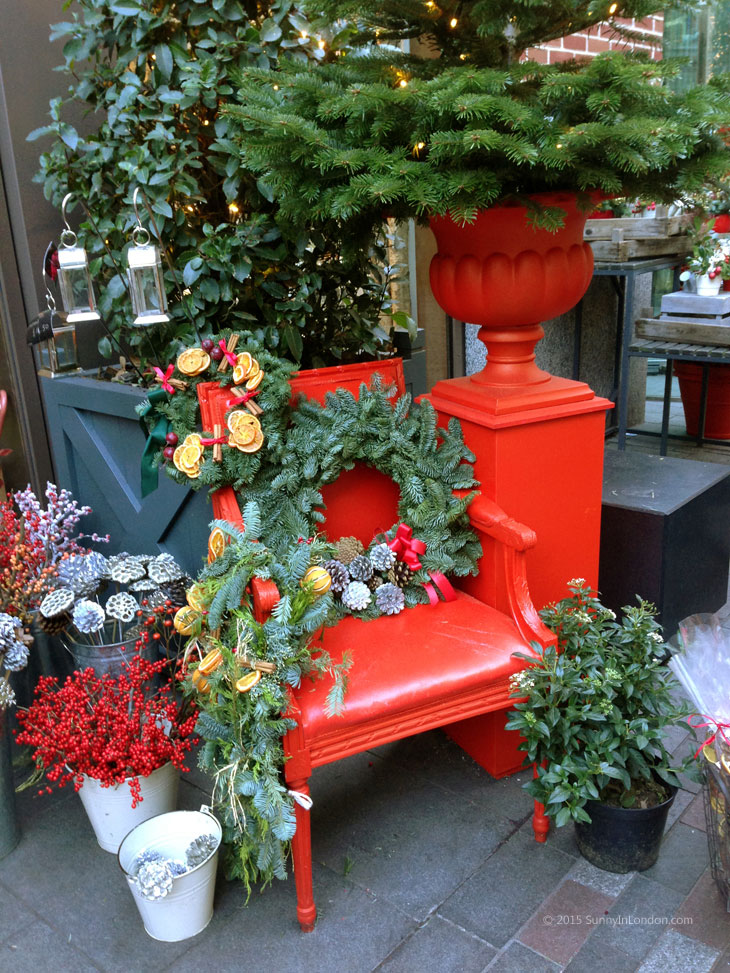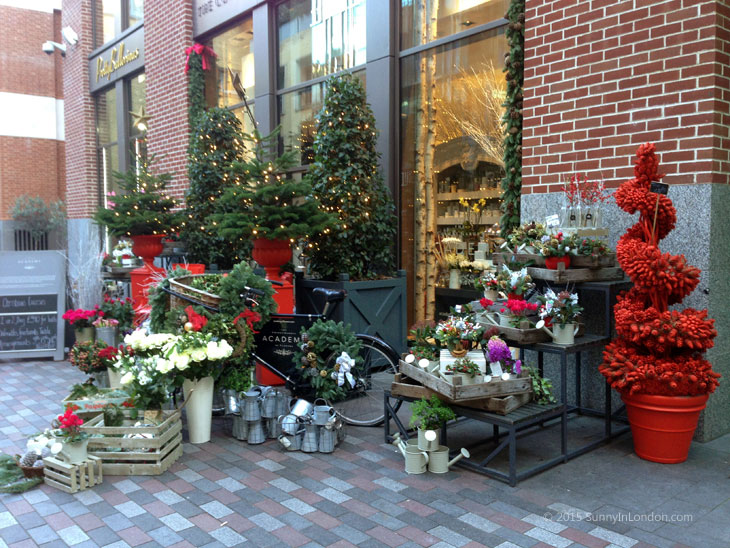 If you are in fact Christmas shopping, I highly recommend one of their classes on making flower arrangements as a gift for a girl who 'has it all'. Of all the workshops and courses I have taken in London, this class ranks as the best.
Christmas Things to Do in London: Trafalgar Square
In comparison to the Christmas tree in Rockefeller Center, the tree in Trafalgar Square isn't quite as grand. Nonetheless, visiting it is something I make sure to do several times during the holiday season.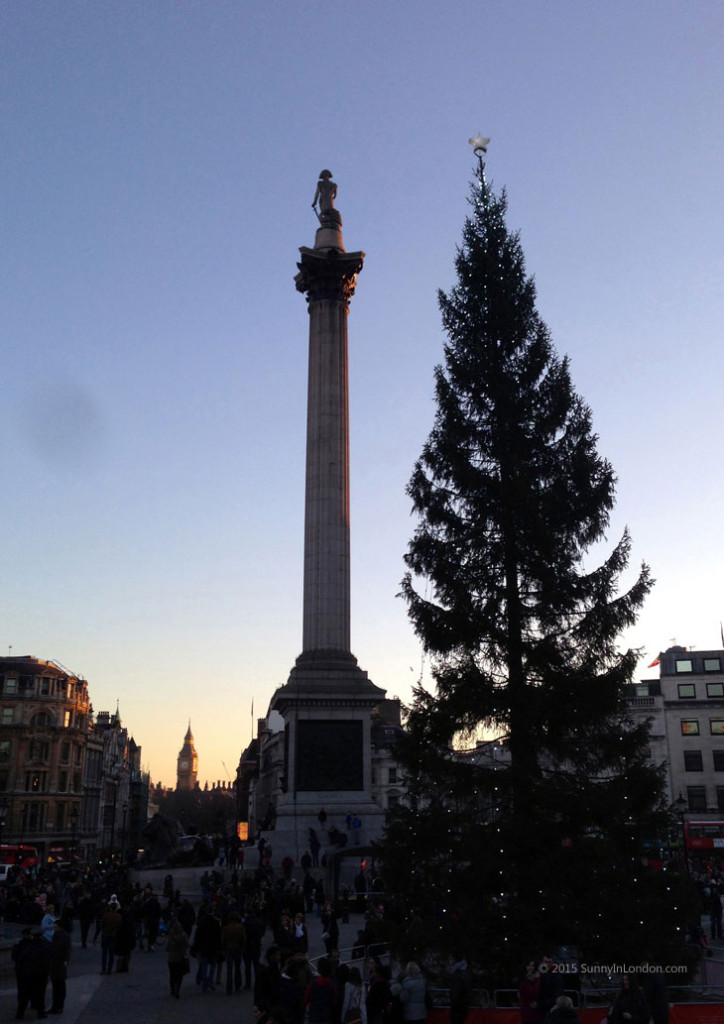 Like Covent Garden, you are likely to see street performers dressed in holiday style. And, if you look very, very closely (in the bottom right), you might even catch a glimpse of Santa Claus.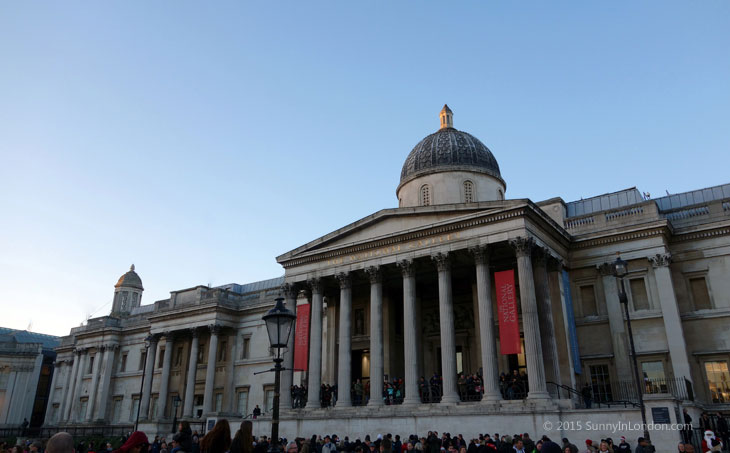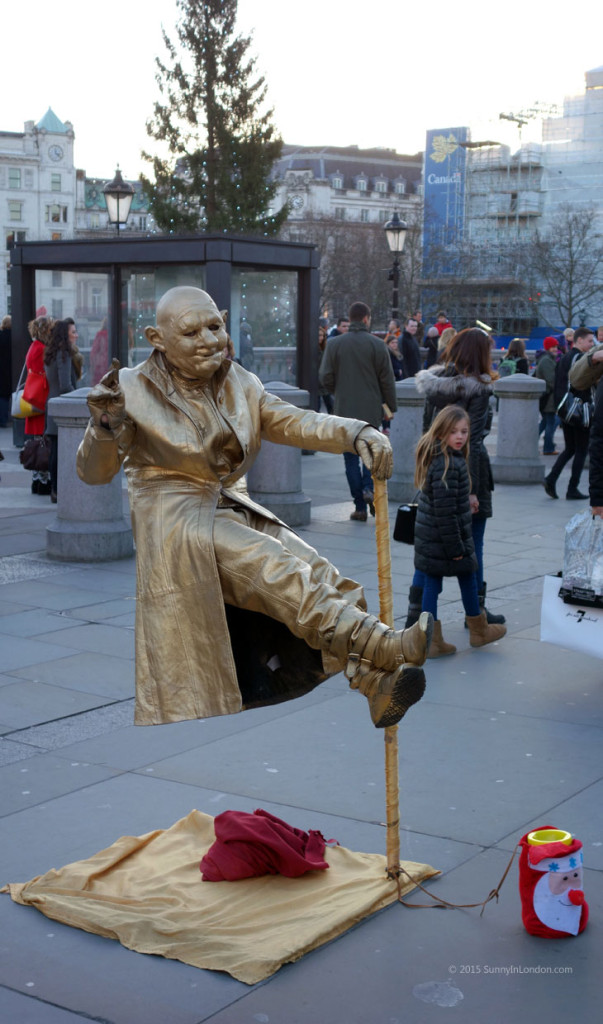 Finally, there are Christmas Carol services that you can watch for free on evenings during December.
Christmas Things to Do in London: Carnaby Street
If you want your list of free Christmas Things to Do in London to reflect a more eclectic vibe, Carnaby is the area you need to be. Their holiday lights officially illuminated the sky on November 12th. The dangling disco balls are dazzling.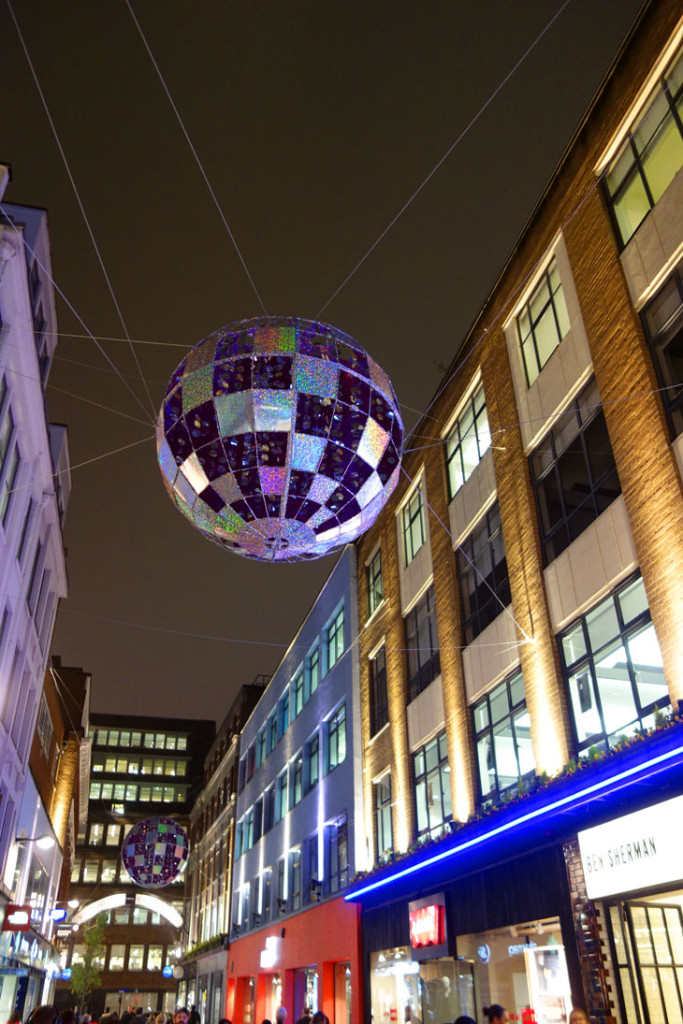 Just around the corner from Carnaby Street is Foubert's Place where you will find Choccywoccydoodah. This famous chocolatier has its own successful reality television show. If you take one look at the chocolate cakes, yes this all chocolate in the pictures below, you can see why.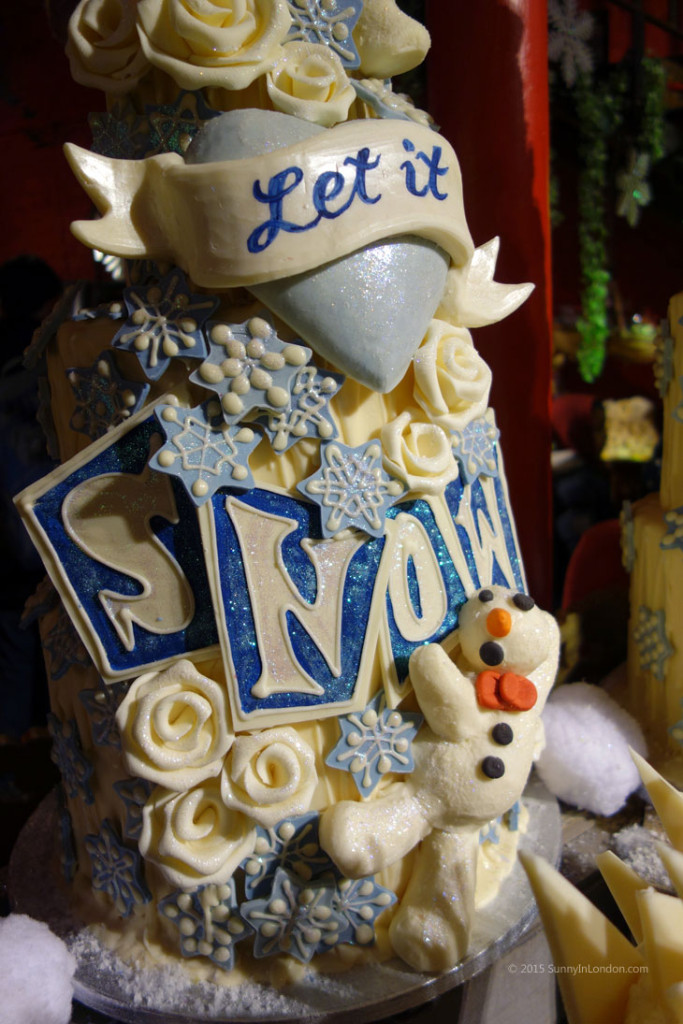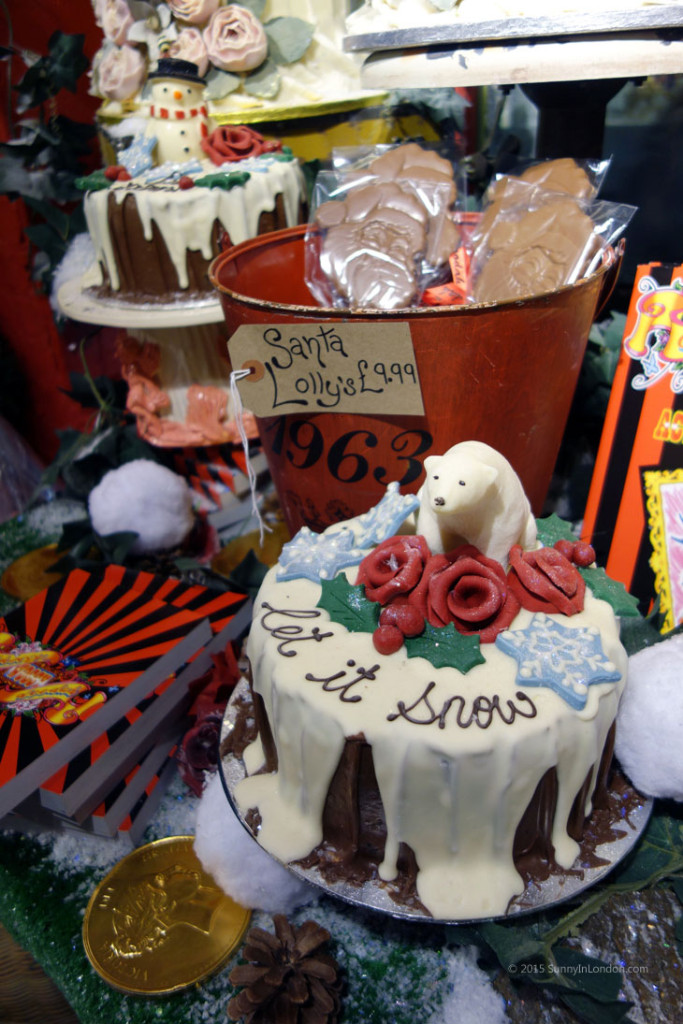 Each year I make a few trips in to the store just to see the gorgeous displays. Again, it's a great place to pick up fantastic chocolate for gifts. Or, if your diet is waiting until New Year, upstairs has a small but divine chocolate cafe.
Christmas Things to Do in London: Oxford Street
Not too far north of Carnaby is Oxford Street. This street is famous for many retail chains and countless red busses that travel tirelessly under all the strands of Christmas lights.
Aside from gazing at the glistening street lights, for free you can also view the displays at Selfridges.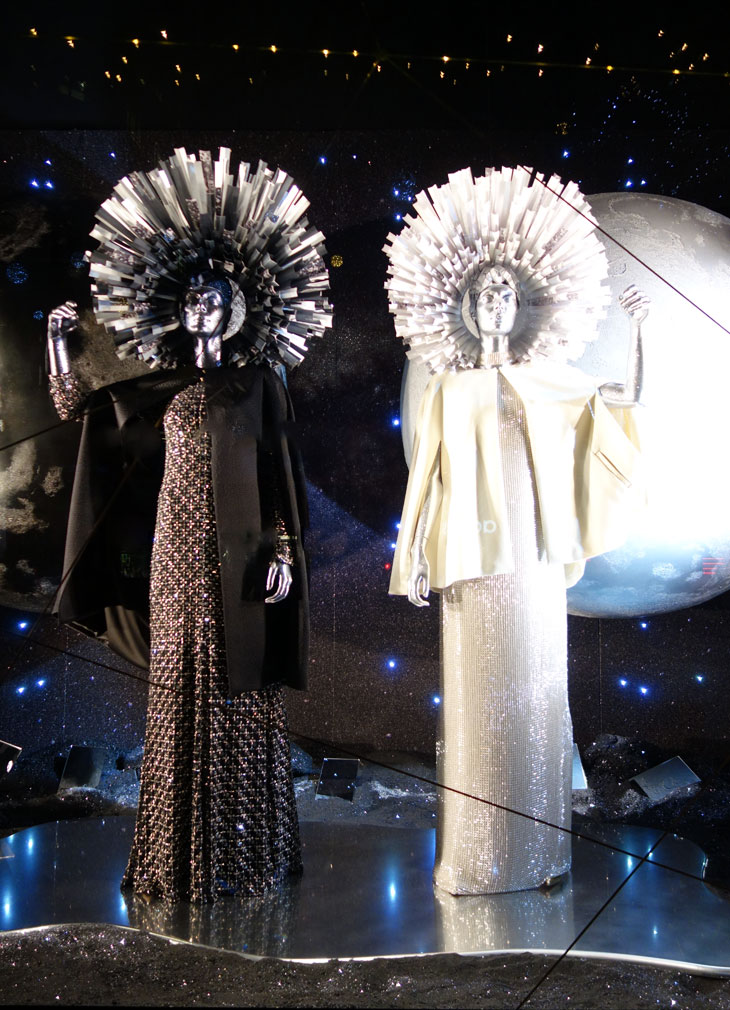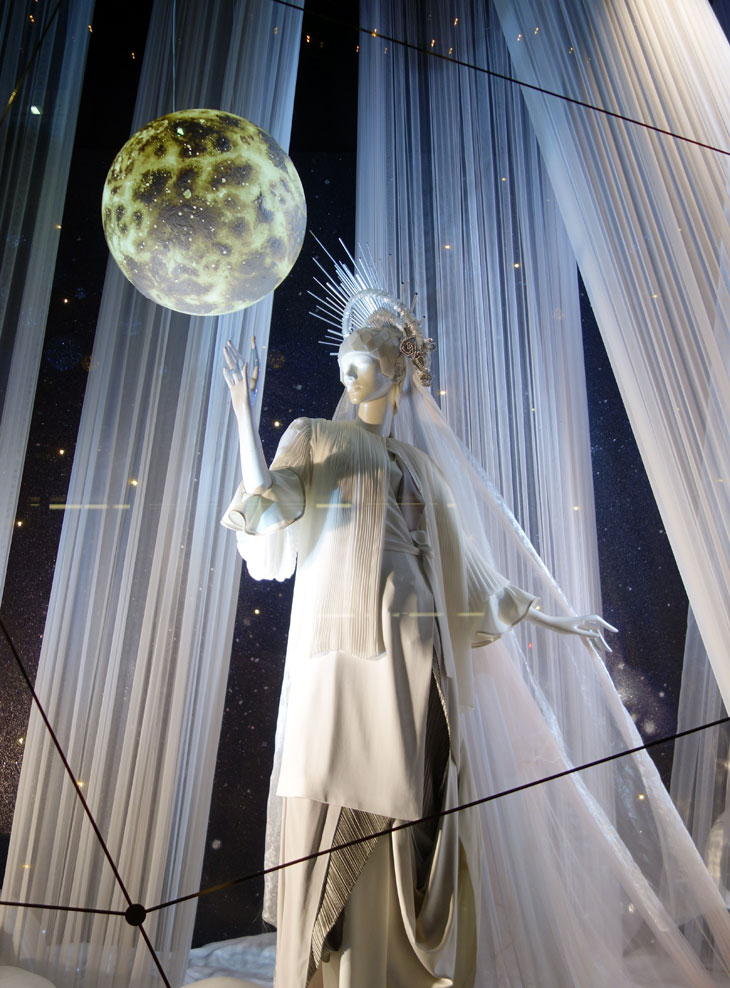 Some people think Santa's Grotto at Selfridges is the best in London. However, if you venture inside the department store, you're very likely to spend money so I'll refrain from pictures here in the spirit of the promotion of free Christmas things to do in London. 😉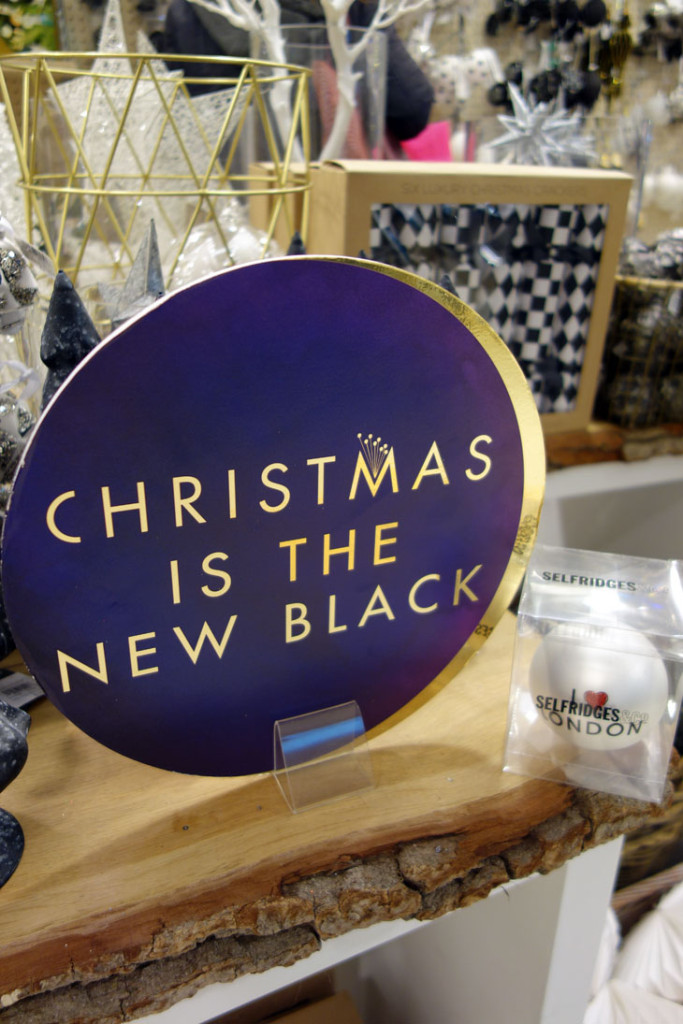 Christmas Things to Do in London: Regent Street
Finally, the last stop is the biggest shopping street in Europe, Regent Street. Their seasonal events and decorations are unrivaled by any London neighborhood, in my opinion. From the Traffic Free Sunday's in July, to the NFL in London Street Party, Regent Street promotes London love all year long.
Something you can do for free on Regent Street is visit Hamleys. At the entrance you are always greeted with something spectacular. The last time I visited I was showered with bubbles.
The Regent Street location has been there since 1881, so its absolutely iconic. It's the oldest toy shop in the world, so it's naturally always crowded.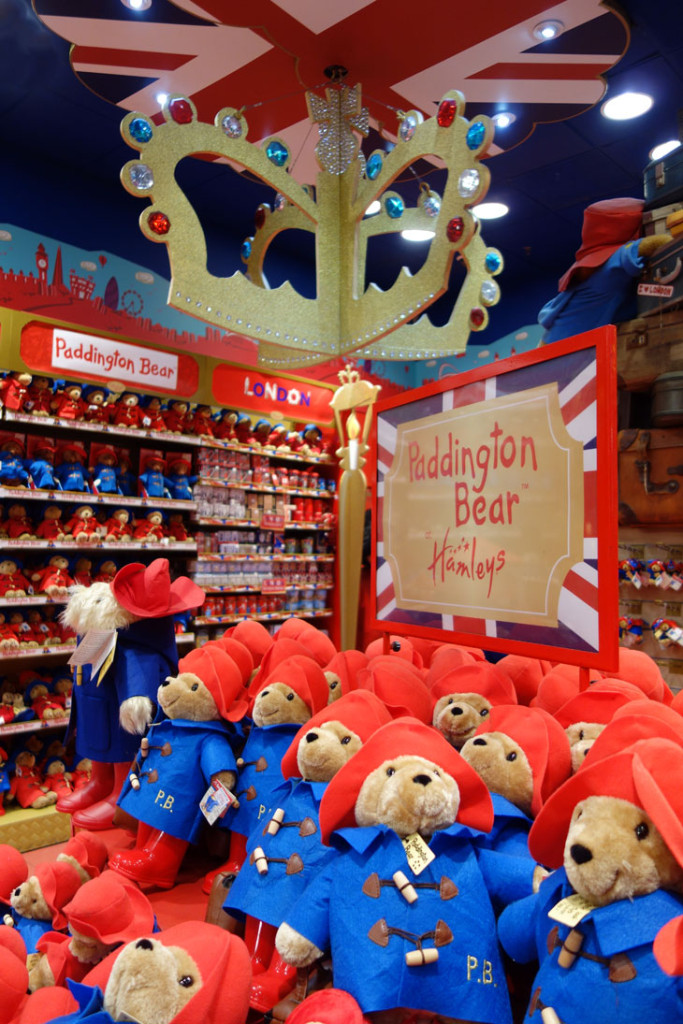 Free Christmas Things to Do in London: Final Thoughts
When I have a leisurely day in London during the holidays, that's the list of activities I do. I'm sure other areas have fun options, but the ones above are close to each other and offer beautiful picture opportunities, including some of London's most iconic images.
What's on your list of free Christmas things to do in London that you would recommend?