Who needs finger sandwiches when you can eat a severed finger eclair? Ha! Ha! Halloween is here! And the Halloween Afternoon Tea at Lancaster London leaves everything to the imagination!
When the hotel's Executive Chef Ben Purton tweeted me to announce his latest creation, I had no idea how creepy it would be. The Halloween-themed ARTea Afternoon Tea is one you don't want to miss. Let me show you why…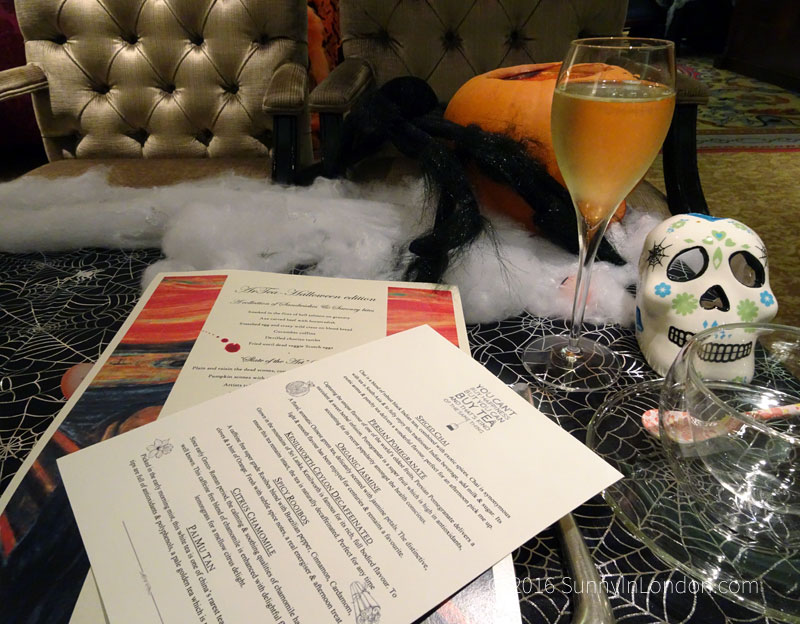 It kicks off in the hotel's first floor Lounge Bar. Your table is covered in spider webs, skulls, and other sneaky surprises! The scary experience starts with a glass of Pommery champagne and your choice of afternoon tea served by a devilish dude fresh from a gruesome kitchen experience.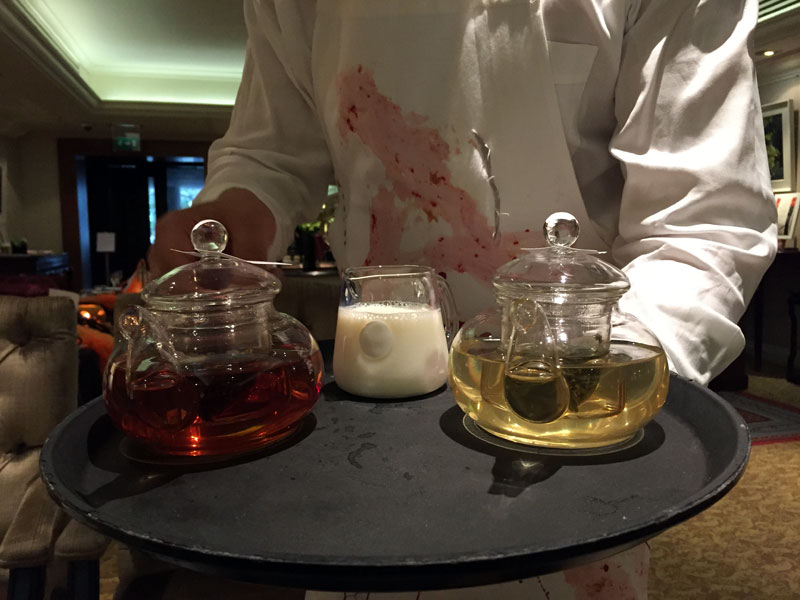 Ok, that's a bit of a stretch. Our server tried really hard to be 'scary' to fit the mood created by the props and food in the Halloween afternoon tea. However, he was just too charming to be classified as terrifying to me and the ghoul friend who accompanied me.
After you are exposed to a few more tricks, it is time for treats. The food is delivered in a wooden box or 'coffin' that metaphorical represents the death of your diet for the day. It includes savoury classics with a fantastically frightful twist such as: Axe carved beef with horseradish; Smashed egg and crazy wild cress on blood bread; Cucumber coffins; and Devilled chorizo tartlets. The later was the favourite for my friend and me.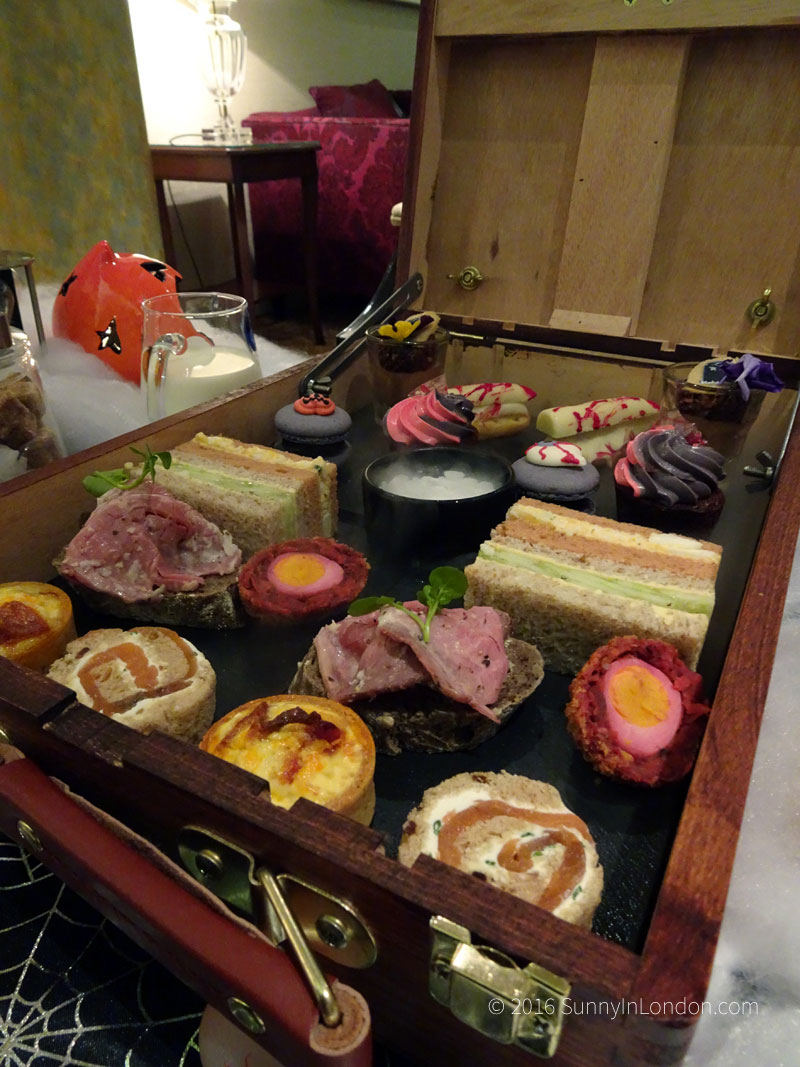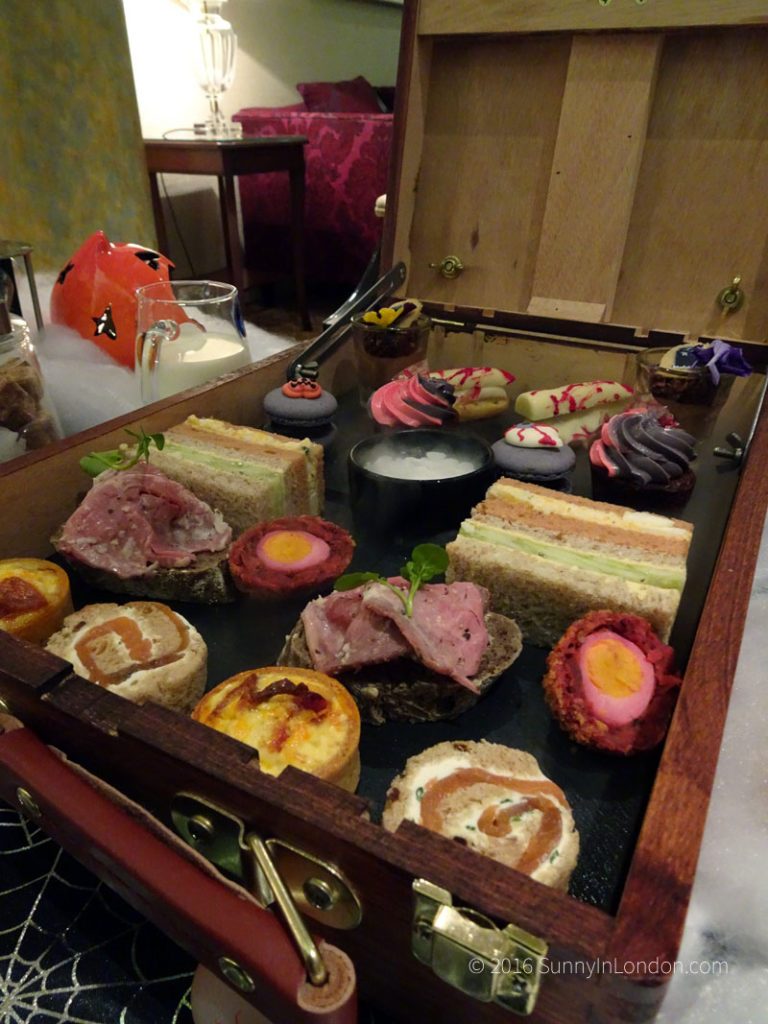 When you finish your savoury course, you need to let your server know you're ready for the scones, as they are prepared fresh. No kidding, they arrive warm from the kitchen and are delightful! Well, that's if you think you'll enjoy pumpkin scones with cremated blood orange marmalade plus artists' tubes of home-made strawberry jam and Cornish clotted cream.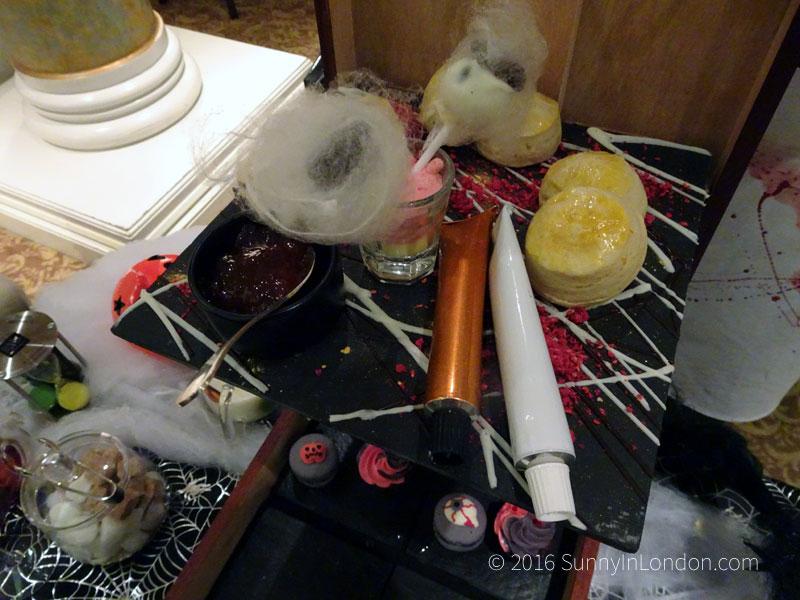 It's certainly an interesting concept squeezing cream from a tube on to a scone. Surprisingly, we both enjoyed how it tasted. The texture of the scones, as is standard with all of the afternoon teas I have attended with Chef Ben, is bang on!
Finally, the end of the Halloween afternoon tea includes: Spider web lollipops; Shattered glass cupcakes; Frankenstein macaroons; and Bloodied finger éclairs.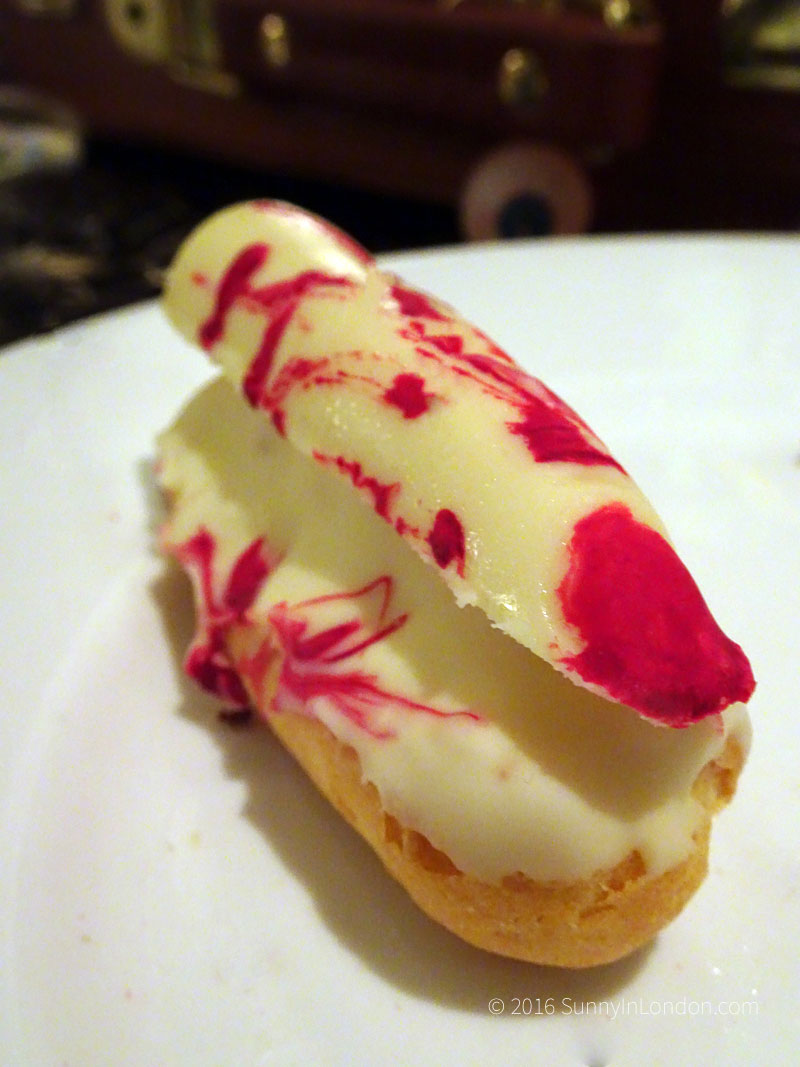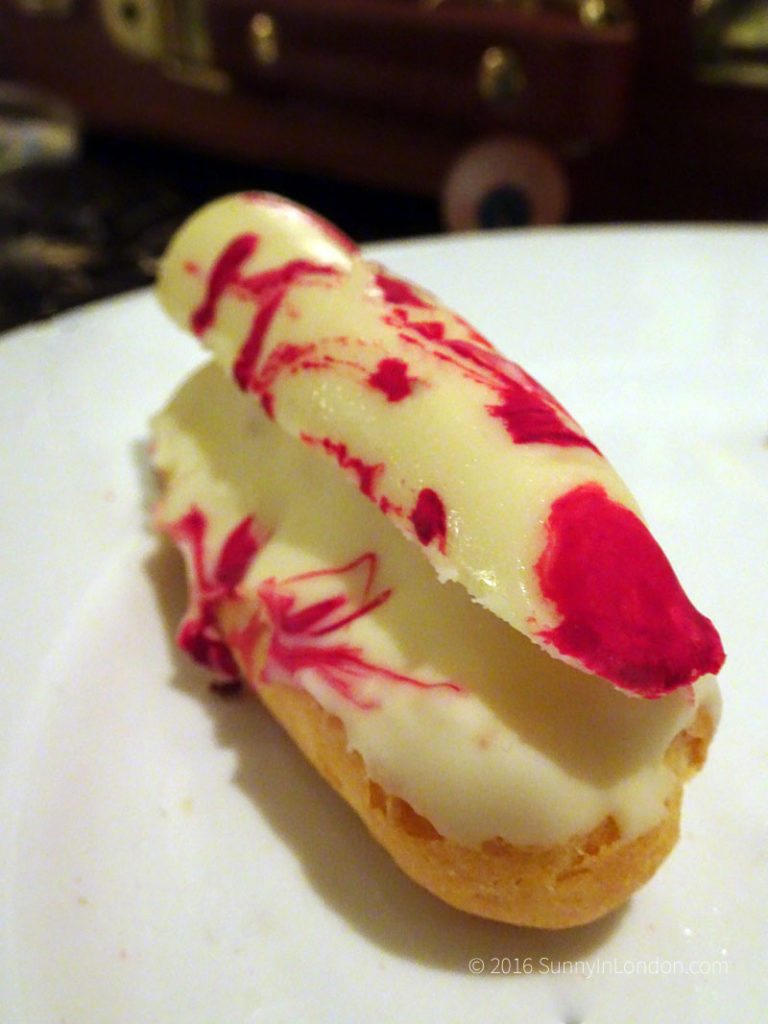 Halloween Afternoon Tea: Final Thoughts
My hat goes off to Executive Chef Ben Purton for this fantastic creation. The tea is fun spirited and the extra creativity reflected in the menu and countless props is beyond what I have seen from an afternoon tea in London. He and his team truly have a unique concept that should've started well before October 17 this year. However, if you're fast, you can get a table before the Halloween season dies.
I love that his Halloween afternoon tea has the best pour shot in all of London.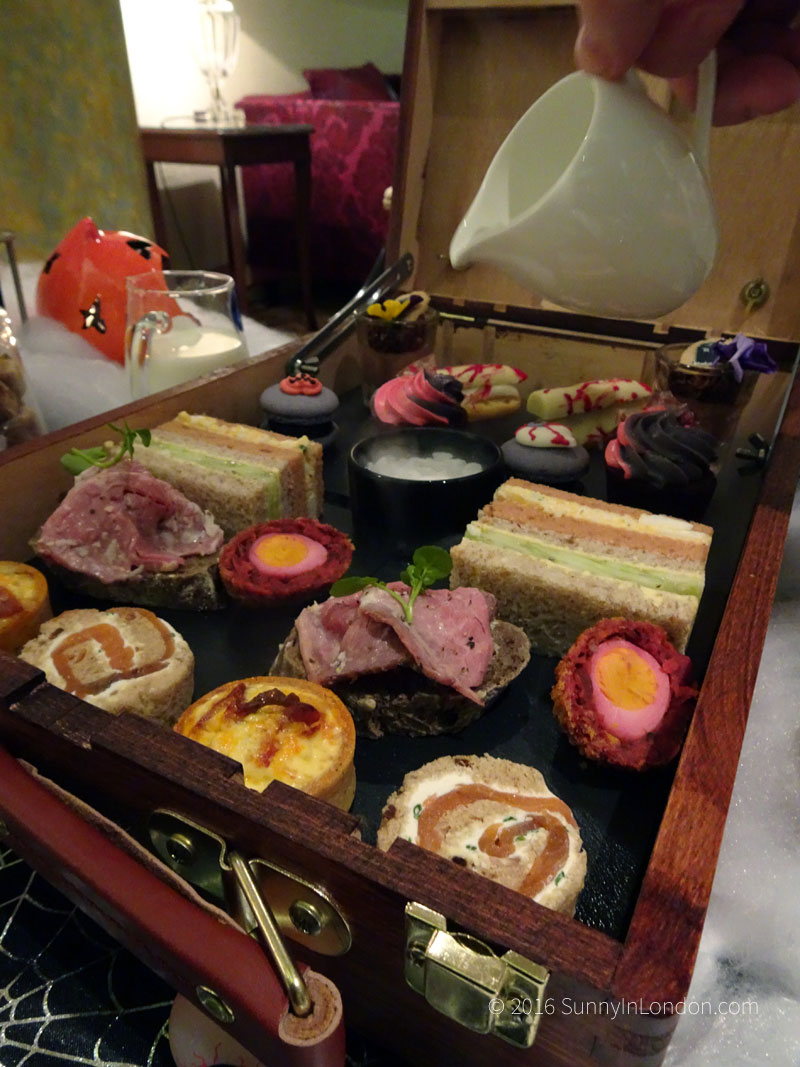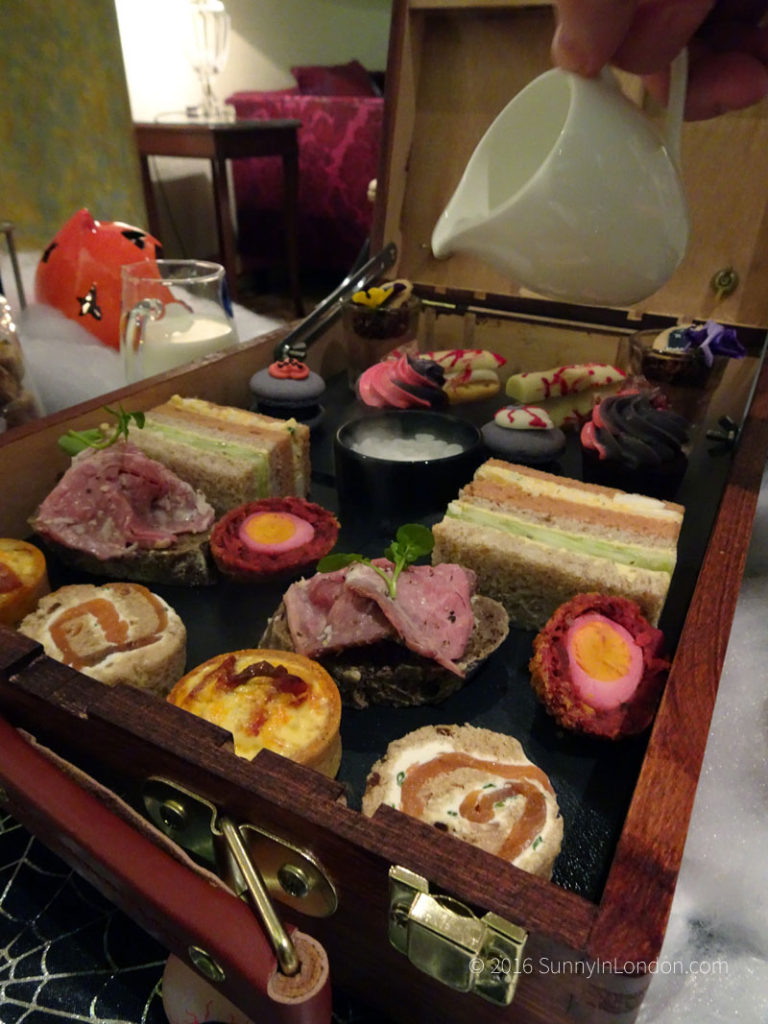 That happens when the tea is brought to your table and I would strongly advise you have your camera and phone ready to film! The dry ice effect does solidify this themed tea as the most extraordinary in London.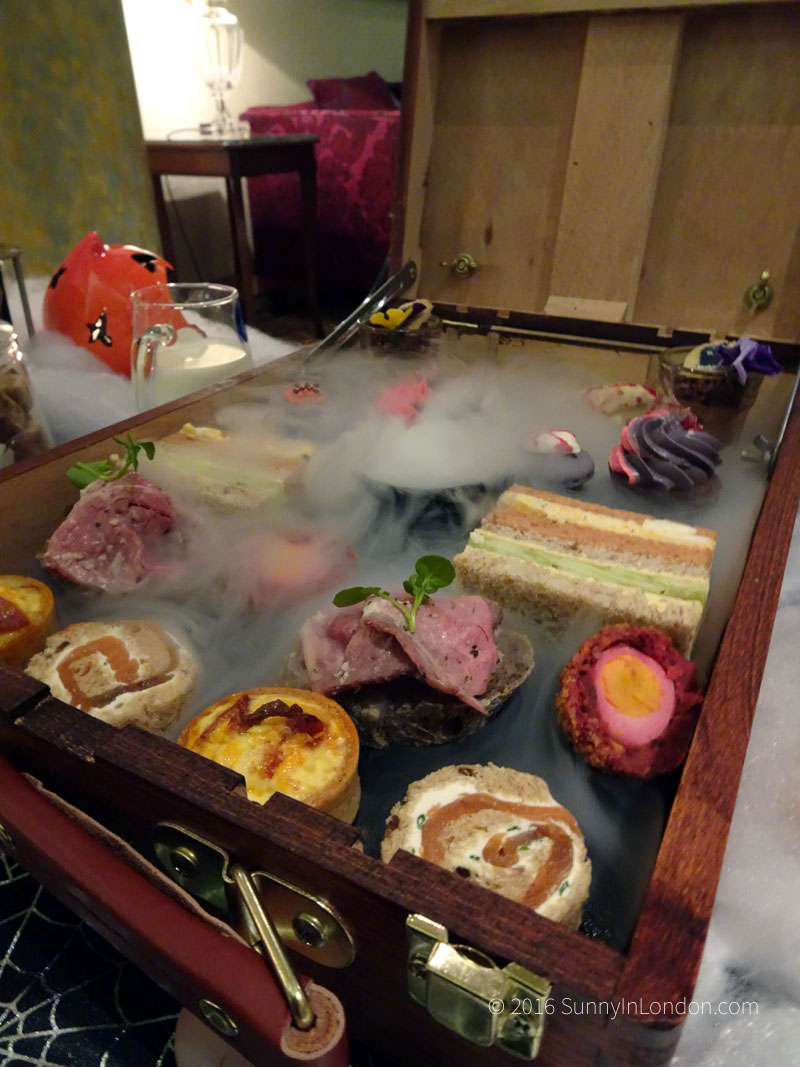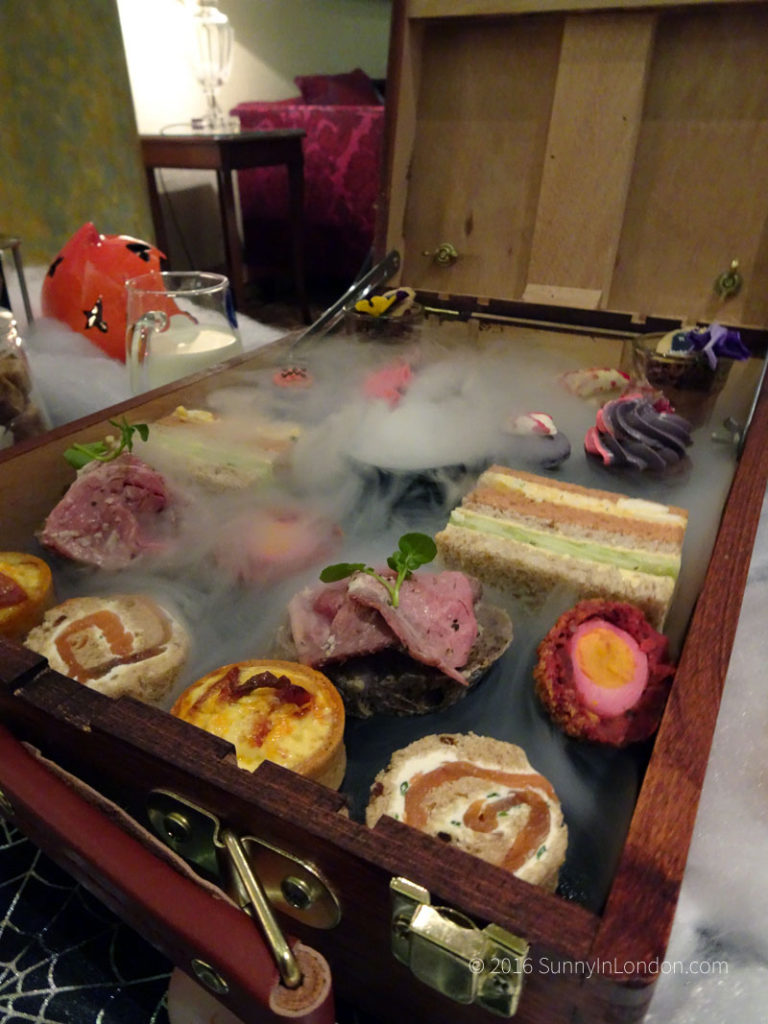 It's available now at Lancaster London until 31 October 2016 from 2pm until 5.30pm each day. Priced at just £35 per person, the Halloween-themed ARTea Afternoon Tea is a steal for those who like fun and food in London.
We were guests of the hotel for our afternoon tea and this doesn't affect our opinion of the experience. I became friends with Chef Ben through my blog several years ago, since the first inception of the London Bloggers' Tea. Aside from having a gifted talent and passion for food, he is without a doubt the most personable chef in London. He's also great fun to follow on Twitter.
Watch Lancaster London throughout the year as they host more Afternoon Teas tying in with special dates, movie releases and London events! And remember, missing this tea is a mistake that will haunt you forever!