When I tried thinking of catchy titles for this Jamie Oliver's Barbecoa review, it felt really cliché to call the food 'heavenly' because it's such an overused metaphor. But how could I not?
Warning: this review is going to be loaded with religious puns. If that's not something you appreciate, add it to my list of sins this week. Oh, and if you're a vegetarian, the grass isn't going to be greener at the end of this food review for you either.
After a fun night at the Jamie Oliver Cookery School, Mr Sunny and I were invited to be guests of Jamie Oliver's Barbecoa St Paul's location. Would you turn down a steak dinner? 😉
In my last restaurant review I indicated future writing would focus on three areas: ambiance, quality of food and service. One of the many unique selling points of this steakhouse is location, which adds to its ambiance. We'll start there.
Jamie Oliver's Barbecoa- Ambiance
When you google this restaurant you will repeatedly see 'St Paul's.' It's highly likely your table at the steakhouse will have the cathedral as its backdrop as well. We arrived at about 6pm on a beautiful Autumn October night in London. I probably spent the first ten minutes at the table taking pictures for Instagram stories, Snapchat, and this blog review.
Mr Sunny was a bit put off by my lack of consideration for the menu. However, I gave him free reign that night to choose everything. I mean, what smart girl gets in between a man and a steak?
On that note- ladies, listen up. One of the best tips I ever learned about meeting men was in Patti Stanger's book Become Your Own Matchmaker. She outlines a strategy to meet men who likely do very well in life is to have a glass of wine (by yourself) at a steakhouse after work. It might be blasphemy to stray from the food review topic for a sec but seriously- Jamie Oliver's Barbecoa is a complete meat fest of men in nice suits for you single ladies. *Cue Beyoncé song now*
I'll even take it a step further and say, have steak at the bar. It turns most men on to know a chick digs beef. Ok, it might not be as sexy as Jen Aniston's stripper scene in We're the Millers or Cameron Diaz's car washing performance in Bad Teacher. But- it is a turn on for most blokes. Anyhow, back to the re-view.
While Jamie Oliver's Barbecoa has the low light atmosphere which is classic for a steakhouse, it foils the illumination of the cathedral perfectly.
While the sun set during our dinner, the sky filled with orange and purple fire, forming a glorious halo around St Paul's. Scenery hand-crafted by gods, no doubt. I confess- my biggest sin that evening was not being prepared ahead of time for low-lighting photography.
Jamie Oliver's Barbecoa- Food
We started with cocktails from the happy hour menu. Both were fresh and elegant. A great way to anoint the night.
My Tuna Ceviche starter had a range of citrus and seafood flavours. The crunchy texture of vegetables against the tuna was delightful.
Yep. I'm sure you already guessed that Mr Sunny had the Chicken Wings. He manages to slide this in to as many food reviews as possible. He really should write a guest blog feature on the best wings in London. Considering I trained him well at the home of the original wing, Anchor Bar, when I lived in Buffalo, he's very qualified.
Then, as the sun was tucked away behind St Paul's Cathedral, our tray of steak arrived. I kid you not. This Rib-Eye for Two is of biblical pro-portions. As my dad would say, 'Dear God in Heaven!' This steak will bring any carnivore to his/her knees. Cooked exactly to our specification, juicy and rich with flavor, this steak scored high on our satisfaction chart.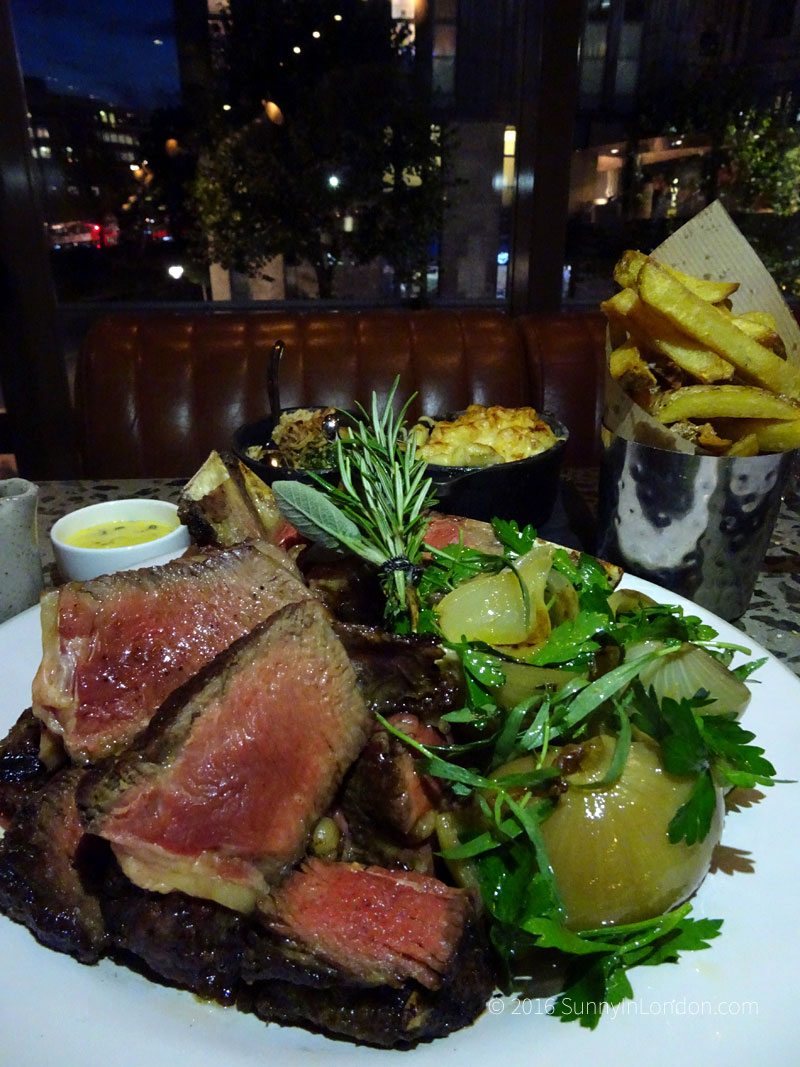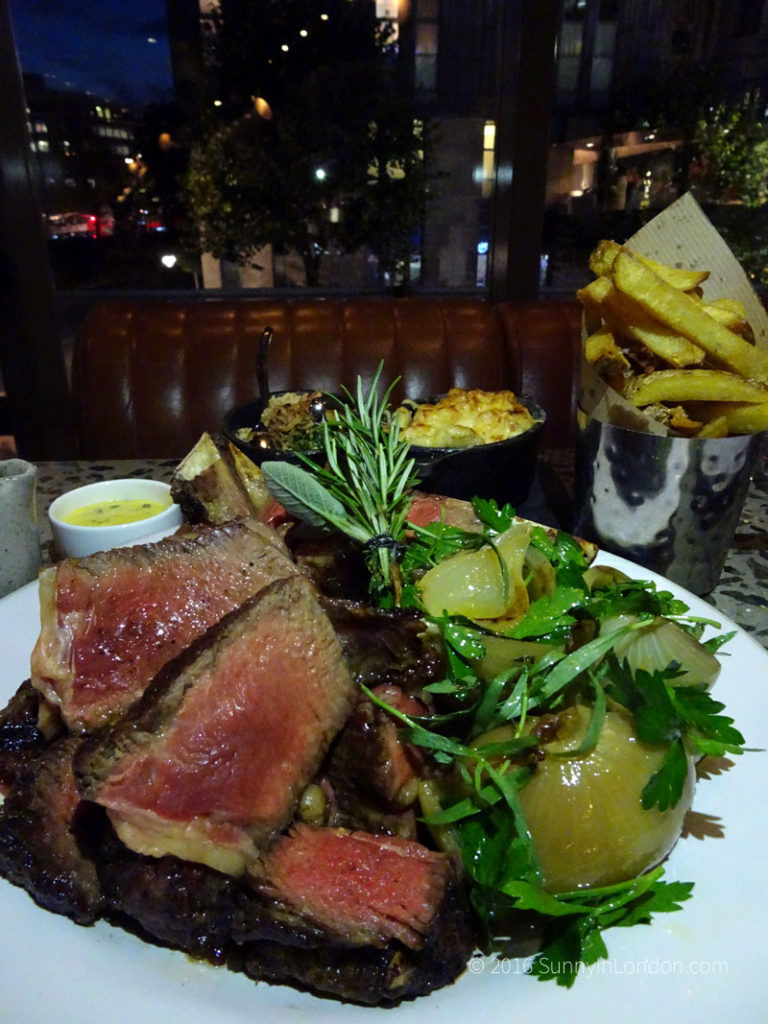 However, most surprising are the sides. I snuck in the Truffle Mac and Cheese. It didn't disappoint. But the real hit of the evening was the spinach. Trying to decide which bite to choose as my last (steak or spinach) was tough! The nutmeg accent is strong but this cooked spinach side dish is a must not miss at Jamie Oliver's Barbecoa. There is something to be said for a spinach that stands that well against a tender cut of beef!
Finally, we filled ourselves just a bit more with the Snickerverse dessert!
Jamie Oliver's Barbecoa- Service
Every encounter we had at the restaurant was excellent. While you would expect bang on service at these prices, we know it isn't a guarantee. The service was just enough at all the right times. Attentive but not intrusive. This allowed us to fully enjoy the food and atmosphere.
Jamie Oliver's Barbacoa- Final Thoughts
If your budget is such that you can afford a restaurant like this regularly, then I'd suggest Jamie Oliver's Barbecoa as often as you crave steak. If you save experiences like this for special occasions, I would suggest an anniversary, wedding proposal or new job celebration night. We arrived early evening and the restaurant filled steadily during the course of our meal.
The crowd on a Tuesday night seemed filled with work colleagues and perhaps those in London on business. However, Jamie Oliver's Barbecoa was a really romantic date night for us. In fact, we paired it with a trip to Sky Garden first.
We were guests of Jamie Oliver's Barbecoa. I will not be in confession for anything dishonest in my blog review. However, our trip to the restaurant did involve a substantial amount of gluttony. For this Father, we have truly sinned. 😉