How to Plan for an ILR Application in the UK
Knowing how to plan for an ILR application is something you'll likely need as an American expat living in London or anywhwere in the UK. That's the last visa you'll need to live here permanently, unless you pursue British citizenship. It's tempting each time you go through a step of the visa process to sit back and relax, forgetting about documentation and the other bits the Home Office wants from you next. However, the sands in the hourglass drop fast if you go in to the auto-pilot mode of life. With Brexit in our midst, American expats on a spouse visa or work visa in the UK want to make sure they plan ahead and watch the Home Office website for announcements. To help you and me, I placed a call to Qiyin Chuah, the UK solicitor who has worked with me on several successful visas. She offered quite a bit of advice about how to get ready for what could be the last application for me to complete for permission to live in the UK, indefinitely. * Note- Home Office can change the process and requirements at any time. All information in this blog post is accurate as of November 1, 2016.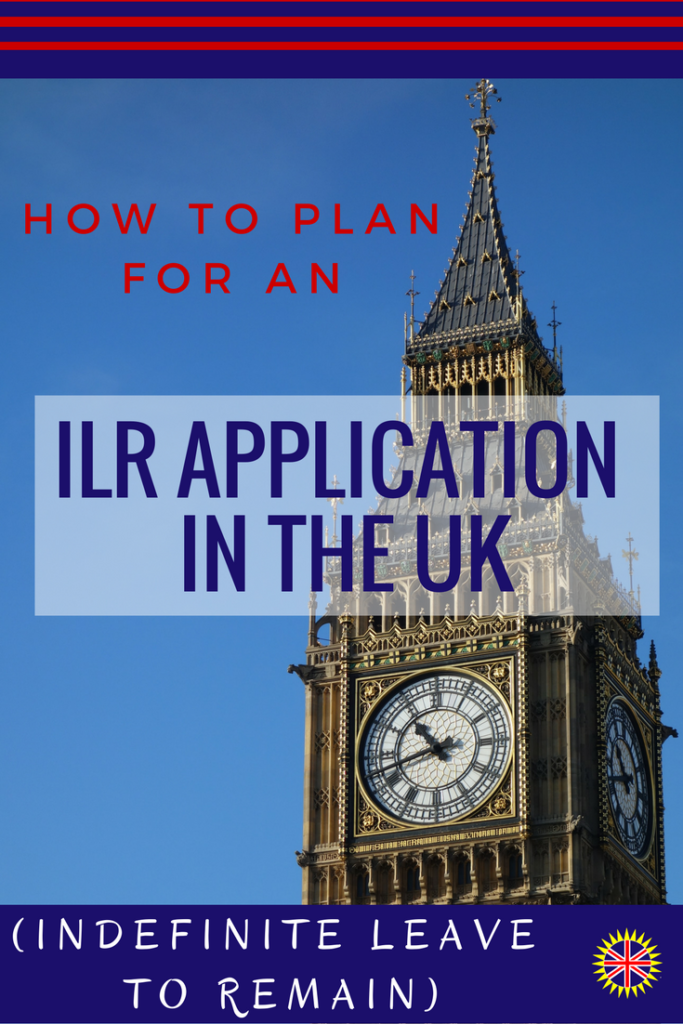 ILR Application in the UK: Life in the UK Test
I had no idea that I could take this test months ahead of the five year anniversary of my arrival to London. Qiyin indicated that it's advantageous to master the Life in the UK test well in advance, if you're a responsible individual who won't lose the certificate. I can handle that. She said it's best to purchase the Great Britiain Home Office publication and to plan for one to two weeks of studying in advance of your test date.
Although you do have to pay a fee each time, you can keep taking the Life in UK test until you pass. As part of my ILR application planning process, I plan to take the test the summer before my visa expires. Since it's a spring expiration date, I think that will be plenty of time.
ILR Application in the UK: Your Residence
Another big difference in the ILR application process is where you reside. Specifically, that means the Home Office will look more carefully at not only the address where you indicate you live at the time of your ILR in the UK application but also how much time you have spent in the UK during your five years. For American expats like me who only take 2-3 trips a year to the US and an occasional short trip outside of the UK, it's pretty straight forward. Naturally that's with the assumption that my relationship and shared address with Mr Sunny stays the same, because I am here on a spouse visa. If your residence situation is complicated, my advice is that you hire an immigration attorney. For example, you may have had to return to the US for an extended period of time to care for an ill parent. Or, maybe you travel internationally for business or pleasure often and for long periods of time. In all fairness, if you're asking a country to allow you to live there permanently, you need to show it's the place you spend most of your time.
ILR Application in the UK: Keep a Job
Keep it. This means if you are here on a Tier 2 Work Visa that you should not change your position during the length of your visa. And you certainly shouldn't apply to work for a different company. Now, the spouse visa people like me need to make sure that their spouse with UK citizenship doesn't change jobs six months prior to the application. It's one year for those independently employed. You must always be able to show that your spouse's income meets the salary requirement, and you will not need to claim benefits.
ILR Application in the UK: Documentation
If you've made it through two spouse visas, the documentation component isn't anything you haven't done before. For example, you still need to show 'quarterly' evidence of sharing an address with your spouse.
ILR Application in the UK: Time
Finally, you need to consider in advance how quickly you will need your decision. I chose to send my spouse visa renewal by mail. It took 7 weeks to receive from the middle of summer to the end of September in 2016. It was one week less than what Home Office and Qiyin gave as estimates. However, if you read about my nightmare fiancé visa experience, you'll see how a hurricane and change in the processing location tripled my predicted wait time. Anything is possible. Currently, most people wait on average six months to receive their decision. Yes, this means they are without their passport for the length of time. With Brexit in our midst, I wouldn't count on it being just six months. -Note: this is completely my opinion and not thoughts expressed by Qiyin. I'm hoping the break happens in the next year so by the time I apply for ILR in the UK, things calm down a bit. This is my suggestion to you if you're ILR application in UK is due in the near future- pay priority and do the one day decision deal. It's currently £500 on top of the fee you pay for the visa. However, the good news is- you don't have to pay that random NHS fee again.
ILR Application in the UK: Final Thoughts
Please share your experience and questions in the comments below. It's a great way for us to connect and help each other. Qiyin has a 99% success rate at QC Immigration the time this post was written. Several blog readers have hired her based on my recommendation and have been successful and pleased. Hiring an immigration solicitor is smart if you have a complicated situation or just want to make things easier for yourself.Be sure to do research on whomever you choose and try to get personal recommendations. If you're moving to the UK or are an American Expat in London, subscribe to my YouTube channel so you don't miss my Expat Chat videos and advice about living in London. https://youtu.be/Qgqd1GsfREQ Best of luck with your travels and visa process!