Food at Harrods is always divine. Pan Chai is no exception. As part of our Pan-Asian run recently, Mr. Sunny and I had the chance to sit down and thoroughly enjoy a decadent dinner in one of London's finest luxury department stores.
Located in the Harrods Food Halls, the restaurant serves a range of fresh, Pan-Asian dishes. For this food review, we felt we would identify the three categories that mean the most to us when we choose a place to eat. Here we go…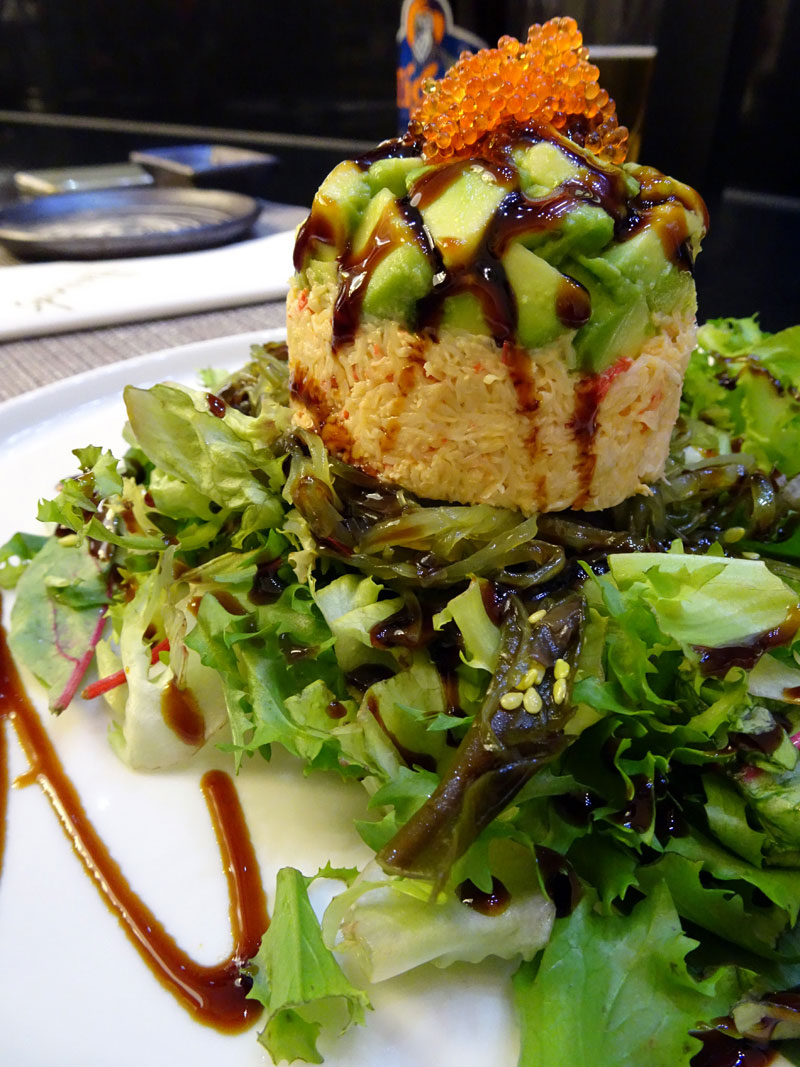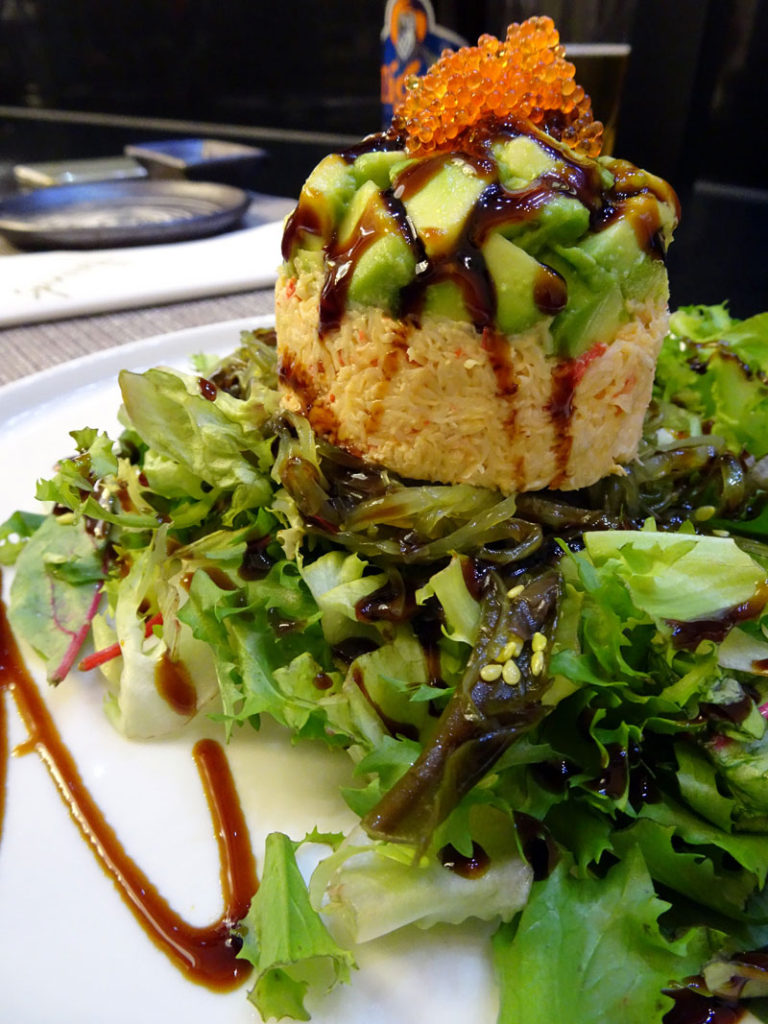 Pan Chai Review: Food Quality
The best service and ambiance in the world won't make up for bad food. There are no worries with that happening at Pan Chai. Above you can see what our first bites involved, and that is the Snow Crab Salad. It was like a 'you had me at hello' experience for us. Not only did the presentation WOW us, but the flavours and texture worked beautifully together too.
Second to sweep in to our palette is the Mixed Tempura, which is composed of shrimp, crab and lobster.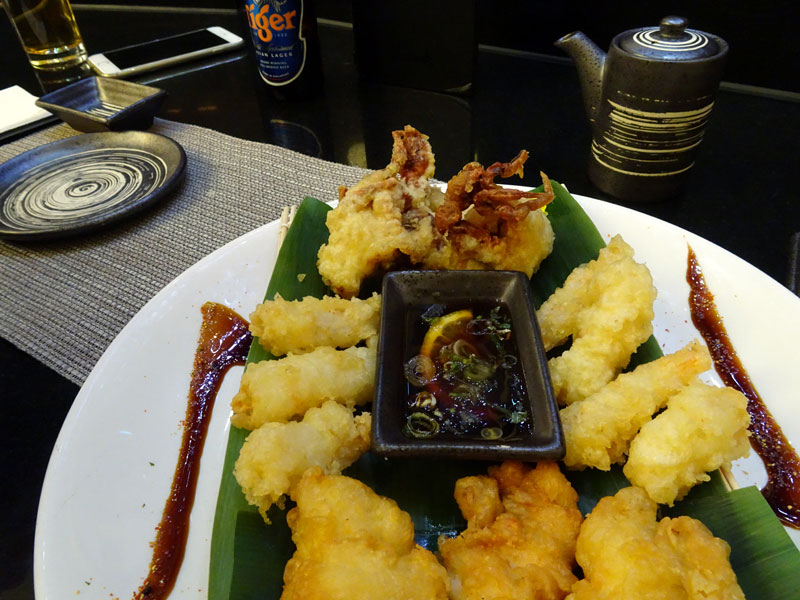 Yes, it's unhealthy. Yes, it rocks!
At this point in the meal, I was filling up and probably could have stopped. Mr. Sunny smiled and said, 'Sweetheart, I don't think we've even really started.'
*Gulp*
He was right. This Omekase Platter hit the spot in front of us, and we both launched in to the dish.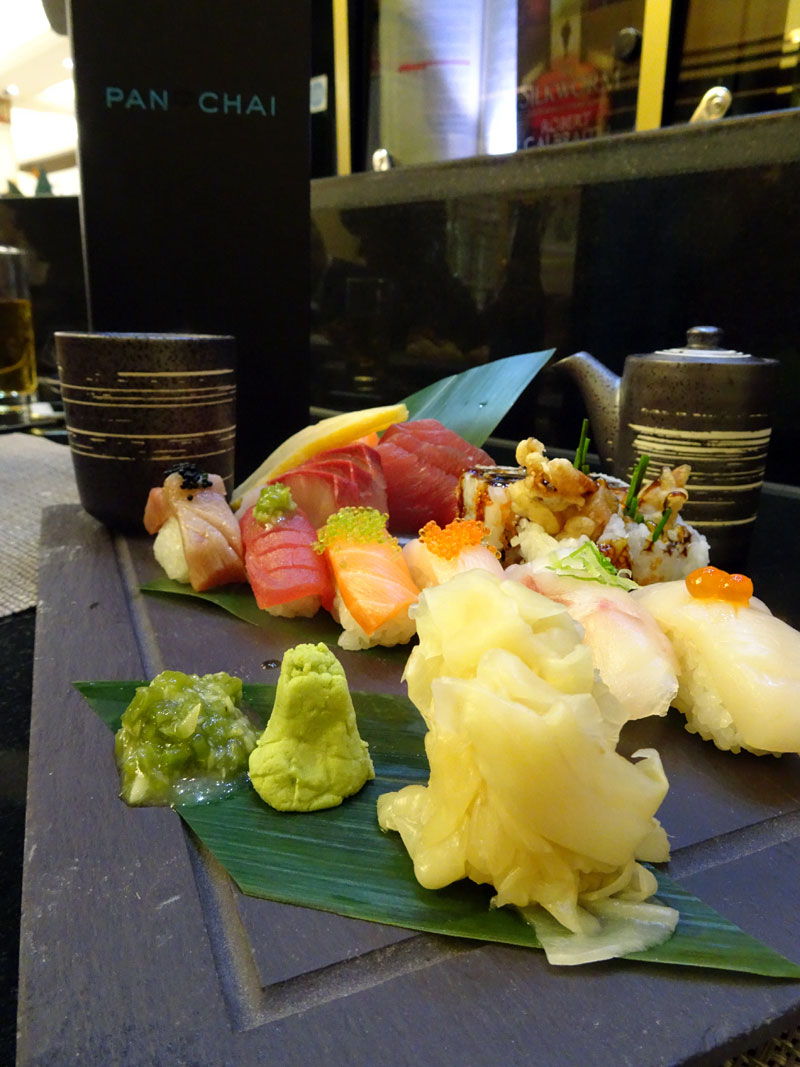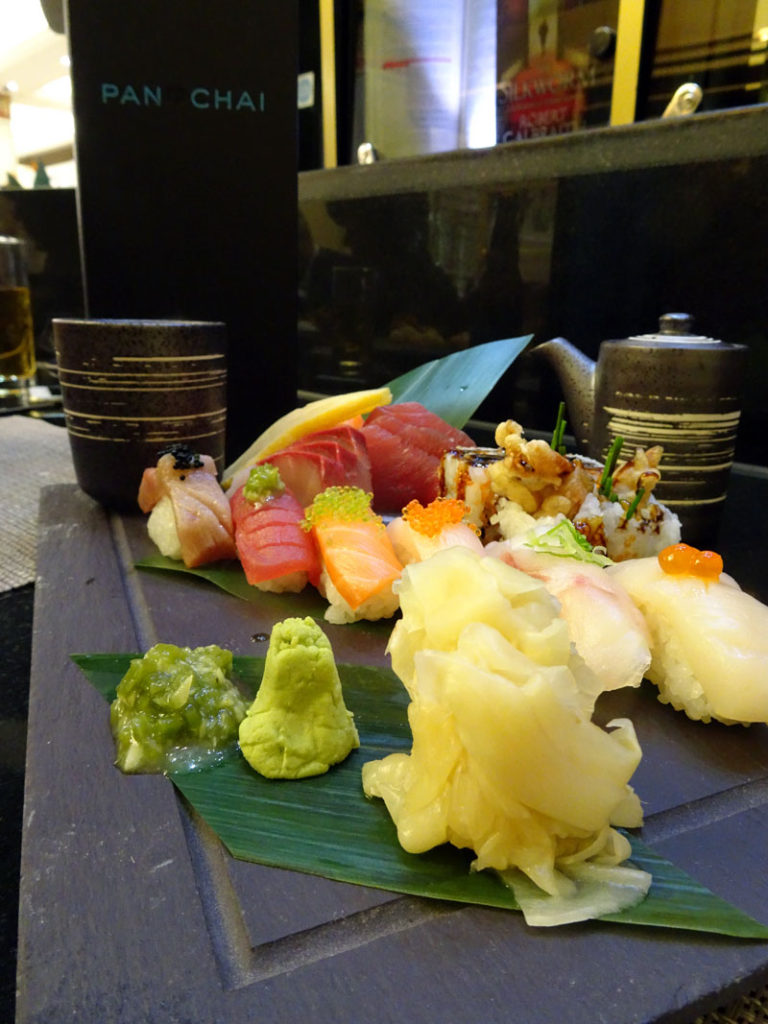 When it comes to sashimi and sushi there is no room for error in terms of freshness. A somewhat 'aged' piece ruins a food experience. The seafood on the platter at Pan Chai could have been swimming ten minutes before for all I could guess. 😉
The Jumbo Tiger Prawn made us dizzy with delight. I would highly recommend it.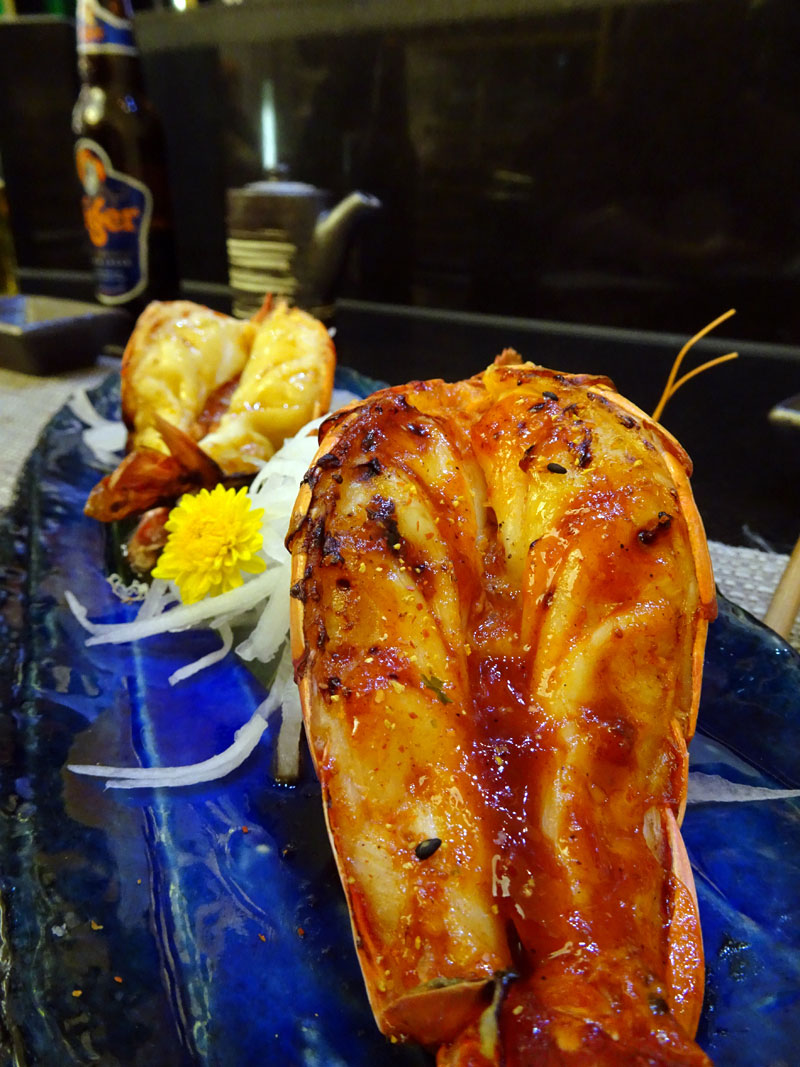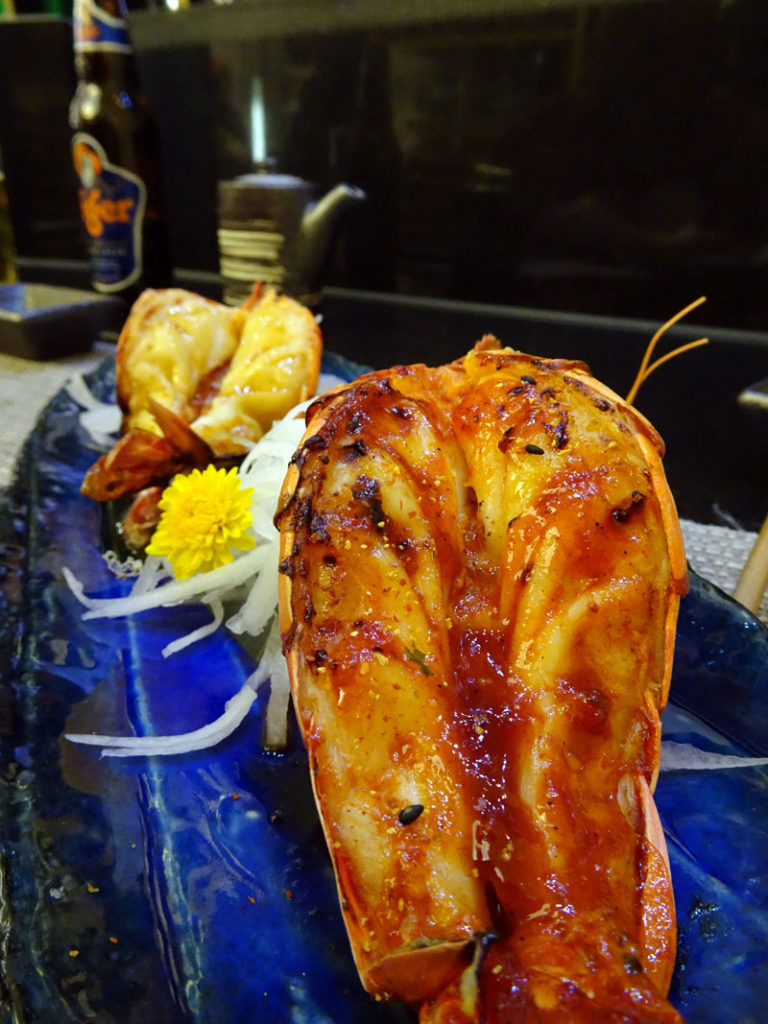 Finally, we had the Alaskan King Crab Leg. This one was a bit surprising, as the crab meat was very dry. I would be a bit hesitant if crab was served too wet. But, it just didn't match our preferences enough to order it again.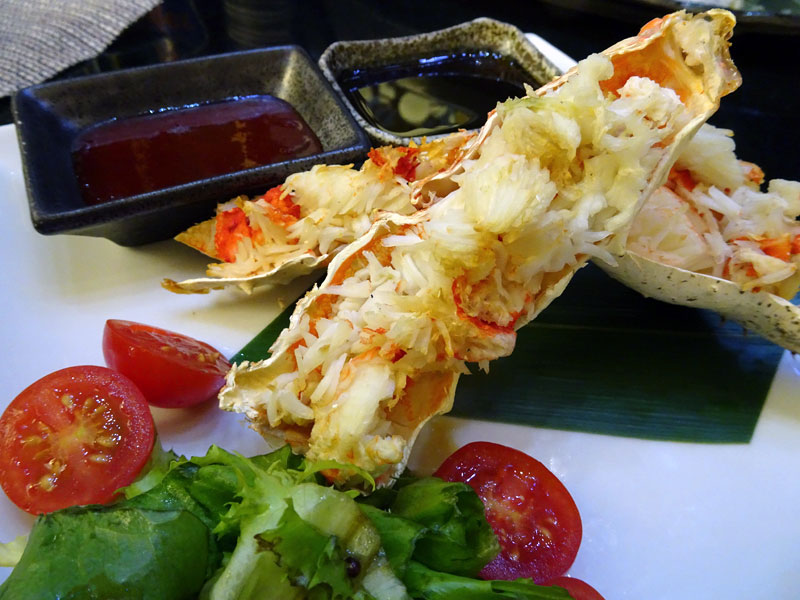 Pan Chai Review: Service
Service is stellar at this Harrods restaurant. It is absolutely on par with what you would expect at one of the most luxurious places to shop in the world. We were seated quickly, our food was ready fast, and they were keen to prepare items that showcased the chef's strengths as well as matched our interests.
Pan Chai Review: Ambiance
This is a tricky one. Situated in the Food Halls of Harrods means that you aren't going to eat in a secluded, sexy environment that screams date night. It's tough for me sometimes not to feel like I'm in a swanky airport bar when I eat here. Sitting at a counter on an unmovable leather and marble stool close to other people drives me a bit crazy. However, that's no surprise when you are planning to eat at Pan Chai. It's plainly visible what the ambiance situation is as you view the 'exterior'.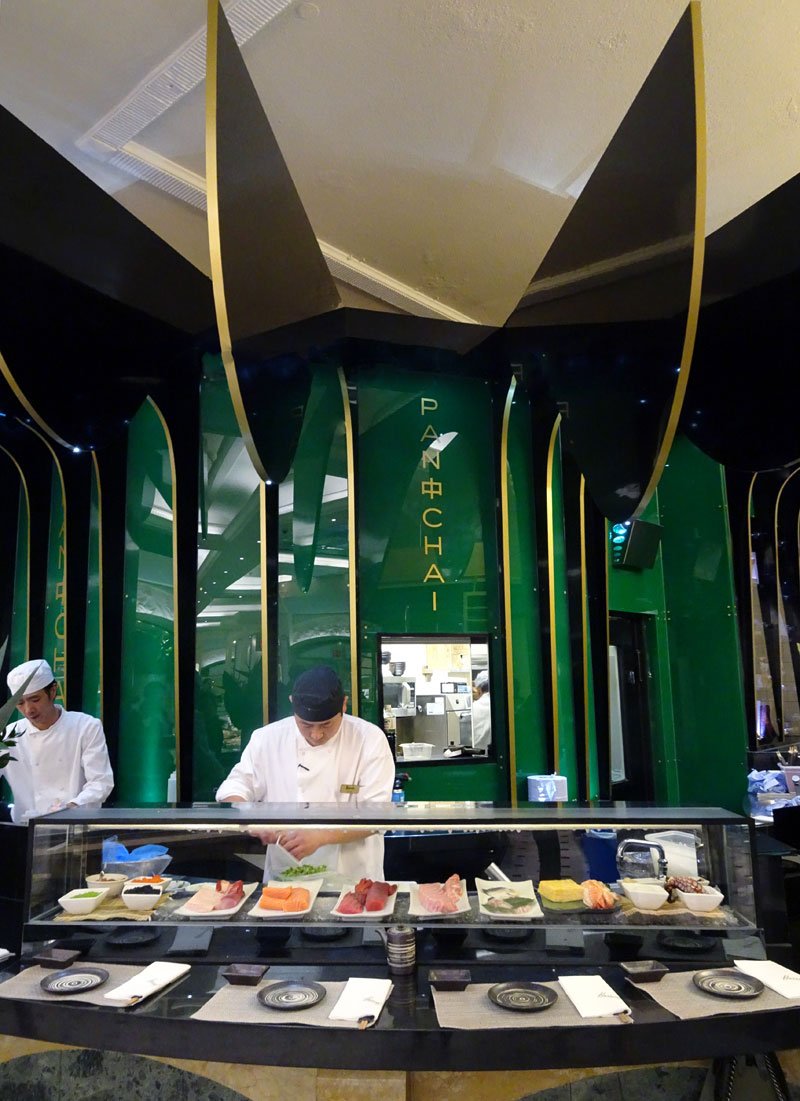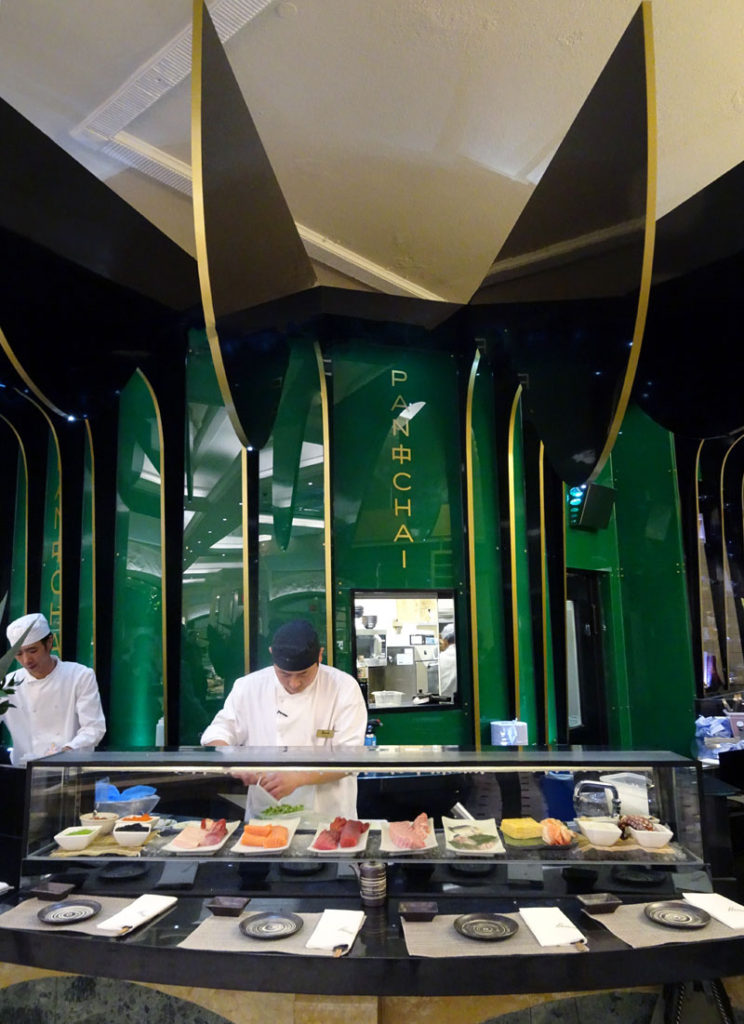 It has a sleek and modern design. Also, the open-plan kitchen allows guests to witness the chefs Pan-Asian work, as they prepare the sushi and sashimi.
Pan Chai Review: Final Thoughts
Overall, Mr. Sunny and I would be ecstatic to return to Pan Chai restaurant.  As our meal was complimentary for the purpose of a review, we probably wouldn't eat as much. Although we ate all of our food, it was too much for two people in one sitting. The restaurant really wanted to give us a nice selection of their Pan-Asian dishes, and they sure accomplished this goal.
If you enjoy and can afford luxury food experiences in London, this is a great place to go either while taking a break from shopping or if you're in the Knightsbridge area. The Pan-Asian flavours flow through every dish and the vibrant presentation of Southeast Asian cuisine is showcased in the signature dishes.