Who in Hampstead isn't familiar with The Holly Bush Pub? Everyone in this North London area knows this traditional 18th century wood panelled pub, yet it's hidden down a small street which is at the top of a steep hill. It's certainly no place in the path of a tourist.
I first visited The Holly Bush pub in 2013 when Mr. Sunny and I attended a leaving drink for one of his colleagues. I felt like I was in a pirate pub. This is neither from Mr. Sunny's work mates nor the other clientele. It's because the decor is dark, rooms are small and candles seem to provide most of the light. In my early stages of living as an American expat in London, I felt like I had transcended back centuries and was a part of a secret meeting place for beer lovers.
Since then the pub has been refurbished. Yet, it still holds on to its flavour. And, boy does it have flavour!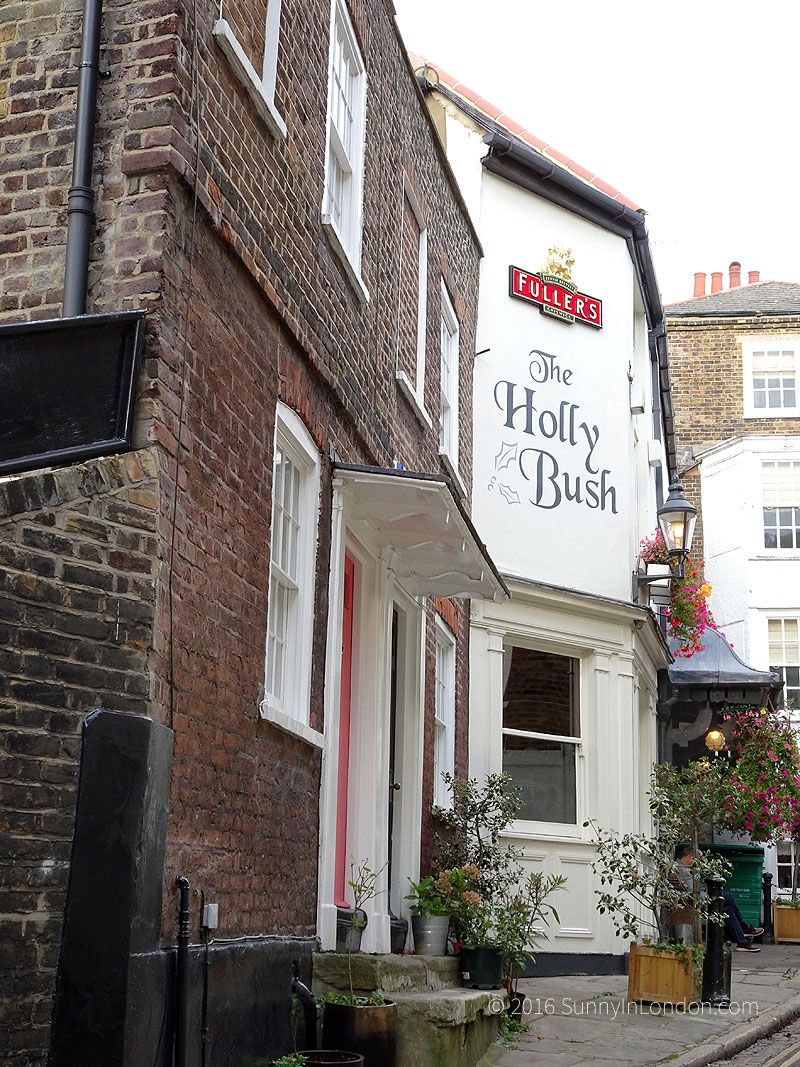 I featured the Holly Bush pub in my Hampstead Pub Crawl in 2014. However, in all of this time, I never thought to eat there. While the history is rich and local sentiment is strong, I always thought of it as a great place for North Londoners to drink. When Mr Sunny and I received an invitation to review a Fuller's Kitchen and we realised The Holly Bush was an option, it was just a matter of picking a date we were both off before we booked our table.
I knew photography would be a challenge because low light is really tricky. How the meal would be remained a mystery.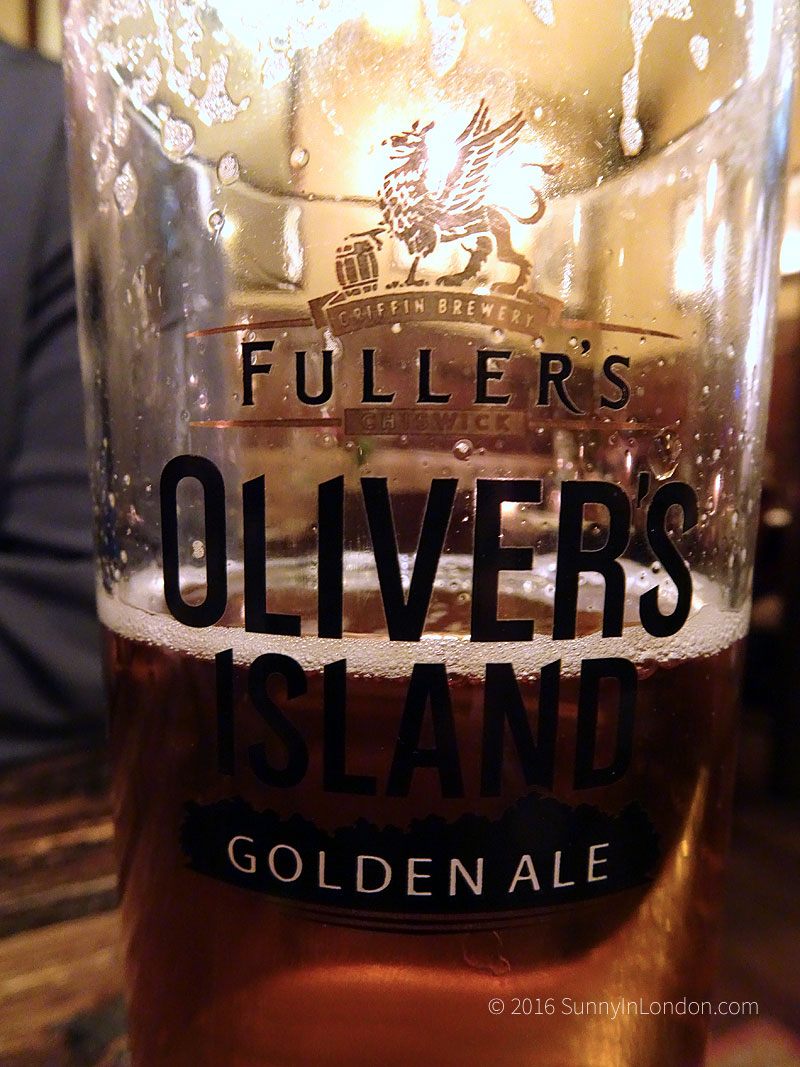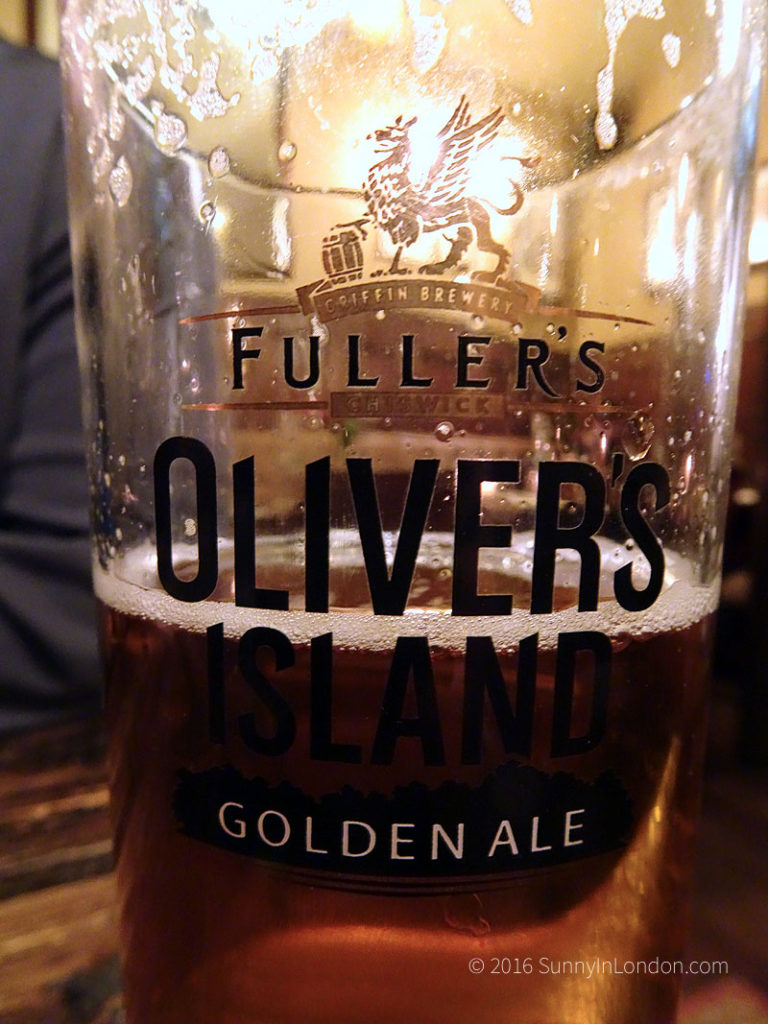 Mr. Sunny spent no time sampling the beer, as you can see by his half empty glass above. He says, 'Half full or half empty, as long as there's beer in the glass, who cares?'
Me, when I have to take a picture for a review!
He was mildly scolded for jumping to the Fuller's beer too fast. But, I can't say I blame him.
The first items to arrive (aside from my wine) were these starters. Below you can see his Devonshire crab mayonnaise, quails egg, and toasted sour dough. I enjoyed the Artichoke and Ricotta Ravioli with lemon and poppy-seed sauce.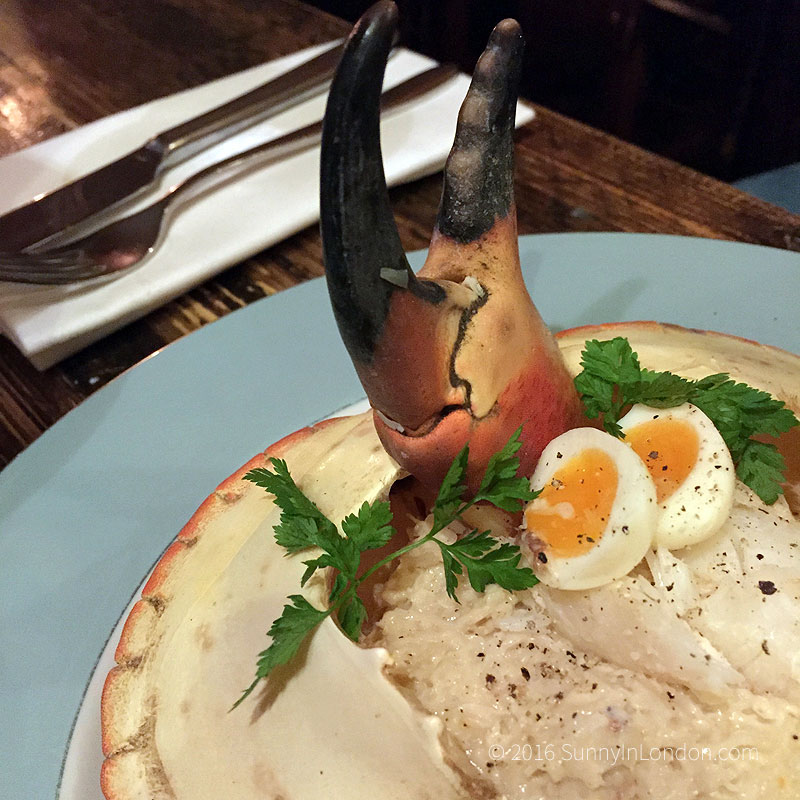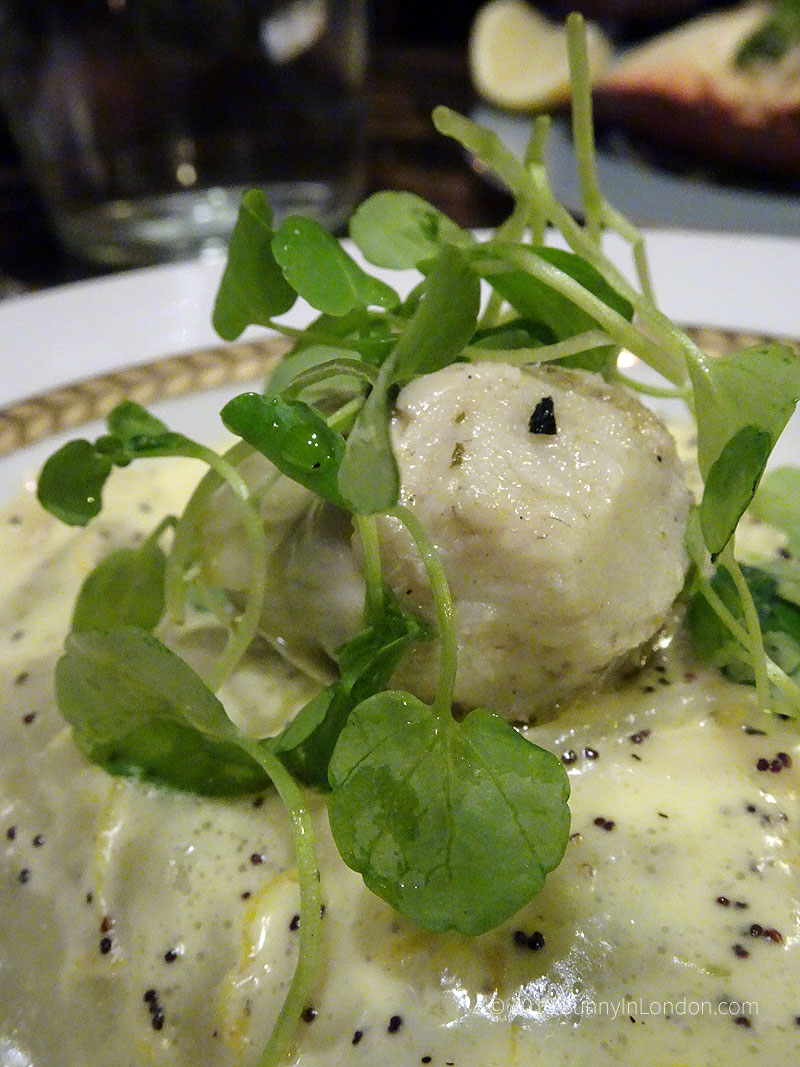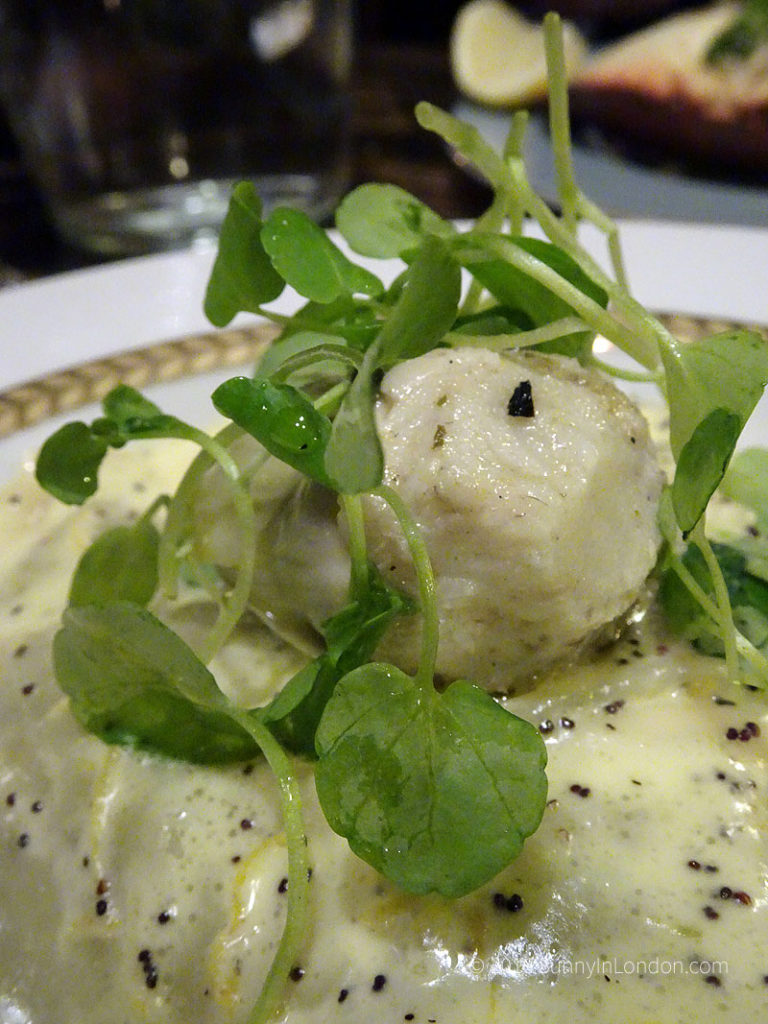 As a girl who grew up in Florida, I don't get too excited when I see seafood on a menu in London. I was caught off guard by how amazing Mr. Sunny's crab dish tasted. Fresh and gorgeous. Even more striking was my ravioli. I'm Italian, so it was pretty risky to order ravioli in an English pub and assume it woud be good. The combination of lemon, poppy seeds and ricotta was certainly a new one for me. This dish rocked!
We both agreed that we could have eaten the Starters as bigger Main Dishes. The food was that delicious. Perhaps this built too high of hopes for our next course.
Mr Sunny took one for the blog team and ordered the Canoed Sea Bream because we were told the presentation would be the best of all the dishes for pictures. This meant the beef on the menu was all mine! I had been silently strategizing about how I could be the one who got to have the Hampshire Ribeye Steak as a non-sharing plate. 😉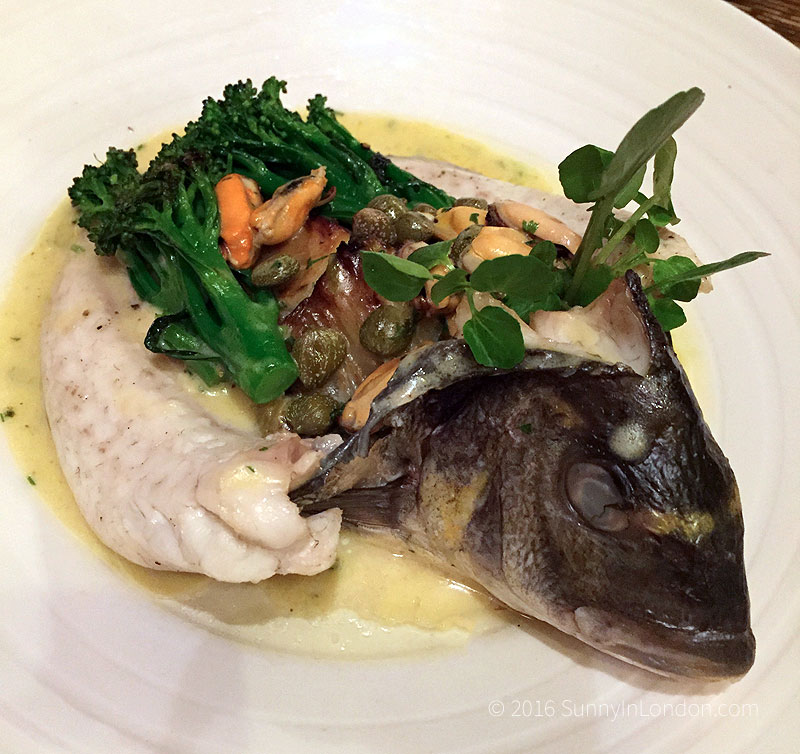 We agreed the presentation was certainly interesting. Unfortunately, this fish dish wasn't a winner because Mr Sunny found quite a few bones in his bites. My steak was cooked exactly how I ordered it, and that was the problem.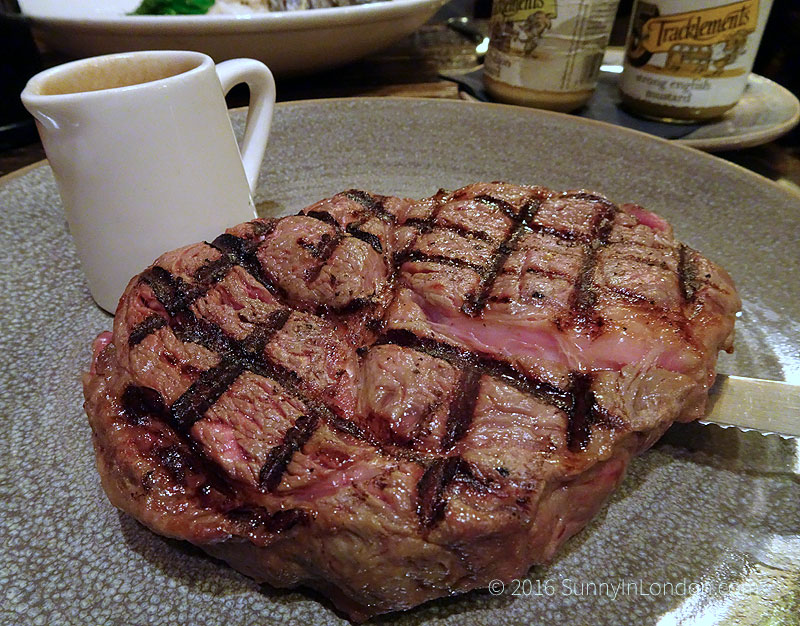 When I was asked how I wanted it cooked, Mr. Sunny jumped in with, 'Blue!' I added to that, 'I am ok if meat is still moving, so let's go with rare.' Props to the chef for the precision and accuracy. This steak was certainly prepared to that preference. In hindsight, I should have said, 'medium rare.' Now I know that my response should not be so dramatic in the future.
Saving room for dessert, we looked forward to the final course. I'm a sucker for Sticky Toffee Pudding, so I didn't even see anything else on the menu. And this pudding with stick with me for a long, long time.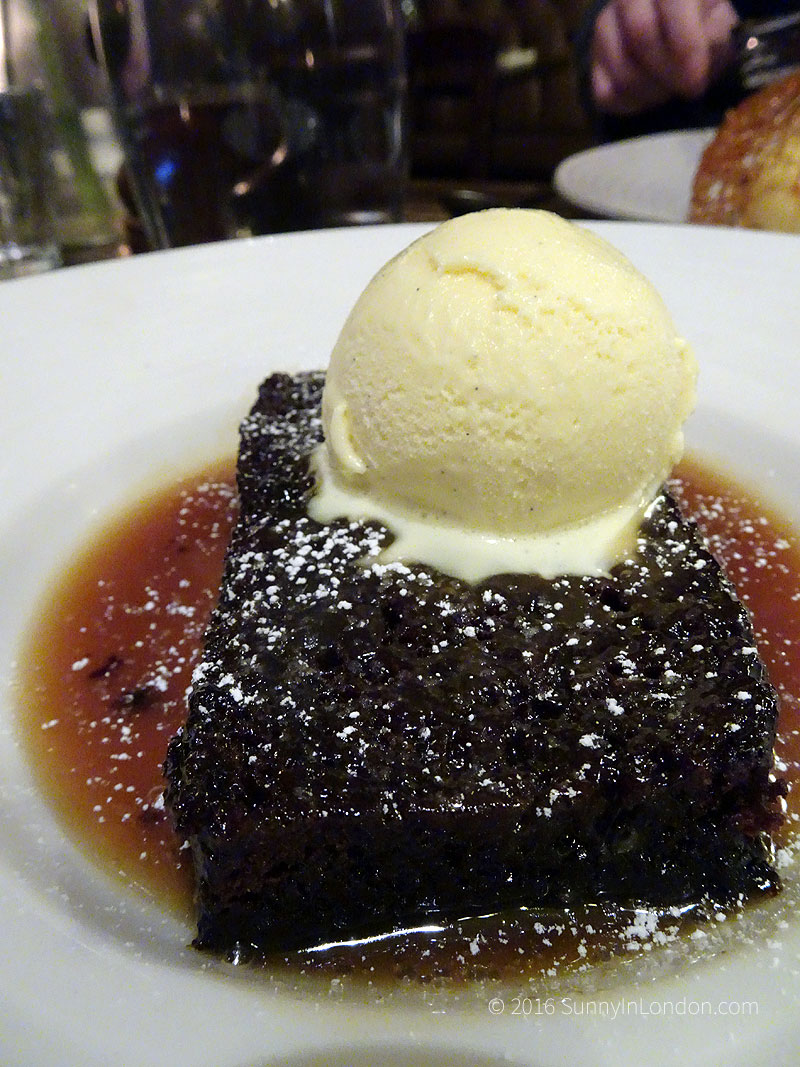 While I've taken better pictures at other restaurants of sticky toffee pudding, none (and I mean none!) can beat the taste of this one! Holy heaven! Texture, temperature and taste were double A star! Here is Mr. Sunny's Chocolate Fondant Tart with rosewater marshmallow and vanilla ice cream.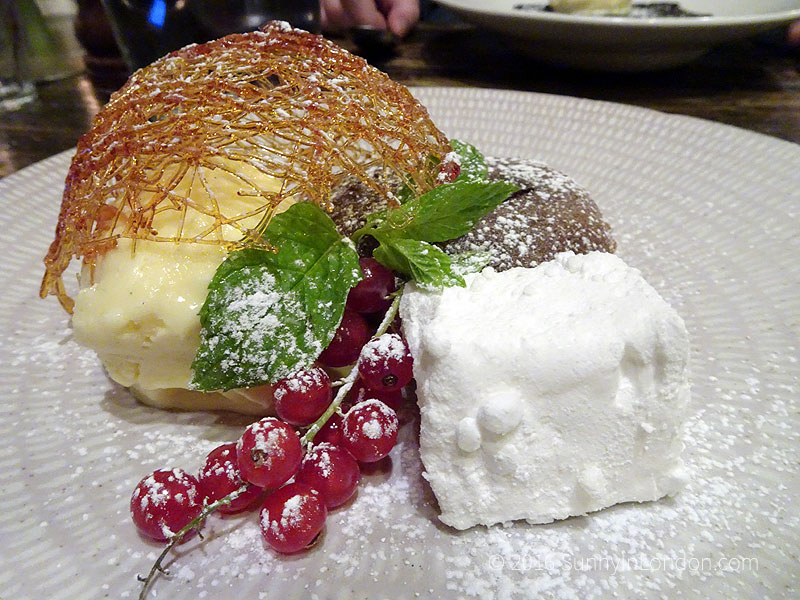 I think he said it was really good. However, I was so induced by the entrancing sticky toffee pudding that I don't recall much after my first bite.
After posting some images on my Instagram, I learned that The Holly Bush pub in Hampstead also has a rock star Sunday roast. We'd love to go back for this. I'm guessing the other Fuller's Kitchens probably offer the same caliber of food because the brand has Head Chef, Pascal Persigout's signature on every menu.
We'd be eager to visit the Holly Bush pub again for a dinner, or any other Fuller's Kitchen for that matter. If you are one of the few people who doesn't know hasn't heard of this popular pub, you can find it on 22 Holly Mount London NW3 6SG. You'll be glad you hiked up the hill once you have that sticky toffee pudding at the end of your meal!