Ho! Ho! Hotel Chocolat, a Tasting Adventure!
If you're looking for a truly intoxicating date night, Hotel Chocolat offers the ultimate experience with their School of Chocolate! Mr Sunny and I spent an evening there captivated in metaphoric cocoa vaults. Here's all the details for you, Sunny friends!
Through a two hour tasting adventure created for any passionate chocolate lover, we gained insider knowledge and tasting tips. And, we did this all right in London's Covent Garden!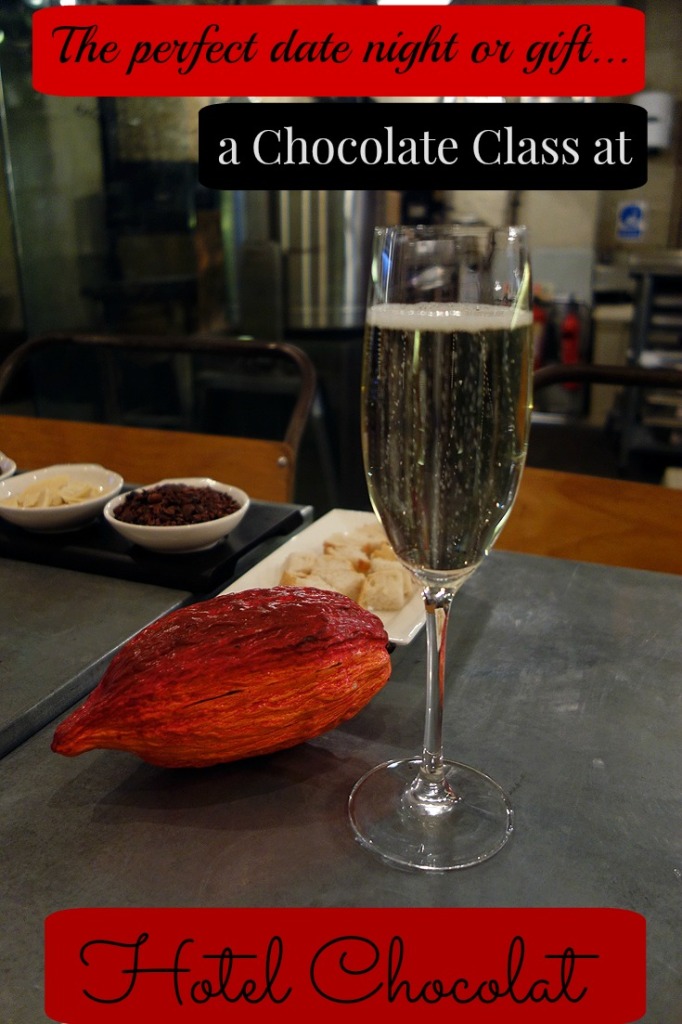 Hotel Chocolat Tasting Adventure:
We arrived early so we could interview Natasha, an esteemed chocolatier of Hotel Chocolat. She started with the company as a part-time, seasonal employee several years ago. Now, she teaches the classes offered through their School of Chocolate. Quite simply, she's a chocolate super star.
Two other couples joined us for the intimate experience held below the chocolate store. As part of the course, each person receives 2 glasses of prosecco. Each couple's table had a plate of bread, cacoa beans, ground cacao beans and a delicious looking bowl of white chocolate.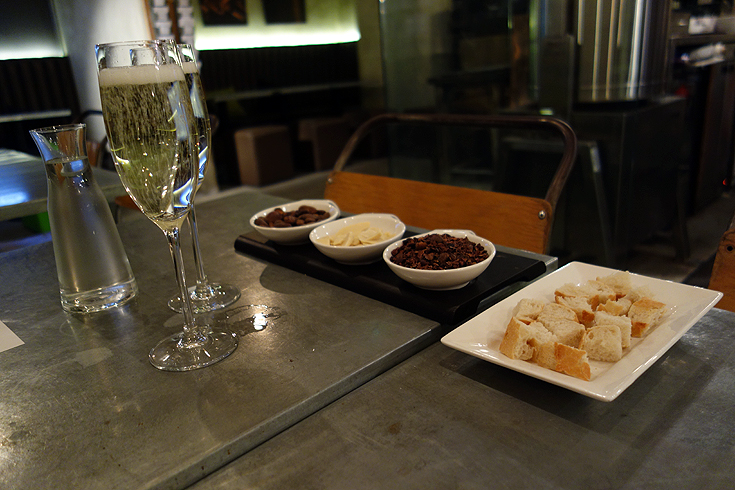 Well, that's what I thought it was. Near the start of the class when I thought Natasha wasn't looking,  I went to grab a sneaky piece from my table. Stealthy Natasha immediately looked over and said, "You probably don't want to do that."
She informed us the bowl was filled with cocoa butter, which is the fat contained within cocoa beans. It's also used to make lipstick soft. I did grab bits and pieces throughout the night, but I rubbed them on my hands instead. Ahhhhh so nice.
Anyhow, back to the beans.
Actually, I should say 'pods.' Here's how chocolate looks before the beans. Check out the giant orange pod on my Tasting Tree below…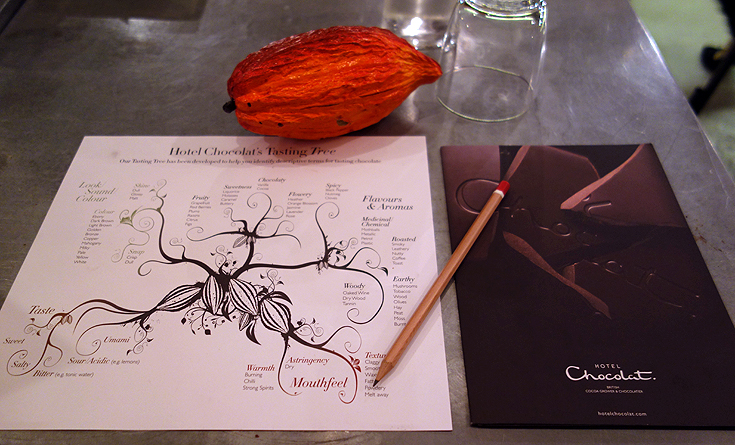 All of us received a Tasting Tree, which helped us identify descriptive terms for tasting chocolate. The branches had these categories: Look/Sound/Colour, Flavour and Aromas, Mouthfeel and Taste.
It was so much fun trying to determine if the pieces we sampled fell under categories like: Umami, Claggy, Mushroomy, Metallic or Lavendar.
We learned to 'listen to chocolate.' This meant snapping a bar like the one above in half next to our ear. A quick, hard sound meant the chocolate was very pure.
Hotel Chocolat first opened in 2004 in North London. They grow their own beans on a plantation in St. Lucia. Further, Hotel Chocolat creates their own recipes and makes chocolate fresh from their beans in their cafes.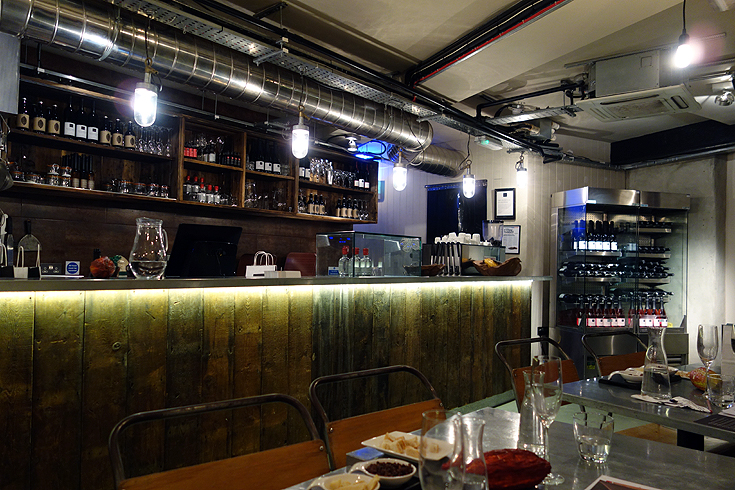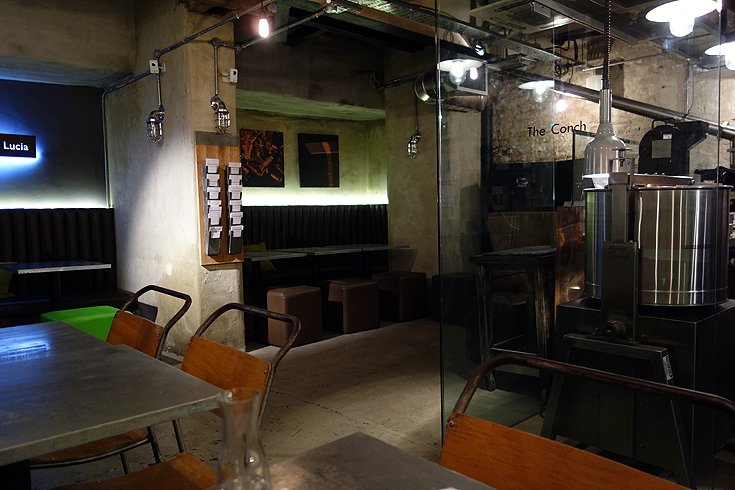 Natasha explained the entire process of how Cacao grows and becomes delicious forms of chocolate. We learned how cacoa is farmed and harvested. From giant pods, beans are extracted. Next, the beans are fermented, dried, roasted, winnowed and ground.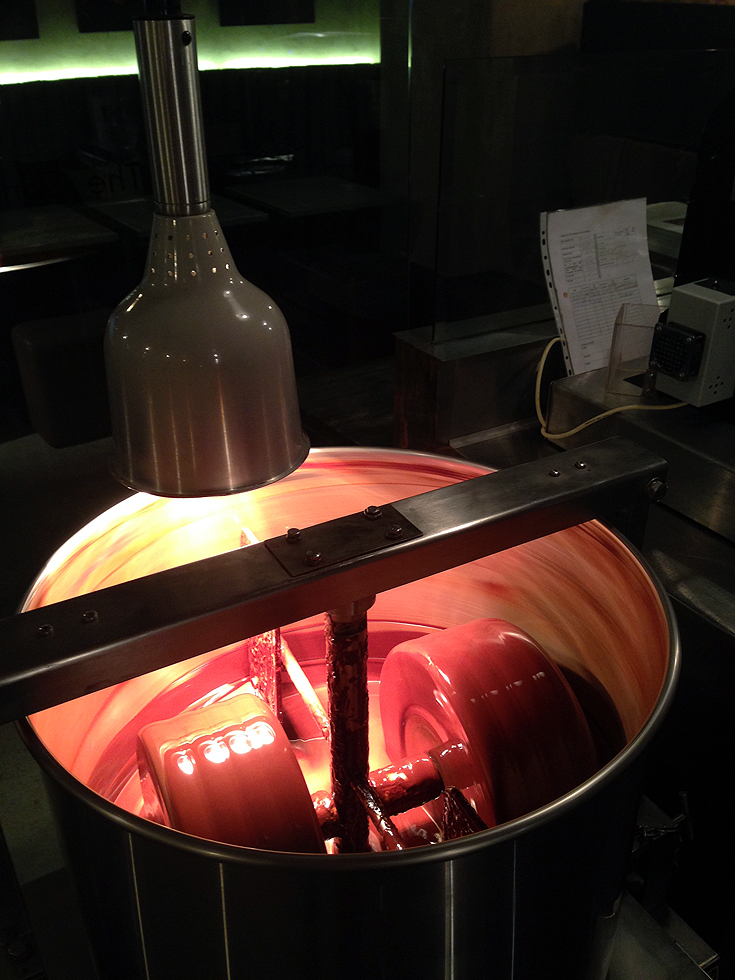 That, my Sunny friends, is the 'conching' process. It takes between 12-72 hours. It is when the mixture is kneaded and gently heated to develop flavor. However, it doesn't taste very good at this point, at all!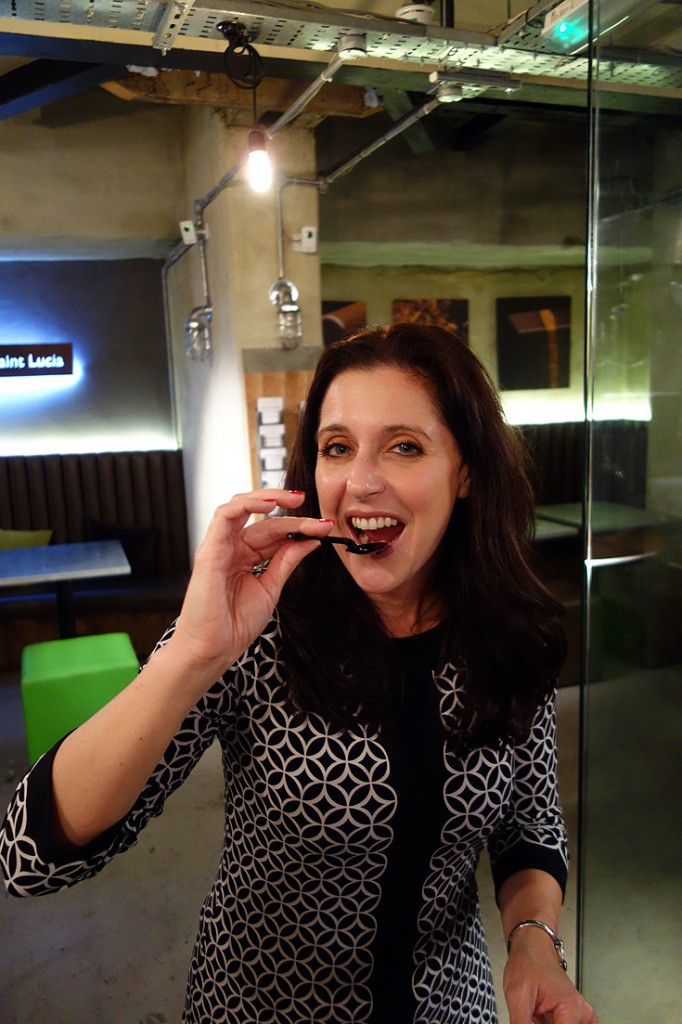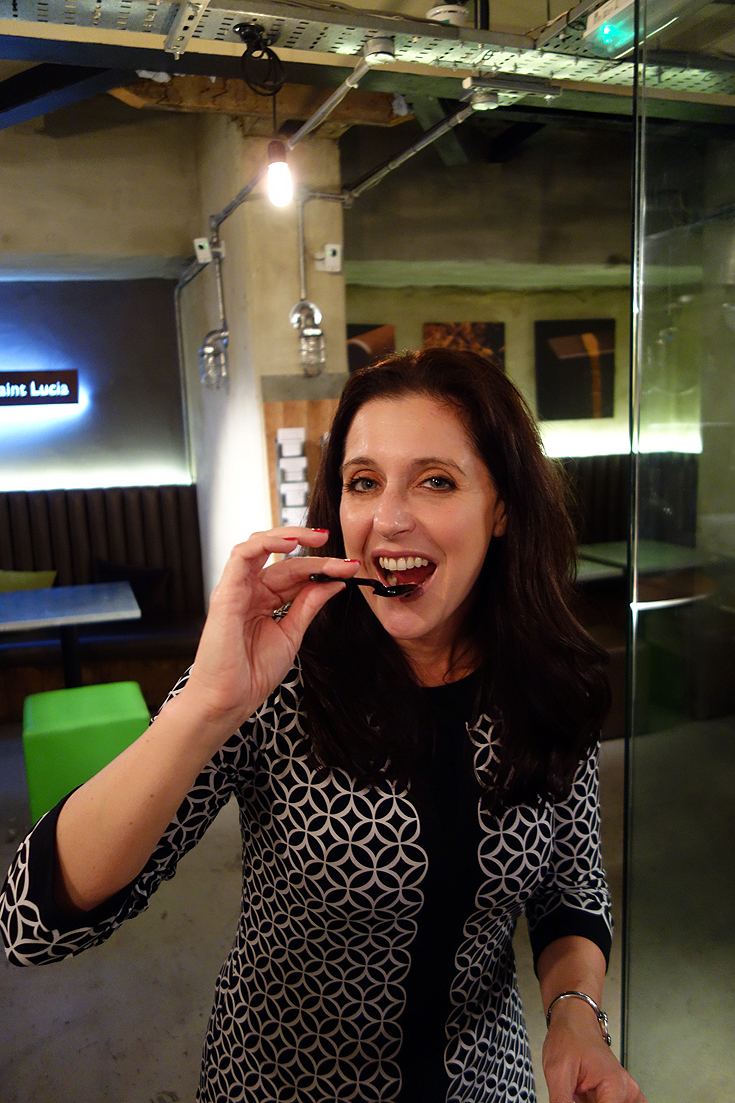 We each got to sample the mixture, which was at the 18 hour mark. Natasha warned us in advance to be prepared. It didn't have sugar yet. Whoa! If you could've seen my face after that spoon was empty.
Throughout the evening we altered between taking notes and sampling one glorious piece of chocolate after another. Of course, we sipped Prosecco often to cleanse our palettes. And, finally, I received my greatly anticipated pieces of white chocolate!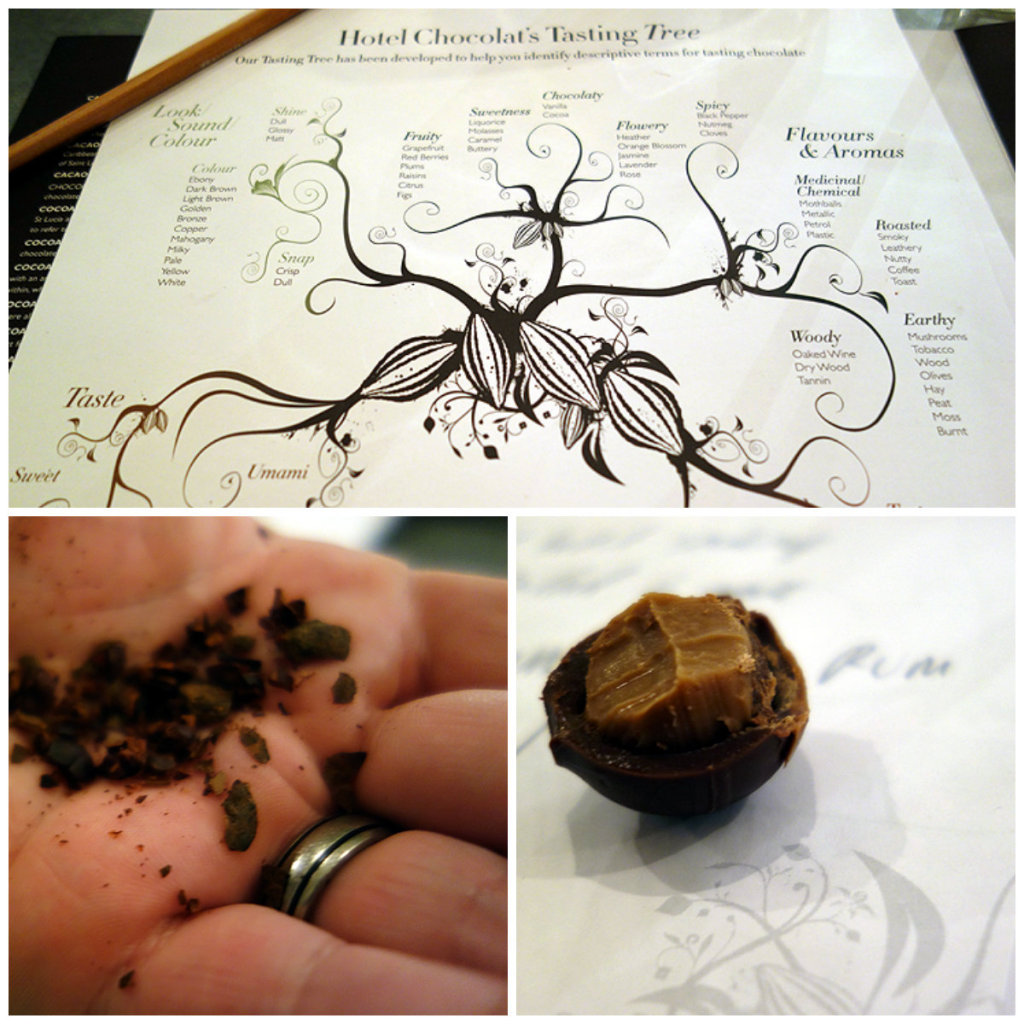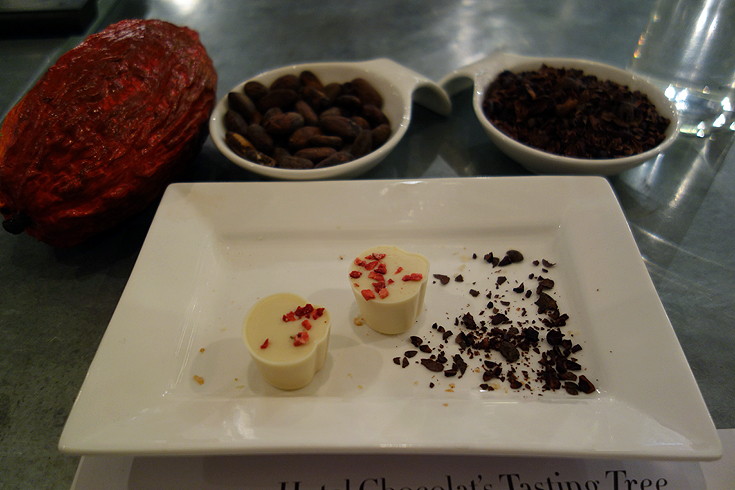 We learned the best ways to get to know chocolate, how to taste it and what to look for. I highly recommend this experience as a fun date night or gift idea. You can book a Chocolate Tasting Adventure by contacting their Tasting Team at [email protected].
We went to the Hotel Chocolat on 4 Monmouth Street, Covent Garden, London, WC2H 9HB. The class is also offered at Aberdeen, Boar Lane (Leeds), Copenhagen, Edinburgh, Manchester, Rabot and York.
Hotel Chocolat Experiential Events:
We also learned that Hotel Chocolat offers other experiences for chocolate lovers of all ages. Their 'Bean to Bar Experience' shows you how to make chocolate entirely from scratch. They also have Children's Workshops! In these classes kids make their own chocolate. Apparently that class is appropriately messy too!
Hotel Chocolat In-store:
If you haven't popped in Hotel Chocolat (which I'd find hard to believe), they have thousands of unique chocolate products. I especially like the boozy rows below…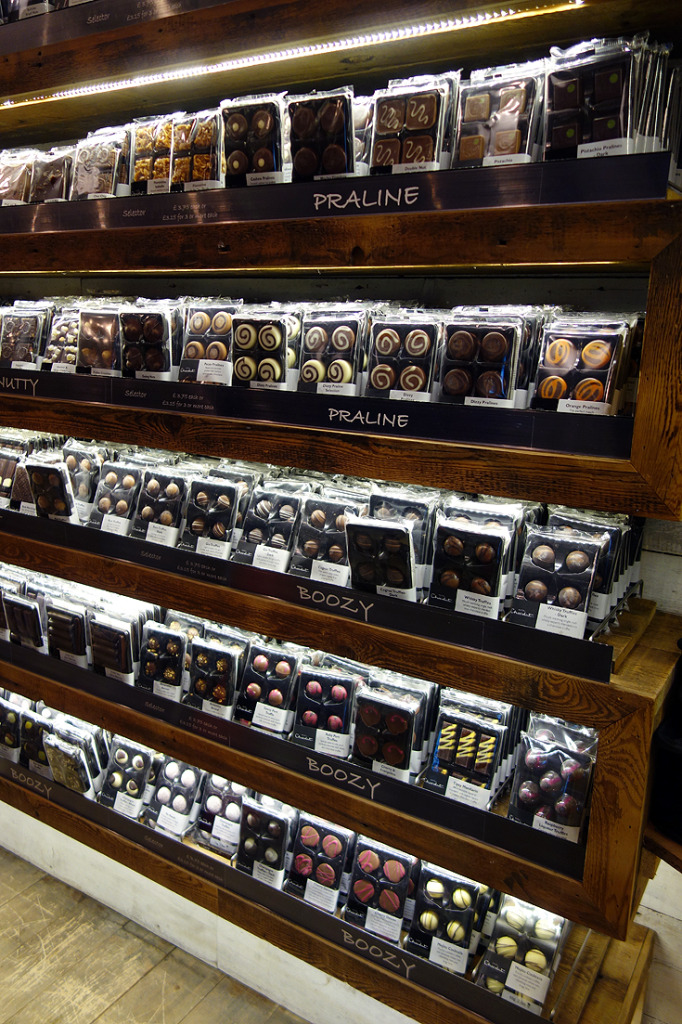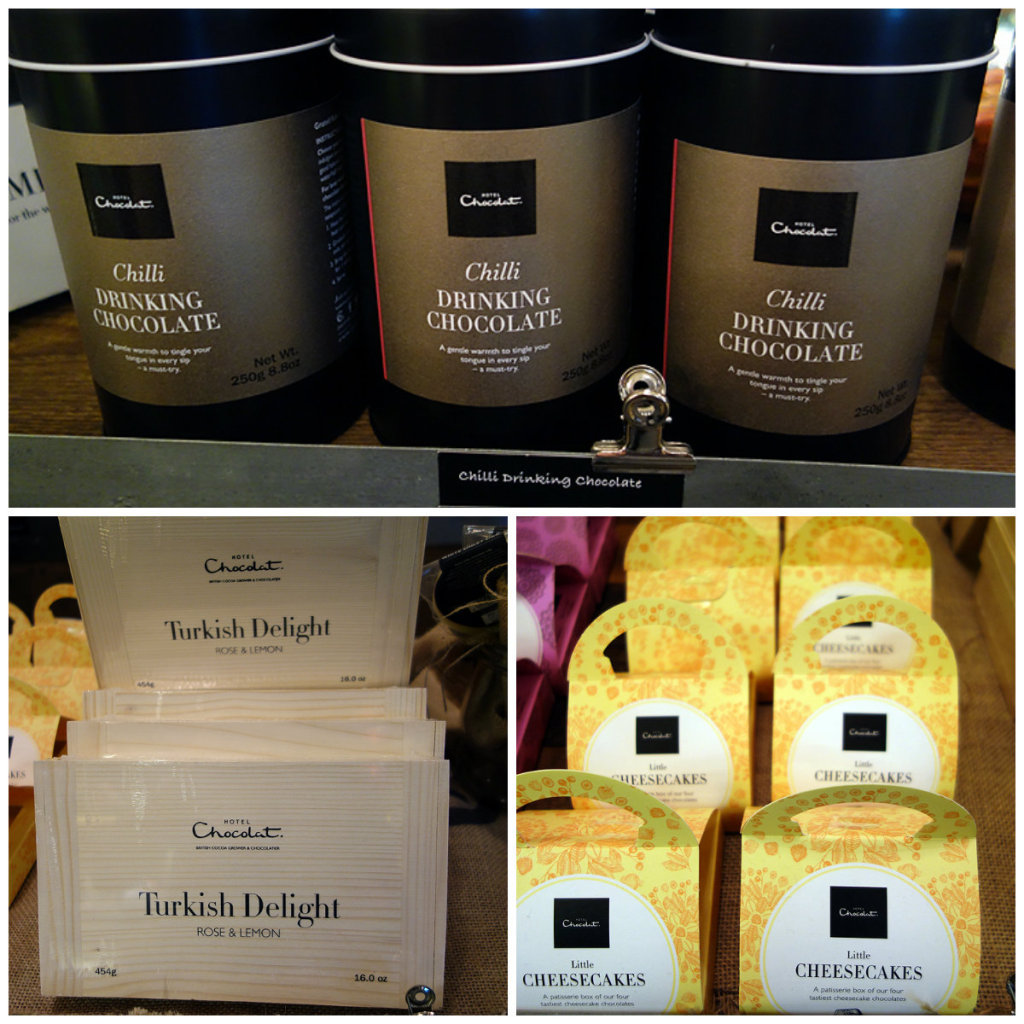 And they have locations just about everywhere. I almost grabbed a few chocolate treats at the Waterloo Station store the day I went outlet shopping at Gunwharf Quays in Portsmouth.
Hotel Chocolat Christmas Gifts:
Here's a few Christmassy treats they already have in the store, Sunny friends: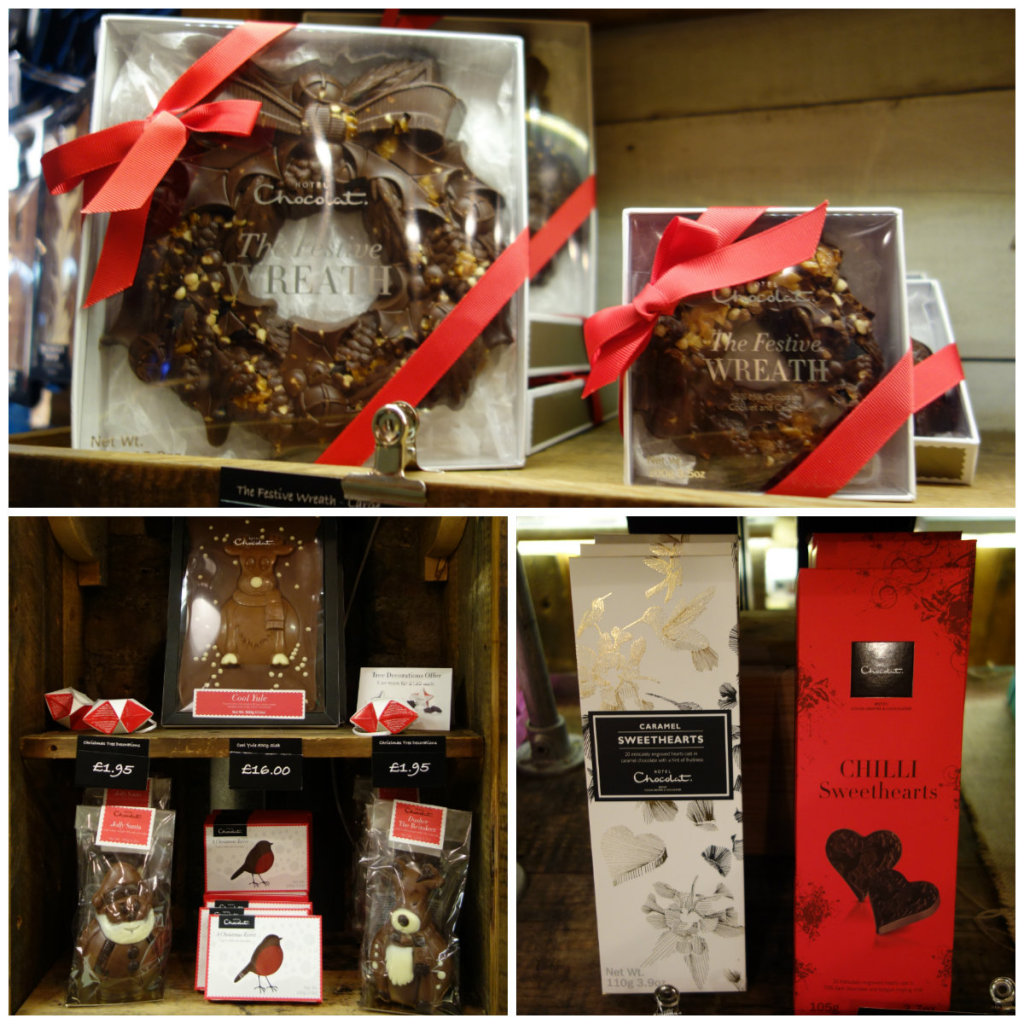 However, if you can't make it, their website it really fabulous. I picked out a few more items for Mr Sunny's Christmas stocking and put them below.
They're the: Advent Calendar (£12.50), Christmas Jumper Slab (£5), 12 Portly Penguins (£7), A Bag of Christmas Stars (£16), Christmas Mess Selector (£3.75), Butterscotch Puddles (£5.50), and Jolly Santa (£7). All Christmas stocking fillers are £7 each, or 3 or more for £6 each.
Let me know what you think!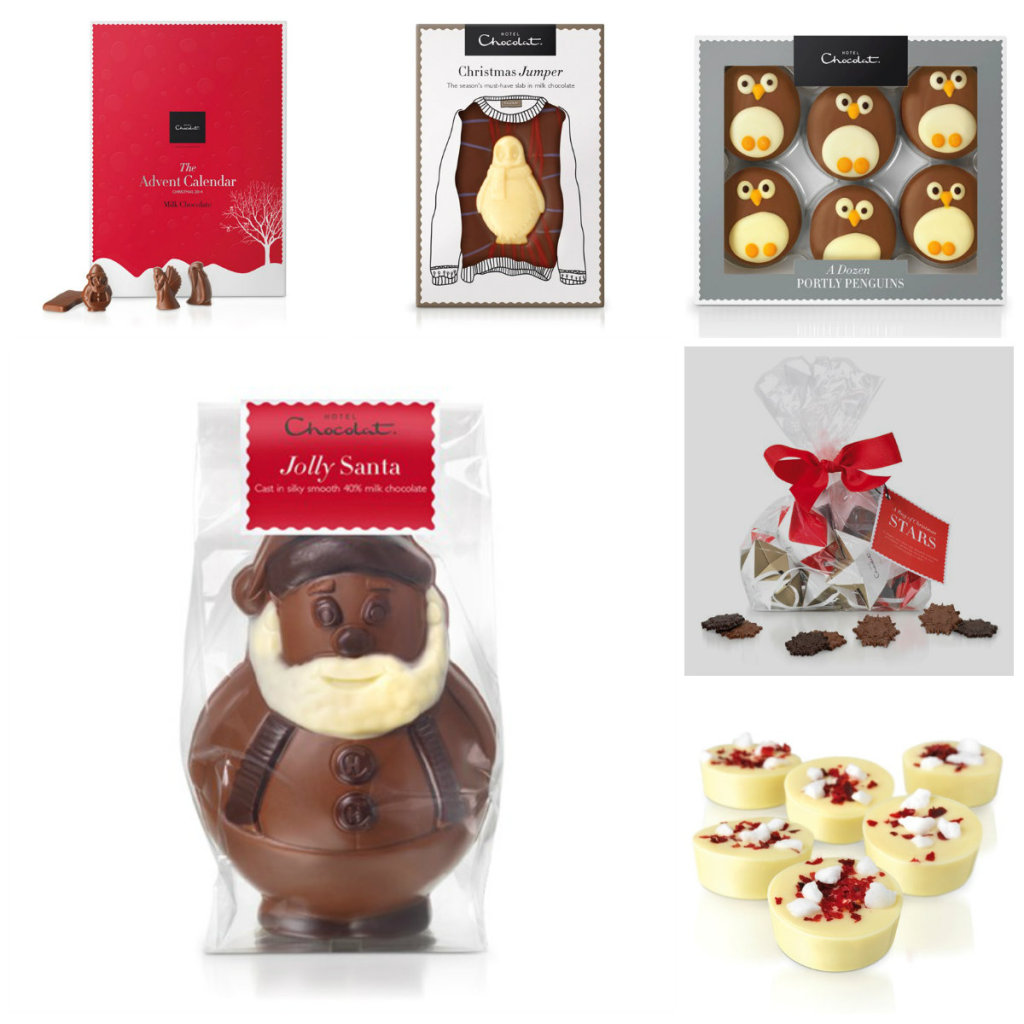 Here's another tip for you… if you order a box of chocolate or two, make sure you check the box for the menu before you eat them!
Mr Sunny and I had a blast the night after our class when we opened one of our boxes and tried to guess all the chocolates. We didn't find the paper indicating their names until we finished eating the box. Even though we got them all wrong, we still love Hotel Chocolat!!!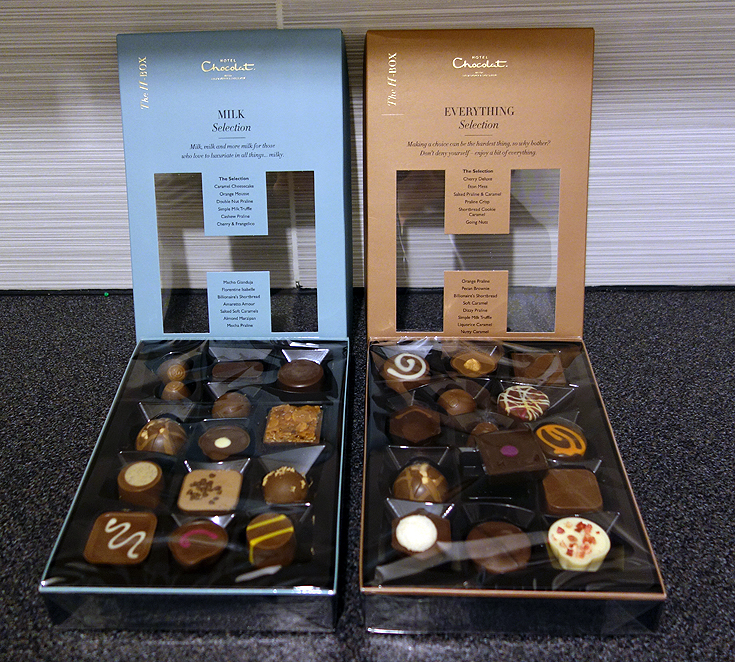 My absolute favourite piece I tried is Billionaire's Shortbread. It was previously named Millionaire's Shortbread. When so many Tasting Club members voted it as their favourite (yes, they even have a chocolate club), they upgraded the name to reflect its elite status.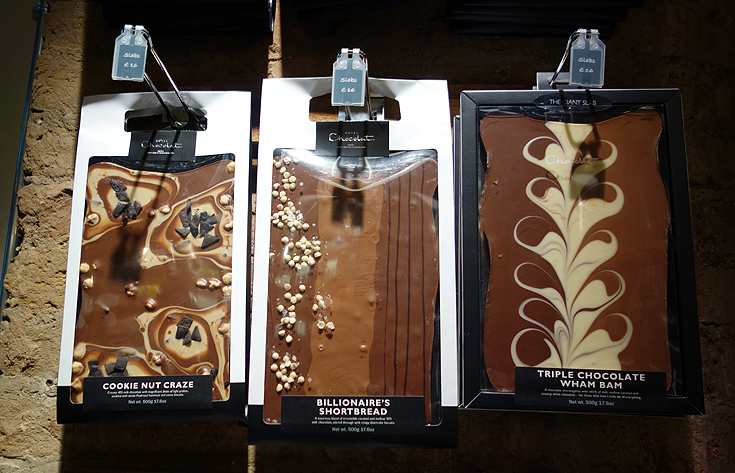 Thank you, Hotel Chocolat for the complimentary evening. You'll continue to see a lot of Mr. Sunny and me.
Oh! I almost forgot my final tip… Don't call Hotel Chocolat to make an overnight reservation in the UK! It happens to them a lot. They only have one hotel- on the island of St. Lucia.
Sunny friends, we kicked off 'Chocolate and Champagne' week on Sunny in London with Belgian Chocolate and a trip to Brussels.