What's so amazing about WC2? It's the postcode for Covent Garden, London and has the best restaurants, pubs and things to do in the town. Well, obviously I am a biased because it's where I first lived when I moved to London as an American expat. However, this neighborhood represents an amazing selection of food, attractions, culture and history. Since the first day I published a blog post, I've been clear that it's my favourite area of London. I love the covent garden bars, restaurants, pubs and attractions that line the streets.
Living on Great Russell Street next to the British Musuem and working in Bedford Square, when NBC News was located there, means I have spent quite a bit of time in WC2. Therefore, creating a guide to Covent Garden for you is not only fun but also fairly easy to do. And, recently I added a 'Secret Things To Do in Covent Garden' video to the Sunny News YouTube channel too that can show you hidden activities. Below, you will find information about: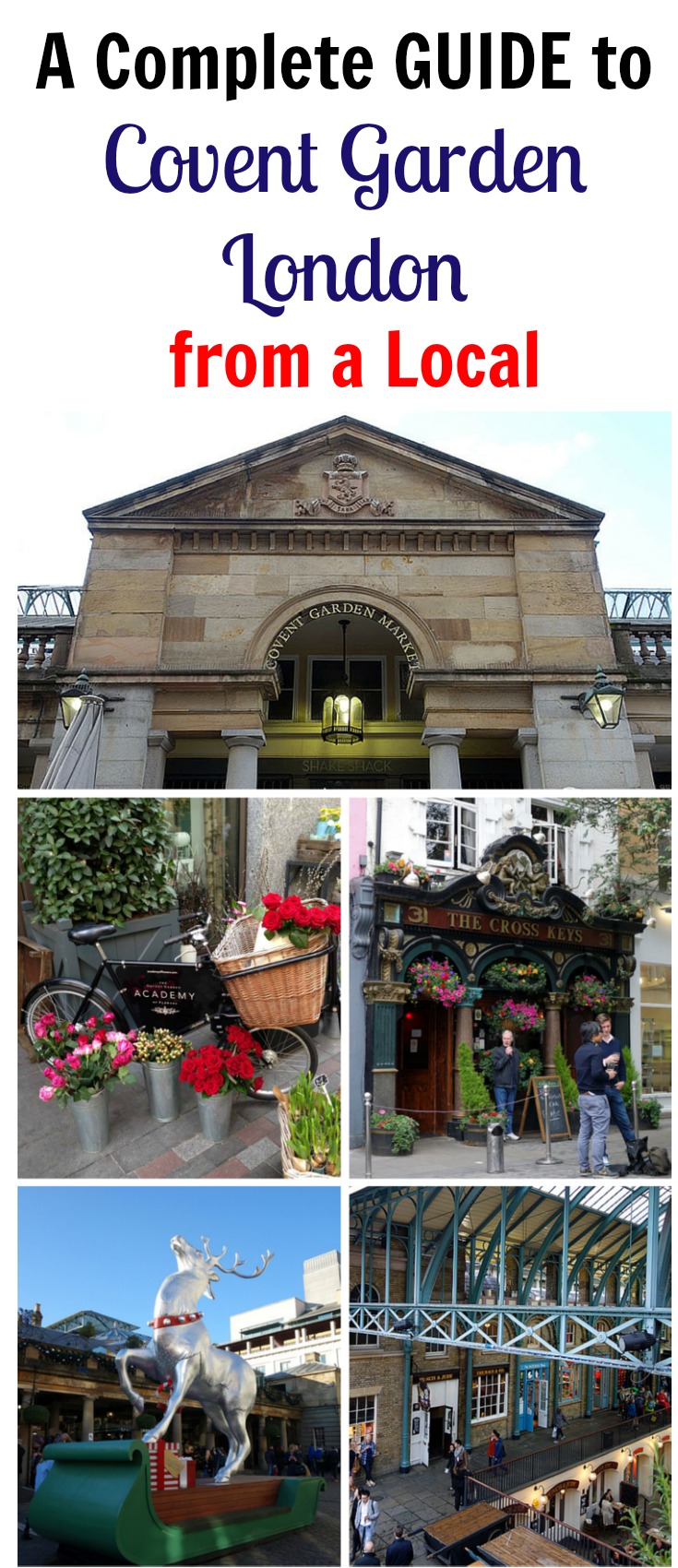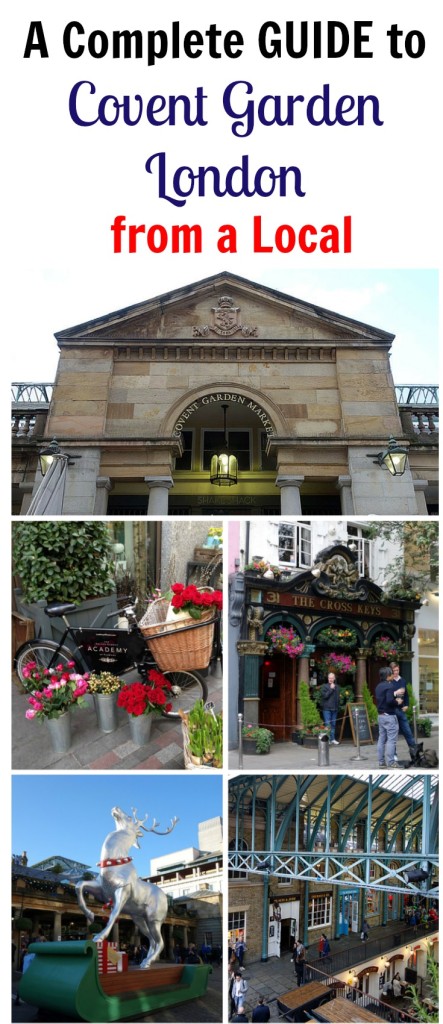 Covent Garden, London- History
We can consider the area to be between St. Martin's Lane and Drury Lane, which is on the eastern fringes of London's West End. From North to South, generally it starts around the High Holborn area down to The Strand. The Northern 'border' is a little blurry.
The central square is now a popular shopping and tourist site, but it originally was a fruit and vegetable market. Since the 1600's it transitioned from this to a place filled with taverns, theatres and brothels. In the 18th century it had become a red-light district. However, an Act of Parliament assisted with organizing the market and moved it to be an area containing cafes, pubs, small shops and craft markets.
Currently, Covent Garden still demonstrates an array of its rich history through the street performers, attractions and overall vibe. It always seem to present an energetic, playful atmosphere full of seasonal surprises.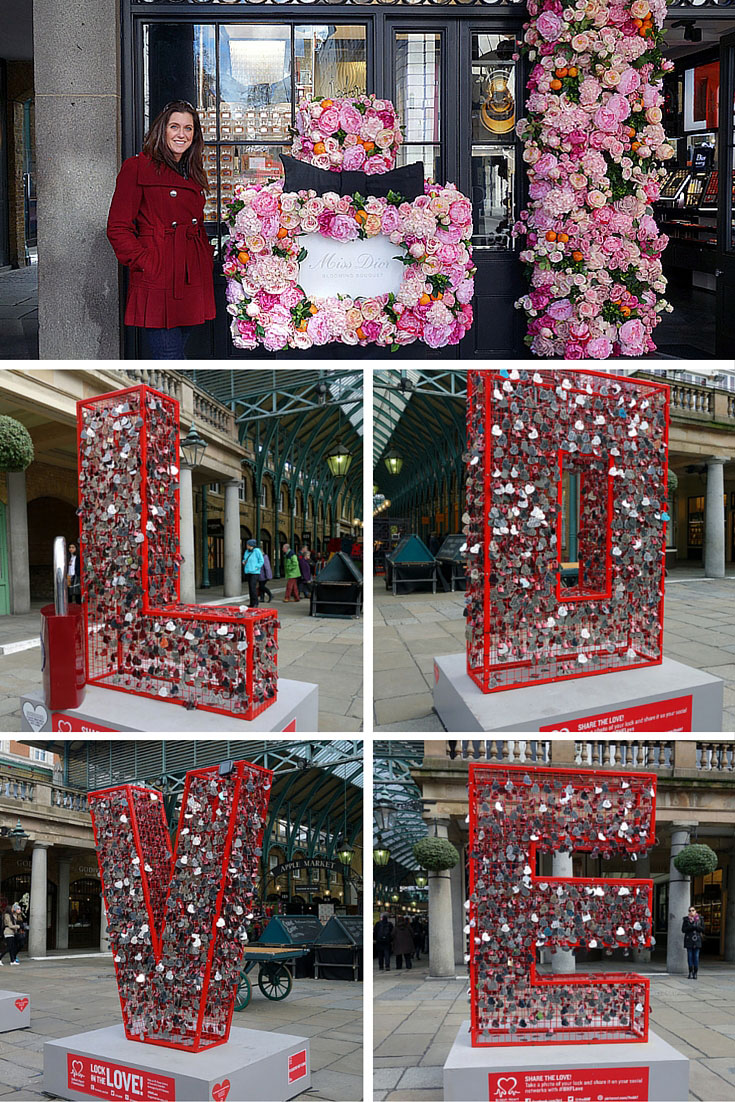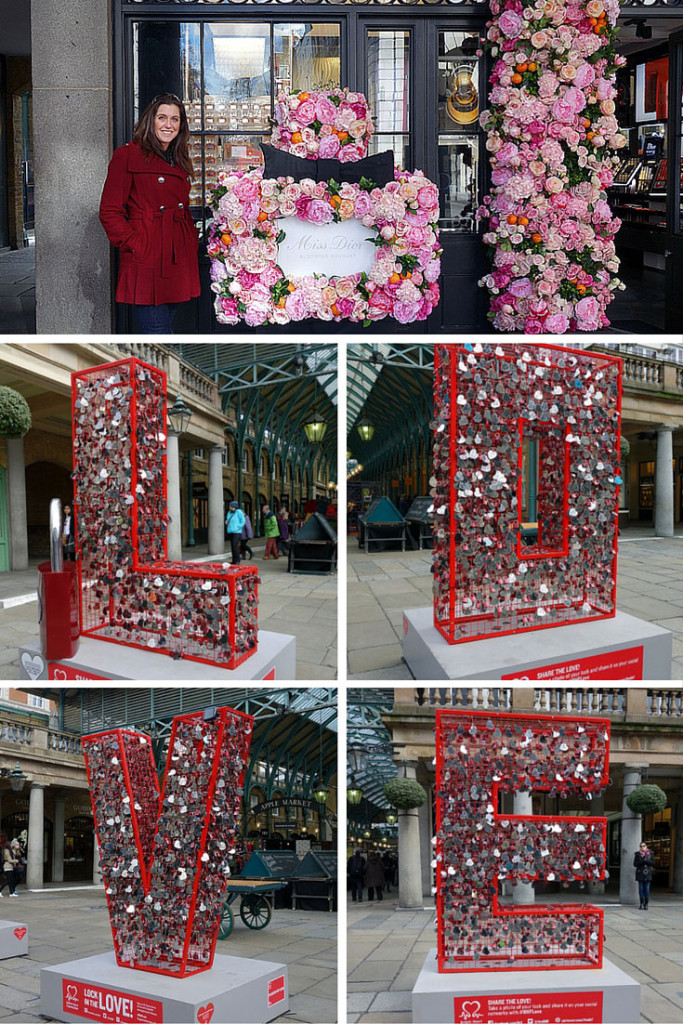 You also never know what will happen in the piazza. For example, in the summer of 2015 there was an art installation which featured over 100,000 balloons.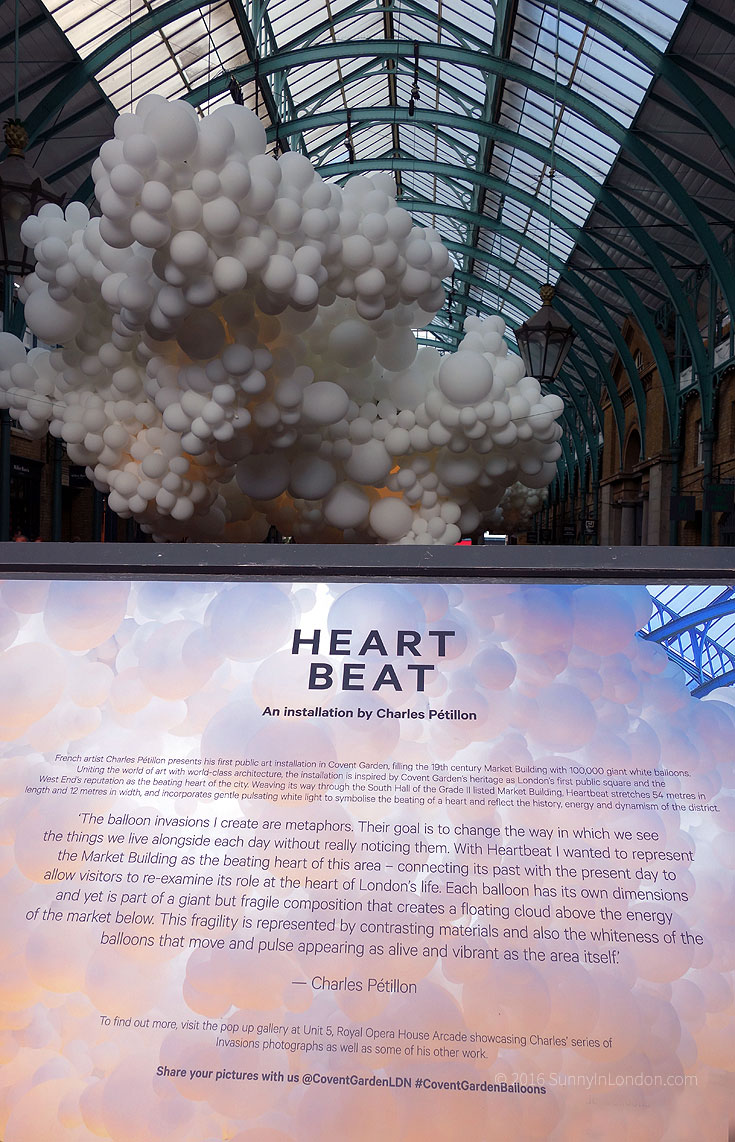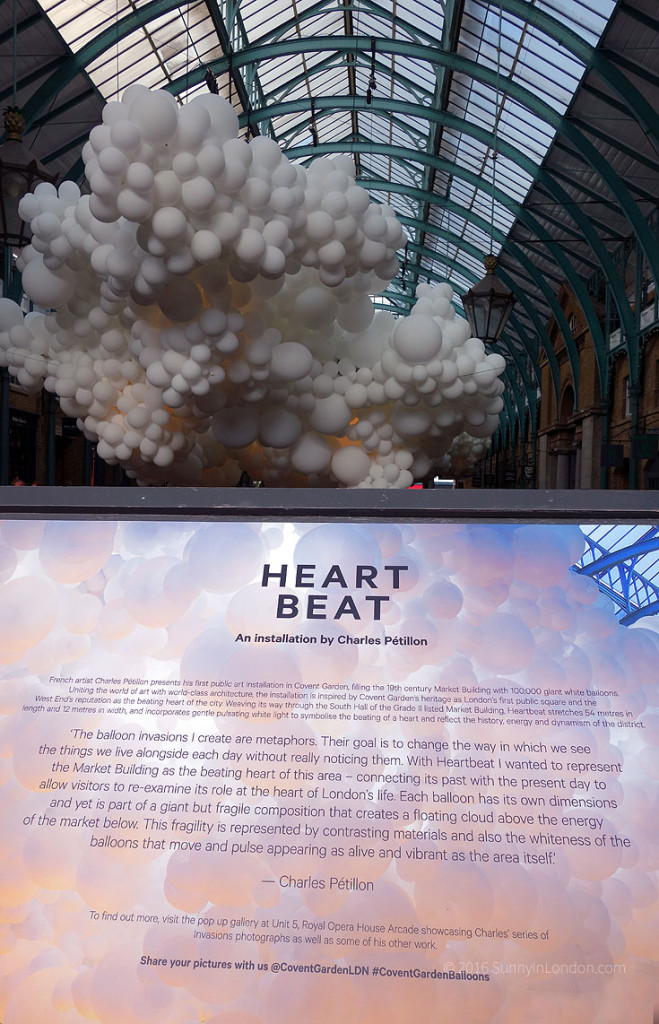 Covent Garden, London- Hotels
Covent Garden isn't particularly known for a wide selection of hotels. For this reason, there is a just a few on this Guide.
Bloomsbury Hotel– While technically just outside the northern edge of Covent Garden, this hotel is on the street where I first lived in London. If you're a literary fan, this is the hotel for you. It has an academic theme, reflective of this popular literary hub in London near where many authors like Charles Dickens lived.
Corinthia- This is a five-star hotel whose spa has been rated as the best in London. I enjoyed their Christmas afternoon tea here once and can certainly say it is very luxurious. For an exceptionally perfect New Year's Eve location, choose Corinthia. Year round its proximity to other London attractions is an additional bonus.
Covent Garden Hotel- Part of the Firmdale Hotels, this London hotel franchise is by far the most beautifully decorated that I have ever seen. Their afternoon tea both here and on Charlotte Street are the best quality for the price.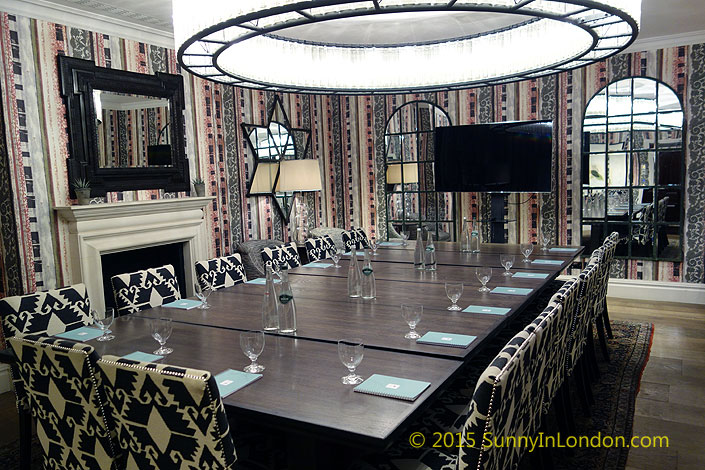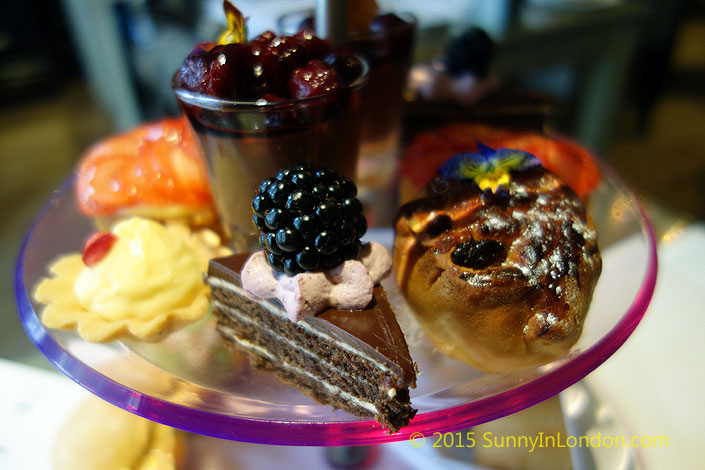 One Aldwych– It's countless how many times I have been to this hotel for cocktails, food and a staycation. The spa is impressive, and it has the coolest pool in town!
http://youtu.be/Bz3YBze5pFM
Just across from Waterloo Bridge, it's location makes it perfect for a stay that features theatre trips. Also, it's less than a five minute walk to Trafalgar Square. Regent Street and Buckingham Palace aren't too much further either. This hotel has had rockin' success with their Charlie and the Chocolate Factory inspired afternoon tea too. If it's something you'd like to do, be sure to book well in advance, as it's often full.
The Savoy- For one of the most luxurious stays in London, see The Savoy. I've only had dinner at one of their restaurants. I can only imagine how wonderful an evening or extended weekend/trip could be at this swanky spot.
Covent Garden, London- Pubs
Any Londoner or British person will tell you that not all pubs are equal. My husband, 'Mr. Sunny' was born in London, as were his parents. He prides himself on a deep knowledge (based on countless hours of research) of beer and pubs in London and around the world. All of the blog information about these two categories is his work. His recommendations for a 'damn good pint' and possibly food to go with it are below.
Cross Keys- All Londoners know this pub. It's striking exterior makes it an easy place to find. However, inside is surprisingly dark and seemingly full of local Londoners.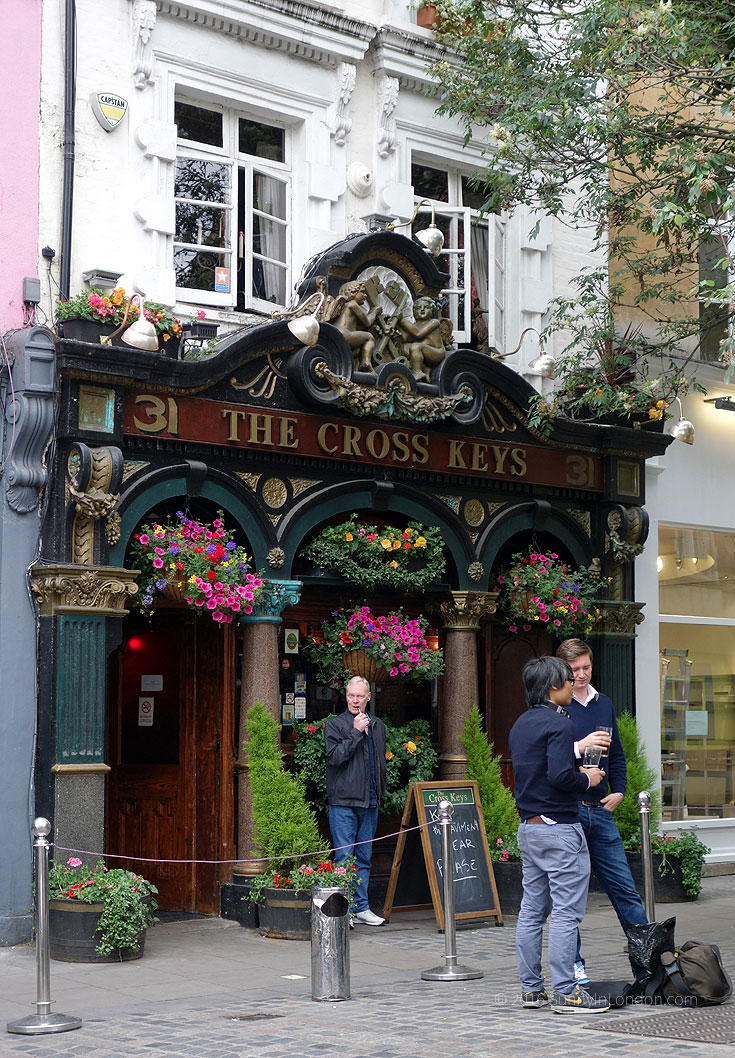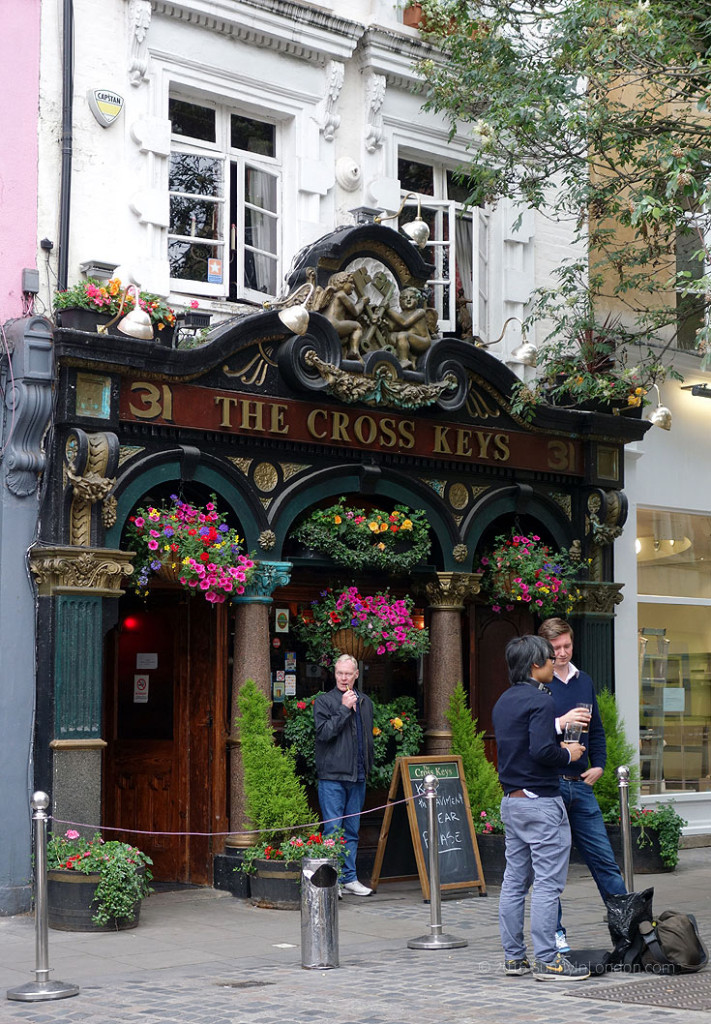 Lamb and Flag- This pub is a bit tricky to find, but if you're looking for a true British pub that isn't full of tourists, this one's for you. However, we've only had drinks here. It isn't one that I would suggest you have a meal too.
The Porcupine- When I first lived in London, my friends and I met at this pub often, so now it's where Mr. Sunny and I chose to rendevous if we're meeting after work. The reason is the fact that it's right outside Leicester Square underground station so it's easy to find. If you're trying to catch up with someone who may not have access to wifi or a mobile network, this is a great meeting place to have a drink and start an evening.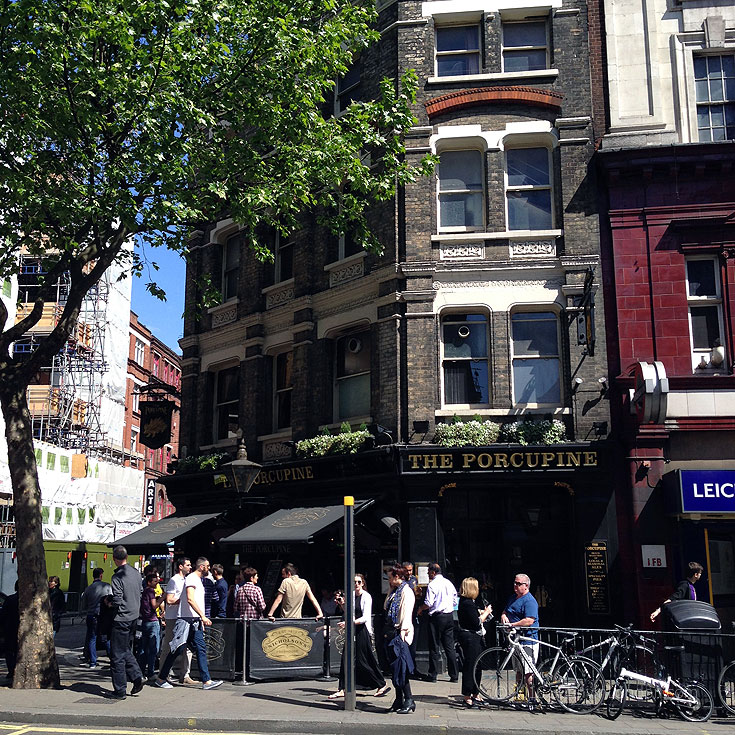 Shakespeare's Head- While there is a pub in Carnaby with the same name, this is a Wetherspoon pub. Mr. Sunny likes this place because it's generally cheaper than other pubs. It tends to get crowded, and it is very large. It's a short walk from Holborn underground station on the Piccadilly line and Central Line.
The Harp- Of all the ones listed here, I think Mr. Sunny likes this one the best. It's a Fuller's pub that has a choice of ten hand-pumps. Again, beer only. I've had a few glasses of wine there, and let's say that and food are not their specialty.
The Salisbury- This is the pub I pick for having traditional English pub food if you seek it in Covent Garden. (Another great one is Porter House, which is in the pub crawl listed below). I've eaten here and definitely recommend the fish and chips. It's part of the Taylor-Walker chain.
The Ship Tavern– one of the best pub meals we've had is at this location in the restaurant upstairs. Drinks and bar snacks on the main floor are highly recommended too. It's on a very secret street just around the corner from Holborn underground station.
Pub Crawl- For a Canadian, Irish and British pub that are in close proximity, you can take one of our first pub crawls published on the blog. There is also another pub crawl which features pubs that have sun-themed names and several are in Covent Garden too.
Covent Garden, London- Restaurants Reviewed
While you can find many of London's popular chains throughout the neighborhood, there are also tons of individually owned restaurants that offer excellent food, both from a British or international cuisine.These are the ones I have reviewed and recommend to Londoners and visitors.
Bill's Covent Garden Restaurant– There are two locations for Bill's in Covent Garden. I enjoyed their afternoon tea at St. Martin's Courtyard when I first started the blog. The restaurant is colourful, and the food is reasonably priced.
Byron Burger– A casual chain in London, my husband and I popped in this location while spending an afternoon in Covent Garden touring Christmas decorations and activities. A popular feature on their menu each year during this time is their Cheesemas burger. The extra calories for this one are truly worth it.
Five Guys– this location was one of the first to hit London. The popular American chain has since launched several other spots so the lines no longer stretch around the building. Having eaten at both this one in London and America, I can say they're exactly the same.
Indigo Restaurant- Inside the One Aldwych hotel is where I had one of the best pieces of lamb I've eaten in London. Further, I've had cocktails in One Lobby Bar at the hotel and feel it's a swanky place to chill both before and after dinner.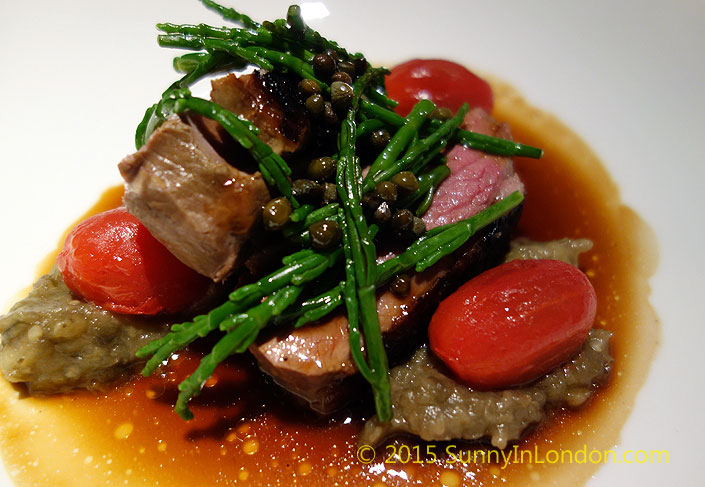 Le Garrick– The love story behind this French restaurant is endearing, and the food is fabulous.
Le Pain Quotidien– For a Belgium bakery found many places around London, I was pleasantly surprised at how healthy the menu is. This particular location spans several floors and has an outside seating area near the piazza.
Salvador and Amanda– For Spanish tapas, my husband and I have hit Salvador and Amanda several times. Aside from having Flamenco dancing several times a week, the restaurant and bar offer great drink specials during specific hours.
Shake Shack– A popular American chain, this casual burger place is one of my favourite in London. For a burger that is more affordable than other places, my husband and I love Shake Shack and treat ourselves to it as often as possible. They've added a few other spots around London, but the one in the Covent Garden Market still seems to have a regular queue at nearly all times of the day.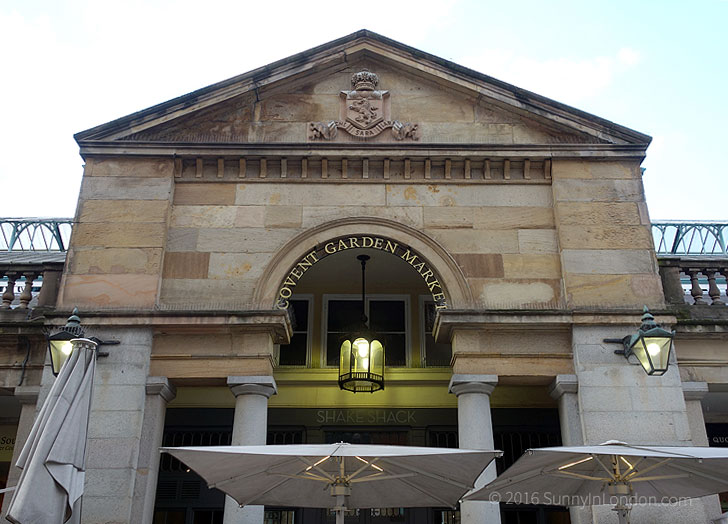 The Real Greek– You can hit this Greek restaurant either on Long Acre or St. Martin's Lane. We've eaten at both and feel it offers a big, fat Greek experience that rocked both times.
The Savoy– While their afternoon tea is supposed to be incredible, my husband and I went to Kaspar's Seafood Bar and Grill at The Savoy. We were able to reduce costs through an opportunity at Bookatable, so I suggest you explore this if you'd like to eat rich but save money.
Wildwood Kitchen– If you're near Seven Dials and are looking for a rustic Italian experience, you can try this restaurant.
Covent Garden, London- Restaurants Others Recommend
There is a list of places in Covent Garden that I am aiming to review because I have heard great feedback about them, so I have included them here.
Big Easy– This American dining restaurant 'provides the taste of Southern states.' It seems like a fun place to enjoy a meal if you're seeking a bit of American culture.
Flesh and Buns- This restaurant is brought to you by the people behind Bone Daddies Ramen and Shackfuyu. It is their Japanese Izakaya bar & restaurant. Everyone I know who has been here is impressed.
Fire and Stone- This pizza place seems fairly casual, as one would expect. There has been quite a few times I've seen representatives passing out flyers or coupons for it in various streets of Covent Garden around the restaurant.
Frenchie Covent Garden- opening on March 27, 2016 this restaurant is receiving a lot of hype from media and has the area buzzing. If you've been there and can leave some feedback in the comments, that would be appreciated. In fact, at the time I published this Guide to Covent Garden, they didn't have a full website running.
Homeslice– for pizza that is as close to New York style that I can find in London, read this review and visit Homeslice.
Rock and Sole Plaice- This is the one fish and chips shop in London that's the highest on my list to try. It's always busy when I pass it, and the creative name has me very intrigued.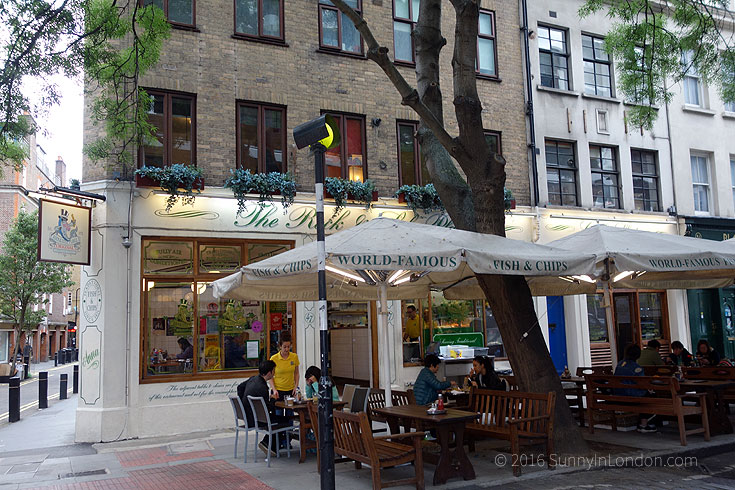 The Ivy Restaurant- Having eaten at The Ivy in Hollywood, I can say that I am a bit curious about this London location. It seems to have the same prestigous allure in the UK. However, since my LA experience was more about star spotting than food quality, I haven't ventured to either London location for The Ivy yet. However, Londoners seem to think it's a great place to eat, especially pre-theatre.
Covent Garden, London- Shopping
While I would say the best street to shop on in London is Regent Street, Covent Garden has a good selection of specialty stores that would make for a fun day too.
Seven Dials Shopping- This section of Covent Garden can be a bit confusing because it literally is formed by seven roads meeting at a roundabout. If you are planning on being in the area, I suggest you visit their website for any scheduled activities, as they frequently have summer and winter events. Specifically, they have a shopping party each year before Christmas and make the discount promotion for the evening available on their website.
St. Martin's Courtyard– Perhaps most popular to Americans in this secret spot is Banana Republic. As a former car park, this section of Covent Garden has a handful of shops, restaurants and other services. It's very small, so it's not a place where you would spend a few hours.
Covent Garden, London- Street Performers
One of the most popular places to see street performers on a regular basis in London is Covent Garden. They audition at various times during the year. There is a judging panel made up of representatives from the Courtyard Musicians Association, Street Performers Association and the Capco Covent Garden Management Team.
The Courtyard pitch is for classical vocalists and instrumentalists. They don't allow any wind instruments, brass instruments, electric guitars, drums, accordions, bagpipes or didgeridoos to be played at Covent Garden.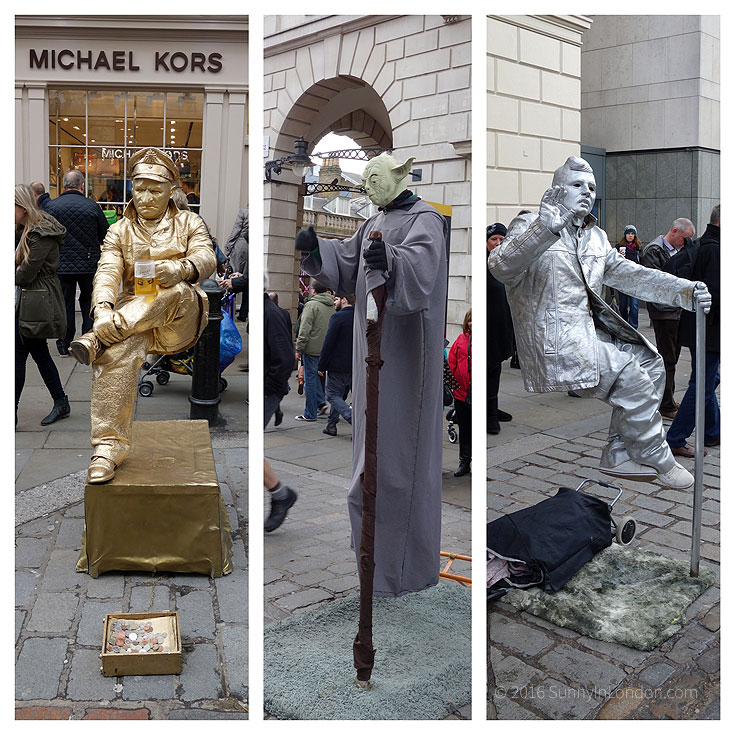 Covent Garden, London- Things to Do
Christmas- Covent Garden is one of the most beautiful places to visit in London during the holidays. Their installation of decorations kicks off the start of the Christmas season each year.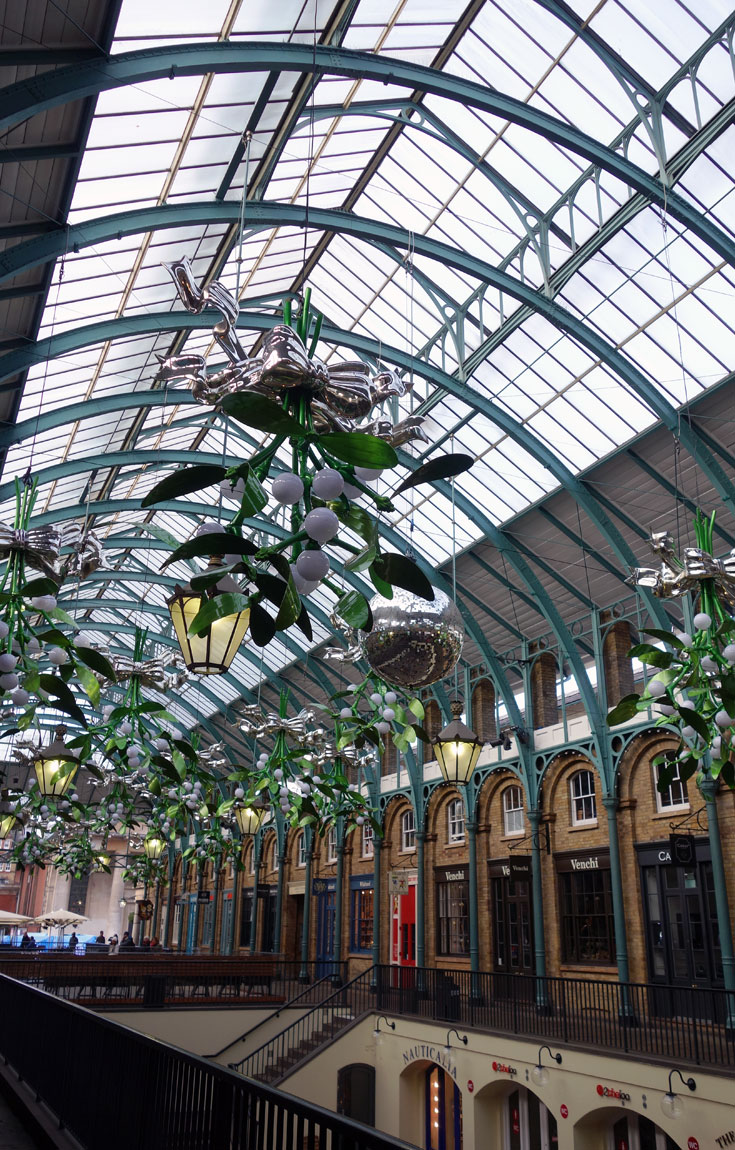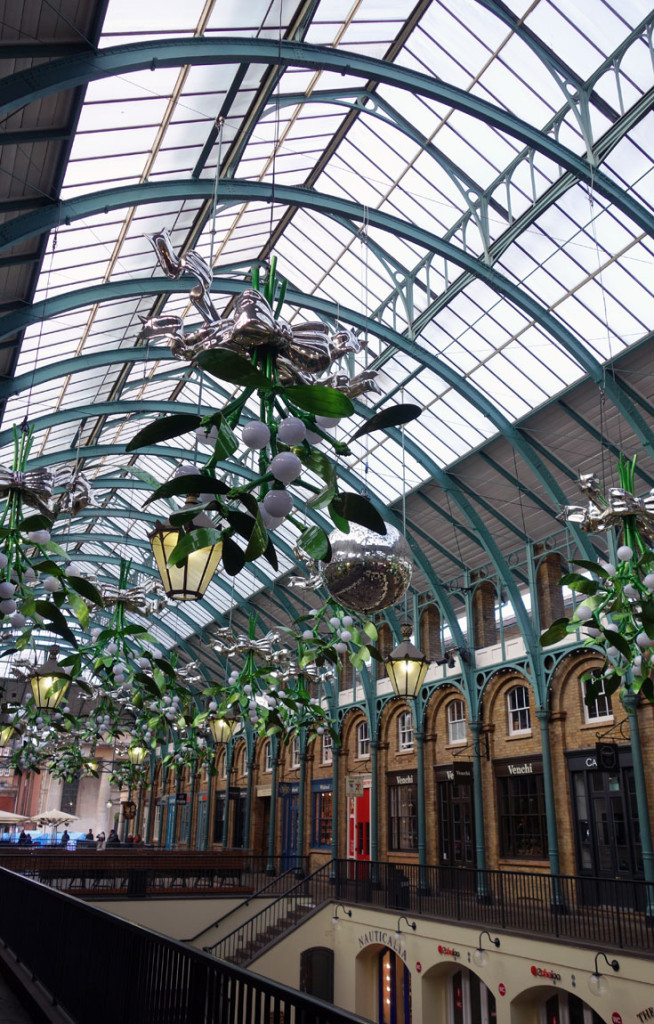 It's also one of the locations that you can go ice skating during the holidays. Here you can see a bit of what the Somerset House experience is like.
Covent Garden Academy of Flowers– One of my most cherished experiences in London is the day I took an extensive floral arrangement course at this academy. They offer evening workshops for anyone mildly interested in learning about floral design. Vouchers for one of these sessions is one of the top gift ideas I suggest for the girl who has everything.
Hotel Chocolat– Who doesn't love chocolate? My husband and I are guilty as charged for this. It's why we loved the class we took at Hotel Chocolat so much. If you're looking for a super fun date night idea, taking a chocolate course here is perfect.
London Coliseum– This is the home of the English National Opera. You can see what's currently on the stage through their website, as it changes often.
London Film Museum (Bond in Motion)- This current Exhibit features cars and numerous other artifacts and props from James Bond films. It's absolutely for people who enjoy and appreciate the franchise. As it is probably designed in honour of the release of Spectre, you will want to check their website to see if it's still offered before you plan a visit.
London Transport Museum– If you're even mildly interested in how people get from one place to another in London, this museum is worth your time. It's also an excellent activity for kids and part of the London Pass discount plan for touring the town.
Olivier Awards- This ceremony is the British equivalent to the Broadway's Tony Awards. Their given to individuals in West End productions and other leading non-commercial theatres based in London. They've been held at the Royal Opera House since 2012, and the most recent ceremony was April 4, 2016. Fans frequently fill the red carpets to watch stars as the enter.
Neal's Yard- This is by far the most 'Instagrammable' location in London, after all the iconic attractions. It's not an area you would just stumble upon, as it's a bit tricky to find. However, it's an explosion of colour and great food that real Londoners know exists and love.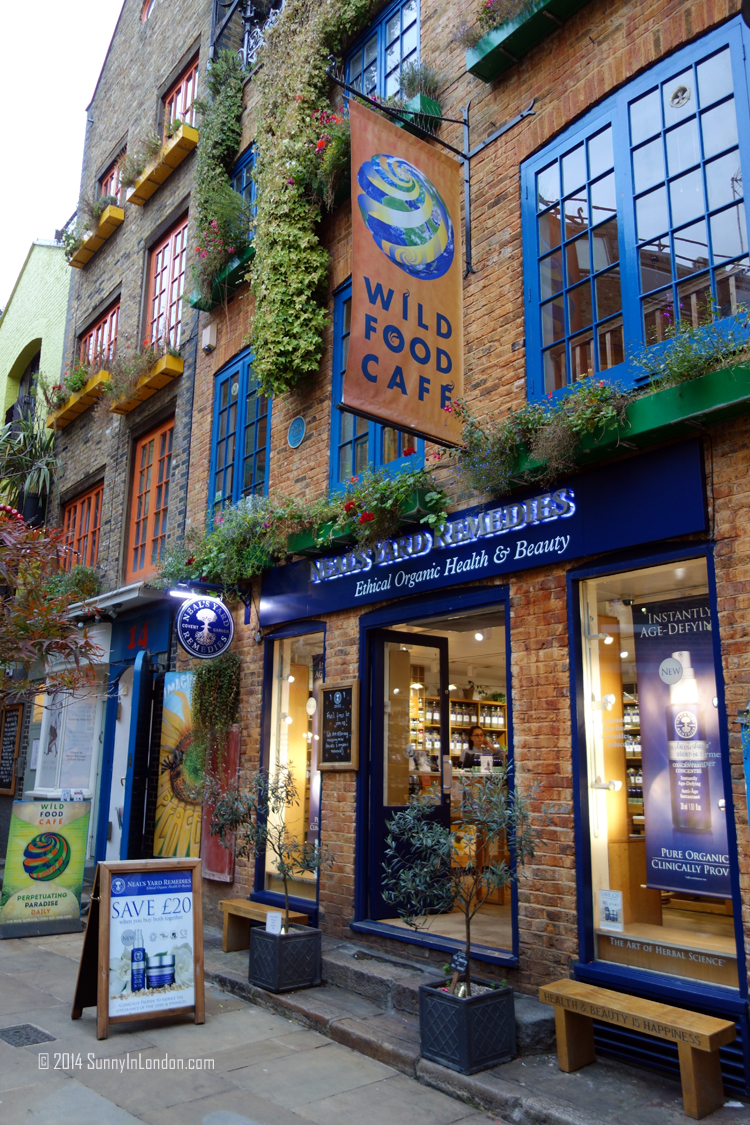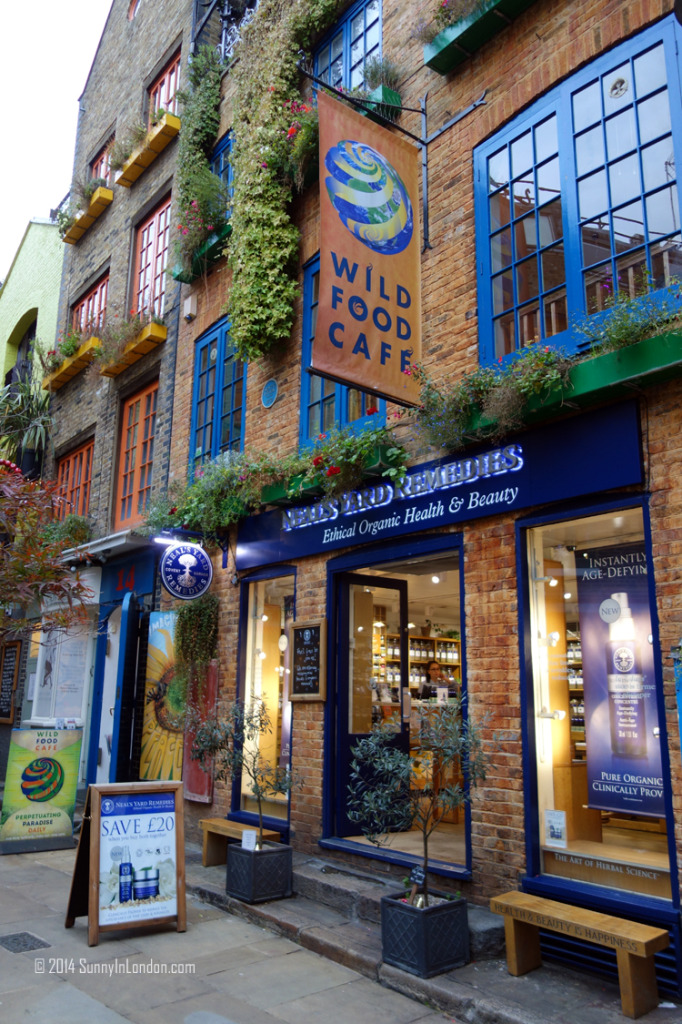 Royal Opera House- Home to The Royal Opera and The Royal Ballet – this is the place to watch and learn about world-class opera, music, ballet and dance.
Horse-drawn Omnibus Tours– Stanfords offers an authentic horse-drawn tour through the streets of London. It's something you would want to book in advance and is geared toward someone who doesn't have a strong existing knowledge of London.
Theatre Royal on Drury Lane- This location is currently showing Charlie and the Chocolate Factory.
Covent Garden, London- Final Thoughts
You can get to my favourite neighborhood easily on the Piccadilly Line. However, the shortest journey on the underground in London is between Leicester Square and Covent Garden, at a distance of 300 yards. So, if you're coming via the Northern Line, you may just as well exit at Leicester Square and walk less than five minutes to the heart of Covent Garden. Even though, the Covent Garden underground station has the best staff in London. (Trust me, they're a very entertaining bunch.) You can see all their fun each day on Instagram.
Don't miss the 'Secret Things to Do in Covent Garden' video added to the Sunny News YouTube channel also. It has things Londoners don't even know exist! 😉
If there's anything you can add about your recommended places in Covent Garden, I do hope you include the ideas in the comments below. Also, if I can answer any specific questions for you regarding the area, please give me a shout out! If you're visiting London for the first time, you may also wish to see my Guide to London.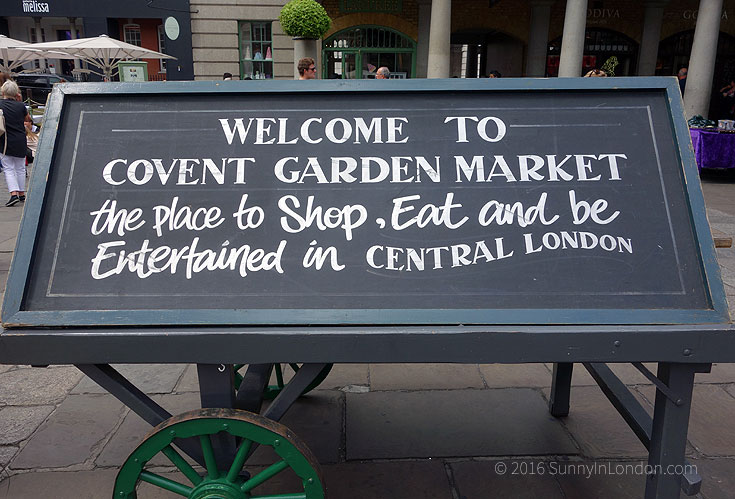 Want a Food Freebie in London?
Subscribe to the Sunny in London weekly email and immediately get the 'Local's Pocket Restaurant Guide to London.' It's the ultimate free travel accessory for your London trip. The Guide has top recommended restaurants from a local, organised by neighbourhood. With it you can easily find a place to eat when you're on a London street. Downloading the file to your phone means skipping Wi-fi and finding a fab foodie place- fast!
As part of the welcome, you will also receive several other free downloads that will guide you through trip planning, plus a weekly edition of the hottest happenings in London.