Why did Homeslice pizza really live up to its name with me? Because it is the only pizza in London that comes close to what I grew up on at home. No joke!
If you like thin, New York style pizza that is ginormous, then you need to get your homies and go to Homeslice pizza. Take a look…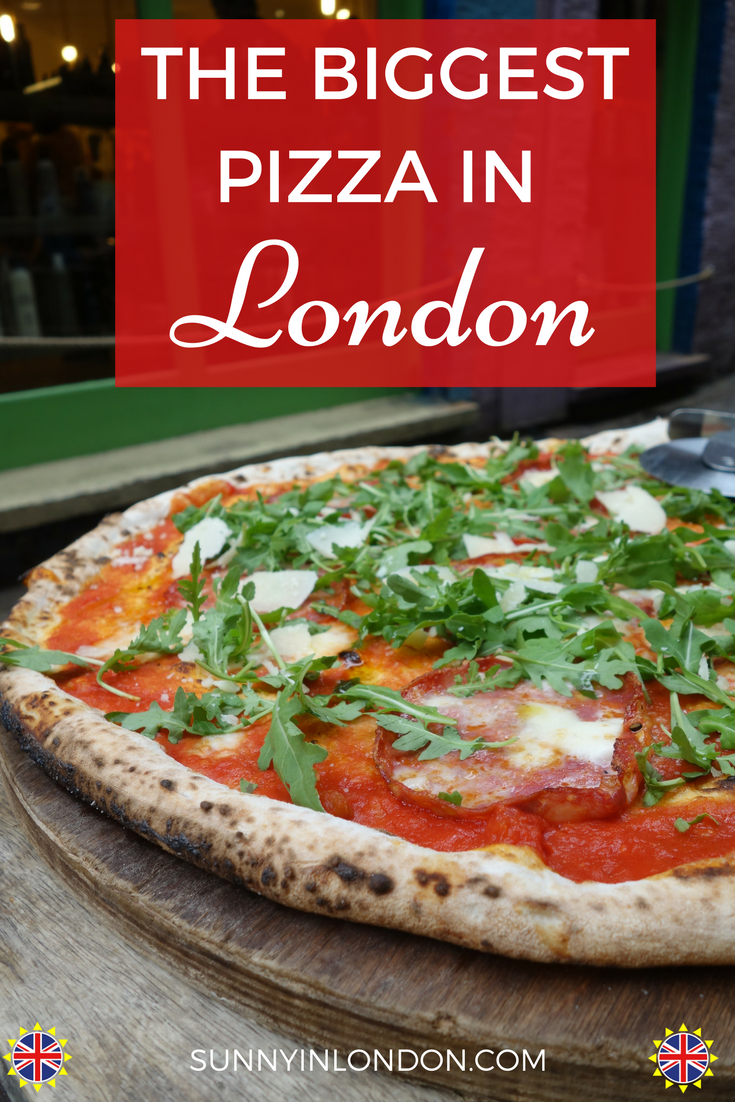 That is the biggest pizza I have ever seen in London. It has been taunting me for a long time. If you read Sunny in London regularly, you know that Covent Garden is my self-declared hood. It's the first place I lived when I moved to London years ago and met Mr. Sunny. It's the place I visit now the most often. Neal's Yard is literally my favourite little space in the world.
This means on a beautiful sunny day, I nearly always take a walk through this hidden London space. Each time I am subjected to people sitting outside Homeslice enjoying a pizza that covers their table. It's tough not to drool right over them.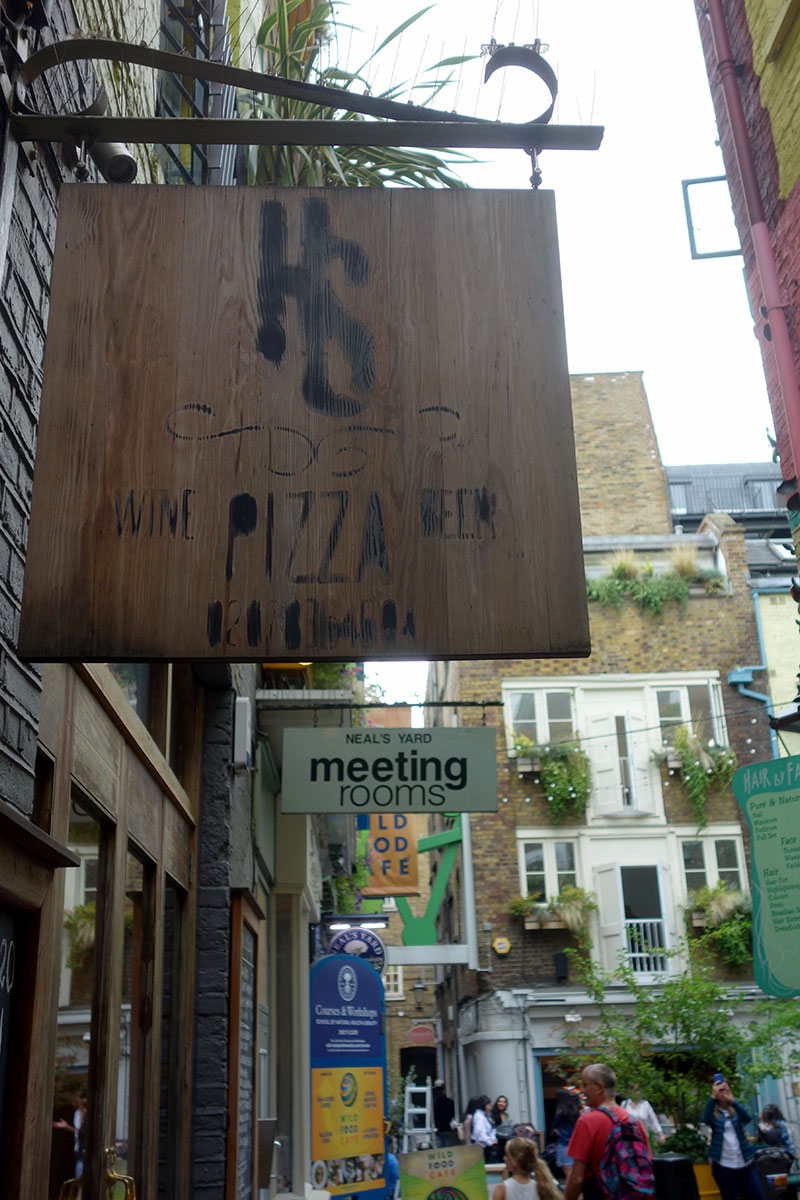 So, when I was planning my Secret Things to Do in Covent Garden story, I knew I had to share how to find London's biggest pizza. You see, you can't miss these pizzas when people are eating them in Neal's Yard. But, let's face it, Neal's Yard isn't the easiest place to find in Covent Garden if you aren't actively seeking it.
Homeslice Pizza Review for Covent Garden
Mr. Sunny and I arrived a few minutes before they opened on a sunny Wednesday afternoon in the summer. There was already a small queue at the door. We were so glad that a table was reserved for us outside. Because I had been subjected to so many people's pizza in the past, I had to be in the front row for everyone to see it was my turn. Go ahead, judge me.
Our judgement on the pizza is certainly two thumbs up. I love super thin crust. While I grew up in Florida, I did live in New York for 10 years. Therefore, my taste in pizza certainly flavors favors this style.
Our pizza arrived in less than 10 minutes. We had barely enough time to set up our cameras and start our Instastories!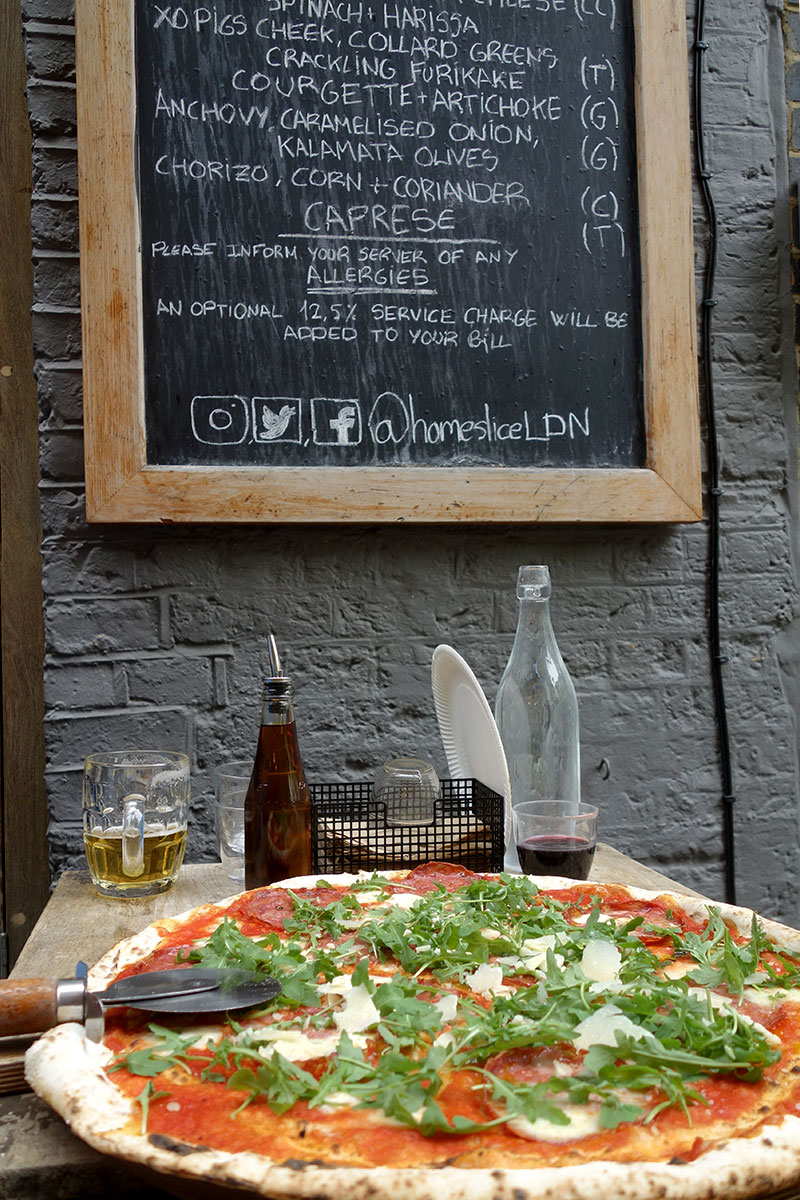 That's the salami, rocket and parmesan. And yes, the two of us finished the whole thing. It was glorious!
Homeslice Pizza Review – Suggestions
The pizza was a little tricky to eat with just our hands, but neither of us complained. It may have been because Mr. Sunny cut our slices too big. You can see more of what I mean in the video.
When we return, we will sit inside. We feel when you want to really dig in to this delicious dish, you need space. It's not pretty. Expect to be covered in sauce! However, again, I needed everyone to see I was finally having my chance to be a part of the legendary experience eating London's biggest pizza.
If you can't make it to this secret London location, not to worry. You can find Homeslice in Fitzrovia and Shoreditch. Here's the menu as a teaser. Oh yeah, and they deliver! If you don't live in London and you think you can handle tons of photos and updates about these massive pizzas, follow them on Twitter, Instagram and Facebook.
Final Sunny Thoughts:
Where in the world have you found the biggest pizza? What style do you prefer? What other treasures can you tell me about in Covent Garden? If it's a place you would like to learn more about, don't miss my Guide to Covent Garden and be sure to subscribe to the Sunny news so you don't miss any future updates about fun things to do and see in London.