Welcome to the Guide to London!
If you live in London or are visiting London for the first time, use this Guide as a resource.
You can search for specific categories to learn about in the Menu Bar. However, this is a single page you can bookmark and share with friends also obsessing about London.
As a Florida girl who's lived in London for six years, I share my foodie travel experiences from an American perspective and am married to man who was born in London. From the best Christmas market to where to get the best photos of Tower Bridge, everything you need to know about visiting London can be found here.
Subscribe to the Sunny in London weekly email and immediately get the 'Local's Pocket Restaurant Guide to London.' It's the ultimate free travel accessory for your London trip. The Guide has top recommended restaurants from a local, organised by neighbourhood. With it you can easily find a place to eat when you're on a London street. Downloading the file to your phone means skipping Wi-fi and finding a fab foodie place- fast!
Frequently, I attend restaurant, event and attraction openings. Let me be your virtual tour guide so you get the most of out of your London experience. Use this guide as a direct connection to show you what's hot in London and Pin it to your London Trip Planning Board!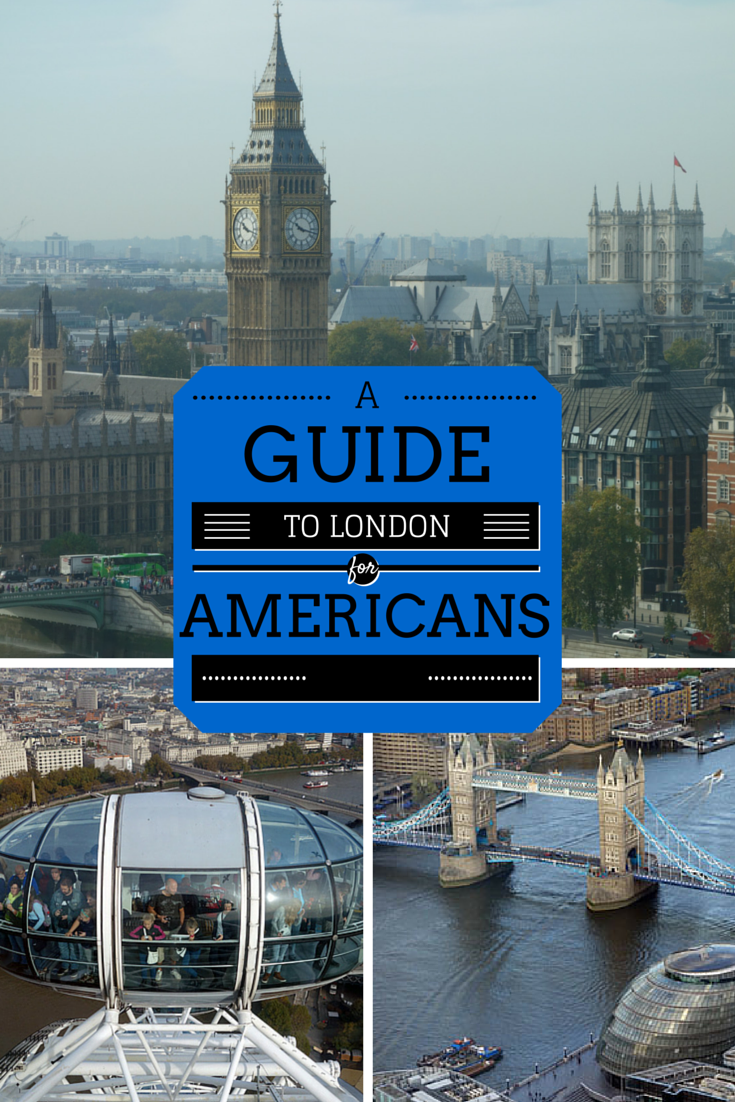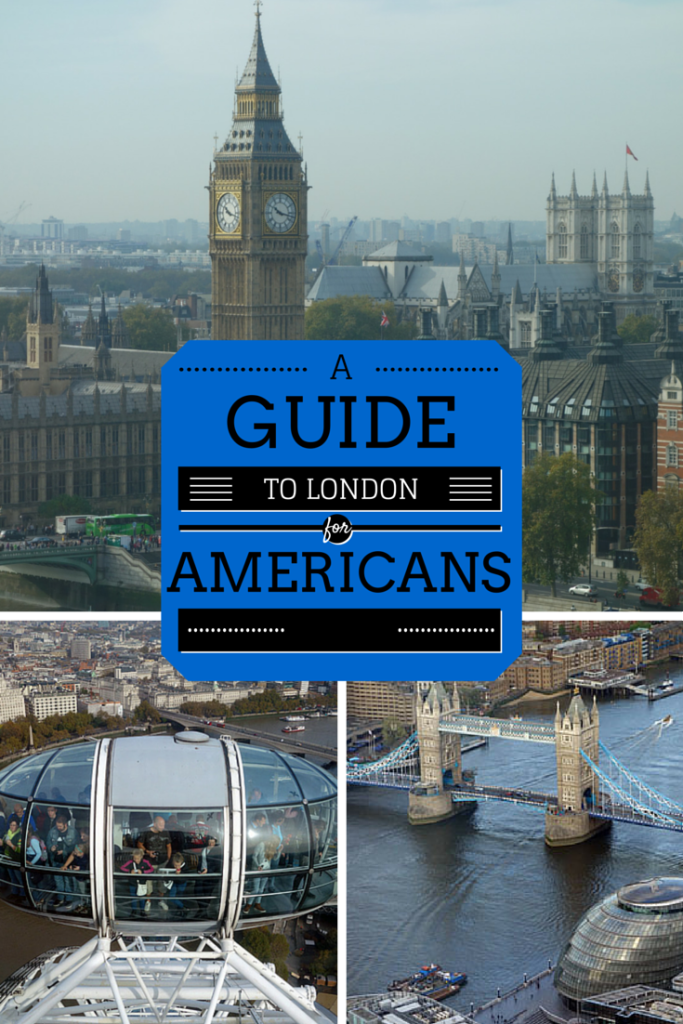 These are the Guide categories which are regularly updated: (Last on May 2019)
Don't miss the Sunny News weekly YouTube updates too.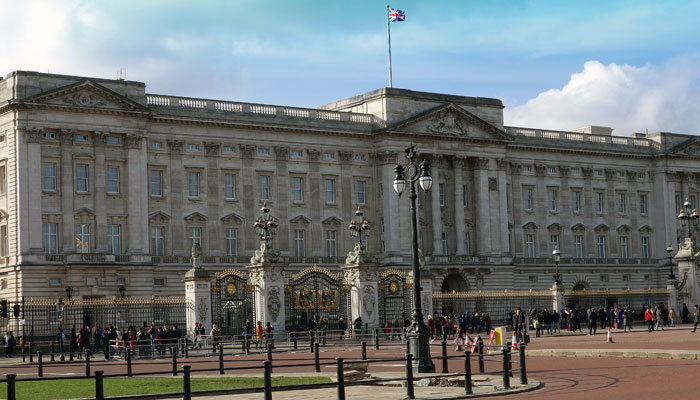 Advice and Culture:
NFL in London: An American Expat's Game Plan for Your Trip
NFL Games in London: How a Team Prepares– an exclusive interview with the Jacksonville Jaguars about how they prepare for an NFL Game in the UK.
5 Crime Prevention Tips for London– you can read my advice in this blog post or watch the updated version (as of July 2016) below. It's well worth your time to learn these tips before you pack for your London trip.
11 Best Places to Take a Selfie in London
British Things to Do in London
British vs American Stereotypes- Myths Busted!
Christmas Celebration Differences between the UK and USA– for a look at the major differences I've experienced, you can read this blog post. For a fun look at food, take a couple minutes to see What British People Eat for Christmas on the Sunny News.
Differences between British and American Schools
Differences between British and American Culture– being an American expat in London who is married to a British bloke has taught me a lot in four years. In this video I share some of the not so obvious differences between the two cultures.
Differences Between British and American Grocery Stores
Differences Between American and British TV
First Time Tips for Visiting London
Getting Around London- A Transportation Guide- everything you need to know about airports, buses, trains, cabs and more.
Getting Around on the Underground- 20 Tube Tips in Two Minutes, 5 Strategies for Riding the London Tube and How to Ride the Underground: Not Like an Arse
Guide to Covent Garden– advice about food, attractions, shopping and more in this neighborhood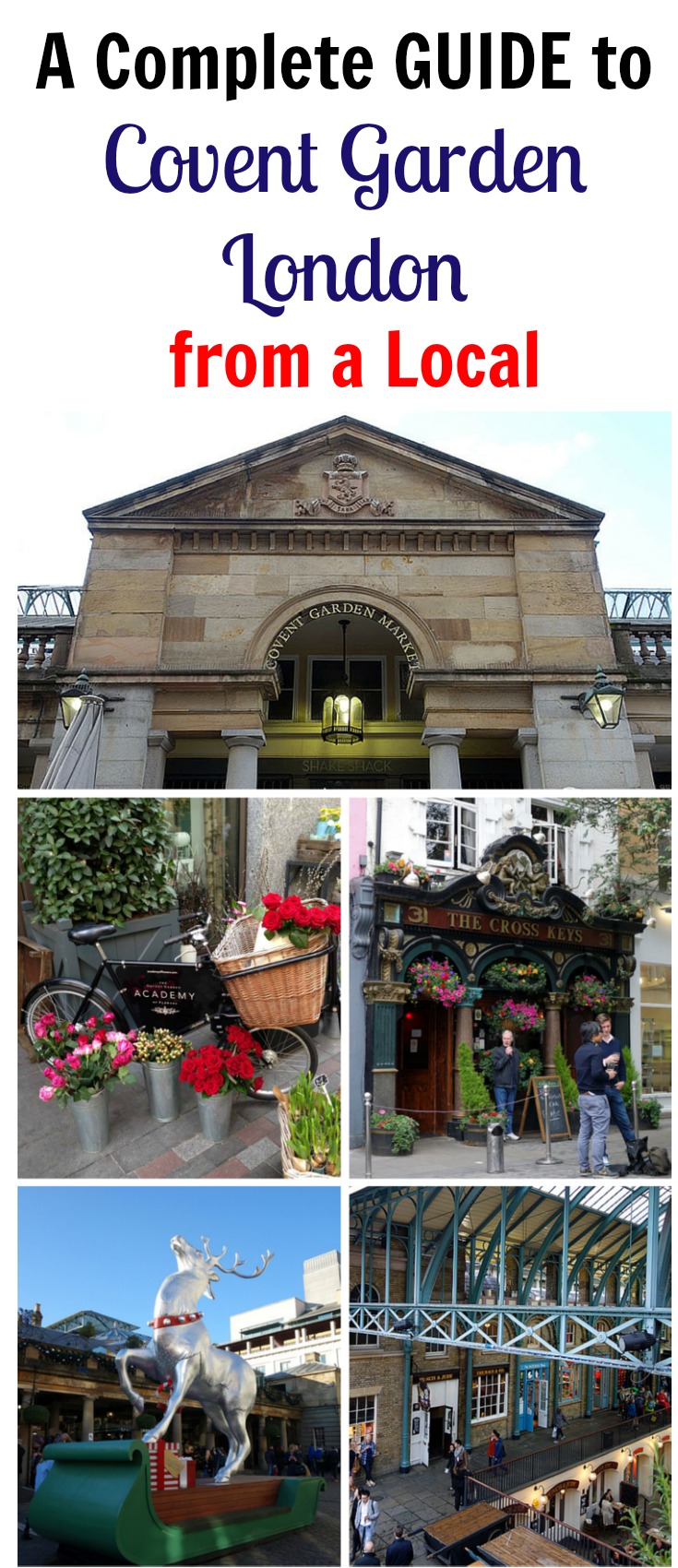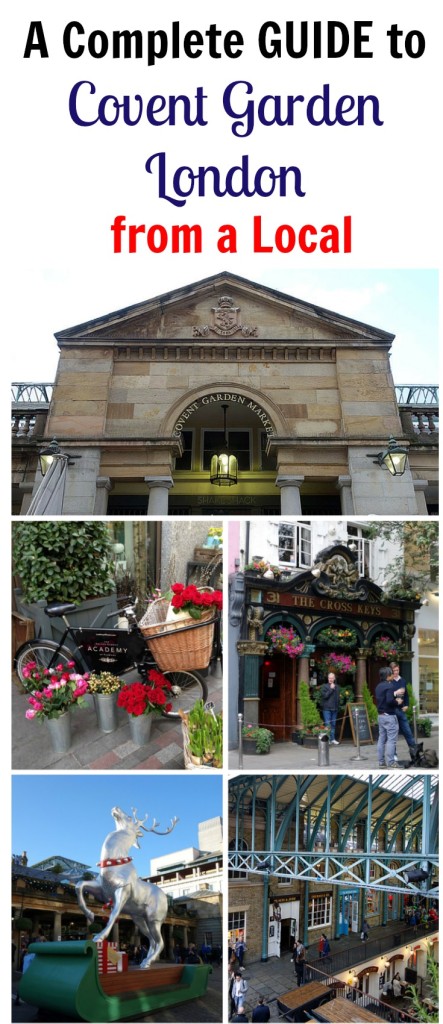 How Americans Celebrate 4th of July in London
How to Tip When Visiting London
Is Duty Free at Heathrow Worth It?
Jamie Oliver Cookery School Review– Mr. Sunny and I spent an evening at this famous British chefs school and can give you the scoop on if it might be for you.
London Places to Visit in Spring
NFL Games in London– An exclusive interview with a player on his thoughts on playing American football in London
World Duty Free Secrets– Things You Don't Know about Heathrow Airport Duty Free
Moving to London from America: What You'll Miss
Moving to London: Shipping Electronics
Moving to London: An Expat's Tips to Saving Money
Shopping in London: American Malls vs London Malls
UK vs USA- What the British Do Better!
UK vs USA- What Americans Do Better!
USA vs UK: 5 Life Conveniences You WON'T Have if you Move to London from the USA
Visa Advice- Tips for the UK Visa Process
What Not To Do in London– For a list of things that will definitely get you weird looks from Londoners (including American expats like me), take a look at this.
Attractions, Events, Things to Do:
9 Attractions in Two Days: Only have a short time to visit London? This is an itinerary you can use to hit some highlights on a fast trip.
10 Best Things To Do in London at Christmas– highlights of what are unmissable events and attractions in London for Christmas.
Best Views in London– highlights of the best places to take your camera for jaw dropping pictures of Big Ben, Parliament, The London Eye, The Tower, and everything in between.
Big Bus Tour London– one of the most popular ways to see tons of London attractions and monuments while not being limited to a tight schedule.
Christmas in London- read about Fun, Free Things to Do and the Best Things to Do, including where to go ice skating. Or, you can catch the YouTube video that shows highlights of everything!
City Cruises– I can't endorse this company enough. When my father-in-law won tickets for a day cruise on the River Thames, it launched several experiences with the company.
Climb the O2: One of the most adventurous things I have done in London and something I recommend to those ready for something different.
Covent Garden Academy of Flowers– if you really want to try something different, take a floral arrangement class here. This link features the experience I had on an all day course.
Covent Garden- Places You Can't Miss– a few highlights of places I love in Covent Garden
Eating London Food Tour– this tour is in East London and focuses on historic and cultural information. You do have the chance to try many foods in London, but it's important to know food isn't the only feature. There's also the Sexy Soho Food Tour, which is definitely for an adult audience.
Helicopter Tour?– Please don't take a London helicopter tour until you've had a chance to watch my advice. This includes a video with what you will (and more importantly WON'T see).
How London Won the Olympics– A Walking Tour of Olympic Park. Whether you're an athlete or not, you can learn so much about London's pride and how the British rocked the 2012 Olympics.
How to Take the Best Picture of London- Tower Bridge– Of all the places in London, the Tower Bridge Exhibition offers the best place to snap a selfie that will be the envy of all your friends. Examples are included in the story.
James 'Bond in Motion'– a review of the James Bond exhibition in Covent Garden, London.
Kenwood House and the Spaniards Inn (Pub)– in North London, outside of Zone 1 on the Underground. Great if you're interested in art, English heritage and one of the oldest and most famous pubs in North London.
Kew Gardens– tips for visiting one of London's most beautiful locations
Harry Potter- Bus Tour Around London, How to Get to the Harry Potter Studio Tour London, Hogwarts in the Snow- 5 Reasons You Must Go!
Hotel Chocolat- A Chocolate Making Class– take a several hour course in Covent Garden which focuses on how chocolate is made. This is not an actual hotel.
London Pass– a review of what you can see in one day.
London Transport Museum– visiting this museum isn't just for curious adults, there are tons of activities and sights for children too.
London Zoo- Things NOT to Do at the London Zoo!
Lord's Cricket Ground Tour– a look behind the scenes at one of London's most prestigious sports venues.
Madame Tussauds– a fun look at the Star Wars exhibit and celebrities you may 'see' at the world famous wax museum.
The Monument, A Tower of Terror?– This review of the Monument is a must read for anyone considering this experience. It's not an attraction suited for everyone.
Primrose Hill: Serenity and Celebrities– Popular location for celebrities to live and Londoners to enjoy a picnic and exercise.
Ride the Emirates Cable Car– Outside of Central London near Greenwich and Canary Wharf.
Ride the Slide!– Review of the #1 attraction in London for 2016 the ArcelorMittal Orbit Slide and video…
Royal Albert Hall Tour– what you should know about visiting this attraction on the London Pass discount system.
Shakespeare's Globe Theatre– information about touring the Globe in London.
South Bank: How to See Four Attractions in One Day (The London Eye, Shrek, London Dungeon, London Aquarium)
Stanfords Horse-drawn Omnibus Tour– Take a look back a century or so and ride in a horse-drawn carriage in London via Stanfords in Covent Garden.
The London Eye- Advice for Riding High!
ThamesJet Speedboat Tour on River Thames– YouTube video of jet boat experience. The most thrilling experience we've had in London. Not for the weak of heart.
Tower of London– This little test will let you know if it's worth taking a free tour at the Tower of London.
Visit to The Shard– tips and strategies for how to enjoy the highest location in Europe.
Winter Wonderland 2021– My recent experience at Winter Wonderland and advice for visiting London's most popular winter attraction how you can enjoy it.
World Travel Market (WTM London)– This is a guide for anyone attending the travel conference. It includes tips and strategies for before, during and after the conference.
Food and Restaurants:
5 Foodie Streets in London– blog review includes maps and there's a video too…
Burger and Lobster Review- £20 of Juicy Love– chain all over London. Only three (damn good) items on the menu.
Byron Burger– chain throughout London.
Charlotte Street- All you can Eat on One Street! If I had to pick one street in London that has food and restaurants for every type of eater, this is eat. I mean 'it.' 😉 It's near Goodge Street Underground Station.
Choccywoccydoodah- What's Behind the Chocolate Empire– Carnaby Street's chocolate claim to fame. There's a reality show for the chocolatiers because their cakes and chocolate are so extraordinary. It's worth popping in just to see them (picture below). There is a chocolate cafe too.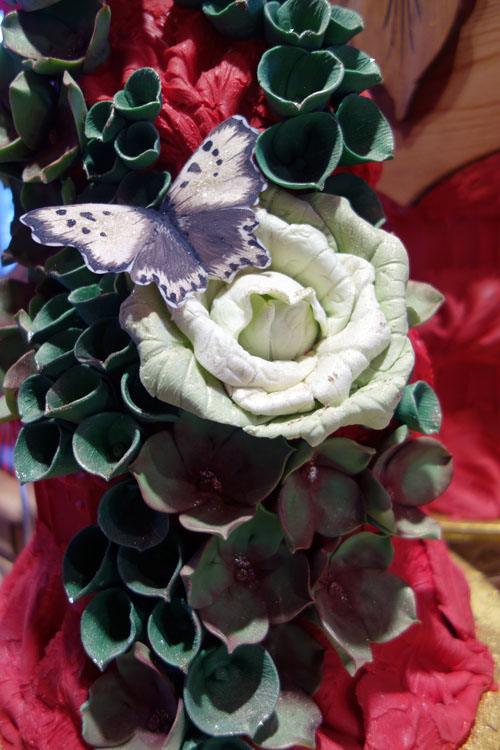 Chocolate: The 5 Best Places to Buy it in London
Cocochan– Pan-Asian restaurant and lounge bar in St Christopher's Place by Selfridges in Marylebone. It's where I took Mr Sunny for his birthday because we wanted absolutely amazing sushi. If you go here, please let me know (and invite me!)
Dean Street Townhouse– excellent find in the Soho area. Visited by Londoners often.
Five Guys- A Comparison between the US and UK– There's a few locations in London now.
Holly Bush Hampstead Review– if you're looking for a hidden pub in North London that delivers not only a great local experience but fantastic food, take time to read this.
Inamo Restaurant– Oriental fusion bar and restaurant in several locations in London. You can order your food and drinks by touching images projected on to your table. Mr. Sunny also beat me in a game of Battleship projected on the table too.
L'eto Caffe– has several locations in London and features perhaps the most gorgeous pastries and food you will find.
Le Garrick– French restaurant in Covent Garden that has existed for decades. Excellent for pre-theatre dinner and very romantic.
Le Pain Quotidien Covent Garden: London's Healthiest Bakery
Pizza Express- Eat Gluten Free– pizza chain where you can have fantastic gluten free pizza.
Rocco– Italian restaurant in Chelsea, Fulham. The owner is one of the most charismatic people in London. Food is amazing too!
Shake Shack– I'm very open about it being my favourite burger joint. The main one is in the Covent Garden Piazza. Expect long lines.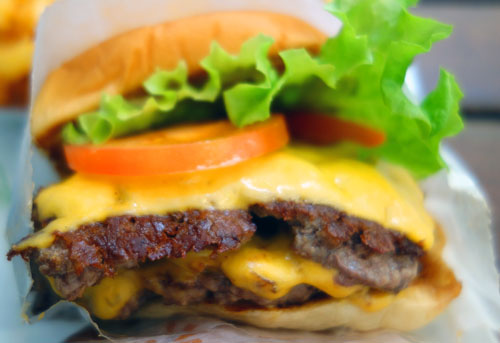 Snowflake Gelato– on Wardour Street in Soho. The pictures in this review don't do the experience justice.
The Real Greek– I've eaten at several locations of this London chain and every time has been been top notch with regard to food quality and service.
The Ship Tavern- Mr. Sunny and I feel this Holborn pub has the best food in London.
Smiths of Smithfield– delicious steak just across from London's most famous wholesale meat market
Wagamama Menu– A moderately priced Japanese chain all over London with a very extensive menu. Tables are in rows, so you are eating next to other people not in your party.
Whyte and Brown Restaurant– in Kingly Court, Carnaby. Everything on the menu focuses on chicken or eggs. Interesting concept. I had a fantastic experience here.
Afternoon Teas and Pubs:
24 Karat Gold Afternoon Tea– the most expensive afternoon tea I've attended in London. Excellent food. Located in St. James near Buckingham Palace and Westminster Cathedral.
Ampersand Hotel Afternoon Tea: Science and Chemistry– located near the V&A Museum. They offer this themed tea periodically. It's explosive fun.
Charlie and the Chocolate Factory Afternoon Tea– a themed tea in the lobby bar of One Aldwych Hotel near The Strand in Covent Garden.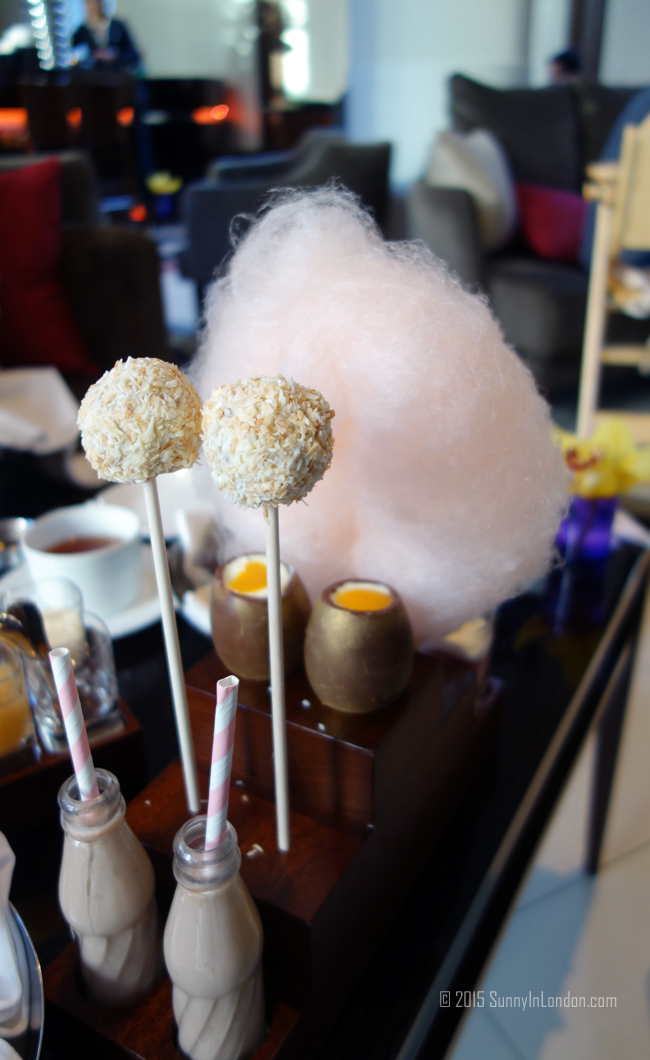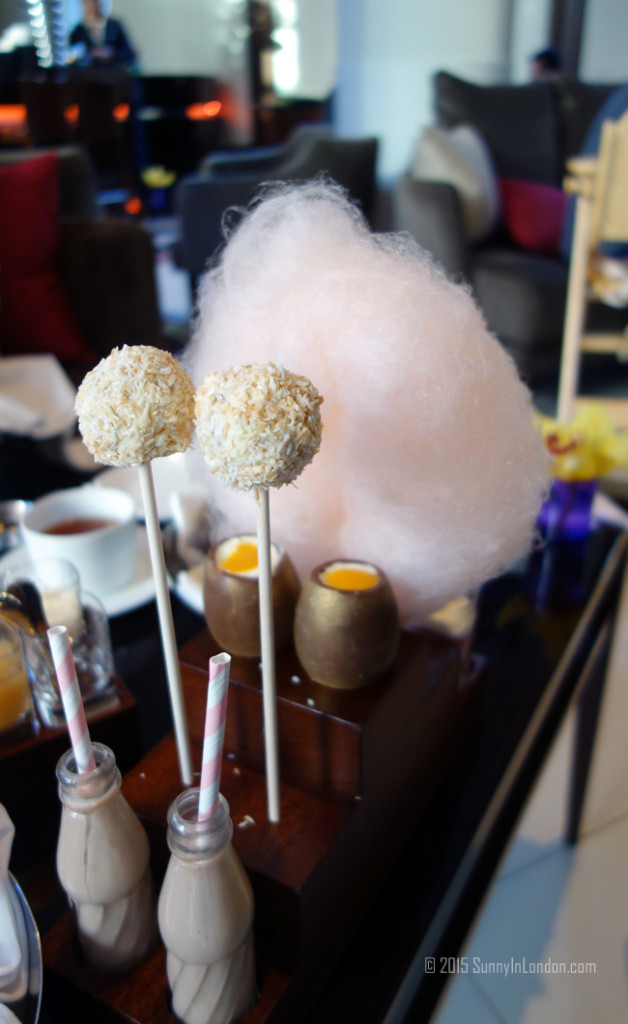 Conrad London St James– Christmas Afternoon Tea. This hotel is directly across from the St. James Underground station and is just a short walk to Westminster, Trafalgar Square, and Buckingham Palace. The hotel showcases its proximity to London's politics extremely well.
Corinthia Christmas Afternoon Tea– a majestic Winter Wonderland setting all year. Other features of this luxurious hotel are its award-winning spa. It's also super close to an exceptional view of The London Eye.
Covent Garden Hotel Afternoon Tea– a Firmdale Hotel. The two properties I have been to in London offer the best priced afternoon tea in town. The hotels are also known for exquisite interior design.
Fortnum and Mason Afternoon Tea– a truly British experience of traditional afternoon tea.
Kick Arse Irish Pubs in London– these three Irish pubs near Piccadilly Circus in Soho are super close and offer a unique experience in the way of atmosphere and, of course, beer.
Playboy Club Afternoon Tea– the only place my husband 'Mr. Sunny' would have afternoon tea with me. We both had a blast. I highly recommend it.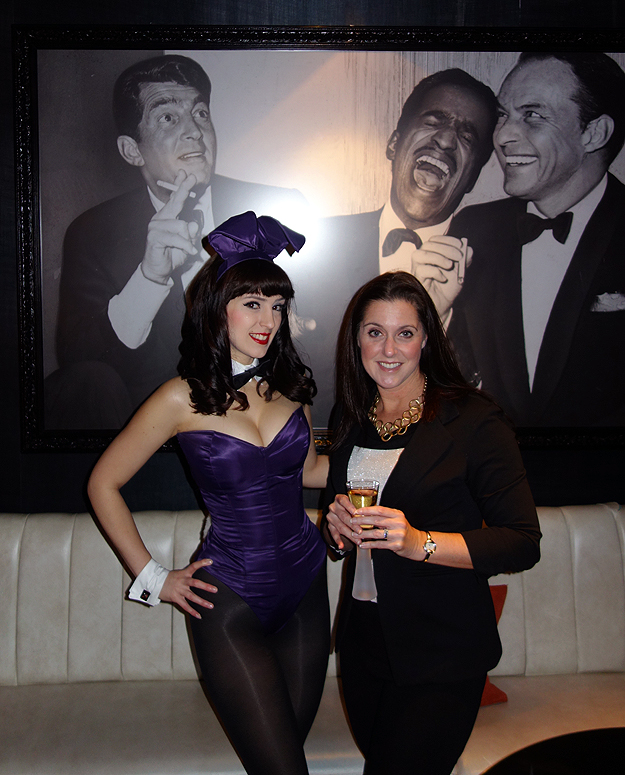 Sofitel St James- Christmas Afternoon Tea– a French hotel in London that frequently hosts fun events celebrating their French brand.
St James Hotel- Royal Afternoon Tea– I made the mistake of not touring this hotel's garden area the first time I visited. It's stunning. It's located just a few minutes walk from Buckingham Palace, Westminster Abbey, Parliament, and Trafalgar Square.
The Admiralty– billed as the Most Central Pub in London, this could easily be mistaken for a touristy place to eat and drink. Read this review to see why this is wrong!
Tombo Afternoon Tea– a cafe with a Japanese menu. Amazingly affordable. Delicious food. This one is in South Kensington.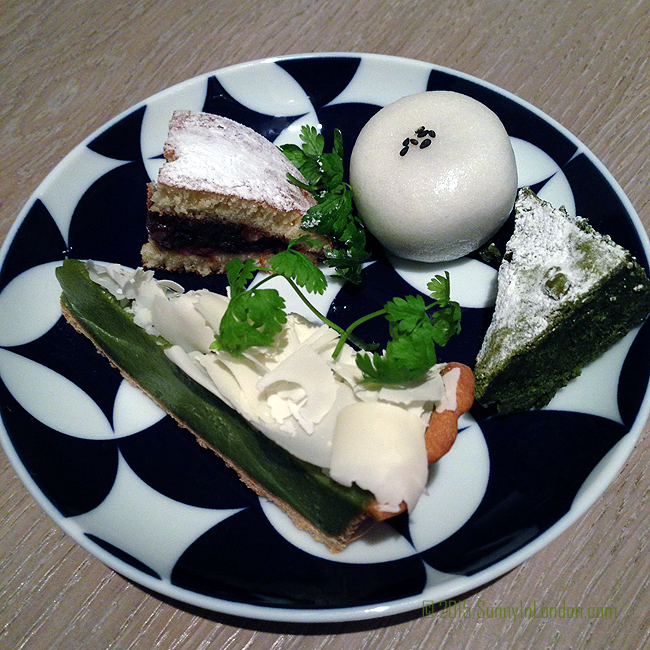 Aside from the pub crawls and pubs below, we strongly recommend American visitors (especially those who will have limited wifi while in London) grab a copy of Mr. Sunny's favourite book The Good Pub Guide.
Covent Garden Pub Crawl and Street Performers
Hampstead Pub Crawl: Hot Beer Gardens– area of North London outside of Zone 1 that is simply gorgeous.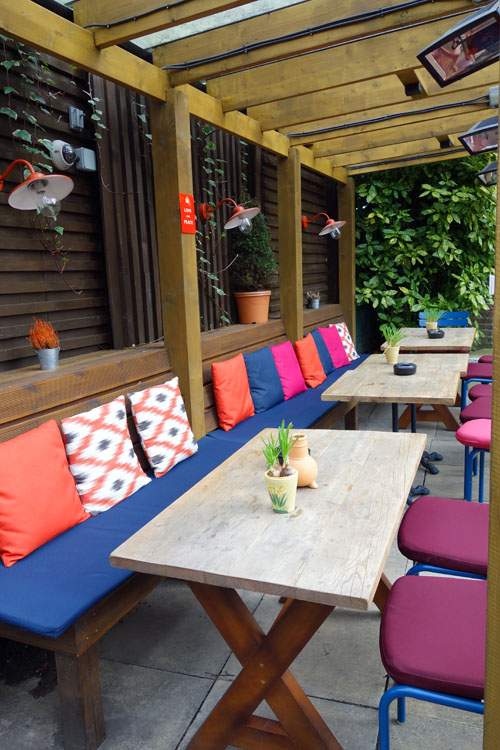 O'Neill's Pub in Muswell Hill– this Irish pub is in a cathedral. Read about how their ghost chili wings nearly killed my husband. (He loved them, but they're damn hot!) It's out of Zone 1, but it's a favorite pub for Londoners.
Mr. Sunny's Pub Crawl for Avoiding Shopping in Selfridges– my husband invented this pub crawl for all the 'blokes' who would prefer to drink beer rather than shop with their girls.
Nicholson's Pub Crawl London: Exchanging a Shoe for a Kwak?– Mr. Sunny surrendered his shoe for a beer in this Soho pub crawl.
Sun Themed Pubs in London- A Pub Crawl– yes, they do exist here.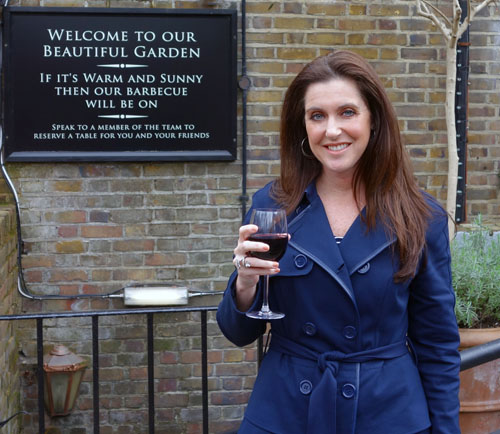 Hotels:
Bloomsbury Hotel– part of the Doyle Collection. If you're a literary lover, this is THE place to stay!
Covent Garden Hotel– a Firmdale Hotel. Known for interior design and excellent food and cocktails, this is one I highly recommend.
Every Hotel– opened in Spring of 2015 in Piccadilly Circus. 'Excellent no fuss, just the basic amenities you need' hotel. Location is right in the heart of London life. New Yorkers- it's like staying in Times Square.
Generator Hostel: What's Hot about a Hostel?– I attended their launch party but haven't stayed here. It's the one hostel I would recommend to travelers.
Georgian House Bed and Breakfast- if you want to live every muggle's dream, stay at this hotel's Wizard Chambers.
Kensington Hotel: London's Largest Luxury– if you can afford this townhouse, please invite me to visit. 😉 The rest of the hotel is gorgeous as well. Their mixologist at the bar and the General Manager
are both exceptional.
Lancaster London– Located right on the edge of Hyde Park. The Executive Chef is a previous Master Chef contestant. He's the life of the hotel. It's affordable, and I've stayed here. If you're looking to avoid the prices at The Ritz and Savoy, this is a great 4-star alternative.
Ham Yard Hotel- A Firmdale Hotel. This hotel has its own bowling alley and is located in a secluded area of Piccadilly Circus. The pictures show its cheery design. You can bring your own bowling shoes, most places allow that nowadays, go to this site to see where you can get the best bowling shoes for yourself.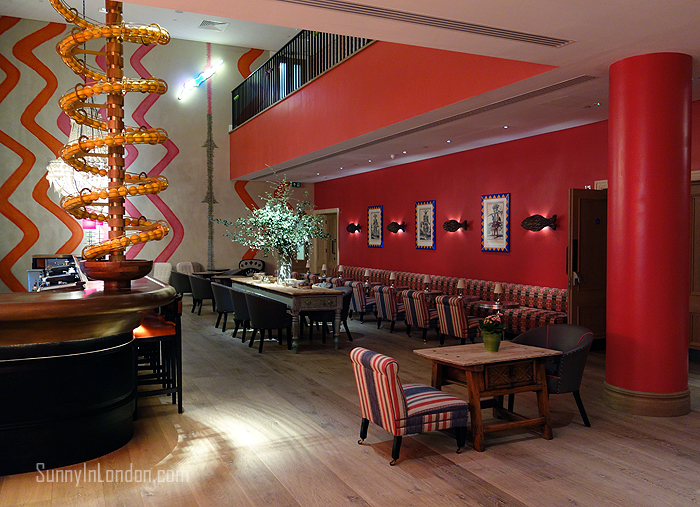 One Aldwych: 7 Hotel Secrets- This five-star hotel offers an entire experience of luxury and stellar service. 
St. Ermin's Hotel- Flights of Fancy Champagne Afternoon Tea– If you're looking for a hotel that would be gorgeous for wedding photos, you can't beat the staircase here. The champagne tea is fun too!
Windsor- Macdonalds Windsor Hotel– the view of the castle from this hotel is breathtaking. It's also in the centre of everything.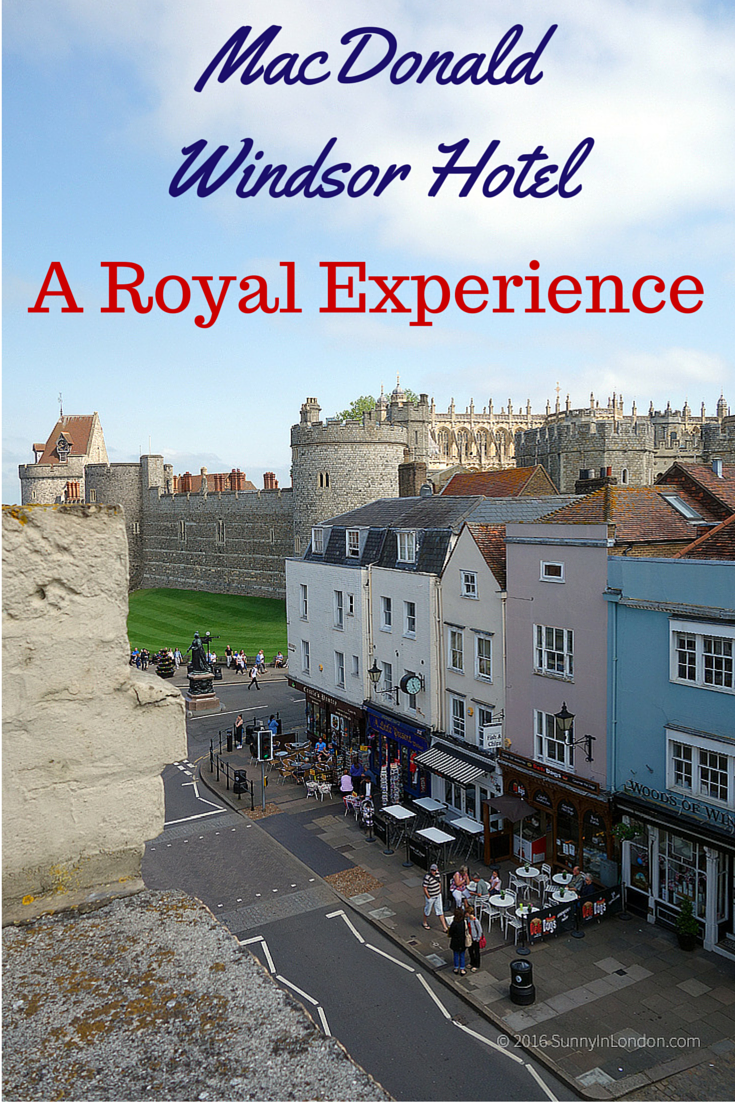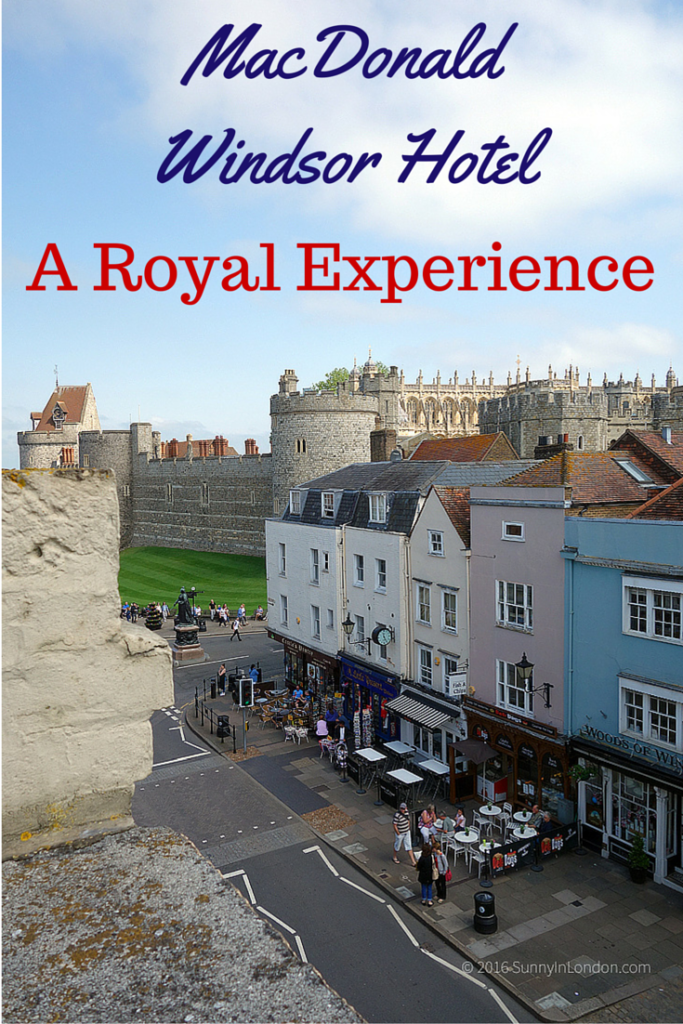 Shopping:
Guides- Beginner's Guide to Shopping in London, British Brands to Buy in London, VAT Shopping Advice for Visitors
Gunwharf Quays- Outlet Shopping outside of London– this is certainly a day trip because it involves taking a train for about two hours from Waterloo station. It's not economic to do on a short trip to London. I include it in this guide to show you that there are outlet malls in England.
St. Martin's Courtyard- A Hidden Treasure in Covent Garden– a hidden area of London near Seven Dials and Covent Garden. There's a few unique stores and an equal number of popular restaurants.
Day Trips:
Curious What the Harry Potter Studio Tour Involves?– The Warner Bros studio tour is quite a ways from London. Mr. Sunny took me there because we have a car. It's really fun, but you will have to do research before your trip on how to get there, either by a very expensive car hire or a group trip. A Harry Potter lover's dream day though! There's also a comparison story on the blog of how it measures up against The Wizarding World of Harry Potter at Universal's Islands of Adventure.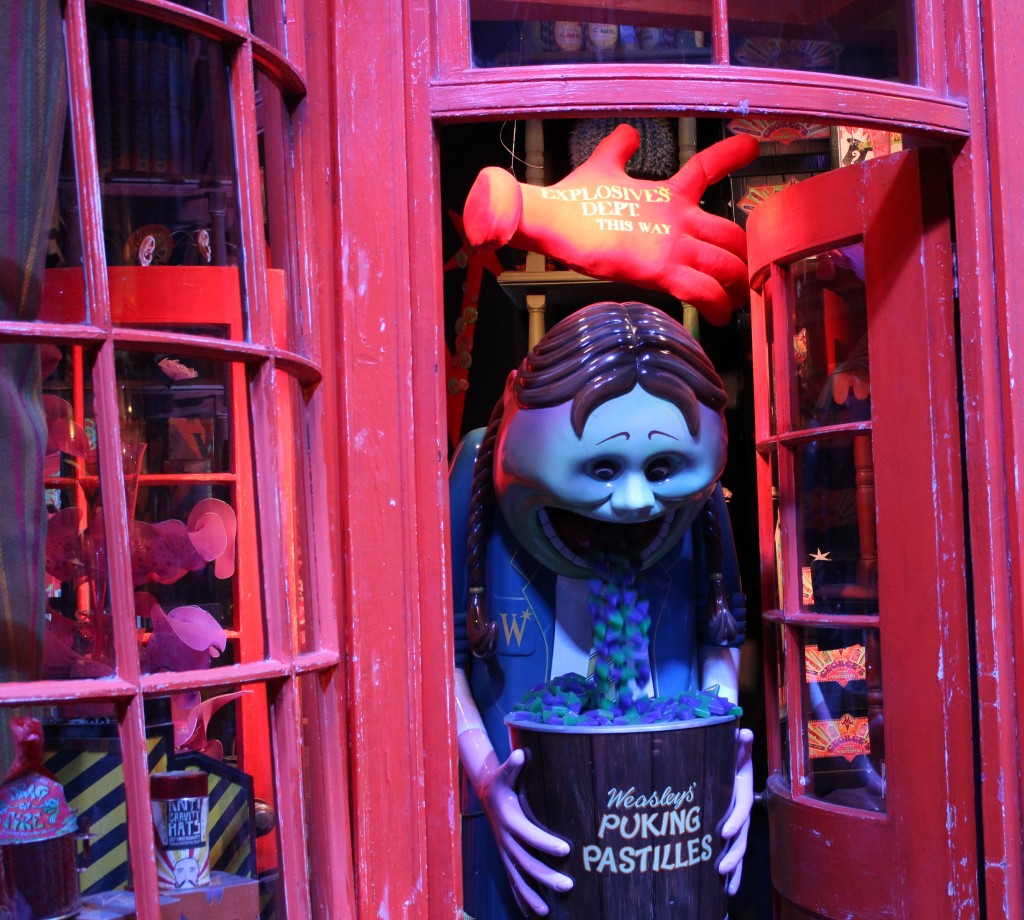 Kingston Upon Thames- Walking Tour– if you have a day to spend in Kingston Upon Thames (about a 45 minute journey on the train from Waterloo Station), this walking tour is fantastic! Great for English history lovers.
St. Albans Market, Sun and Stinking Bishop Cheese– about a 45 minute journey on the train from Central London. This English countryside town has a strong Roman connection and a fun market on Wednesdays and Saturdays.
Stonehenge and Bath Day Trip– advice for how to see Stonehenge when visiting London
Warren House- This luxurious Victorian mansion is beyond stunning, especially in the spring. Their afternoon tea and my experience at the hotel is something I will treasure forever.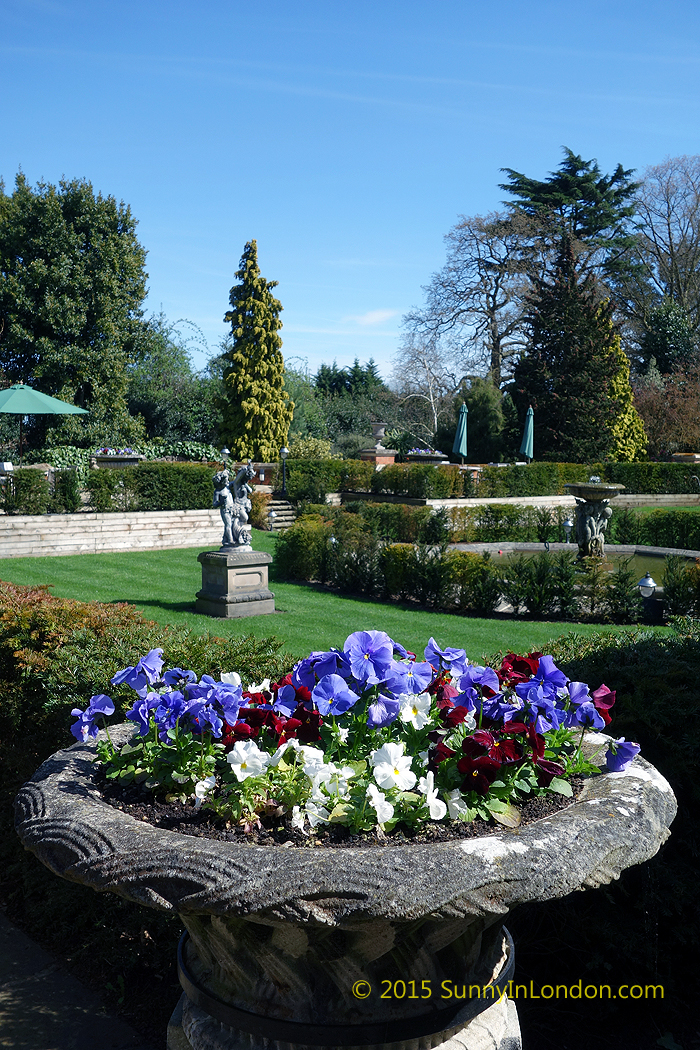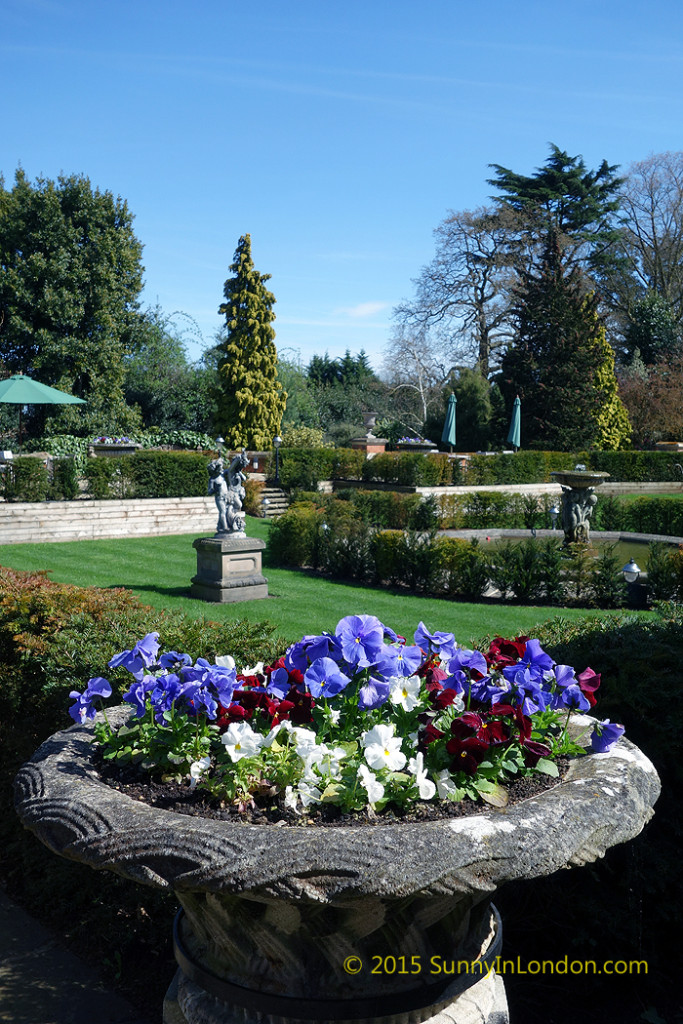 Windsor Castle– This 'weekend home' for the Queen is something you should not miss if you're a royal watcher. In fact, I think it's worth a weekend to visit Windsor and this is why…
Guide to London: Your Requests
I regularly add to this page when I publish blog features relevant to Americans visiting London. Please, use the comment section to leave questions and ideas of what you'd like me to cover on for the 'Guide to London' on Sunny in London.
Don't forget to subscribe to the emails. I'm also on Twitter, Instagram, Facebook, Pinterest, and YouTube.
Let me show you how to find sun and fun in London!