Want a really great idea for date night? Recently, we attended a Fever Candlelight Concert in London and it's now at the top of our things to do in London list. This experience is especially for couples that want a relaxing, high-quality event to attend in London.
Of course, if you're visiting London and won't be too exhausted at the end of your days touring iconic attractions, we suggest these concerts to you too.
And we're not the only ones who had a great experience. On the afternoon we attended, I mentioned our evening plans during a TikTok livestream. Several viewers commented they had been to them and highly recommend it.
Although we were guests of the event company, we plan to purchase tickets to several upcoming candlelight concerts. I will let you know which ones below.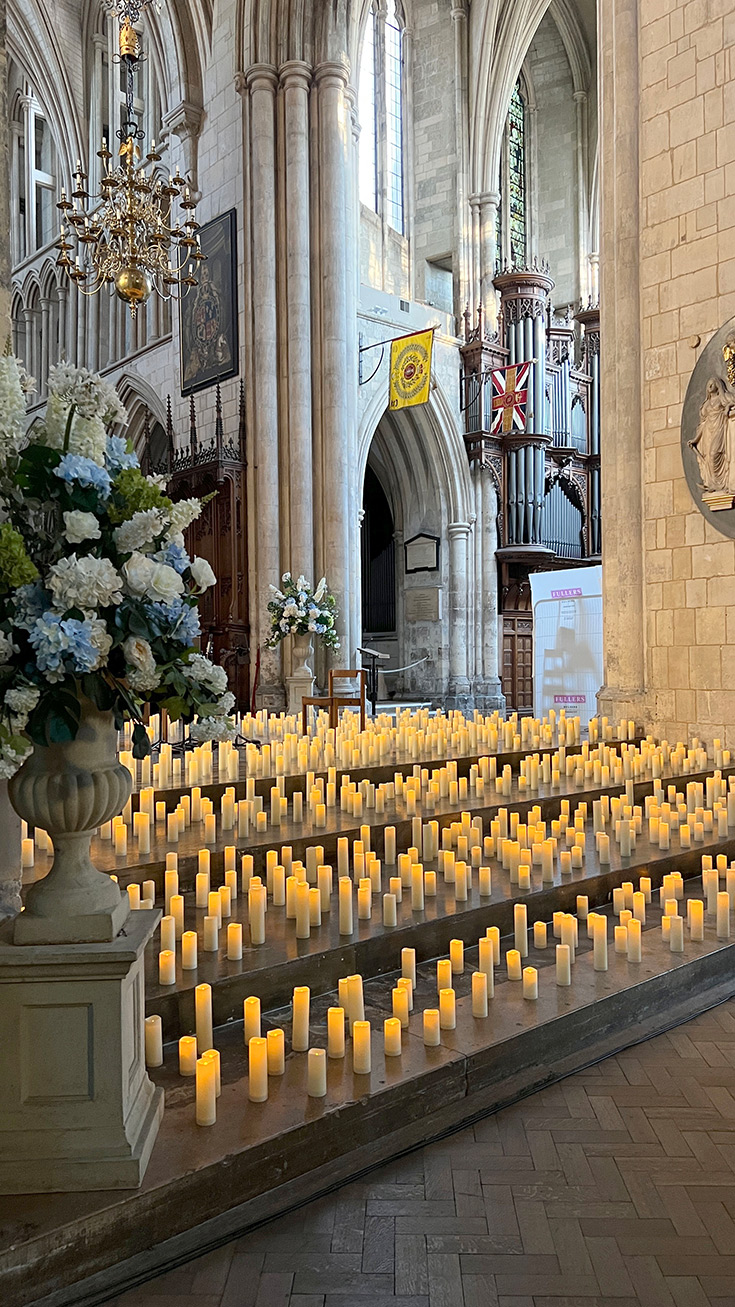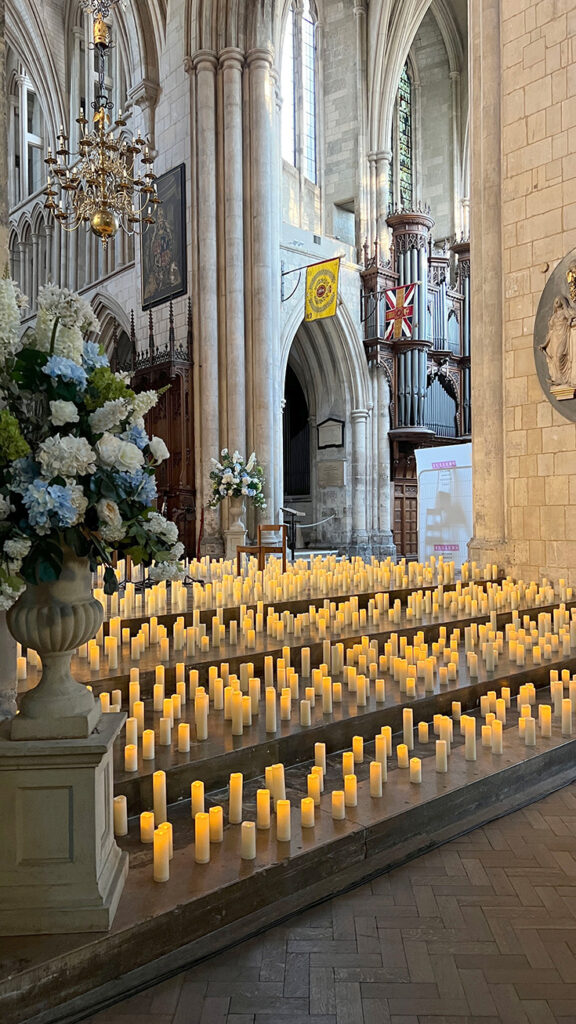 Fever Candlelight Concert in London- Location and Seating
We attended the Candlelight: A Tribute to Coldplay at Southwark Cathedral. Originally, we had asked to go to the Hans Zimmer tribute performance. The popularity of that event and the need to coordinate everything quickly didn't make it possible.
Our second choice was Coldplay and our third was the Avicii tribute.
The candlelight concerts take place at various locations around London. For example, you might find one at the Royal Museums in Greenwich, St Mary's Church in Marylebone, the Freemasons' Hall in Holborn and Central Hall Westminster.
We chose this candlelight concert because I enjoy Coldplay's music, it matched our availability and was in the London Bridge area. If you're not familiar with all the things to do near London Bridge, you can see highlights below.
We arrived at Southwark Cathedral 15 minutes before the concert began at 7pm. Specifically I was impressed with the event organisation. Several Fever staff members were visible at key points. They were wearing event t-shirts which easily identified them. Staff members were friendly and made sure you knew exactly where to go in Southwark Cathedral. We were literally escorted right to our seats.
We had the misfortune of visiting during a summer heatwave. While I had been hesitant to go due to these adverse weather conditions, the temperature in the Southwark Cathedral wasn't too bad.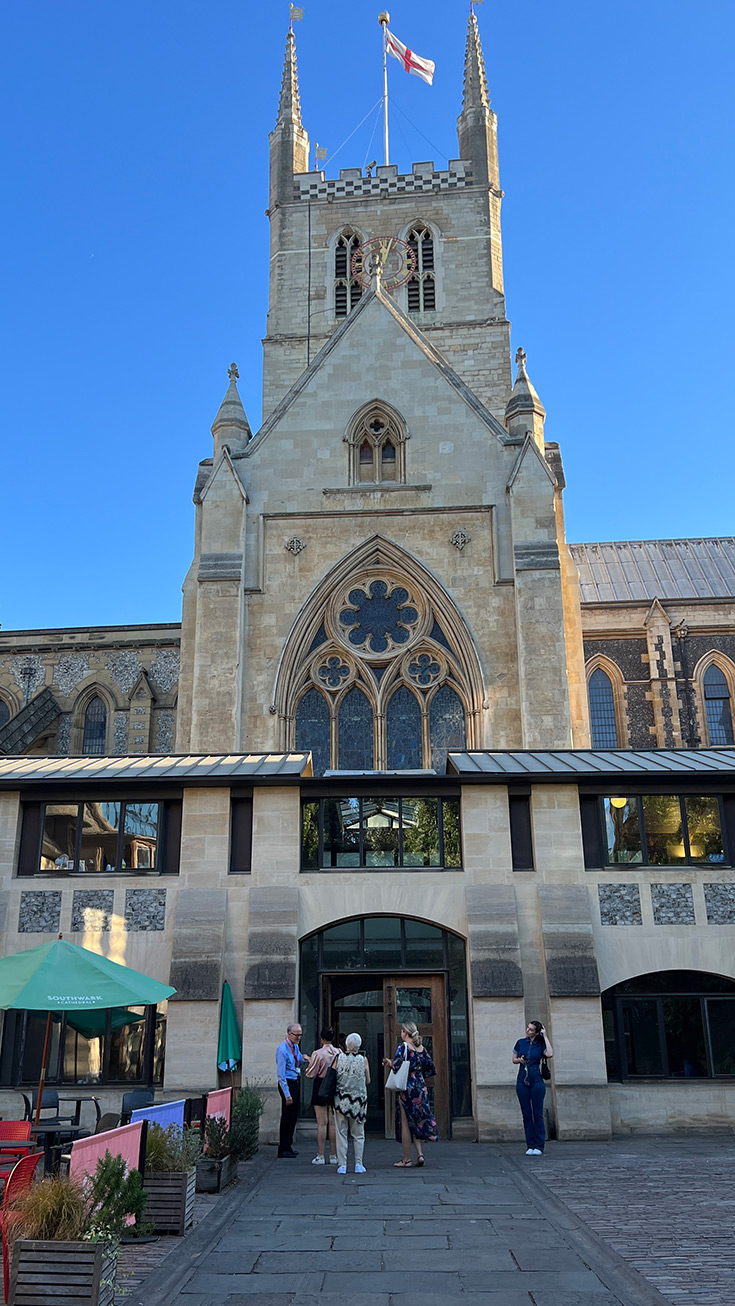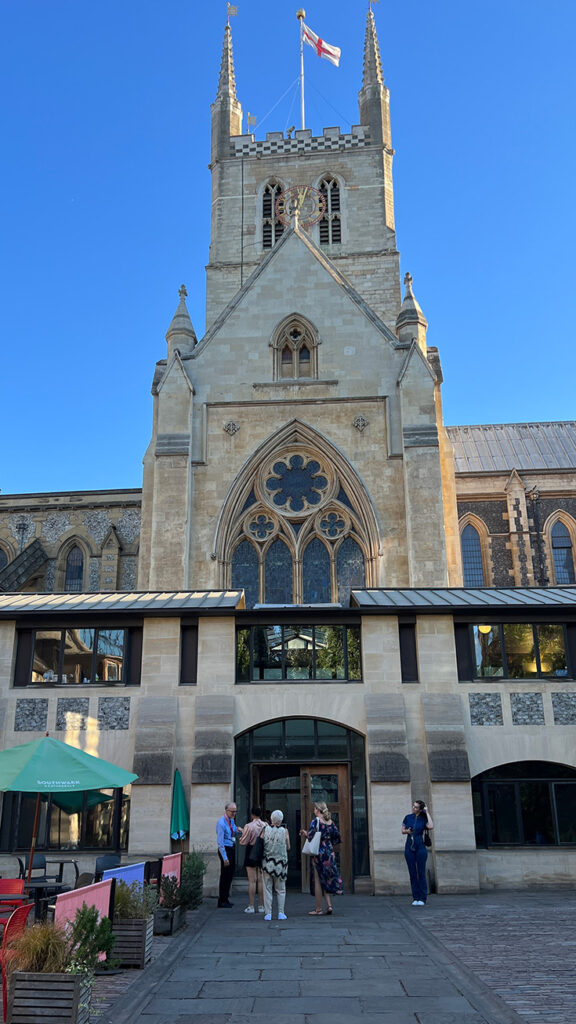 Our seats were in the second row facing the performers. The sound throughout the performance was incredible. This included each time the first violinist used the microphone to introduce or recap songs.
In terms of acoustics and how the event was operated, I can't offer any feedback which would make it better in this review. The candles filling the steps were a beautiful foreground to the performers' stage area.
There was an announcement about the use of mobile devices just before the evening kicked off. Audience members were asked to refrain from filming, until the last song. We would be advised when that would be later in the concert. Our audience respectfully adhered to these guidelines.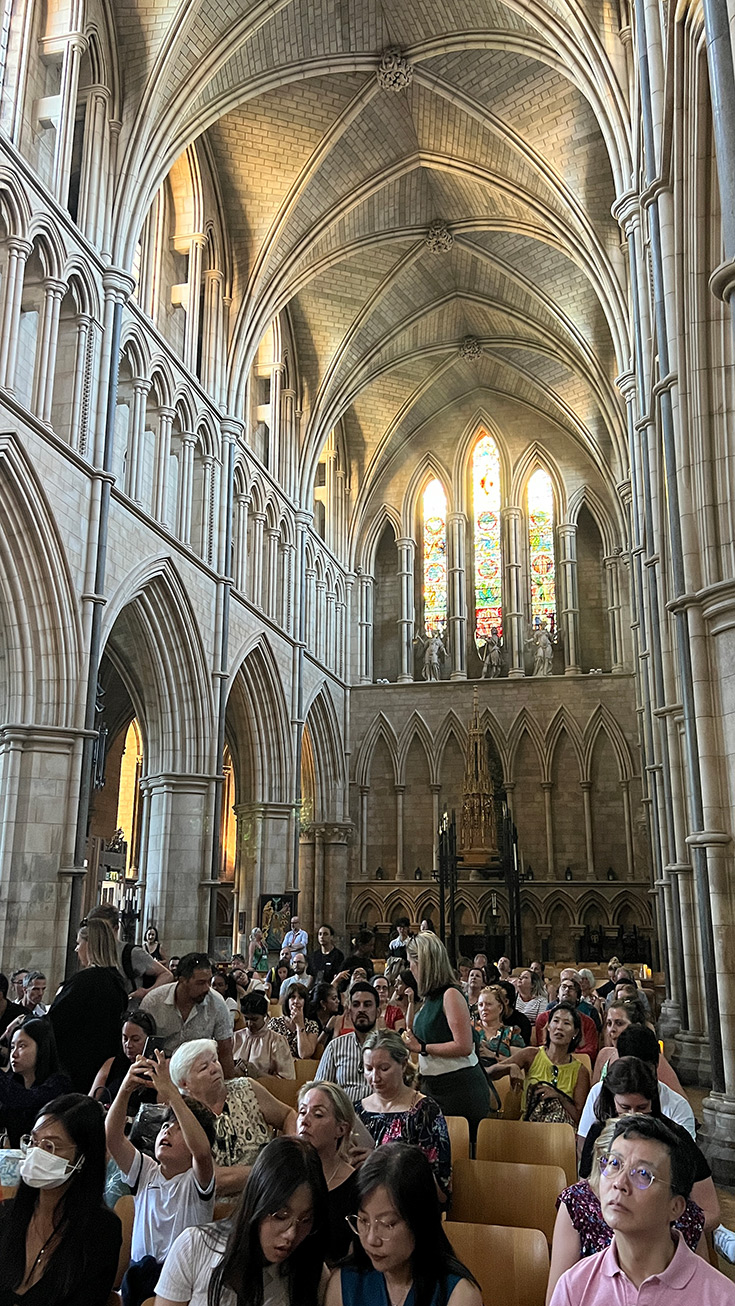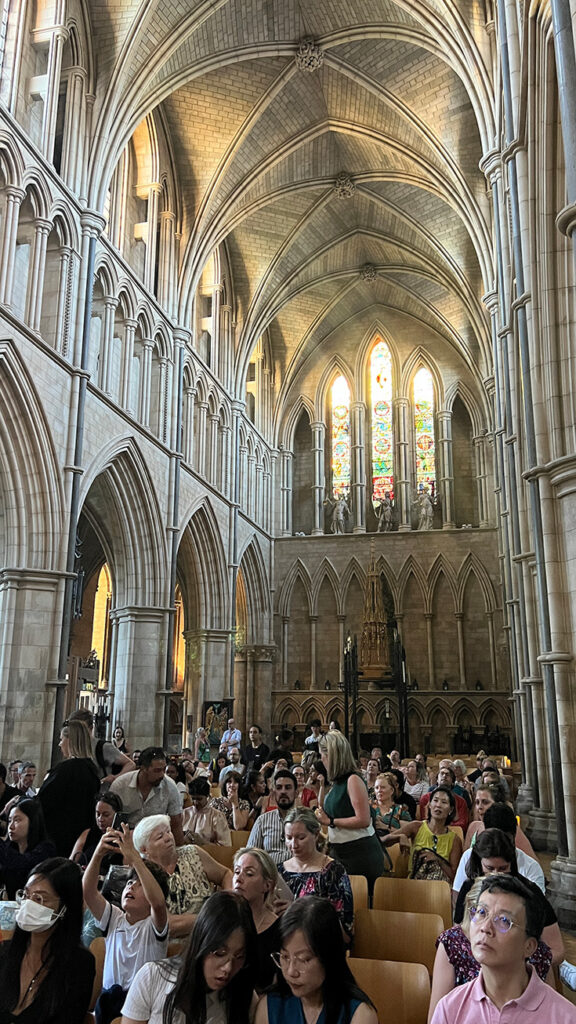 Fever Candlelight Concert in London- Performance
City String Ensemble is the female quartet who gave our evening's performance. It was outstanding. The performers started precisely on time with a quick introduction and immediate release of their rendition of Clocks. I'm actually replaying the music video on YouTube in the background as I write this as an attempt to relive the evening.
On our way home, Mr Sunny and I discussed how exciting it was to see the musicians so engulfed in their art during their performance. Their passion for Coldplay music showed as they tapped their feet and smiled and each other as they played.
The first violinist spoke well in front of the audience on each occasion. She told very short anecdotes about the songs or Coldplay musicians that added to the candlelight concert's enjoyment.
About mid way through the candlelight concert in London, she shared that group formed when they attended the Guildhall School of Music and Drama. Additionally, they are available for hire to perform at weddings.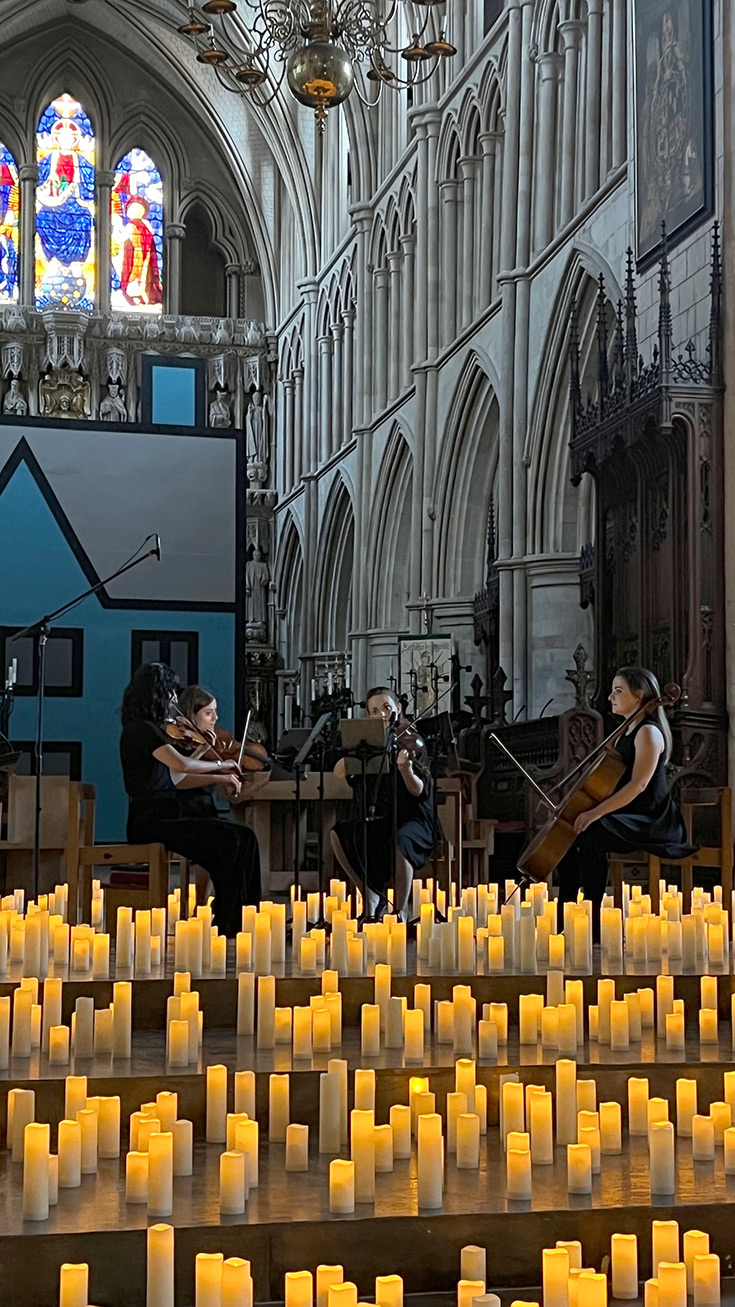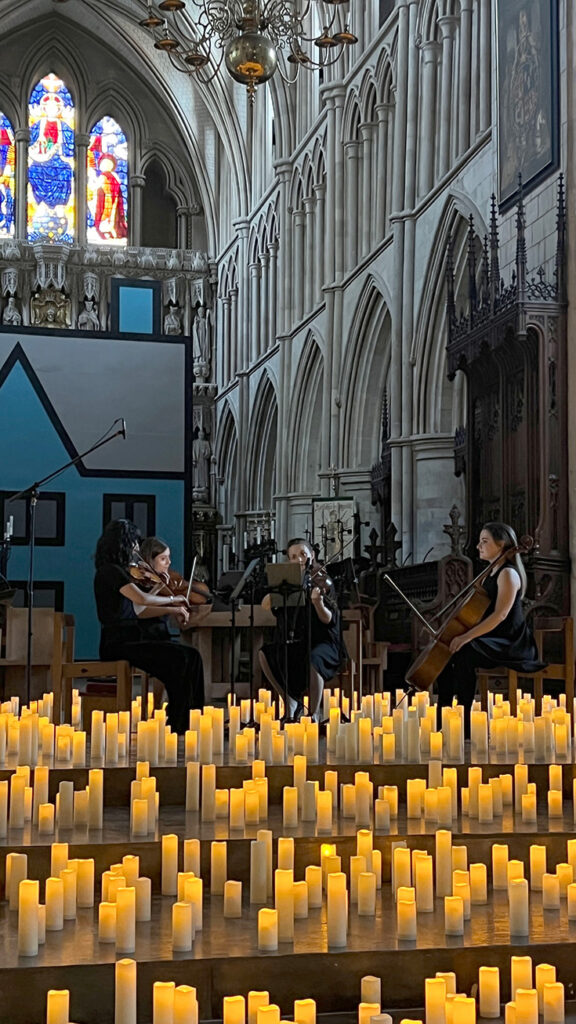 To be fair, neither Mr Sunny nor I are well versed in music, aside from what we've heard at nightclubs or on the radio. He actually said before the concert started that he couldn't name any Coldplay songs.
Blasphemy for an Englishman, right?
However, throughout the performance he recognised many and even said he wished the one hour performance would've continued for another hour.
Personally, I thought that a one hour concert in the summer was the perfect length. I loved the precision at which everything happened. And the renditions the string quartet created of the iconic band's music was very impressive.
Fever Candlelight Concert in London- Upcoming Events
You'll find several concerts a month in London if you visit the Candlelight Concerts in London website. Some of their upcoming performances include: A Tribute to Fleetwood Mac, Taylor Swift and ABBA. You'll also find performances for Vivaldi's Four Seasons, Mozart and Moonlight Sonata and more.
Mr Sunny and I will without a doubt be at one of the upcoming Hans Zimmer tributes. We met while working at NBC News London Bureau and are very passionate about film. There's also a John Williams' Best Works one happening too.
Additionally, there are many Christmas concerts I will have to choose from during the holiday season.
Fever Candlelight Concert in London- Final Thoughts
Candlelight Concert tickets would also be a great Valentine's Day, Mother's or Father's Day gift or even birthday celebration idea. Even if you aren't huge live music fans (like us), you would have a hard time not being impressed by the talented musicians and well-managed event organisation.
To make sure you don't miss any fun things to do in London, you can subscribe to the Sunny News weekly email. It includes Mr Sunny's Pub of the Week recommendation and all the news you must know about London for the week.
What do you think, Sunny friends? Do any of these above named tribute concerts sound exciting? Ha!Ha! I couldn't resist closing with a pun, everyone. 🙂