It's smart to start this London Pub guide about a Camden Pub Crawl with a clear warning. And that is- you can't be an amateur. But obviously- you do need to drink responsibly too.
If you know anything about London and especially Camden Town, you know that it's a place to party during the day and at night. It's known for live music venues, edgy fashion, street food and living loud.
So, if you want a posh, casual drinking neighbourhood tour that includes sipping G&T's in relaxed atmospheres, I suggest you read here.
Alright, for those still with me, let's get this Camden Pub Crawl party started with a little history.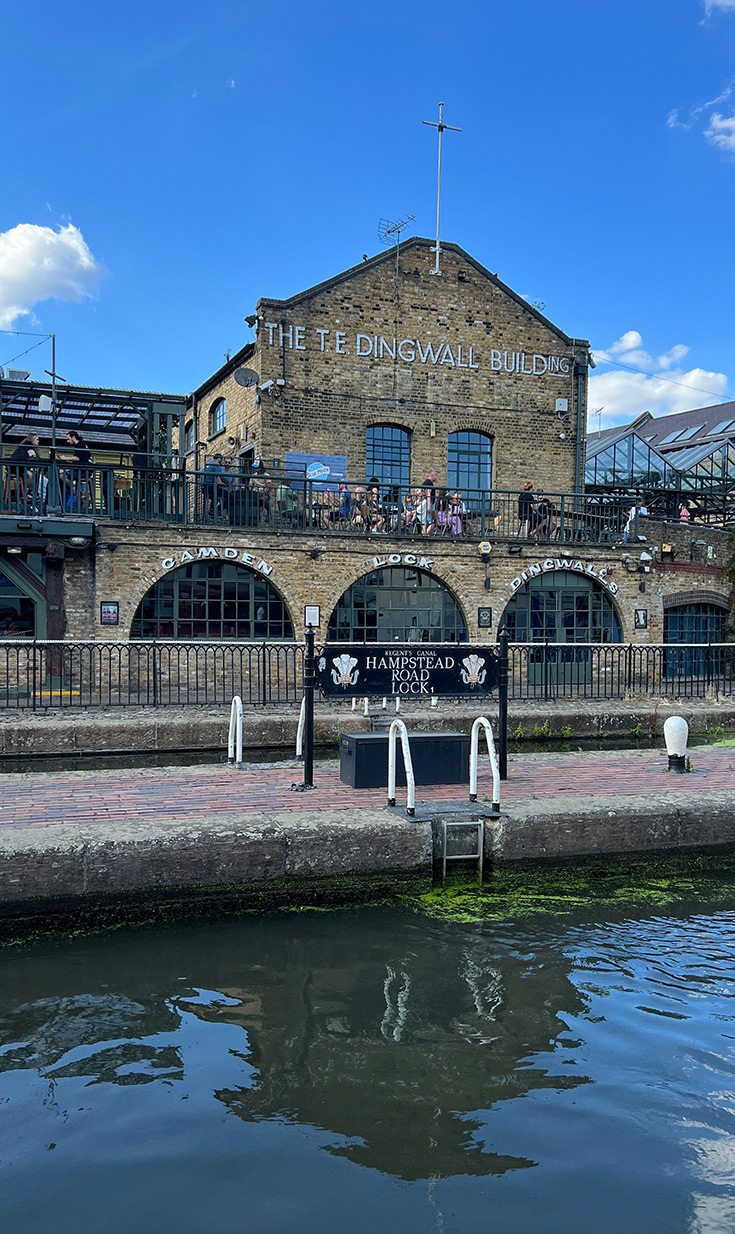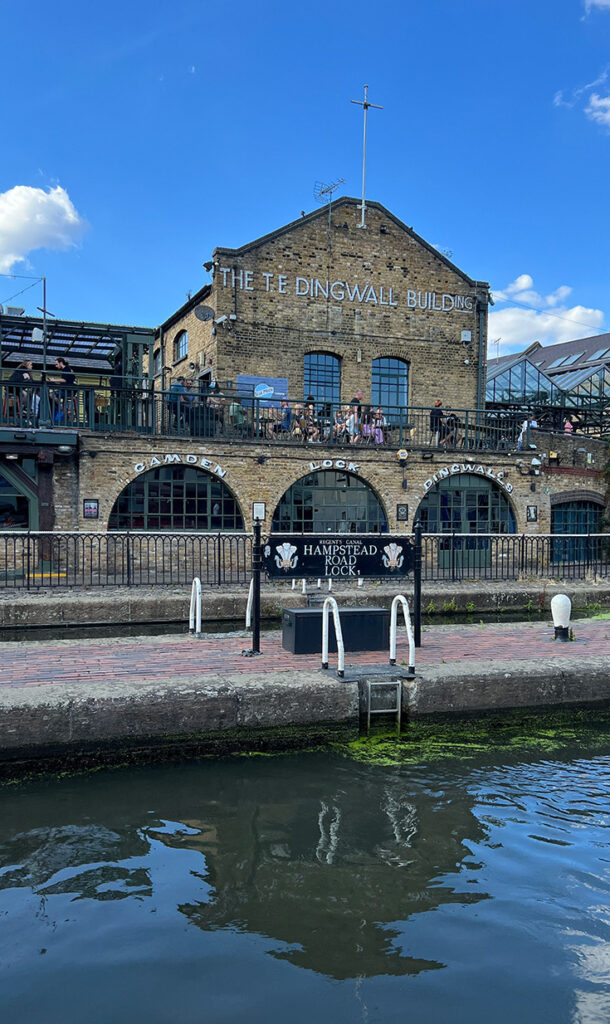 Camden Pub Crawl- Dingwalls
In the early 1970's Dingwalls Dance Hall officially opened. Unlike many pubs or bars in London it stayed open until 2am. It had a long bar and was a popular hang out for musicians. Over the years, rock stars who either visited or played there include: Rolling Stones, Pink Floyd, The Clash, The Sex Pistols, The Ramones, Blondie, Noel Gallagher, the Foo Fighters and Mumford & Sons.
Camden credits this venue for its rich, iconic music history and party vibe its had for decades. It's located in Camden Market and is adjacent to Camden Lock.
Camden Pub Crawl- Edinboro Castle
On this pub crawl, we'll begin at Edinboro Castle. It's where we started our 8 pubs in Camden tour in this YouTube video. So, if you want to see these Camden Pub interiors- it would be worth three minutes of your time.
Edinboro Castle on 57 Mornington Terrace, which is a short walk from Camden Town Underground Station. This Camden pub is very dog friendly. The day we visited there was a basket of dog treats on the counter. However, it is most famous for its ginormous beer garden. I featured that on my Sunny in London TikTok account. If you want daily tips about London life and pubs- give me a follow there.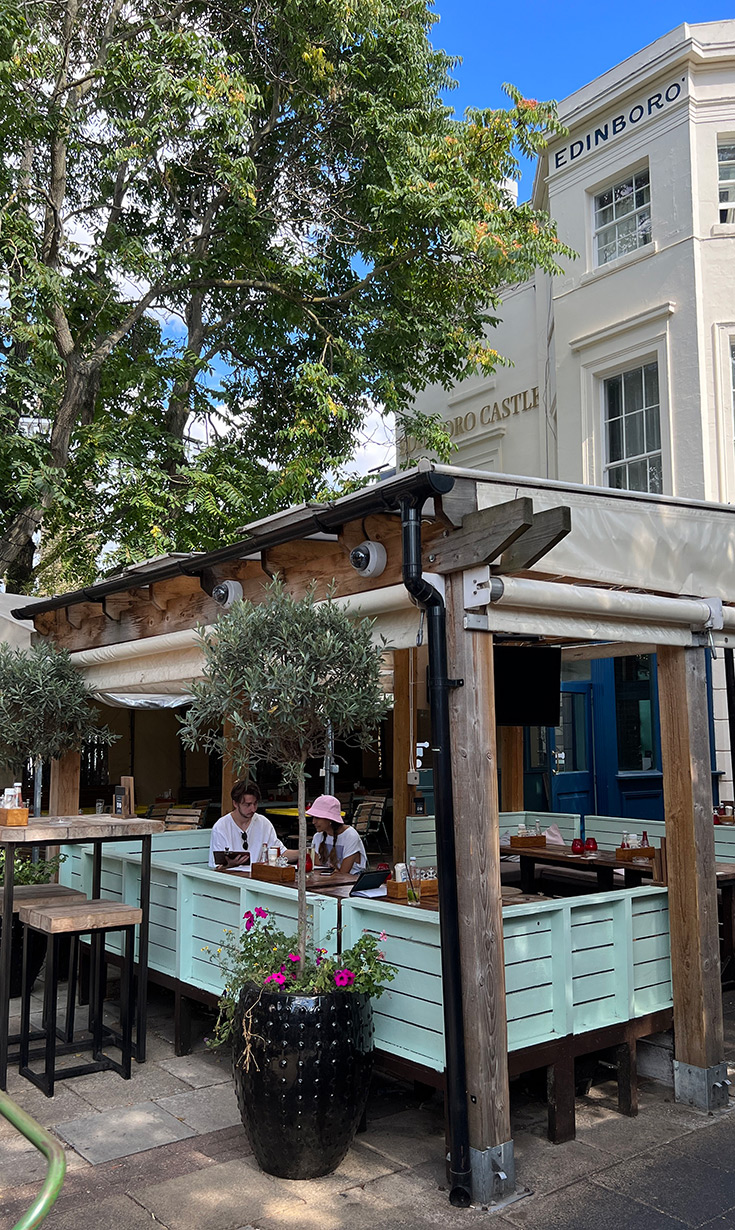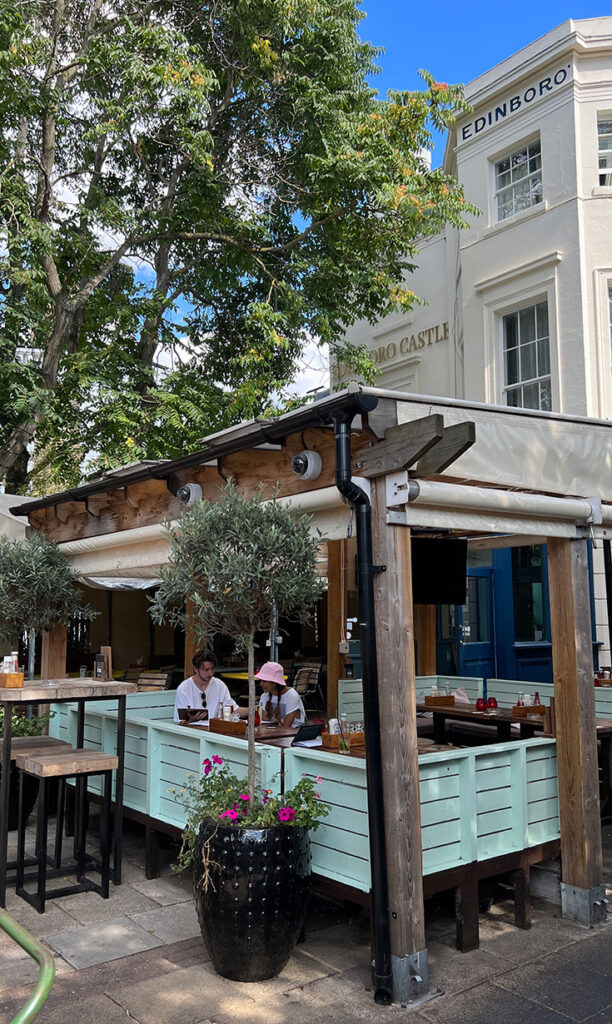 Camden Pub Crawl- Dublin Castle
Located on 94 Parkway, The Dublin Castle is the Winner of Best Live Music Venue 2019 at the Camden Inspire Awards. For 28 years the same family has ran the pub. It has 4 live bands every night and a great selection of beers, ciders and wines.
Its claim to fame is that it is the birth of Madness, an English ska band. Additionally, bands such as Blur, Coldplay, The Killers and The Arctic Monkeys have stepped on its stage. Back in the day, you might have caught Amy Winehouse behind the bar serving drinks.
Aside from all the memorabilia inside, you'll also notice the red walls. They credit them as 'grimy, sticky and beer-soaked' and not changing in years.
See, I told you this wasn't a London pub crawl for a novice!
Camden Pub Crawl- The Lock Tavern
Moving on to 35 Chalk Farm Road, you'll find The Lock Tavern. This Camden pub would be a great place to stop for food. It feels it has the best burgers in Camden. You'll want to try the beef burger with bacon or their famous vegan black bean and mushroom burger.
Another highlight of this Camden pub includes a heated beer garden with a fire pit and a suntrap roof terrace. It also has a design which allows private parties.
Camden Pub Crawl- The Hawley Arms
You can't have a Camden Pub Crawl without mentioning the most iconic local of them all- The Hawley Arms. Yes, it was where Amy Winehouse drank. A LOT.
When you go you will find a mix of passionate locals and tourists who want to pay their tribute to Amy by having a drink in her favourite local Camden pub. It's located on 2 Castlehaven Road.
It's a very spacious pub with two floors and a nice beer garden. Like the above mentioned Camden pubs, The Hawley Arms is keen to continue the music tradition held by so many of this London neighbourhood's pubs.
Camden Pub Crawl- The Elephant's Head
This Camden pub has a diverse offer, starting with a full English breakfast and light bites Monday-Friday until 10pm. It's right on Camden's High Street too.
It's an authentic Victorian London pub and dates back to 1832. The Elephant's Head was once part of the famous Camden Town Brewery who brewed 'Elephant Ale' in the 1800's.
Again, the local spirit is strong in this Camden pub. Every night of the week there is a DJ spinning classic vinyl. And if you're there on a Wednesday, you might jump on the stage yourself for an Open Mic session.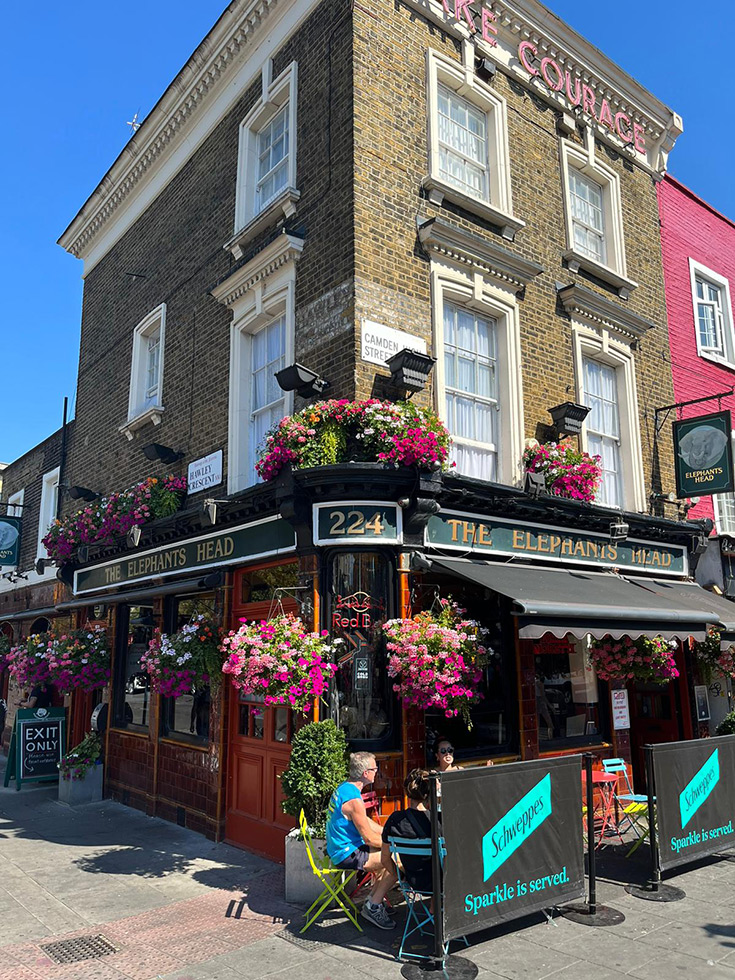 Camden Pub Crawl- The Oxford Arms
Just across the street, you'll find The Oxford Arms at 265 Camden High Street. It's another Camden pub that dates back to Victorian times. However, aside from offering traditional pub food, The Oxford Arms also has comedy events.
The staff is very friendly too!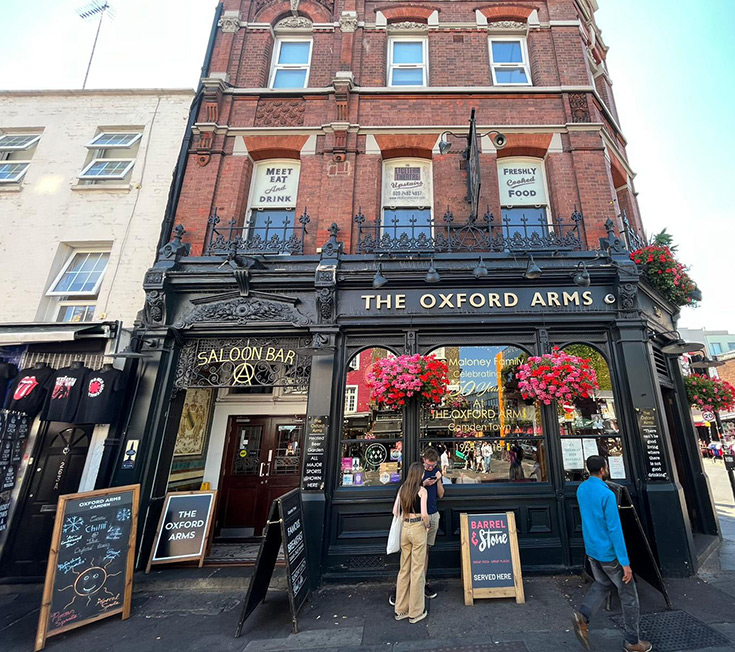 Camden Pub Crawl- The Bucks Head
A few steps away at 202 Camden High Street is this lovely pub. It's part of the Stonegate Group, which also owns Slug & Lettuce, Pop World, City Taverns and more.
I can't imagine you'd be doing any work on this Camden pub crawl. But if you wanted to come back, The Bucks Head has a 'work from the pub' experience which includes bottomless hot drinks, bottomless soft drinks, WiFi and unlimited use of their plug sockets for just £12.50.
And, their gin stash is pretty impressive too. You'll want to visit their website to see if they're running any special offers. Previously, they had a gin lab which let you mix and match three gins with three mixers right at your table.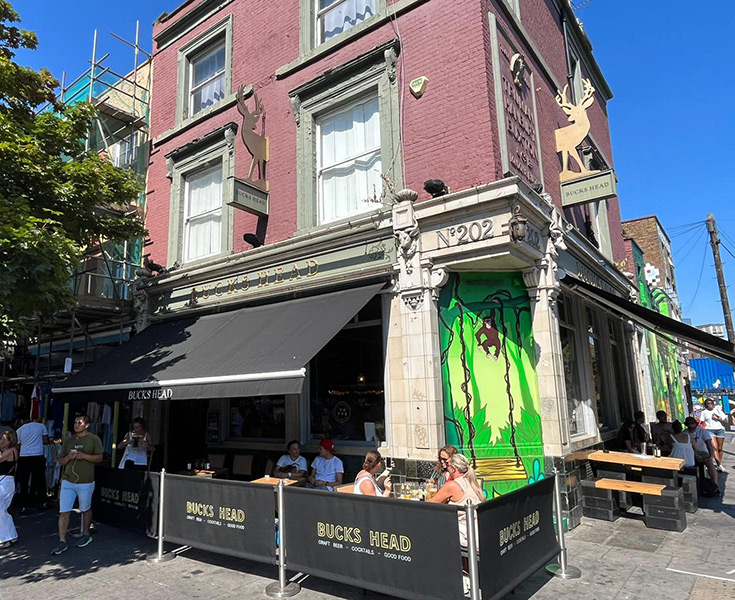 Camden Pub Crawl- The World's End
If you've made it this far, you deserve a proper send off. Just across from the Camden Town Underground is The World's End at 174 Camden High Street.
And this Camden pub is BIG, Sunny friends. It has 2 bars and a mezzanine balcony with seating. It has the capacity for 1,000 and the Underworld venue beneath it can hold 500.
Not only does it have a banging music venue history, but it has the best barbecue smoked meat which uses their own smoker.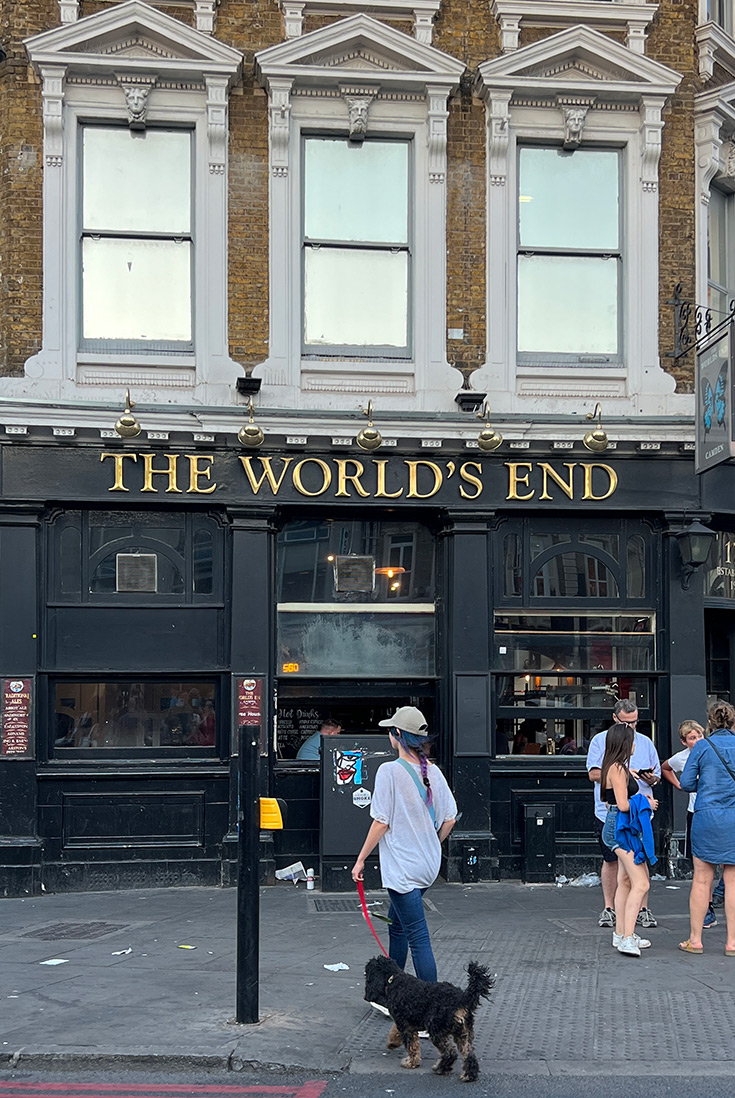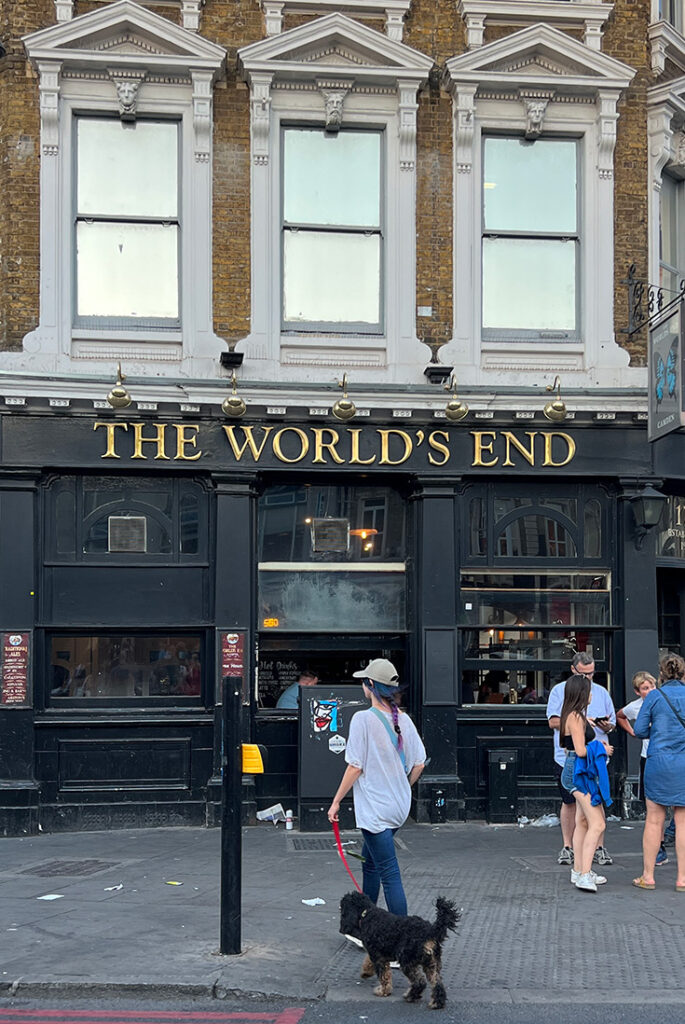 Camden Pub Crawl- Final Thoughts
Phew! That's just a collection of what we feel are the best Camden pubs to visit on a pub crawl. My husband was born in London and I have lived here as an American for nearly 10 years. We visit London pubs regularly and write about them here.
If you're planning a trip to London or live here and want a weekly update of things to do in London, subscribe to our Sunny News email. It also has Mr Sunny's Pub of the Week recommendation!
Did we miss your favourite Camden pub in this guide? If so, please add your ideas in the comments. We'd also love to answer any questions you have about London pubs or planning a trip here too.