If you're a Londoner, you might be quick to call 'click bait' on a pub crawl on King's Road. Because there are hardly any pubs actually on the King's Road. It's actually known for being one of the most popular streets for shopping in London. So, in order to get my London born husband (who is a self-proclaimed pub expert) out for a day in Chelsea with me, I put him in charge of a King's Road Pub Crawl that included a side of shopping.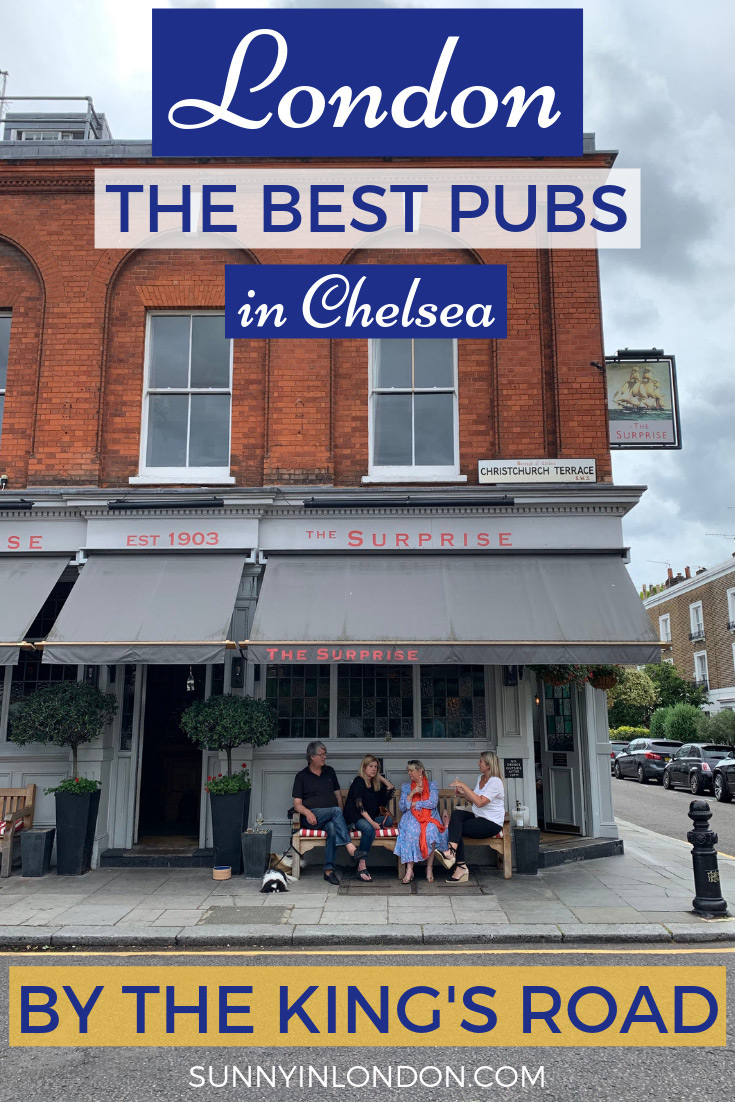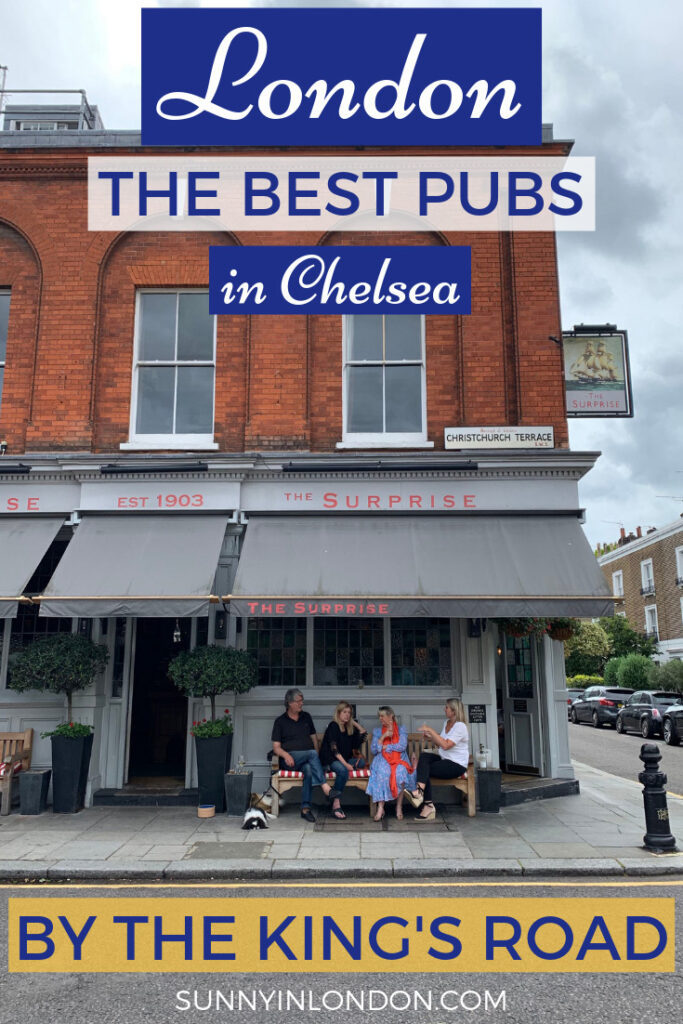 Initially this wasn't too much of a challenge for him because he spent part of his childhood living in Chelsea. He and his family had a few local favourites that he wanted to visit. However, some of them haven't stood the test of time. And some have morphed through the times in to a different experience.
Nonetheless, Mr Sunny put together a list of pubs that will impress anyone visiting London as well as has local knowledge of the pubs in Chelsea. Let's take a look, Sunny friends.
Pubs in Chelsea- King's Road Pub Crawl
Chelsea Potter is one of the few pubs on King's Road. If you subscribe to the Sunny News email, you know that Mr Sunny and I love the happy hour deals at Greene King pubs. In each newsletter, Mr Sunny recommends a pub of the week. Quite a few have been from this franchise because who doesn't love 2 for 1 Prosecco and beer?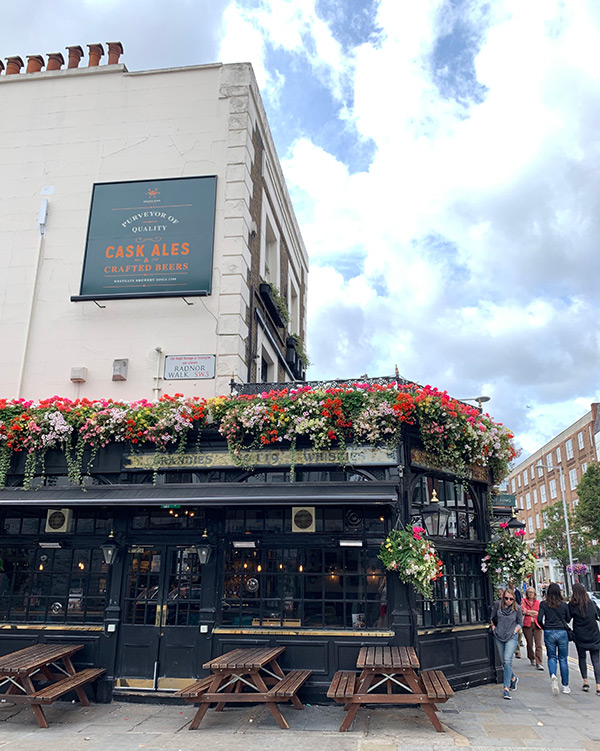 Pubs in Chelsea- Around the Corner
The Cross Keys- Mr Sunny was eager to see The Cross Keys. This pub should not to be confused with the 'classic old boozer' pub in Covent Garden on Endell Street with the iconic floral front. The Cross Keys in Chelsea is discreet and tucked away on a residential street. In fact, this is the description of many of our choices in the Best Pubs in Chelsea Pub Crawl.
Location: 119 Kings Road, Chelsea SW 3 4PL
What Mr Sunny likes: It's near King's Road and the Embankment, so it's a great escape while the 'Mrs is shopping'. The Sunday Lunch looks good and seems to be frequented by mostly locals. That's always a good sign! Another good sign is the list of celebrities who drank at The Cross Keys.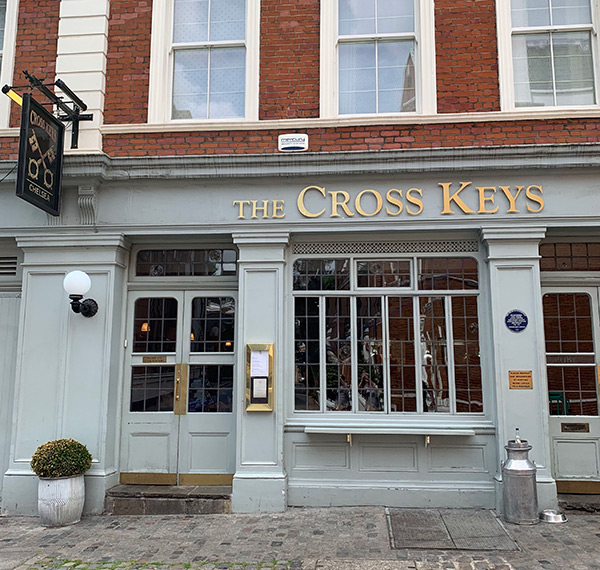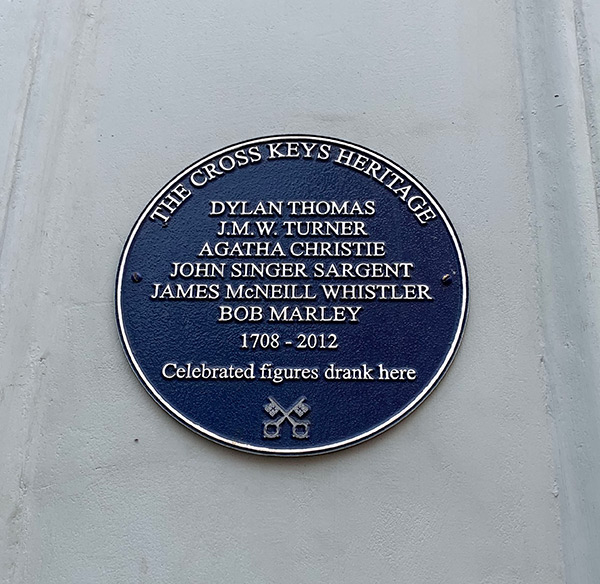 The Phene: We enjoyed drinks here. Mr Sunny feels it is still a local's pub but is definitely more of a gastropub.
Location: 9 Phene Street, Chelsea, SW3 5NY
What Mr Sunny likes: The beer garden is fabulous and the Sunday lunch looks delicious. We advise you to arrive early for this food experience because it was quite packed when we stopped by. Or better yet, you should book a table in advance.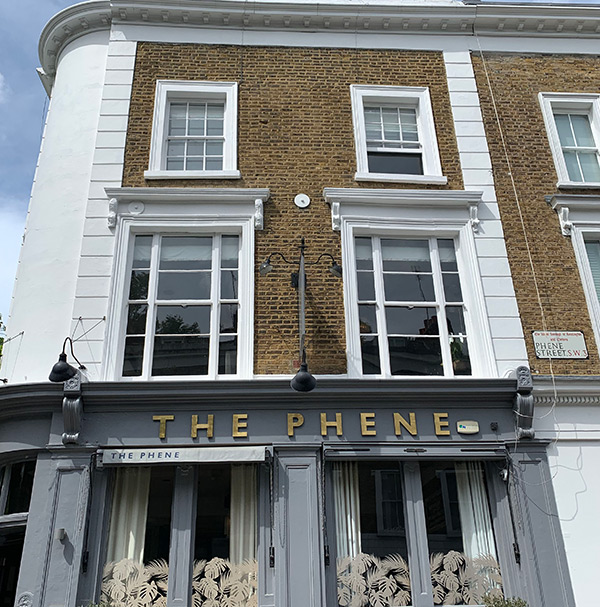 Cooper's Arms- This pub does a great job of combining contemporary and traditional design. Their website suggests they have a welcoming atmosphere, so take a look at these shots and see if you agree. I love pubs that have comfortable furniture and a vibrant colour scheme.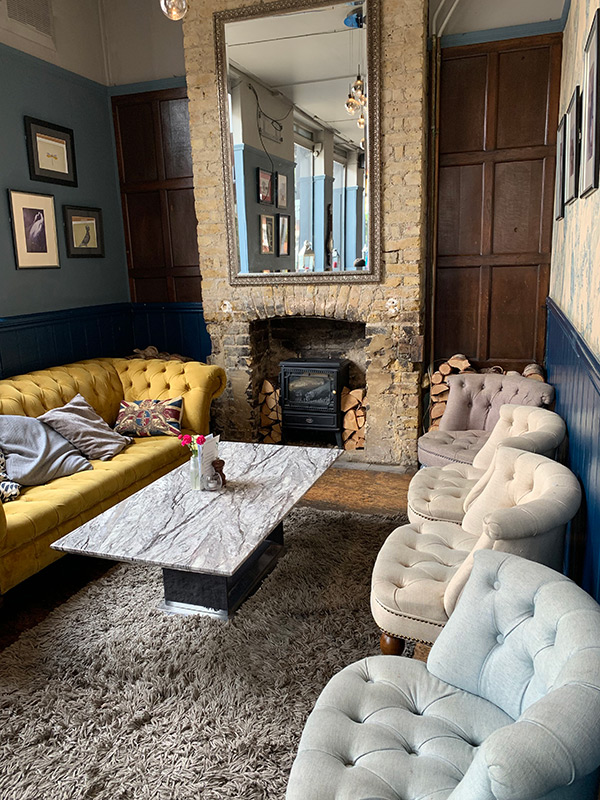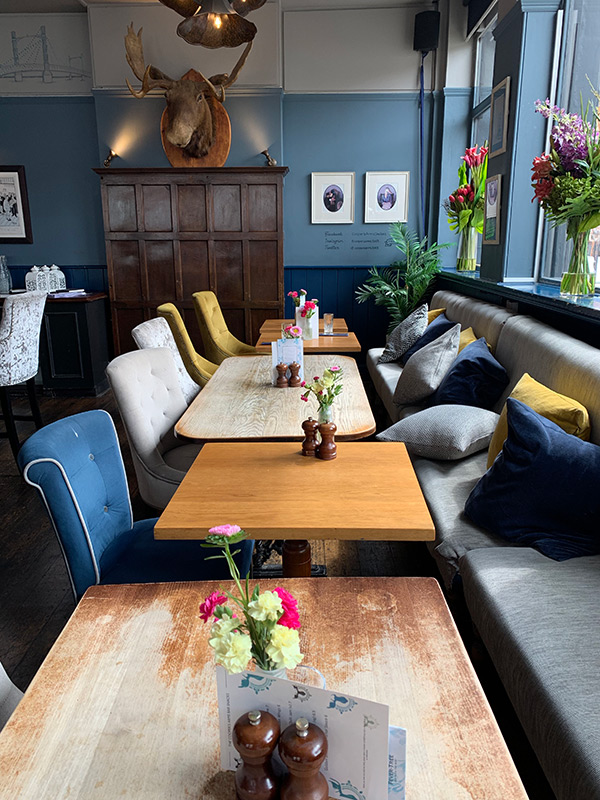 Location: 87 Flood Street, Chelsea SW3 5TB
What Mr Sunny likes: The terrace is good for having a quick smoke or vape and the menu features a traditional Sunday lunch.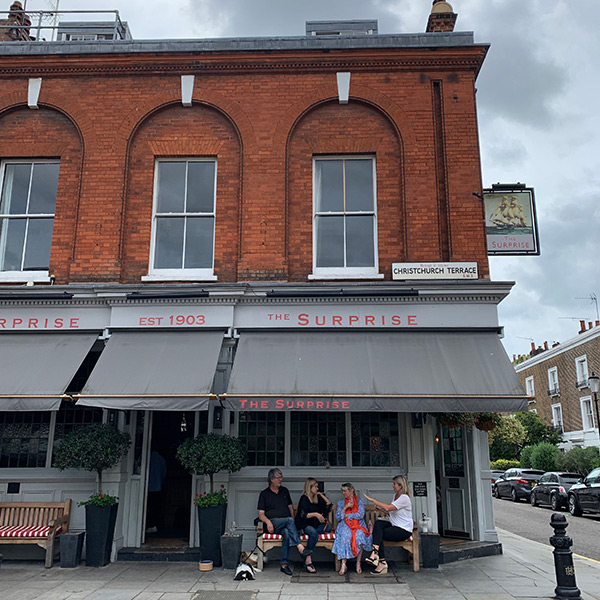 The Surprise: This was at the top of Mr Sunny's list because it was his dad and mum's local when he was a child. He remembers when locals clearly had one side of The Surprise pub, and the other side was devoted to the public.
Location: 6 Christchurch Terrace, Chelsea SW3 4AJ
What Mr Sunny likes: He says he is a bit disappointed that over the years it has made such a change to a gastropub. However, since it's a Young's Pub, we know the menu and food are top notch too.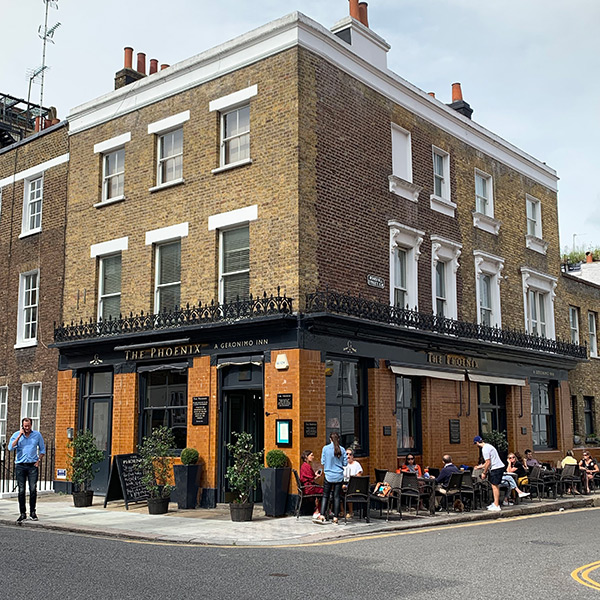 Phoenix- Mr Sunny feels this Geronimo Inn pub off of the King's Road is more of a traditional London pub. He thinks they offer good beer, fine ales and lager.
Location: 23 Smith Street, Chelsea SW3 4EE
What Mr Sunny likes: While we note the above mentioned strengths, this pub represents nostalgia for Mr Sunny too. He would love to know if anyone remembers the curry house that previously was next to this pub. It was one of his family's favourites. His parents would enjoy drinks in the pub and the curry house owner would signal them when their take away order was ready.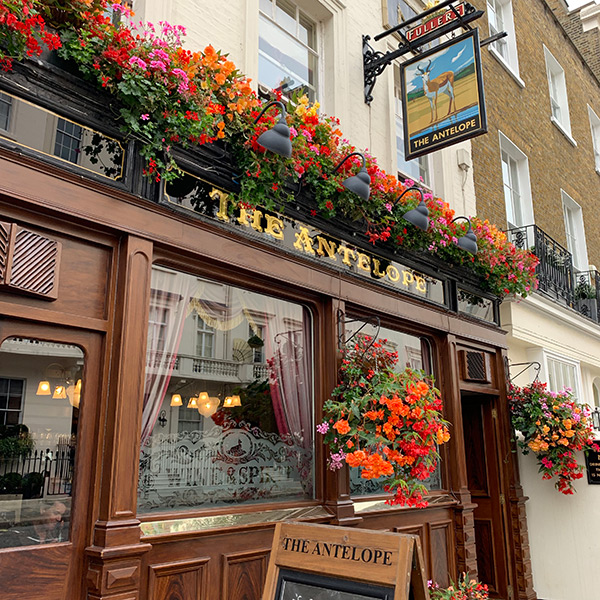 The Antelope: Of all the pubs we visited on the Sunday we did the Chelsea Pub Crawl, this was Mr Sunny's favourite.
Location: Eaton Terrace, Belgravia SW11W 8EZ
What Mr Sunny likes: We know that it's a tad bit on the edge of Chelsea, but it's well worth a visit. As a traditional Fuller's pub, The Antelope has London Pride. This is Mr Sunny's dad's daily beer choice.
He loved seeing a nice horseshoe shaped bar and enjoyed seeing a bar full of locals watching live sports.
Pubs in Chelsea- Out of Range
Our final stop was The Botanist, which is listed in The Good Pub Guide. While it suited me just fine, Mr Sunny decided to skip having a drink here because it is quite posh. Londoners won't be surprised to hear that Mr Sunny said it was full of 'Sloane Rangers.'
Location: 7 Sloane Square, London SW1W 8EE
What Mr Sunny likes: 'This is a great place to use to loo before you leave Chelsea'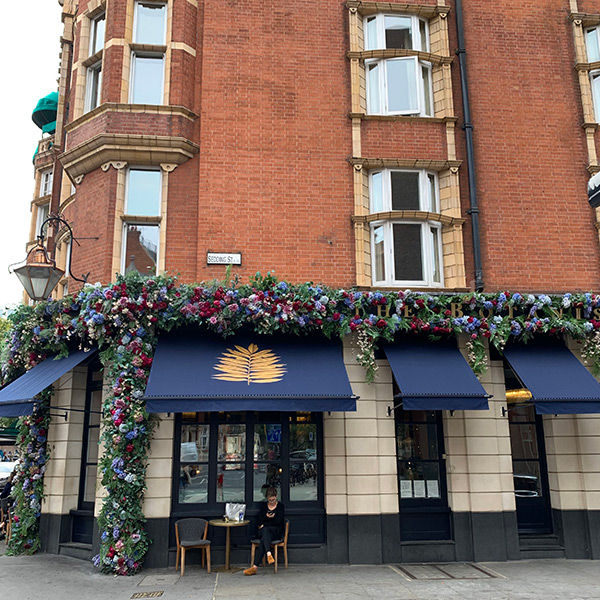 Pubs in Chelsea- Final Thoughts
Mr Sunny has an excellent memory, when it comes to recalling pub locations and what their unique selling points are. However, he also uses Good Pub Guide to keep the pulse on what's happening in the London pub scene. As you can see, through time pubs change names, ownership and style. Having a book or app readily available if you live in London and were born here is always a good idea.
If you're visiting London and need help, it's a great idea!
We hope you enjoyed this Best Pubs in Chelsea pub crawl. If you'd like regular recommendations from Mr Sunny, don't forget email subscribers regularly receive his pub suggestions!
What are your favourite pubs in London? Have they changed through the years? Do you still visit them when you're in the neighbourhood?