My Old Dutch Pancakes in Holborn Review
My morning didn't begin the way I planned. Luckily, this summer I put together a wish list of breakfast places in London so all was resolved at My Old Dutch pancakes in Holborn.
Originally, the day's itinerary involved leaving the house at 7.15am with Mr Sunny. I was going to ride to work with him and then make my way to Covent Garden. However when the alarm went off at 6am, that great plan didn't sound so enticing. Sleeping in longer seemed so much smarter.
I've been on a serious breakfast kick this summer and wanted to try to little porridge place that's been open for a few years. I had read it is quite popular and it's best to get there really early. By the time I arrived, every table was full except a seat at the bar. After 15 minutes of waiting and not even receiving a menu, I decided porridge wasn't worth the hassle and hit somewhere I knew was going to be fab.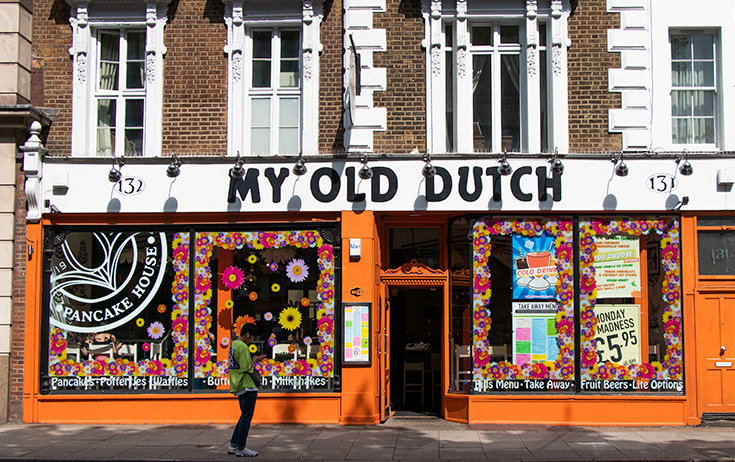 I've walked by My Old Dutch in Holborn many times in the afternoon and evening. You can't miss the bright orange exterior. Believe it or not, I actually had to pull down the orange saturation in the image above when I was editing the pictures!
My Old Dutch pancakes has other locations in Chelsea and Kensington too. There is always plenty of people inside, so that's why I had always been curious about what the food is like.
Luckily when I arrive there were available tables by the window and they were able to seat me at one. I chose the window because it was a beautiful, sunny day in London.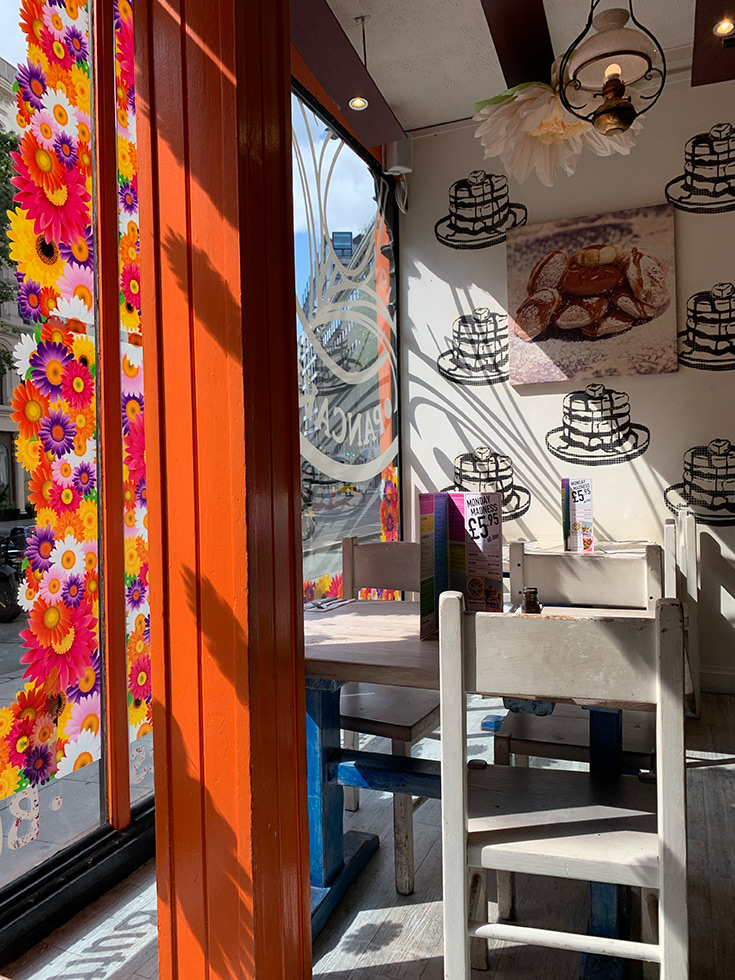 Also, if all went as anticipated, I was going to write a My Old Dutch Pancakes review on the blog and wanted great lighting for the food photos.
First on the agenda was getting myself a large latte.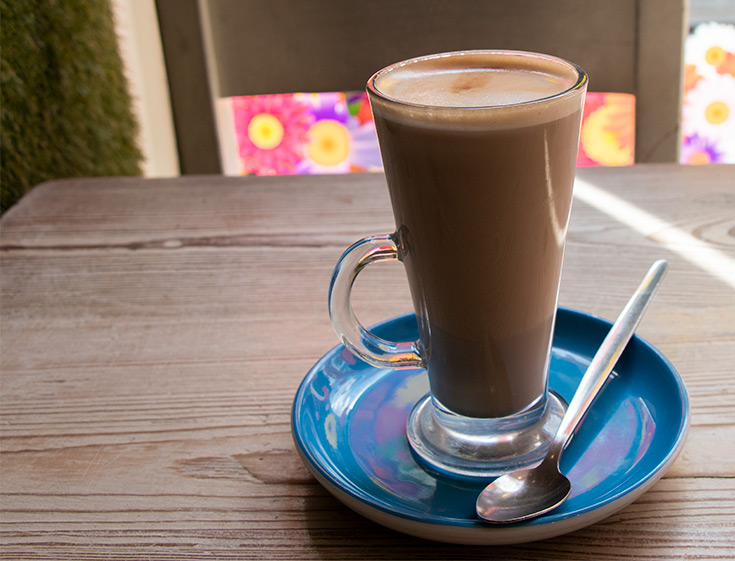 My Old Dutch Pancakes Review: The Food
The menu is quite big and divided in to many different sections. My a la Carte, My Butterscotch, My Poffertjes, etc. I was most excited to see that many items are available gluten free. Well, not really. I wish I didn't have to eaten gluten free. Regular stuff is always better in my opinion. However, since this was going to be more indulgent than my original porridge plan, I wanted to keep breakfast somewhat sensible.
Honestly, it was really bugging me that Mr Sunny was at work and couldn't join me. There is so much food on the menu I want to try. It would have been nice to have my partner in crime there to do some sampling with me.
I decided to play most popular and choose the My Old Dutch. This item is their signature dish. I don't know if this photo captures the true enormity of what hits the table when you order My Old Dutch.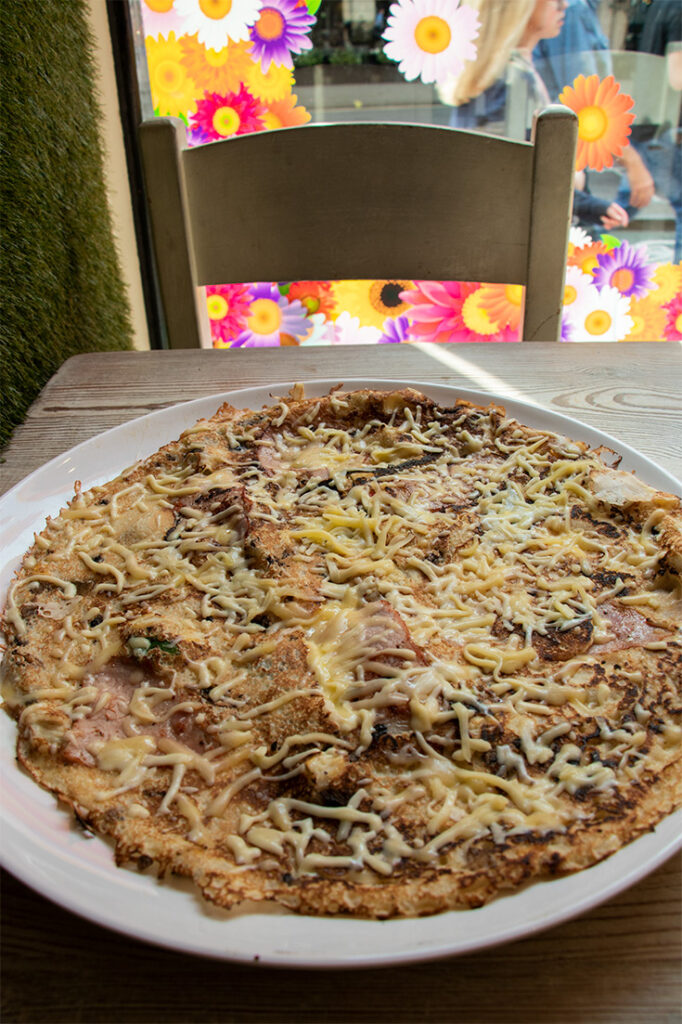 It's on the Classic Savoury Pancakes menu. It features smoked bacon, chicken, ham, red and yellow sweet peppers, mushrooms, sweet corn and cheese.
I might be on a sweet corn kick too, if you think about what I ordered at our Chelsea brunch last week.
I did my best to finish it, but My Old Dutch won round one. I really enjoyed it, although some of the edges were a bit toastier than I would have liked.
My Old Dutch Pancakes Review Holborn- The Service
When you write reviews that are organised through PR companies you nearly always get stellar service. You hope that everyone's experience at a restaurant is the same as yours. However, when you are a paying patron you might be better positioned to get a clearer picture of what a restaurant offers.
The menu is impressive at My Old Dutch pancakes and my service was equally as great. Everyone I encountered was knowledgable about the menu and eager to help me make the best choice.
They also gave me a loyalty card for my next visit. I bet that porridge place doesn't do that! 🙂
I am looking forward to taking Mr Sunny to a My Old Dutch location the next time we are both off work together and will certainly include this primarily pancakes restaurant in the next revision of my Best London Restaurant Guide for Foodies.
Want a food freebie in London?
Subscribe to the Sunny in London email and immediately get the 'Local's Pocket Restaurant Guide to London.' It's the ultimate free travel accessory for your London trip. The Guide has top recommended restaurants from a local, organised by neighbourhood. With it you can easily find a place to eat when you're on a London street. Downloading the file to your phone means skipping Wi-fi and finding a fab foodie place- fast!