Chicama London Review- A Chelsea Brunch Experience with Smoked Beer Ice Cream
When we saw Smoked Beer Ice Cream on the Chicama menu, the 'where to have brunch in Chelsea debate' ended. Immediately. How could I deny Mr Sunny this opportunity to try a beer infused food?
As a London food blogger, I get invites often to try new seasonal menus, restaurant launches and other food related events. Since we live in North London most of our foodie trips to Central London are for these experiences organised via a restaurant's public relations representatives. While we love these, it's also nice to put the cameras aside and just enjoy good food with Mr Sunny.
That was our intent when we visited Chicama in Chelsea for brunch recently. But, everything changed as we walked up to the restaurant.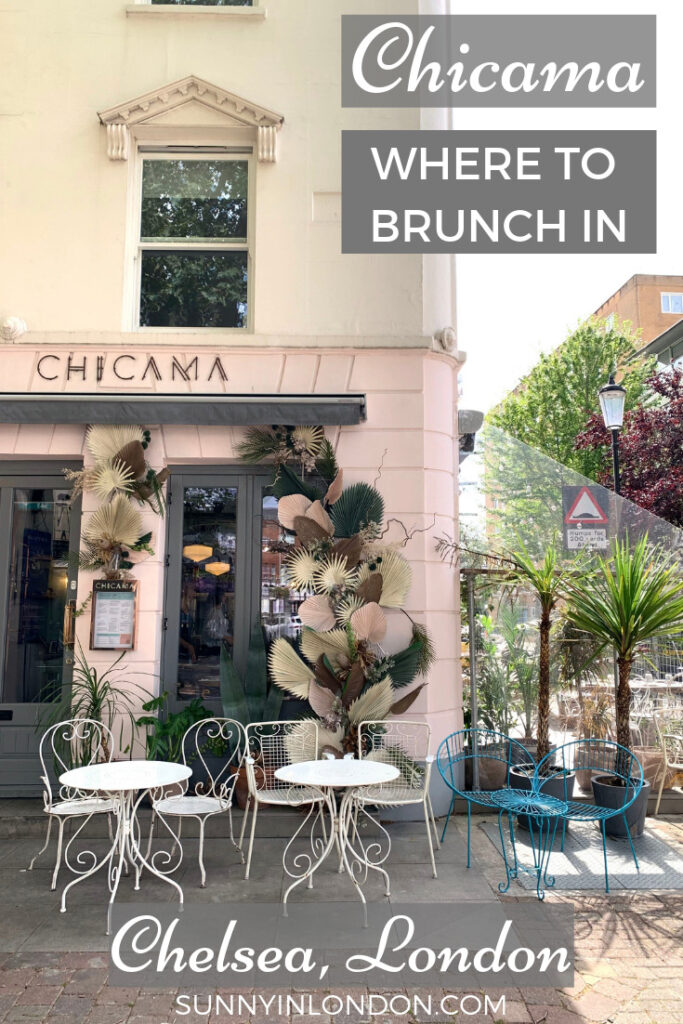 Chicama London, a Chelsea Brunch Experience- The Ambience
Turning the corner on the King's Road and seeing Chicama London caused quick intrigue. The concept is a neighborhood restaurant and the design is inspired by Chicama beach in Northern Peru.
We had booked a table on the terrace, but due to the high wind advisory this day we requested to eat inside the restaurant. On a beautiful, sunny day in London I can see why Chicama would be a perfect spot.
All signs for what we wanted in our Sunday brunch together fell in to place as we stepped through the entrance. Nonetheless, the interior decor filled with shell pink tiles and soft pink marble is inviting and cheery. Mr Sunny and I loved the open kitchen plan. For many reasons, this works really well for this Chelsea restaurant.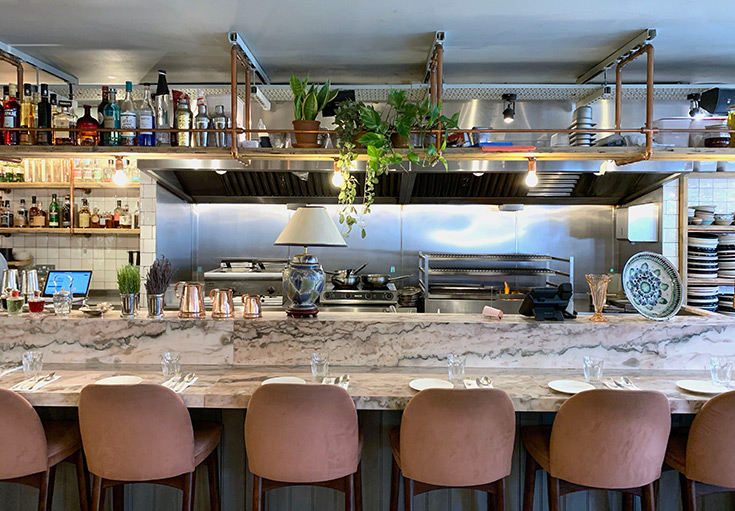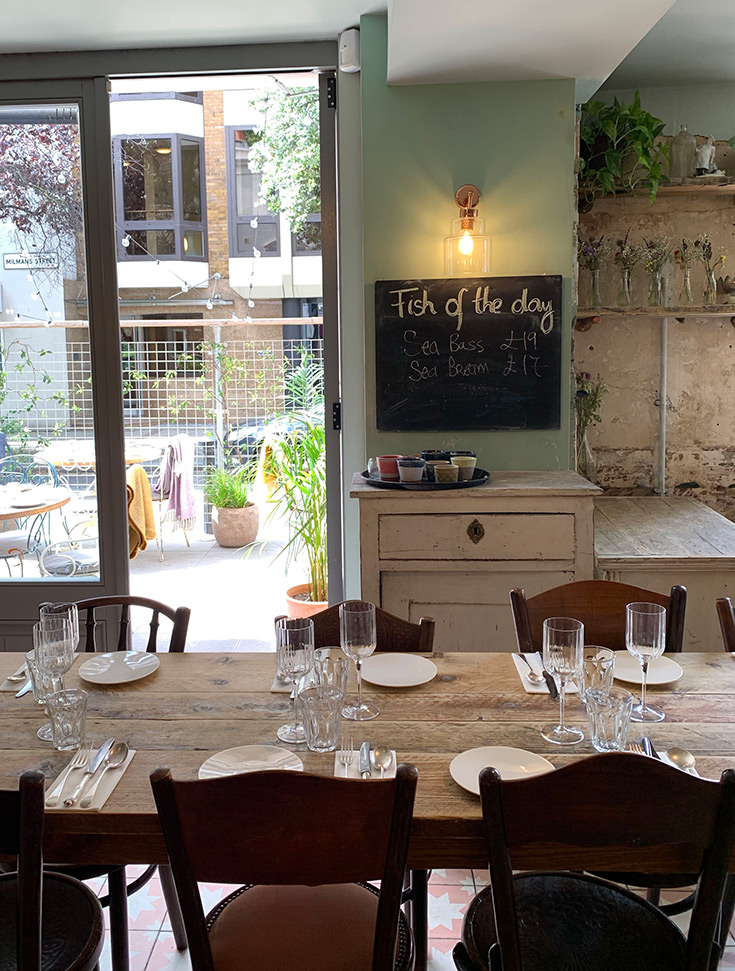 We booked our table online for 12pm. If you're an avid Sunny reader, you know we like to go early to avoid crowds. It wasn't until around 1pm that the restaurant tables began filling inside and on the terrace. If you planned to arrive anytime after we did, I would suggest making sure you have booked a table in advance.
While the exterior might have a slightly feminine vibe, we felt as a couple that the location is perfect for a posh brunch date or a girly get together.
Chicama London, a Chelsea Brunch Experience- Unique Selling Points
Watching the kitchen staff prepare dishes tells a lot about Chicama's story. Chicama in Chelsea is the second restaurant from the Pachamama Restaurant Group and opened with rave reviews in 2016. They chef formed a team that is from London's best, most sought after restaurants. It shows!
The kitchen runs smoothly, quietly and systematically. Each staff member clearly knows their responsibilities and executes them with ninja like precision. Yet, the overriding vibe is calm and meticulously organised without fuss. While the decor might send the message that you are near a Peruvian beach, the staff's approach to the overall success of your dining experience is no where near casual.
And then there's the Smoked Beer Ice Cream. But, you need to wait just a bit more before I melt it on the blog for you.
Chicama London, a Chelsea Brunch Experience- The Food
Chicama bills itself as a 'seafood restaurant in Chelsea with a menu inspired by the coastal food of Peru and the bold-flavours of Peruvian cuisine'.
Mr Sunny had never tried Peruvian cuisine, to his knowledge. Introducing him to this new food experience was a treat, but I am not an expert in the cuisine. With the guidance of our server, we chose several items and waited with great anticipation. We hoped the food would be as great as the ambience!
Popped Corn Monkfish Cheeks (ají amarillo mayo)
Tuna Tostada (avocado jalapeño sauce, fried leeks, lime, radish)
Sweetcorn Pancake (crab, ají amarillo hollandaise, pickled chilli)
Blackened Octopus (confit potato, sundried tomato, cauliflower)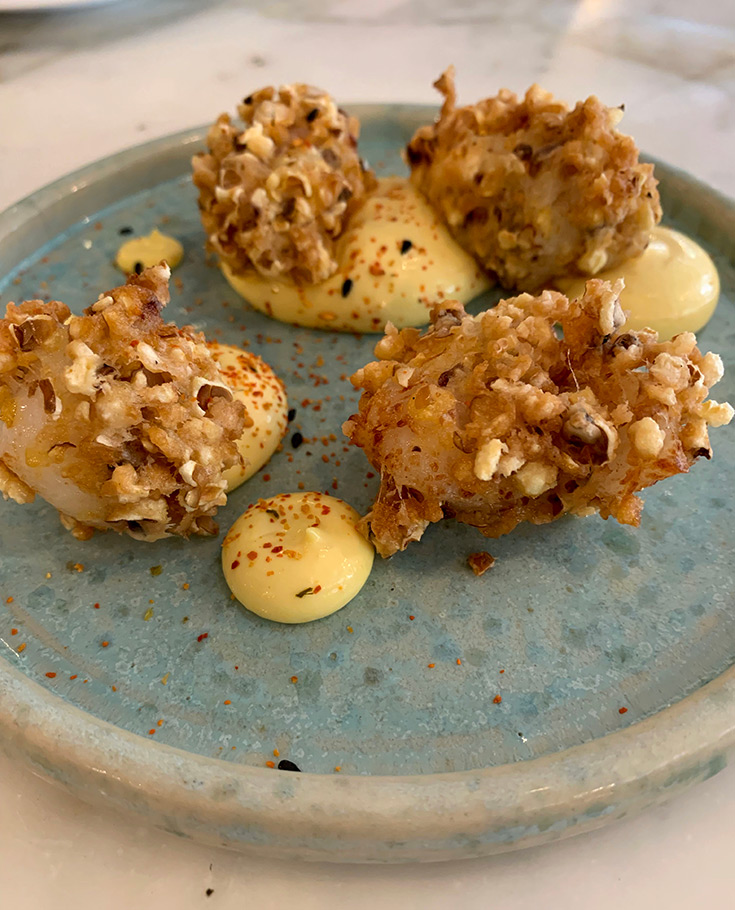 In summary, each dish delighted us in different ways. The Monkfish was a nice starter, but the Tuna Tostadas blew us away. We should have ordered one each, because sharing proved a bit tense.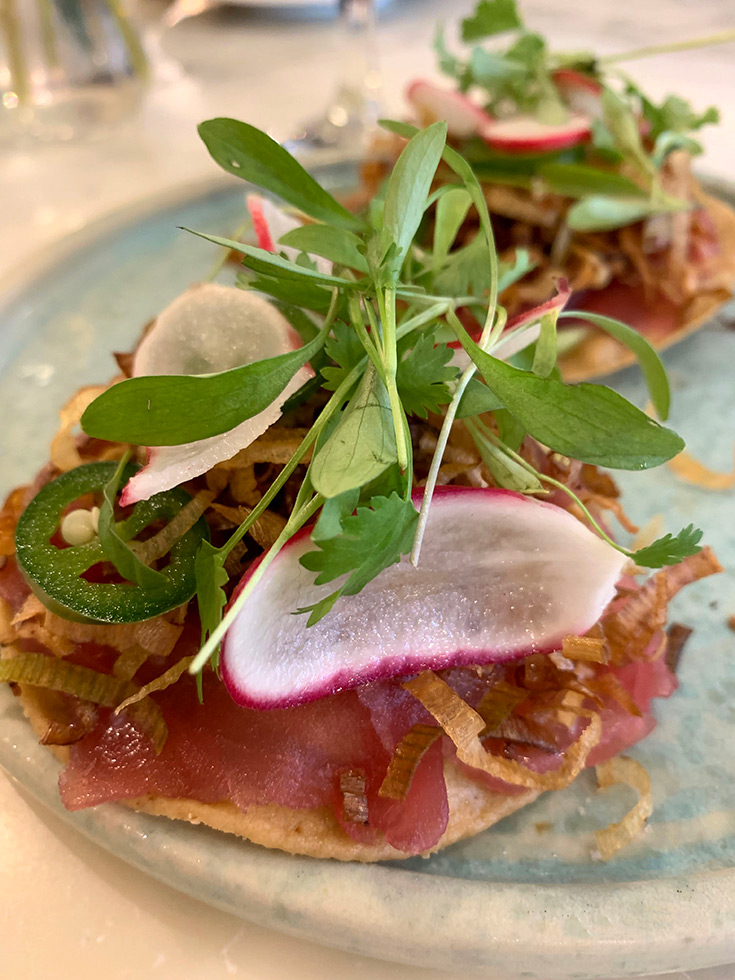 My Sweetcorn Pancake arrived a bit before Mr Sunny's octopus. Rather than battle with his salivating eyes, I agreed to give him a few bites. For those who might have trouble with a strong salt taste, they might want to pass on the Sweetcorn Pancake. While this usually does not appeal to me, I loved this dish! And so did Mr Sunny.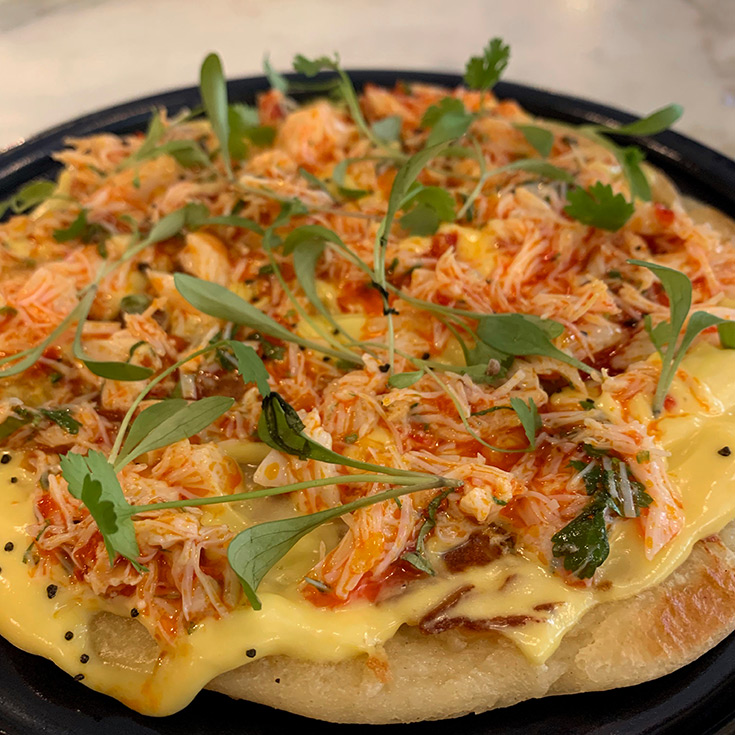 He agreed to share his octopus, but I didn't have more than a bite because the Sweetcorn Pancake is surprisingly filling.
Can you tell me your thoughts on Octopus, Sunny friends? When I posted these photos on my personal Facebook account my Florida friends expressed hesitation to try it. This seafood dish does not seem very exotic to me. How do you feel?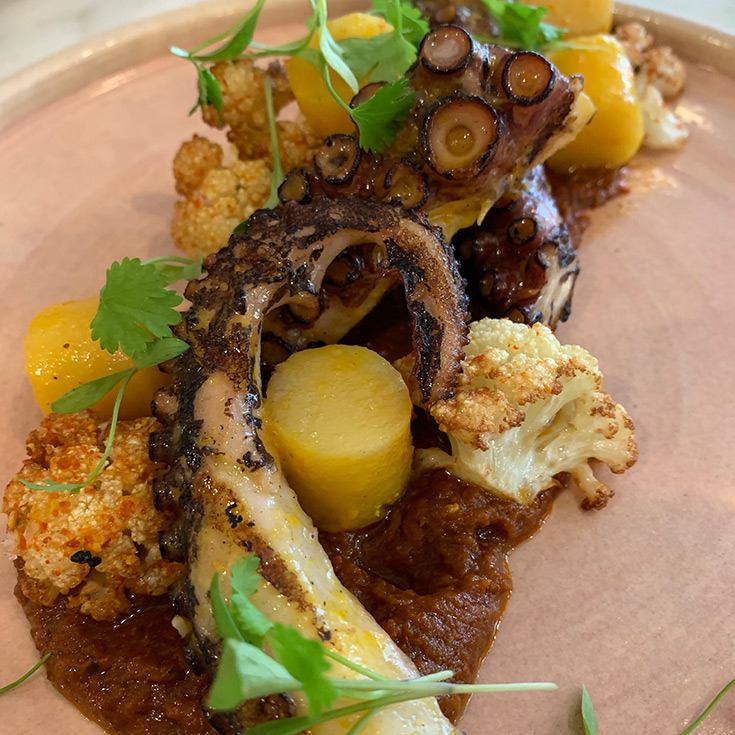 We keenly saved room for the Smoked Beer Ice Cream. We both felt it offers a unique flavour and unique selling point for the restaurant. The honeycomb and beer caramel dissolves beautifully upon each bite. Although, now that we've checked it from the bucket list, we will focus on other menu items when we return.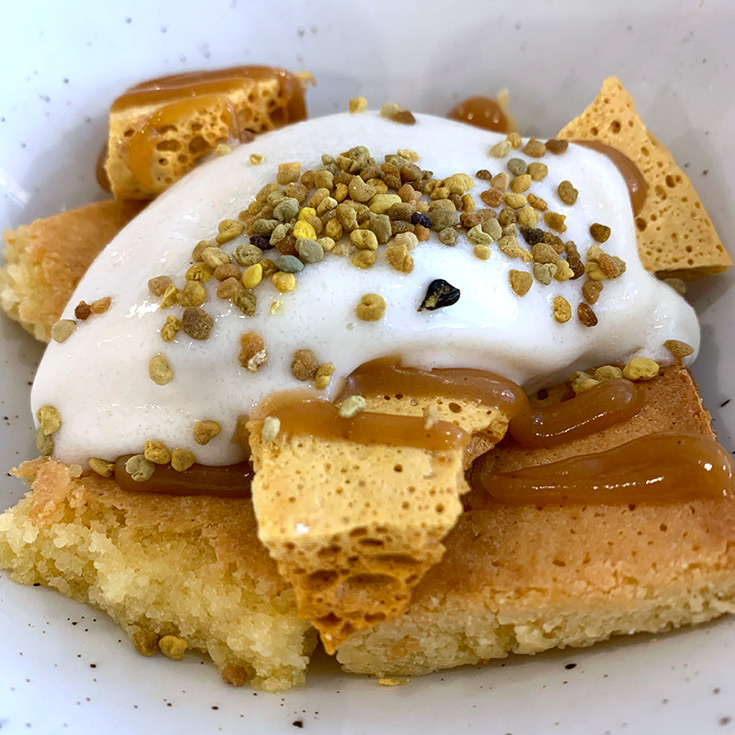 Chicama London, a Chelsea Brunch Experience- The Prices
When you plan a brunch in Chelsea, one of the poshest neighborhoods in London, you don't approach it as a budget food experience. Two tiny mimosas hit around £20 and Mr Sunny's Peruvian beers went down his throat way too fast.
We had not anticipated spending £96 for a brunch together in London on a Sunday. But, we didn't feel that Chicama was overpriced given how fab the food and ambiance it offers.
Chicama London, a Chelsea Brunch Experience- Final Thoughts
Mr Sunny gives his first Peruvian experience two thumbs up. However, the opinion could unfairly be acquired because Chicama raises the bar so high.
We had no regrets about our brunch in Chelsea bill and look forward to returning to try Chicama's dinner menu on another occasion.
I would love to know your brunch experiences in London. We researched quite a few of the 'Best Places to Have Brunch in London' articles online and found Chicama listed in many.
Have you been to Pachamama in either Marylebone or Shoreditch? What would you recommend to have in these restaurants?
And don't forget to share your thoughts on eating Octopus!
Want a London food freebie?
Subscribe to the Sunny in London email and immediately get the 'Local's Pocket Restaurant Guide to London.' It's the ultimate free travel accessory for your London trip. The Guide has top recommended restaurants from a local, organised by neighbourhood. With it you can easily find a place to eat when you're on a London street. Downloading the file to your phone means skipping Wi-fi and finding a fab foodie place- fast!
I will certainly add Chicama to the Restaurant Guide on it's next update!
For more about Food in London, you can read watch these: