Stealing from Forest Gump, I feel like a blog email inbox is like a box of chocolates- you never know what you're gonna get. 'Influencer' opportunities can be amazing and sometimes you wonder what the PR was thinking when he or she chose you and hit 'send.' Shortly before Afternoon Tea week, I received the press release for Cinnamon Bazaar's launch of their Indian Afternoon Tea. My heart fluttered when I saw the headline.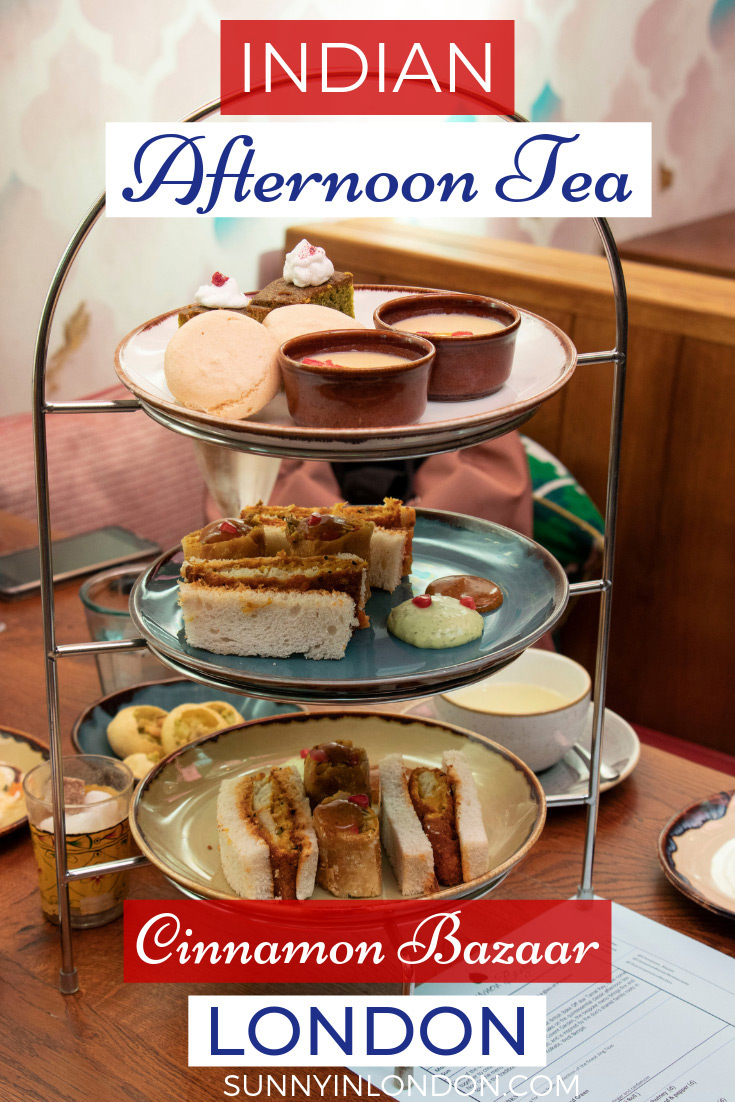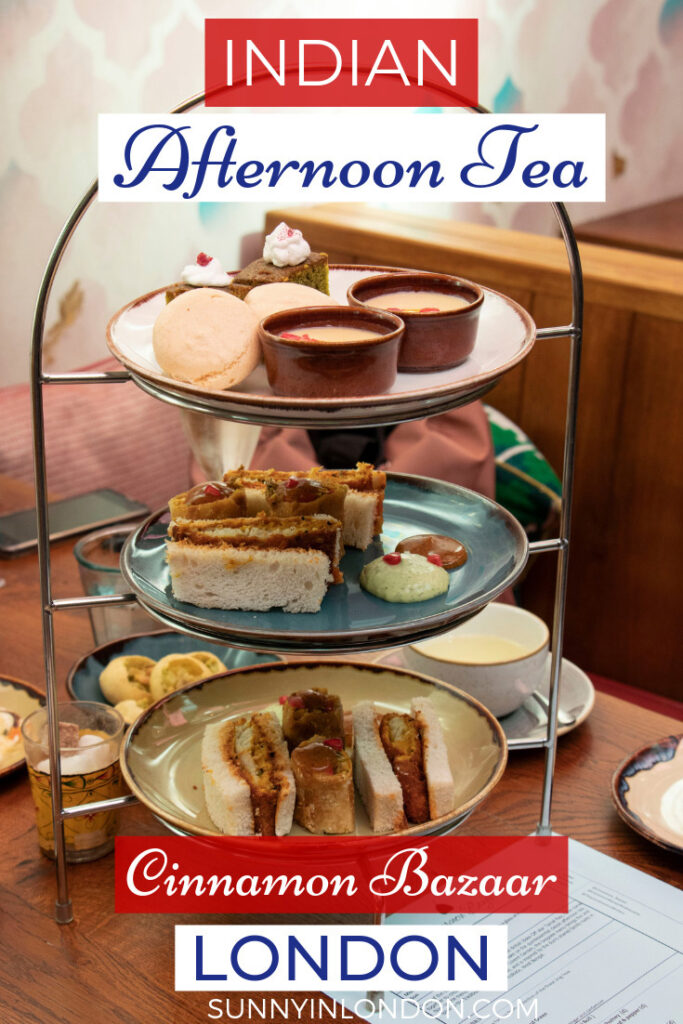 'Chef Vivek and Bake Off star Tamal Ray launch modern Indian Afternoon Tea'
My excitement about this invitation ignited for two reasons. It was perfect! Just days before- a viewer left a comment on the Sunny News YouTube channel requesting more coverage of Indian food in London.
And, among the sea of afternoon teas in London, this seemed to offer a different spin. The press release indicated it would 'shake up the traditional afternoon tea with an injection of fire and spice'. So I had to know immediately if it truly would…
Cinnamon Bazaar Indian Afternoon Tea – History
Actually, the chefs who collaborated on Cinnamon Bazaar's Indian Afternoon Tea also caught my attention. Chef Vivek Singh has a restaurant empire spanning two decades. He created the Cinnamon Collective portfolio, with which anyone on London's restaurant scene is familiar. It includes: The Cinnamon Club, The Cinnamon Kitchen and of course- Cinnamon Bazaar. He is known as a pioneer of the modern Indian cuisine movement in London.
Next, Tamal Ray was a finalist in the 2015 series of The Great British Bake Off. Not only does he contribute to a monthly food column in The Guardian, but also he has a career as an NHS doctor.
Do you see why this combo offers the perfect medicine to inject some much needed spice in to the tired themed afternoon tea scene in London? 😉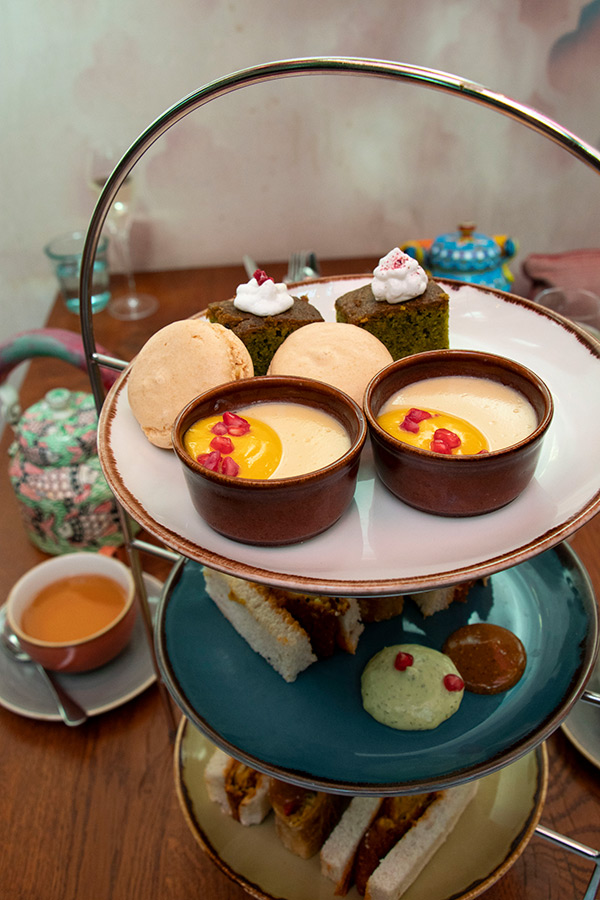 Cinnamon Bazaar Indian Afternoon Tea – Company
While the focus is the food at afternoon tea, it can be ruined by bad company. After countless afternoon teas, it seems two hours is the standard amount of minimum time in London for the experience. Therefore, one must carefully select a guest who offers thoughtful commentary on the food as well as great conversation.
A catch up with Catherine of LuxLife blog was long overdue. And she fits the description above perfectly!
We met back in 2014 when Sunny in London was less than a year old. I have followed her move to Australia and back, as well as all her fantastic travel adventures around the world. Her honest and hilarious Instastories share the challenges of daily life balanced with glamorous travel. I always look forward to seeing what she posts.
Cinnamon Bazaar Indian Afternoon Tea – Gastronomy
So, now for the juicy part! From the list of Indian spiced teas, I chose the White Peony. While it was nice, the colourful teapots in which the tea is served add a wonderful touch to the experience.
In fact, when I walked in to Cinnamon Bazaar from Maiden Lane in Covent Garden, I felt like I had entered Oz. The colourful decor of the restaurant adds even more fun flavour to this afternoon tea in London.
Along with our tea, we received the Chaat. This included:
Papadi Chaat- crisp wheat, tangy tamarind, yoghurt and chickpea vermicelli
Puchka/Pani Puri- semolina shell with tangy sweet and sour water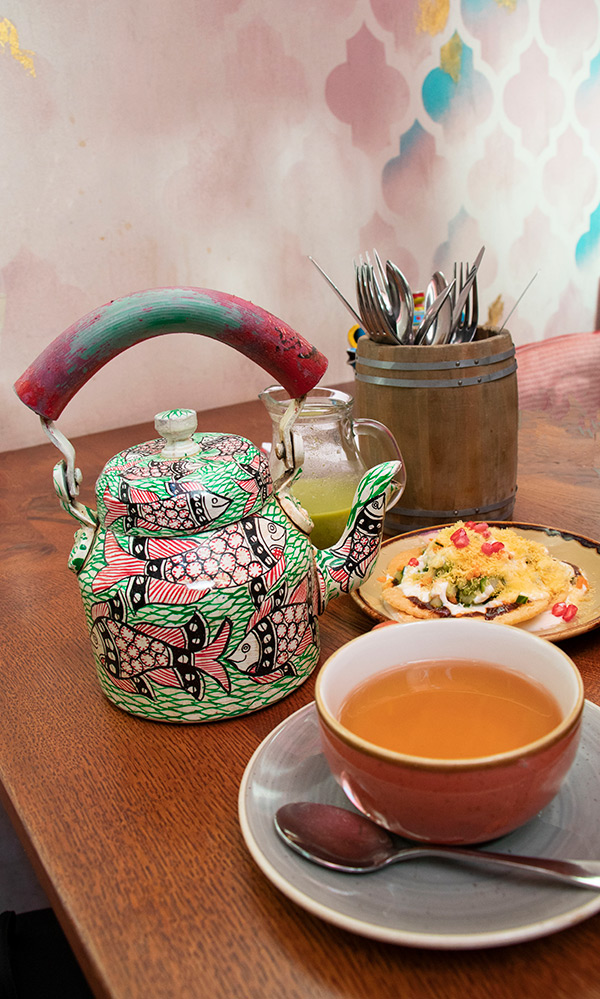 Next, our stand arrived with the Nibbles and Sweets.
Fish Finger Sandwich with tomato chutney
Chicken Katti Roll-in pastry with mustard and paper
Macaron- macaron with cinnamon cream
Mishti Doi- baked/steamed yoghurt with mango curd (gluten free)
Pistachio Cake- with rosewater marshmallow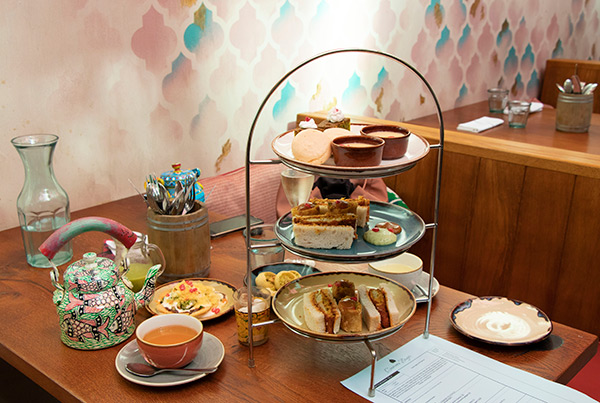 Cinnamon Bazaar Indian Afternoon Tea- Final Thoughts
In summary, this afternoon tea is quite good. I generally don't prefer food that is very spicy and wasn't too overwhelmed by the items that featured the promised 'injection of fire'. Some people might be. I'm guessing that if you enjoy Indian food, then you know what to anticipate for flavour and will agree that everything meets expectations.
I enjoyed every item. However there is no dodging around the issue that the bread for the sandwiches was a bit stale. That's the only suggestion I have for this afternoon tea.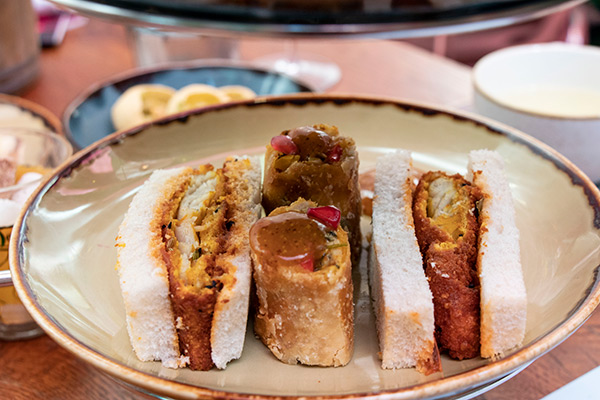 My favourite item was the Sweets. That shouldn't be a surprise because if you enjoy afternoon tea, it's likely because you have a sweet spot for sugar. But, what is surprising is I have never really associated the Indian culinary experience with a strength in desserts. I only starting eating Indian food when I moved to London, so this could be from lack of experience.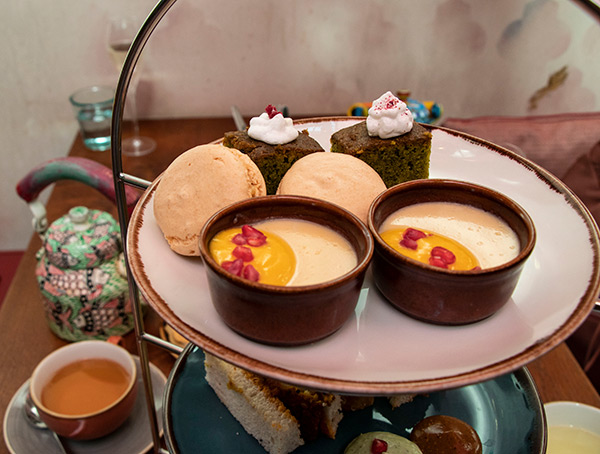 Can you add your thoughts on this in the comments? What popular Indian desserts have you enjoyed?
I really didn't want my little dish of Mishti Doi to end. It was so delicious!
The final 'Wow' of the experience happened when Catherine and I left. As we walked to our next destinations, she pointed out that there were actually no scones at the afternoon tea.
With so many London restaurants offering afternoon tea with champagne or Prosecco, it's common for the actual tea to be understated and minimal in its overall appearance in the food ensemble. Yet to get away with not having the classic staple of scones and still be fab is a big two thumbs up for Cinnamon Bazaar!
If you hadn't guessed already from the start of this Indian Afternoon Tea review, our experience was complimentary. That hasn't affected my thoughts. The service was excellent too. I look forward to adding Cinnamon Bazaar to my next revision of the Best London Restaurant Guide for Foodies.
Want a Food Freebie in London?
Subscribe to the Sunny in London email and immediately get the 'Local's Pocket Restaurant Guide to London.' It's the ultimate free travel accessory for your London trip. The Guide has top recommended restaurants from a local, organised by neighbourhood. With it you can easily find a place to eat when you're on a London street. Downloading the file to your phone means skipping Wi-fi and finding a fab foodie place- fast!