Considering visiting London at Christmas? Perhaps you've been enticed by all the beautiful photos you've seen on Instagram? Maybe you know someone who went to London at Christmas and told you about it? Or perhaps you've seen a British Christmas movie that got you curious?
I've lived in London for eight years and London at Christmas is by far when the town is the most beautiful. Mr Sunny and I make it our mission every year to visit as many Christmas markets, holiday activities and decorated locations as we can.
This means I can give you all the information for visiting London at Christmas in a way that will save you time and money because it's from behind the scenes of a local's perspective.
You can read the text below. Or- watch the YouTube video I published which shares shots of the points I explain.
Visiting London at Christmas- Weather
First, just stop fantasizing about snow caps on Big Ben and Parliament.
In eight years, I have seen snow on maybe 6 days in London. Two, maybe three, of those days were in December. Plus- the famous clock tower has been covered in scaffold for the past few years. So any 'naked' photos you've seen of it are unrealistic at the moment.
A lot of what you see as iconic London in winter photos are very carefully edited images on Instagram.
And they're outdated.
The average temperature is between 40-50 degrees. And yes, it can rain often in December.
You also should know that the days are very short in comparison to America, especially in the southern US states.
Daylight begins around 8am and ends by 4pm.
Visiting London at Christmas- Book Early
The two attractions that will sell out fastest are Winter Wonderland and Christmas at Kew Gardens. So be sure in the end of July that you are watching for those ticket release dates. You actually didn't need tickets for Hyde Park's Winter Wonderland until 2021. Because, Covid changed that.
My weekly emails in which I share all the behind the scenes news of London's food, life and culture will let you know when the booking dates for 2022 will be. And- in the emails you can learn Mr Sunny's Pub of the Week suggestion.
Visiting London at Christmas- Lights and Decorations
Like many cosmopolitan cities, the lights and decorations are magical. However, knowing which ones to see and how to group them together will help you plan your trip when visiting London at Christmas.
I suggest you see these four areas together since they're in close proximity to each other:
Covent Garden
Regent Street
Bond Street
Oxford Street
Then, if you have more time to explore, you should visit Leadenhall Market, Duke of York Square and Christmas by the River at London Bridge.
However, if you are pressed for time and don't mind spending money to save aggravation, you should book a London Christmas lights bus tour that takes you past the main attractions in one easy trip. 
You will sacrifice all the selfies in the individual areas, but if you're not looking to practice your low light photography skills and glow up your Insta, then it could be a viable option for you.
Visiting London at Christmas- Afternoon Tea Bus Tour
There's also another idea for those who want to double up on festive activities. Just before Covid hit I had the chance to take a Christmas Afternoon Tea Bus Tour in Town. There are a few considerations that I bring up in my article that you'll want to take before booking, but I had a lot of fun on my adventure that night.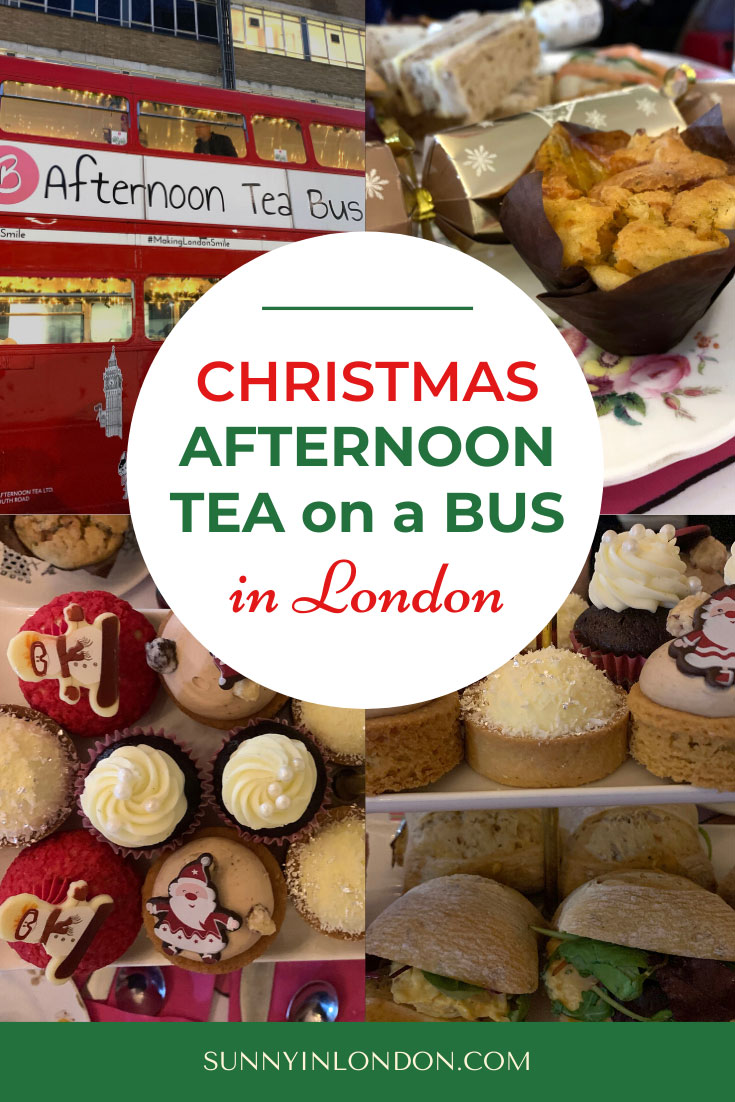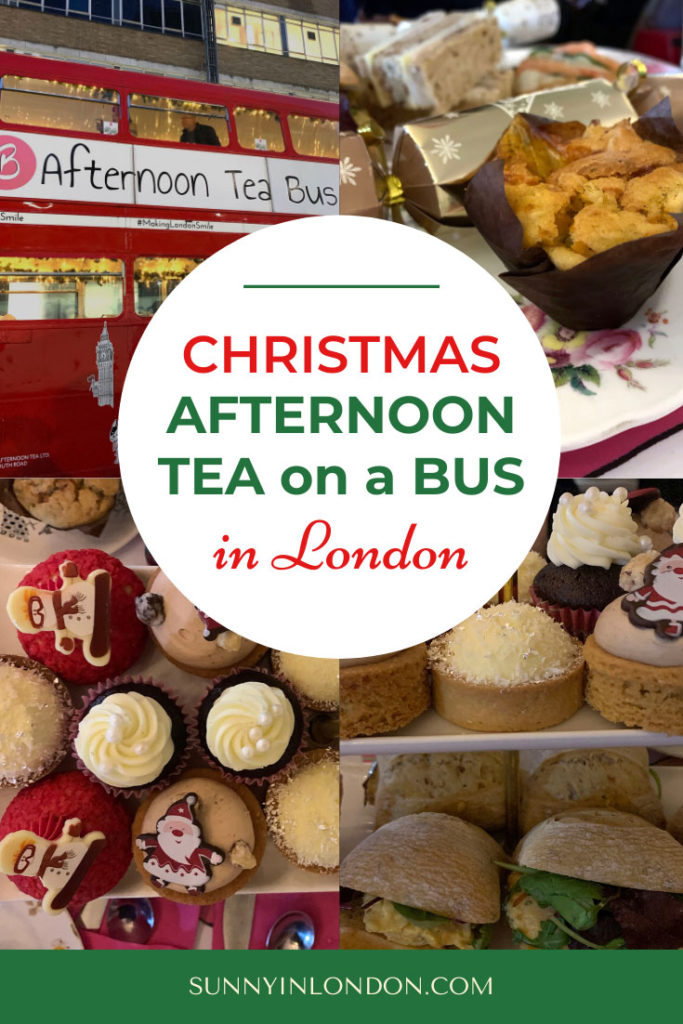 Visiting London at Christmas- Store And Restaurant Decorations
Not only should you be ready for all the major Department stores to show their festive flair, but also there are other places that make a big effort to decorate for the holidays.
Department Store windows not to miss:
Oxford Street- John Lewis and Selfridges
Regent Street- Hamley's
Carnaby Street- Liberty of London
Knightsbridge- Harrods and Harvey Nichols
Specialty Locations:
Clos Maggiore, restaurant in Covent Garden
Annabel's- private members' club in Mayfair
The Ivy, locations throughout London
Tiffany's- Bond Street
Visiting London at Christmas- Trees to See
Since London is a city that is quite big, there are beautiful Christmas trees spread out over many places.
The best ones each year to visit in London are ranked below from best to least preferred:
Covent Garden
Somerset House
Christmas by the River, London Bridge Hay's Galleria
King's Cross St Pancras International Station
Trafalgar Square
If you're from New York City, you will likely think that Trafalgar Square will be the iconic London Christmas Tree to see because of its 'famous' location.
If that's the case, you'll probably want to watch the video I reference above to get the skinny on why you could be wasting your time with the Trafalgar Square Christmas Tree.
Visiting London at Christmas- Food to Eat
As a foodie, I must mention the culinary highlights of the season that you should consider.
Festive afternoon teas at luxury hotels
Street food at Christmas markets
Christmas sandwiches at chain shops like Pret a Manger
Christmas burgers
In fact, I've already made a video just about the food you should eat at Christmas in London.
Visiting London at Christmas- Getting Around Town
Transportation around London is where you will find a big difference in what people visiting London need and what is actually available.
In summary, it can be limited.
For example, on Christmas Day there are no busses, overground trains or underground stations operation trains. So, if you're flying in to London on Christmas Day, book a car service in advance and know that the prices will exceed anything you've seen elsewhere on the internet.
Additionally, I've been at many Central London stations in December where they temporarily closed at peak times due to overcrowding. Yes, I eventually got on a train. But, rather than being trapped underground with masses of people, I stood in a large, unorganised crowd outside the station and waited for it to reopen.
Also in 2021 the TFL (Transportation for London) held several strike actions on key shopping and travel weekends. Luckily, I was able to plan around them because of the advance notice. However, if you're on a trip visiting London at Christmas, you will want to keep these possibilities of closures and delays in mind.
Visiting London at Christmas- Pubs
While you might not be able to catch a ride easily on public transportation, you can always count on the Brits for a place to drink during the holidays.
You'll find many pubs and restaurants open on Christmas Day, but again the best ones will be booked early. To learn more about the special things London Pubs do at Christmas, watch the video below.
Visiting London at Christmas- No Guarantees
Through Covid, we've learned that even the most beloved restaurants and activities could cease at any time.
In 2021 we've seen the cancellation of the New Year's Eve fireworks for the second year in a row. Also, the Night Tube, which is usually free on New Year's Eve, will be charging ticket fees.
Your best bet is to plan for the unexpected and be willing to adapt, reschedule or cancel.
Visiting London at Christmas- The Queen
If you know- you know. And that means- you tune in at 3pm to watch the Queen's Speech if you know how to truly be a subject of the Crown.
Each year Her Majesty the Queen addresses the United Kingdom. Her speech usually features a theme of unity and inspiration. However, this year I anticipate it will be quite somber.
She has lost her life companion and we're no longer part of the European Union. Further, it's the second year we've fought a virus and have restrictions on our holiday festivities. She also has a son who is entrenched in an American billionaire's scandalous activities with female minors.
And then there's those two that have popped off to the US and used every avenue they could to prosper from her Royal heritage.
Yeah, we'll all tune in this year and be keen to hear her address.
God Save the Queen. She needs it!
Visiting London at Christmas- Boxing Day
While British people can't really articulate a clear idea of what this Bank Holiday really means, it's important to know about what actually happens if you're visiting London at Christmas.
You can research the history behind the day after Christmas to find it's true derivation. However, British people traditionally eat leftovers (Bubble and Squeak) and hit the Boxing Day sales at all the retail stores.
Over the past few years the impact of these sales has been decreased by the adoption of Black Friday sales in England.
I have no idea why, since Black Friday is a truly American shopping concept and I review that in the video below.
Nonetheless, if you're visiting London at Christmas you'll want to be prepared for what happens during the Boxing Day sales.
Department store queues can be long before they open but most Londoners aren't too fussed about being the first ones in shops, unlike Americans. You will find crowds later in the day so it's best to hit those deals early to avoid disappointment.
I scored some amazing prices on shoes at Selfridges the year I set my alarm and started shopping a few hours after sunrise.
Visiting London at Christmas- Final Thoughts
What are your biggest questions and concerns about visiting London at Christmas that you think I can answer? Please write them in the comments below.
I have tons of articles on the topic on my blog as well as video. You don't want to miss those for more ideas about how to plan your trip to visit London at Christmas.