Sunny friends, the Brigit's Bakery Christmas Afternoon Tea on a Bus in London is the trifecta for London food lovers during the holidays!
This unique bus tour around London could tick all the boxes for a person who loves London, delicious food and Christmas.
Along with 29 other travel bloggers, I was invited to attend a special trip around London for the purpose of previewing the Brigit's Bakery Christmas Afternoon Tea. For quite some time, I have wanted to take an afternoon tea tour on an iconic Routemaster bus with this company. When they first launched in 2014, I was a bit wary because I am not the most coordinated person. And while you wouldn't think a lot of agility is needed to eat food, the thought of taking pictures and reviewing it at the same time is intimidating. But the more I saw the variety of tours they offer growing, the more I realised that the idea of a travelling tea was a smashing hit with people in London.
So this is how the experience goes…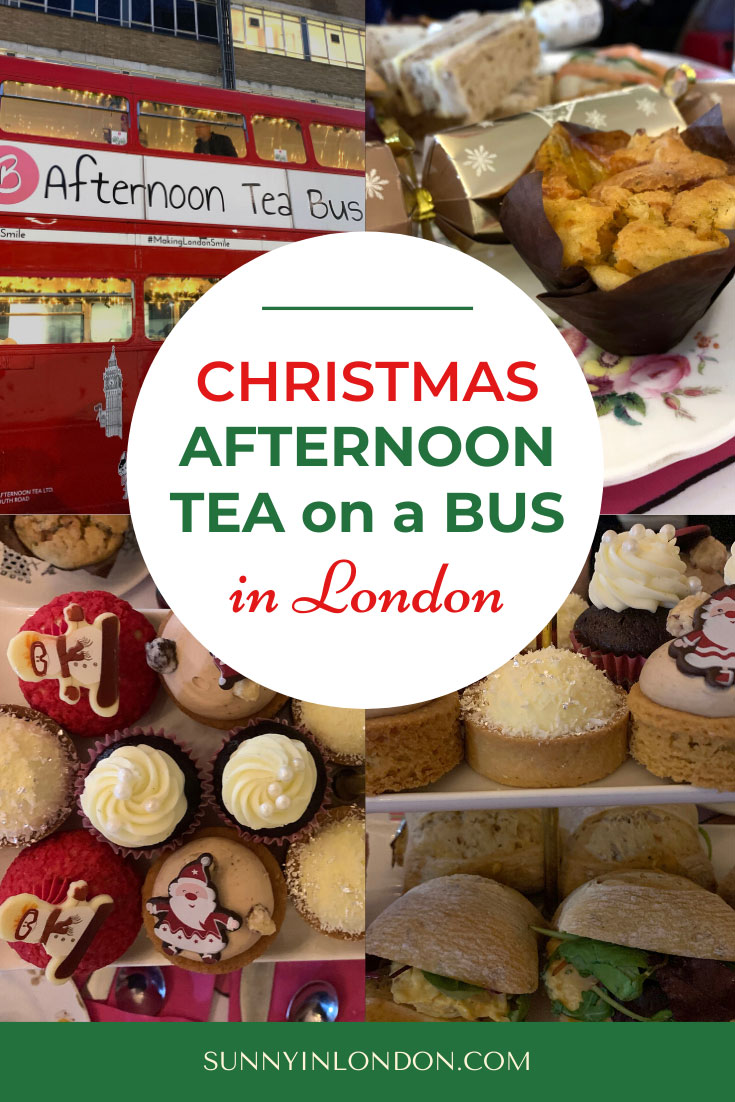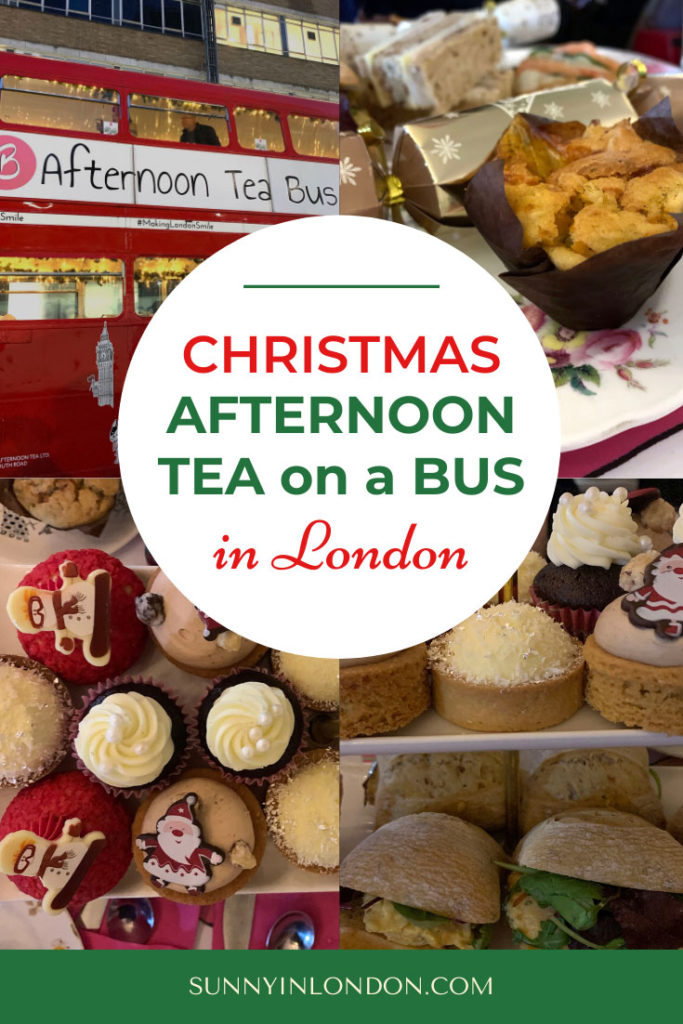 Christmas Afternoon Tea on a Bus in London- The Food
This is the first category I want to tell you about because it is the biggest surprise for me. I rate the food 5 stars and this is why…
Not only is everything super tasty, but also it is really fresh. It is always disappointing when you go to a luxury hotel for afternoon tea and are served stale bread. No matter how decadent the pastries are during the last course, that crusty impression from the sandwiches stays with you.
Honestly, I had low expectations of the food going in to this afternoon tea. It didn't seem probable that food could be prepared and transported on a bus to Victoria Station and maintain it's original intent for quality and taste. Brigit's Bakery has masterfully defeated this obstacle.
When we stepped on to the bus, all of the tables were beautifully set. This includes every food item except the basket of scones that we were served about half way through the journey.
To me, that's a Christmas afternoon tea miracle!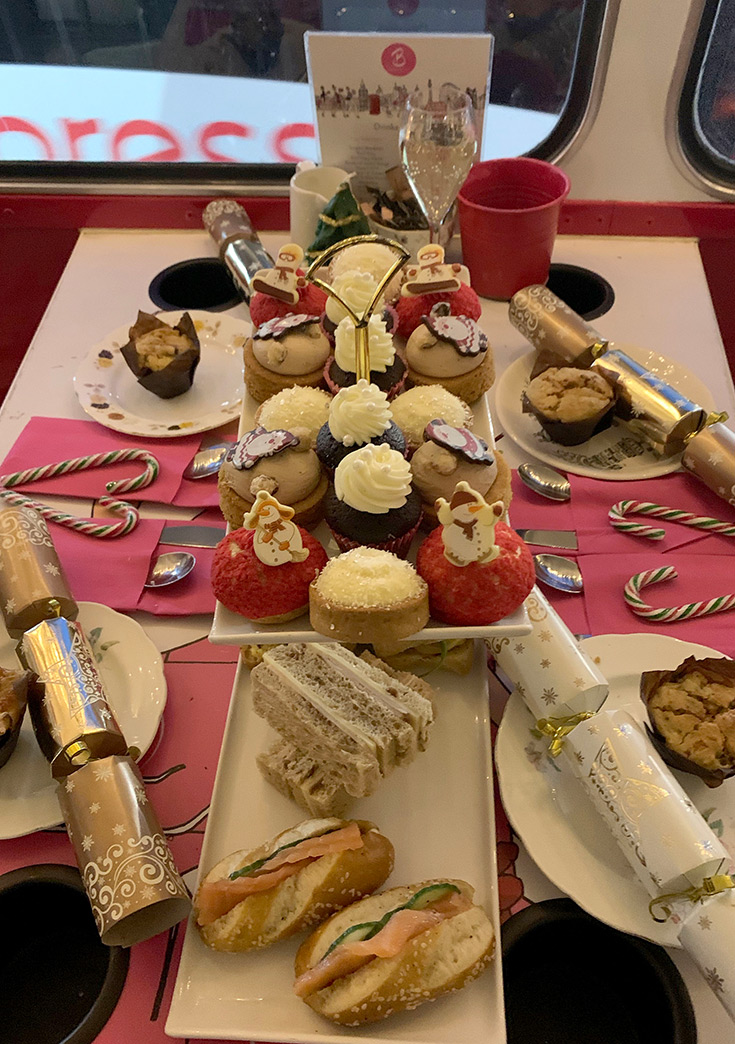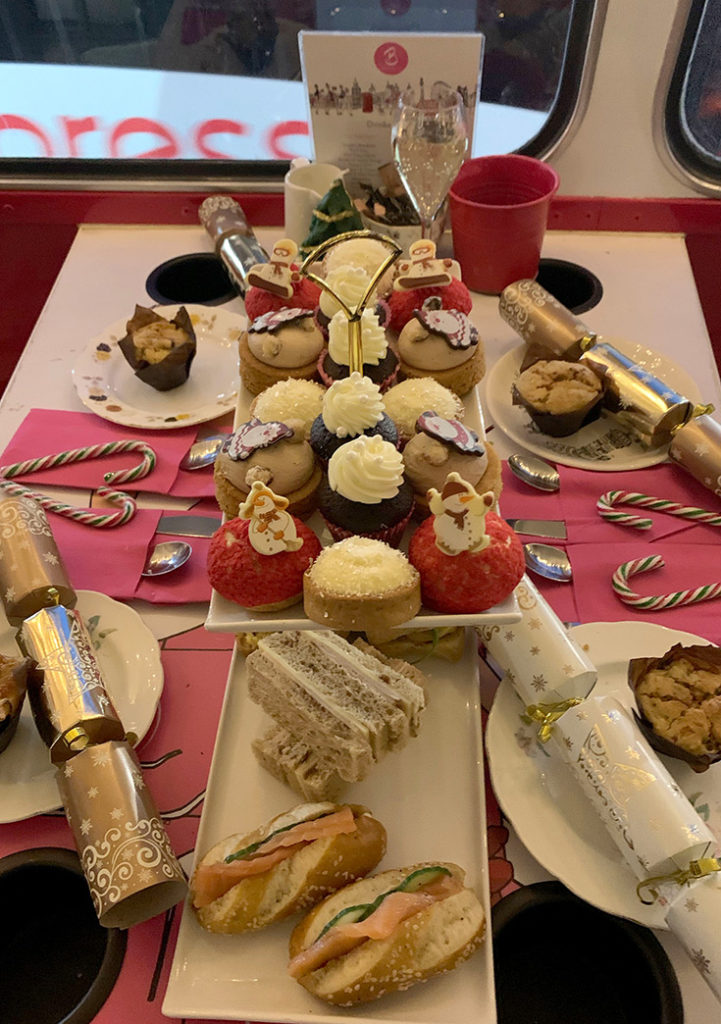 Christmas Afternoon Tea on a Bus in London- The Journey
This is where the experience could get a bit dicey, Sunny friends.
I had a blast on the journey and created a highlight video on my Instagram for you to see more of the experience.
However, there are a few things you need to consider before determining if this experience is for you. Foremost, let's consider that you will be drinking.
We had complimentary Prosecco and several top ups each. This could be problematic for some people. While they advised us that we could enjoy the Prosecco before the tour started, it came with a disclaimer about the bus not stopping once it got rolling.
Do some quick processing about what that means, Sunny friends.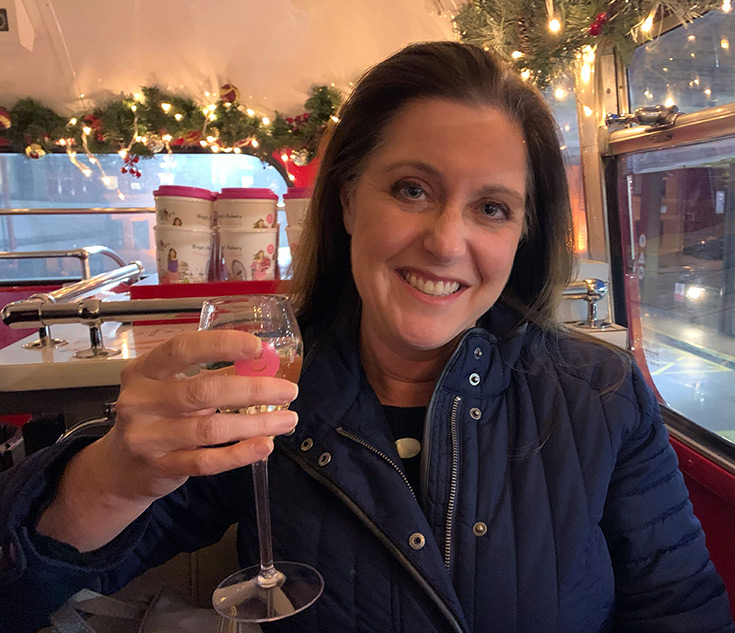 Next, there were cupholders at each place setting for guests to put their plastic Prosecco glasses, coffee or tea. They are there for a reason. The ride is bumpy and many times the bus stopped quickly, because that's normal for busses navigating through London streets. I used a DJI Osmo Mobile Smartphone Gimbal which is on my UK Amazon Gear List (US Amazon readers find it here). I also applied Stabilisation effects while editing the video.
A few bloggers ended up with Prosecco on their lap at different times in the evening. I am not sure if it is because they were busy taking selfies and forgot to put their glasses in their cup holders or were just careless. But, I didn't have any issue with spilling my drink. And, I had three glasses.
To be honest, since I have lived in London for 6 years and have reviewed nearly every attraction (check my trip planning guides if you are visiting London), I wasn't that focused on sight seeing during our early evening trip. If this is your primary goal, the combination of afternoon tea and touring London might not be for you. Because the food is so good, you might be distracted away from the London landmarks.
Further, in a moving bus you won't get the best focused pictures of these iconic locations. This is especially true if you are on the bus at night because you will catch some serious glare from the windows.
However, if you want to say you did something truly unique in London- riding a Routemaster bus while eating the most iconic meal in the UK- this afternoon tea is a must do!
But, if you think the journey would be too shaky, at the very least you can stop by their Covent Garden location. I walk by it all the time and it's quite popular!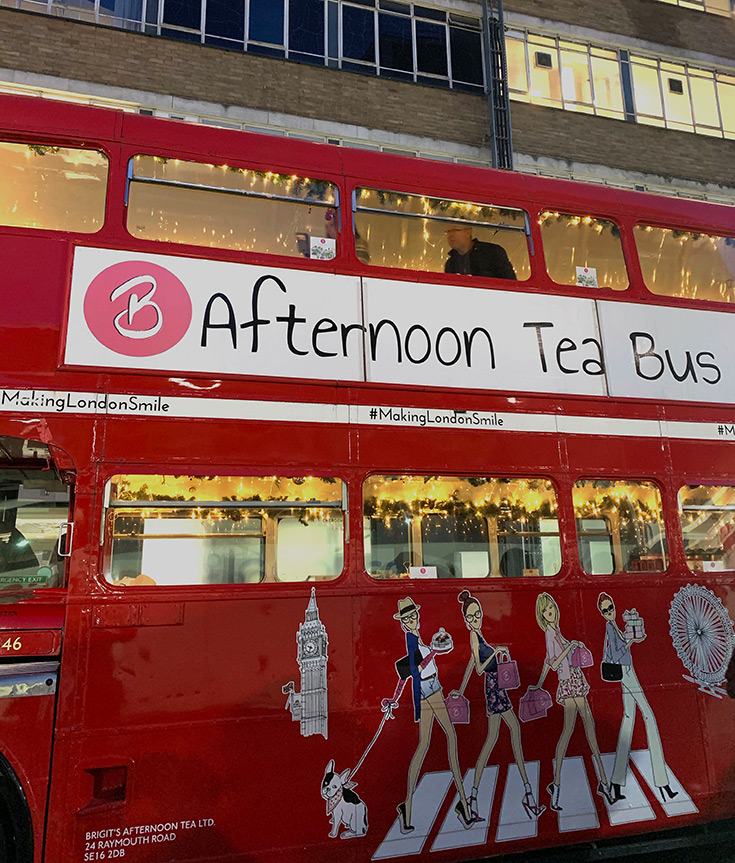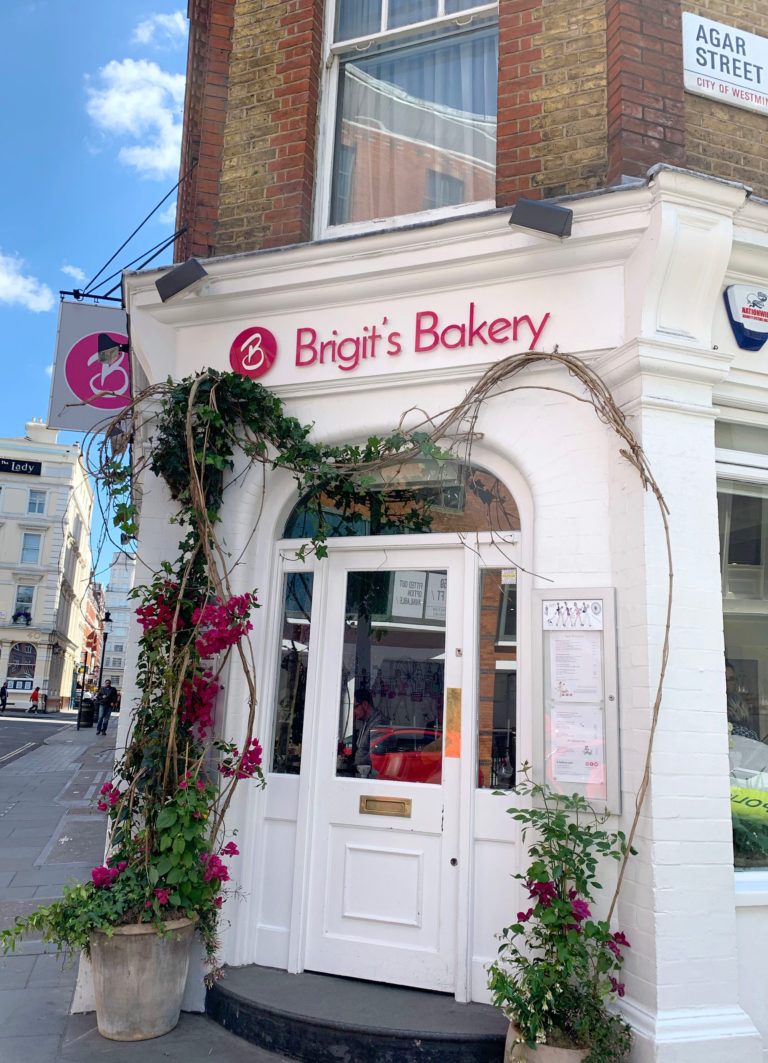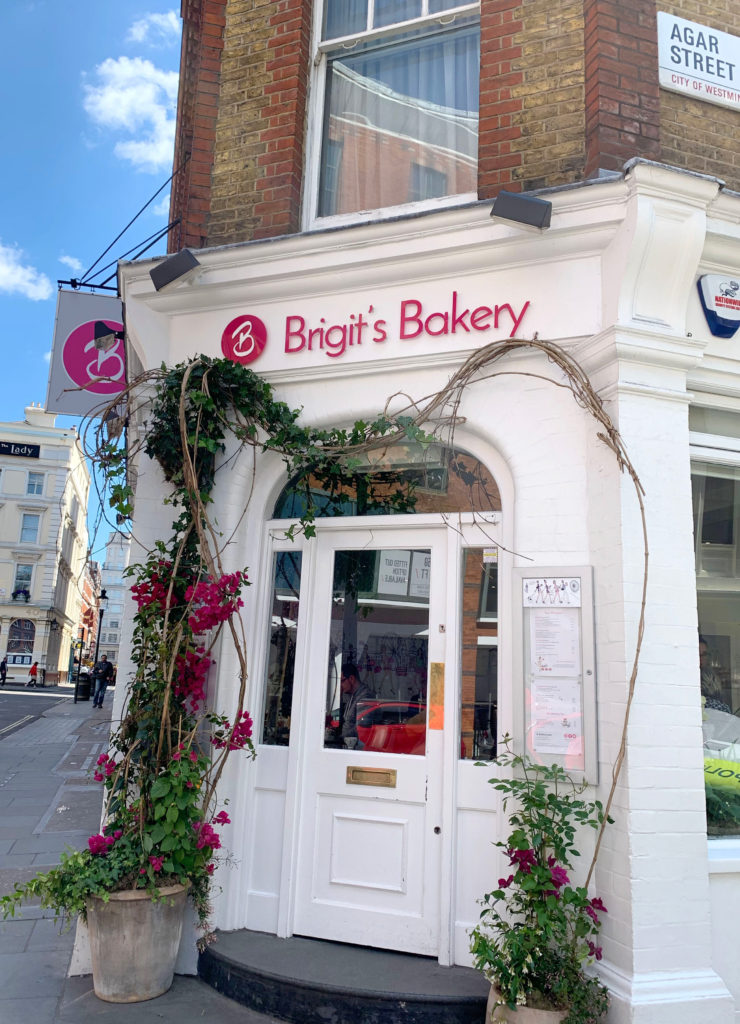 Afternoon Tea on a Bus in London- The Length
Another huge bonus of this afternoon tea on a bus in London is the fact that there is a clear end time. Assuming you don't get stuck in any unusual traffic, you will know when your experience ends.
My biggest 'negative factor' with afternoon teas in London is their length. I have been held captive at luxury hotels for nearly three hours for this food experience. After indulging in a carb fest of sandwiches, scones and pastries, I generally feel uncomfortable and lethargic. Americans, when I say I feel like a Macy's Thanksgiving Day Parade float, you know what I mean!
If I could change anything about the traditional afternoon tea, it would be to speed up the process. So, being on the afternoon tea tour bus with Brigit's Bakery for 90 minutes was a dream come true for me.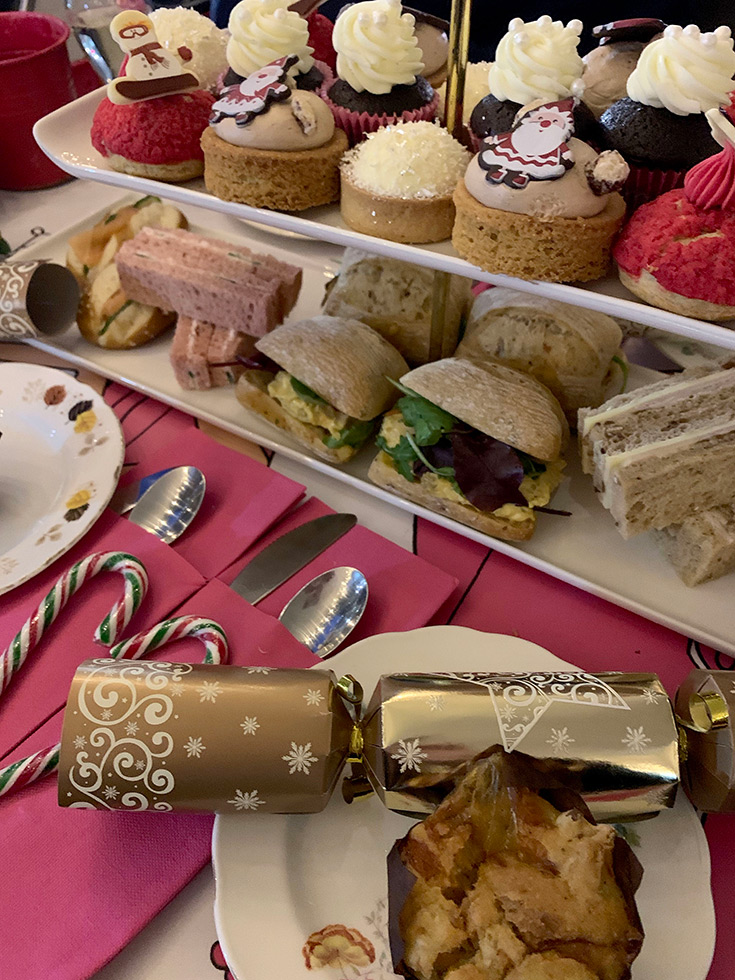 Afternoon Tea on a Bus in London- Other Options
The Brigit's Bakery Afternoon Tea Bus Tour is the first brand to do this type of bus tour in London. The best news for those who can't go to the Christmas Afternoon Tea is that they have TONS of other options during the year. Some of them include:
Gin Lovers' Afternoon Tea
Halloween Bus Tour
Cinco de Mayo
Mother's Day
Valentine's Day
Chelsea Flower Show
St Patrick Day
Movie Themed
Chinese New Year
They have these dietary options available:
Traditional Afternoon Tea
Vegan Afternoon Tea
Vegetarian Afternoon Tea
Halal Afternoon Tea
Gluten Free Afternoon Tea
For those living and/or working in London, they have delivery service as well!
Christmas Afternoon Tea on a Bus in London- Final Thoughts
For the menu, prices, tour options and gift vouchers, it would be best to visit the Brigit's Bakery website.
What do you think, Sunny friends? If you love food, travel and the holidays, would you put the Christmas Afternoon Tea on a Bus Tour in London on your list for Santa? What other unique food experiences have you had in a city?
And please, drop me any questions you have about my evening as a guest with Brigit's Bakery too!
Want a Food Freebie in London?
Subscribe to the Sunny in London email and immediately get the 'Local's Pocket Restaurant Guide to London.' It's the ultimate free travel accessory for your London trip. The Guide has top recommended restaurants from a local, organised by neighbourhood. With it you can easily find a place to eat when you're on a London street. Downloading the file to your phone means skipping Wi-fi and finding a fab foodie place- fast!