What Christmas Market is the best for a person who loves London and Christmas? The London Bridge Christmas Market! If you haven't been there yet, you must put this on your Christmas bucket list for a London trip.
If you've been reading the Sunny News on my blog, you know that I am super excited about Winter Wonderland every year in London because it combines theme parks and Christmas. As a girl who grew up in Florida who has a festive spirit, this is the dreamiest place to be during the holidays.
That was until Mr Sunny took me to 'Christmas by the River'. This area is also known as London Bridge City. It's billed as the 'most scenic Christmas market under the stars.' And once you go, you know.
General Information
Like nearly everything in London, it was closed in 2020. However, it's up and running for 2021. It officially opened on 16th November and will remain operational (we hope!) until 2nd January 2022.
The daily hours are Sunday-Wednesday 11.00am-21.00pm and Thursday-Saturday 11.00am-22.00pm.
Additional holiday hours to note are:
Christmas Eve- 11.00am-17.00pm
Christmas Day- closed
New Year's Eve- 11.00am-20.00pm
2nd January- 11.00am-17.00pm
London Bridge Christmas Market- Where is the market?
It's located on the south riverside of the Thames. However, if you're from London, you would know this because you actually know which bridge is London Bridge. Most people who are not familiar with London mistakenly think that the iconic Tower Bridge is London Bridge.You also know where the overground and underground station is too. It's a popular one for linking to overground trains, as well as trains to Gatwick airport.
While they are not too far from each other, there is a big difference between the two. The London Bridge Christmas Market is basically located between these two famous bridges.
If you're arriving via one of the train stations, walk to Hay's Galleria when you leave the station. The Christmas tree is always a beautiful place to grab a few pictures for your Instagram. Plus, the Hay's on the River cocktail bar is not something you would want to miss due to its gorgeous holiday decor.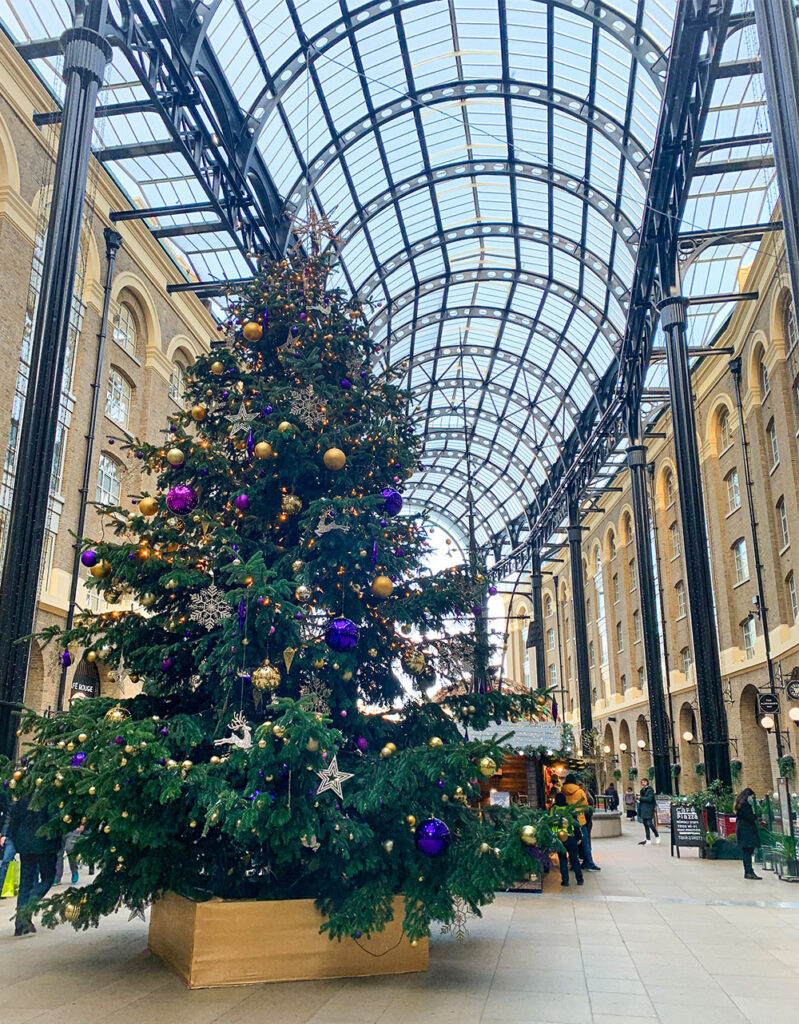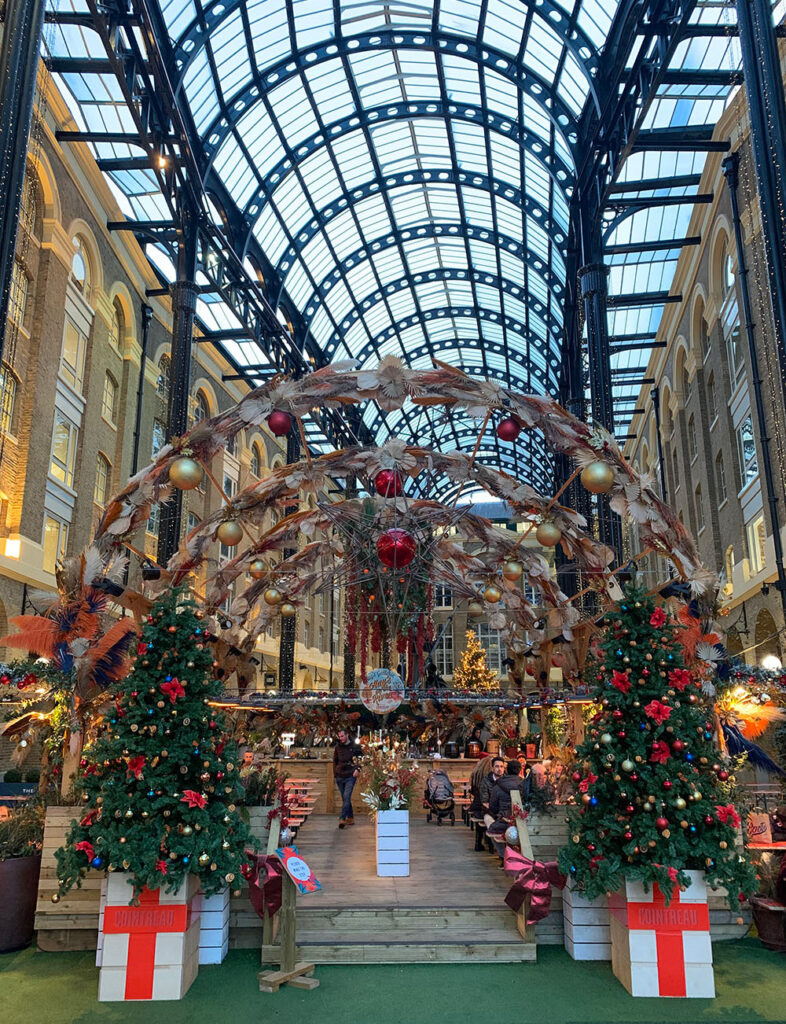 Once you have a little sip of some spirits, exit the galleria toward the Thames. Most of the London Bridge Christmas Market stalls are to the east, which is in the direction of the unmissable Tower Bridge. We did find a few heading west toward the London Eye.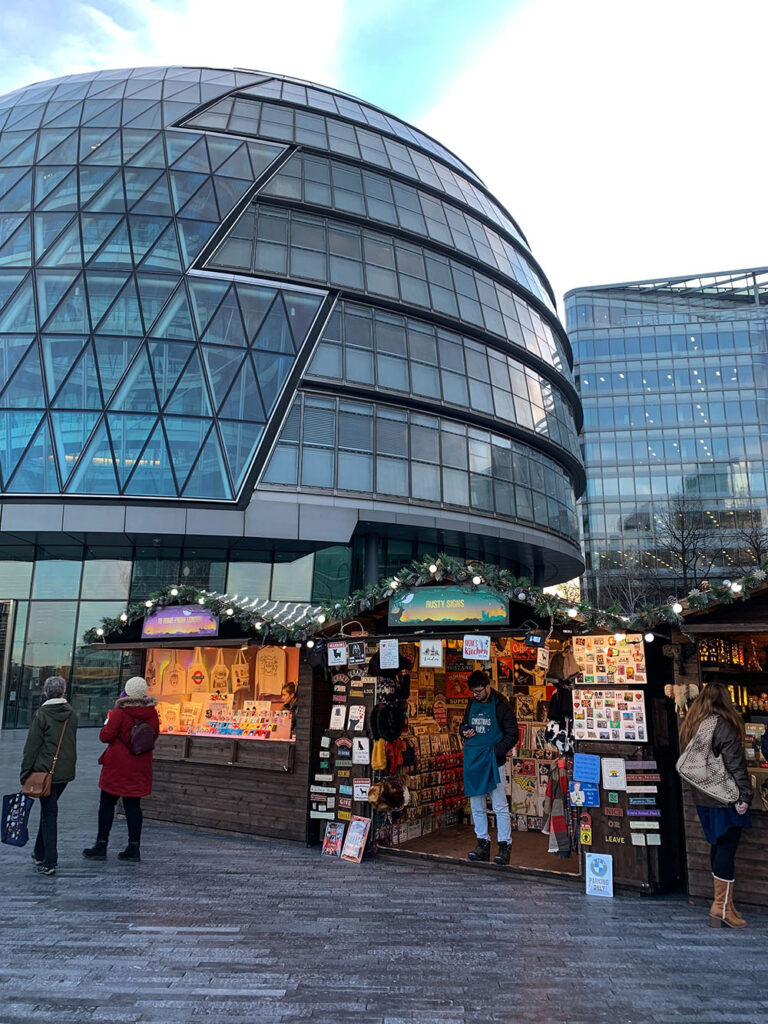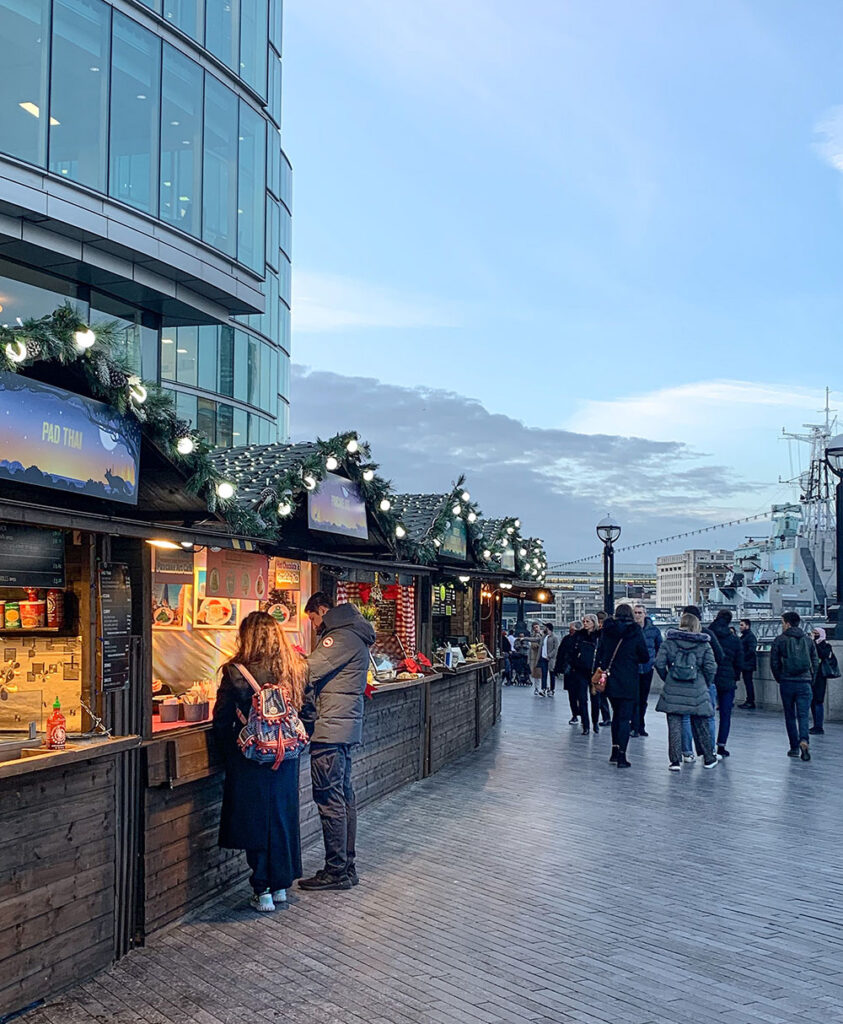 London Bridge Christmas Market- What to Eat and Drink
As a foodies, this is where Mr Sunny and I put most of our attention. Of course Mr Sunny was sussing out the beer opportunities as soon as we arrived.
Perhaps the most obvious beer stop is The Horniman at Hays. This Nicholson's pub is popular for the after work crowd. The tables outside give you views of the most iconic features of London's skyline. However, this clearly is available year round. So, what's specifically there for holidays?
There are several pop up bars in the London Bridge Christmas Market. We stopped in the Riverside Lodge. Since we visited the market late on a Thursday afternoon, it wasn't busy at all. However, there was a small table for a DJ, so I imagine it gets pretty lively at night.
We did notice a few people sitting inside who were not having cocktails, mulled wine or beer and were simply sipping coffee or eating food they purchased from other stalls. This was despite the numerous signs outside the Riverside Lodge that indicated it was for their specific customers only. However, later I will attempt to provide reasoning for why these people took cover in this area.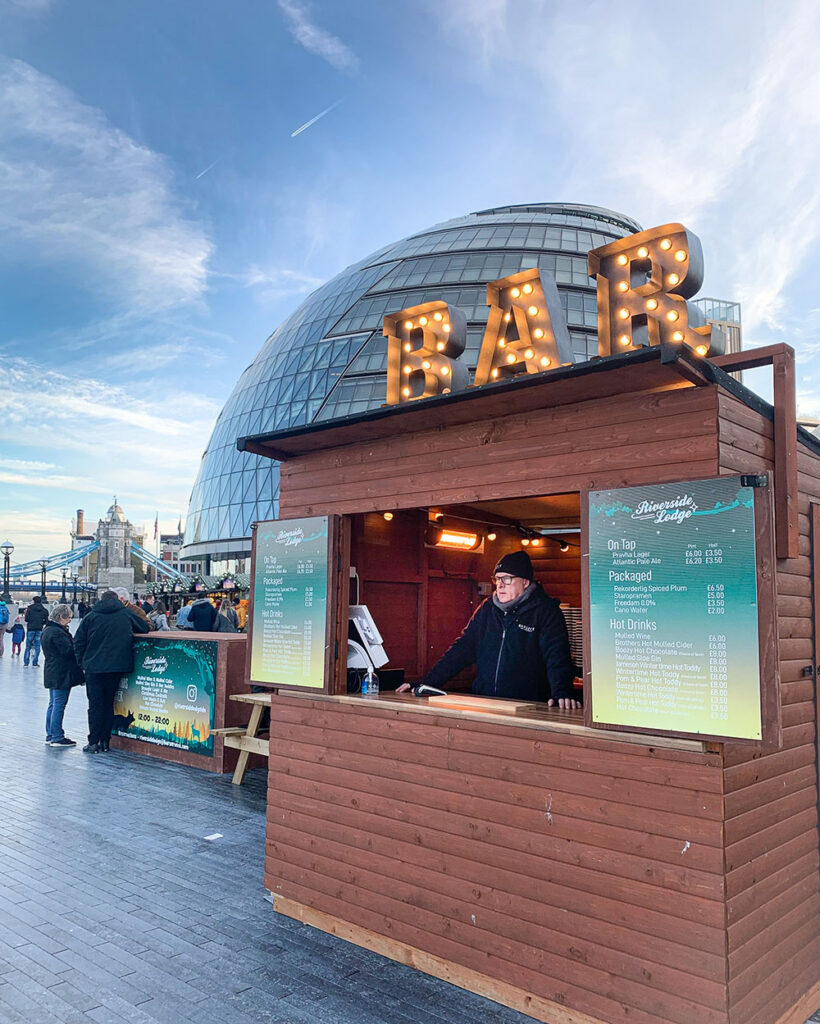 Mr Sunny and I walked the length of the London Bridge Christmas Market observing all of the food options presented at the stalls. The selection has a range of international cuisines including: Thai, Mexican, German, Chinese and Indian. You can also find fried chicken and burgers.
While many looked tempting, we opted for our traditional Christmas market street food favourite- sausage. Our Polish sausages were cut in half and lined with grated cheese (that's 'shredded' for my American readers). We felt they were better and a little cheaper than what we had this year at Winter Wonderland. Except for one thing. Again, you'll hear about the one big negative to our visit in a minute.
And of course, what London Christmas Market would be complete without the temptation of seasonal sweets!
You'll find endless options. They include winter themed macarons, crepes packed with Nutella and the hottest item at the London Bridge Christmas Market- coloured pancakes.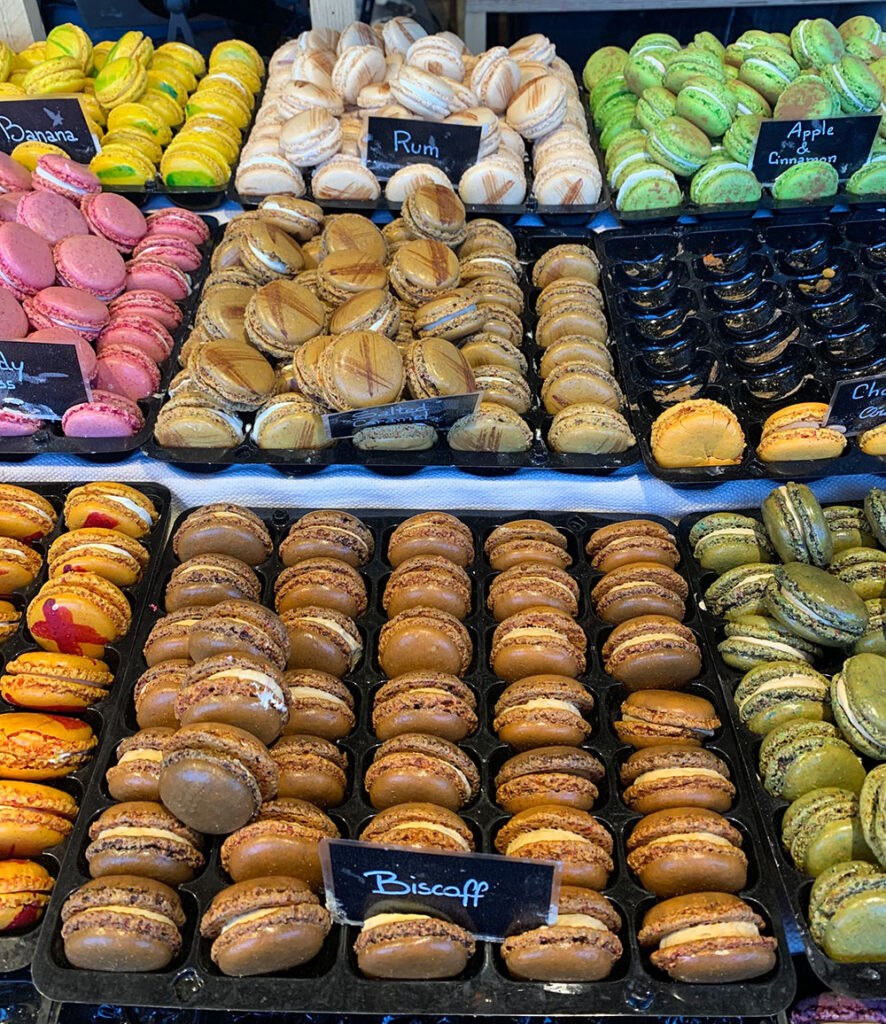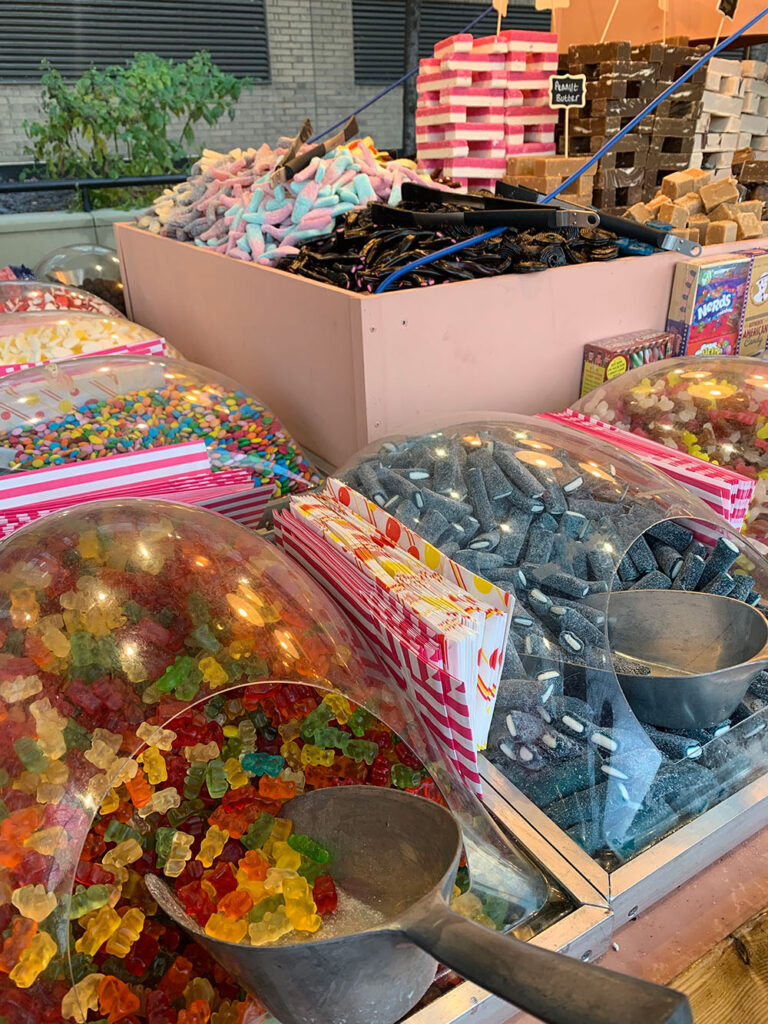 Sadly, I wasn't able to grab a shot of the pancakes but you can easily see them all over Instagram since they're mega popular this year.
I did have a Biscoff macaron and it was literally melt in my mouth AHHHHH-may-zing!
London Bridge Christmas Market- What to Buy
If you're hitting the markets actually to shop, rather than eat and drink like us, then you will also find the London Bridge Christmas Market a better option in comparison to the others around London.
Aside from the typical snow globes and Christmas ornaments, you can also find a stall for London Souvenir maker To Home From London. This company offers an eclectic selection of items including kitchenware, accessories, home decor, apparel and stationary. It doesn't look like the typical tourist trappy stuff either.
London Bridge Christmas Market- What to Beware of
You're probably thinking that I will suggest to watch your wallet because there are pickpockets at the London Bridge Christmas Market. London has always had a reputation for petty thieves running around town. However, this is far more serious…
You seriously need to beware of the seagulls and this location.
It wasn't until I had my first ever Cornish pasty ripped violently from my hands when I was visiting St. Ives that I learned the power, aggression and determination these creatures carry.
Be sure to have a plan for where you are going to eat your treats under cover as soon as you purchase them, or you could be a victim like me. They are lurking around all the food stalls and they are really, really, really BIG!
Mr Sunny and I immediately took our polish sausages to a little alcove area and devoured them without being attacked. We actually didn't see anyone have their food grabbed from them while we were there, but trust me- it's very possible!
London Bridge Christmas Market: Final Thoughts
If you want all the benefits of a London atmosphere and fantastic photo opportunities with it as your backdrop, then the Christmas by the River market is a holiday activity you can't miss. If you go, be sure to dress extra warm since it does get a bit chilly by the river. I would love to know what you think of it too.
For more London Christmas information, you can watch these videos:
What are your favourite London experiences that you recommend to people?