Why do I visit Hyde Park Winter Wonderland in London every year? Let's break it down quickly. I grew up in Daytona Beach, Florida which is 60 miles from Orlando. It's undeniably the theme park capital of the world. In fact, I worked at Universal Studios for a few years after finishing my internship with NBC News London Bureau, where I met Mr Sunny.
And… I LOVE CHRISTMAS!
So, if you love the theme park atmosphere and Christmas, then the seasonal experience of Hyde Park Winter Wonderland in London is for you too.
Watch the Hyde Park Winter Wonderland in London Experience
If you want to literally see how much fun this holiday event is in London, then I have you covered. Mr Sunny and I filmed all the highlights of food, rides and markets and published it on the Sunny News channel.
Admission to Hyde Park Winter Wonderland in London
With last year's closure due to the pandemic, there is a lot to look forward to in 2021 at Hyde Park Winter Wonderland. However, there are some big changes to note as well.
Foremost, you must book your tickets in advance online. I literally booked ours the first day it was possible in early August. I knew to do this because I subscribe to their email. The upcoming changes were clearly communicated in advance, so I had time to consider and research options.
The biggest variable was really the weather.
I know- this is ironic from a blogger who calls herself 'Sunny in London.' But, the name was created to distinguish myself when I arrived here in 2013 and to promote a positive vibe.
When you book tickets you must choose one of three entry times: 10am, 1pm and 5pm. No matter what time you enter, you can stay until the event closes that evening. We chose 1pm this year and found it worked really well. It allowed us to both experience Hyde Park Winter Wonderland in London both during daylight hours and night.
You do know that it gets dark around 4pm in the winter in London, right?
Since we are equally as excited about food and drink as we are the rides, Mr Sunny and I booked a package at the Bavarian Village. This is because if you spend £20 on any attractions, rides or games online in advance, your entrance ticket is free when booked in the same transaction.
Our total was £33. This is the breakdown.
1 Adult/teen Entry (standard) £5, 1 Adult/teen entry (standard) free
Booking fee £3
Food package from 10am, Bavarian Village Food package, 2 x Food to Go Bratwurst Deal- Alcoholic Drink £25
If you don't book any additional items, then entry is free during off-peak periods and costs £5 or £7.50 for peak periods.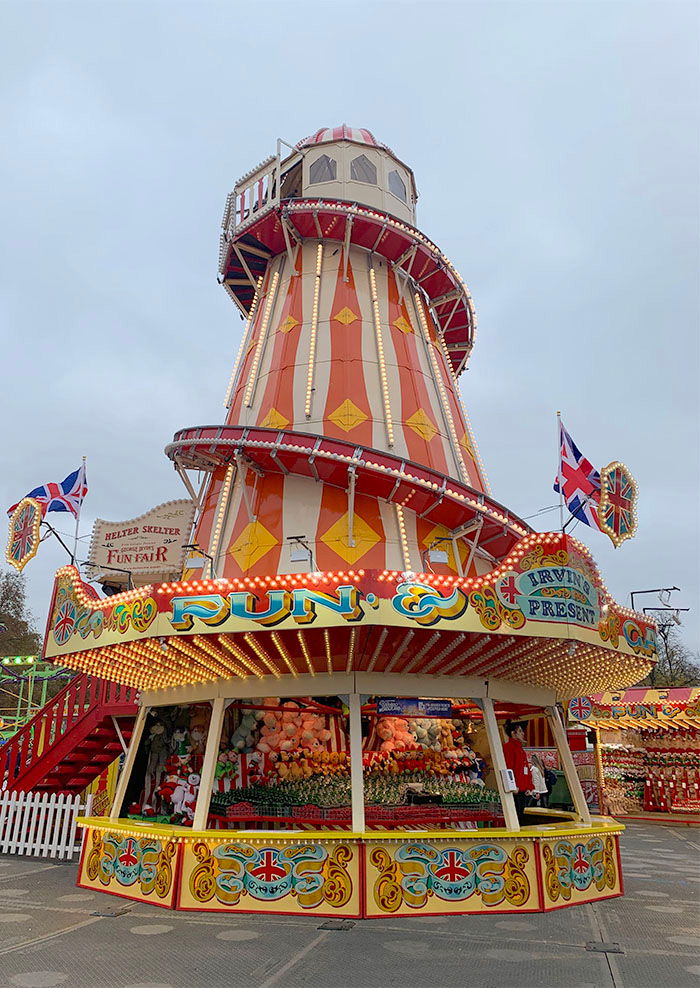 Thoughts on Admission to Hyde Park Winter Wonderland in London
No one ever wants to pay for something that previously was free. However, after we arrived at 1pm on Friday 19th November, we saw the difference it made.
As Mr Sunny commented, 'This is far more civilised.' And I agree completely.
Since you can't just rock up to the gate, it eliminates a lot of last minute visitors. It also seemed to cut down on the amount of pick pockets.
Personally, I would happily pay this entry charge with the option of having it waived by spending a certain amount. Being able to walk through easily from the Christmas market booths to the food stalls to the rides was a refreshing change.
What do you think? Leave me your ideas in the comments.
Food at Hyde Park in Winter Wonderland in London
Christmas market food always has a special place in my heart. Maybe I should say stomach?
We traditionally enjoy Bratwurst sausage and crepes when we visit Hyde Park Winter Wonderland in London. This year had a delicious little twist after we solved the mystery of how to use our pre-paid vouchers.
No one working at the food stalls in the Bavarian Village seemed to know what to do with them. Eventually we discovered that they could only be 'cashed in' at one location. Once we got our Bratwurst, we received two drink tokens. You can see Mr Sunny's Bratwurst and mountain of sauerkraut in the above YouTube video.
I opted to skip a crepe this year because during the pandemic we purchased quite a bit of Le Creuset baking pans and cookware. This included a ginormous crepe pan, so we make them often at home now. (If you have any tips on how to perfect one- I would be grateful if you left them in the comments.)
Instead, later in the evening we chose to check out the Street Food Festival that's been added to Winter Wonderland. This proved to be a great move. I had a fab Mexican themed scoop of mac and cheese from the Mac Factory.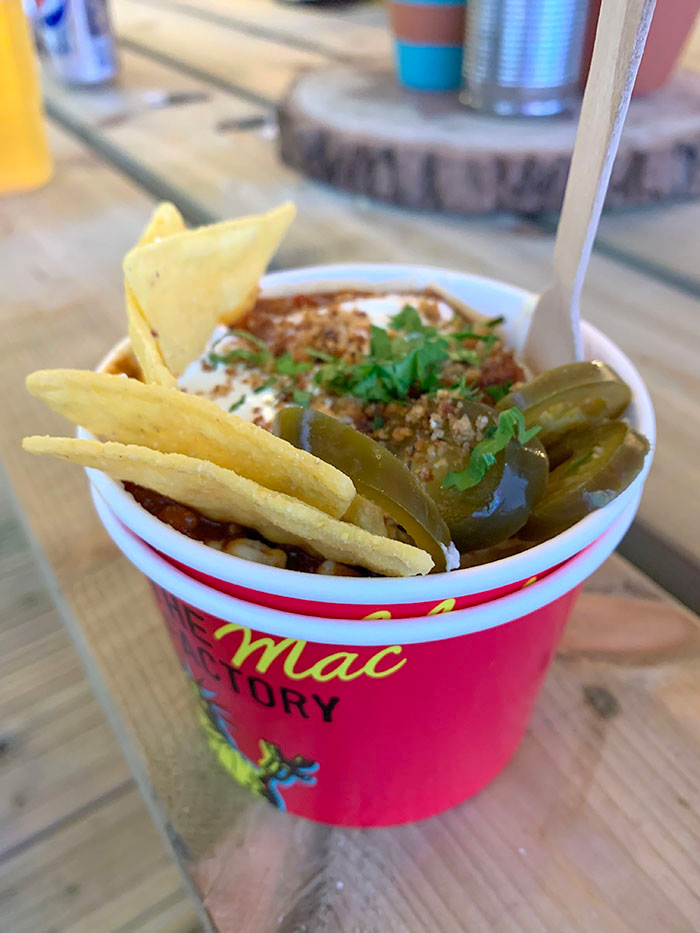 Some of the food companies you will find there are: Halal Guys, Doughlads, Meltsmiths, El Pollote, Freewheelin' Pizza, Truffle, STAKEhaus, E8Fish and Oh My Dog! The big star seems to be EL&N cafe.
Thoughts on Food at Hyde Park Winter Wonderland in London
It's fair food. Pun intended.
Expect food that's kind of warm but not hot and sitting outside all day. You know you will pay a lot more than what it is actually worth but that's part of the experience at a theme park, isn't it?
However, as indicated, the Street Food Festival really is a nice addition this year. And since there is staggered admission that's no longer free, there was plenty of space to sit and enjoy our food while we were there.
But- if you're a bit OCD like me, you'll want to make sure you have hand sanitiser and wipes with you at all times. It didn't look like the benches and tables were being wiped off as quickly as I would have hoped.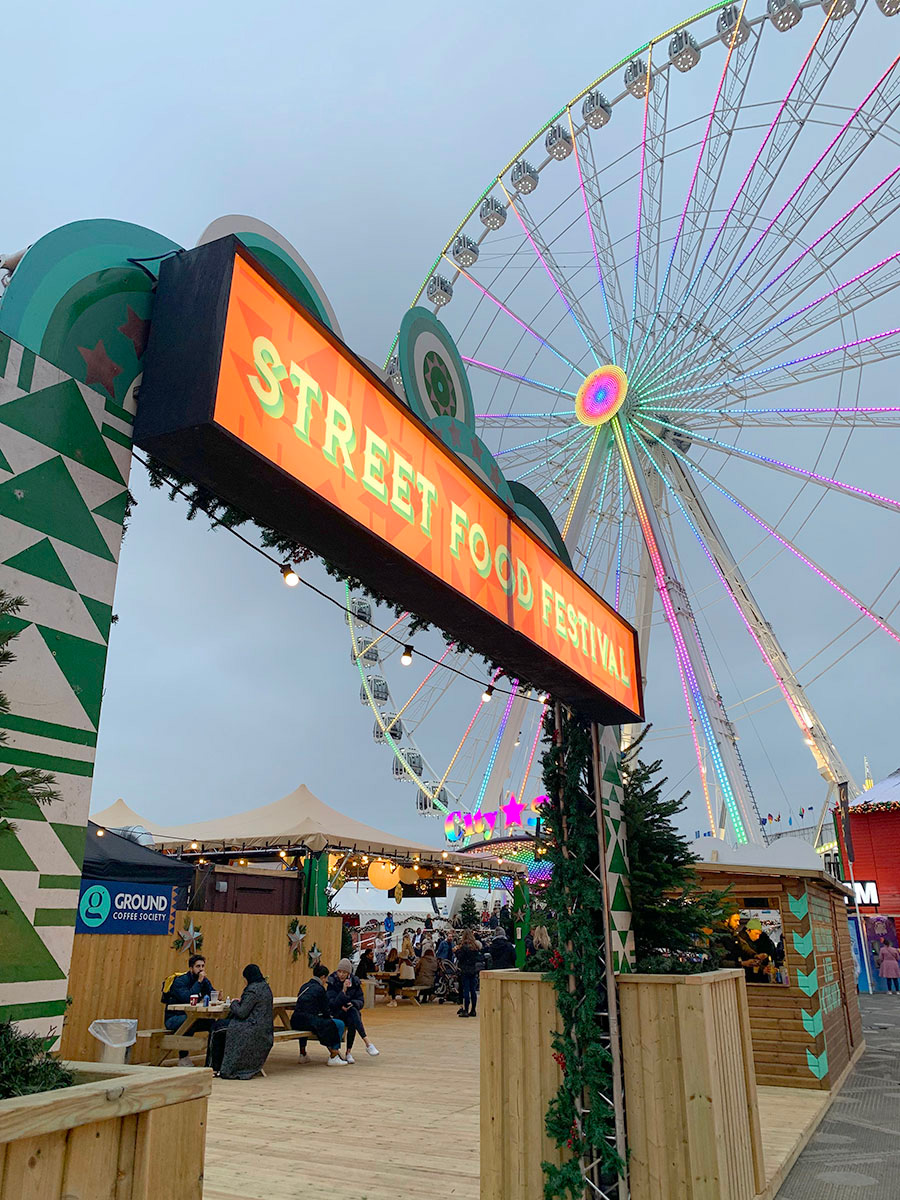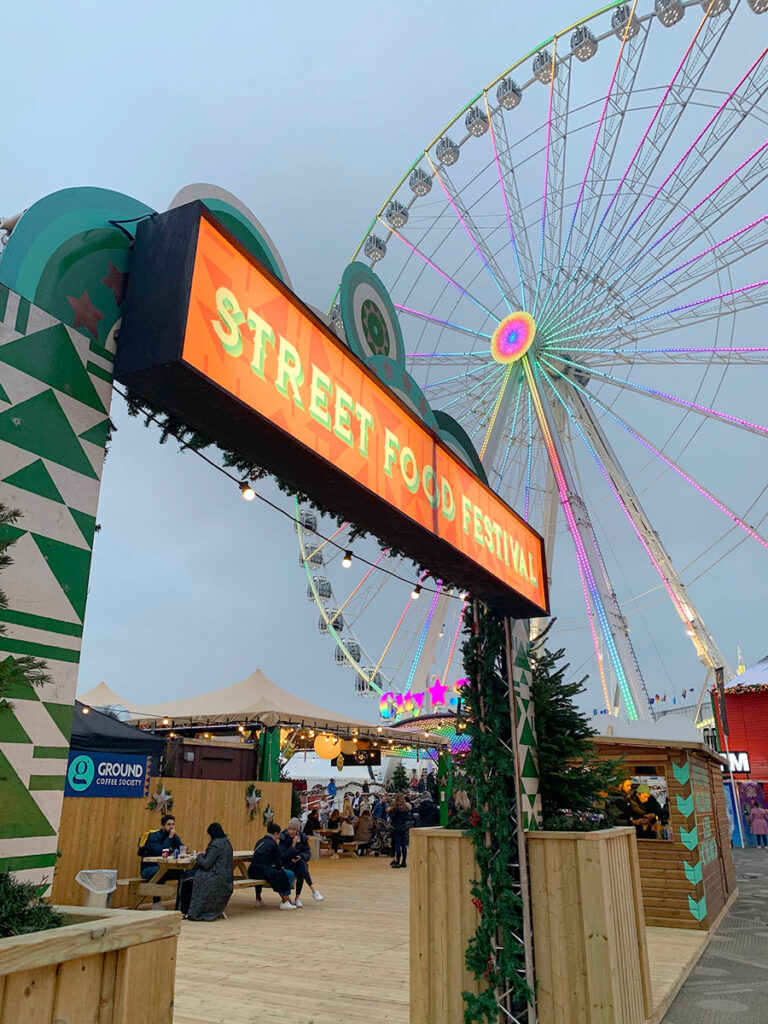 Drinks at Hyde Park Winter Wonderland in London
Mr Sunny skipped his annual Stein at Hyde Park Winter Wonderland this year. But, we did make our yearly pilgrimage to the Carousel Bar, Santa's Pub and our favourite- Thor's Tipi. It is very ironic, but we found the most 'chill' atmosphere in the later which features a warm, cosy environment with tons of mulled wine, hot chocolate and Prosecco.
Worthy of a special mention is Bar Ice. It's billed as the 'coolest' bar at Winter Wonderland and as an insta-worthy haven. We opted to skip it because twice we had been to the Ice Bar in London. Sadly, this bar on Heddon Street closed during the pandemic.
If you've never done anything like it- I would highly suggest booking a session during your Hyde Park Winter Wonderland in London visit. Bar Ice sessions are 20 minutes long, just like they were at the venue Mr Sunny and I experienced. While you might think the -10°C would be unbearable, the gear they give you makes it easy to enjoy your plunge.
Thoughts on Food at Hyde Park Winter Wonderland in London
Keep an eye on your bank card when you go to Hyde Park Winter Wonderland. Those drinks, no matter what location you hit, add up really fast the next day when you aren't using cash.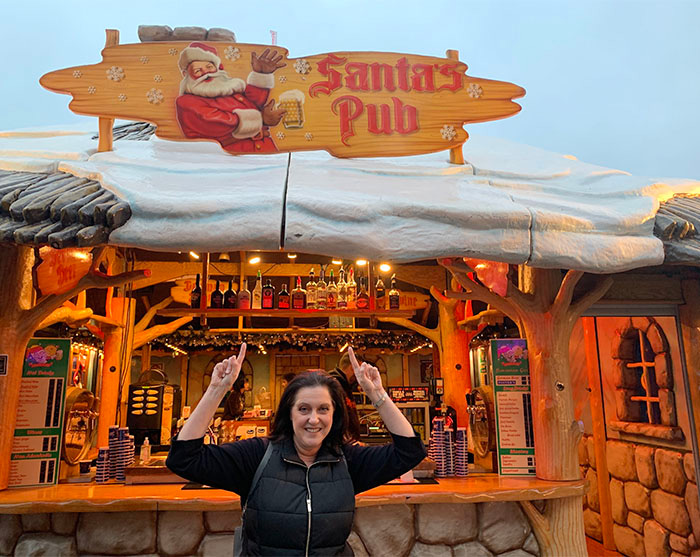 Rides at Hyde Park Winter Wonderland in London
I am most critical of this area of Hyde Park Winter Wonderland in London. When you grow up visiting the world's most perfect theme park experience (Walt Disney World), it's tough to have any other place measure up to your normal.
For this reason, I hesitate to go on too many rides at temporary amusement parks. While I am sure they undergo rigorous inspections when being built, I just don't have too much faith in their structure.
Plus, you will pay a HEFTY price for a ride at Hyde Park Winter Wonderland in London.
A simply must-do is The Giant Wheel. We rode this with a VIP champagne package the year we got engaged. Unfortunately, it was a windy and cloudy evening so my lack of faith in rides mentioned above created a terror in me that did interfere with the ability to enjoy the ride.
However, I've seen a lot of people's photos from The Giant Wheel this year and it looks like on a clear night, the views of Hyde Park and surrounding London area are incredible. This ride also had the longest line later in the evening. But, they do offer Fast Track passes.
While initially criticising the astronomical price of the Munich Looping ride, we did splurge for it at the end of our visit. It's a famous ride popular from Oktoberfest and is the world's largest transportable roller coaster.
Aside from these two rides, everything else you find is conventional fun fair attractions.
Thoughts on Rides at Hyde Park Winter Wonderland in London
This is where you will spend the most money fast. In fact, just a few rides will put you over the ticket price for a full day at Universal Studios Orlando or the Disney theme parks. Choose your adventures carefully!
Every year I have been curious about the Haunted Mansion. Again, this can be attributed to the one I knew and loved at Walt Disney World.
This year I finally ticked it off my bucket list, and it was a complete waste of money. Without a doubt- skip the Haunted Mansion at Hyde Park Winter Wonderland in London.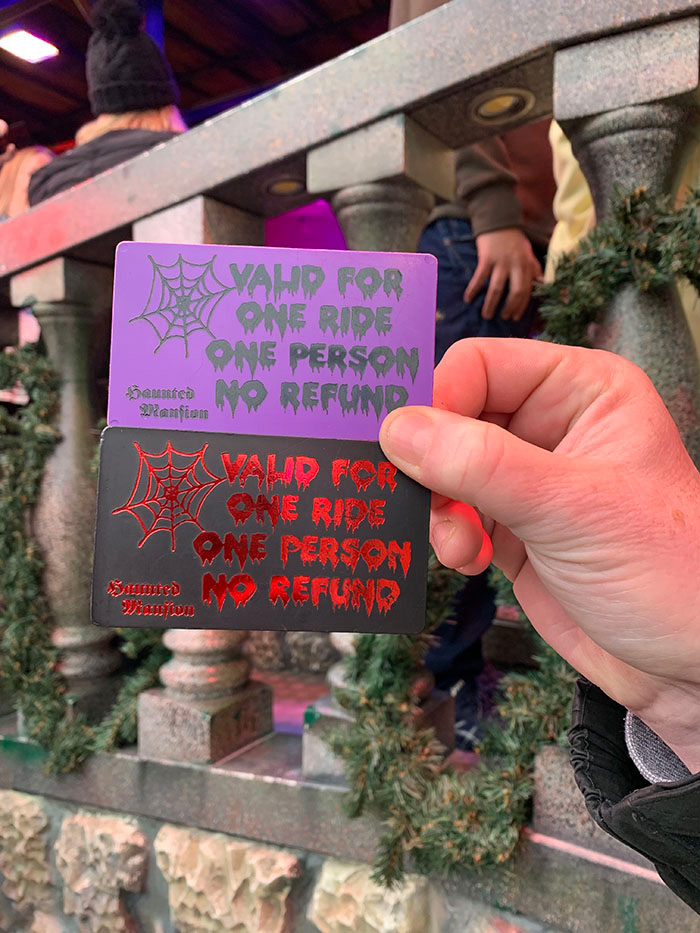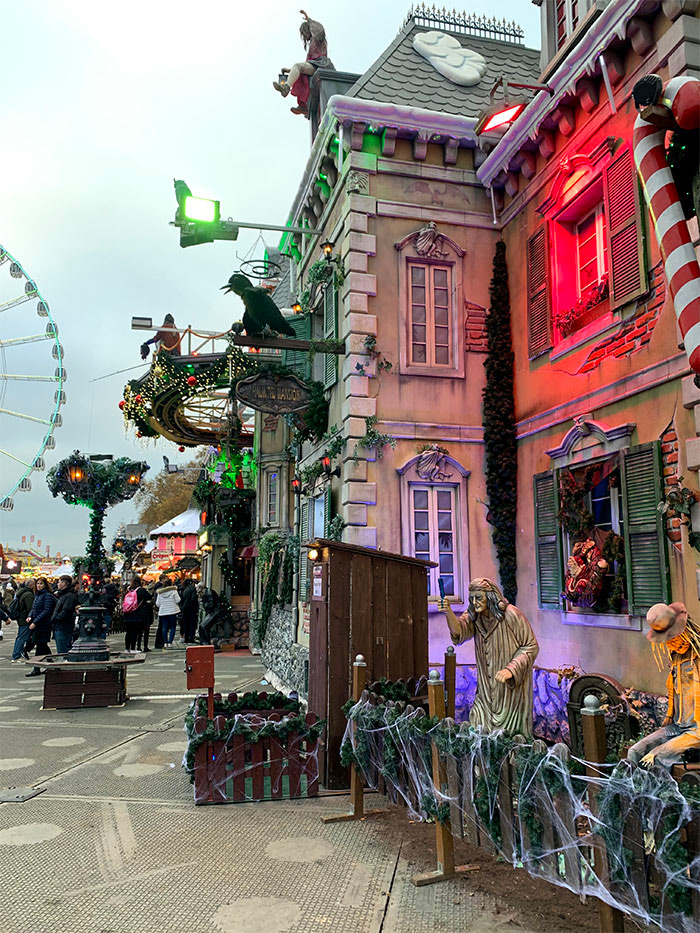 Final Thoughts
To get the most out of your experience at Hyde Park Winter Wonderland in London, we absolutely suggest the 1pm time to book your tickets. Figure the visit will cost around £150 if you want to have two snacks each, a few drinks and 4-5 rides.
I didn't even get to the Christmas markets in this article feature. That would certainly add more to your trip.
What do you think, Sunny friends? Is a visit to Hyde Park Winter Wonderland in London on your horizon this year?