La Lluna Spanish Tapas Whetsone Review London
Why is this the trickiest restaurant review I have ever written for you? It's not because Mr Sunny and I had a bad evening at La Lluna Spanish Tapas restaurant in Whetstone, London. Because that's hardly the case.
In fact- it's quite the opposite. The evening was really very exciting. And our food was fantastic.
I'm a little nervous about writing a review for the Whetstone restaurant because we literally were the first official customers to walk through the door! We've never had that opportunity in our seven years of blogging (yes, Sunny in London turns seven years old in the autumn!)
The blog has given us opportunities to eat at food trucks to restaurants with Michelin stars- but never was the honour more impressive than being the FIRST paying diners to hit the seats of a new venue. So, I guess the best question is- can you really judge a restaurant on its opening night?
I will humbly try and look forward to your feedback.
La Lluna Spanish Tapas Whetstone Review- The Location
Pre-Covid it looked like Pizza Express was closing its doors in Whetstone. And all through lockdown we were curious what would next occupy the space. Mr Sunny was ecstatic the day he discovered that a Spanish Tapas restaurant was hitting our high street. One of our favourite trips was our Fly Drive to Spain with British Airways. Our stay at the Sercotel Villa De LaGuardia Spa and Hotel was flawless and our time in the world's food capital San Sebastián was equally as fantastic.
With the addition of several food venues on the Whetstone high street since the start of 2021, there is certainly competition for customers' attention, especially for those with an international palette. At the time of this post, there are plenty of coffee shops to choose from and several Italian and Indian restaurants. The French Market was perhaps one of our favourite new foodie shops introduced this year. We are literally there at least once a week for wine, cheese and croissants.
However, of all the new places, I am most intrigued by the amount of space available within La Lluna and what the owner has done with it. It's especially impressive in times of socially distanced dining.
Since I indicated I was a food blogger fairly early upon our arrival, I was treated to a special, exclusive tour of La Lluna.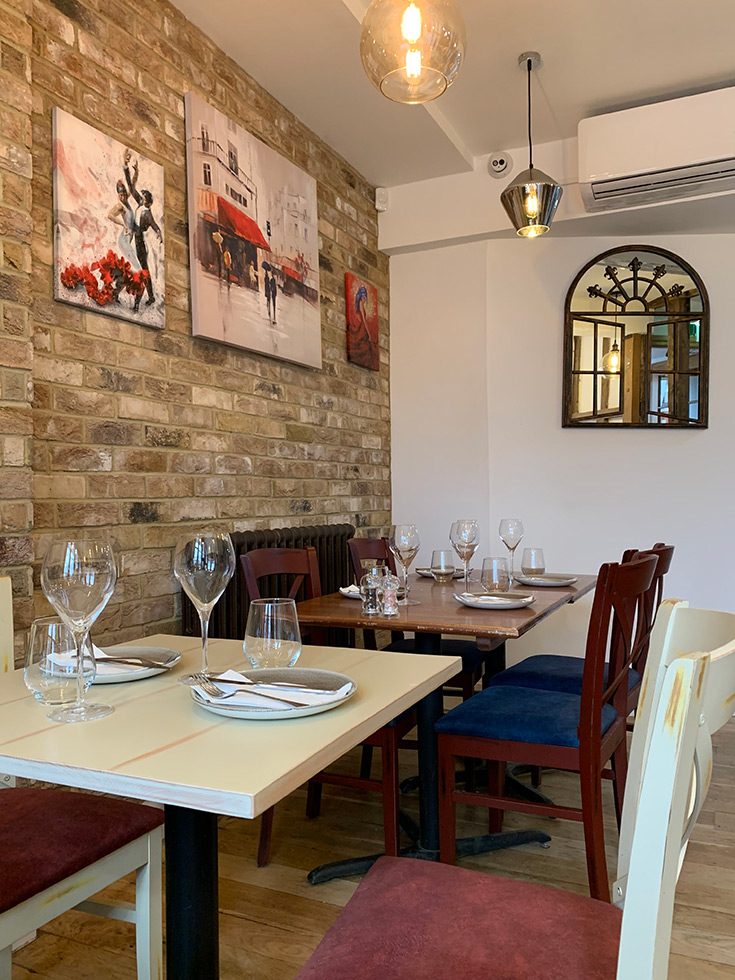 This is the view from our table, which was located next to the ground floor window. Although we were given the opportunity to choose wherever we wanted to sit, it made sense that they encourage us to be by the window so it would look like La Lluna was already buzzing as soon as its doors opened on Day 1.
There are so many rooms throughout the restaurant. I think it's quickly going to be a popular place for birthdays, anniversaries and other special celebrations. Al Fresco and Cocorico- be advised!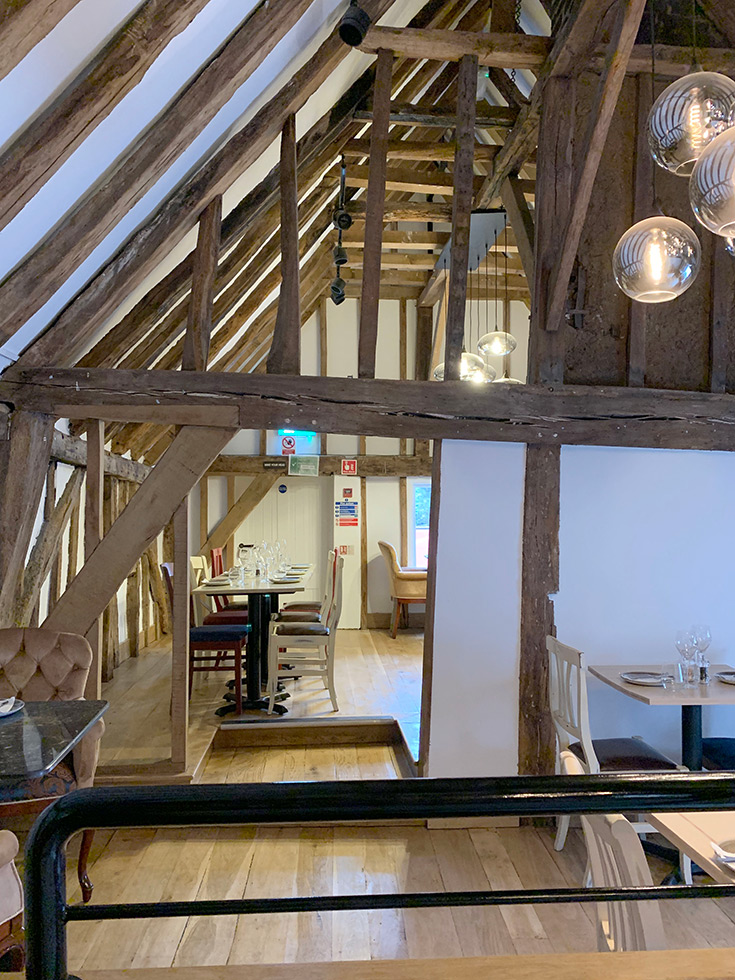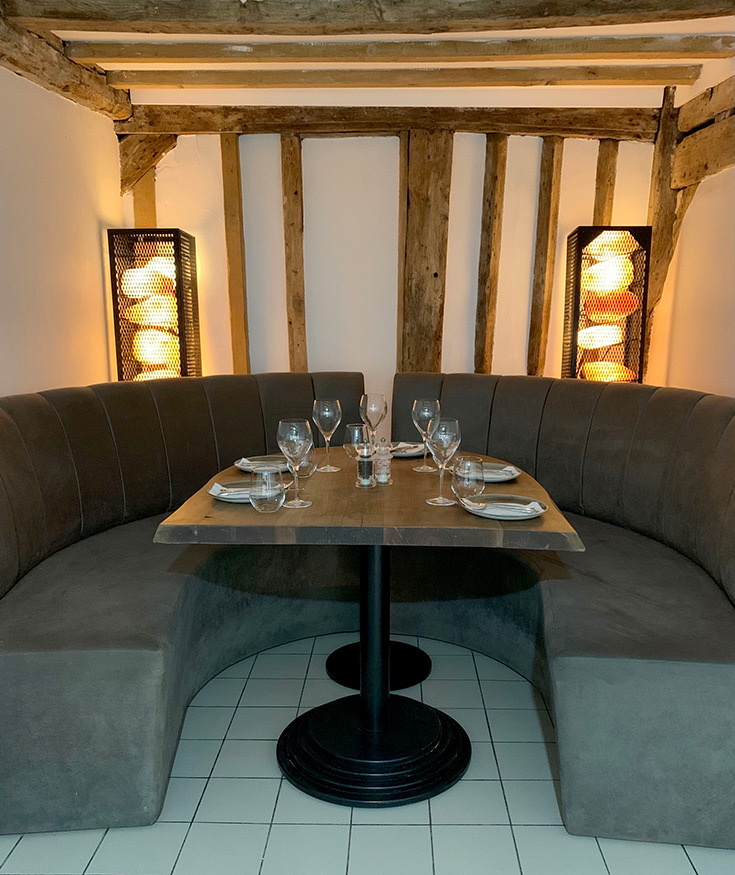 And the outdoor area is really stunning. I published a quick video on my Instagram reels to show off many of the different places to eat within La Lluna. The outside tables looked particularly fun and already had the space heaters ready to go for those who aren't counting on flamenco dancing to keep them warm in the winter.
La Lluna Spanish Tapas Whetstone Review- The Food
This is probably the part you've been waiting to read about in the restaurant review- so let's show you some of what we enjoyed.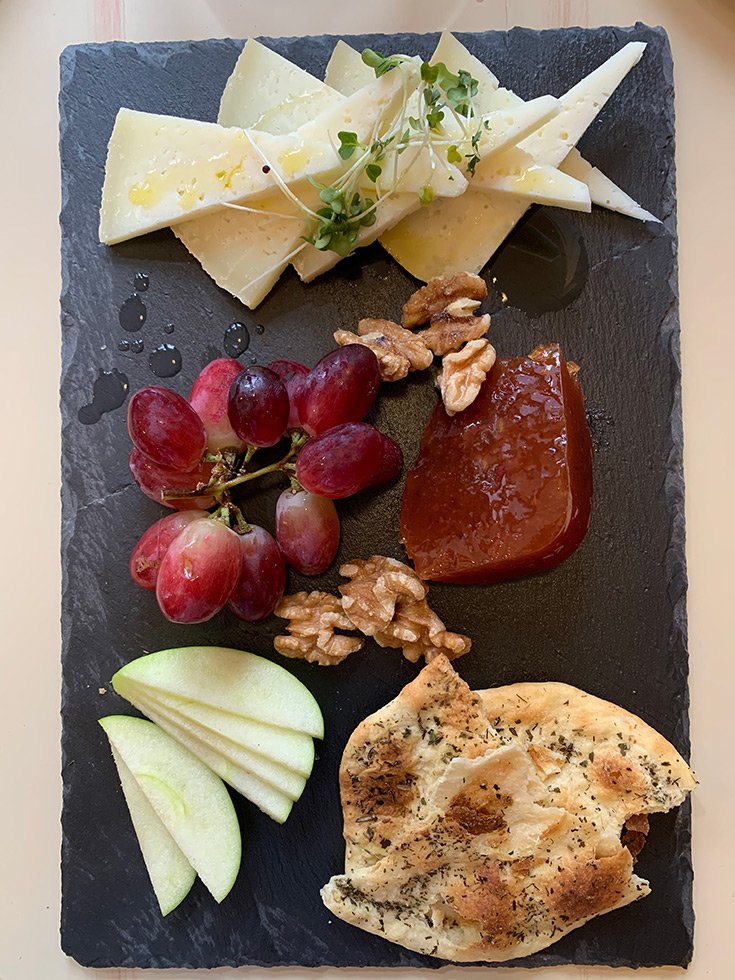 Swiftly after sitting in my chair when my restaurant tour was complete, I had a glass of the Altún Crianza 2017, Tempranillo swirling in my hand. We ordered the bottle and it had the oak, elegant and leathery long finish as promised on the menu. Again, the initial taste and pour are on my Reels.
Above, you can see the Young Manchego, which was my pick from the Charcuteria menu. It was nice, but in comparison to what I have had in Rioja, the quince jelly was substantial. There was also a generous splash of oil that might be too such for some people. However, my Italian blood bonded well with this part of the dish.
Mr Sunny chose the Gambas Al Ajillo and Chipirones on the Tapas De Pascado menu and liked them both.
My delight was the Arroz Negro. Now, if you are neither familiar with nor a fan of squid ink, you might not think the picture below is appetising. But, by the end of our meal, this black ink risotto with squid, parmesan and ali oli was my top choice. However, I have been eating food flavoured and coloured with squid ink since I was in my teens. It's not a staple of Florida cuisine, it just happens to be a dish that has landed on many menus I've encountered.
Here it goes…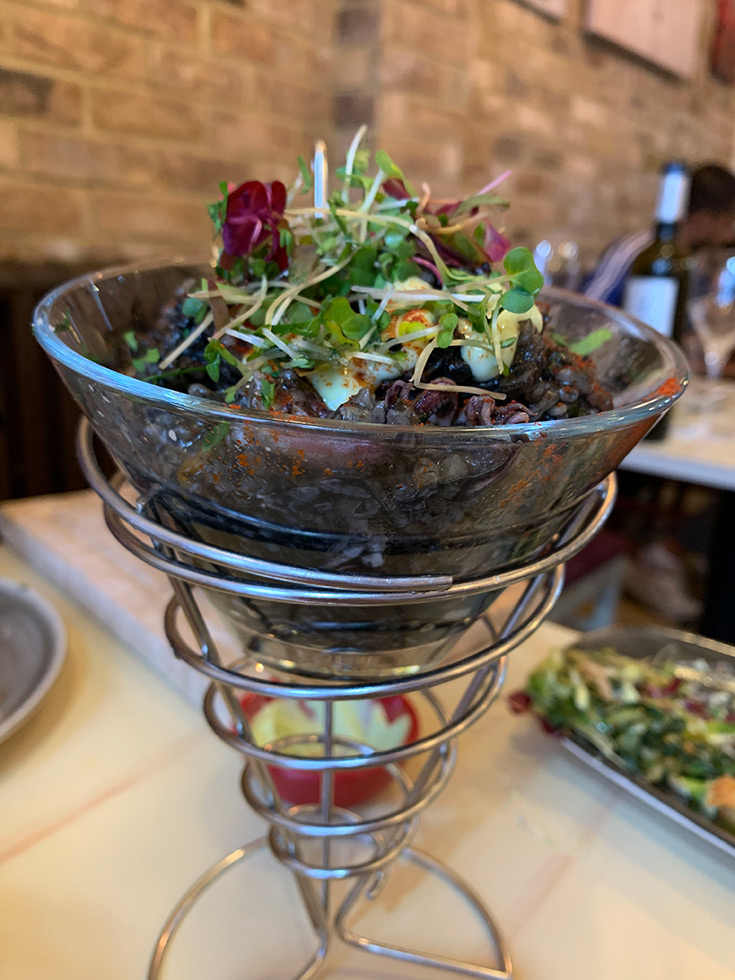 What do you think?
I had several short videos of it ready to put on my social media accounts, but I just didn't want to take the chance of putting anyone off. The squid ink undeniably gives it a greater visual appeal than just bland beige rice shaped pasta. But… I've traditionally had it with linguine. There is something about the rice shape that I'm not sure works with the black colour.
Regardless, if you get past colour and texture- you could love eating the Arroz Negro as much as I do. My thoughts are there is smoked mozzarella incorporated in it too. That's not one of my preferred flavours, but it really works with this dish.
Mr Sunny's favourite was the Croquetas De Jamón Serrano. They were lovely and crispy on the outside and warm and soft on the inside. If you're desperate to see a photo, let me know. But, since they aren't the most photogenic of foods, I'm leaving them out. Instead, I will share a shot of the Bombas below.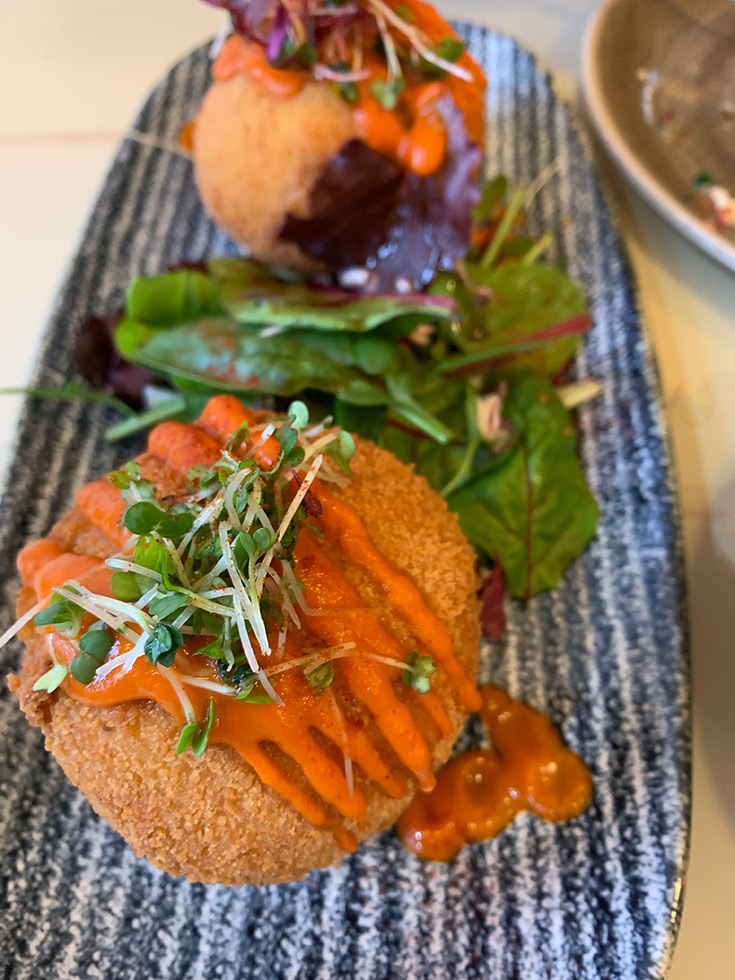 These deep-fried potato balls filled with beef mince, onion, garlic chilli and fresh herbs served with ali oli and brava sauce are home runs. If you aren't familiar with baseball, I will translate the analogy quickly to- a huge score.
I picked the metaphoric language intentionally because we felt they were the size of baseballs. Aside from being quite good, they really exceeded our expectations due to their obvious gigantic size. Again, I can only reflect on my Italian heritage and compare them to the size of meatballs. So, this is why the big disco ball looking 'bombs' are so striking to me.
If you are more familiar with regional Spanish cuisine or have made these yourself, maybe you can help me understand if La Lluna is just really kind with their serving size or if these are the traditional ball dimensions?
Also as part of my Spanish Tapas experience, I had the Tortilla De Jamón Serrano. I fell in love with this when in Bilbao, and this one did not disappoint.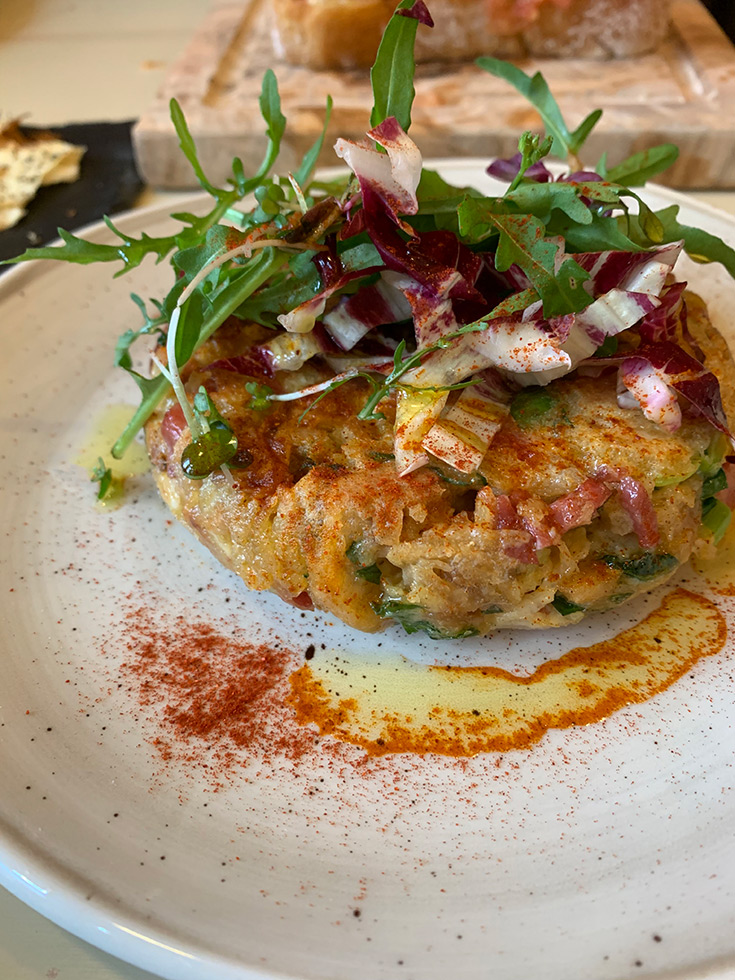 Finally, we had Montaditos con Salchichon Ibérico mixed in with all of these. It was nice but I don't think it stood a big chance of being a star against all the other food we ordered. There's really only so much you can do with salami and bread in terms of presentation and taste.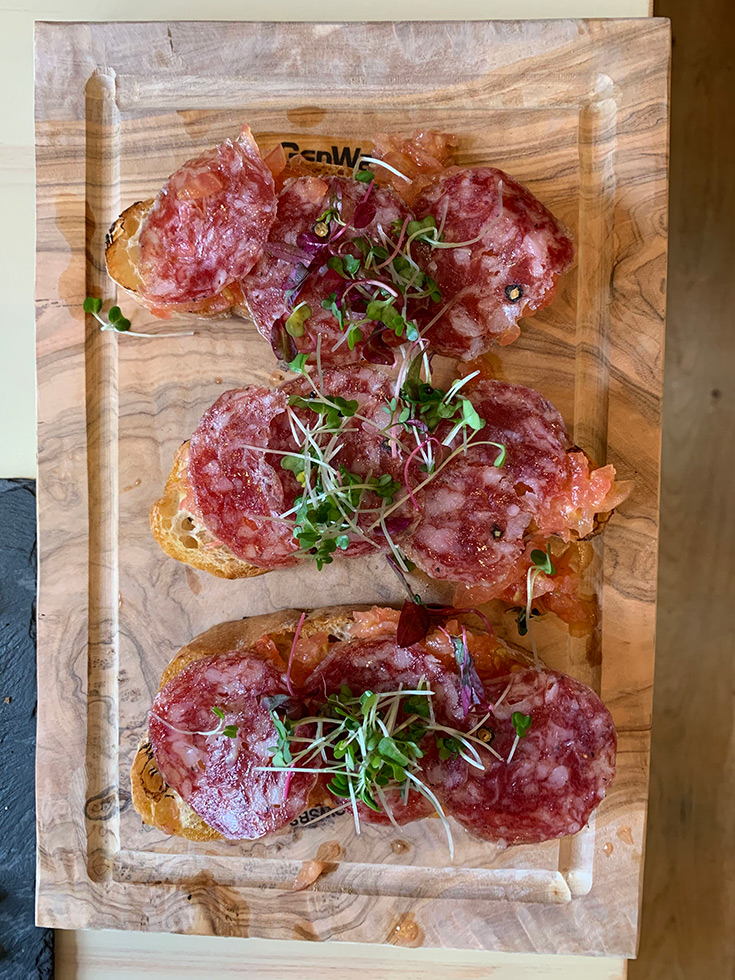 La Lluna Spanish Tapas Whetstone Review- The Service
This is the category that drove me to write a restaurant review for La Lluna the most. Mr Sunny and I mostly popped in because we were curious and hopeful. However, we felt we should be cautious with judgement due to it being the grand opening.
It didn't take long for us to shake these inhibitions. There was an abundance of staff eager to help, do a great job and provide memorable service. Everyone we encountered knew the menu well and our food arrived very quickly.
Stereotypically, one would expect a restaurant's opening night to be a bit chaotic. Had there not been the obvious fiesta energy due to the high of opening the doors, you would not have known that it was the first official night of business. Everything operated smoothly.
Mr Sunny had researched the restaurant prior to us going and informed me that the Muswell Hill location does quite well. They've obviously incorporated their system and staff in to the new location so the second restaurant maintains La Lluna's stellar reputation in Whetstone.
La Lluna Spanish Tapas Whetstone Review- Final Thoughts
We'll definitely be excited to return to La Lluna Spanish Tapas in Whetstone. The menu has many items that we want to explore. In fact, we were a bit too ambitious on our first visit and really struggled to finish everything. In hindsight, we probably could've been just as satisfied ordering 2 tapas each and will remember that in the future.
In terms of pricing, La Lluna is very reasonable, especially given how hard it has been for restaurants to source ingredients and even stay open recently.
I hope it does well, since it offers lovely variety to the Whetstone high street's culinary options.
So, is it fair to judge a restaurant on opening weekend? Let me know your experience and what you think in the comments below.