M Restaurant Canary Wharf Review-Bottomless Brunch
In early September we were invited to press launch of the new M Restaurant in Canary Wharf. Specifically, we had the chance to enjoy the St Tropez Bottomless Beach Brunch. Overall we had a great time and definitely recommend the experience, based on what we had at this event.
M Restaurant Canary Wharf – Location and Atmosphere
Foremost, the opening of the Elizabeth Line made our trip from North London much easier. Previously, we would not have been very excited about the journey to Canary Wharf. We actually haven't been to the area of London in several years due to this. Additionally, we've had the perception that there's nothing there to do on weekends because it's 'just a financial hub' like The City.
Once we left the station, we quickly realised how much has changed in the area.
M Restaurant Canary Wharf is a short walk from the Underground Station and overlooks the Middle Dock. The views are spectacular, especially on a sunny day in London.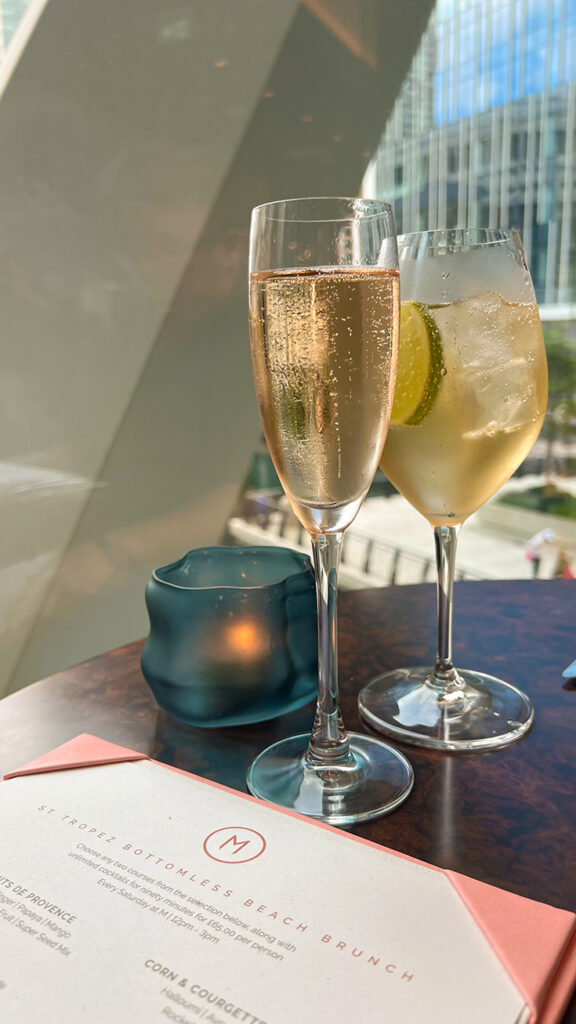 The smell of lavender greets you when you enter. It reminded me exactly of my stay at the Venetian in Las Vegas. I distinctly remember this scent in the common areas of the hotel.
M Restaurant Canary Wharf offers spacious dining in a location that is quite airy. For me, this is a big bonus in London since so many restaurants seem to stack tables on top of tables.
On the afternoon of our visit there was a DJ, which adds to the vibrant and fun atmosphere of a bottomless brunch. Most of the staff wore some shade of pink either to match the concept of a St Tropez atmosphere or the vibe of the entire restaurant. I'm not sure which it was.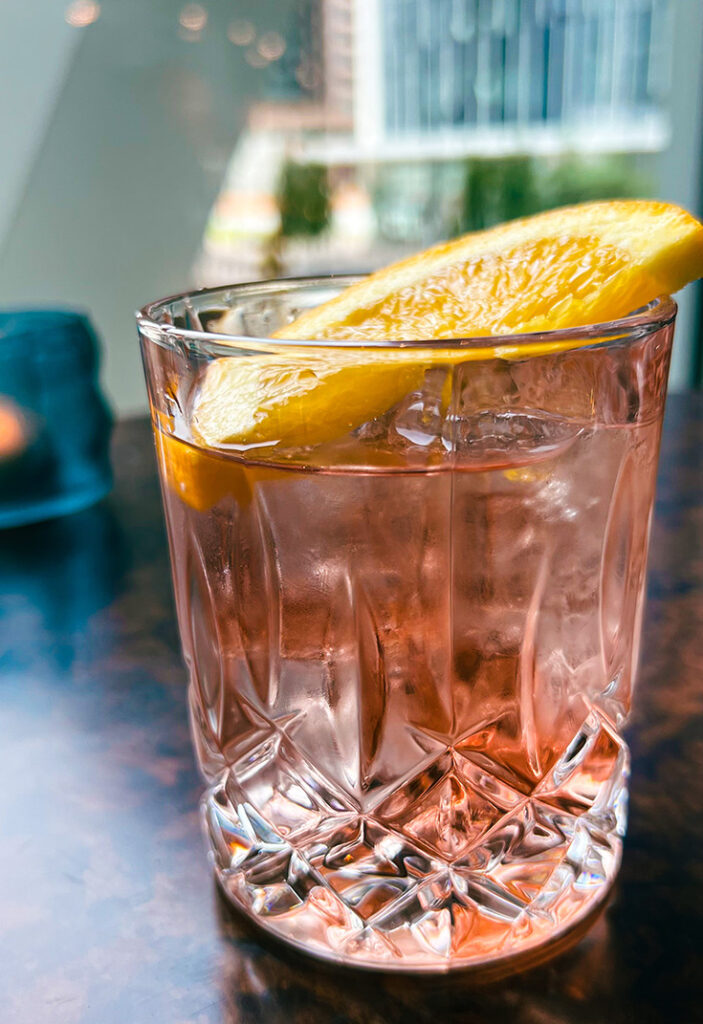 M Restaurant Canary Wharf – Bottomless Brunch Food
On the St Tropez Bottomless Beach Brunch menu you choose two courses and have unlimited cocktails for ninety minutes. Portion sizes are the same regardless of how you ask them to arrive. You just need to indicate which you want as a 'Starter' and which served as a 'Main.'
We had a tough time deciding because all of them sounded intriguing. After a little negotiating between us, Mr Sunny and I ordered four different items. However, we both wanted the Crêpes Suzette.
Since I was going to be the writer and video editor of the experience, I won the debate. However first I chose to have the Lobster Beignet.
Both are pictured below. They were unique and very flavourful. I especially liked the way the squid ink aioli was featured in the Lobster Beignet. Sometimes this ingredient can truly overpower a dish.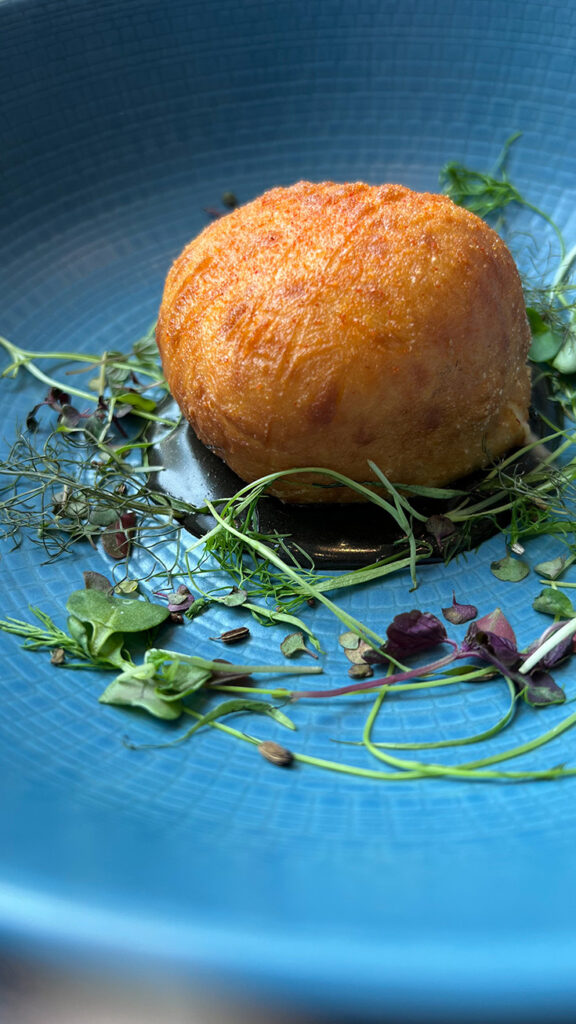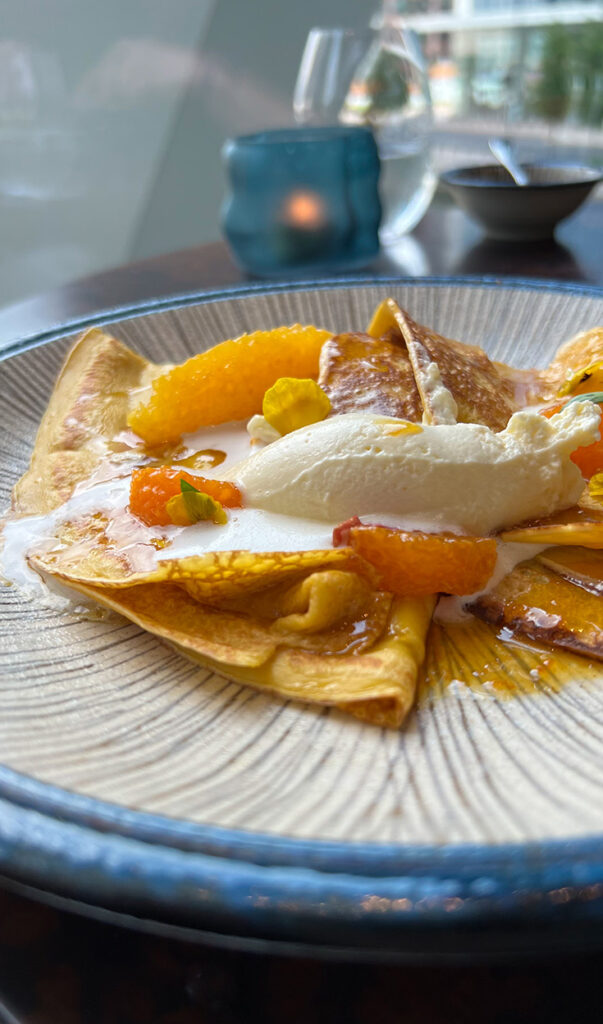 Mr Sunny chose the Waffle Sandwich and Entrecôte. He joked with the server that he would've happily ordered two plates of the Entrecôte. To be honest, if we had been paying I think he would've done it. But we didn't want to seem cheeky at a press opening.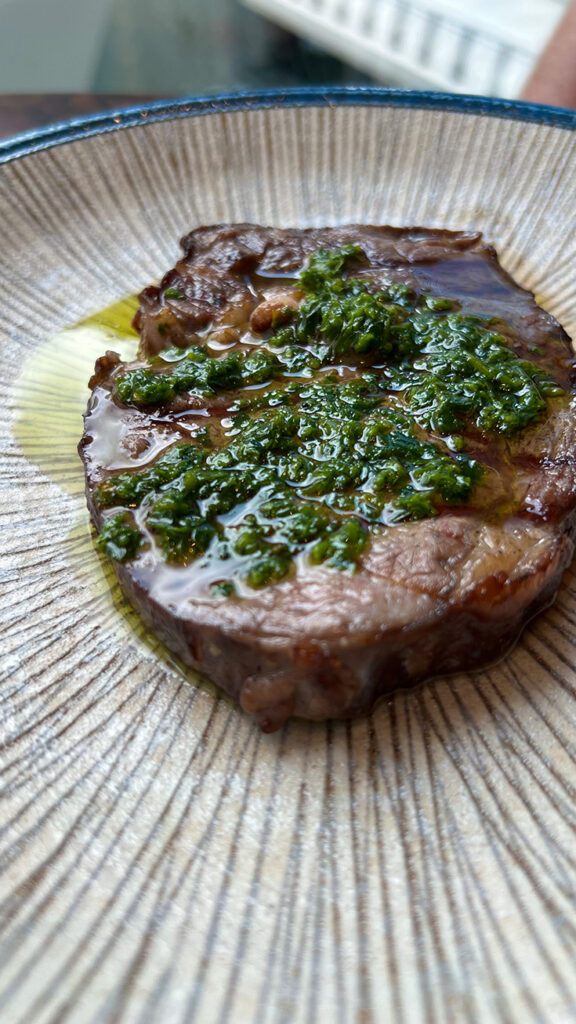 M Restaurant Canary Wharf – Value for Money
The St Tropez Bottomless Beach Brunch at M Restaurant in Canary Wharf makes every effort to transcend you to the French Riviera in London.
The service we experienced was outstanding.
Mr Sunny was disappointed that beer was not an option on the brunch menu. So he made a sincere effort to drink every cocktail that is offered in the bottomless brunch. He literally downed them like shots!
Our favourite is the Melonade. This cocktail had Mirabeau Dry Rosé Gin, Melonade Aperitivo, Elderflower Cordial, Prosecco and Double Dutch Watermelon & Cucumber Tonic. But, we noticed it came with different additions each time we ordered it. For example, mine arrived with swirled slices of cucumber. Mr Sunny's had lime.
I also had several glasses of the Mirabeau, La Folie, Sparkling Rosé. The partnership with Maison Mirabeau works well.
The M Restaurant Canary Wharf St Tropez Bottomless Beach Brunch is currently £65 per person and is every Saturday from 12pm-3pm. We would've preferred larger portion sizes. However, if you're attending with a group of besties for a catch up brunch and are seeking elegance in a beautiful setting, you will be happy. Mr Sunny and I tend to over indulge, so consider that in this review too.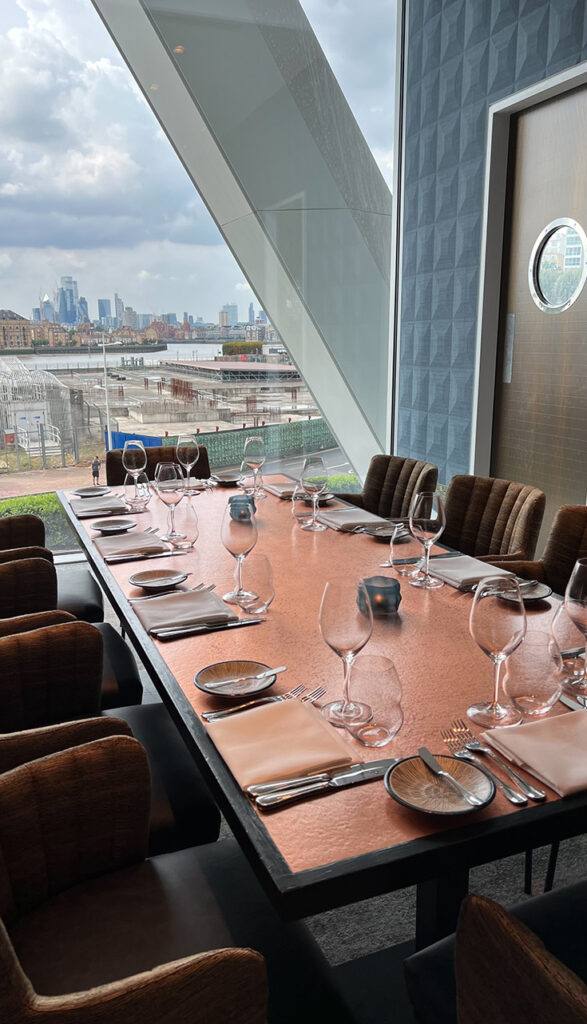 M Restaurant Canary Wharf – Final Thoughts
We would really love to go back to this restaurant in Canary Wharf. They also have a private dining area you can book as well.
Our only feedback to offer is that our food was served at room temperature. This is tough to assess because the restaurant hadn't officially launched when we attended. I'm always a bit forgiving when visiting a location during it's initial opening phase. There really needs to be a chance for the kitchen staff, servers and greeters to learn the rhythm of their new location.
I would love your thoughts on that though. Do you feel it's fair to give a little flexibility on a restaurant review when it's in the opening period? If you read this after visiting the new M Restaurant Canary Wharf location, can you add your feedback on the experience in the comments too?