Gura Gura Review Covent Garden London
If you haven't been to Gura Gura yet in Covent Garden- you are missing some really good food in London. Mr Sunny and I were invited to do a collab with The Yards and had the opportunity to enjoy a meal there. Put it on your list of places to eat in London so when you're in the neighbourhood you remember.
Let's cut right to the cocktails so you can see just what I mean.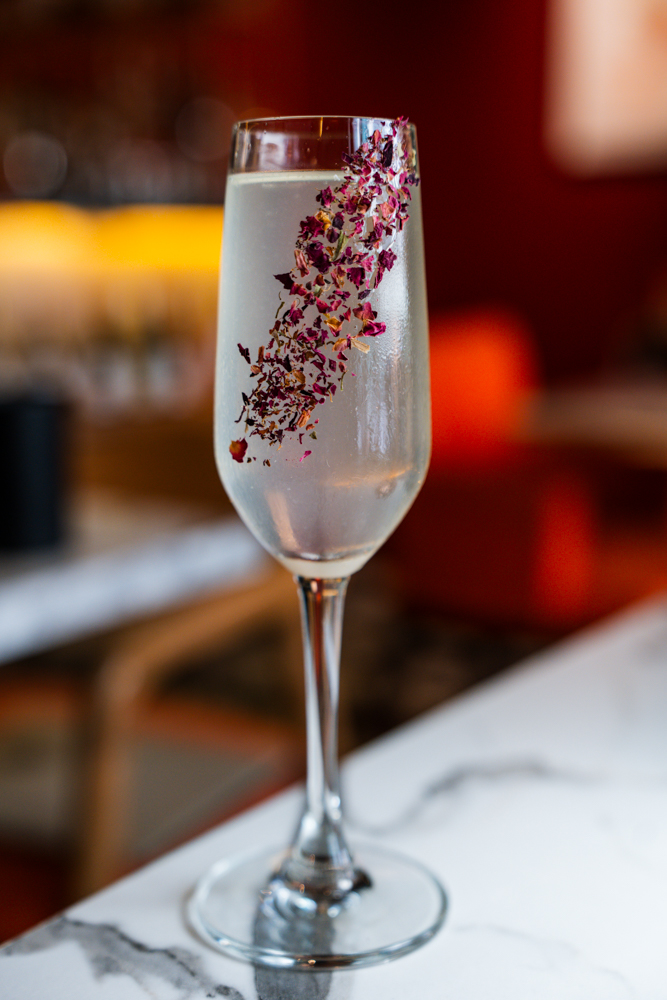 Gura Gura Covent Garden: Cocktails
This is the Prosecco #2. Yes, that's what it's called on the menu. There are three Prosecco cocktails and I had two of them. Not only does this one taste amazing, but it also could trend on TikTok because it truly is a work of art.
The drink includes: Prosecco, Pink Peppercorn infused Lanique, Celery infused St Germain Elderflower Liquor, Citrus, Chipotle Syrup and Rose Turkish Delight.
It's not something I would try to recreate at home- for obvious reasons!
Mr Sunny tried several Negroni cocktails before switching to beer. He thought the way the drinks are served is very clever. Needless to say they taste great too.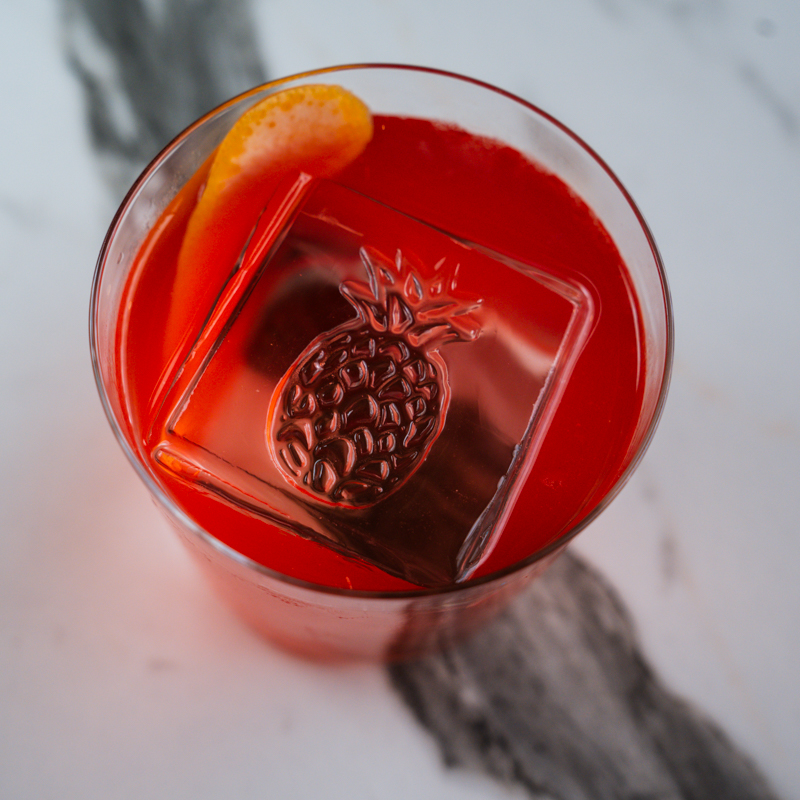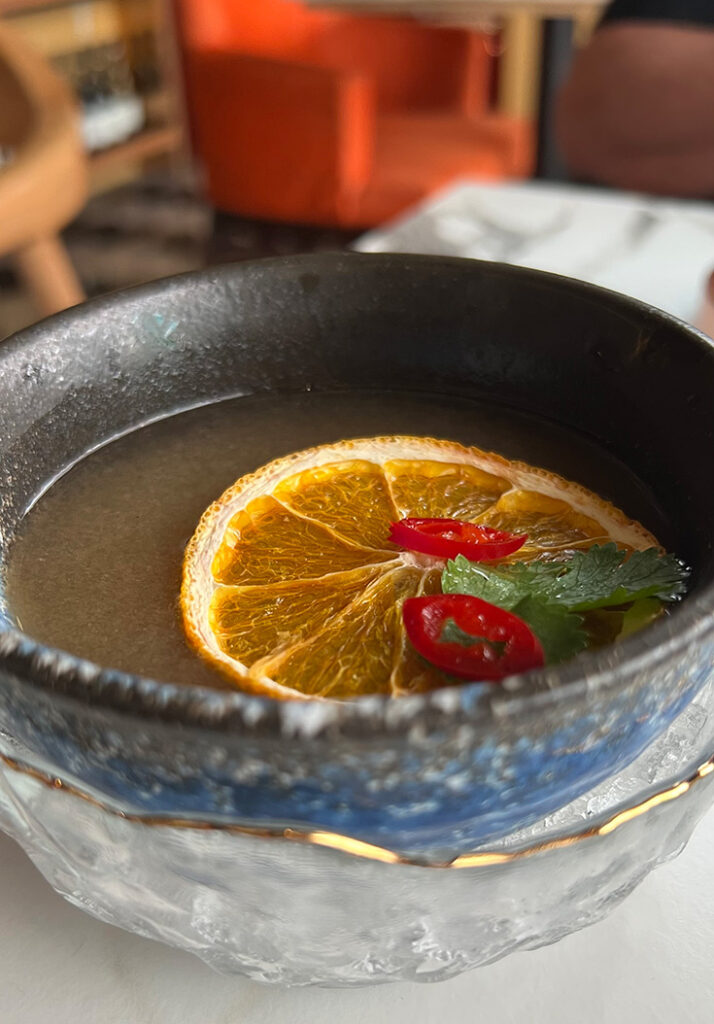 Gura Gura Covent Garden: Food Review
Foremost, you need to have the Robata Grilled Chicken with Teriyaki Sauce. We both agree this will be the dish we crave in the future. It's the one we are still talking about and will be the main magnet that causes us to visit again soon. However, we will each order our own rather than share.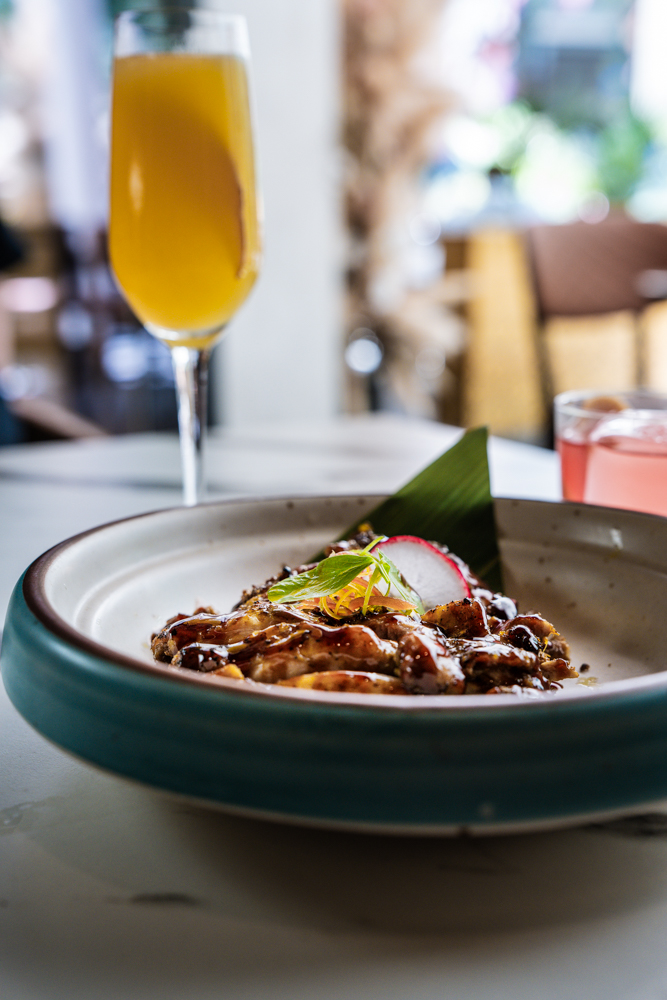 Gura Gura offers innovative pan-Asian cuisine which includes a delectable platter of sushi, sashimi, dim-sum and more. Our collab featured us ordering from the Small Plates menu, which are made for sharing or as a starter.
We paired the chicken with the Rainbow Carpaccio of Salmon, Tuna, Yellowtail with House Pickled Veg. It is equally as delicious, if you enjoy the concept of carpaccio.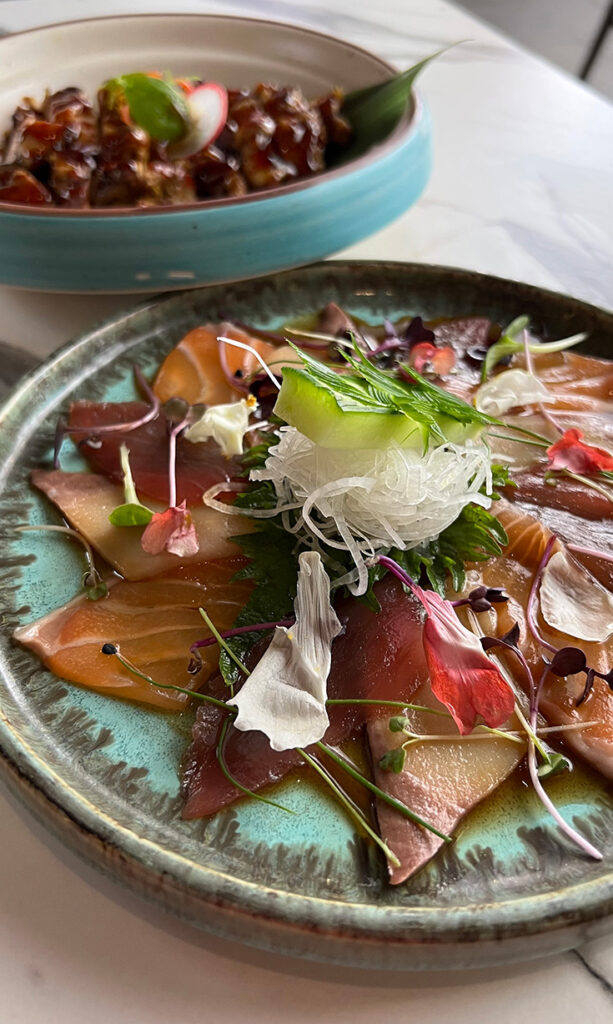 Our server suggested since we were there for collab purposes that we check out what dishes popped aesthetically on their Instagram @guraguralondon.
When we are visiting London restaurants for food reviews, we always ask:
what on the menu looks the best
what the restaurant wants promoted
what's most popular
From there, Mr Sunny and I make our decisions.
However, if you've read Sunny in London since we started the London food and things to do blog 10 years ago, you'll know that calamari hits our tabletop often. It's not the prettiest dish to photograph, but it's one of our favourites. This is their Prawn Tempura and Crispy Baby Squid with Sweet Chilli Mayo.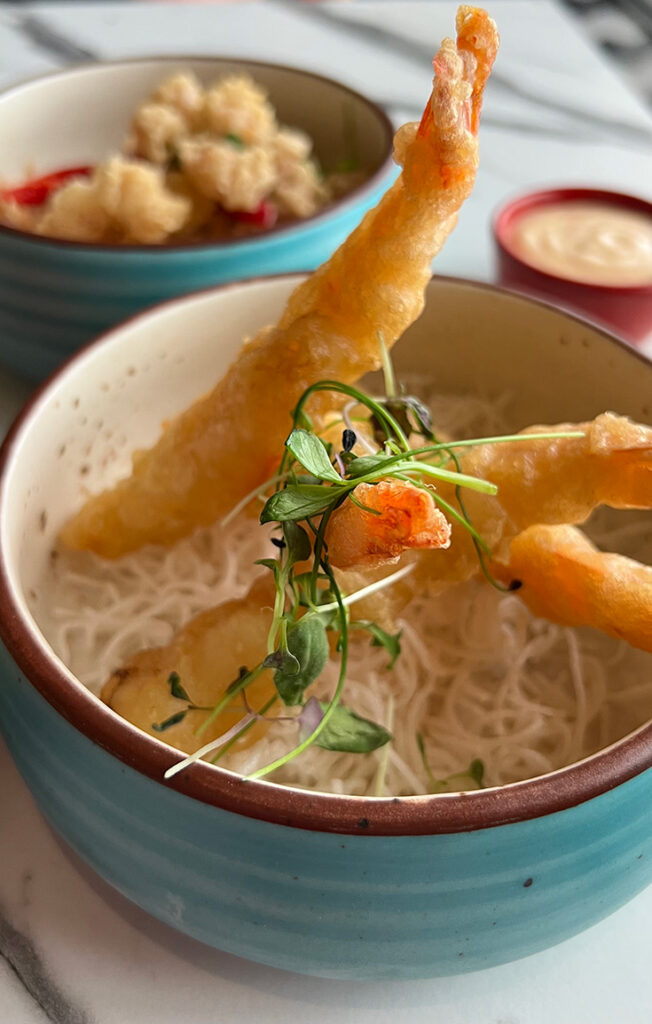 You can't expect too much in terms of these two when you're assessing how photogenic they are. But their taste is on par with all the other food- excellent.
We also like the Dragon Roll recommendation. This includes: Tempura Prawn, Avocado, Cucumber and Kabayaki Sauce. Again, can't fault this dish for anything! We had it along with the Grilled Lamb Racks with Pear Apple Slaw.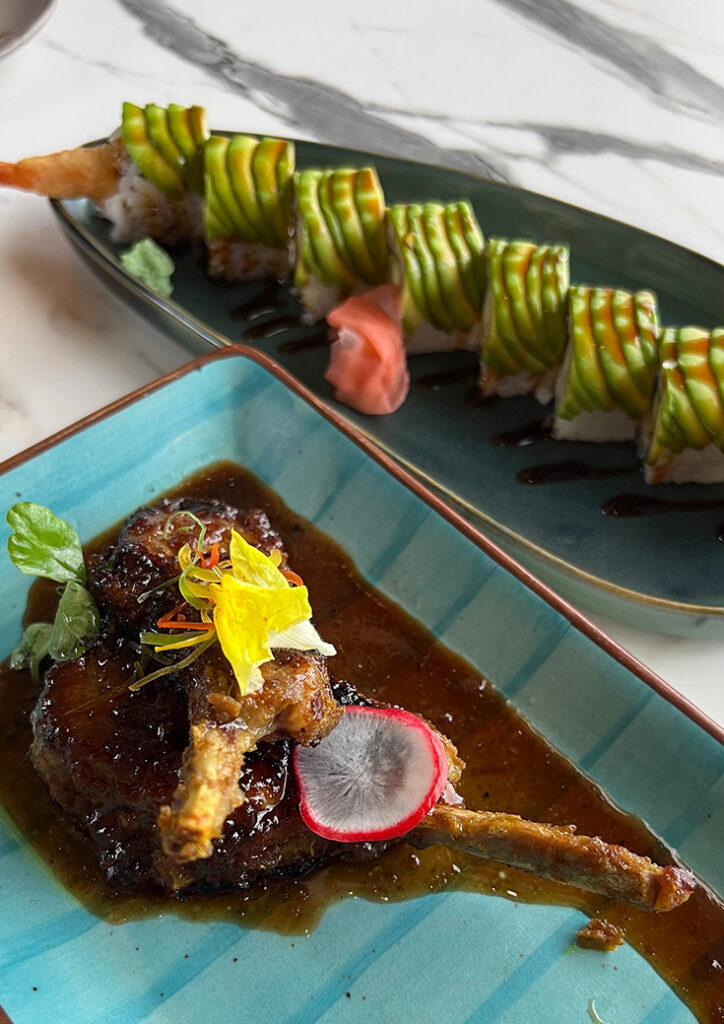 Our final sharing plate is the Nyonya Chicken Skewers with Peanut Satay Sauce.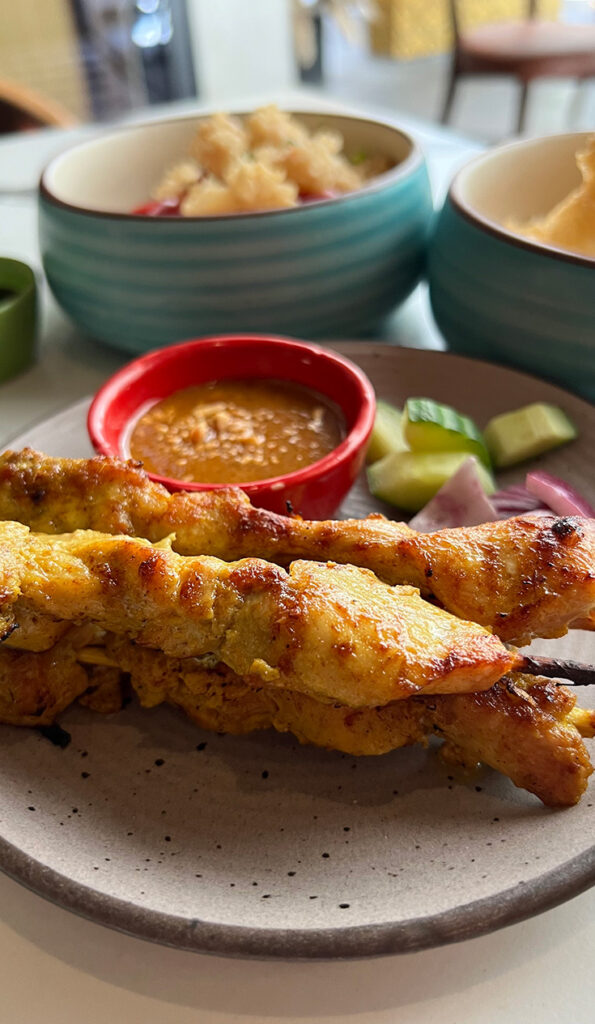 Gura Gura Covent Garden: Final Thoughts
We visited on a Monday afternoon in the summer. We had our choice of tables and plenty of space. Gura Gura does get quite busy in the evenings and especially weekends. This is because it's St Martin's Courtyard, a popular alcove in Covent Garden.
Because we often work in the area, Mr Sunny and I walk through here often. We will definitely be back to Gura Gura on our own.
The prices for the sharing plates and drinks are quite reasonable when you consider the location, beautiful presentations and flawless flavour in everything we ate.
Our server was more than accommodating. However, that's a tough one to judge when your booking is pre-arranged through a public relations company. He seemed equally as attentive to the other tables arriving in our opinion, which is a good sign to us.
There are many restaurants in this area of Covent Garden. We're thrilled to have discovered Gura Gura and hope you enjoy it too if you take our recommendation.