Three Trips to Salvador and Amanda for Spanish Tapas
Flamenco Dancing? Sangria? Spanish Tapas? The Salvador and Amanda restaurants in London offer a great, affordable London dining experience.
Thursday night was my third visit to one of their two restaurants. That sure counts for something, right?
Mr. Sunny and I have been to both the Covent Garden and the Bloomsbury locations. This is why I suggested Salvador and Amanda to my ultra cool blogger buddy Kings Road Rocks for our recent catch-up dinner date.
So, was the third time also a charm? Let's go further back in time to figure it out…
Salvador and Amanda- Bloomsbury Location
One night in January, Mr. Sunny and I visited Salvador and Amanda's Bloomsbury restaurant.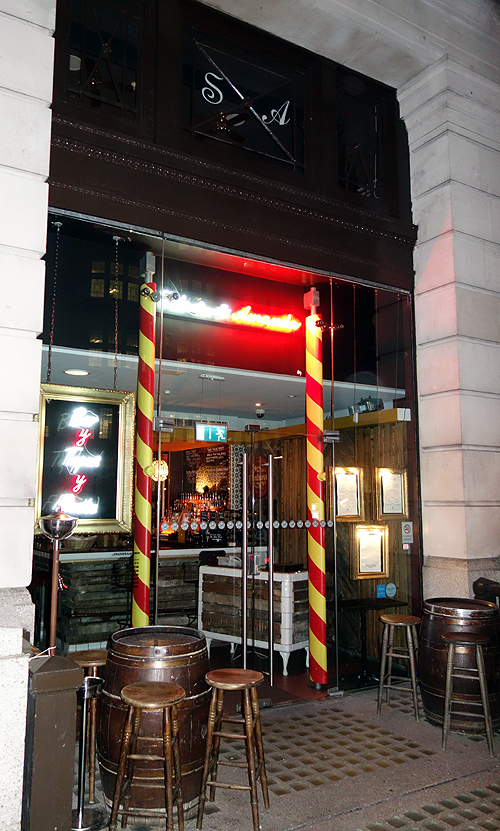 We had been to the Covent Garden restaurant a year before and absolutely loved it.  We were excited to see the menu was nearly identical. However, since the previous year's trip was pre-blog days, I don't have any pictures to share from that first night.
Until now, I never even mentioned my January experience because it was one of my first food blogging attempts. The photos are scary.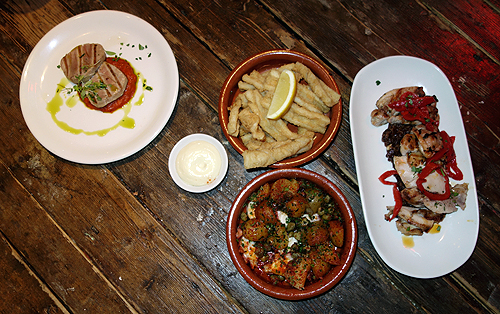 Mr. Sunny and I thought an 'aerial' shot would be fun. It was the first and last one you'll ever see on Sunny in London. 😉
However, some of what's featured there is Pulpo 'A La Gallega' con Alcaparras (Galician style octopus with capers and smoked paprika) Carrilleras de Cerdo con pure de patatas y mostaza (Braised pork cheeks with mustard mash) and Calamares.
We thought the restaurant had a vibrant atmosphere, but the actual lighting is very low.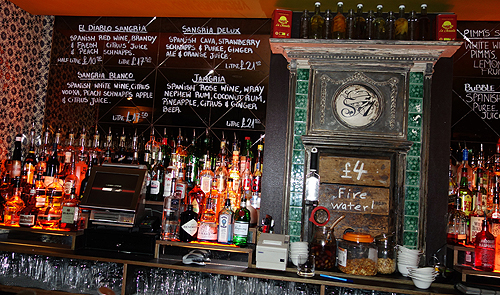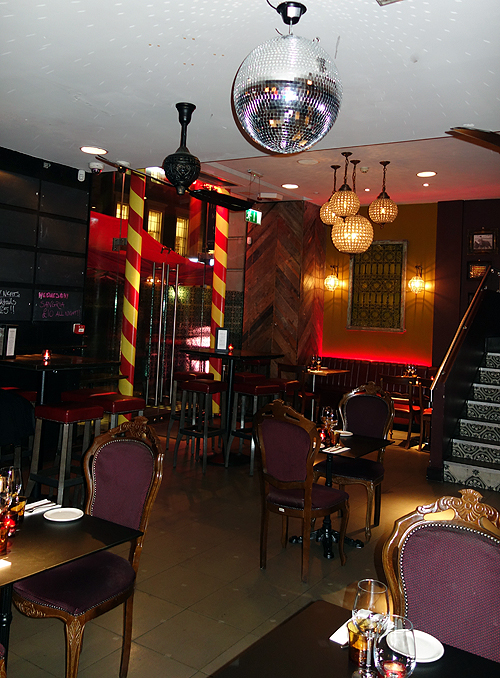 Aside from the food pictured above, we ordered our standard red wine and beer.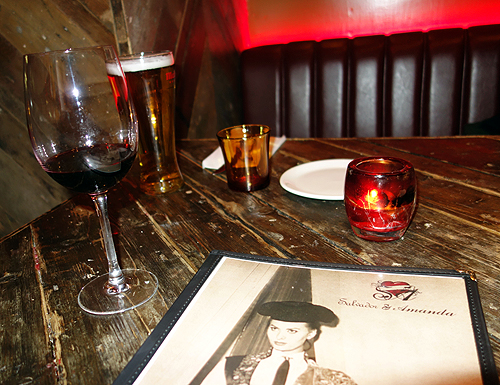 Mr. Sunny picked the Seleccion de Jamon, Chorizo y Queso (selection of Serano ham, chorizo and cheeses) for us. I always let him order for me because he knows so much about food.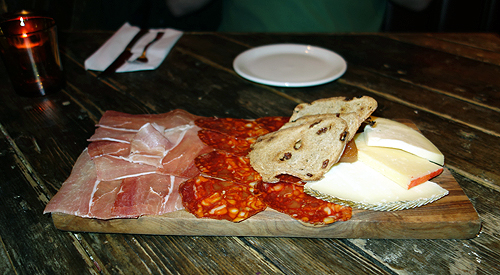 And we really loved the Albondigas en Salsa de Tomate (Spanish meatballs in a rich tomato sauce).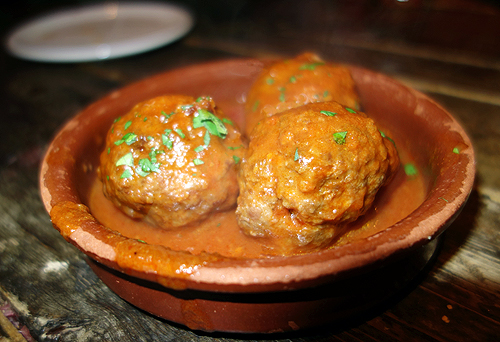 Similar to our first trip, we saved tons of money with our Tastecard because Salvador and Amanda offers such amazing deals. However, we left thinking that our first dining experience at the restaurant's Covent Garden location was a bit better. This was another reason I didn't immediately write a review on the blog.
Salvador and Amanda- Covent Garden
This brings us to my third trip to a Salvador and Amanda restaurant. I arrived Thursday night very early. The sky was crystal blue and the sun poured over every inch of London.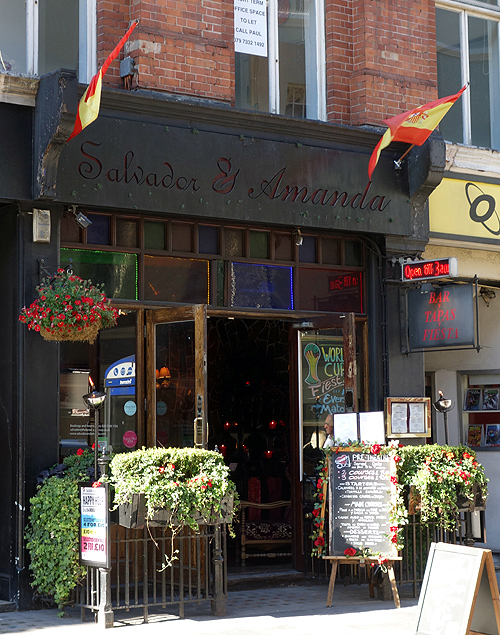 When my blogger mate arrived, we were quickly seated at our table. They also double checked I was using my Tastecard. Our table was super tiny and between two other tiny tables which featured other diners. This made taking pictures difficult. I identified myself as a blogger so they knew why I wanted a little more space and better lighting, if possible.
We had a few achievements to celebrate, so champagne was in order, of course!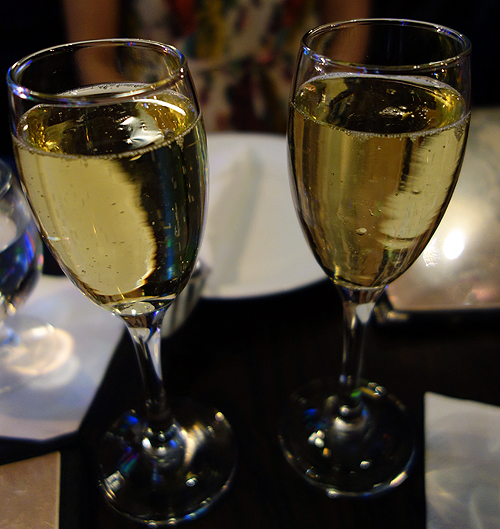 Next, we chose food from the Tapas menu.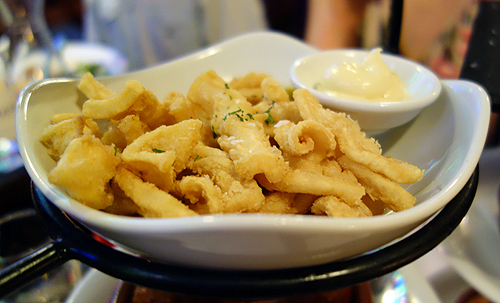 This was the third time I've had their Calamares fritos con alioli. I wish this one would've been a bit hotter, but it may have cooled quickly because my dinner date and I were talking so much and time was flying.
We also ordered the meatballs that you saw above. Again, not so hot.
However, my repeat of the Gambas al ajillo (Pan fried shell-off king prawns with garlic and chilli) rocked! I've had it every time I've eaten at a Salvador and Amanda restaurant.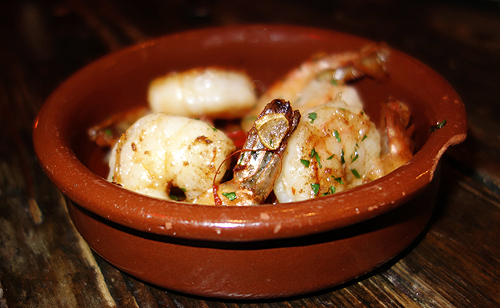 Whoooooa Mamacita! Love it!
I also added a new edition to my Salvador and Amanda food repertoire with the Patatas Bravas (Potatoes in a spicy tomato sauce).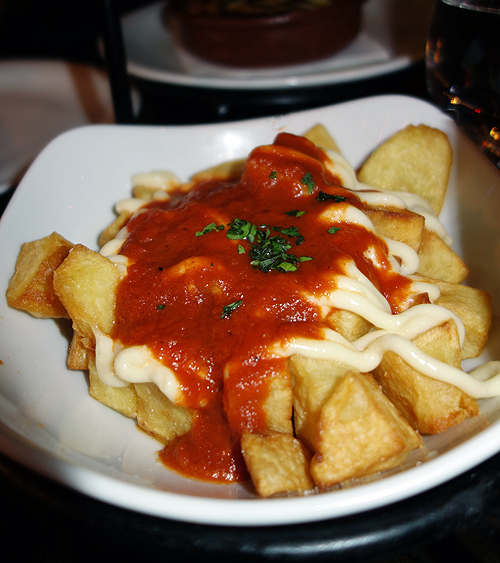 The temperature, texture and flavor were truly A*.
And, since this location also suffers from the Low Lighting Syndrome…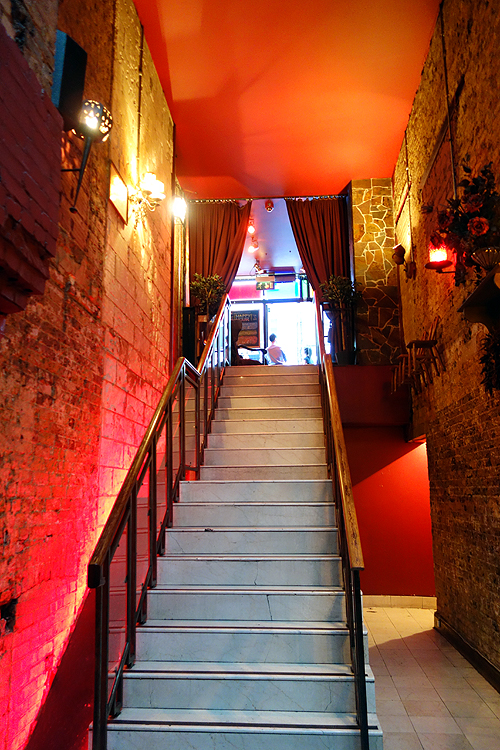 my picture of my favourite new tapas Filete de pierna de cordero con calabaza y salsa verde (Char-grilled lamb gigot with honey roasted butternut squash and salsa verde) didn't come out nice enough.
Double bummer. The lamb was really, really good. You'll just have to go there yourself to see and try it.
We also ordered a house bottle of red wine on offer for £10.
Seriously, I don't think any other restaurant in Covent Garden is selling a whole bottle of wine for this cheap.
I have to recognise that the first time Mr. Sunny and I went to Salvador and Amanda's was truly the best. However, all three times I have saved a lot of money through using a Tastecard. If you don't have one, you can still take advantage of these offers at the restaurant:
– 1 litre of either White or Red Sangria for £10 every Thursday
– Monday-Friday 5-8pm Happy Hour
And, they have a live flamenco show every Tuesday and Wednesday evening.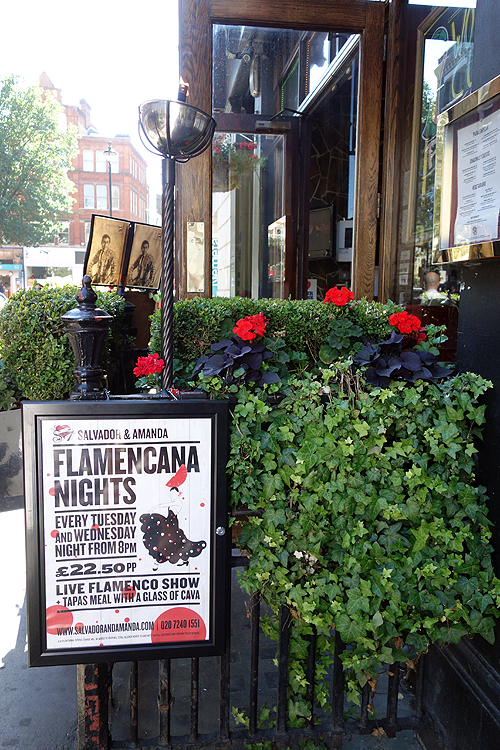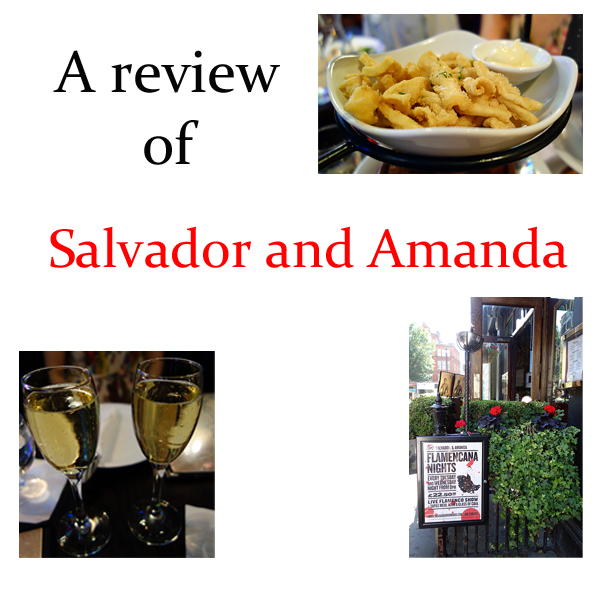 So, Sunny friends, what are your Spanish Tapas suggestions?