I opened an email recently that 'was so good I almost peed my pants.'
That's right. The email offered me two tickets to a show at the English National Opera in exchange for a feature on the Sunny in London blog. I had a choice among Queen of Spades, Carmen or Pirates of Penzance.
This is super exciting to me because attending an opera is high on my list of things to do in my life. Immediately, I sent a response that I wanted to move forward with the opportunity. And then, I started thinking…
'Big mistake. Big. Huge. I have to go shopping now.'
Growing up in Daytona Beach, Florida afforded me fantastic opportunities like living directly on the beach and regularly visiting theme parks. I have been to Disney World countless times and worked at Universal Studios in Orlando. While this lifestyle was fast and fun, it was also thin on highbrow cultural experiences. So, I have no idea what to wear to an opera.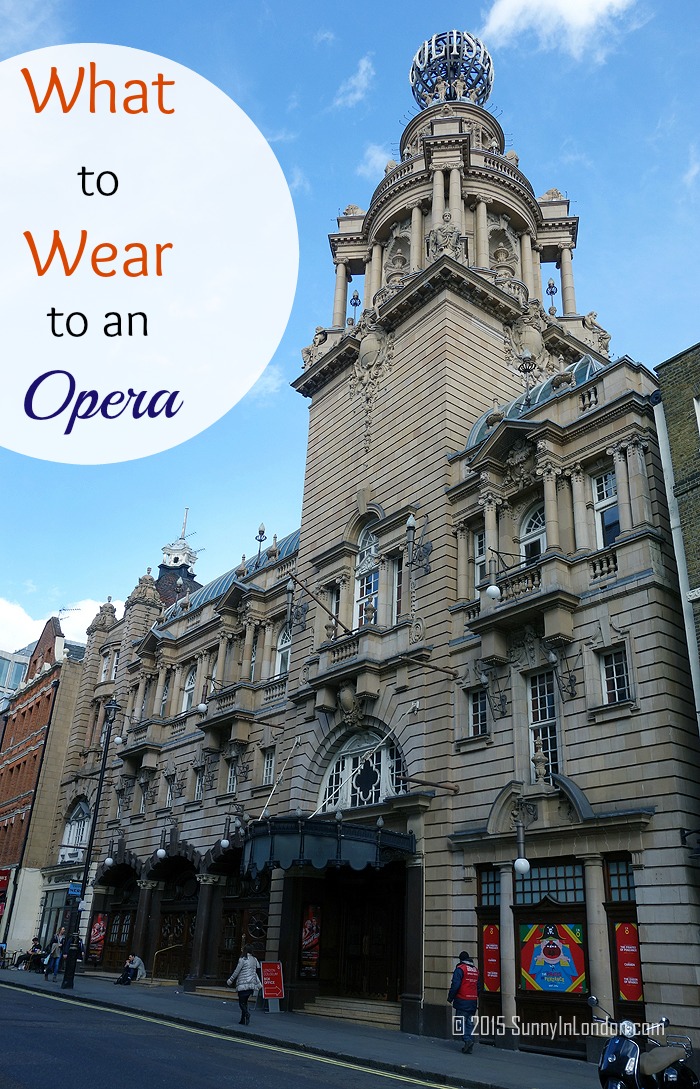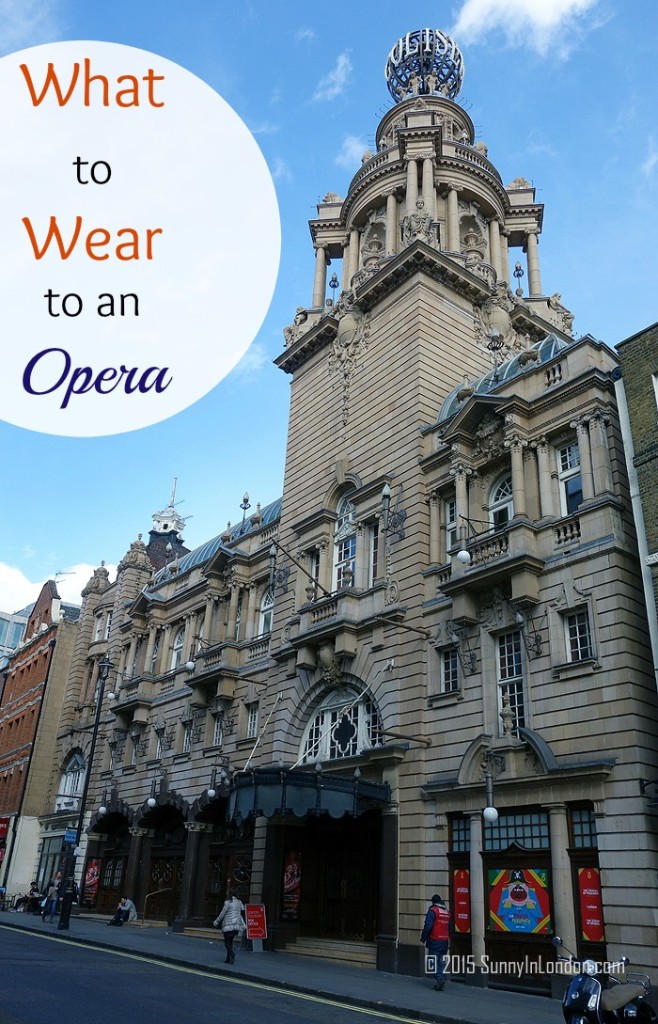 Maybe I should not have sent that email response so fast? I started feeling a bit like Vivian in Pretty Woman.  It became obvious to me that I need help getting ready for this event. Logic guided me directly to the source.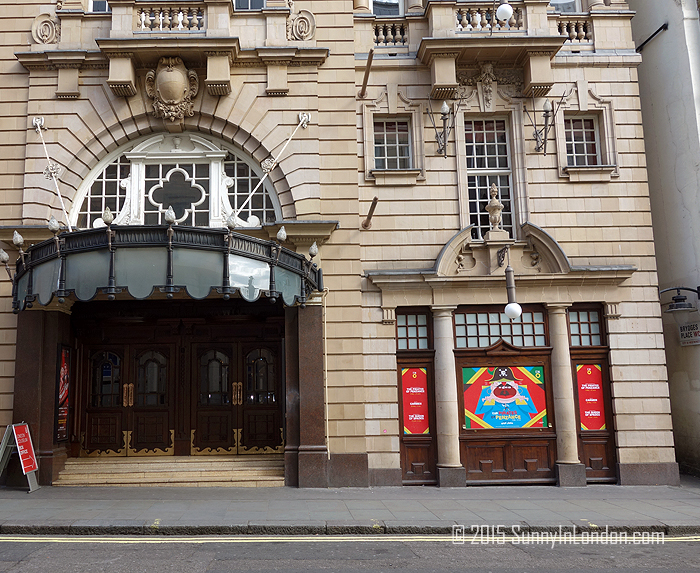 On a beautiful, sunny day in London, I made my way to Covent Garden to visit the London Coliseum, where the English National Opera is having these three shows. Who better to ask, right?
When I tugged on the doors, I was elated to find them open, so I made my way inside. As I moved quietly and carefully through the building, I could hear opera singing. Chills ran up my spine. The gorgeous sounds were coming from just beyond these doors…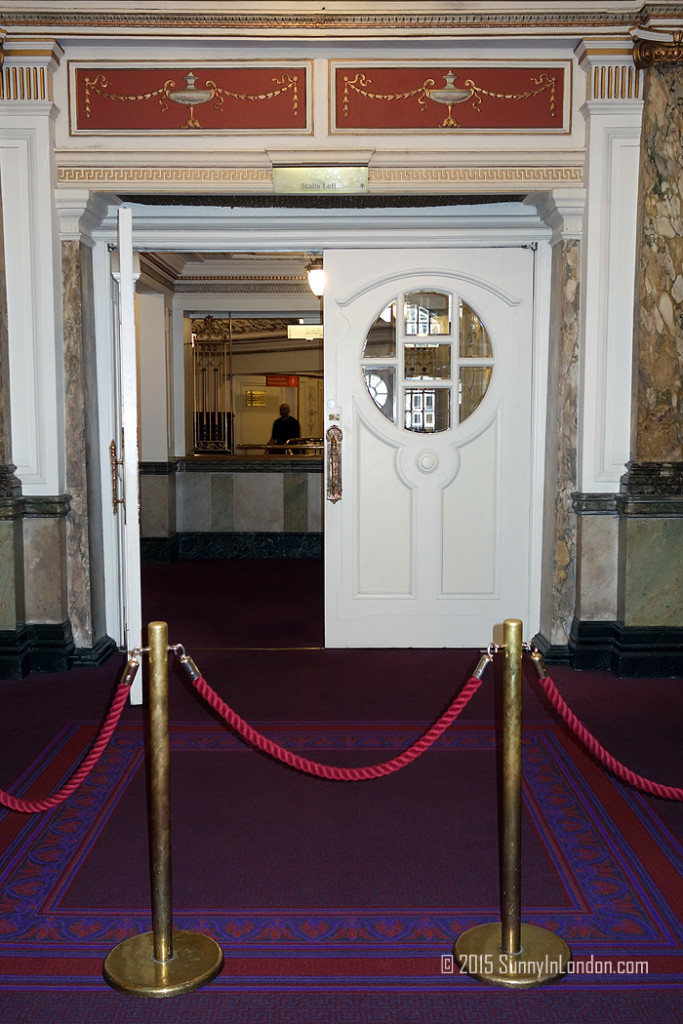 I found a man seated in front of the rope and asked if I could pop my head inside to take a sneaky look. The answer was a very polite, 'No.' It's what I expected, but figured I would try my luck. He thought my story idea for 'What to Wear to an Opera' was an interesting twist and allowed me to take pictures of the Box Office.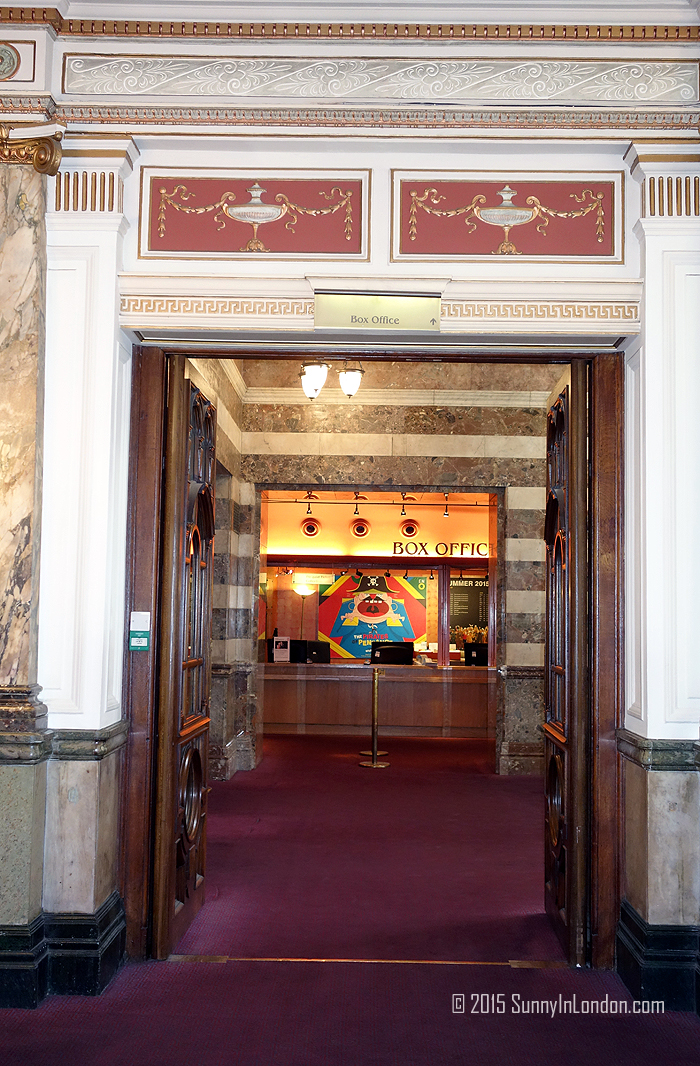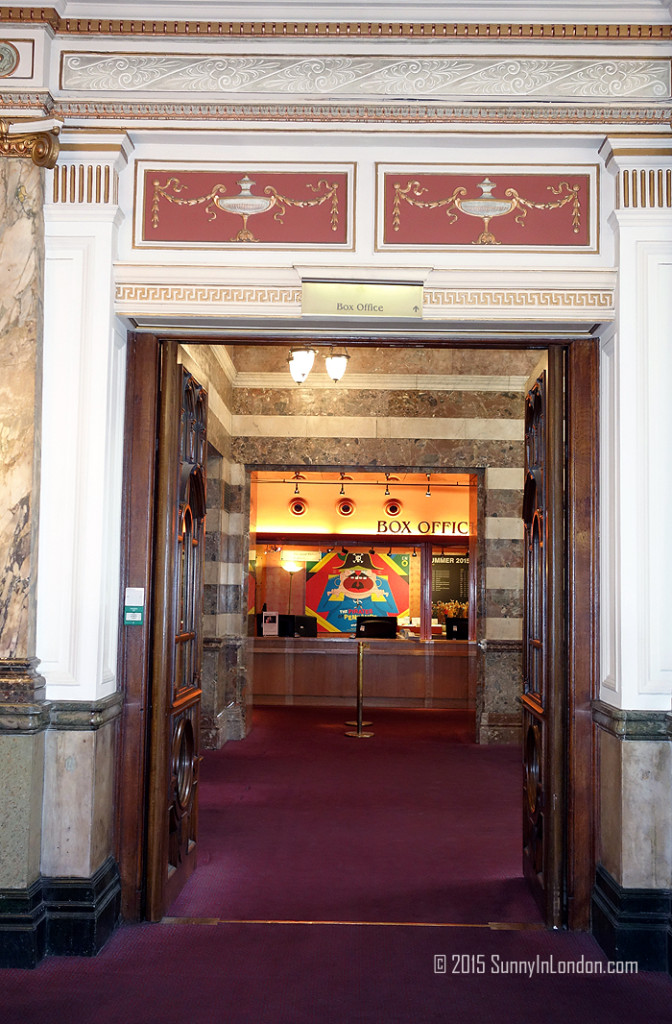 The helpful man also told me it might be a nice idea to look up as I made my way to the Box Office because the ceiling was well worth a shot or two. He certainly wasn't joking.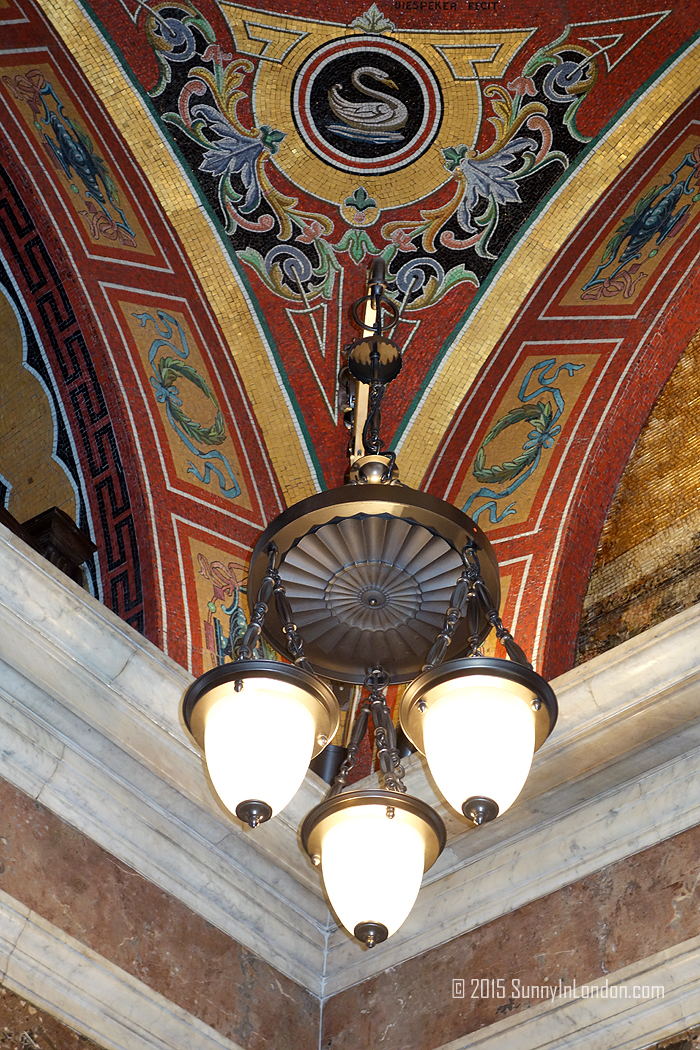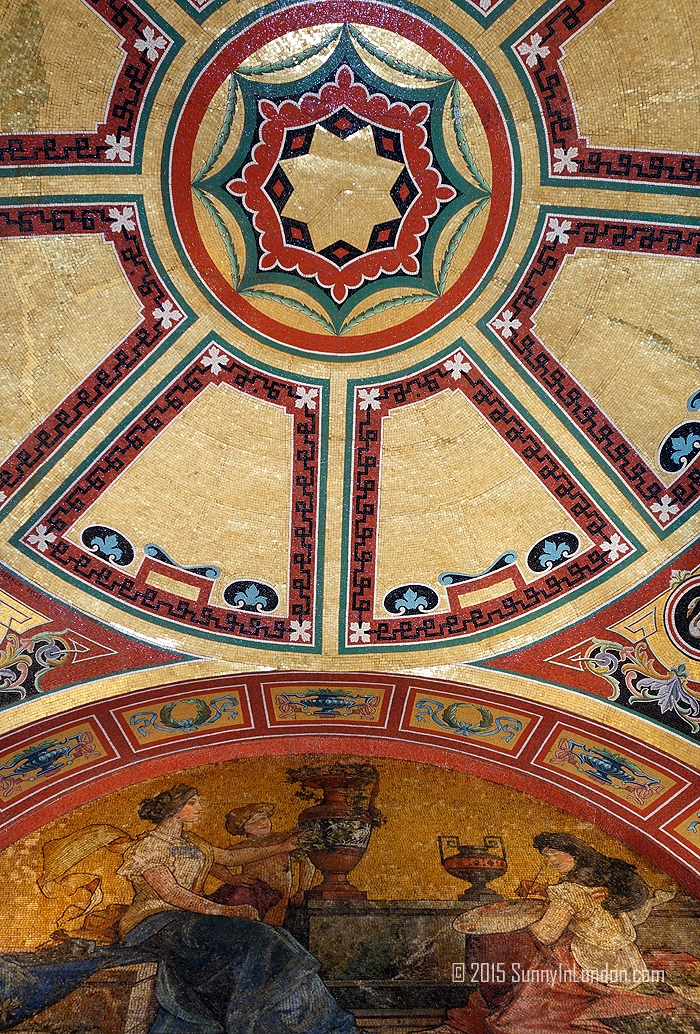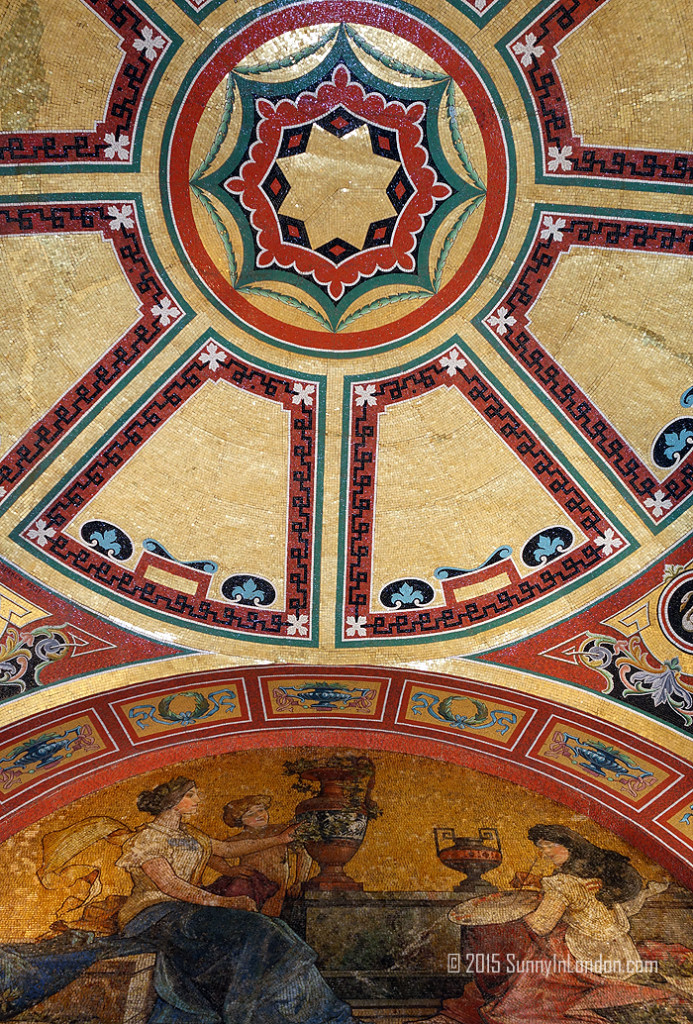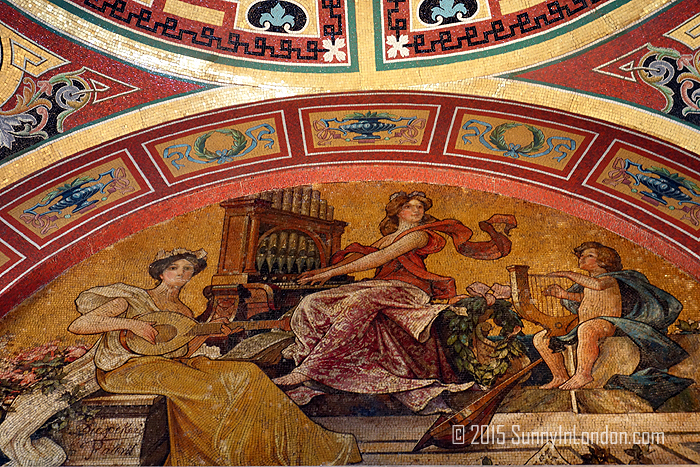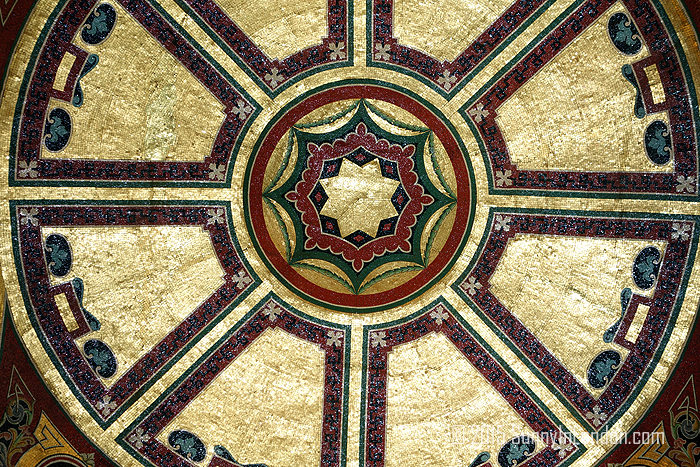 I would like to tell you the details of this stunning artwork, but again, I missed all that art history training by spending too much time on the beach as a kid. Part of living in London for me involves catching up on those life opportunities and treasures.
I did, however, fantasize a bit about having tickets on a balcony, just like Vivian.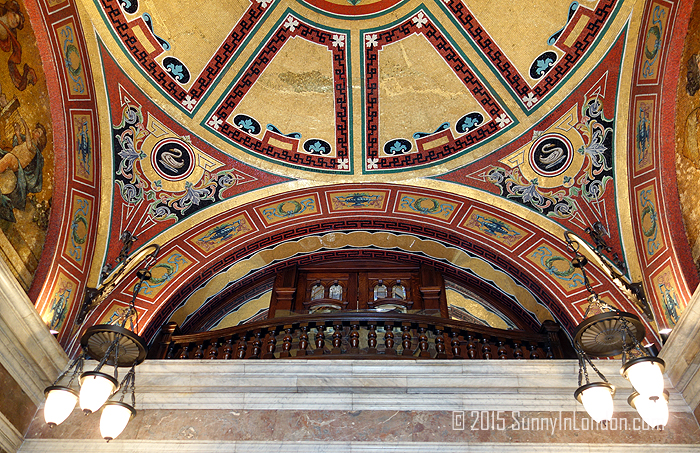 Next, I took a deep breath and approached the man selling tickets in the Box Office.
'Hello, sir. I am attending my first show here soon and have no idea what to wear to an opera. Can you help me?'
He was very willing to share information. Here's what I learned:
What to Wear to an Opera:
– The days of fancy decorum are sadly over.
– Most people attend the opera in London with the clothing they wore to work.
– Black Tie Dress Code is not required, nor followed by many.
– Some people wear jeans. Occasionally people wear hoodies.
– The London Coliseum does not have an enforced dress code for patrons.
I found this information to be a bit of a relief. It means I don't have to purchase an expensive cocktail dress just for the event. However, it's incredibly disappointing to hear that many people don't respect the tradition of fine dress and actually wear gear that is more suited for the gym or grocery store.
As of right now, I still am not sure what I will wear. However, first I think I'll probably try to take off a few pounds. When I asked a tourist also walking through the London Coliseum during my visit to take my picture, she asked me to turn slightly on an angle because 'it always makes you look thinner.' Hmmm…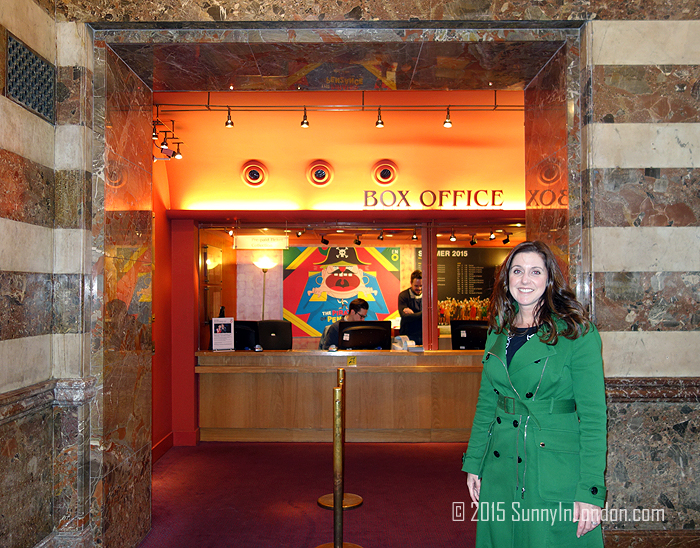 Sunny friends, I do know which show I am going to see. Since this whole adventure already followed the emotional path of Pretty Woman for me, I picked Pirates of Penzance. In the film, Edward takes Vivian to see La Triviata. Unfortunately, that show was already featured February 9-March 13 of this year at the London Coliseum.
In the scene where Edward asks Vivian what she thought of the opera, she says, 'It was so good I almost peed my pants.' A gentleman near them inquires about her response, and Edward says, 'She said she liked it better than Pirates of Penzance.'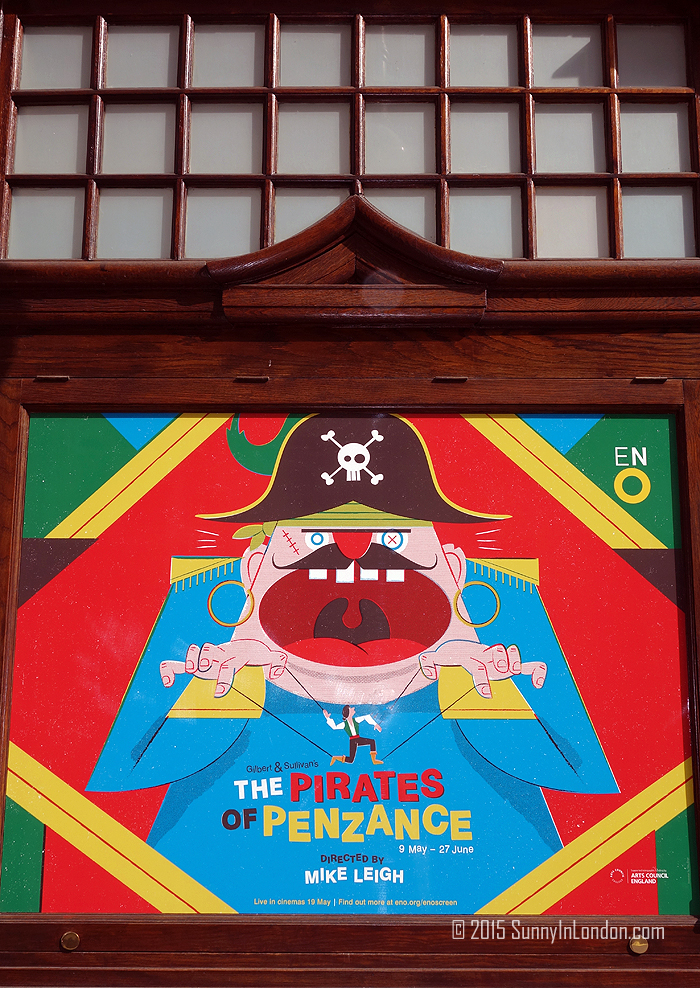 It's supposed to be a a hilarious show which will be Mike Leigh's opera directorial debut. The plot has numerous unlikely twists, sentimental pirates and blundering policemen. Cast members include: Andrew Shore, Jonathan Lemalu, Robert Murray, and Rebecca de Pont Davies.
The show dates are:
– May 9, 14, 16, 19, 23, 29
– June 5, 13, 20, 21, 26, 27
If you're interested in going, you can visit the English National Opera site for times and ticket prices. They are on sale now. The other English National Opera show dates on their way are Carmen (May 20-July 3) and The Queen of Spades (June 6-July 2).
The English National Opera also offers one hour long guided tours.  During them, you can visit the old Gentleman's Baronial Smoking Hall, Stoll's Balcony, some Private Rooms, the Upper Glassed Terraces, the fabulous auditorium as well as the warren of staircases backstage including beneath the vast revolving stage and orchestra pit (when possible).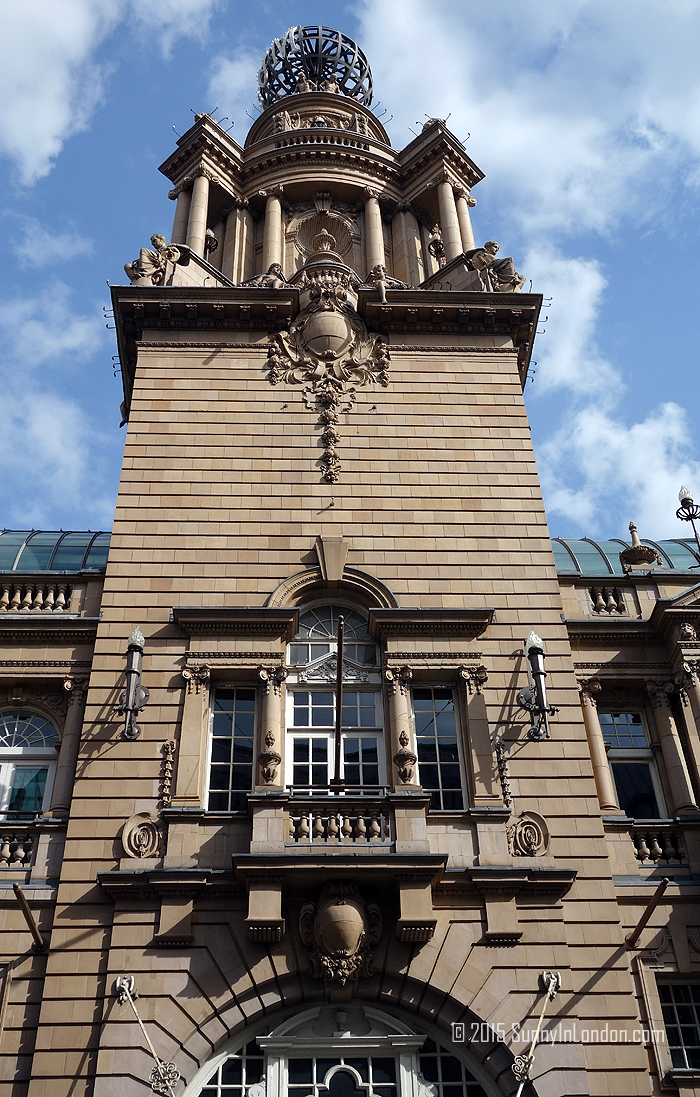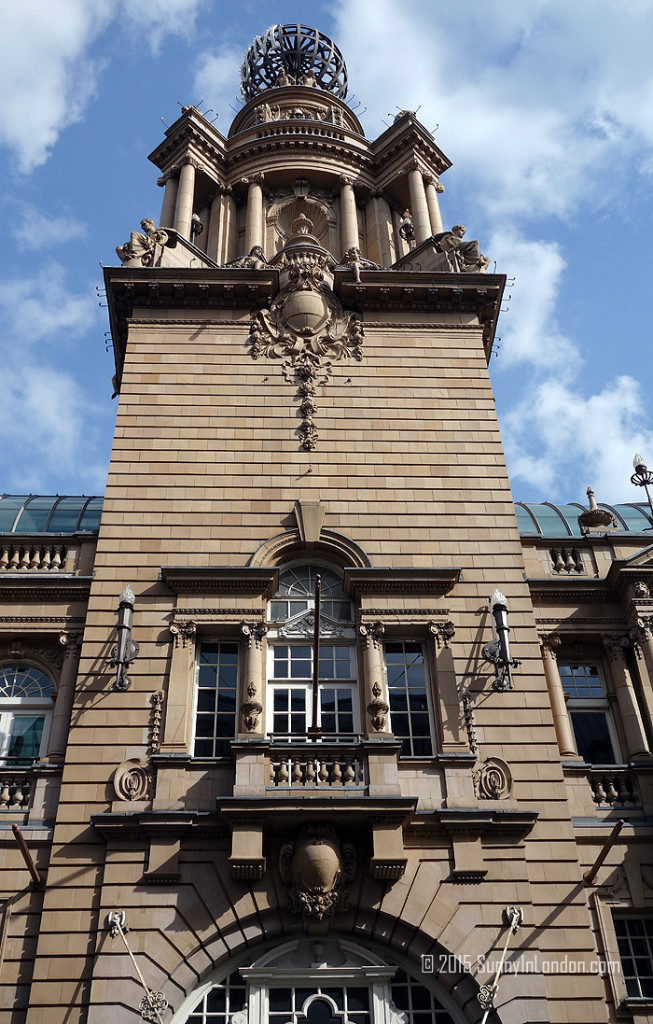 The London Coliseum, is known as 'The Peoples Palace'; a theatre that was affordable to enter but which would also inspire a sense of wonder and excitement.
I am going to work on figuring out what to wear to an opera over the next few weeks and would love your feedback. Sunny friends, any help you can give me on the following questions is greatly appreciated:
– Have you ever attended an opera? What advice do you have for me?
– What would you wear to the opera?
– What would you have picked from the list of choices?
– Would you like to go with me? Mr. Sunny said he would graciously let a blog reader go with me as a special treat. Our show date will either be May 14 or 23.  Just leave a comment below, if you're interested in being my guest. Of course, any ideas on what I should wear are most welcome too!
Oh, and… 'In case I forget to tell you later, I had a really good time tonight.'