All Aboard the RS Hispaniola in London
What happens in London as the Spring season hits? Aside from everyone packing away their scarves and coats and enjoying longer periods of sunshine, it means the launch of Spring menus for nearly all the restaurants in London. The RS Hispaniola is no exception. In fact, Mr. Sunny and I had an exclusive opportunity to preview their new Head Chef's first menu aboard the ship, which is a party of the City Cruises fleet in London.
Mr. Sunny and I arrived to Victoria Embankment a few minutes before the RS Hispaniola Spring Menu Launch Party started on the evening of April 1st. Since we had such a blast on the sightseeing cruise we took roundtrip from Westminster to Greenwich, we knew this City Cruises adventure would be fun too.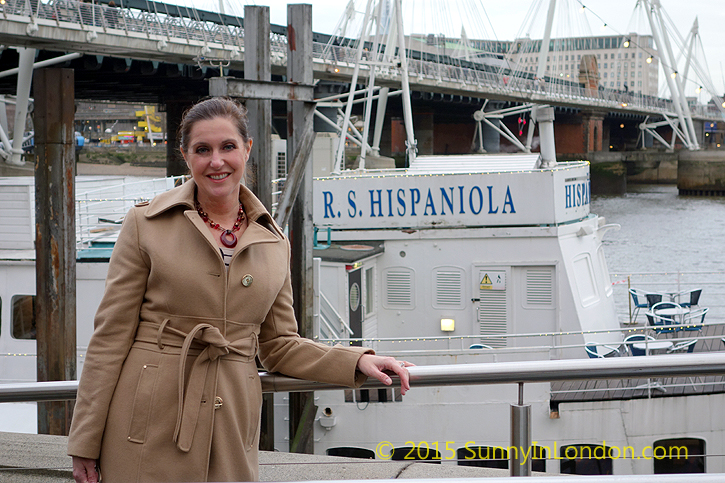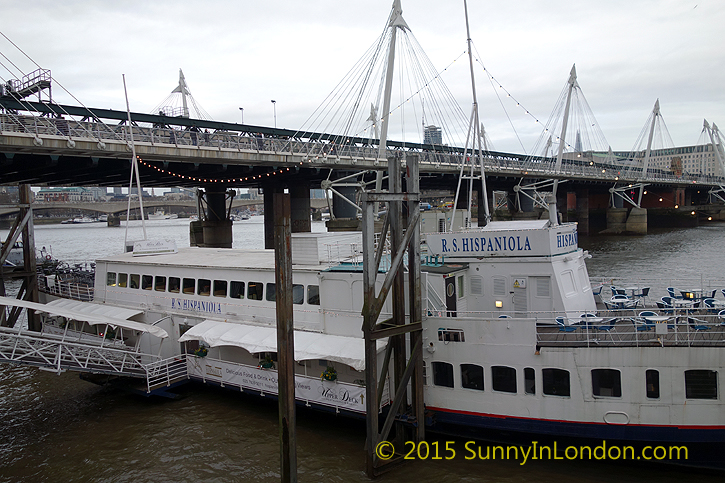 As soon as I saw the gangplank, I was very, very glad I left my high heels home for this event. This was no April Fools' Day joke, Sunny friends. The angle is steep, and I am glad Mr. Sunny held my hands for balance as we entered the RS Hispaniola party.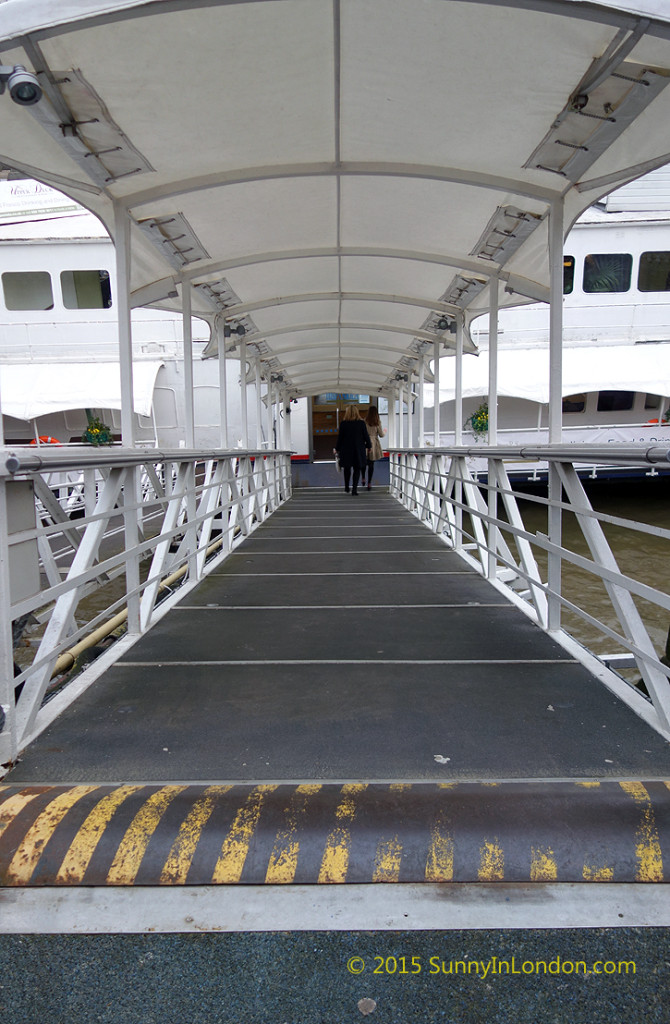 The guest list featured a great crew of people who truly love London. Mr. Sunny and I immediately embarked with glasses of the Laurent-Perrier Brut champagne and began mingling with all the party's attendees. This is a quick look at the interior of the RS Hispaniola restaurant.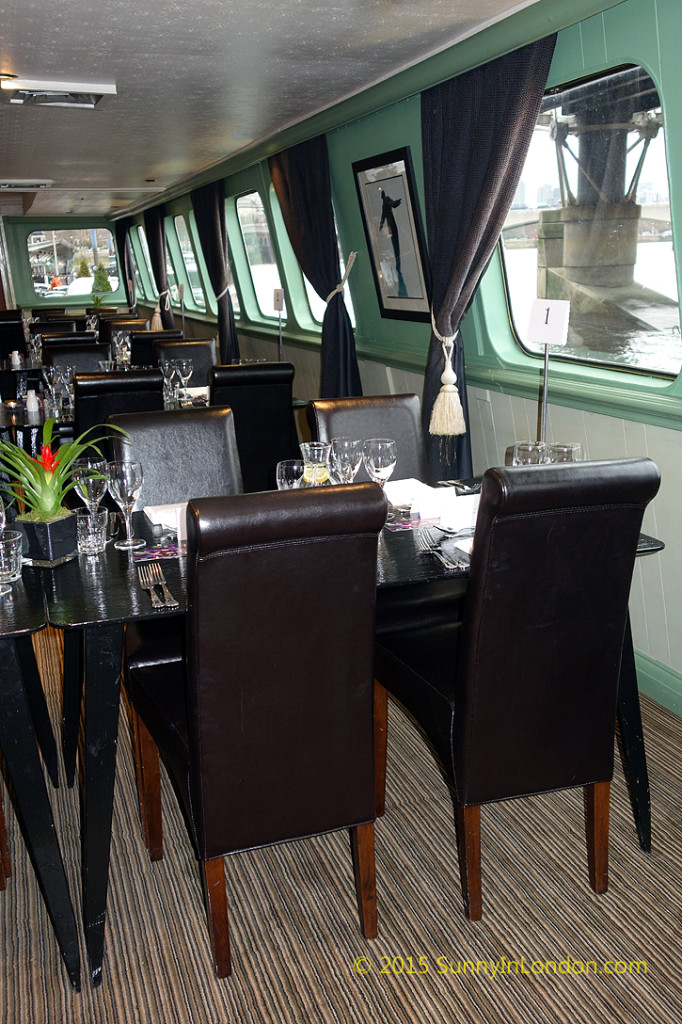 For the event, we each enjoyed a three-course meal with exceptional wine pairings.
First, I selected the Smoked Mackerel Mousse with marinated beetroot, beetroot crisps and beetroot coulis as my Starter.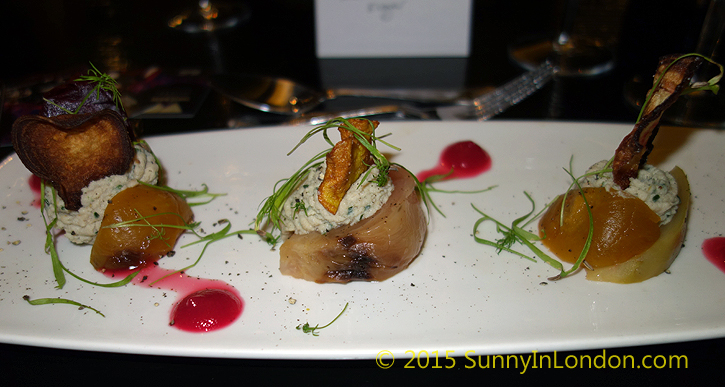 These are the Wild Mushrooms served with stilton cream, lemon, parsely, and toasted ciabatta that Mr. Sunny ate.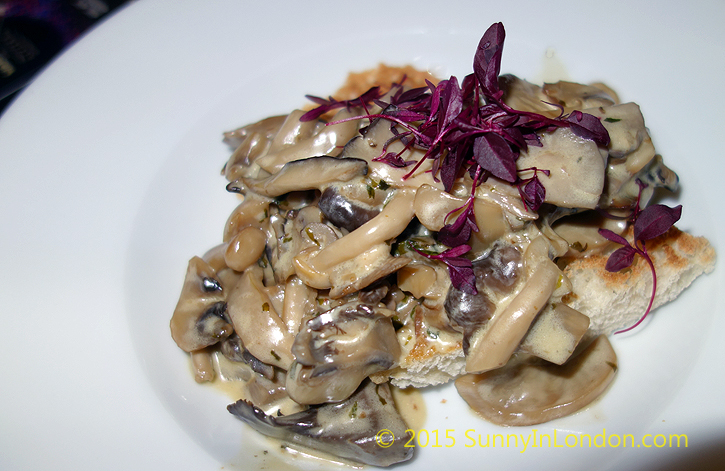 All the Starters are matched with Macon Villages 'La Crepillionne' Domaine Fichet 2013, a Chardonnay. The suggested food and wine pairing for the Mains is a Syrah. We had Domaine 'La Croix Belle' 2013.
I enjoyed the Seared Sea Trout, which is featured with vegetable brunoise, Puy lentils and bisque broth.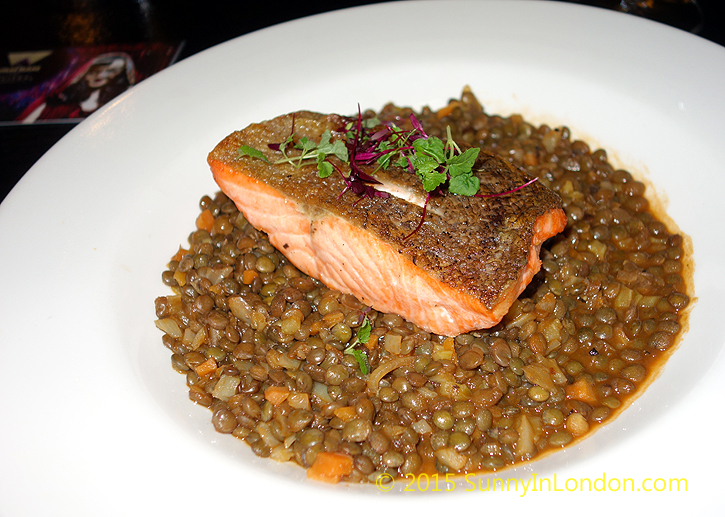 I'm sure we can definitely agree that the RS Hispaniola galley didn't hold back on the lentils. 😉
Mr. Sunny, who always is a bit more adventurous with his food choices, ordered the Slow-Cooked Ox Cheek. That's right. It is presented with carmelised onions, sauteed cabbage, Dauphinoise potato and onion rings.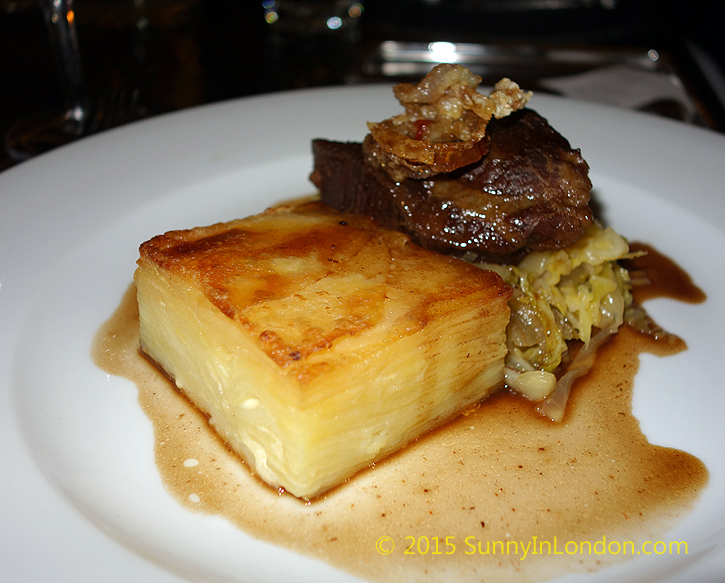 Before we headed ashore, we each made sure to eat one of the desserts on the menu.
In keeping with the seasonal spirit of the upcoming Easter weekend, I chose the Chocolate Tart, spiced Orange segments and vanilla Chantilly cream. Mr. Sunny ate the Fruit Clafoutis with lime and coconut sorbet.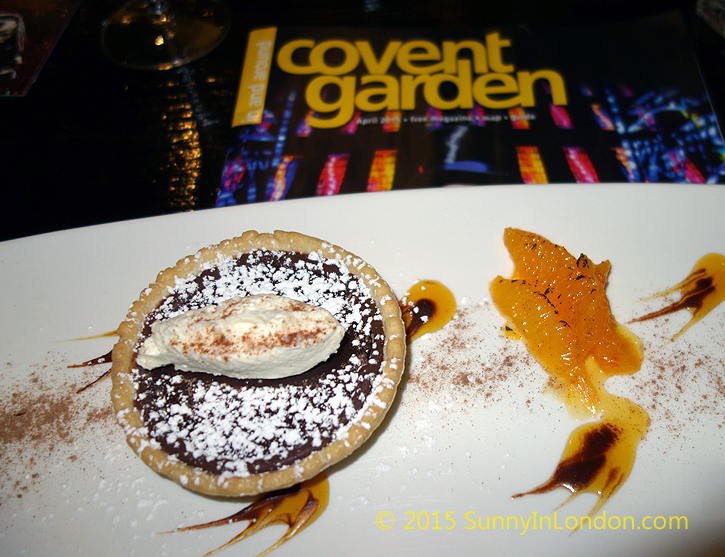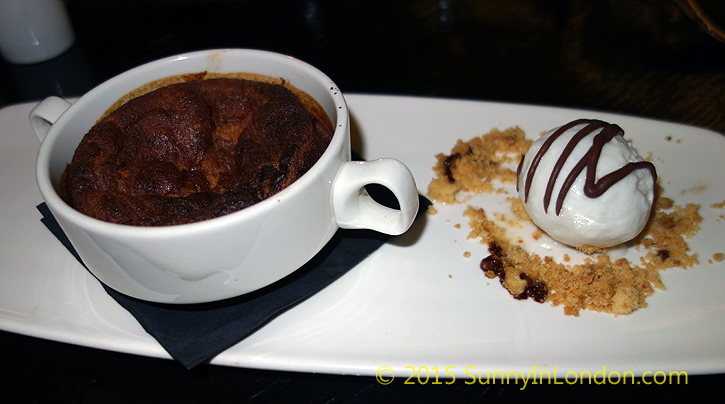 We both couldn't resist taking this picture for you of the Blueberry, Apple and Pistachio Crumble. Can you say, 'Pour some crumble on meeeeeee.'?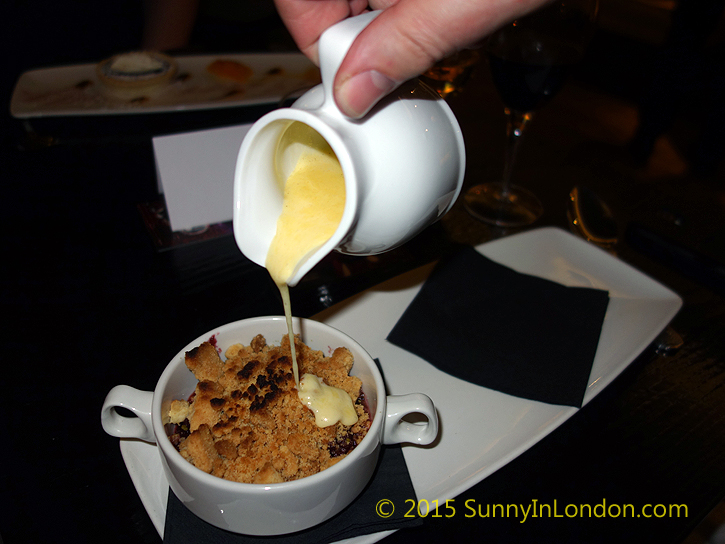 Mr. Sunny really liked the Jurancon Symphonie de November 2011, which is the dessert wine served with the final food phase.
Just before we began our debarkation for the evening, we made sure to grab a souvenir picture with all of our new friends from the RS Hispaniola party.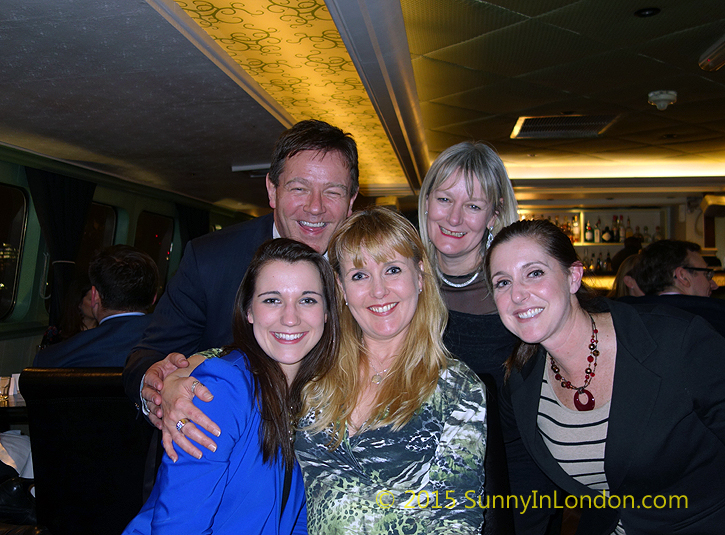 The Spring Menu on the RS Hispaniola:
– Features 22 European dishes from which you can choose.
– Includes other options such as Warm Wood Pigeon Salad and Lobster Thermidor.
– Has prices from £6.00 for Starters, £14.50 for Mains and £6.00 for desserts.
– Is the creation of Chef Barry White who has worked in kitchens across the globe from London to Jamaica and Thailand.
– Can be offered in a 3 Course Spring Set Menu for £28 per person.
And yes, they have an afternoon tea (which includes a glass of Laurent-Perrier champagne) for £25 per person as well!
Aside from all the food we had at the RS Hispaniola Spring Menu launch party, we also loved the beautiful views of London from the ship. Mr. Sunny used his iPhone 6 to capture these pictures for you.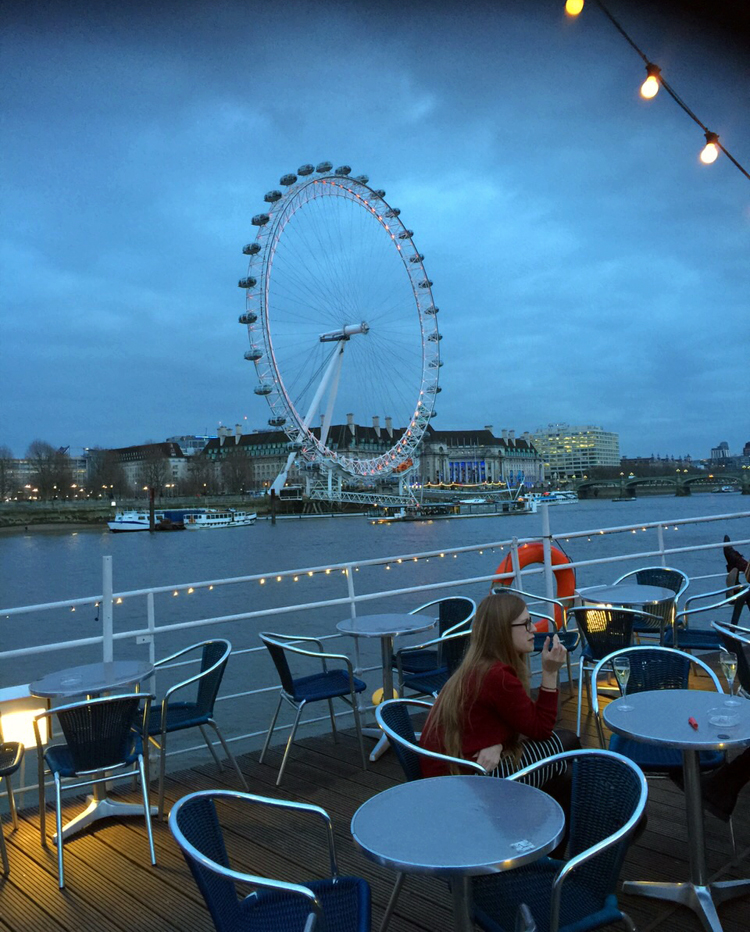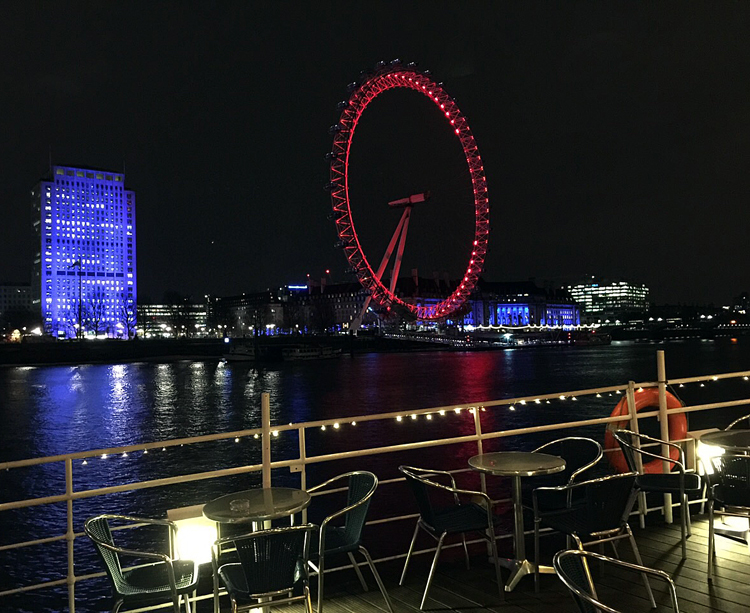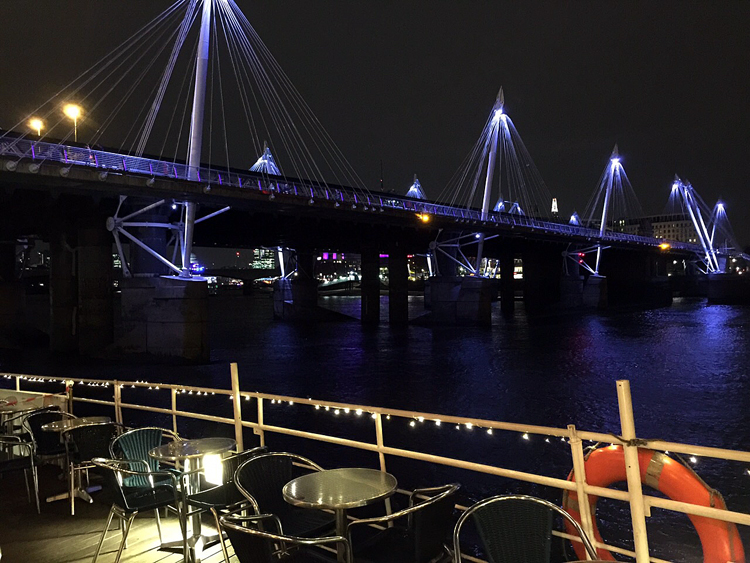 City Cruises has a fleet of 20 river vessels. Aside from  Lunch, Dinner and Afternoon Tea Cruises, they also have Sightseeing Cruises, Sundowners, Riverdays and several holiday party events. As a girl who grew up in Florida and spent tons of time on cruises and boats, I want to give their ThamesJet experience a go. It looks like an outrageously great time. Keep an eye out for that one, Sunny friends. 😉