Hotel Cafe Royal- How to Make Chocolate Easter Eggs
What would you do if one of London's most glamorous hotels contacted you to spend an evening learning how to make chocolate Easter eggs? If you're like me, you accept that invitation from Hotel Cafe Royal with a super fast, 'YES, Please!'
If you remember back in the Autumn, I had a chocolate week on the Sunny in London blog. I decorated a chocolate skull for Halloween, took a chocolate making master class, and featured an entire post on eating chocolate during my trip to Belgium.
What I didn't know was around that same time during Chocolate Week in London, Hotel Cafe Royal launched their own 'Profile 66' chocolate created by Executive Pastry Chef, Andrew Blas. It's called 'Profile 66' because it features 66% pure chocolate. For Easter, they are showcasing this exclusive recipe with a range of hand-painted eggs, chocolate treats, themed menus and a Golden Ticket competition.
Naturally, when I received an invitation to have an inside look at how to make a chocolate Easter egg, I couldn't wait!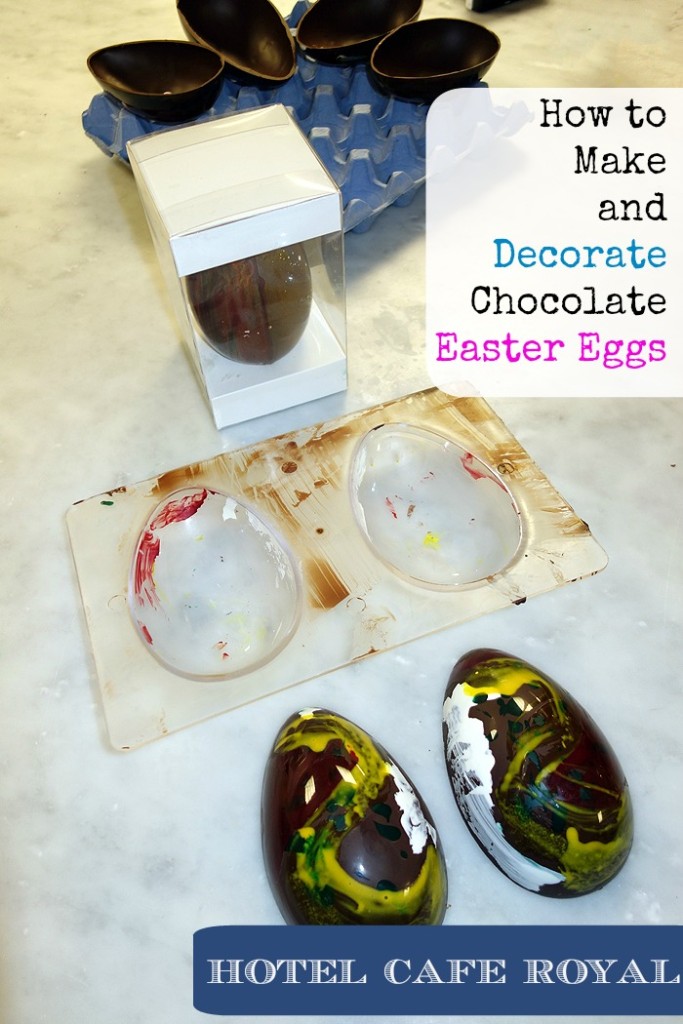 To start the evening, a group of London's most excited food, fashion and lifestyle bloggers gathered in the cafe of Hotel Cafe Royal, which is on Regent Street. That's where you can find the chocolate eggs that Chef Andy Blas has carefully crafted. We were whisked through the divine smelling kitchen of the hotel to a secret chocolate making room where we got to see the chocolate being created. Then we each received drinks made of chocolate, Drambuie and raspberry foam.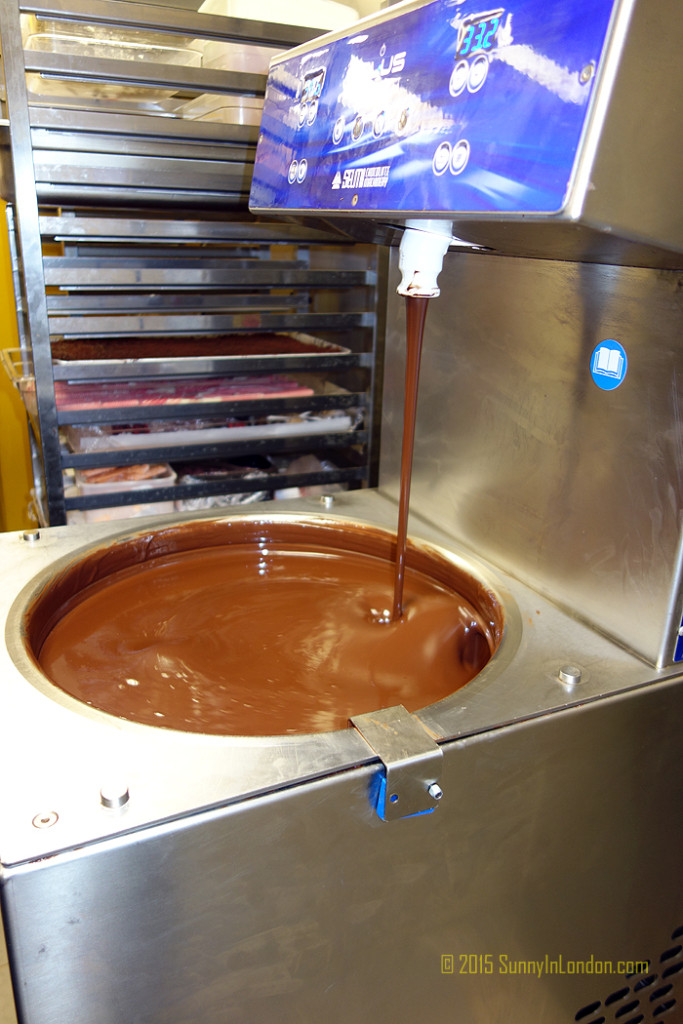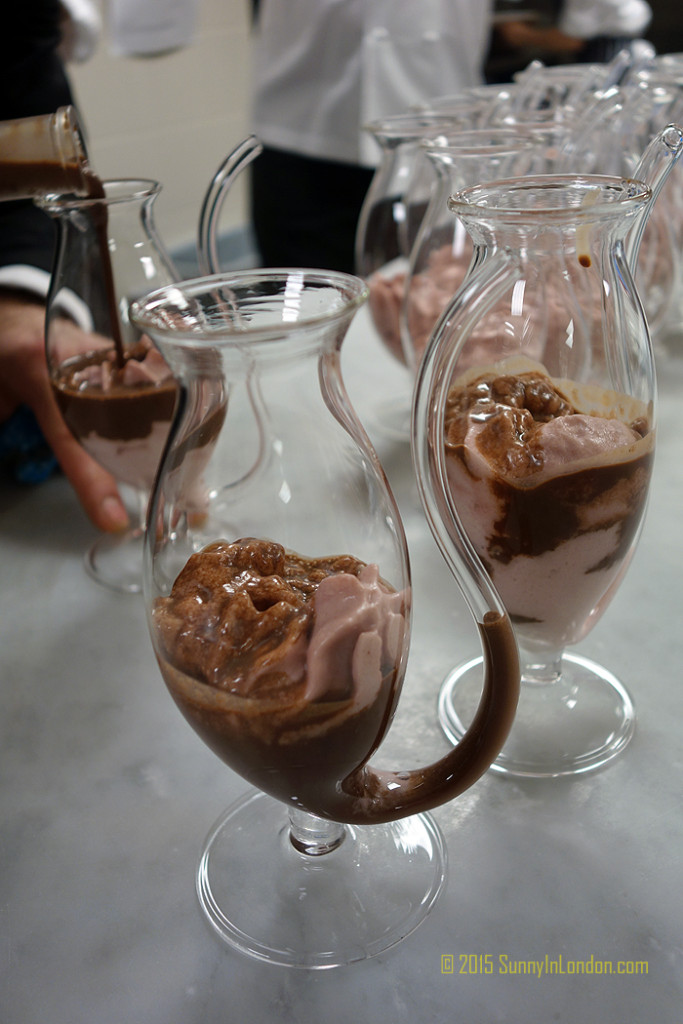 The Executive Chefs taught us the details of what makes the Hotel Cafe Royal chocolate so extraordinary and then started to show us how to make chocolate Easter eggs that we could keep. These are samples they showed us to motivate our creativity.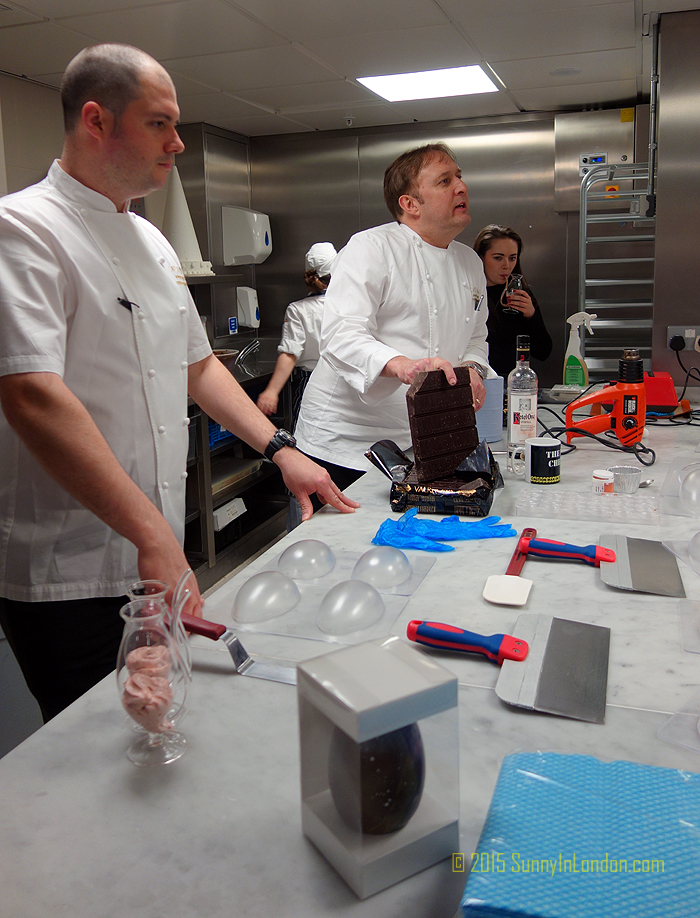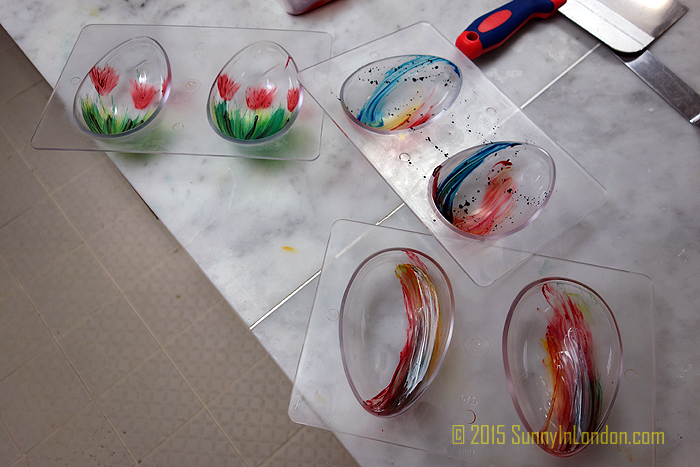 The Hotel Cafe Royal- How to Make a Chocolate Easter Egg Steps:
– First, we used cotton balls to wipe thoroughly the large eggs molds.
– Chef Andy Blas explained that we could use brushes and our hands to add the vibrant colours to our eggs and had numerous tools ready for us to handle. This included gloves because the colour is pretty powerful.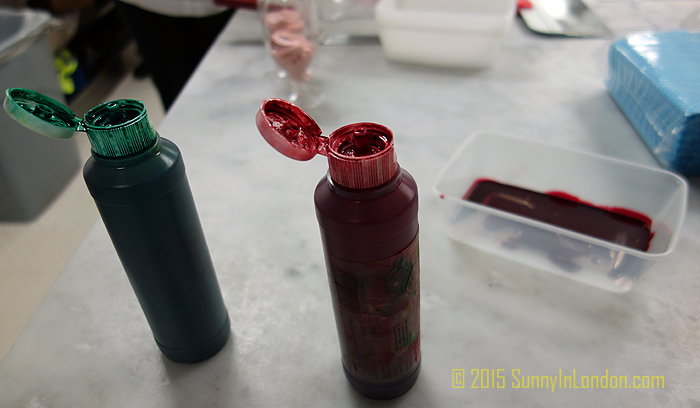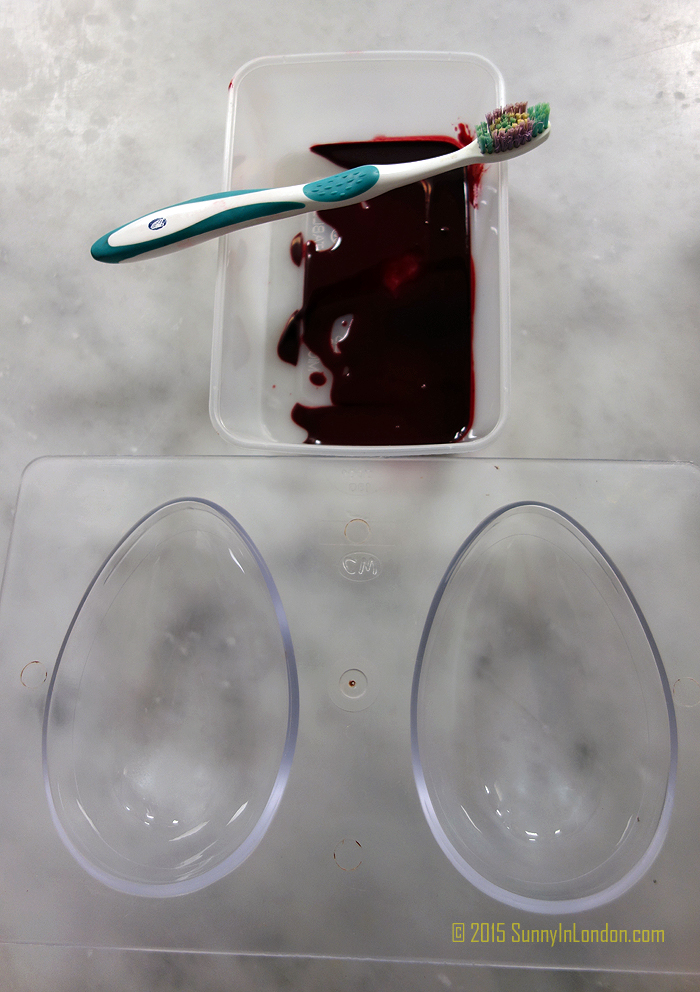 * Mr Sunny wants you to know that is not his toothbrush featured above. However, since I visited Hotel Cafe Royal, he feels like he is starting each morning with chocolate minty breath. 😉 (Shhhhh, don't tell the hotel!)
– Next we chose our colours for the egg's chocolate shell. Chef Andy explained that we should chose the colour we wanted accented the most first, because all other colours would fill in behind it. Naturally, I picked a bright, sunny yellow and put my 'Super Sunny' initial on my Easter egg.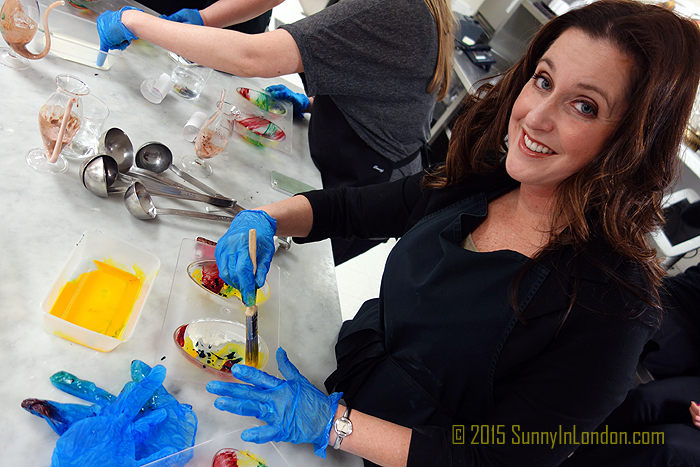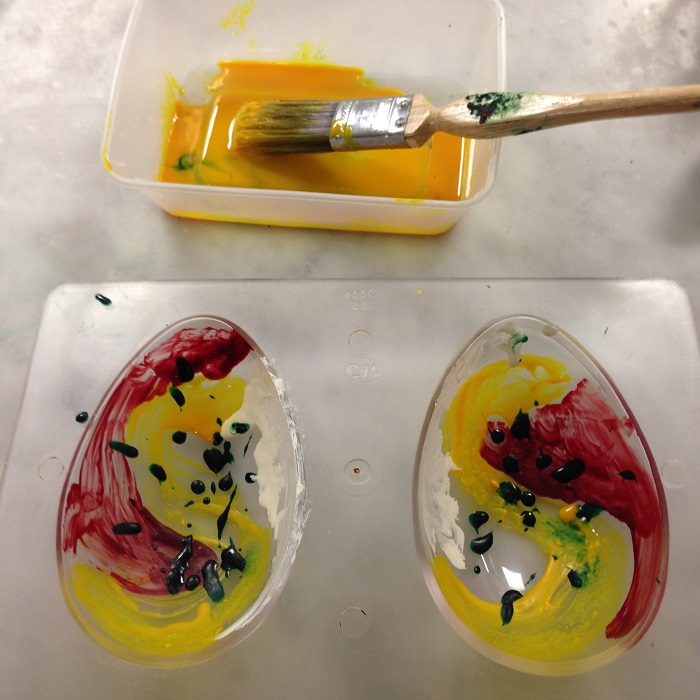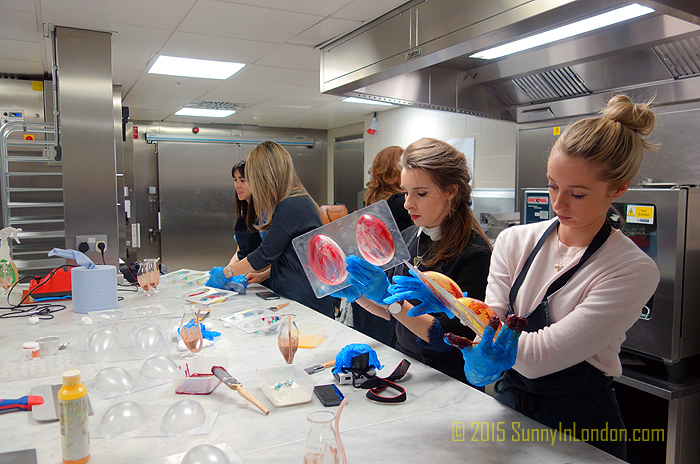 – Chef Andy carefully demonstrated the next step which involved filling our egg molds with chocolate, removing air bubbles from the mixture, pouring off the interior, and scraping off the excess. He emphasised that it's important to make neat edges for the shells because if they dried outside the rims, they might break the entire shell when you snap them off later.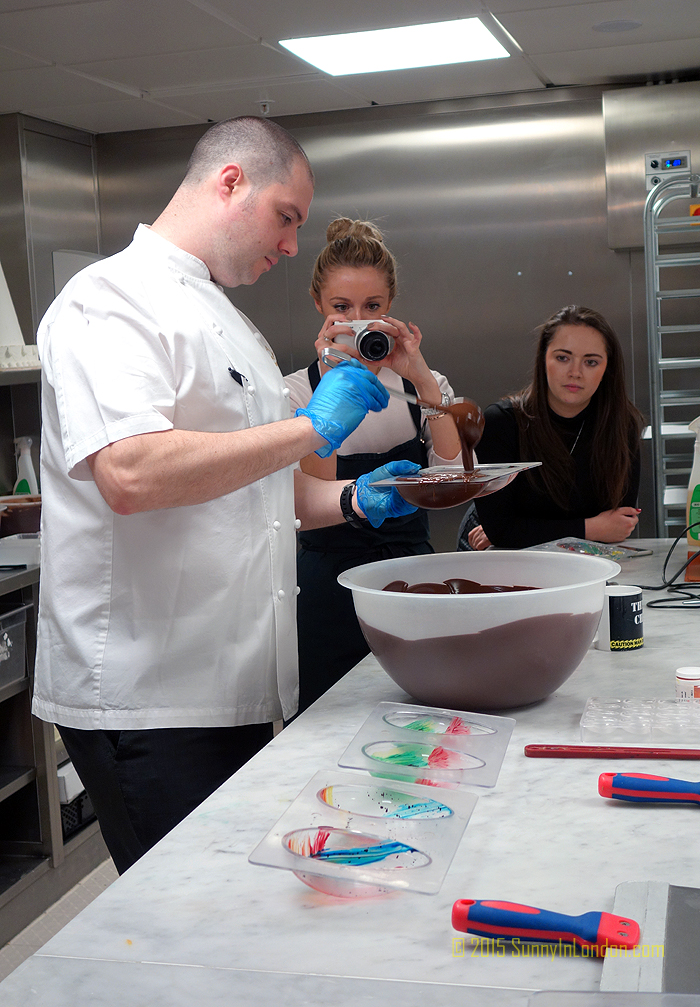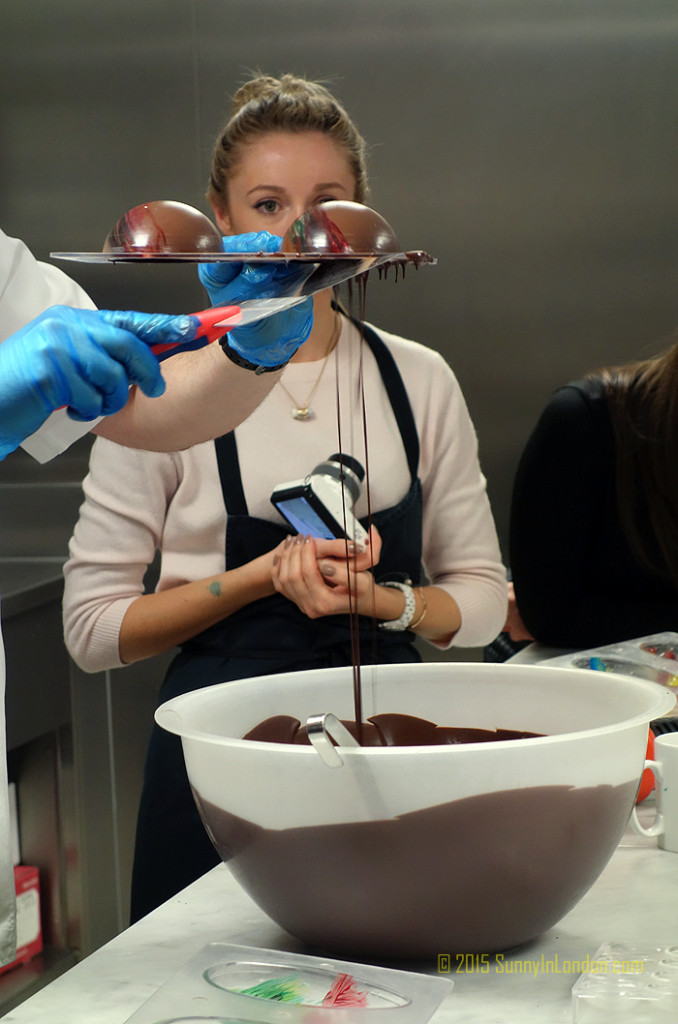 We then had the chance to fill our chocolate Easter eggs and put them on trays to dry for a few minutes. Not a bad way to spend an evening, eh?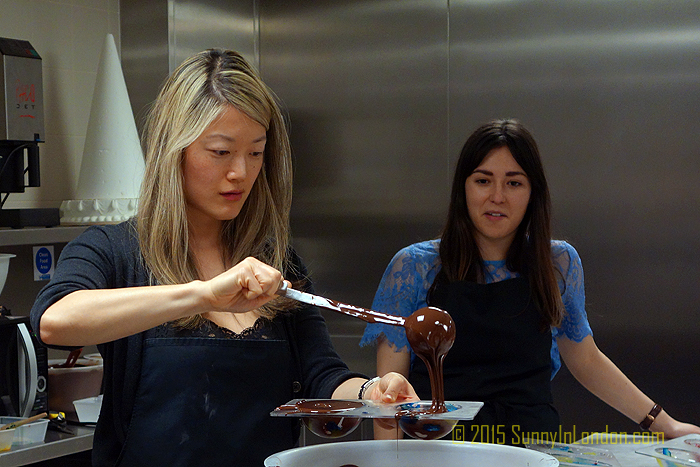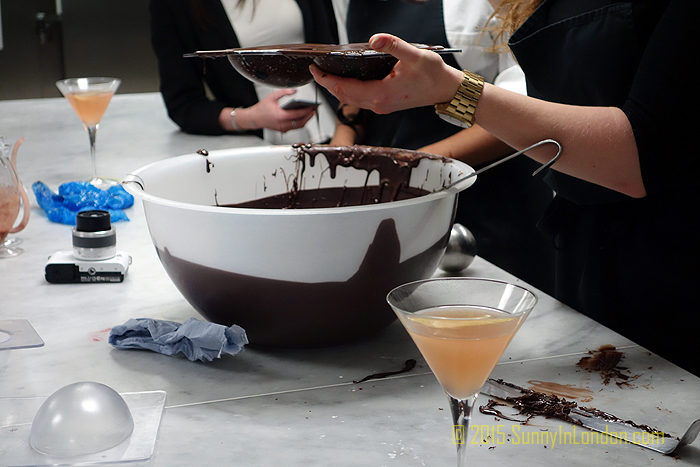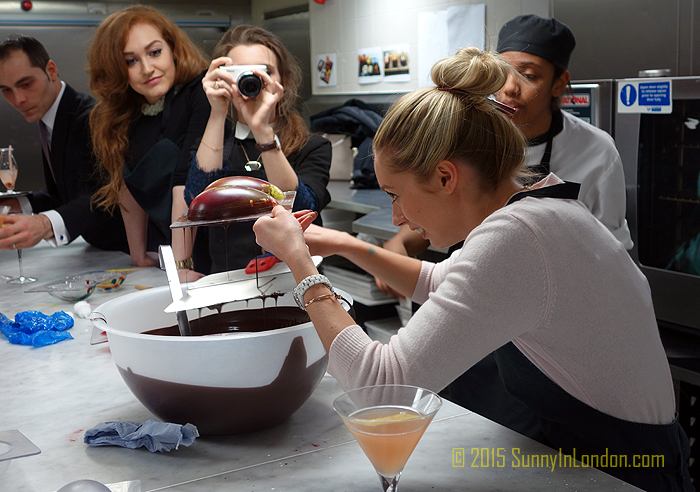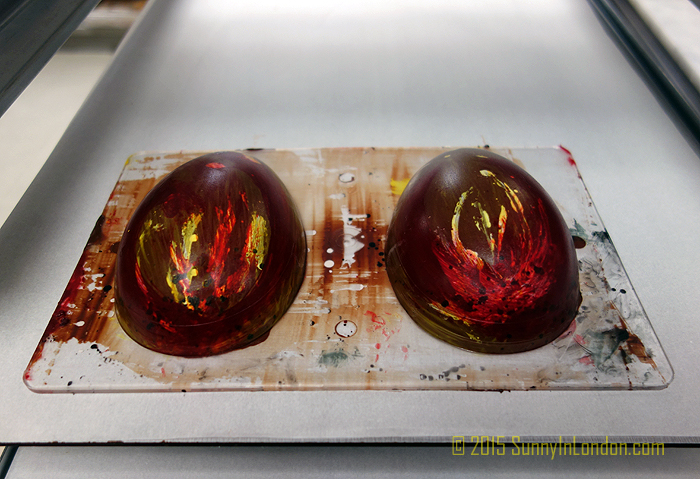 – While our Easter eggs dried, Chef Andy showed us how to temper chocolate and then gave us a giant bowl of jellied candies to toss inside our mouths eggs.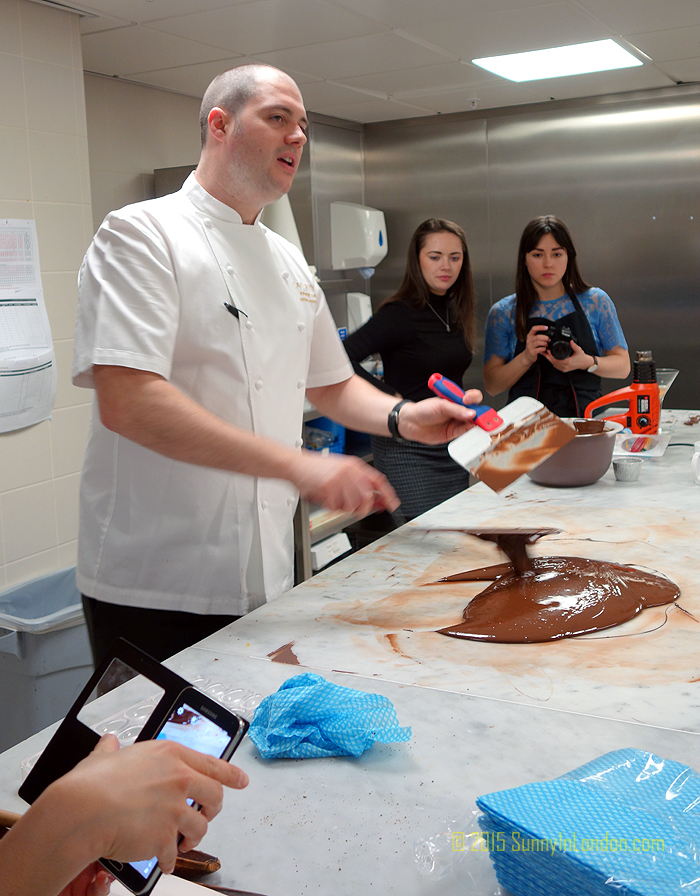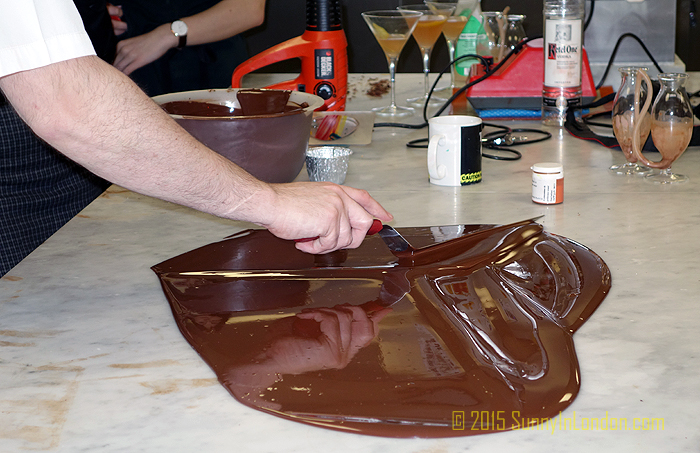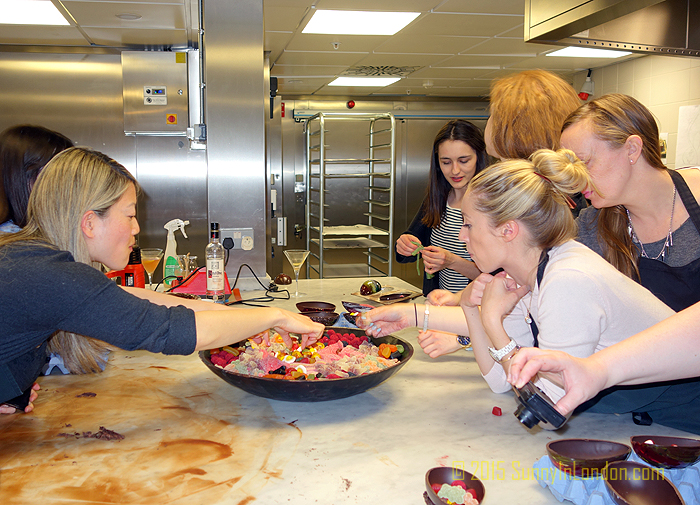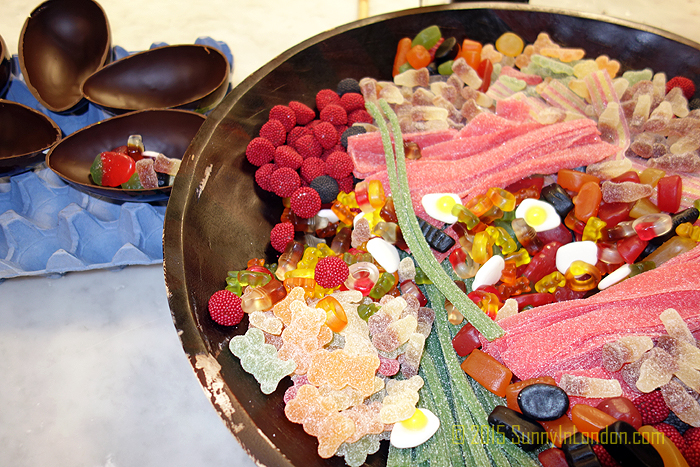 – Finally, we carefully removed our chocolate shells from the molds, put them on empty egg crates, and delicately placed handfuls of candy inside them. I think if my drink below hadn't been empty, I may have had my 'S' for Sunny facing the right way on my Easter egg.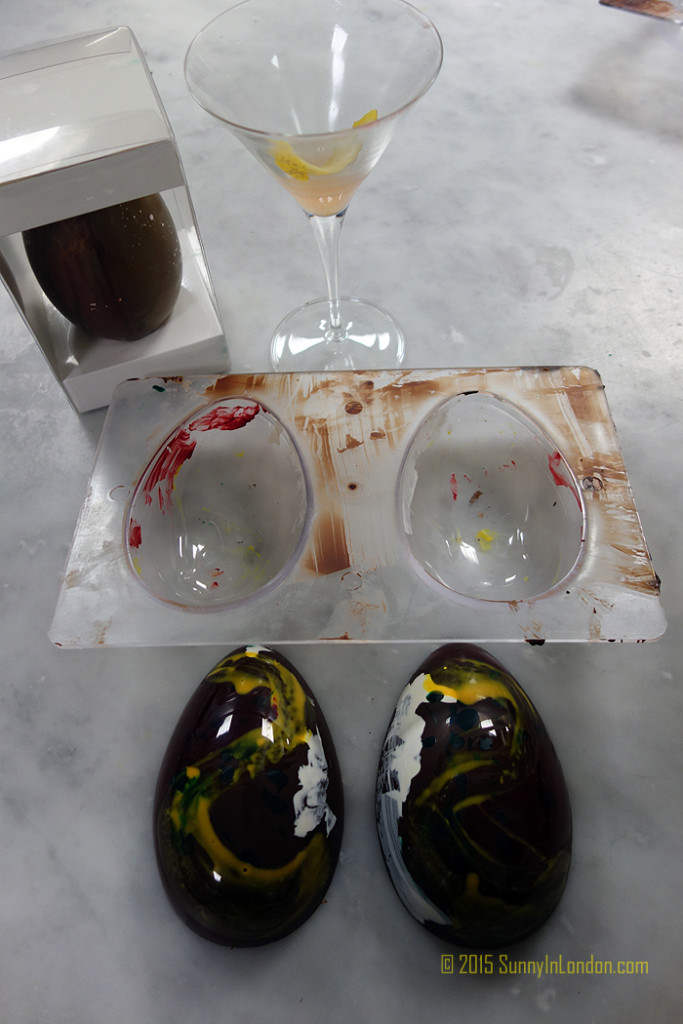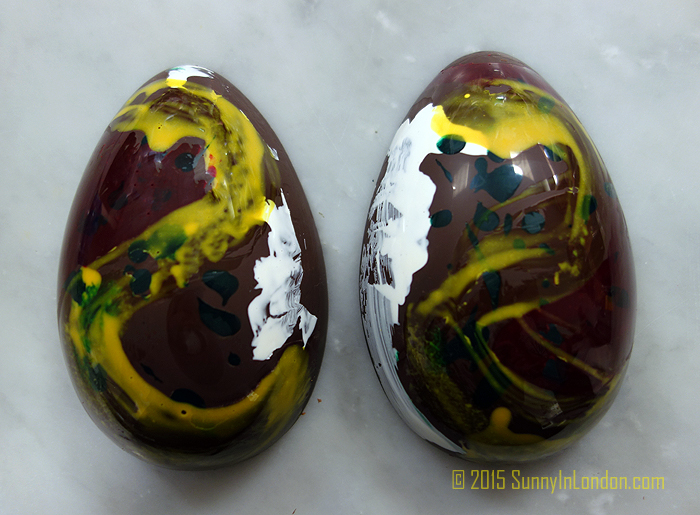 I guess you can say that second drink just made me 'S backwards.' 😉
We then quickly melted one side of the egg and placed the two halves together to form our chocolate Easter eggs.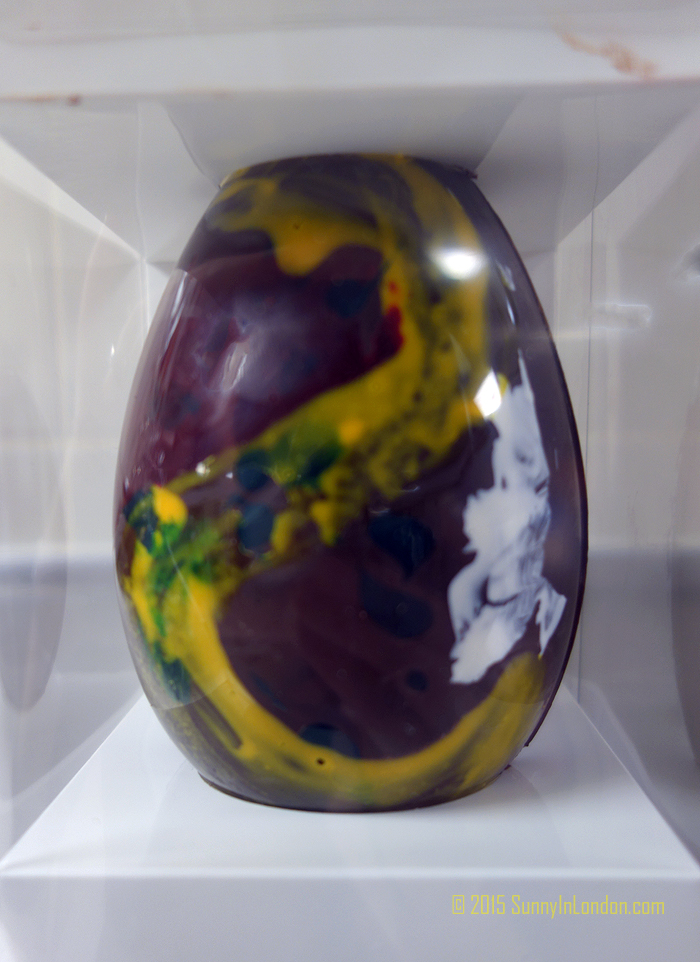 Hotel Cafe Royal- Chocolate Easter Egg Making and Decorating Experience:
– I loved meeting all the staff at the hotel and thank them (especially Chef Andy) for a fantastic evening of chocolate fun.
– You can have a chance to enjoy this opportunity also. Chef Andy has made chocolate eggs that are available in the Hotel Cafe Royal cafe for just £7. Five of these eggs contain not only jellied candies but also a 'Golden Ticket.' Those who find these tickets in their Easter eggs will win a day in the chocolate room. This experience will include a full master class of teaching, tempering, and of course, tasting chocolate. And who doesn't want to play in chocolate all day?
If you simply can't wait to get your hands on the exclusive Profile 66 chocolate from Hotel Cafe Royal, you can visit one of the hotel's bars and restaurants for their numerous cocoa-centric menu options.
I can't wait to visit this historic and five-star hotel again to enjoy these tasty treats or a night of luxury travel. I hear they offer an amazing afternoon tea also. Who's enjoyed it? Would the #LDNBloggersTea group want to give it a go for one of our quarterly afternoon teas?
What's everyone have planned for Easter? Surely, you'll celebrate with one of these decadent eggs… and maybe even a golden ticket!