What exactly makes the St James Court Hotel Royal Afternoon Tea such a regal experience? With so many themed afternoon teas in London, I wondered this exact question when I received an invitation to enjoy this luxurious food.
You might remember my previous blog feature when I hosted a Zomato giveaway for the St James Court Hotel's 24 Karat Gold Afternoon Tea. The winner of this food treat was Shikha from Why Waste Annual Leave, and she absolutely loved her golden feast at the hotel.
Already knowing that the St James Court Hotel offers superior service, food and atmosphere, my anticipation for a second visit was high. Why do they call it a 'royal' afternoon tea? Can you guess what the reason might be?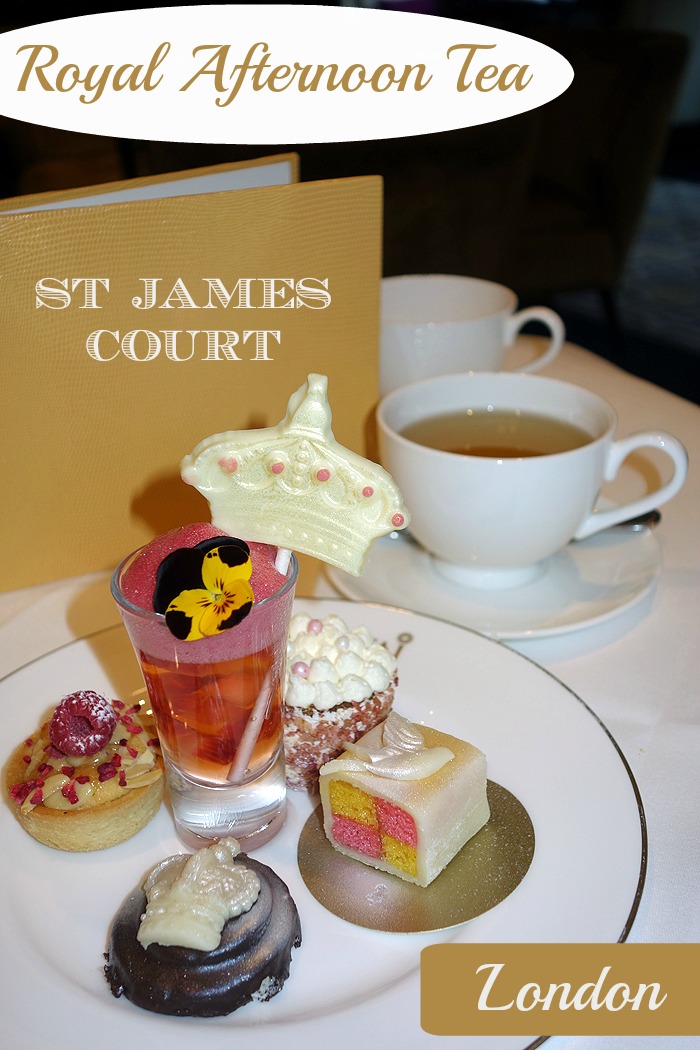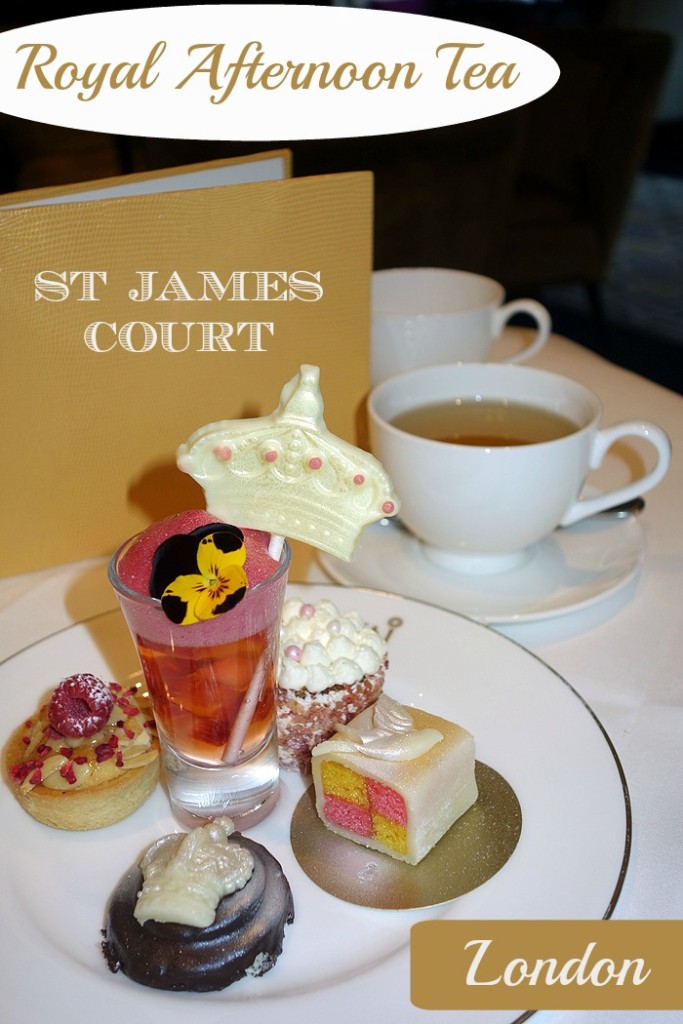 Let me show you, Sunny friends.
First, I made some extra time during the trip to the hotel to explore more of what it has to offer. I began my visit with a wander around the building and discovered an absolutely stunning courtyard. Here's the journey…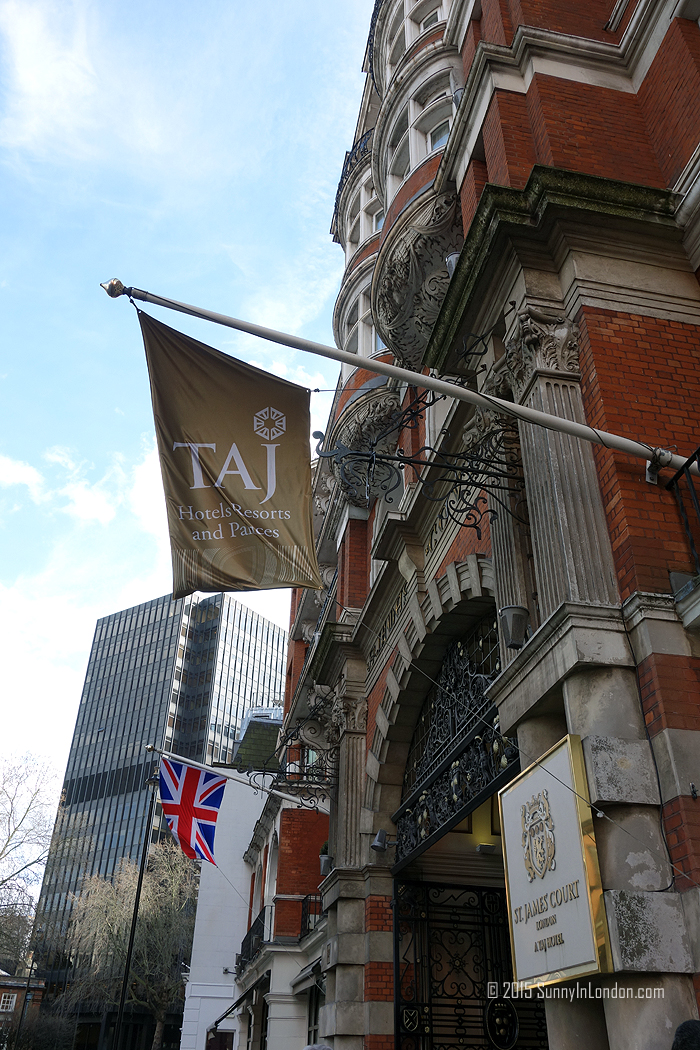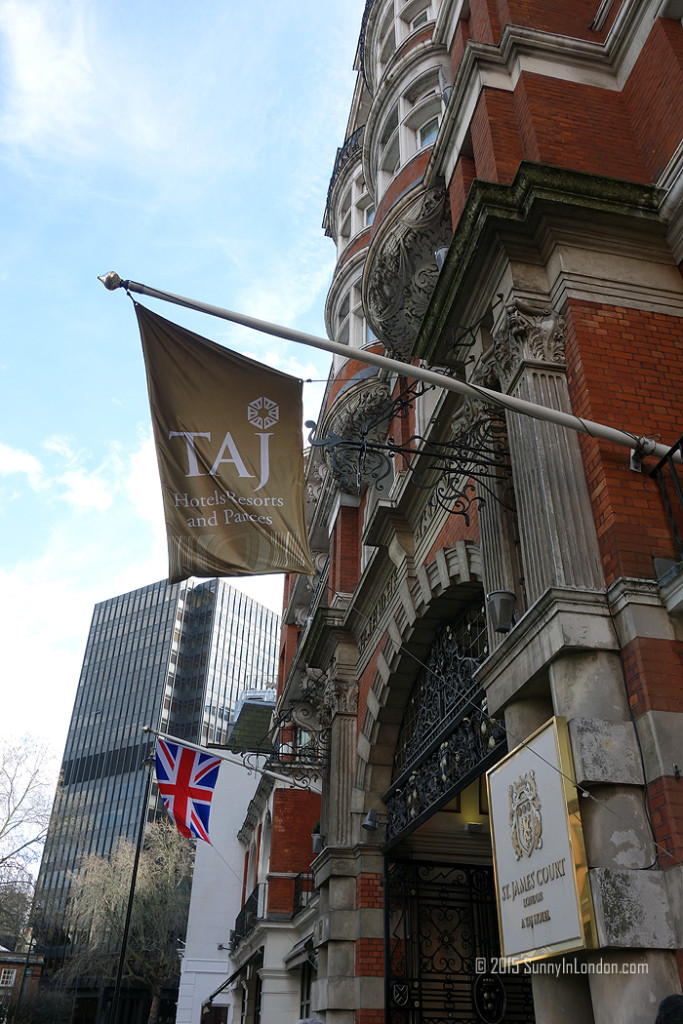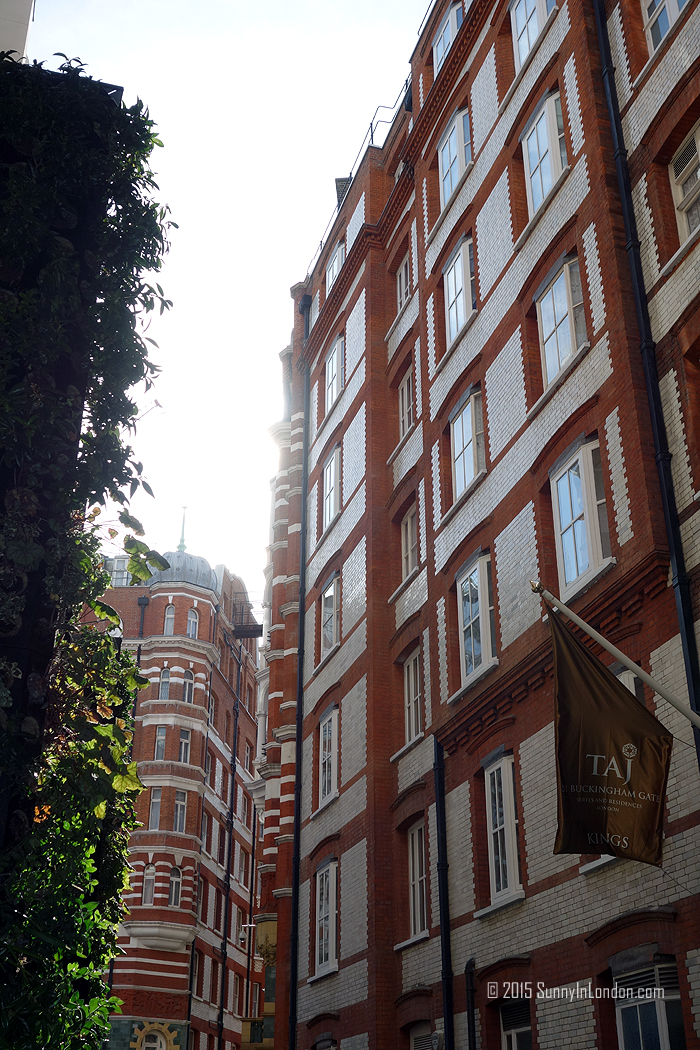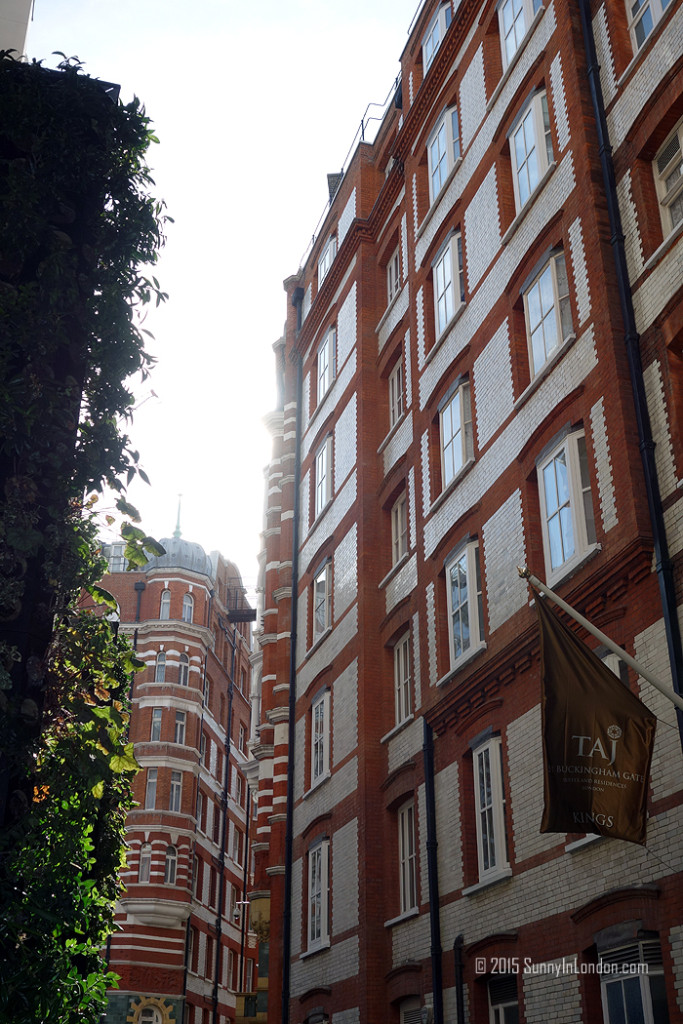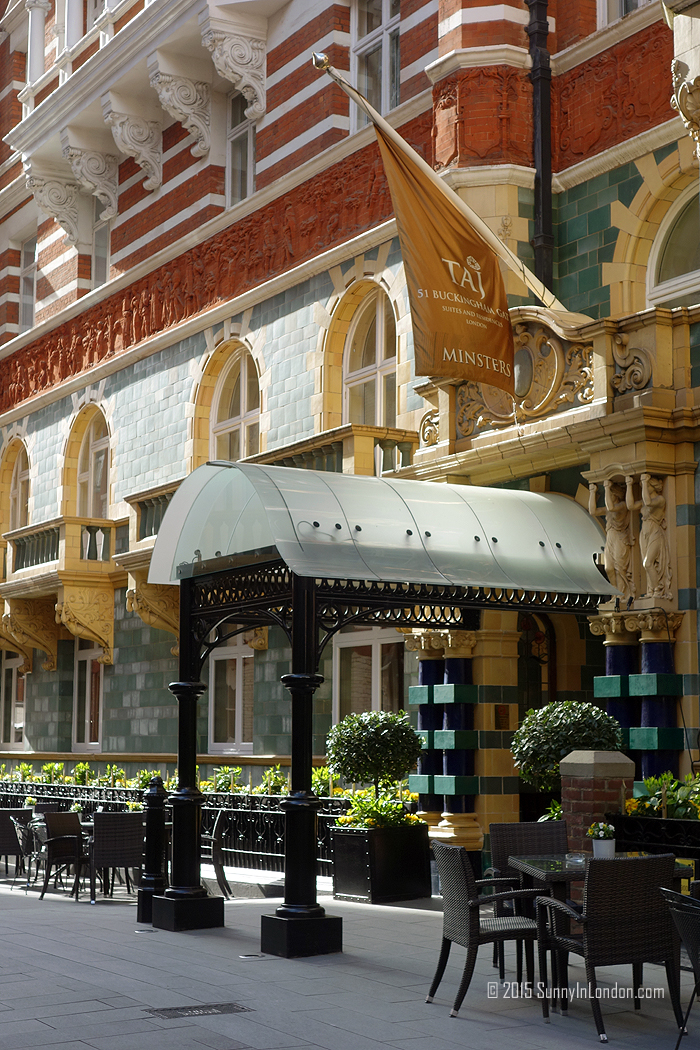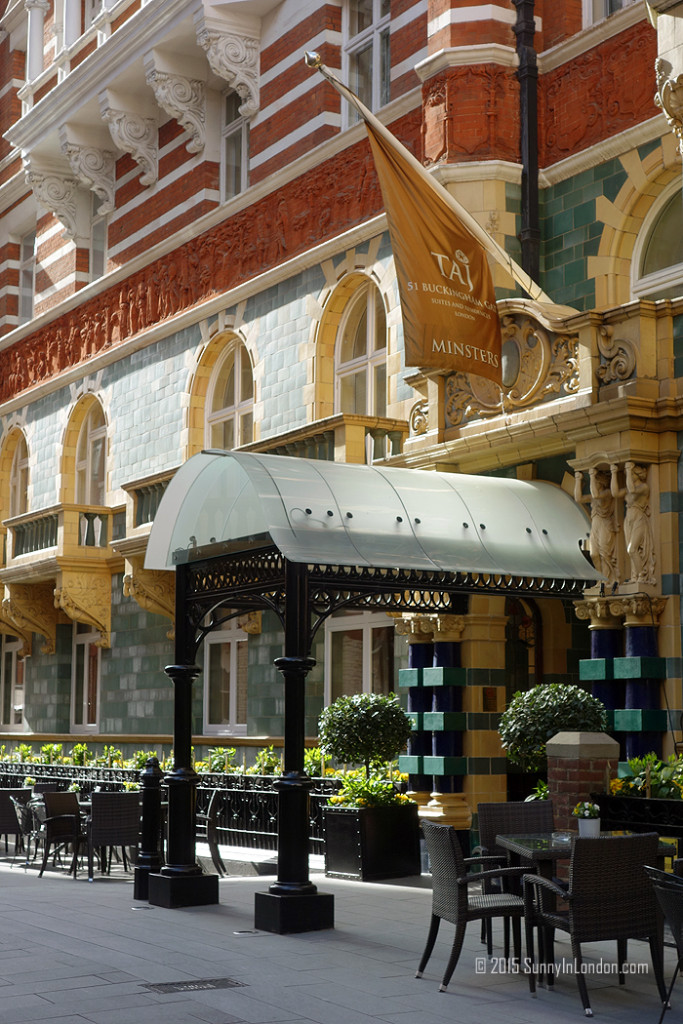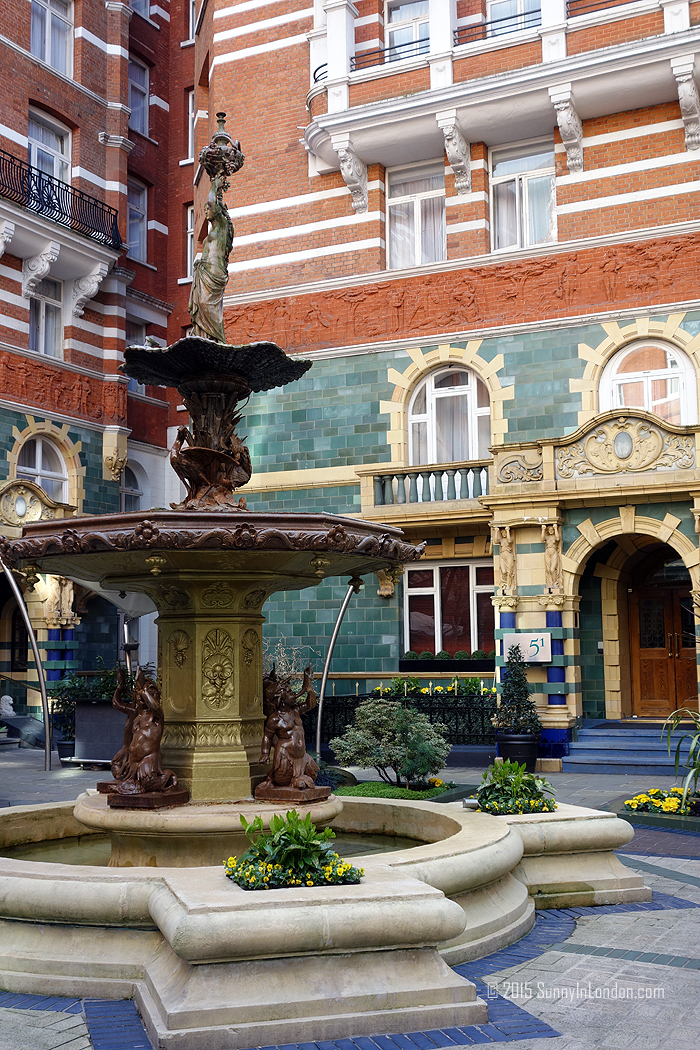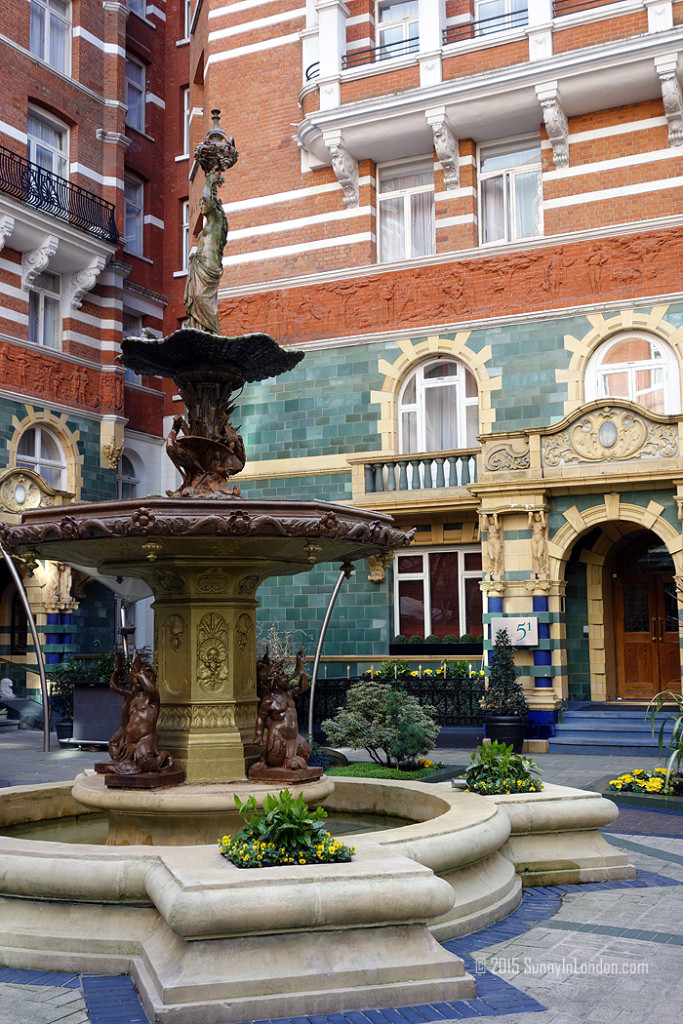 When I saw that gorgeous fountain in this tranquil oasis tucked behind London's bustling city streets, I wondered if maybe this is somewhere the Queen visits for afternoon tea when she wants to escape Buckingham Palace.
Next, I headed inside to the Hamptons Bar, which is where the Royal Afternoon Tea is served. This chic bar with high-backed chairs and elegant gilt mirrors is perfect for a relaxing cocktail.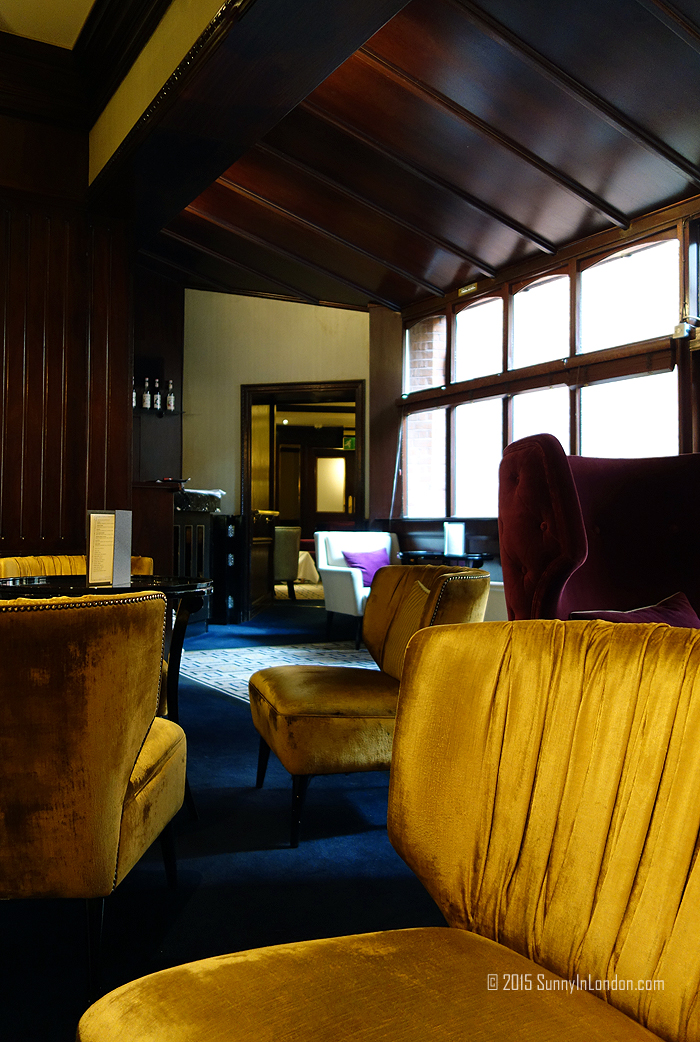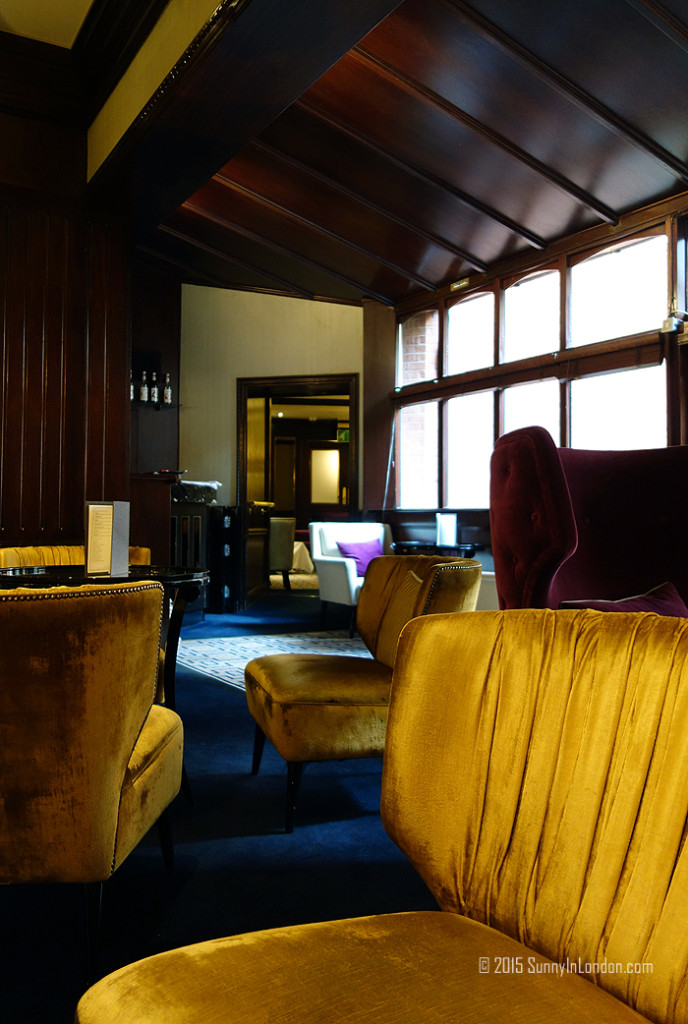 Even though I didn't have a table booked, the staff quickly found a place for me to begin the opulent afternoon tea. First, I picked the Orchid Oolong tea from the menu because it features hints of coconut. However, I was sadly informed it wasn't available that day. This means I'll need to return to the hotel for a third trip. 😉
I followed the suggestion of trying the African Amber. It has a blend of hibiscus and exotic fruits. Its silky texture and rich taste made me immediately fall in love.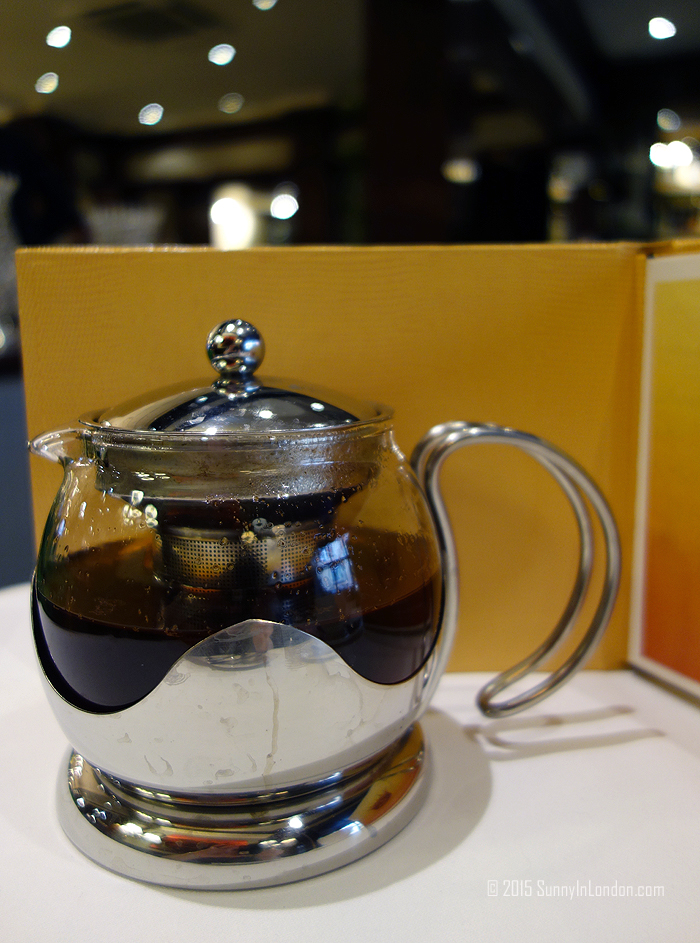 The Royal Afternoon Tea soon arrived in all its grandeur. I think I may have even imagined a few trumpets sounding when it landed next to me and towered waist high.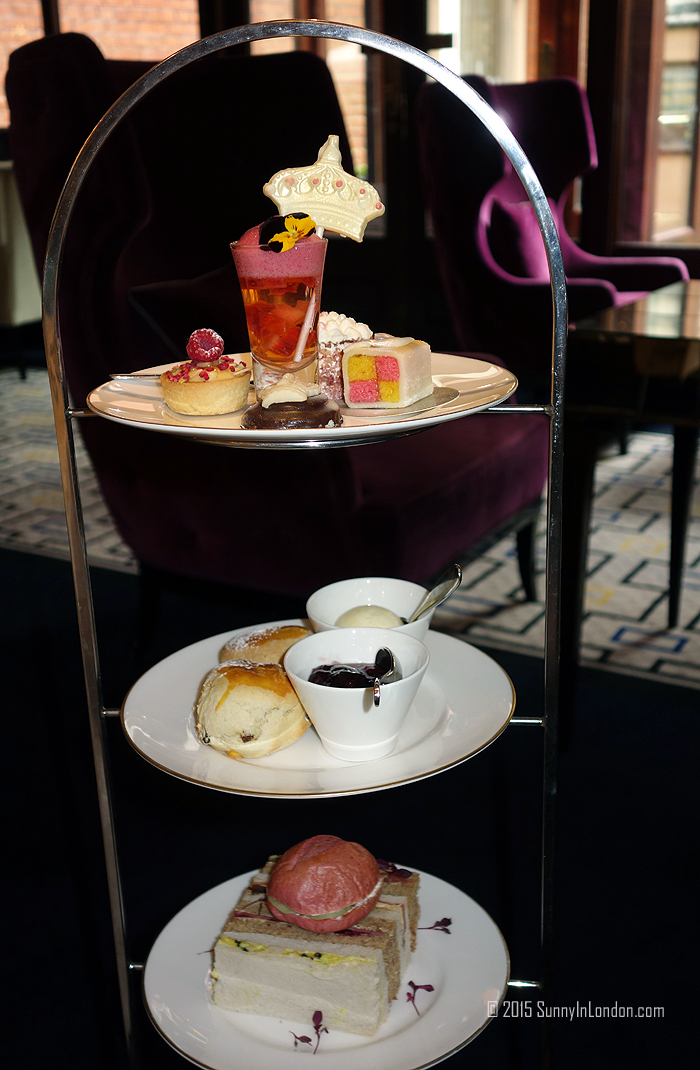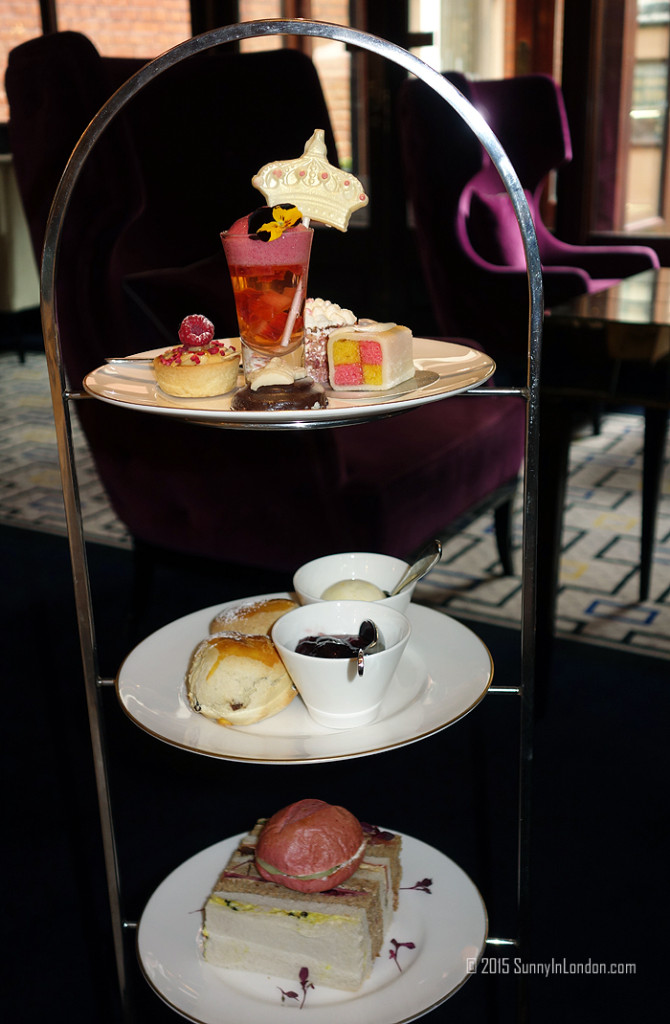 St James Court Hotel Royal Afternoon Tea Sandwiches:
– Coronation Chicken with Golden Sultanas
– Smoked Loch Fyne Salmon with Rocket
– Cured Gressingham Duck with Red Currant Jelly
– Cornish Yarg and Tomato with Branston Pickle
– English Cucumber and Minted Cream Cheese in Beetroot Bread
In comparison to other afternoon tea sandwiches, I really liked the unique ingredients the Executive Chef uses at St James Court. Usually, the first plate of a tea has basic food like egg salad, ham, roast beef, or tuna. Blah, blah, blah…
It's not often that a menu features duck. And, you have no idea the joy I felt eating the Coronation Chicken sandwich. It absolutely is one of my favourite British foods!
St James Court Hotel Royal Afternoon Tea Scones:
This, Sunny friends, is the course which earns the tea its noble name.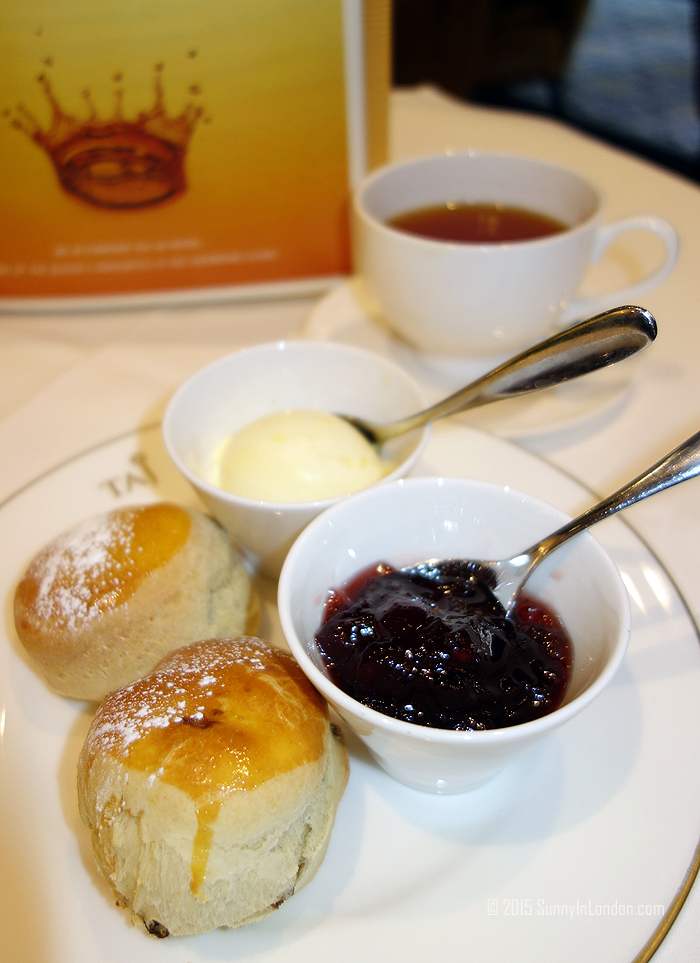 While it's safe to say that no one will mistake the above featured scones for the Crown Jewels, it is true that this is where Her Majesty makes her mark.
Those are Queen's Recipe Drop Scones, Plain and Raisin. They're served with Cornish Clotted Cream and Strawberry Preserve.
Apparently, Her Majesty Queen Elizabeth II personally sent US President Eisenhower the recipe for these scrumptious baked goods in a handwritten letter in 1960.
St James Court Royal Afternoon Tea Cakes and Pastries:
The final phase of this food feast celebrates all the richness one would expect in sovereignty.
– Raspberry Bakewell Tart
– Miniature Victoria Sponge Sandwiches
– White Chocolate Crowns
– Glittery Battenburg
– Elderflower and Strawberry Jelly
– Homemade Jaffa Cake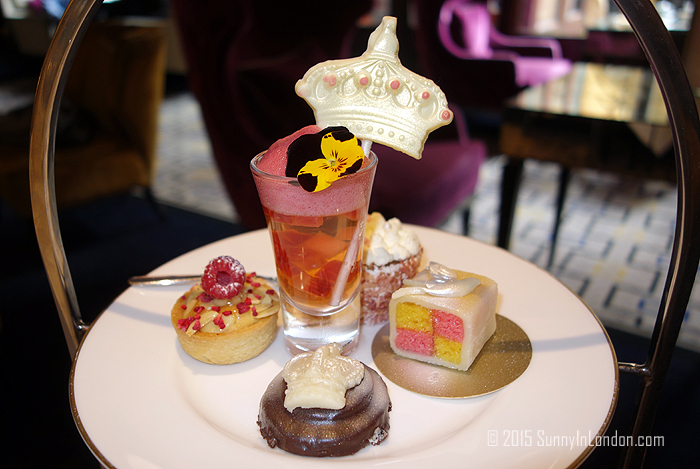 Every bite is majestic and as glorious as the picture makes it look. Trust me. I didn't leave not one morsel behind.
For £27.50 per person, the St James Court Royal Afternoon Tea offers a stately alternative to other teas in London. Now, if I could only score an invitation to sip champagne in the St James Court's 'The Cellar Room by Laurent-Perrier' my Taj Hotel experience would be complete. 😉