Vapiano- Pizza, Pasta and a Party
If you like music and women, do you know where to go in London for both? It's Vapiano! And let me tell you why…
Just when I thought I had eaten everything on Wardour Street, I discovered Vapiano. It's a contemporary Italian restaurant built on the concept of self-service with face-to-face interactions with chefs. Vapiano has three locations in London, and two of them feature live music nights (free of charge) once a month.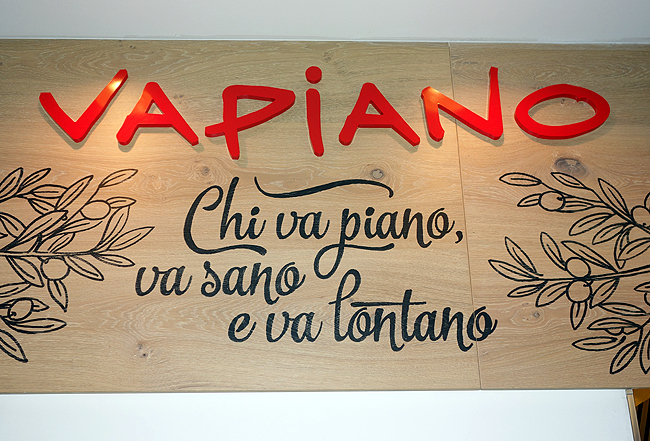 Mr. Sunny and I showed up very curious and hungry the night we visited. When we arrived, we each received a smart card. With this payment system guests 'tap' for each item they order using their card. When you leave, you pay at this same desk. This would have been perfect for me back in my college days when I was studying at Florida State University's study abroad centre just a few streets away. When dining in groups, especially as a university student, paying the bill without separate checks can be tricky.
Mr. Sunny and I were a bit overwhelmed at first as to what we needed to do. We learned that guests order pasta, pizzas, antipasti and salads directly from the chefs at individual stations within the restaurant.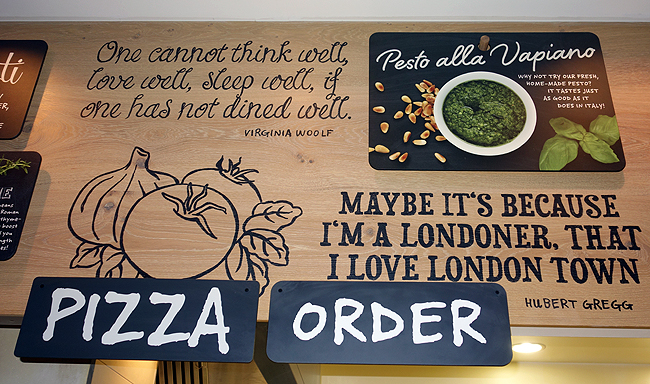 There were so many, many options that sounded delicious!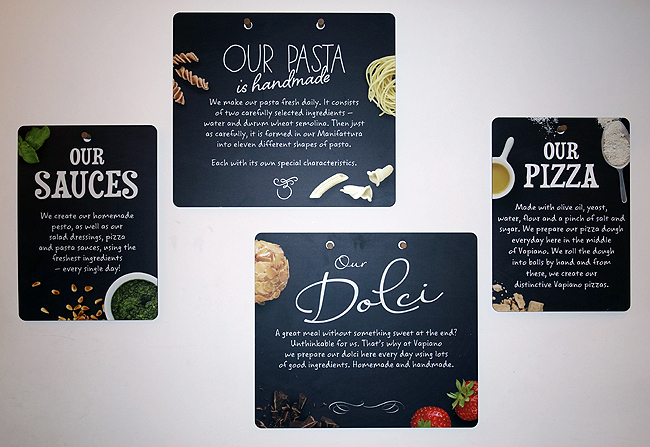 All of the food is prepared fresh each day and dishes are prepared in front of you when you order. Here's a sneaky look at the pasta machine in the back that works all the carb-a-licious magic…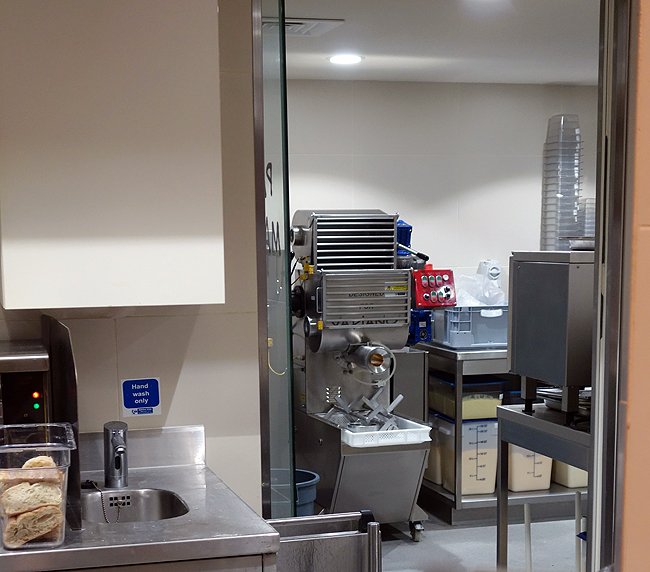 Our big eyes and empty stomachs made decisions that proved to be challenging. Here's what we picked to start…
Vapiano Menu: Antipasti and Insalate
– Carpaccio (finely sliced beef fillet, cipriani sauce, Grana Padano D.O.P., mushrooms, rocket)
– Piatto Antipasti (prosciutto tipo Parma, salami, pepperoni, roasted vegetables, pesto, Grana Padano D.O.P. buffalo mozzarella, bruschetta)
– Insalata Caprese (cherry tomatoes, buffalo mozzarella, basil, rocket)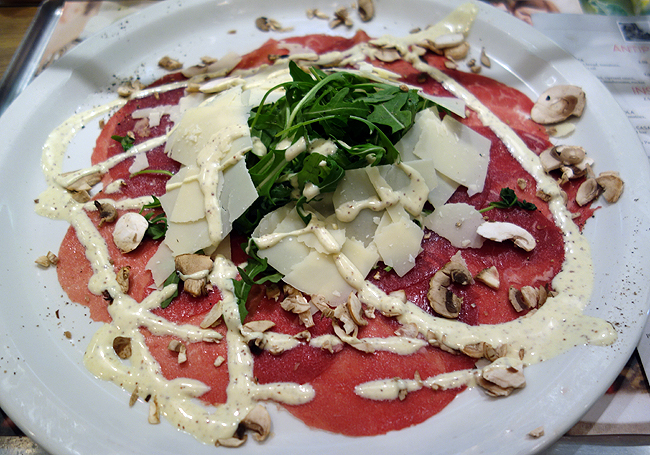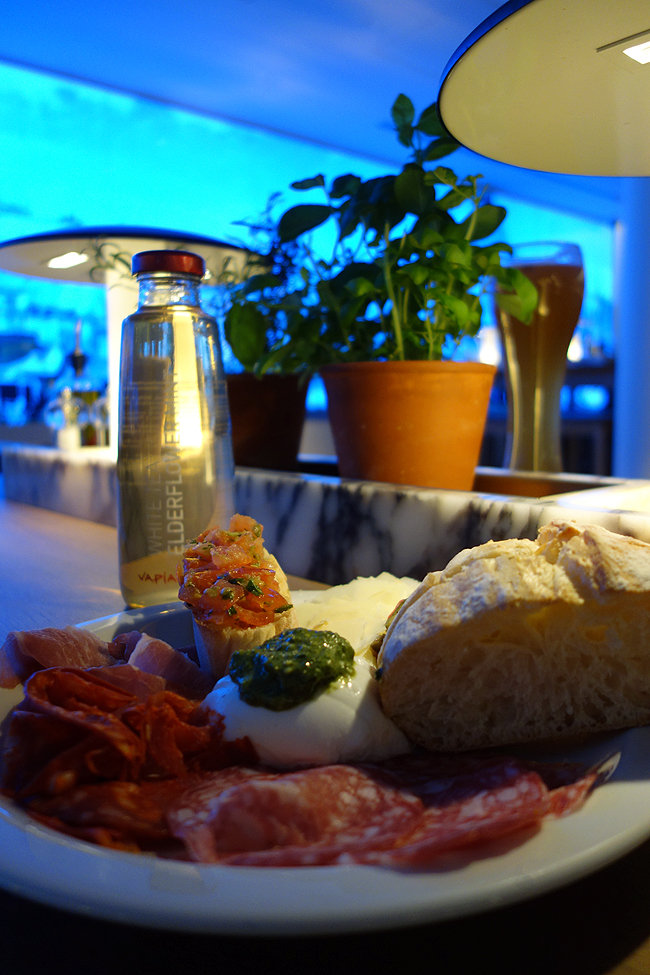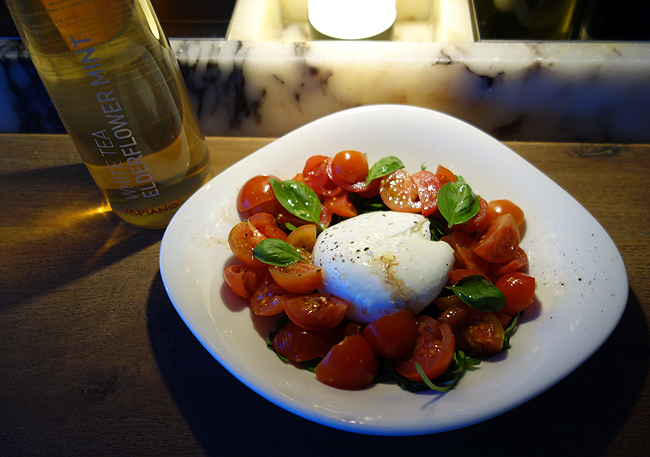 We actually had to make several trips with our trays to carry everything to our table. When we finally sat down, I stared at the food and said to Mr. Sunny, "This much food is crazy!'
Mr. Sunny quickly corrected me with his usual wit and said, 'No, sweet heart. It's… caprese!'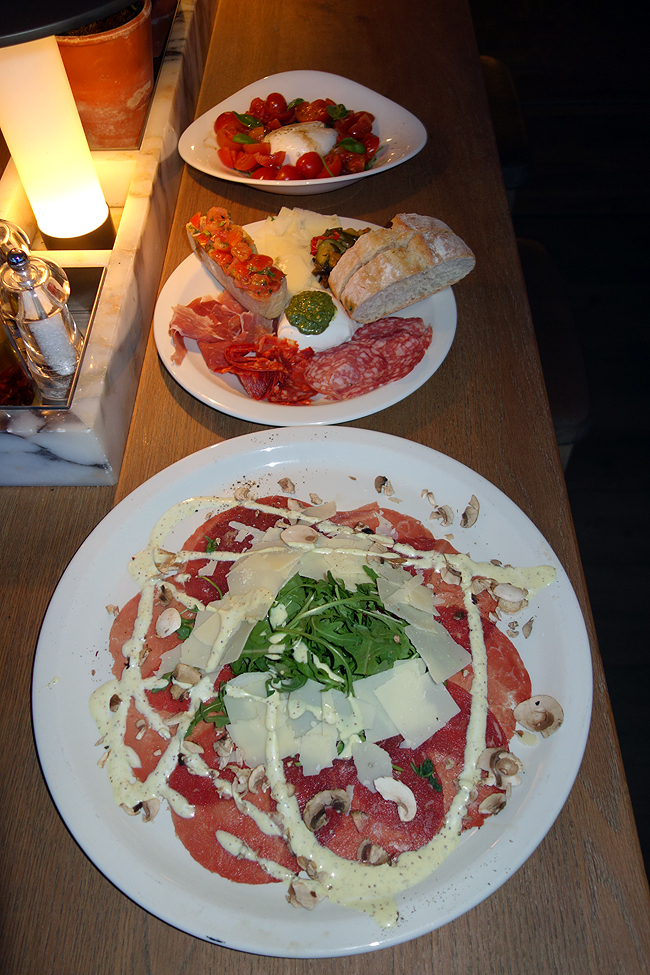 We tackled all the food and still managed to order a second course. With all the interesting options on the menu we chose:
Vapiano Menu: Pasta and Pizza
– Rucola Raviola (ravioli with rocket, ricotts cheese filling, butter and pine nuts)
– Capricciosa (ham, mushrooms, artichokes, olives, tomato sauce, mozzarella)
Here's a few shots of the ravioli I enjoyed.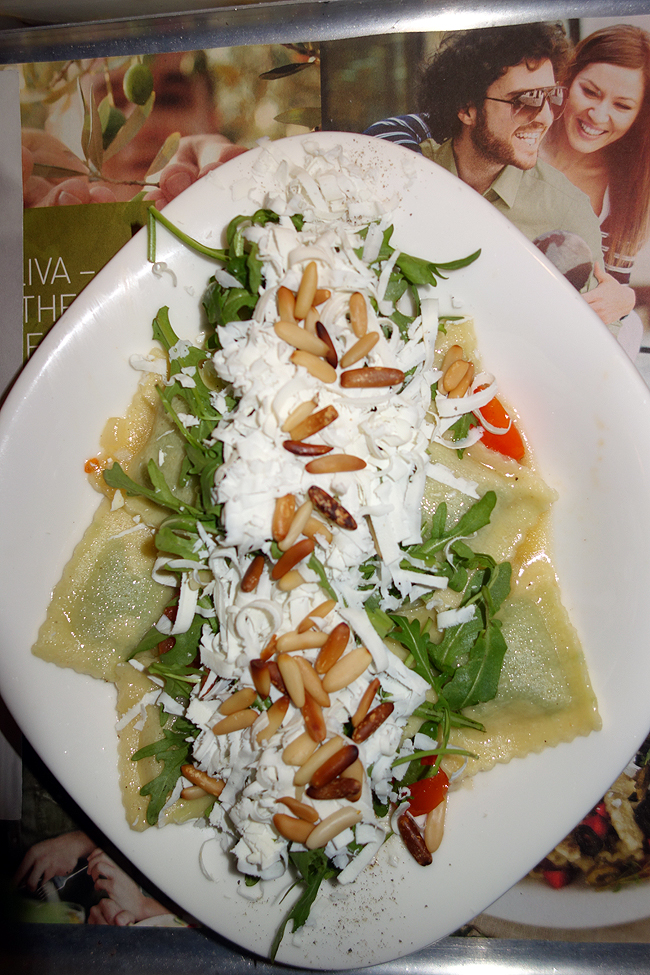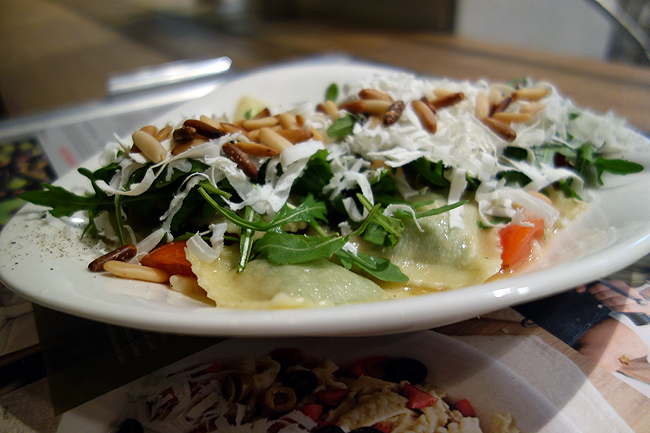 As I started to eat my main course, Mr. Sunny waited for his pizza pager to buzz. He felt the beer selection (both Italian and German) was good. I have to admit, the White Tea Elderflower Mint I sipped was a sneaky show stealer.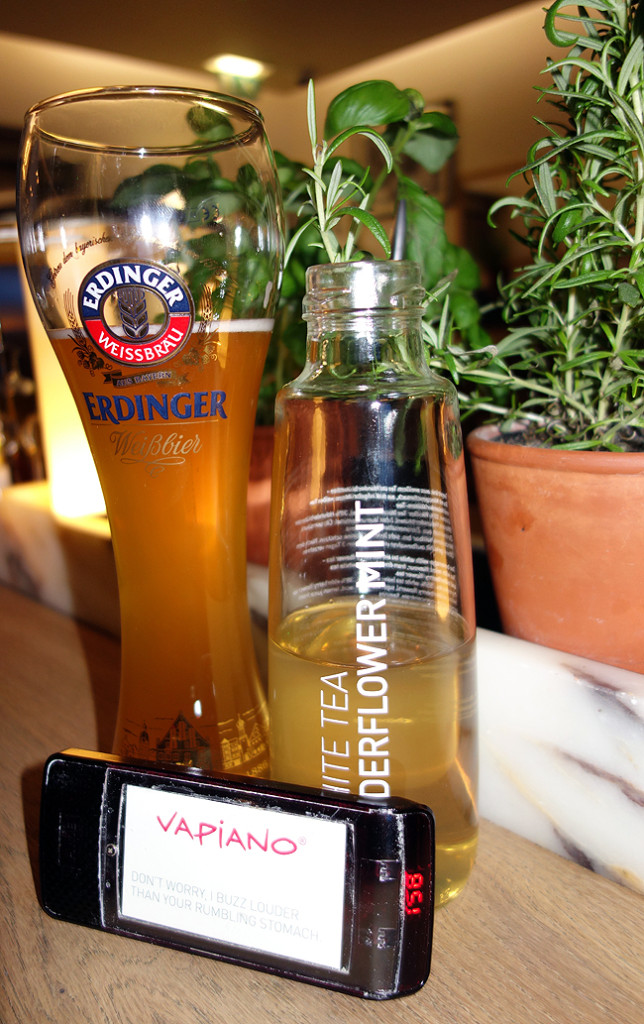 I highly recommend the tea. It was a really refreshing surprise and was so smooth and lovely. When Mr. Sunny's pager went off, he travelled upstairs and returned with this ginormous platter pictured below.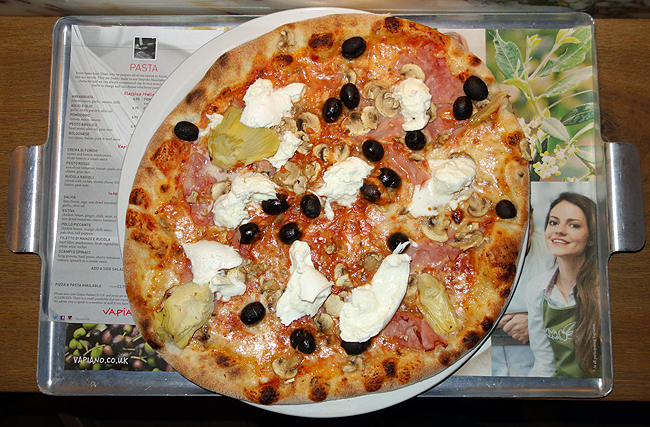 We battled through all the beautiful, beautiful flour-filled food. (As a side note, I don't think this is the place for my gluten-free Sunny friends.)
Even though we really had no busines pushing ourselves further, I couldn't get the dolci (dessert) selections off my mind. Since Mr. Sunny and I both go goo-goo for tiramisu, we just had to find room for the little treat.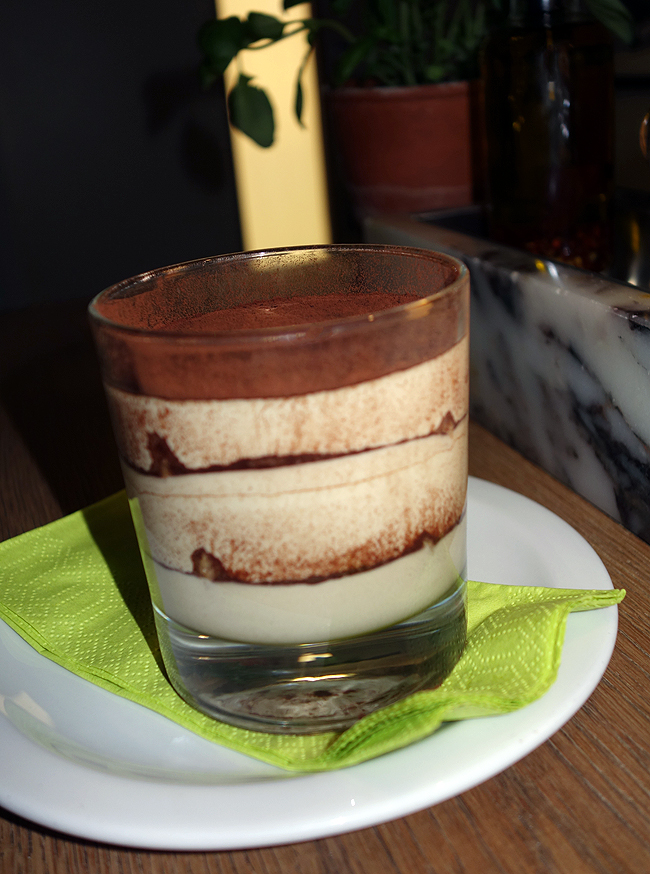 The atmosphere when we visited Valpiano was calm and everyone was very eager to help us enjoy the experience. Many thanks to the Manager, Fran, who was visible and informative throughout the time we ate our food and enjoyed the experience. He and the rest of the staff moved swiftly through the restaurant all evening, making sure everyone was happy.
We went to Valpiano on a Monday around 5pm in an effort to avoid the crowds. The restaurant spans two floors, and we had plenty of options for seating on both floors.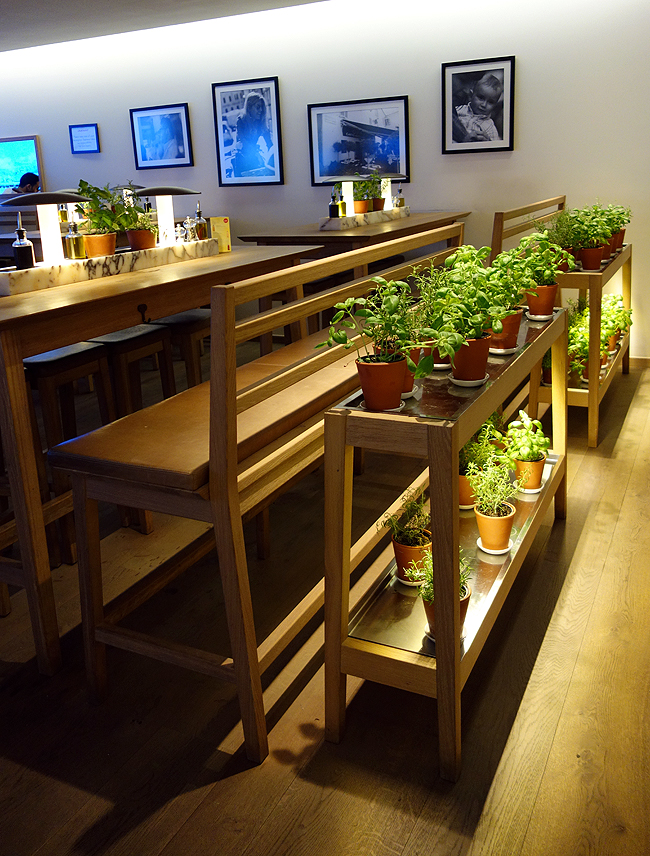 However, don't be decieved. This place gets packed! We left around 6:45pm and the queues were getting long at the various food stations. It's a popular place to be in Soho. If you're really looking for fun, you need to go to one of the live music nights at either their Soho or Bankside restaurants to celebrate #PastaWithSoul.
For one night only, Vapiano Soho and Vapiano Bankside will host a young, unsigned act looking for an audience to test brand new exclusive material.
On April 7th in Soho and the 8th in Bankside singer/songwriter, Stephanie McCourt will perform.
Vapiano Fast Facts:
– Top-selling pizza = Calzone and Pesto con Spinaci
– Top-selling pasta = Carbonara, Scampi e Spinaci and Salsiccia con Fichi
– Pizzas take 8 minutes to make.
– Simple pasta dishes take 3 minutes to make.
– Social media indicates that 64% of Vapiano's guests are women between ages 18-34.
– A large portion of guests work in the music industry.
– The London locations serve an average of 27,000 customers a week.
– Great Portland Street guests consume the leaves off of 300 basil pots a week.

Based on the above facts, you could be cheeky and conclude: If you're  a guy who likes to consume 'pot' leaves and is looking for a girl who loves to eat carbs, listen to music and update her status with foodie pictures on social media- check out Valpiano. 😉
Oh my!
Seriously, Sunny friends, I think Valpiano is the perfect place to party with a group of fun friends seeking freshly made food, a contemporary atmosphere and an easy way to pay the bill. For the West End, this restaurant offers very reasonably priced food and service that satisfies beyond expectations.
Vapiano is open: Monday-Thursday 11am-11pm; Friday and Saturday 11am-midnight, Sunday 12pm-11pm.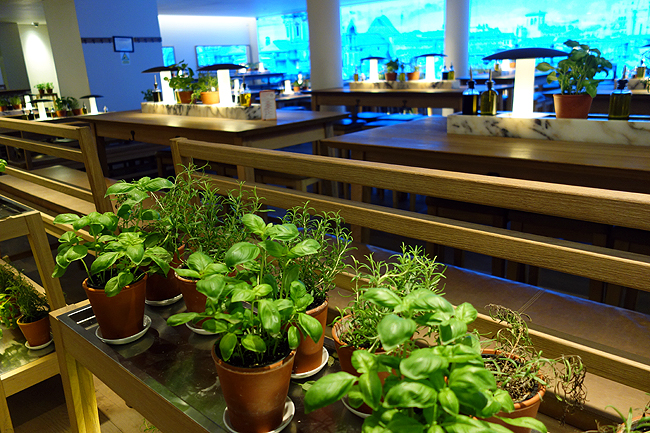 Our experience at Vapiano was complimentary for the purpose of a review. This did not influence my opinion of the experience. However, could I really disagree with 27,000 customers a week? 😉