Is Shakespeare's Globe Theatre tour on your bucket list? As a former theatre and acting teacher, this experience was certainly part of my list of things to do in London. However (and this is the part where you probably won't like me), seeing another Shakespearean play performed is not on my list. That's the reason why it took me a few years to head to the Globe Theatre Tour in London.
You see, I had expected it would entirely focus on information overload about Shakespeare's plays, so I hesitated to commit to the time. I was very wrong about this anticipation and want to help you make the best decision on whether or not the Globe Theatre Tour would be for you.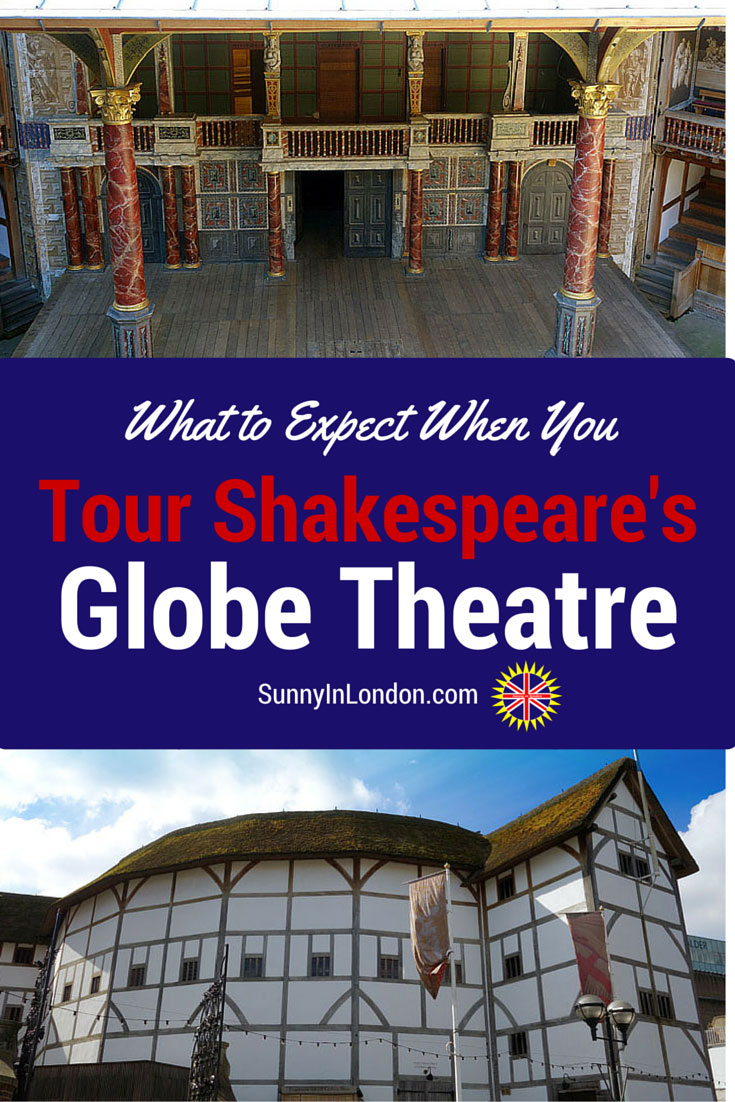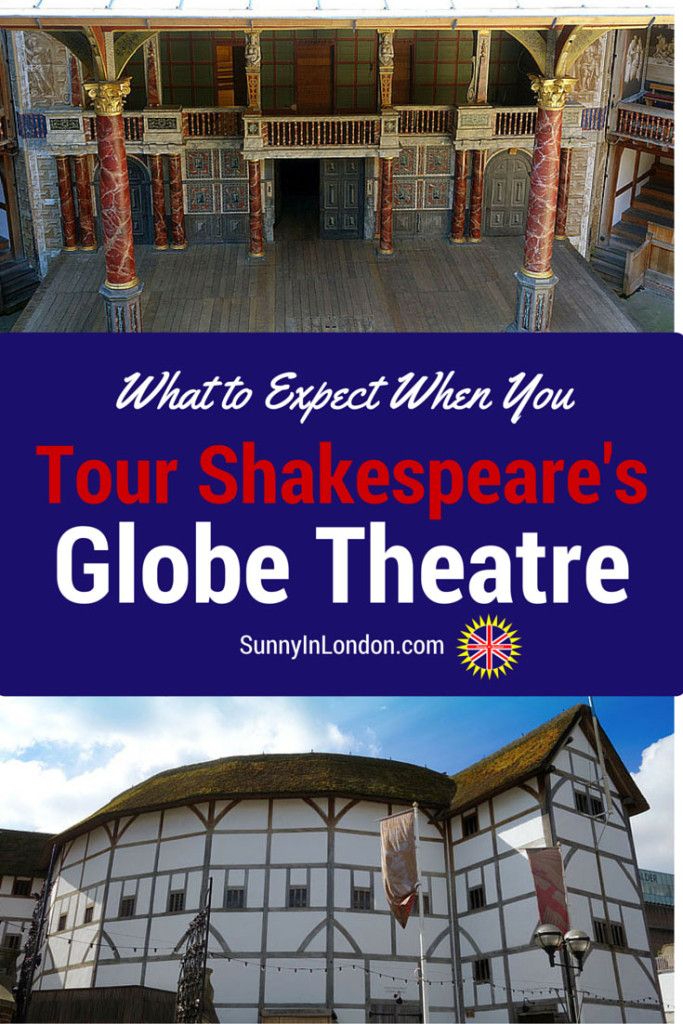 Shakespeare's Globe Theatre Tour: History
The most pleasant surprise was that the tour's focus is the theatre and not the plays. In fact, it helps to have a good knowledge of Shakespeare's life and work prior to attending because I think you will better understand the information speedily given throughout the thirty minutes you are with your guide.
This means that you will know that you are not planning on visiting the actual globe theatre in which the Elizabethan actors performed. That building was built in 1599, destroyed by a fire in 1613, rebuilt in 1614 and demolished in 1644. So, the place where you will visit in London is an informed guess on what the buildings of 1599 and 1614 featured.
That's the other reason I didn't rush out to this 'tour attraction' in London as soon as I moved here a few years ago. There was a part of me that felt it wasn't authentic.
There are modifications in terms of safety requirements to the 'new' structure in the London Borough of Southwark. Foremost, this version of Shakespeare's Globe Theatre accommodates 1400 audience members, not 3000 like the original building. My tour guide humorously pointed out to us that Shakespeare's crowd was likely filled with thousands of drunk commoners, much different from the generally sober, more scholarly theatre goers of today. But, more on that later.
Shakespeare's Globe Theatre Tour- Crowd Control
Like all attractions I review in London, this is one for which you must arrive early. In fact, when I started researching the tour, I noticed it opens a bit earlier than others. Generally, you find 10:00am as the standard time for gates to open. The Shakespeare's Globe Theatre Tour experience can start as early as 9:30am. This was good for me because I was using a London Pass this day and hit four attractions in London.
You do not have to book in advance, but you need to pick a tour time when you arrive. Tours depart every half hour and run from 9:30am-5:00pm. As with anything in London, you want to check their tour and ticket information prior to attending to make sure you don't hit any royal snags due to closures or other planned events.
The website advises about large crowds and arriving early. I got to the theatre around 10:10am and was able to book on to a 10:30am tour. That was probably pretty lucky because it was during the Easter Bank Holiday. The attraction does a nice job of managing your extra time through the Exhibition. While it's not a 'Shakespeare museum', you can spend some time walking through the area learning about Elizabethan theatre and seeing wardrobe and costumes.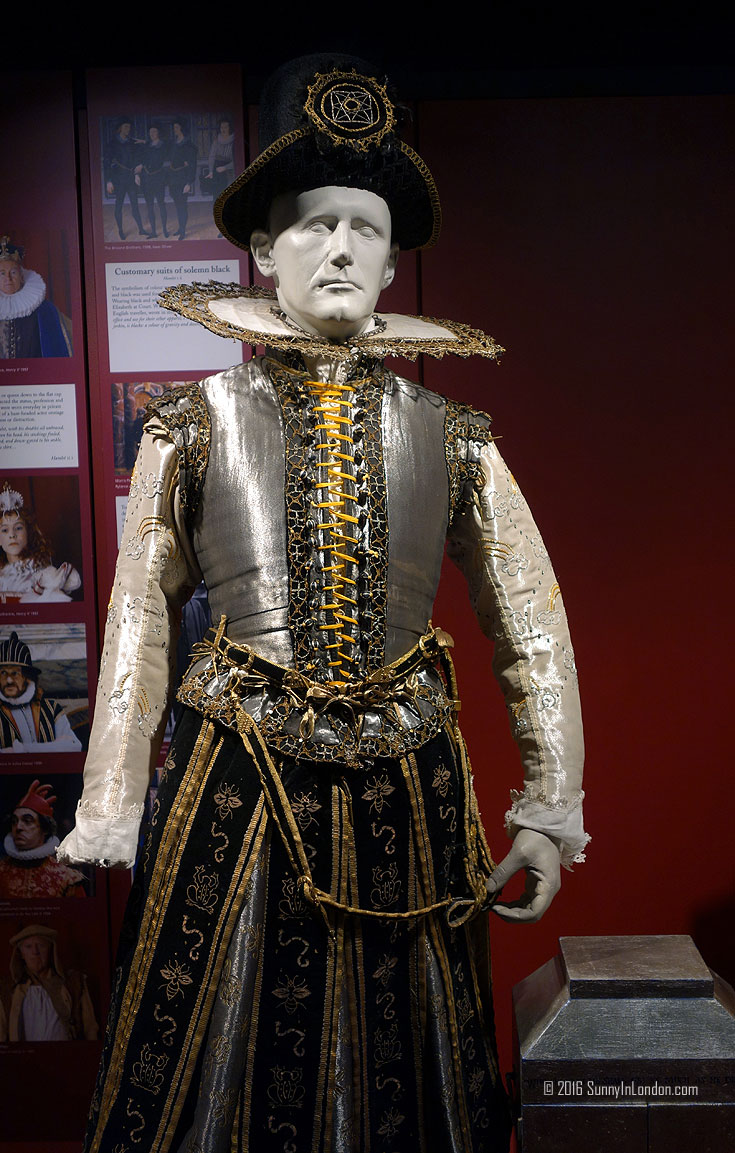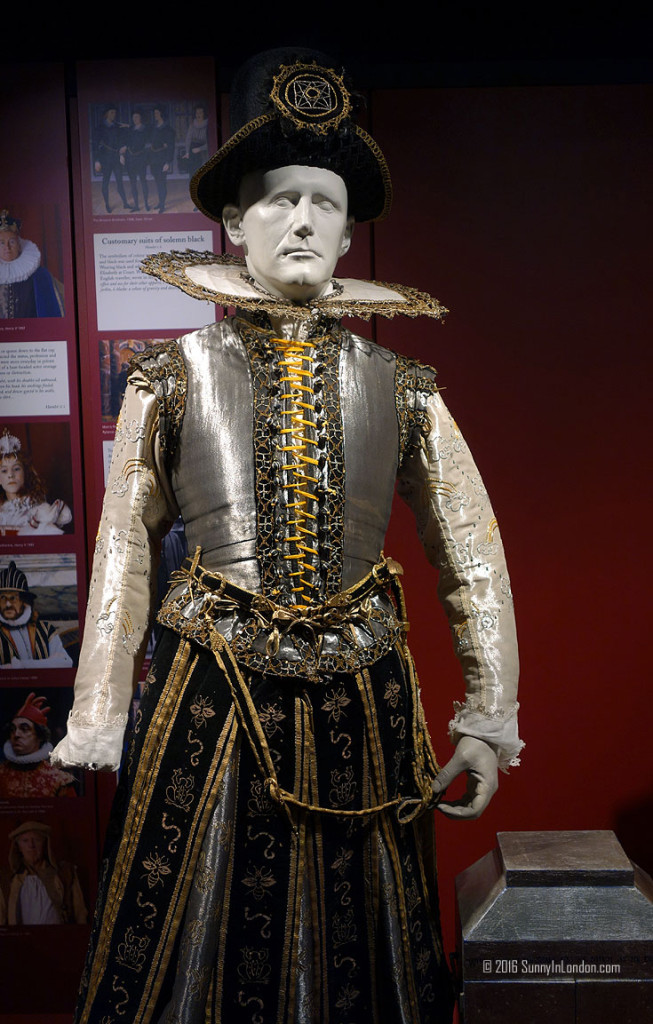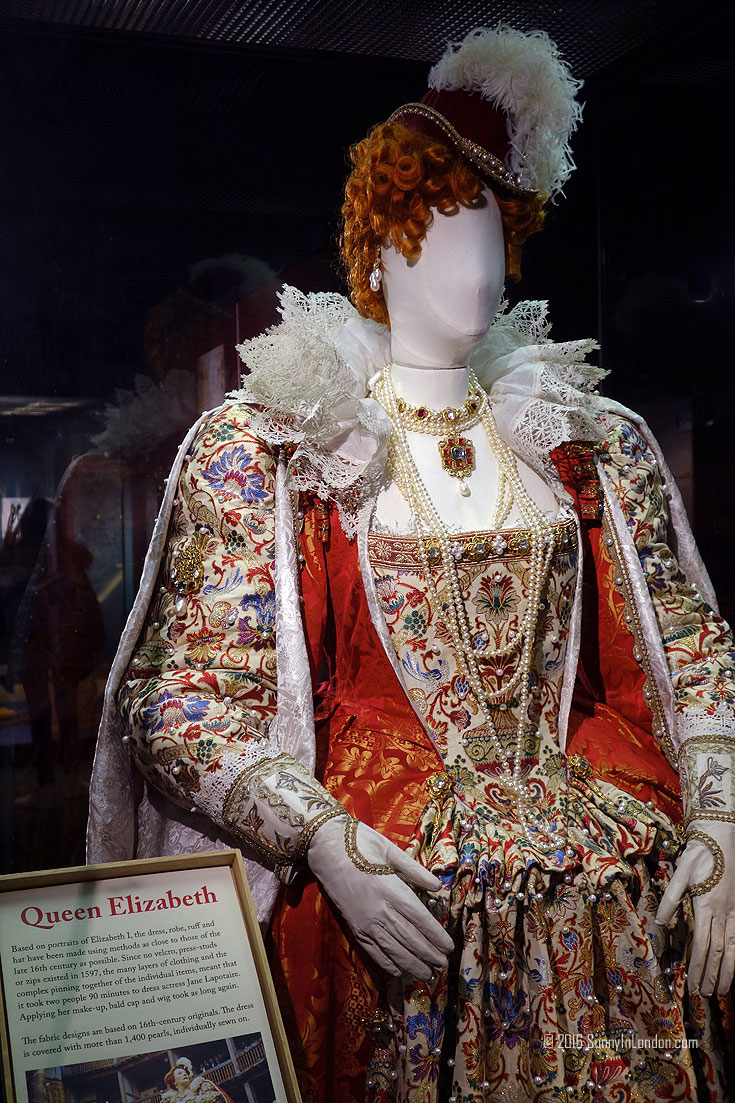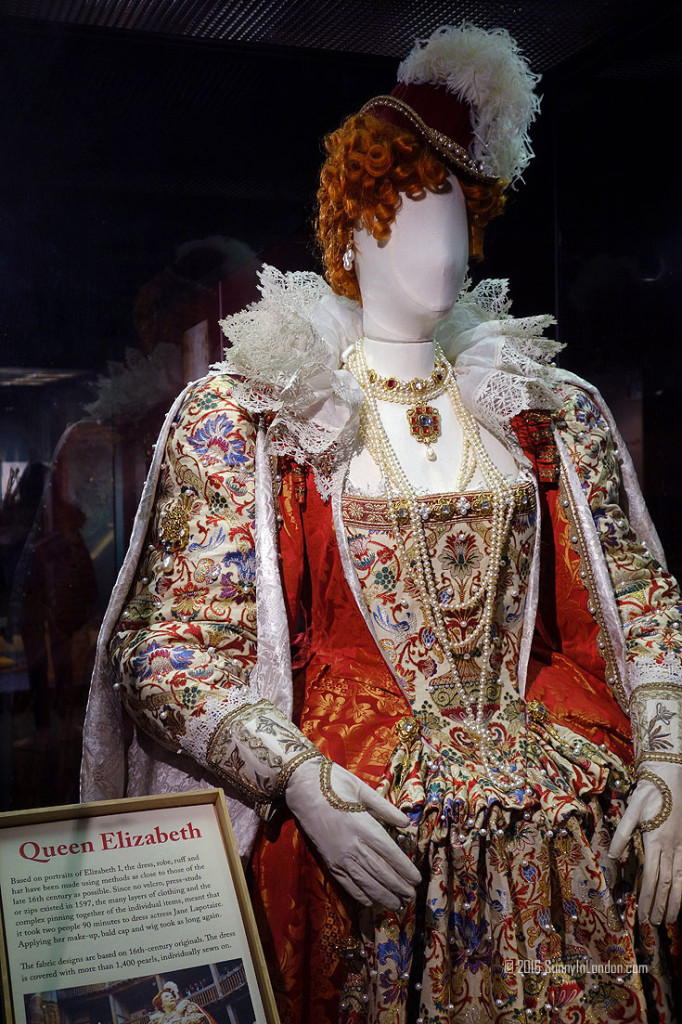 If you have a lot of time before you can get on a tour, you'll likely want to visit the Borough Market, which is a five-minute walk away.
Also, since the focus of your Globe Theatre Tour is literally on the theatre, that's where you receive all of your information. The guides move groups of about 20-25 people through different locations in the playhouse. This movement allows for more people to see the theatre at a time and gives you the perspective of audience members from many different angles.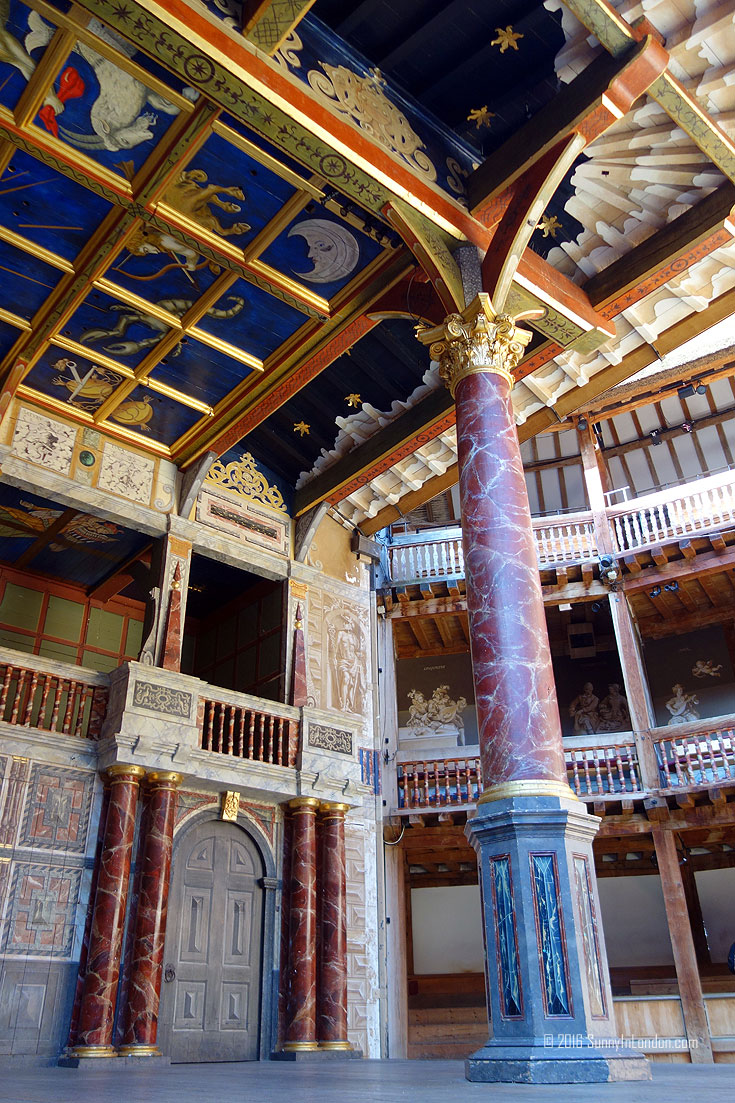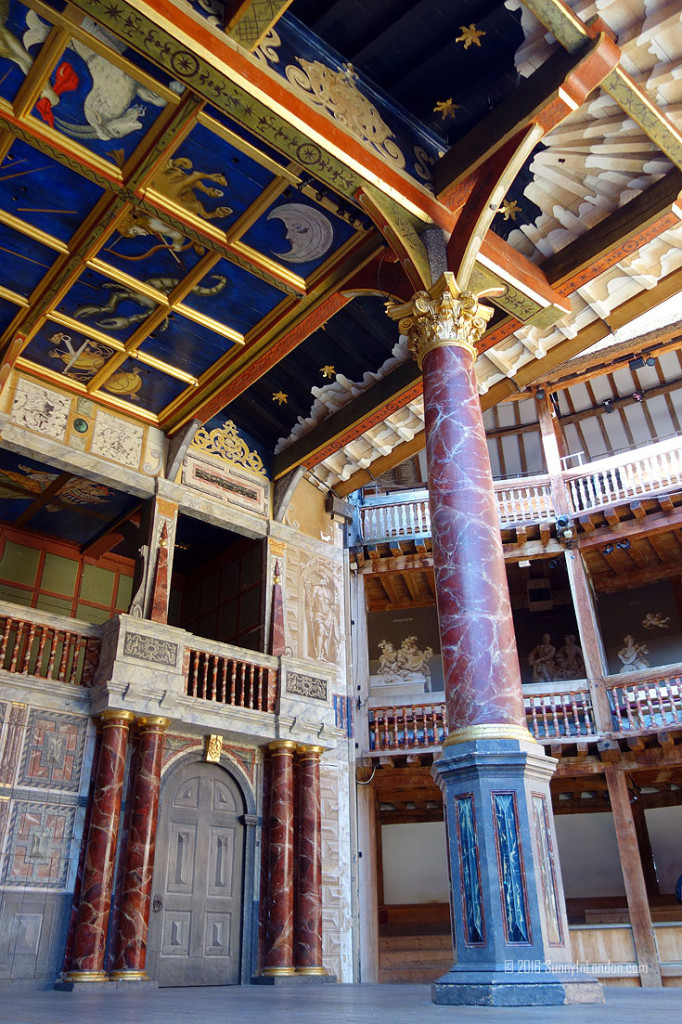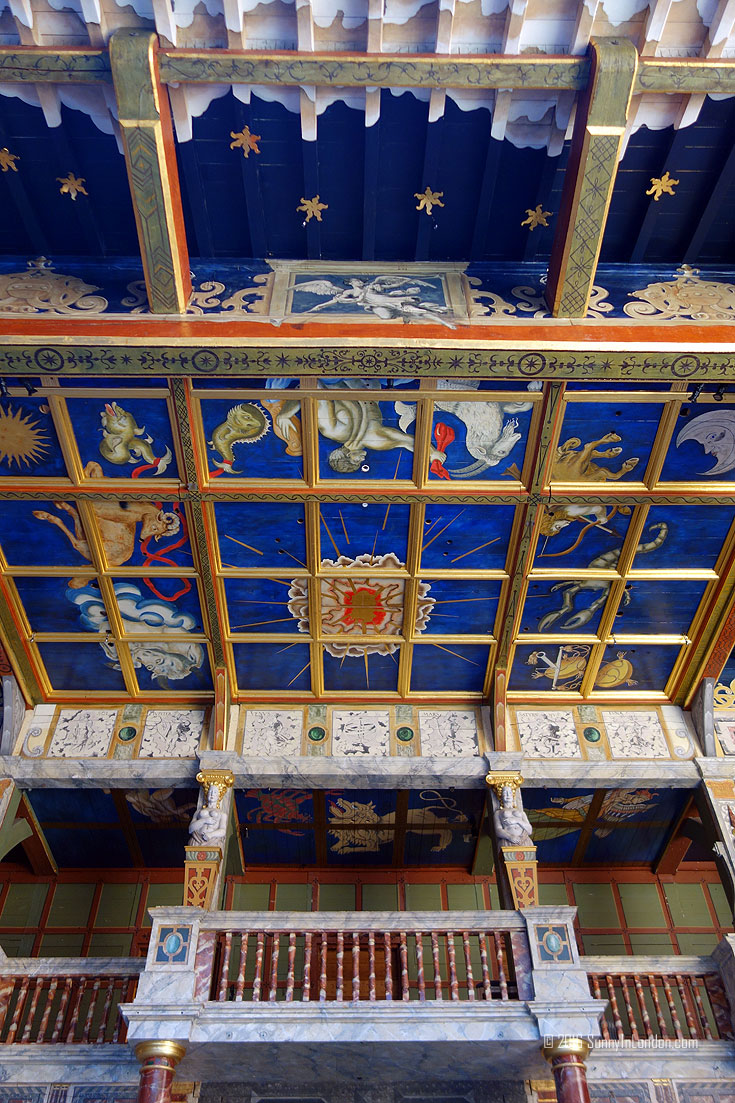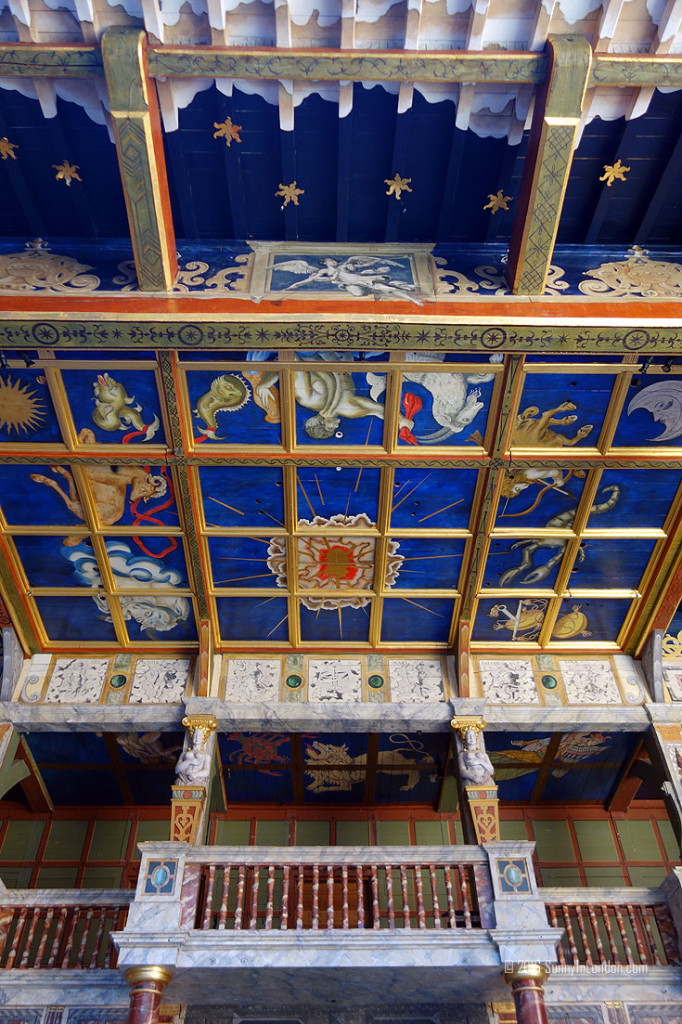 Shakespeare's Globe Theatre Tour- All the World's a Stage
What do you learn during the tour? My guess is everyone could have a different theatrical experience. The tour guide had the fun personality for which you would hope. In fact, his two-minute monologue on male actors playing female characters in scenes that featured female characters playing men (Portia in Merchant of Venice) was wildly entertaining. Equally as impressive was his spontaneous knowledge. There were several opportunities for question and answer sessions as we moved to different locations. However, no one is ever allowed to stand on the stage.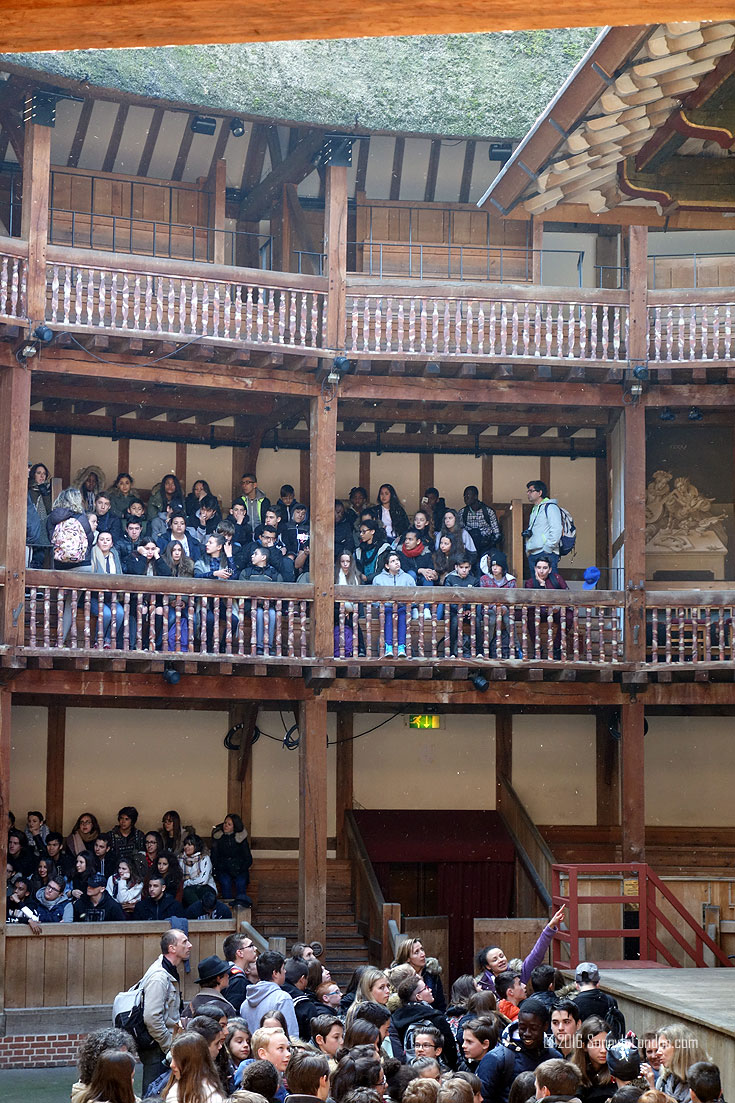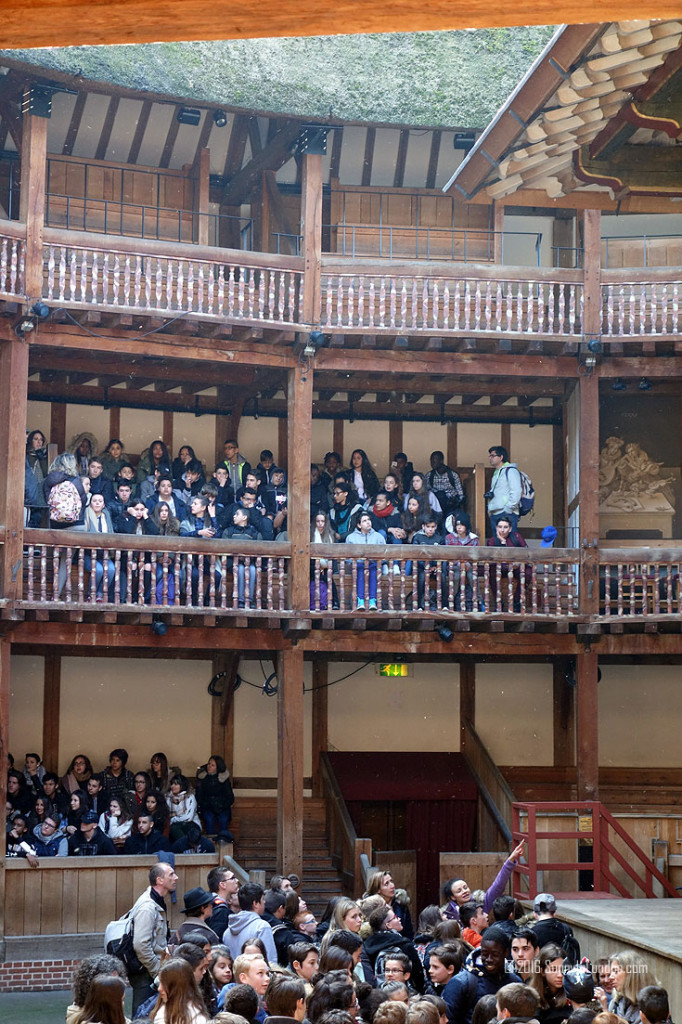 Some of the tour topics include learning what types of people attended the shows and what watching a performance would be like during Elizabethan times. Our tour guide equated it to being like the 'Las Vegas' of the world. As someone who's been to Vegas a few times, this was interesting (and maybe not entirely accurate, but the connotation was appreciated).
He explained that a trip to the theatre was like a night at a bad nightclub, minus the toilets because of course they didn't have those then. People who attended weren't society's finest. Shows were 2,3 or even 4 hours long. This means actors were responsible for tons and tons of material. Since books weren't as freely dispensed as they are now, actors didn't receive printed scripts in their entirety. Instead, they had to learn lines based on pages that included a few lines before and after their dialogue, so continuity barely existed. Musicians played on the top balcony section.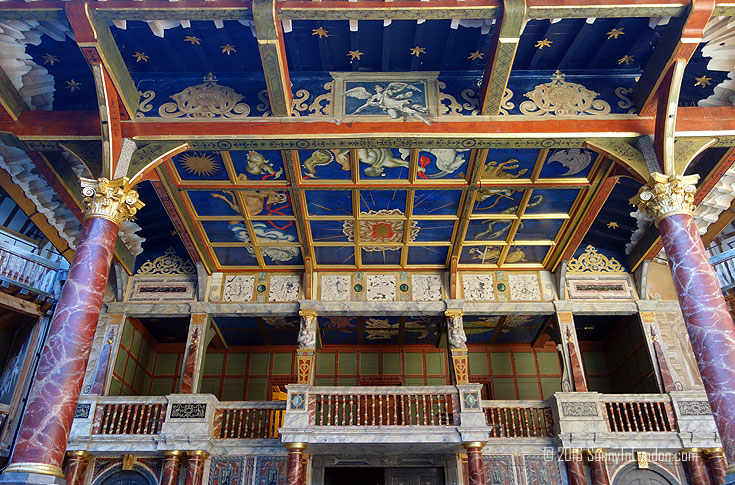 At the time of the shows, the cost was one pence. This equates to about £7 now (or $10 for American readers). Also, unlike the Royal Albert Hall that I toured later in the day, there is no seating box which belongs to the Royals. When Queen Elizabeth reigned, royalty brought the theatre to their court because the audiences at the actual playhouses consisted of rowdy, drunken parties.
If you're a fan of theatre, this tour in London should be on your list of things to do. For £15 it's an enriching experience because you are certain to learn a few new things about this form of entertainment. For example, I had no idea that actors would fill a pig's bladder with blood and use that for 'special effects' during sword fight scenes. I also didn't know that all the names in the stones outside the theatre are sponsors.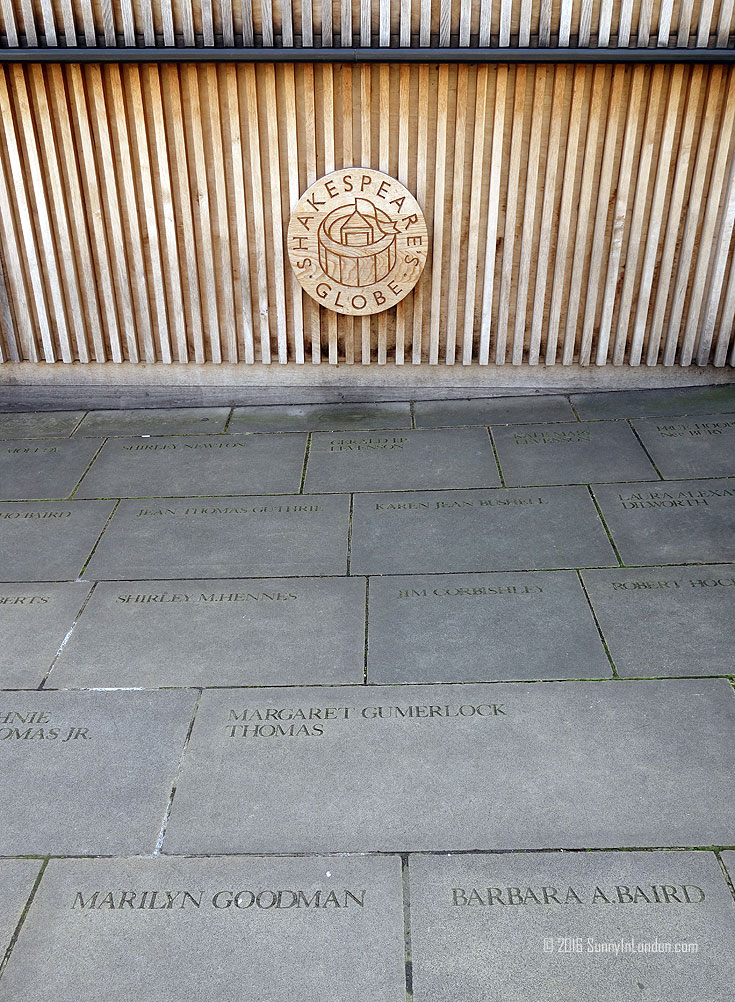 There is also a really good reason why John Cleese has a smaller stone than his Monty Python co-star Michael Palin. But, you'll have to take the tour to learn what it is. 😉
The attraction is very organised and provides a nice opportunity for those interested in British culture and theatre. Of course, they have a small gift shop on site, which has fun items connected to the plays like this towel featuring a quote from Macbeth.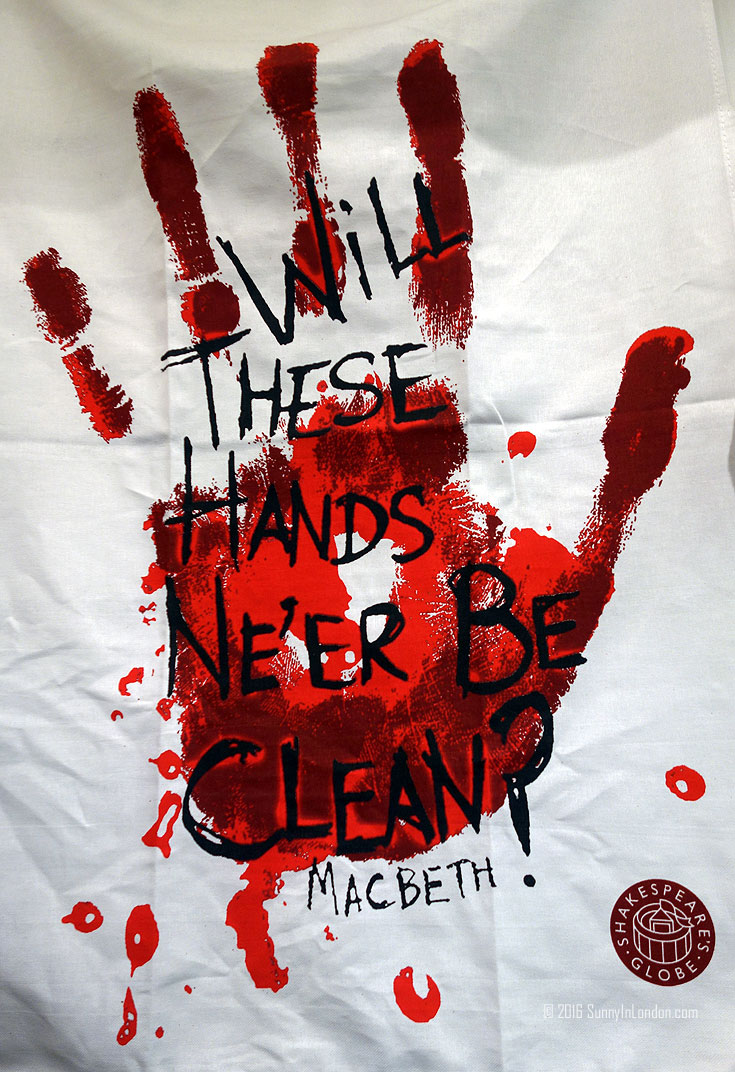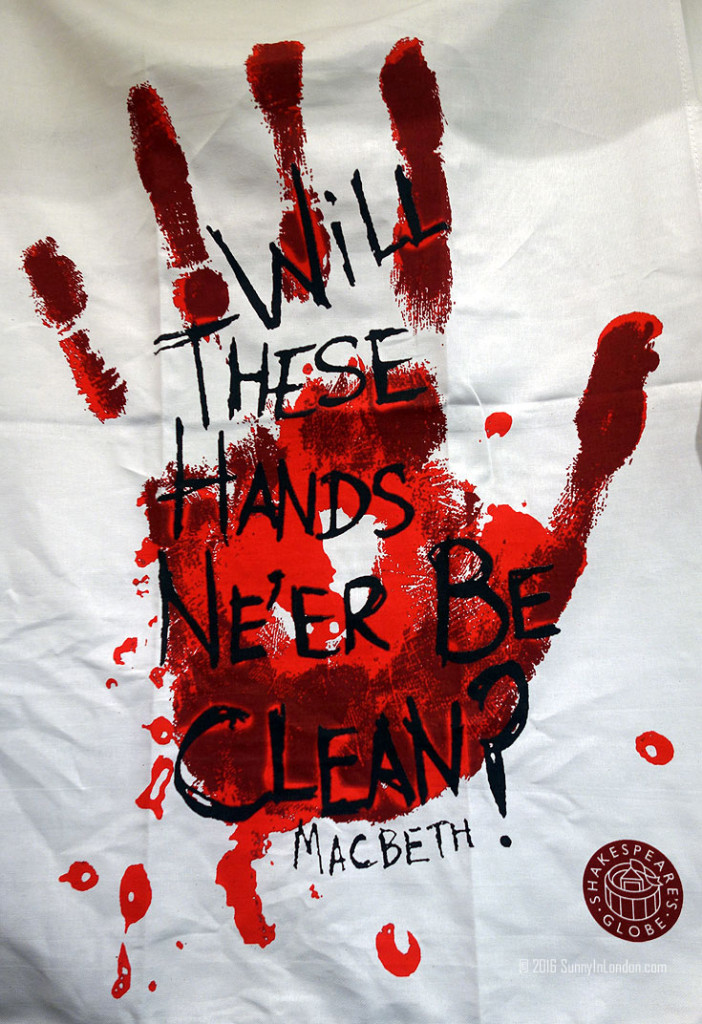 However, you could likely find a wider selection of fun Shakespeare merchandise on Amazon.
I don't think small children would really value from attending the tour, but it isn't too long of an experience for them to sit through if you can't make other arrangements. Having attended a performance of Romeo and Juliet (my favourite Shakespearean play) and Love's Labour Lost at other venues years ago, I won't be purchasing tickets to attend a show at the Globe Theatre because the plays are just too long for me. I have a two and a half hour cut off for film length tolerance too. However, if you are passionate about seeing Shakespeare performed live, I can't imagine there's anywhere else in the world that could be better than Shakespeare's Globe Theatre in London.
What are your theatre experiences? Have you visited this attraction? What's on your London Things to Do list?
Have you used a London Pass to tour the town?