Do you have any idea how easy it is to make a Lamb Saag Aloo recipe at home? For Mr. Sunny's first offical recipe contribution to the blog, he picked this simple Indian curry dish for you.
I've learned since living as an American expat in London that the British tend to refer to almost any Indian main dish as 'curry.' It's extremely popular in London. In general, the food offered is Indian food cooked to British taste; although, there is increasing demand for authentic Indian food. As of 2015 curry houses accounted for a fifth of the restaurant business in the U.K.
Curry is an integral part of British cuisine. Since the late 1990s, chicken tikka masala has been referred to as "a true British national dish.'
Even though this spinach and potato curry looks like it takes a long time to make, it's actually pretty fast to create, outside of the time it takes for the lamb to marinate in seasoning and oil. Also, it's a fairly inexpensive recipe. Let's get started…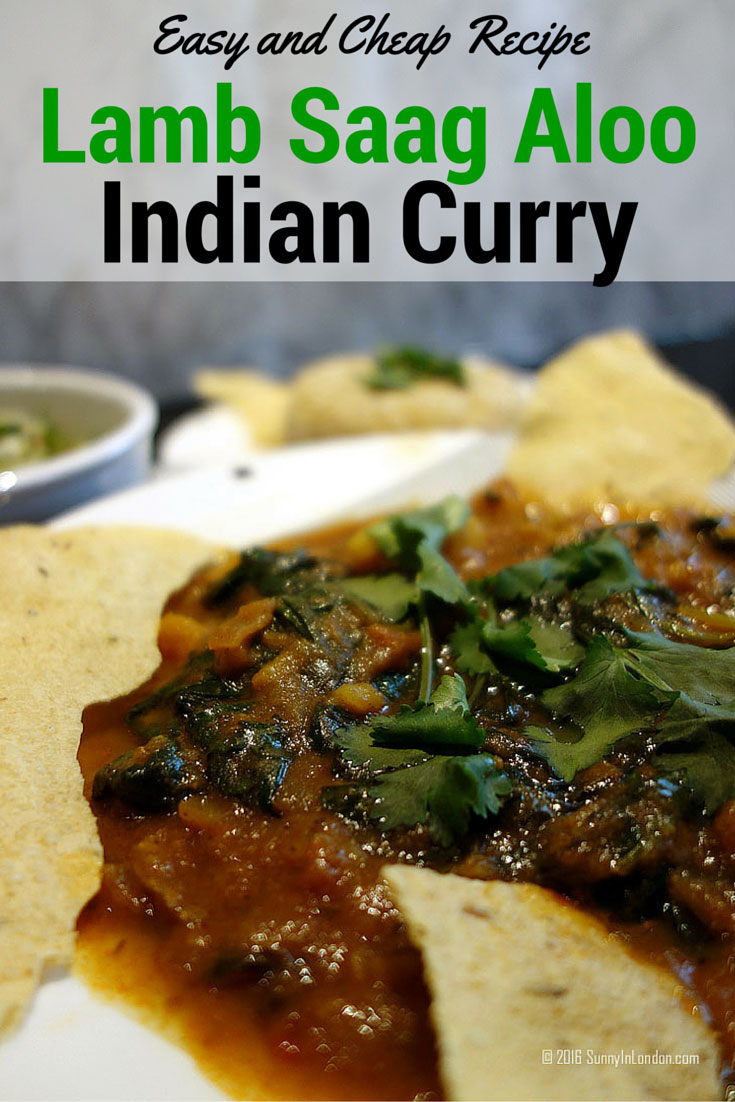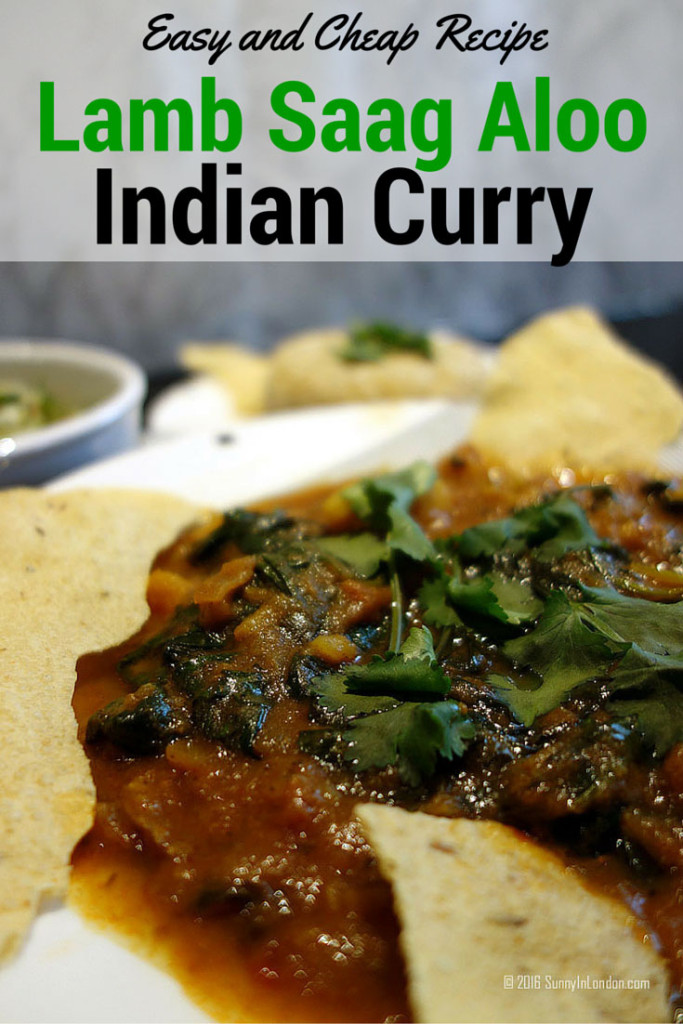 First, you add oil and seasoning to the lamb cubes and toss in the refrigerator. While your meat is marinating, you can peel and boil the potatoes plus chop the onion, garlic and shallots.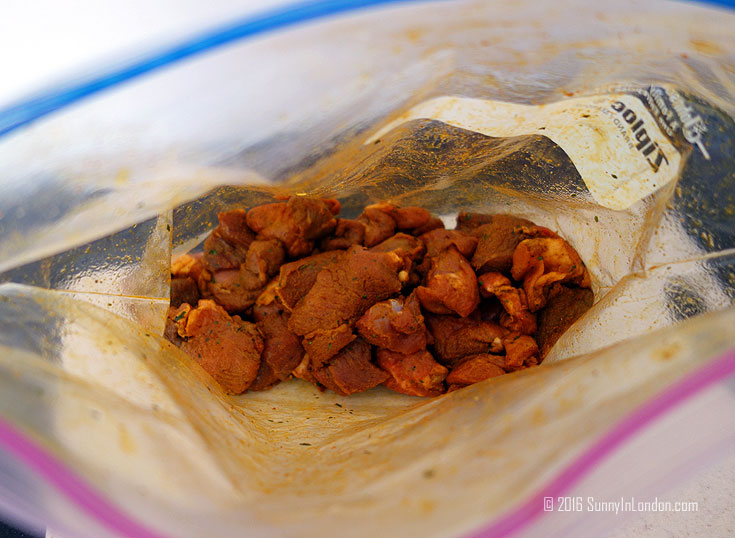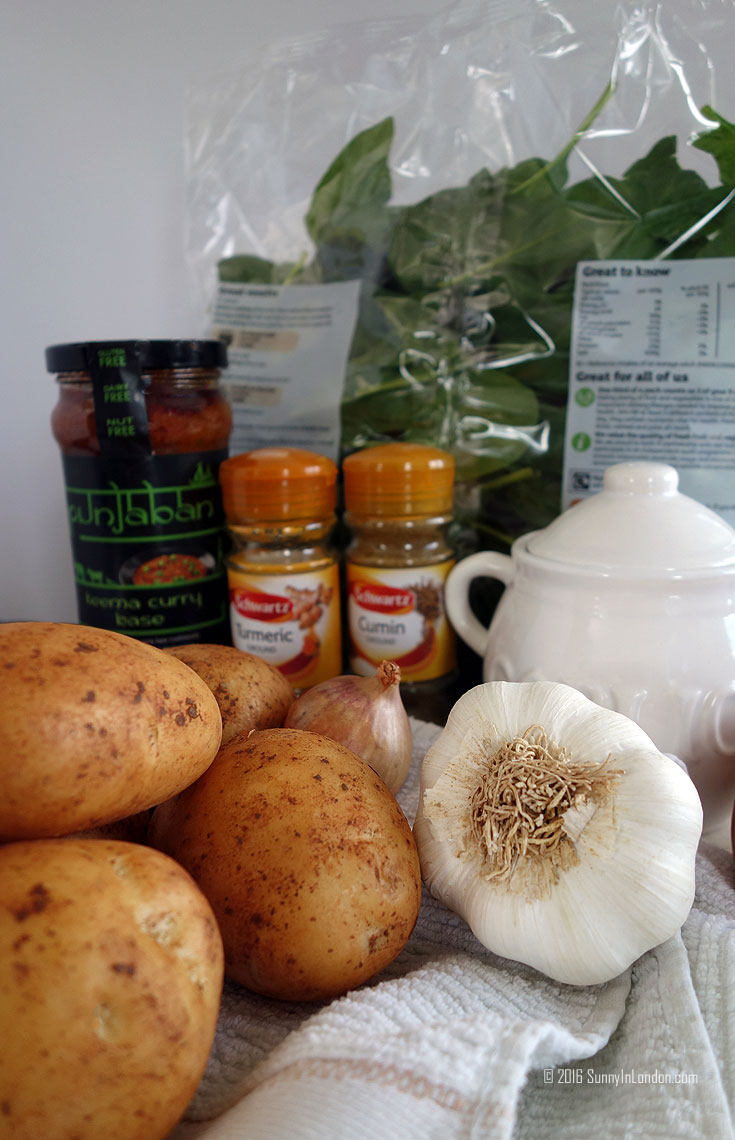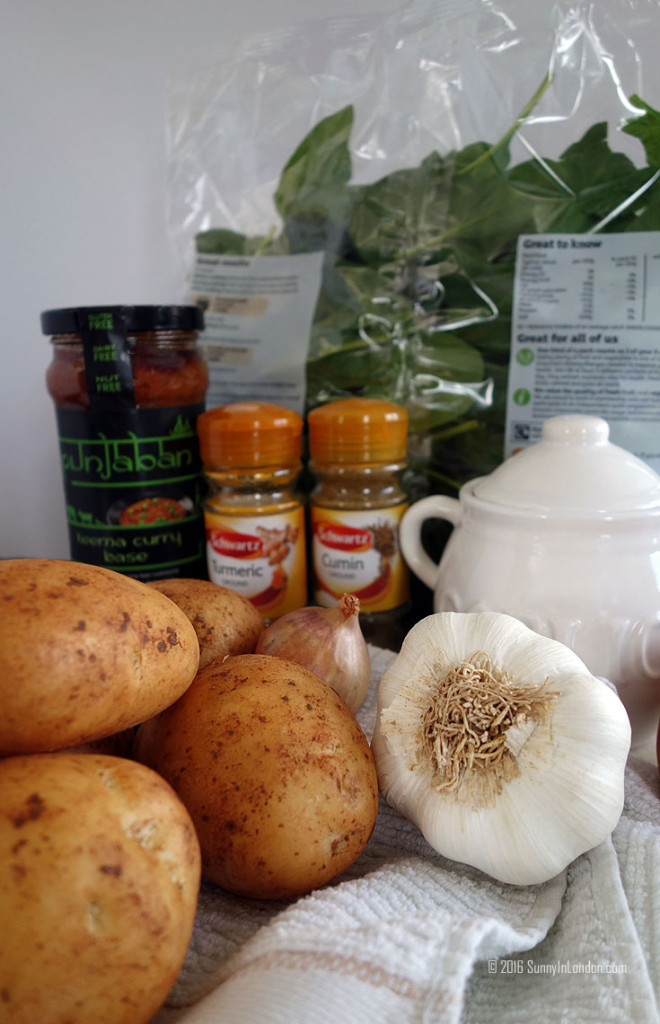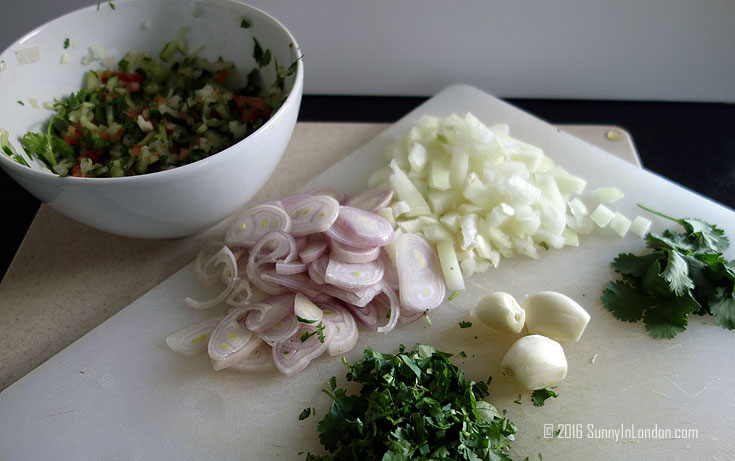 You can then take a few hours to enjoy other activities before you finish the Lamb Saag Aloo recipe.
About an hour before you want to eat, take the lamb out of the refrigerator so it can begin to reach room temperature. At the 40 minute mark before your meal, add the lamb and marinade to a medium size sauce pan on medium heat.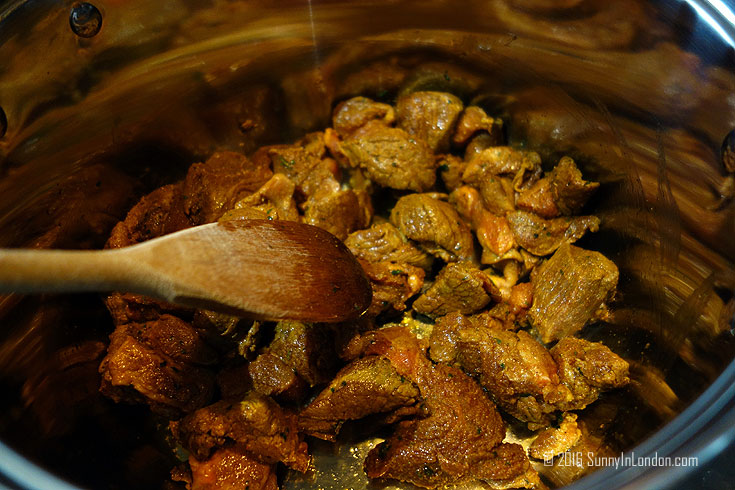 Brown the lamb while stirring constantly with a wooden spoon for about 6-7 minutes. Next you add garlic, shallots and onion to the saucepan.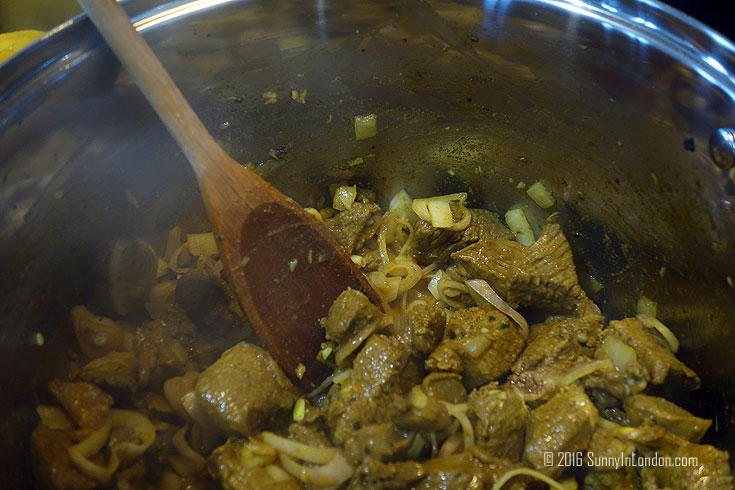 Once onions are soft, add the jars of Keema curry. Mr. Sunny chose the Punjaban brand of Curry Sauce because it doesn't contain artificial colours, preservatives, additives, flavourings, dairy, nuts, coconut, sugar, wheat, gluten or yeast.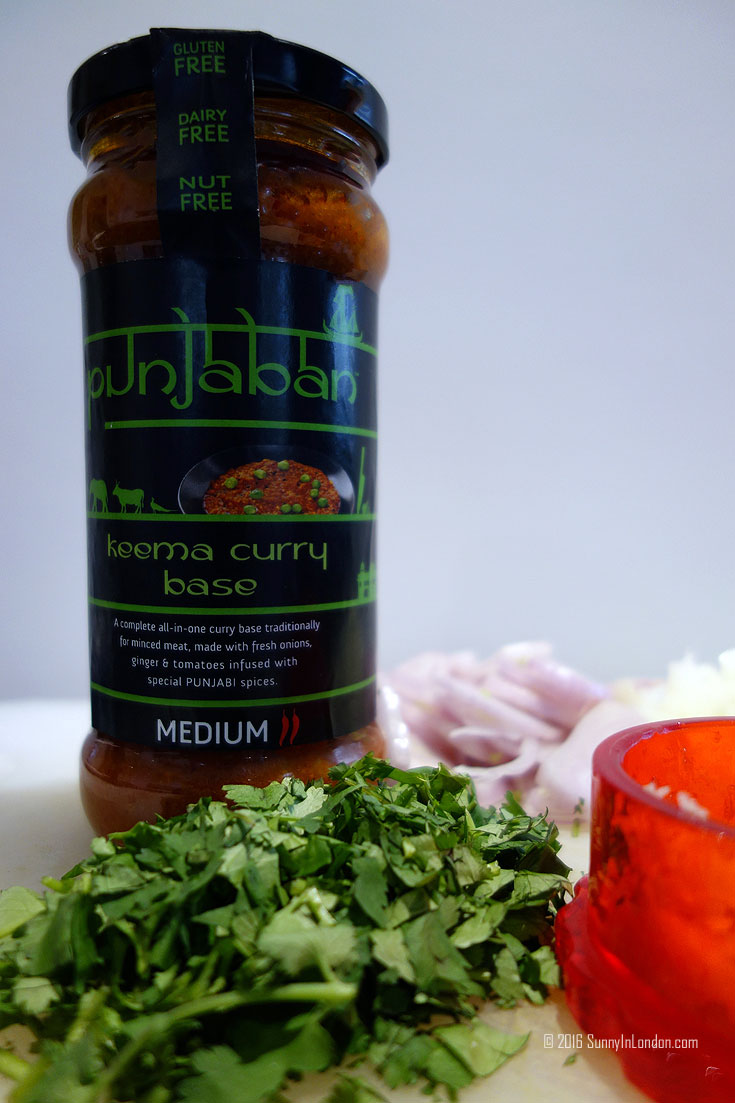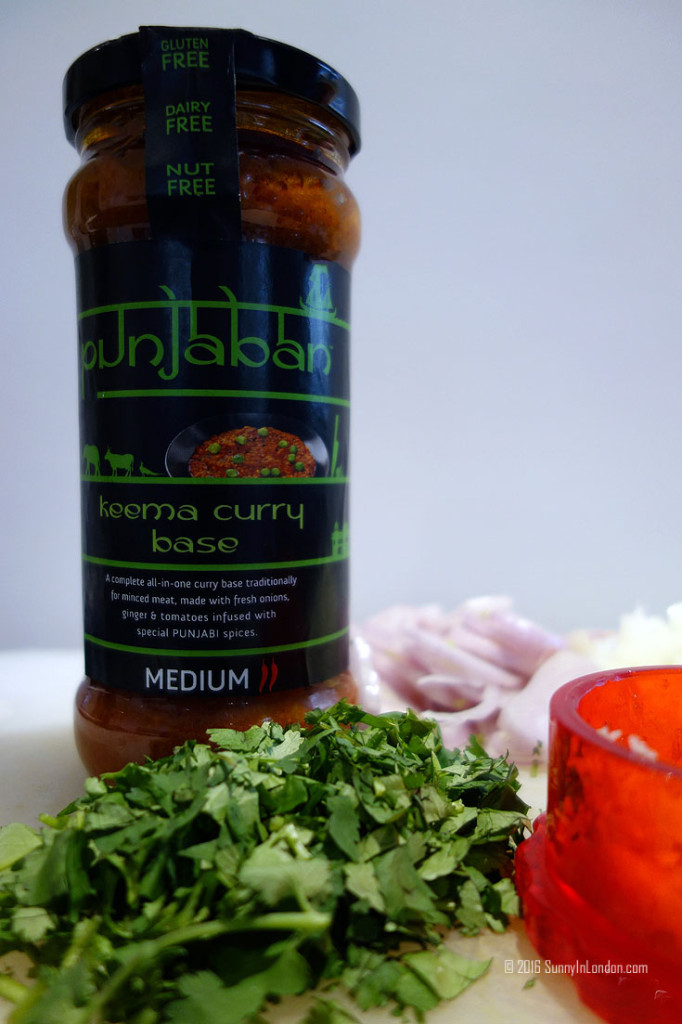 After adding the potatoes, simmer for 30 minutes. While waiting, prepare the rice in a microwave and then layer in the spinach to your lamb mixture.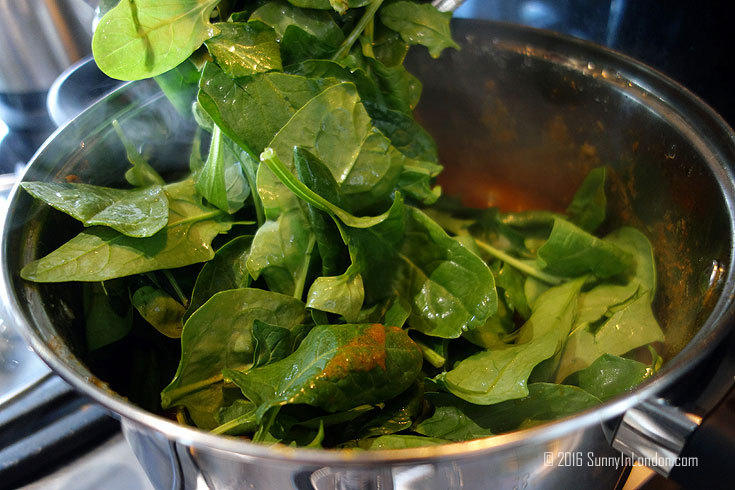 Lamb Saag Aloo Recipe Results:
The result of your Lamb Saag Aloo recipe will be a bit spicy, so be ready! The full recipe is below. Mr. Sunny made this recipe gluten free for me. You can serve it with papadum (also gluten free) and a Tomato, Onion, Cucumber and Coriander salad.
We'd love to know what you think of this simple Lamb Saag Aloo recipe. Have you ever made your own curry? What Indian restaurants in London do you recommend?

Lamb Saag Aloo Recipe (Spinach and Potato Curry)
This is a Londoner's easy recipe for delicious Lamb, Spinach and Potato Curry. The lamb needs to marinate 4-5 hours before serving.
Ingredients
21 ounces of cubed lamb (600g cubed lamb)
2 tbls tumeric (plus a tsp for cooking)
2 tbls ground cumin (plus a tsp for cooking)
7 tbls tikka curry powder
3 tbls organic rapeseed oil (plus 1 tbls for cooking)
5 New potatoes
1 tsp salt
½ white onion
3 shallots, diced
3 garlic cloves, minced
1 bunch coriander
1 bag of washed spinach leaves
24 ounces (2 jars - 350g) Keema Curry Base (or equivalent curry base)
9 ounces (250g) brown basmati rice or pilau rice
1 package papadum
Instructions
To make marinade, add lamb to large bag and then 3 tbls rapeseed oil.
Seal plastic bag and massage meat for approximately 1 minute.
Add Tumeric, Cumin, and Tikka Curry Powder.
Seal bag and massage mixture approximately 1 minute.
Place in refrigerator for 4-5 hours before meal.
To prepare potatoes, peel potatoes and cut in half or quarters, depending on preference.
Place potatoes in medium size saucepot. Add water, salt,1 tsp Tumeric, 1 tsp Cumin. HEat until slow boiling, approximately 10 minutes. Strain and leave in saucepot to cool.
Approximately 20 minutes before cooking meal, remove lamb from refrigerator to bring to room temperature.
Add 1 tbls of rapeseed oil to medium saucepot. It should be just enough to cover bottom of the pot.
Add lamb and brown, using a wooden spoon and stirring constantly (approximately 6-7 minutes).
Add garlic, shallots and onions to lamb in saucepot.
Once onions are soft (approximately 3 minutes), add the jars of Keema curry base. Fill half of one empty curry base jar with water and add to saucepot.
Add potatoes.
After simmering lamb for 30-35 minutes, add the spinach leaves and chopped coriander.
In a microwave, prepare the rice according to package instructions.
Serve the Lamb Saag Aloo immediately with rice and papadum.