Starving and tired from shopping all day, I begged Mr. Sunny to find somewhere for us to eat. He used an app on his mobile and said, 'The Real Greek is just around the corner. Want to give it a go?'
I said it was fine but had no idea what to order. Although the Greek population in my hometown of Daytona Beach, Florida is kind of big, this Italian girl really just grew up knowing about gyros, Greek salads and baklava.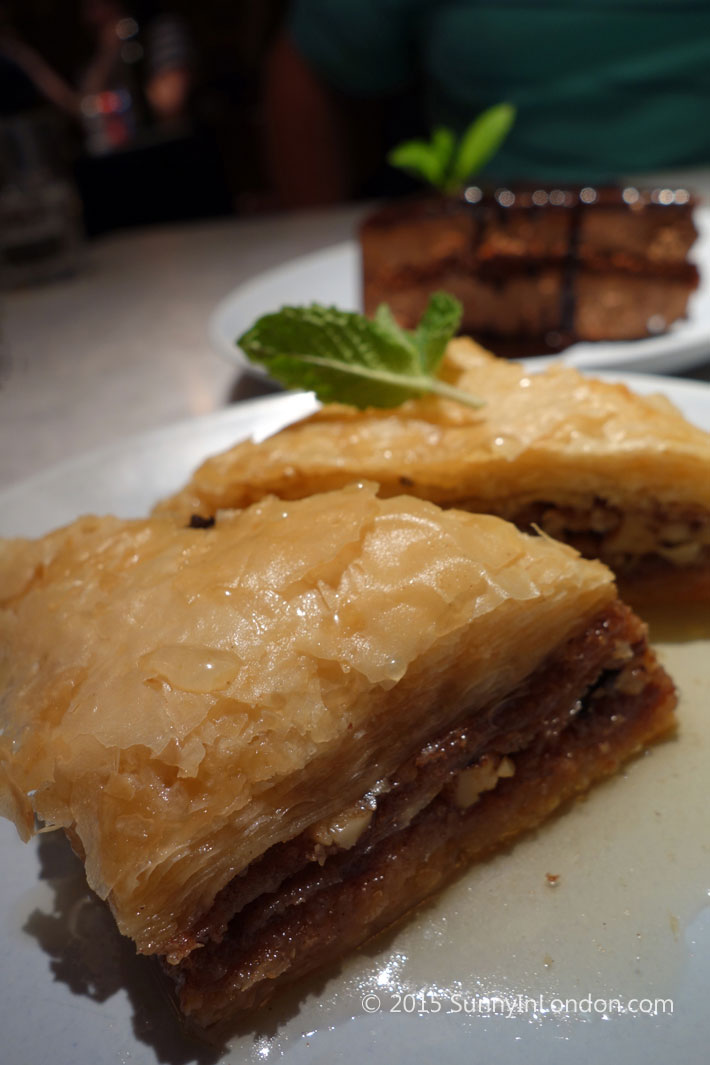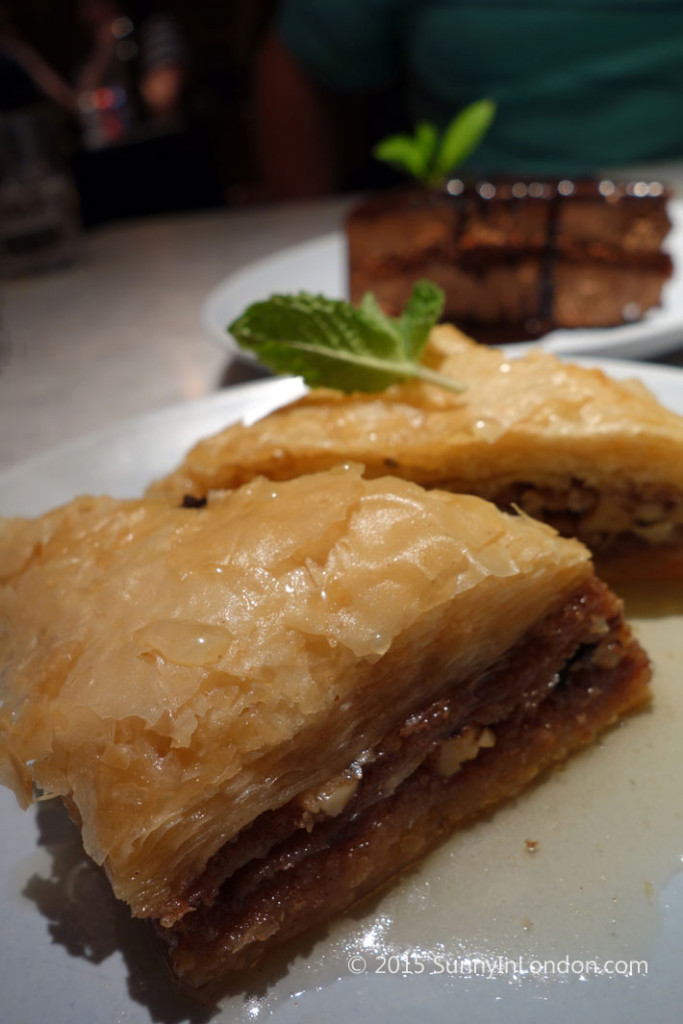 The meal we had that day in 2012 when we were engaged but I hadn't moved to London yet stands high on my list of memories from the trip. Aside from trying so many fabulous dishes, I have still have vivid images in my head of stacks and stacks of empty plates that nearly touched the restaurant's ceiling. In fact, I bet they rivaled the height of Mount Olympus.
We have been to The Real Greek a few times at their Long Acre location in Covent Garden. However, this was pre-blog days so I wasn't in to all the #foodporn #instafood images and onslaught of #foodie posts on Instagram.
Over the past few years Greek food has become an obsession for me. Currently, I can't get enough of halloumi. So, when Mr. Sunny and I received an invitation to visit The Real Greek on St. Martin's Lane, it didn't take long to reply.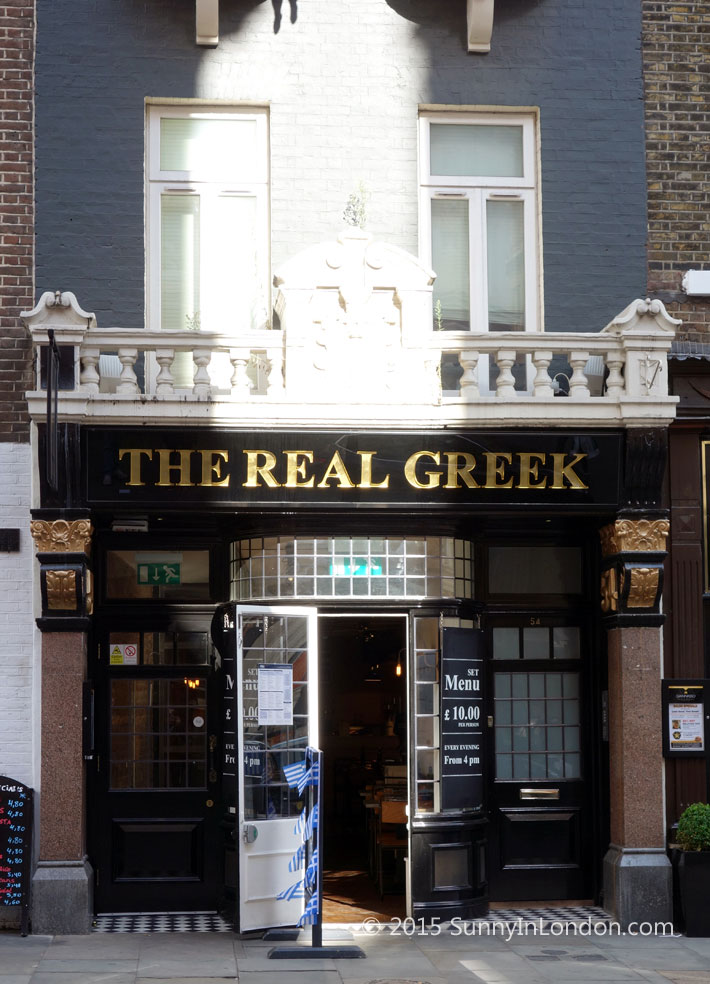 In fact, I think Mr. Sunny didn't eat for two days leading up to our night at The Real Greek. He wanted to be ready for our big, fat Greek date!
We kicked off the food fest at The Real Greek with Taramasalata, which is made with undyed cod roe. I've had this dish quite a few times and have to say this location didn't have the fishy taste that can sometimes flap around in your mouth.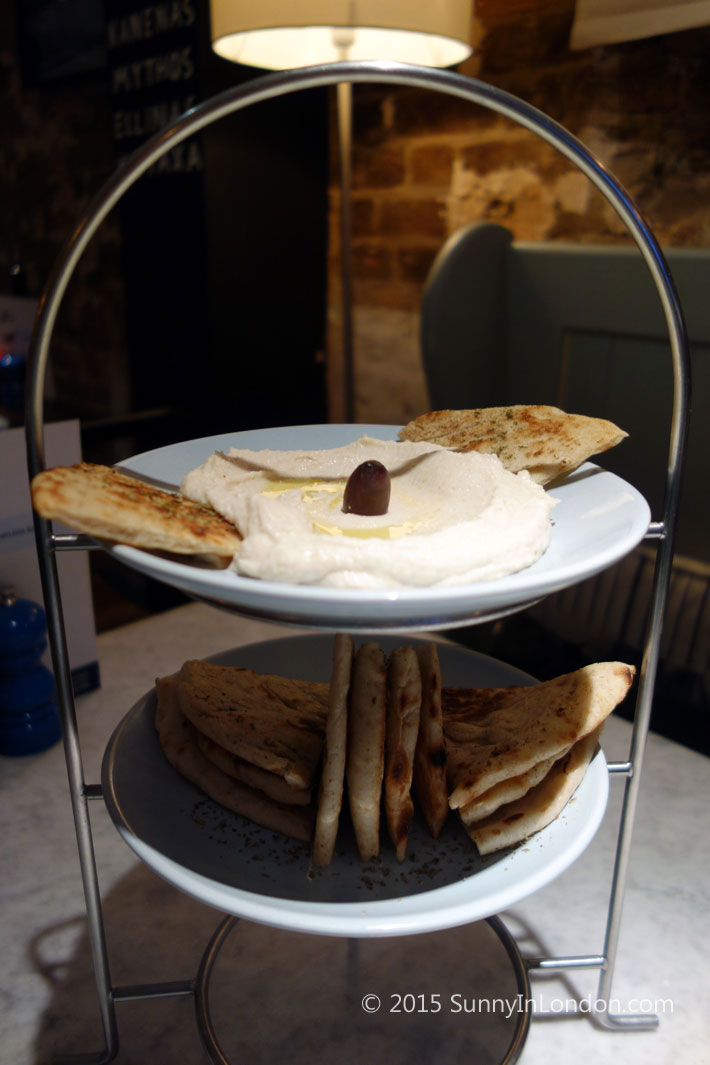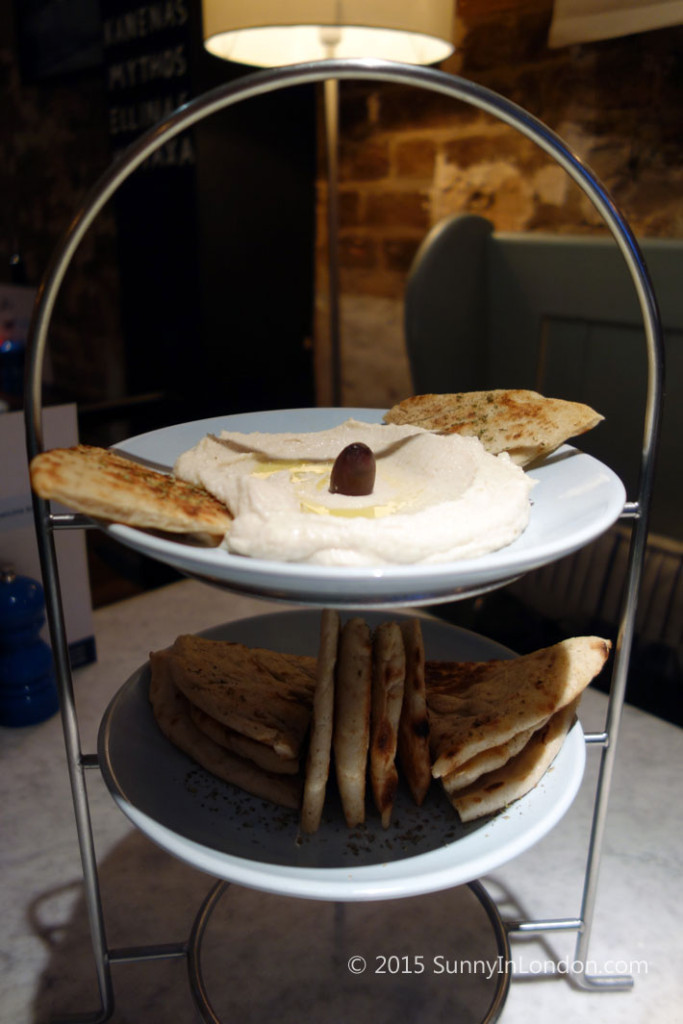 You know we order calamari as much as possible, so Mr. Sunny selected their Grilled Kalamari. He was warned 'Hands off my halloumi!' and didn't even get to try mine.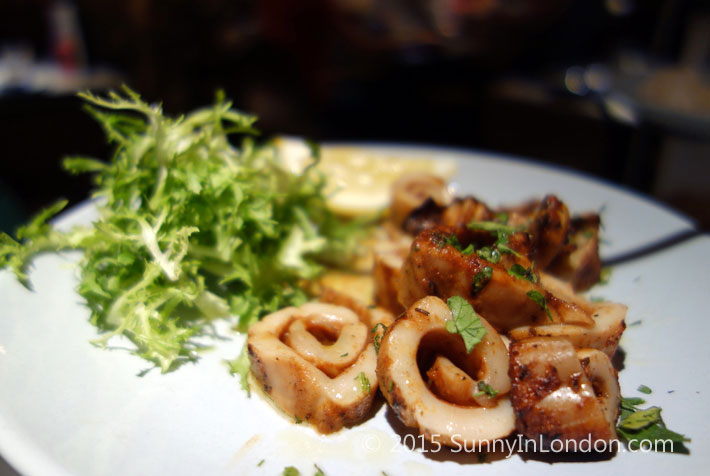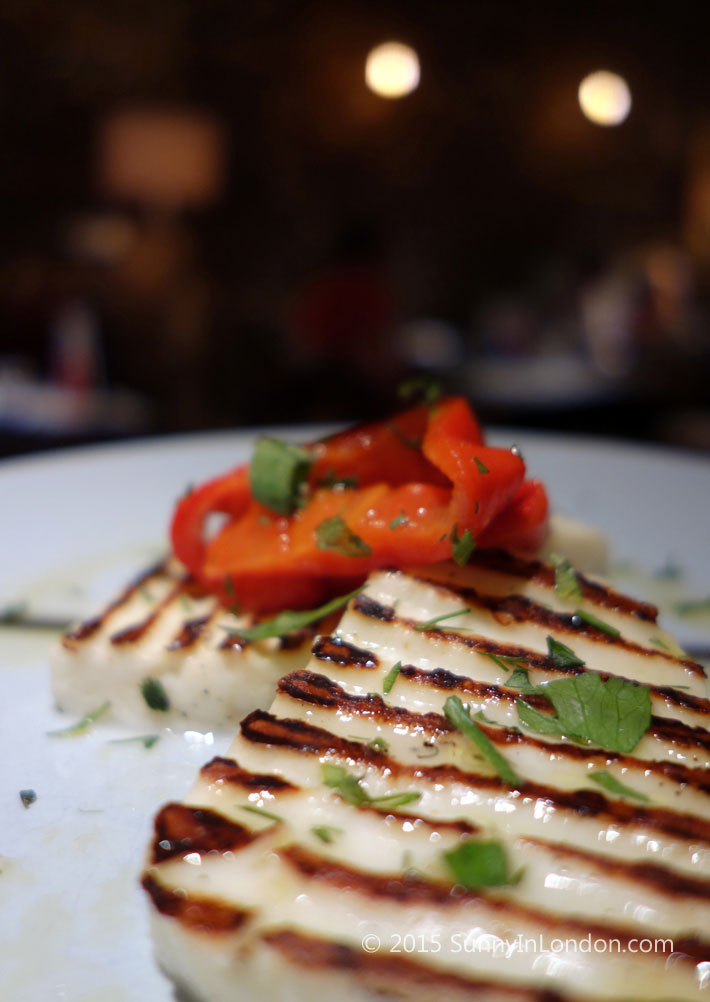 I don't feel selfish. It was the best halloumi I have ever had! The flavour simply melted all over my tongue.
Mr. Sunny watched me ooh and ahhh all over the table while sipping on his go to drink… beer!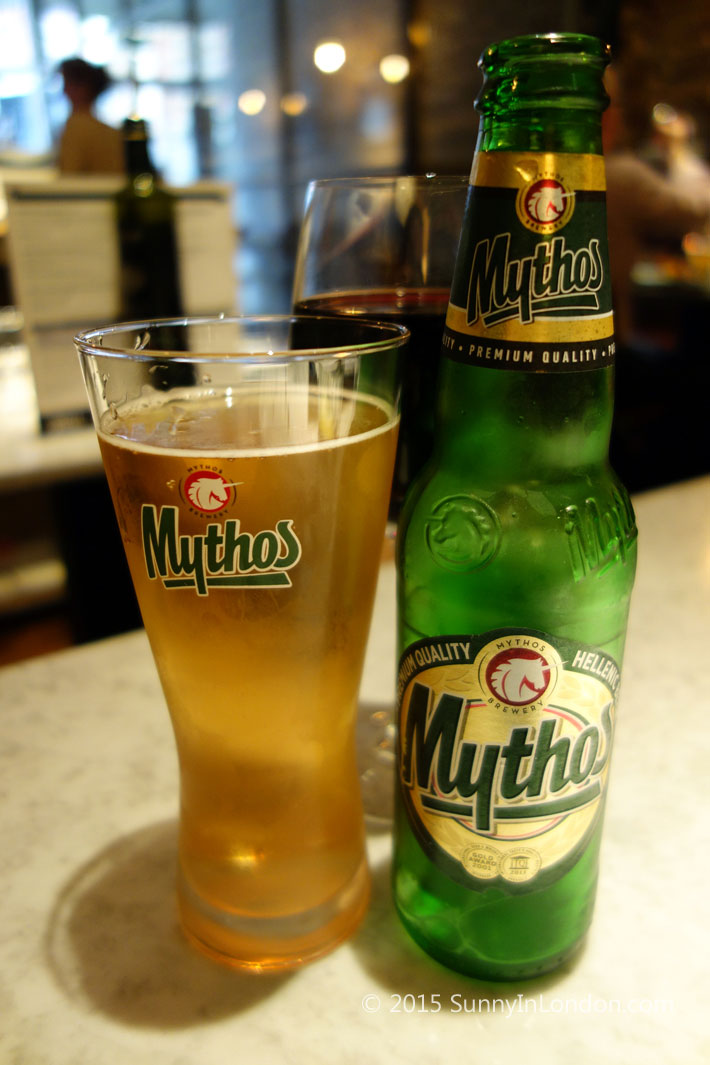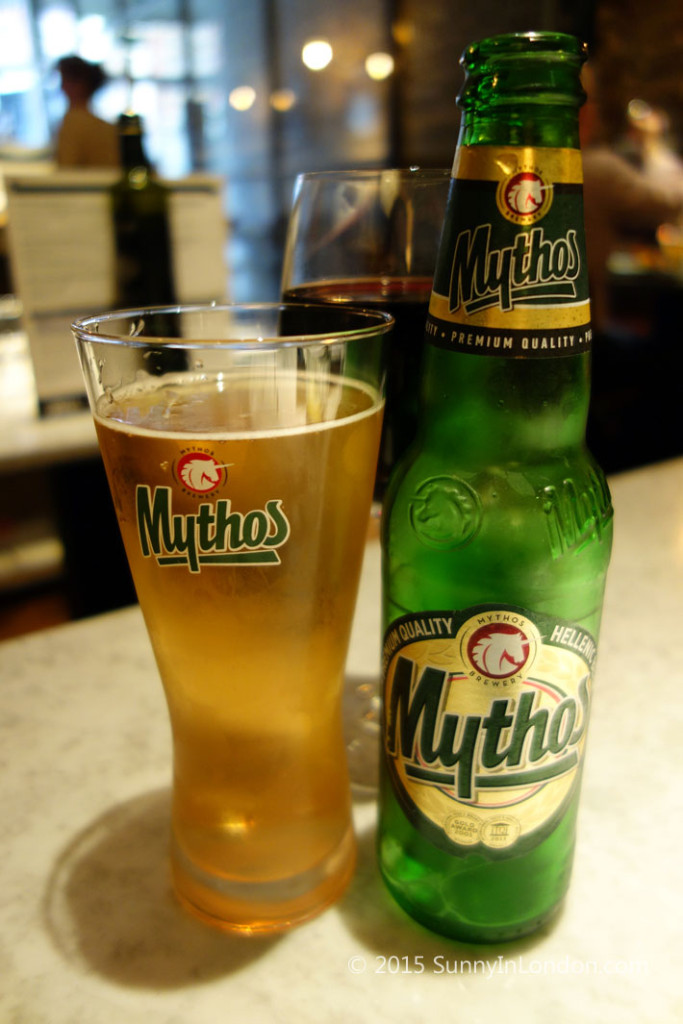 Just in case you are wondering, the Kalamari served with sticky Greek honey and a paprika marinade was cooked beautifully.
Mr. Sunny also snuck in an order of Tiropitakia, filo pastry filled with creamy leek, spinach and feta filling. They prepare it handmade every day at The Real Greek.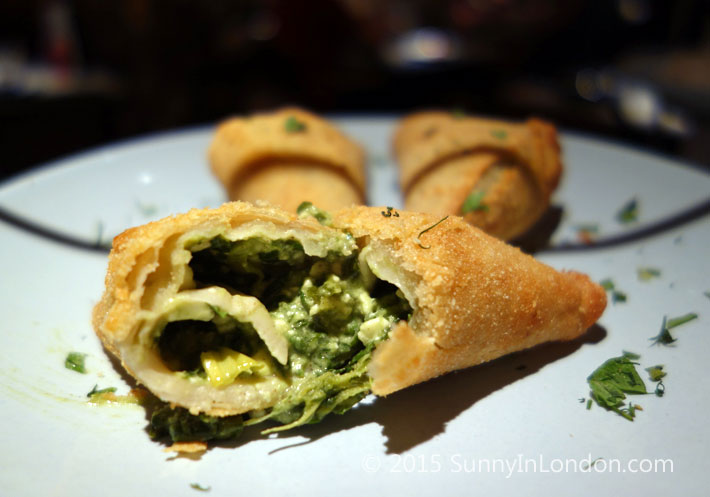 Also, I had the Kanenas Red wine with these dishes. The menu indicated it's probably the most popular red wine in Greece right now. It was great. Had I not been engulfed in hallelujahs while heaving halloumi in to my mouth, I might have remembered to take a picture.
Like I wrote earlier, the menu is all Greek to me, so I had Mr. Sunny decide what followed for our big, fat Greek dinner. He decided not to order meat. Instead we just had lamb 😉
Lamb Kefte. Lamb Cutlets. Lamb Skewers.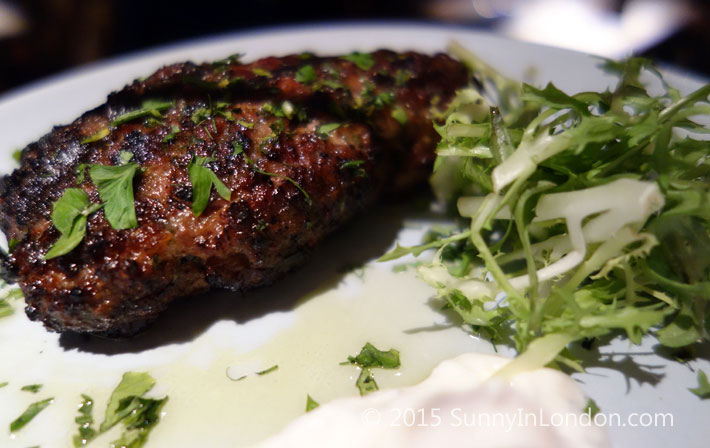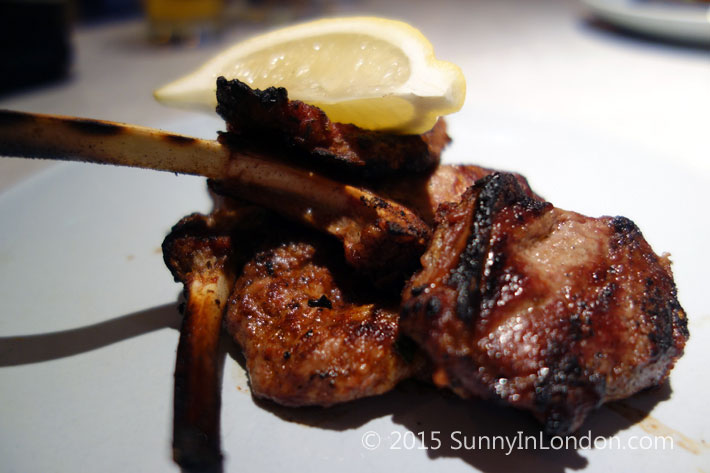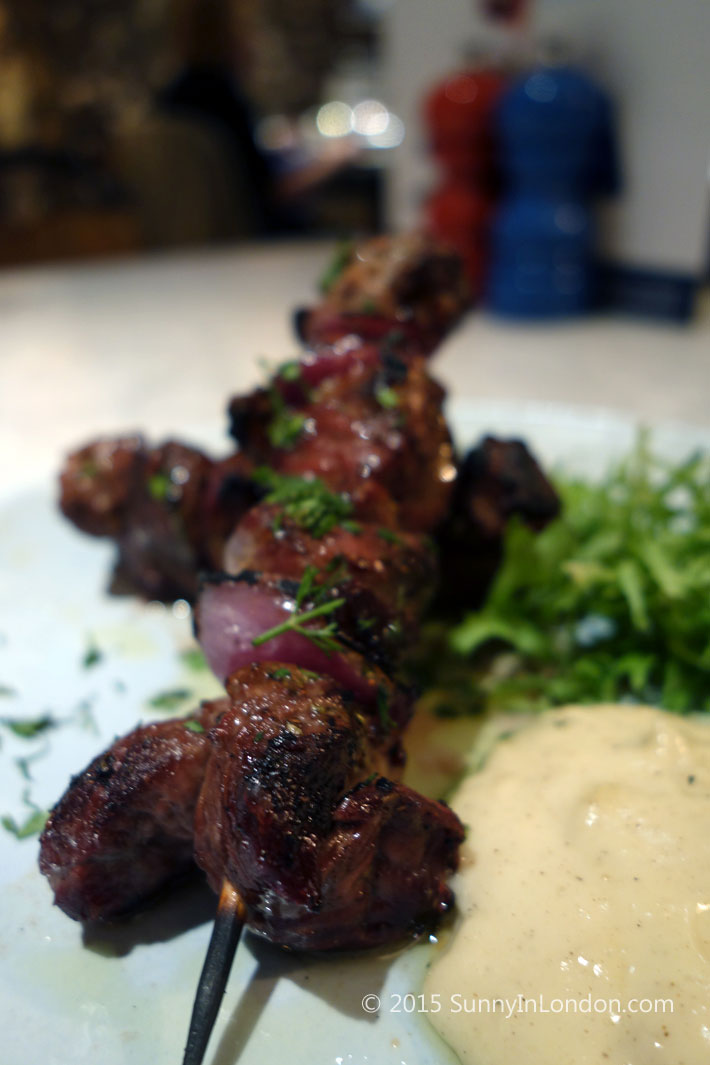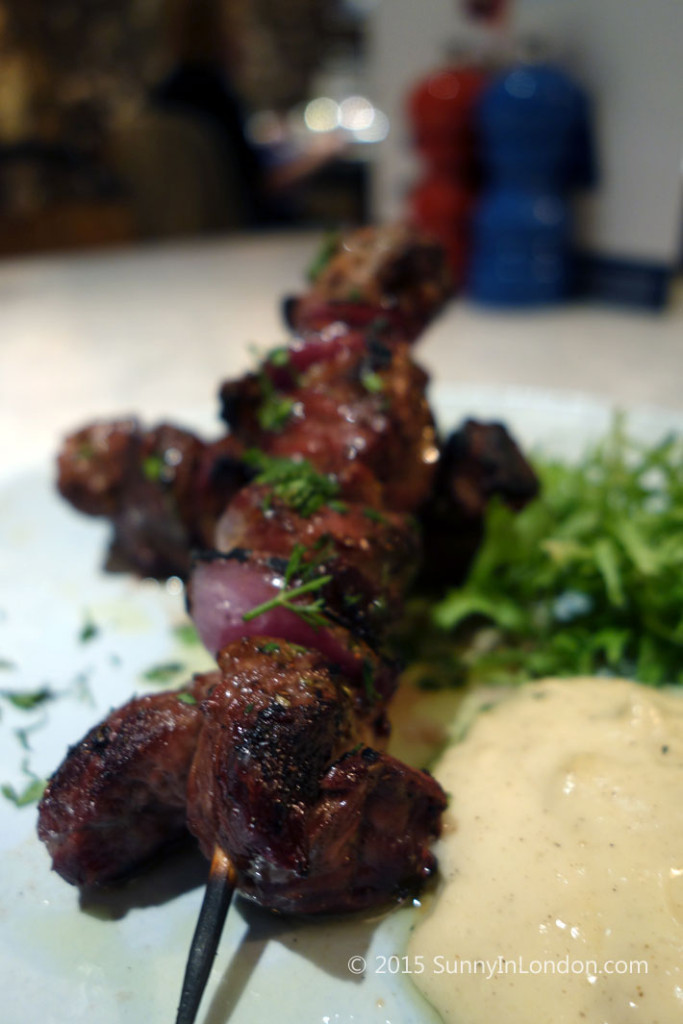 Did I mention that I am a lamb addict too? That's also a food fetish I have developed since living in London. The quality of lamb available in England far surpasses what I have had in America.
Since Mr. Sunny snuck chicken wings in to our Greek feast, he had the task of finishing them when I hit the food wall. And I hit HARD!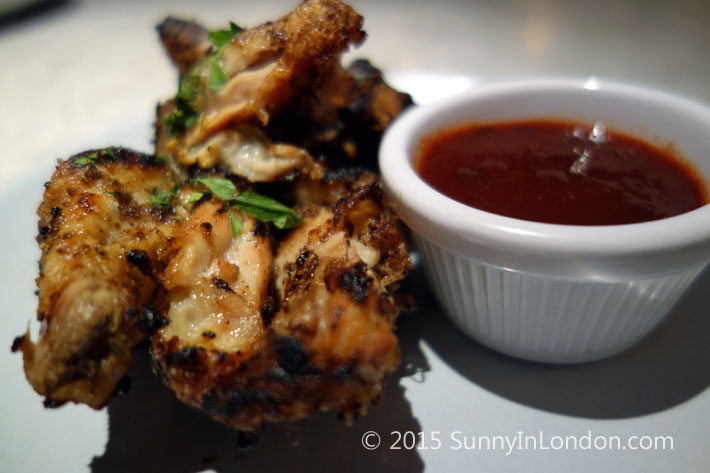 He didn't seem to mind, even though I could see he was near defeat as well.  Mr. Sunny the Great managed to unite all of the empty plates together. This is the before picture because the aftermath was pretty scary!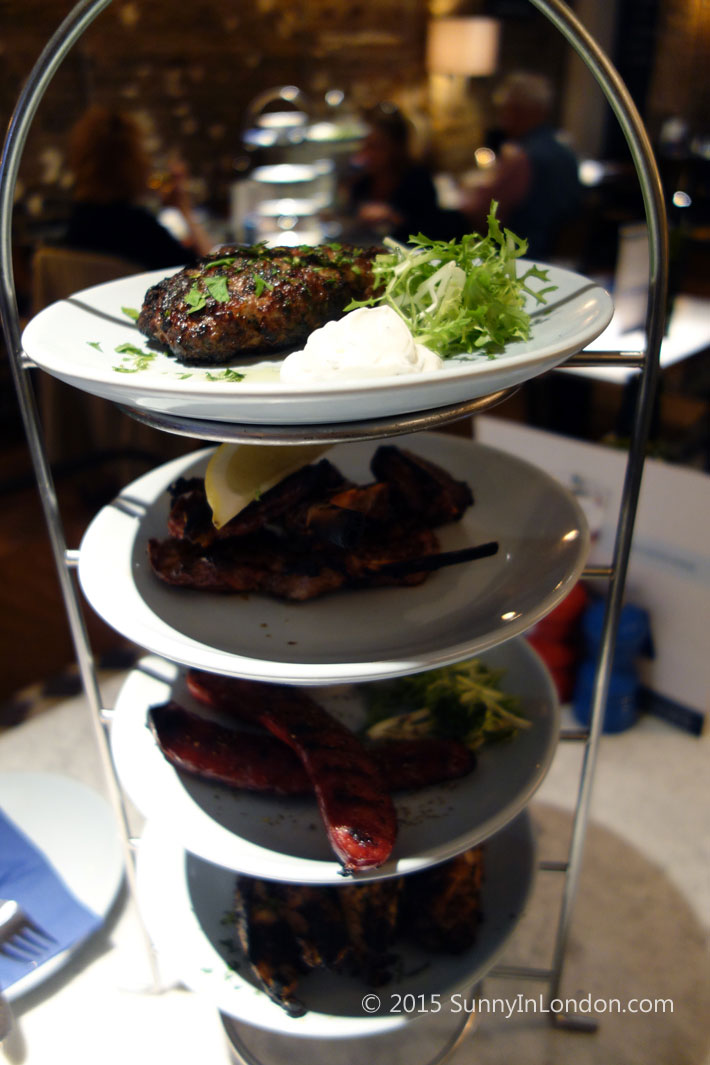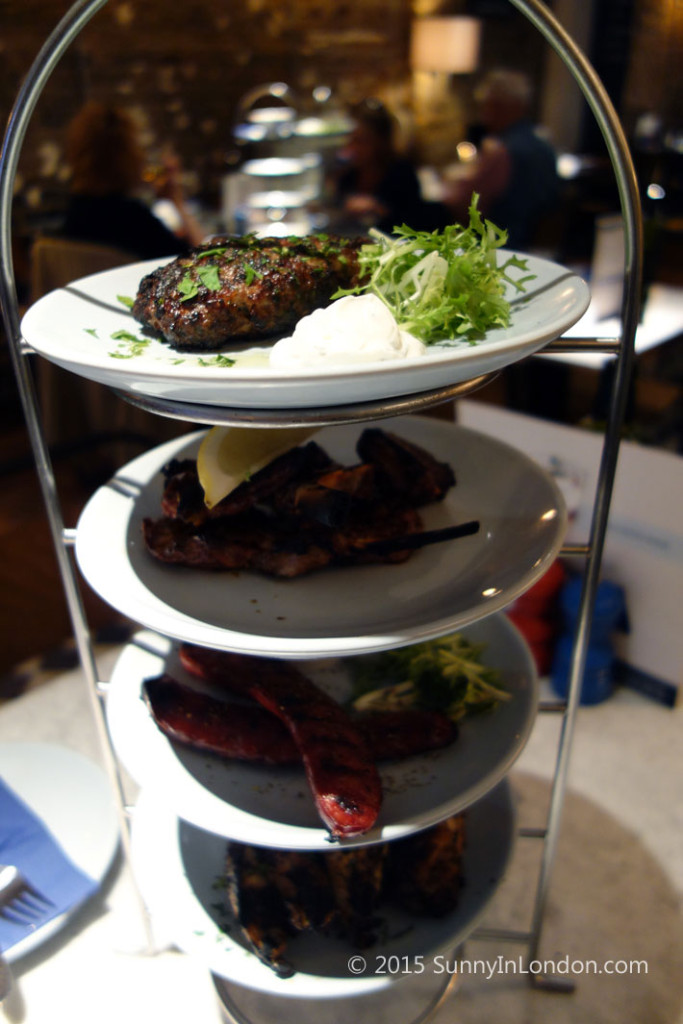 We had not one ounce of room left for dessert, but with divine intervention from the Gods, we pushed forward.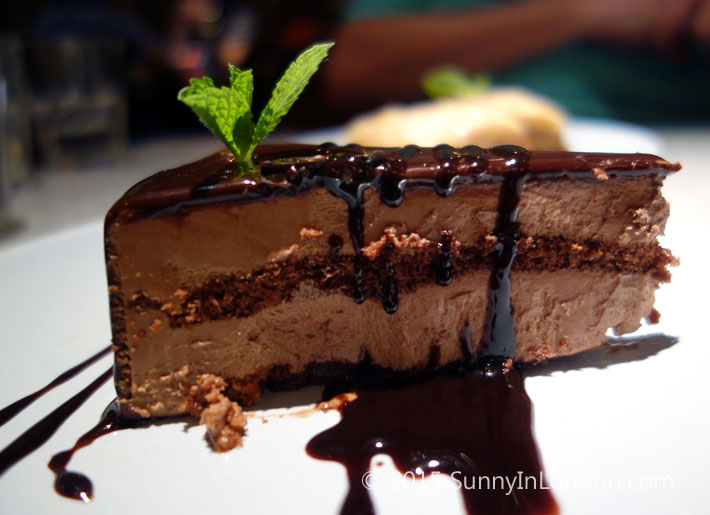 That light chocolate mousse cake dripping with more delicious fudge flavour was worth every ounce of pain I experienced on the way home in my skinny jeans.
Mr. Sunny tackled the piece of baklava you saw at the beginning of this restaurant review.
The Real Greek defeated us in this food battle. We didn't have one food dish that was average. Everything we ate (as it had been the previous occasions) would be items we would recommend to you. Further, the service at The Real Greek every time we've eaten at a location is fantastic too.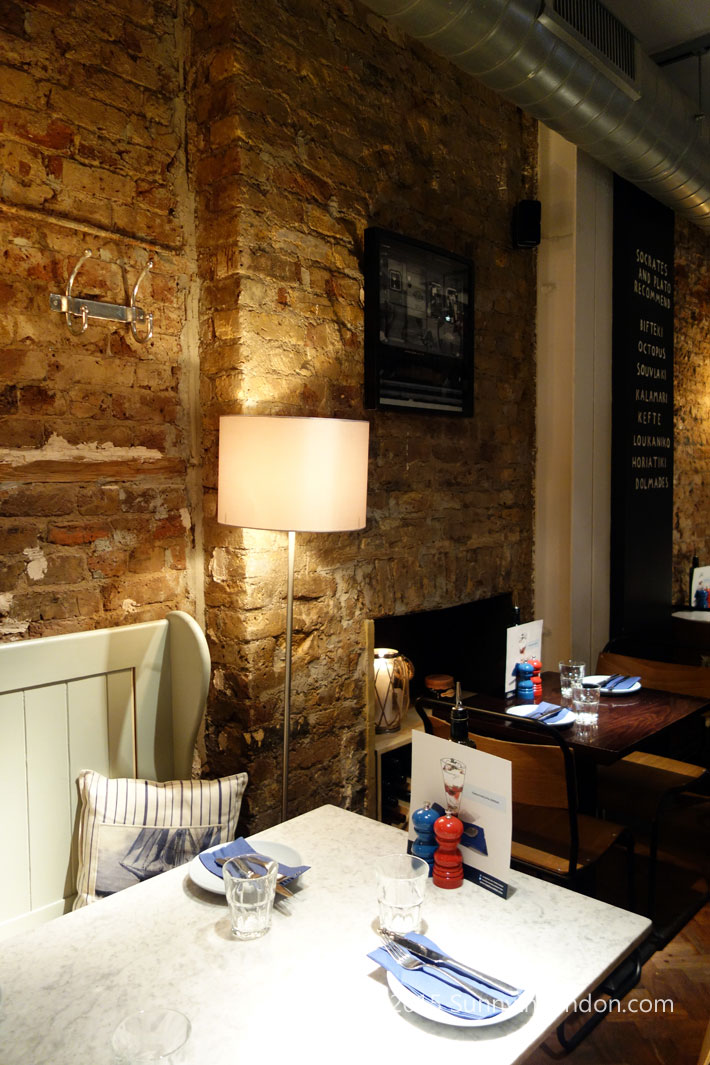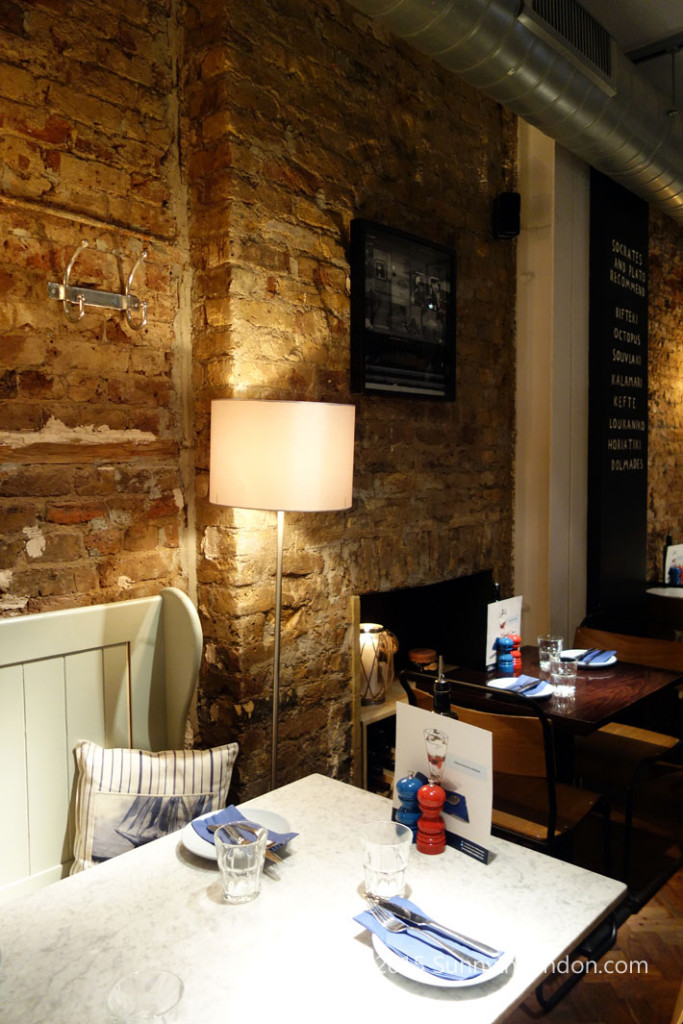 We did prefer this location over the one on Long Acre because it offers more space between tables. However, of the 9 locations around London, we'd be thrilled to return to any of them. And, if someone could send me that Halloumi recipe, I would be eternally grateful!
Our experience at The Real Greek was complimentary for the purpose of a review. I assure you there is no Trojan horse here. My thoughts are honest and represent a 100% solid opinion (with no hidden surprises) of all the times both my husband and I have enjoyed meals at The Real Greek. 
Opaaaaaaaaa!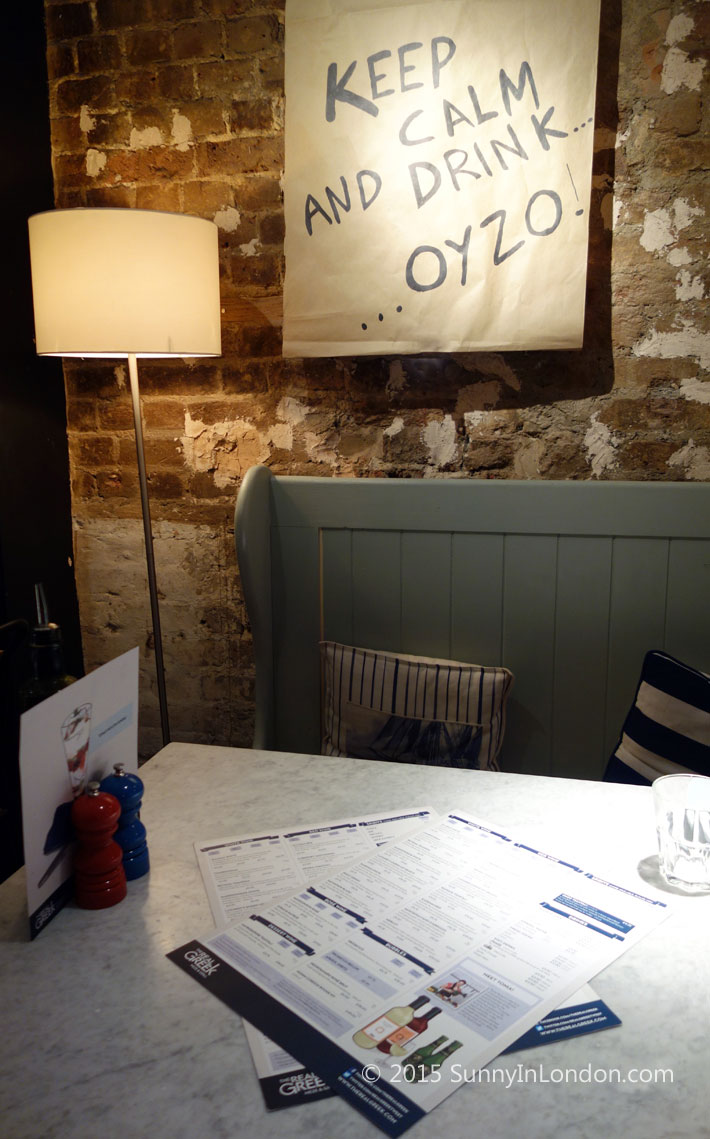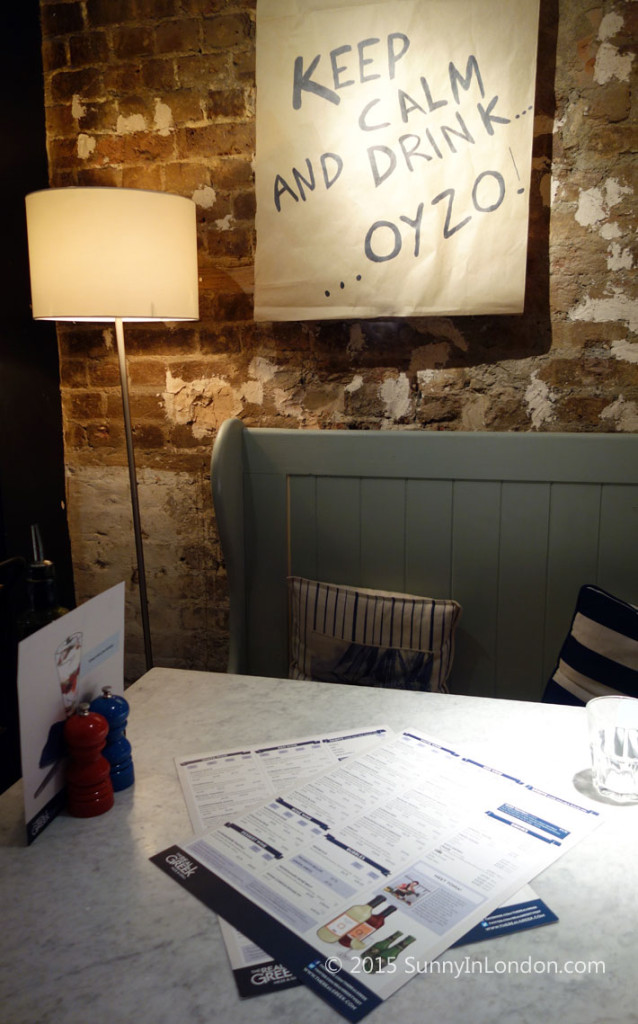 The Real Greek website lists all of the locations around London and their amazing menu.
After revealing that I have a recent addiction to halloumi and constant craving for lamb, I wonder what's your food obsession? What restaurants do you recommend in London for your food fix?