4 Reasons to Visit Thai Square Spa
What is a much cheaper alternative to buying a first class airplane ticket for an eight hour international flight?
Sitting in an economy seat and scheduling a luxurious massage at Thai Square Spa in London a few days after you land!
Yes, Sunny friends, it was much easier to return to London from a one month holiday in Florida knowing that I had an afternoon booked at a spa in Covent Garden.
I received the email to enjoy a Ritual Massage at the Thai Square Spa while I was visiting my family and friends in Florida a few weeks ago. Before accepting, I gave the spa's website a good look so I would have an idea of what they offered.
Now that I have visited and can say that I loved the Ritual Massage experience, I can give you four other solid reasons why the Thai Square Spa should be on your list of treats to experience in London.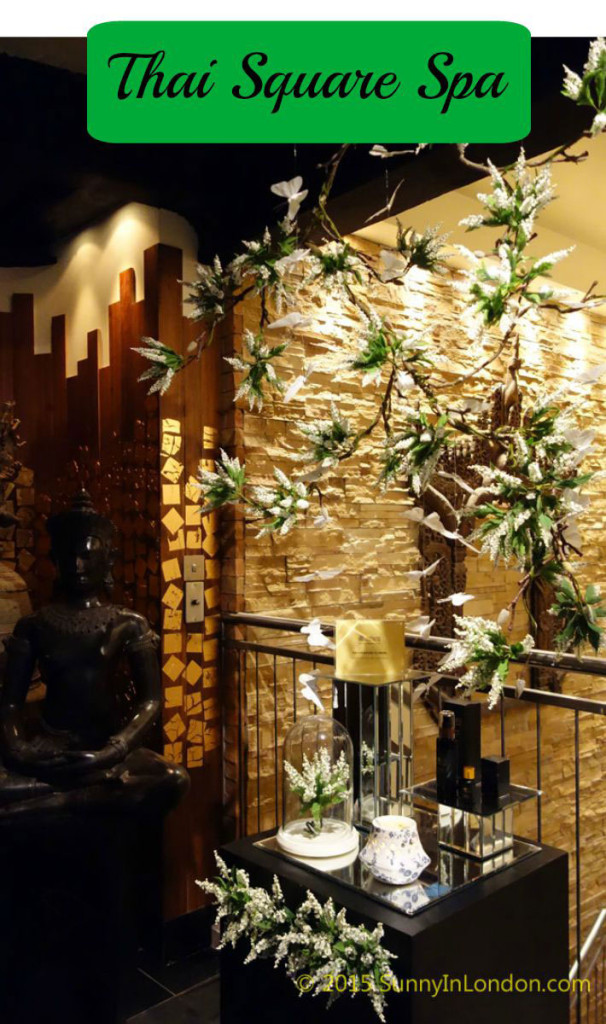 #1 Thai Square Spa- Special Products
The spa has its own product line, which consists of a lifestyle collection and is available at their spas or online. In November they plan to launch several skincare ranges. It's called iMantara, and it means 'a sacred word, syllable or phrase, repeated in prayer or meditation.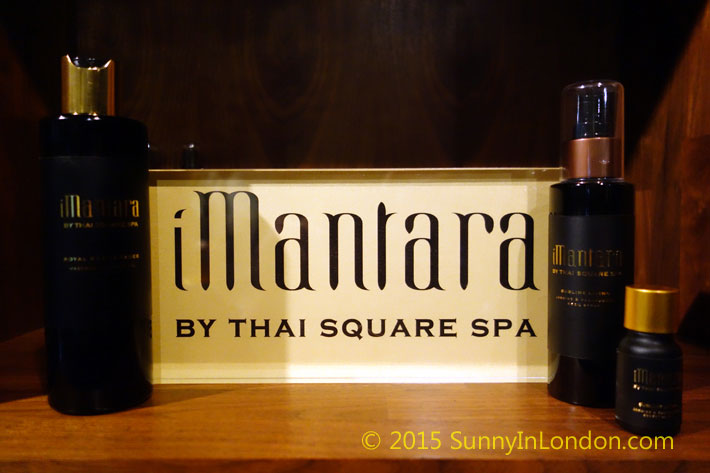 Thai Jasmine, Jasmine Sambac and Plai essential oils, plus Rachawadee – a Thai flower with an imagined fragrance, are just a few of the new brand's signature ingredients.
#2 Thai Square Spa- Menu
As I mentioned above, the website formed my inital impression and determined whether or not I would pursue the invitation. It's very informative and includes all of their options for beauty services, body treatments, facial treatments, hand and foot treatments, ritual hair remedies, ritual therapies, royal treaments, specialist maternity therapies, treatments for travellers, and wet treatments.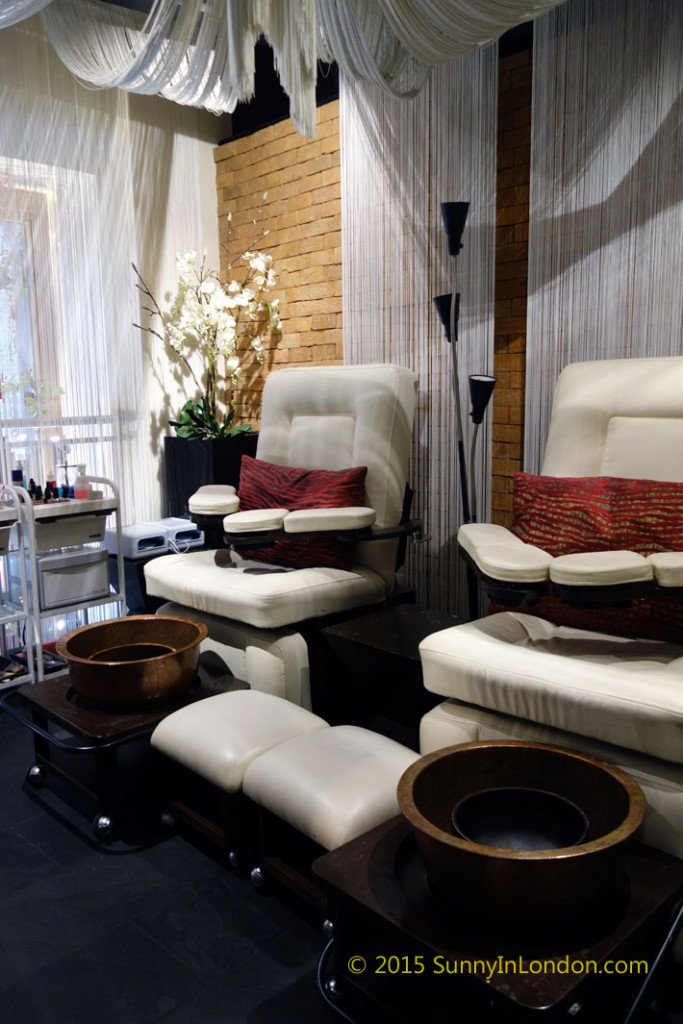 Yes. It's a really big list with gorgeous tempting pictures and descriptions.
#3 Thai Square Spa- Service
When I arrived, I was greeted immediately. Since I wanted to take a few pictures and ask some questions about the spa, I arrived about twenty minutes early. Unlike most spas, which normally run very behind when booking appointments, Thai Square Spa was ready for me to begin my treatment as soon as I arrived.
However, first I spent a few minutes sitting in this area completing a consultation form that inquired about any medications, concerns, etc.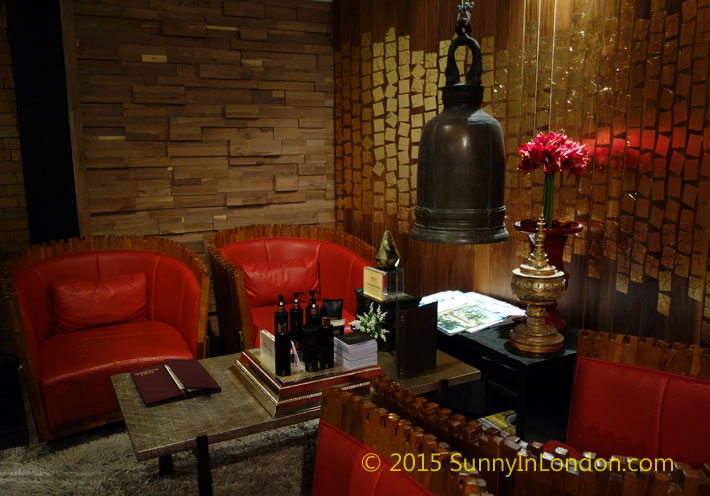 During my treatment, my therapist was exceptionally professional. A few minutes in to the massage, she checked to see if the pressure was too much, just right, or too little.
#4 Thai Square Spa- Cleanliness
Something that is super important to me when I visit a spa is how the facility is presented in terms of hygiene. Recently I visited an extremely popular international brand to have a spa treatment and was downright horrified at how dirty everything was. The floors were an absolute mess on a beautiful sunny day, so it wasn't like people were dragging in dirt on their shoes from winter.
Thai Square Spa obviously takes tremendous pride in the appearance of their venue. It is evident in every corner I investigated. The locker rooms for ladies were spotless, and they made sure that I wore their spa's flip flops when entering the room.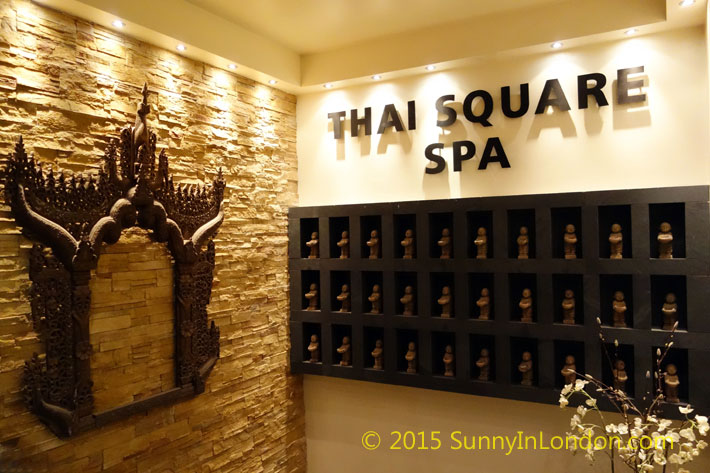 #5 Thai Square Spa- Ambiance
My appointment was at 12:30pm on a Monday. While I appreciate that spas are perhaps more 'bustling' on weekends, I felt as if I had the entire location to myself. After I finished my massage, I enjoyed a refreshing glass of water.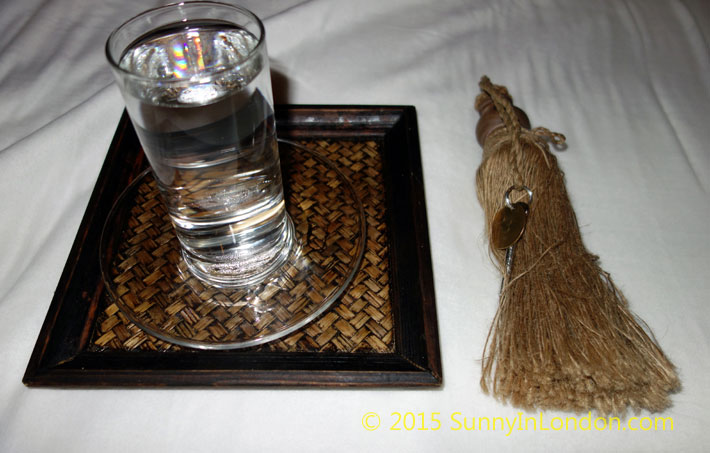 Ok, I know you don't need literally to see a picture of a glass of water to understand what I mean. That picture above was more about the locker room key, which is on the right. I just thought it was a super cool way for spa guests to keep track of a key!
Anyhow, I sat for about 10-15 minutes in this area pictured below enjoying my water and making sure I had all the pictures I needed before leaving.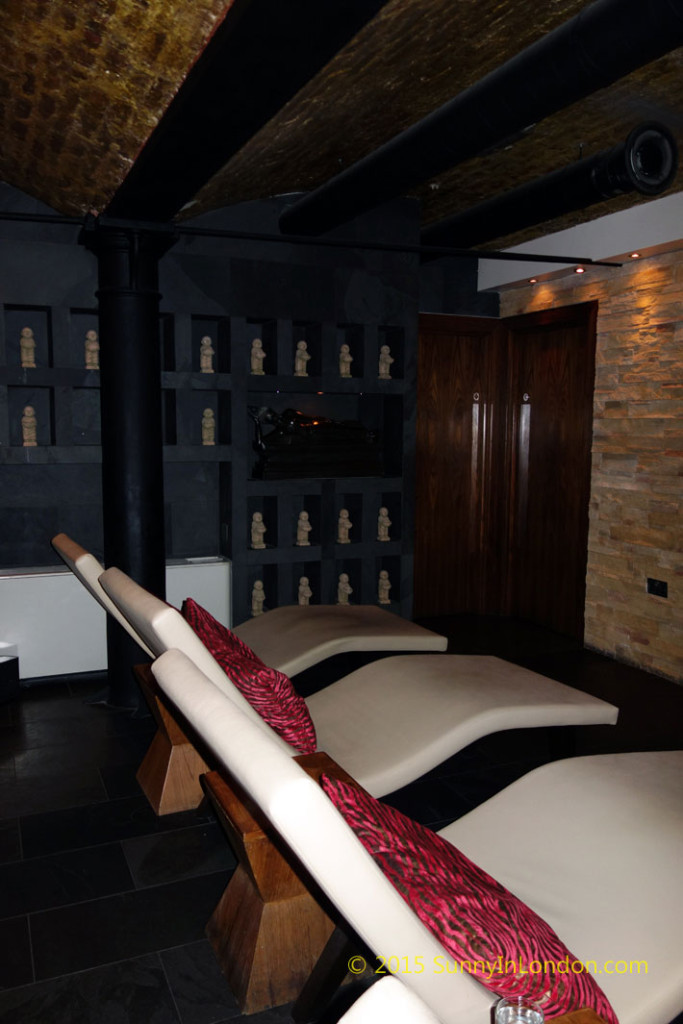 It was nice having the area to myself. I also secretly sat there wishing I could stay forever 😉
Thai Square Spa- New Location and Sunny Discount!
A few days after my massage, I learned that this location will move in the end of November 2015. So please know if you are reading this review after that time, or are in the process of scheduling a treatment around then that you check with the spa to make sure you understand where you are booking.
The new location will be 22-25 Northumberland Avenue.
You can follow Thai Square Spa on Twitter and Instagram. They also have a Twitter account for iMantara.
My massage was complimentary for the purpose of a review. This certainly didn't influence my opinion of the experience. I would be thrilled about the opportunity to return to the spa for services. 
What relaxation methods do you use after long plane flights? Are spa treatments part of your regular activities? What do you think of this shirt I wore to the spa to convey how I felt when I arrived?