A Pub Crawl with Sun Themed Pubs in London
I bet you've never stopped to think about how many pubs in London are named after the Sun? It makes perfect sense that there's tons named after royalty in a country with such a regal history. But the sun? Yep. There's tons! And guess who has designed a pub crawl like none other for you, Sunny friends. Let's go!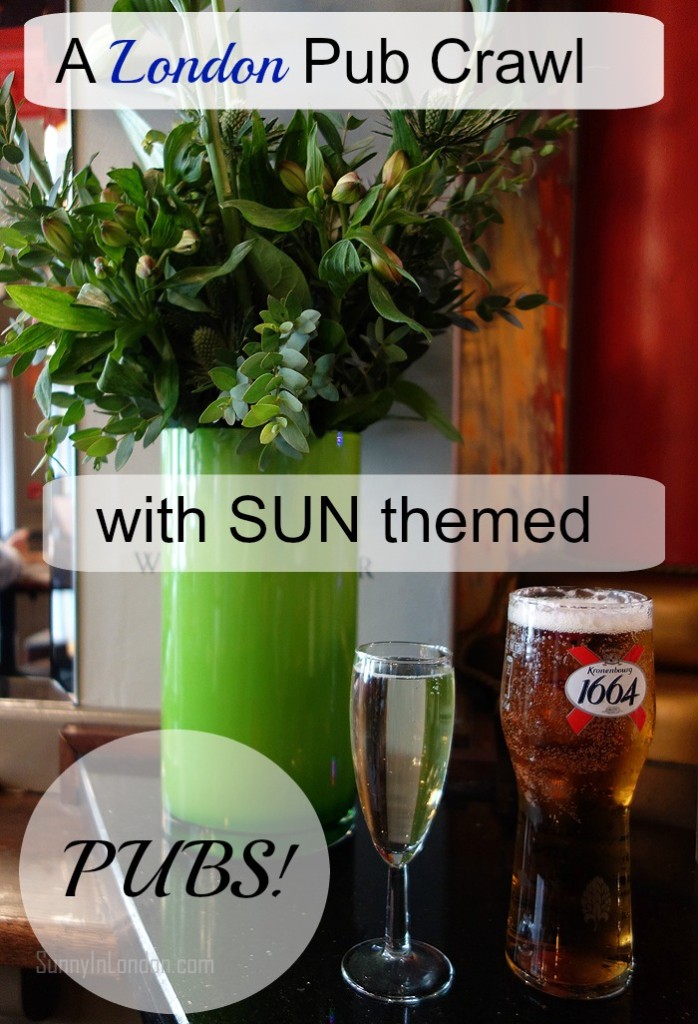 Oddly enough, this latest pub crawl was actually inspired by darkness. No joke. On a beautiful day, Mr. Sunny ventured down to my favourite place, Covent Garden, to embark on another pub crawl for ye ol' blog.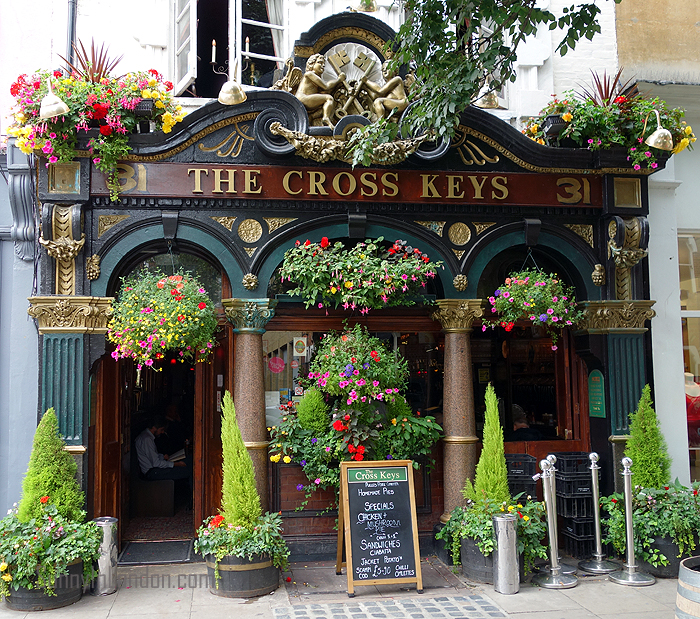 We've walked by The Cross Keys many times. Next to the Churchill Arms in Kensington, it's one of the most recognisable pubs because of its fun exterior. I took a picture and we walked inside.
Oh noooooo!
I didn't even bother with anymore photos. While I have nothing negative to say about the pub, the lighting is just so incredibly low, I knew it wouldn't work.
'I need a pub with good lighting! You know, Suuuuuuuun!' I exclaimed to Mr. Sunny, the blog's resident beer expert.
'Oh, ok, sweetheart,' he responded. And he guided me a few streets away, to this charming little pub which will kick off our Sunny Pubs in London Pub Crawl…
Sunny Pubs in London- The Sun
Mr. Sunny chose this pub because he feels it's great for being in Covent Garden and not being surrounded by tourists. It's located on 21 Drury Lane, WC2.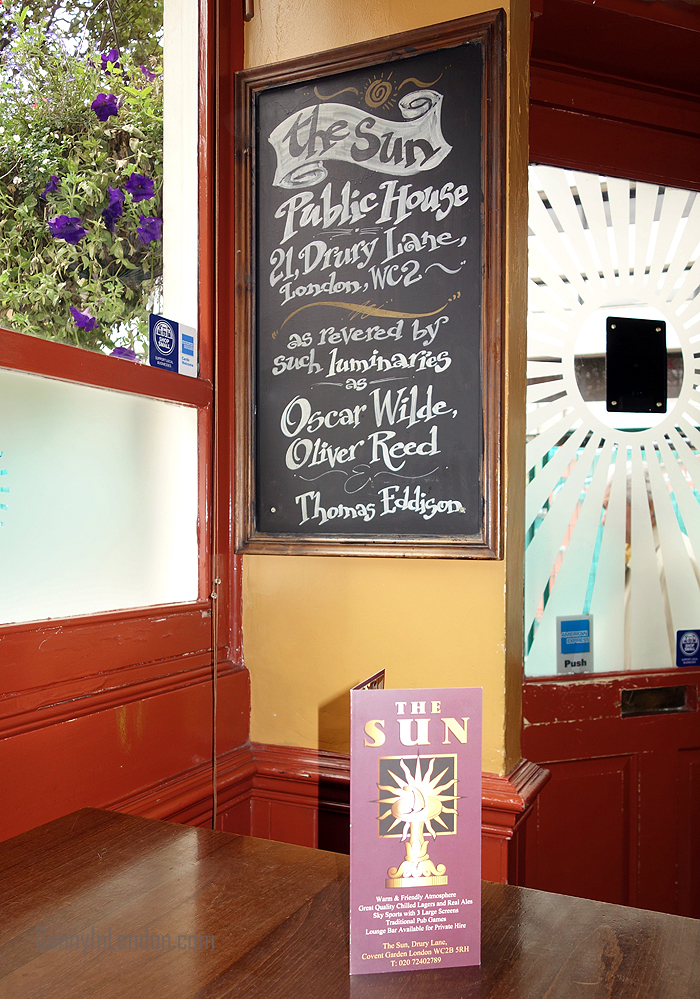 He says it's perfect for a pre-theatre pint without the foreign pests. Don't take offense to that my international friends. Technically, I'm in the category too 😉
I'd say it's normally fairly quiet, but currently there's some serious street work being done. So, Mind the Construction. In fact, the road is barricaded in front of it. Hence this sideways shot…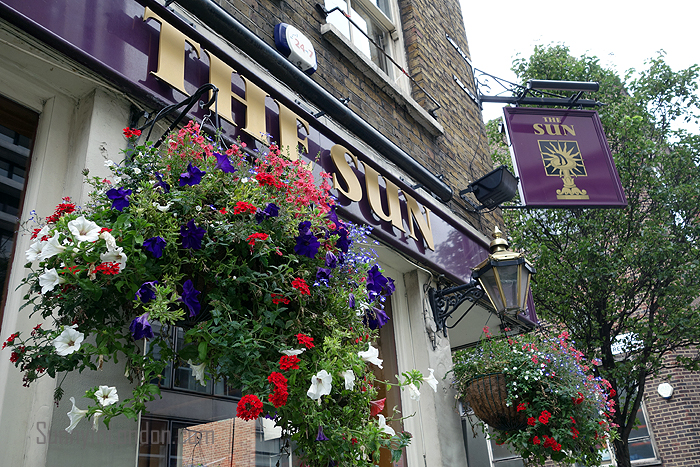 They offer chilled lagers and real ales, plus traditional pub games. Further, they have a lounge bar available for private hire. Christmas do, anyone?
Sunny Pubs in London- The Sun Tavern Pub
Next, we ventured to The Sun Tavern Pub on 66 Long Acre, WC2E 9JD.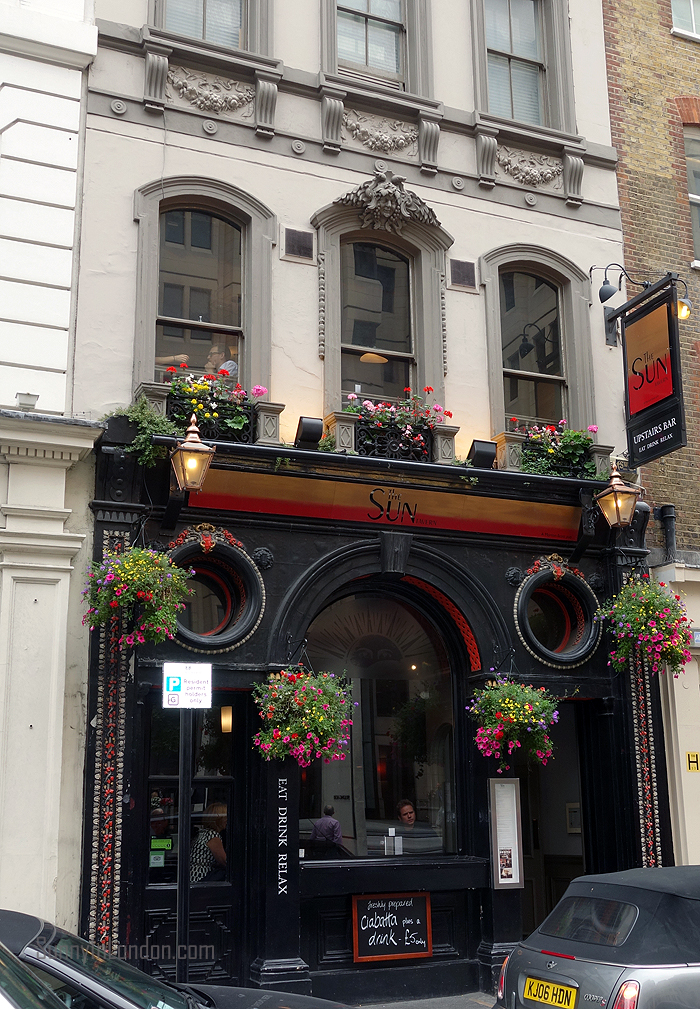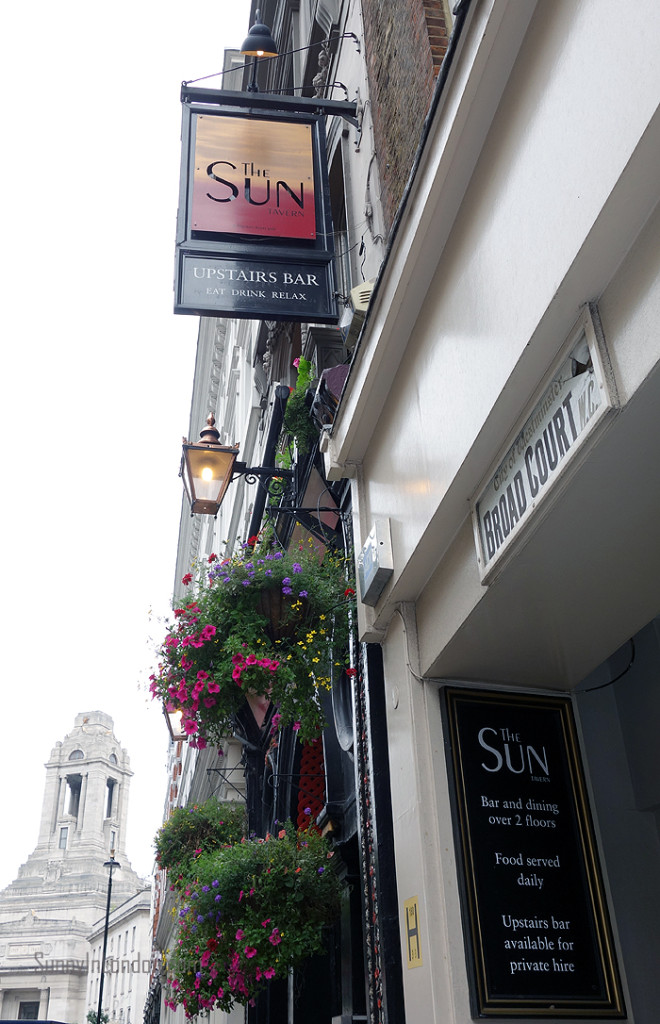 This Covent Garden pub 'provides a traditional pub atmosphere with a contemporary, vibrant twist.' Of course, it fit perfectly in to our sunny pub crawl theme.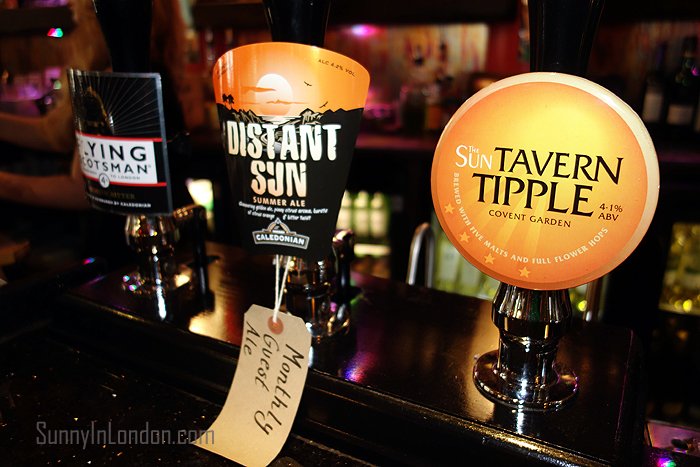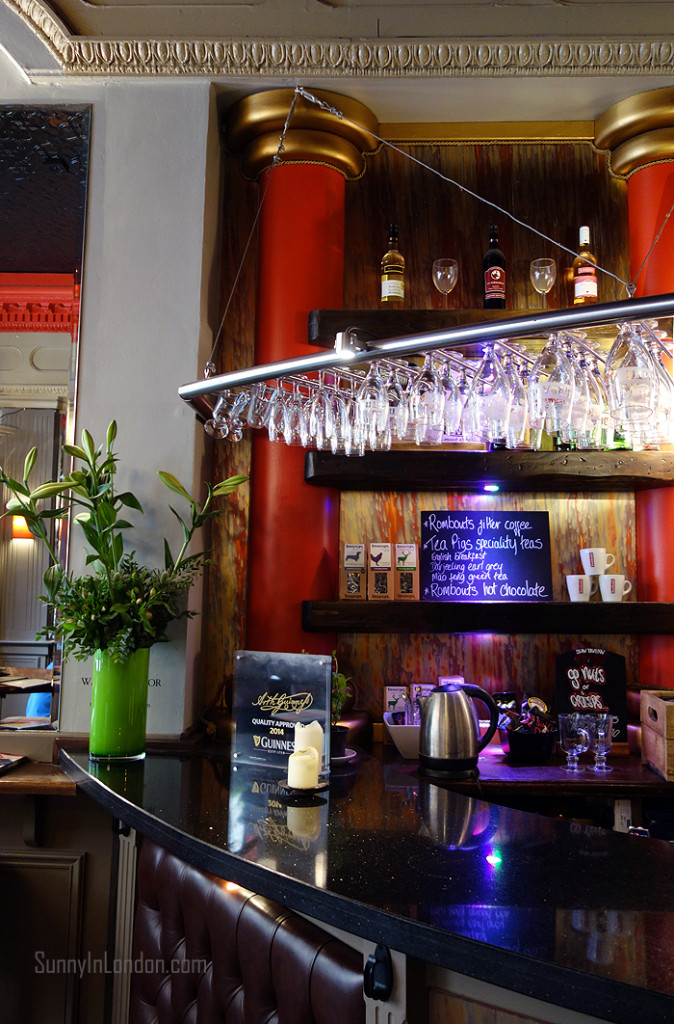 It's also the most colourful of the four we visited. I sipped on a glass of Prosecco, and Mr. Sunny ordered a Kronenbourg.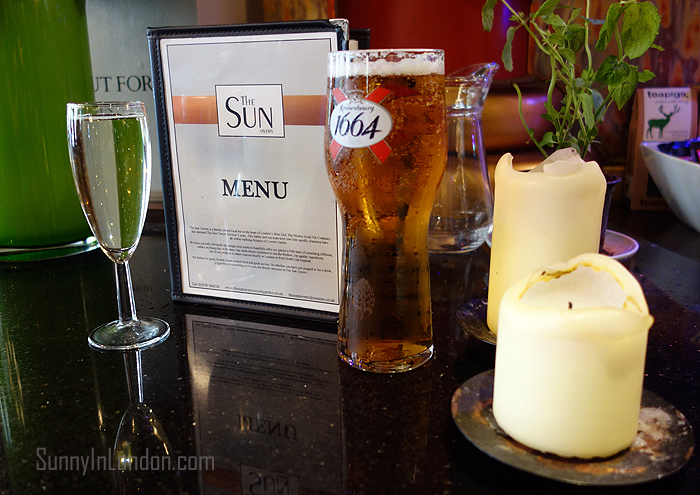 The staff I spoke to were very excited about the pub being featured in a blog. I really enjoyed the time we spent with them. I look forward to going back.
Sunny Pubs in London- The Rising Sun
After a 10 minute walk, we arrived at our third destination.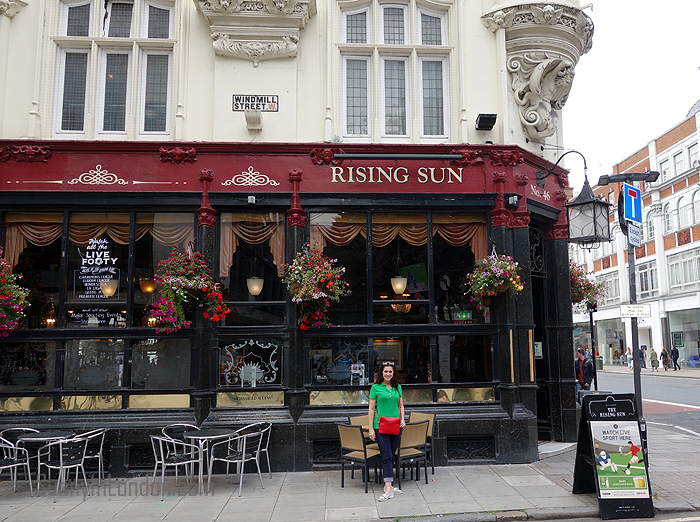 Rising Sun is a 'traditional British pub in Bloomsbury serving great cask ales and freshly cooked traditional pub food.' It's on 46 Tottenham Court Road, W1T 2ED.
It was established in 1730 and re-built in 1897. Just a few decades ago it was actually an Elvis Presley themed bar. However, it's special to Mr. Sunny and I because it's located just around the corner from where the London NBC News Bureau was originally located in Bedford Square.
This is where he and I met. If you've read my 'About' page, you know that I interned with NBC while studying at Florida State University. Mr. Sunny and his father were camermen there. This pub was one of the 'locals' for journalists and cameramen for the news channel for many, many years.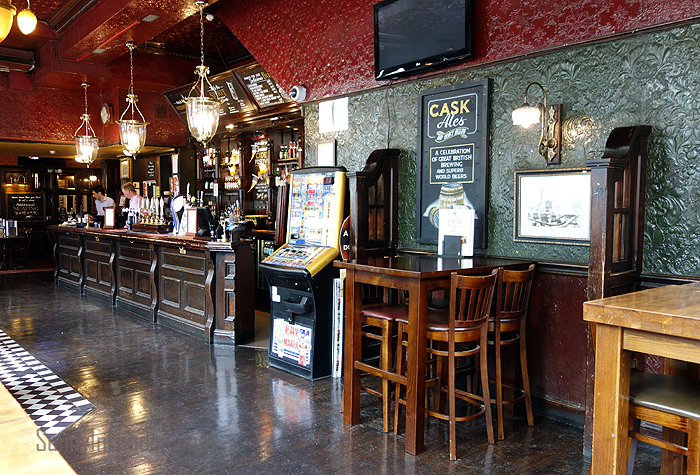 Therefore, Mr. Sunny has spent quite a bit of time there. He says the food is good, and the menu is quite extensive.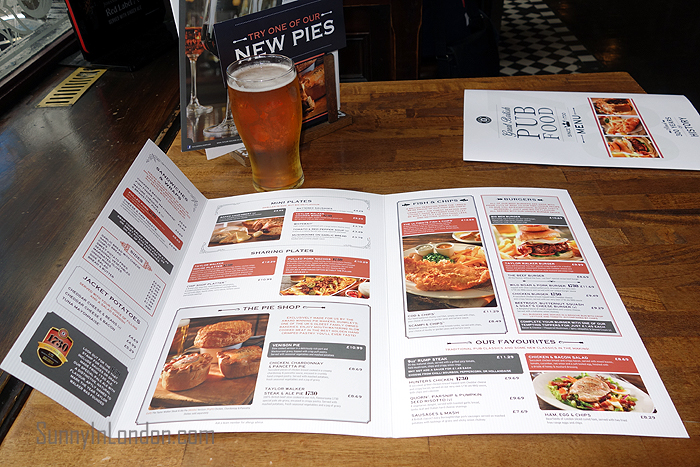 It's also a Taylor Walker pub. Know them? There's been several featured on Sunny in London. We visited Punch and Judy in the Covent Garden Pub Crawl and Lamb and Flag in the Mr. Sunny Pub Crawl to Avoid Selfridges. Others that I've featured on my Instagram are: Glassblower (Piccadilly), Coach and Horses (Mayfair), Shakespeare's Head (Carnaby Street, Soho). Some other ones I have visited and you may know are: Museum Tavern (Bloomsbury), Two Brewers (Covent Garden) and Salisbury (Covent Garden).
For our final stop, we took about a seven minute walk to the Carnaby Street area.
Sunny Pubs in London- Sun and 13 Cantons
Located on 21 Great Pulteney, W1F 9EG, this pub not only fits in to the obvious Sunny pub theme, but also is a popular hangout for media peeps.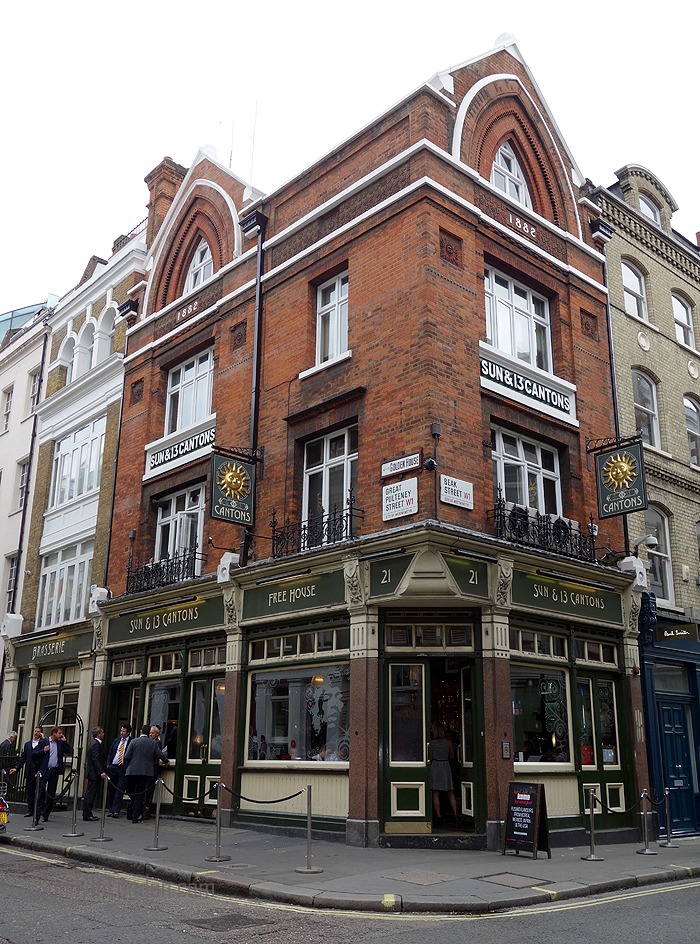 Sun and 13 Cantons prides itself on 'an eclectic selection of American micro brewery beers.' And since it was 'once owned buy a film company, this Star of a pub was at the heart of Soho film and TV production in the 70's and 80's.'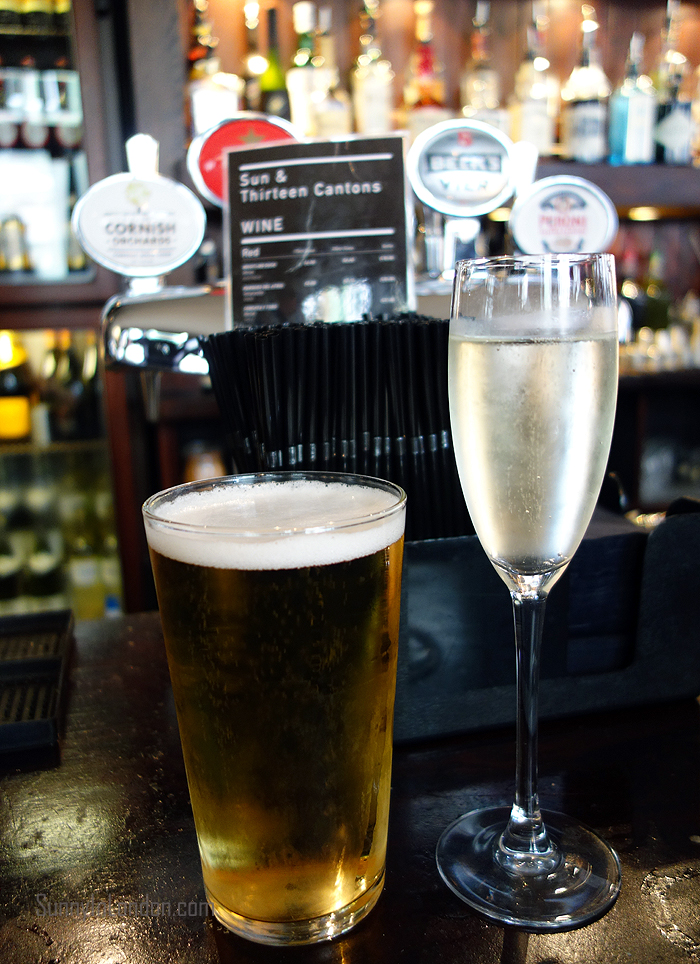 The pub really picks up the pace at night. Their basement bar was used for a private party for the Chemical Brothers.
So, that's a round up of a true Sunny in London Pub Crawl. I know there's a few other pubs in London which feature the Sun in their name. Which ones have you seen or visited, Sunny friends?
And of course, for more great pub suggestions, Mr. Sunny and his father purchase The Good Pub Guide 2016
each year.