What could be better than an invitation to have dinner at a French restaurant with a beautiful love story behind it? Not much, Sunny friends. So, when Le Garrick in Covent Garden extended this to me, I definitely felt an extra joie de vivre.
You see, I'm very open regarding my passion for this area of London. Having lived here three times, the first location was on Great Russell Street inches from the British Museum. Each morning at 6:30 I would walk around the corner of my flat to Bedford Square and go to work at NBC News. Mr. Sunny and his dad worked there too. It's where we met.
And, as many evenings as I could, I would make my way to Covent Garden. I loved it. However, the challenge of making it there each night, given the twisting and diagonal streets, was always a battle.
Finding Le Garrick restaurant, however, is super easy. And, after one unbelievably AH-MAY-ZING dinner there, I can say finding food to enjoy at the classic French brasserie is not hard either!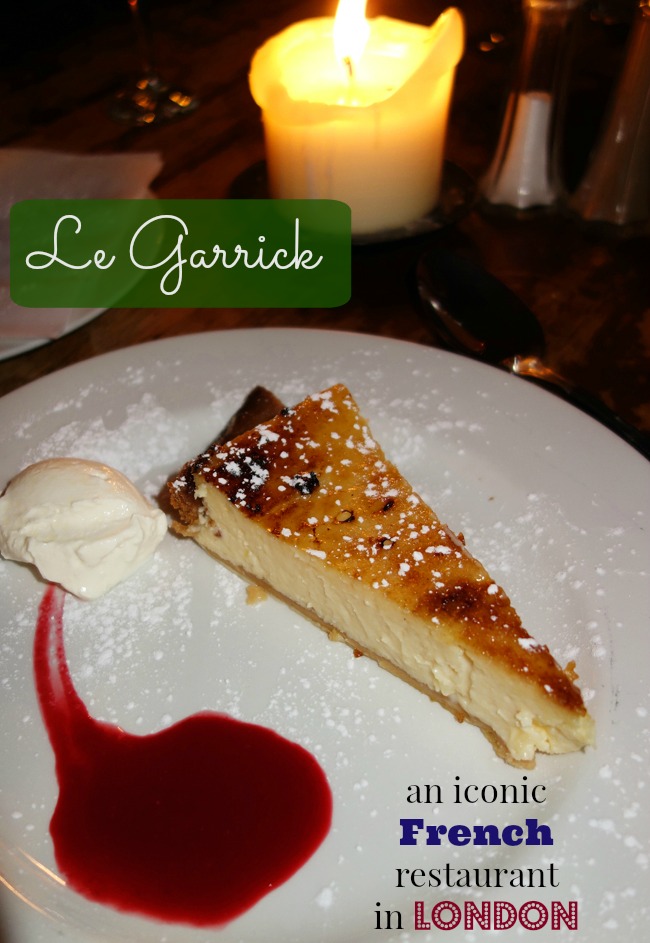 Within 24 hours of learning, I had a table booked, I made my way through the heart of Covent Garden to take some pictures of the restaurant. I'm doing my best to show you as much as I could during the day was important.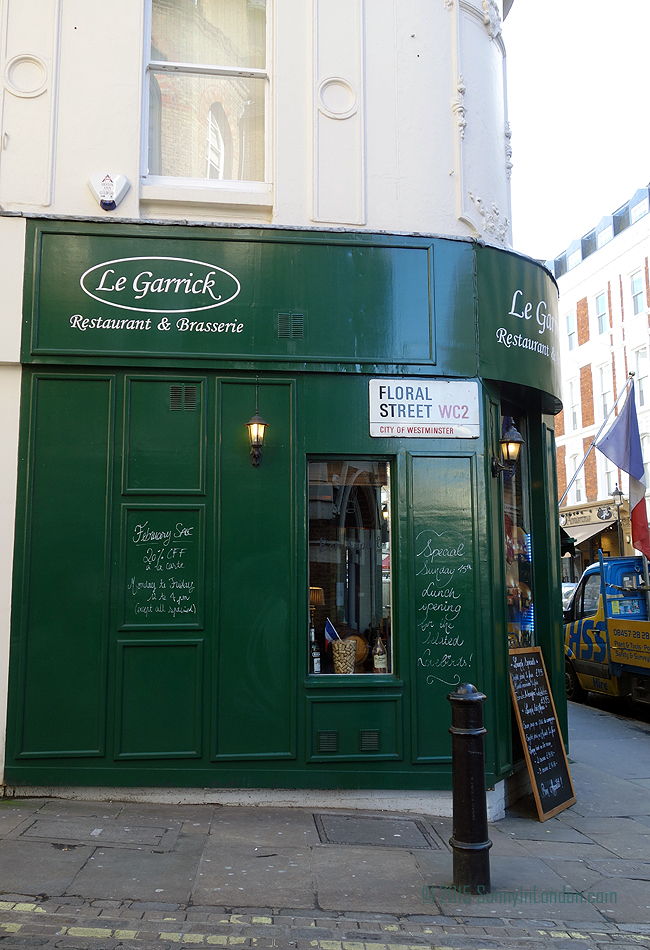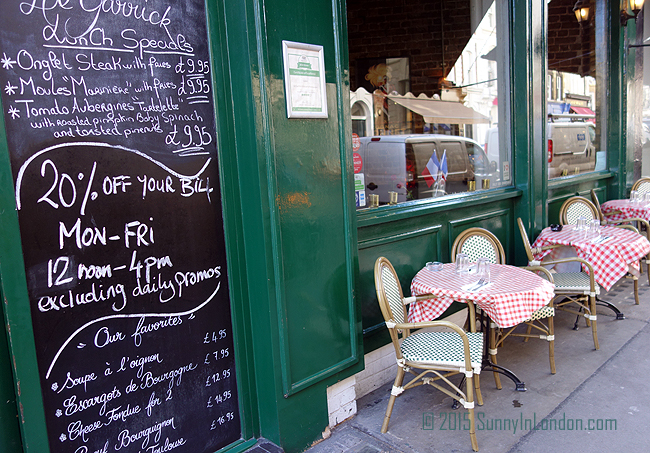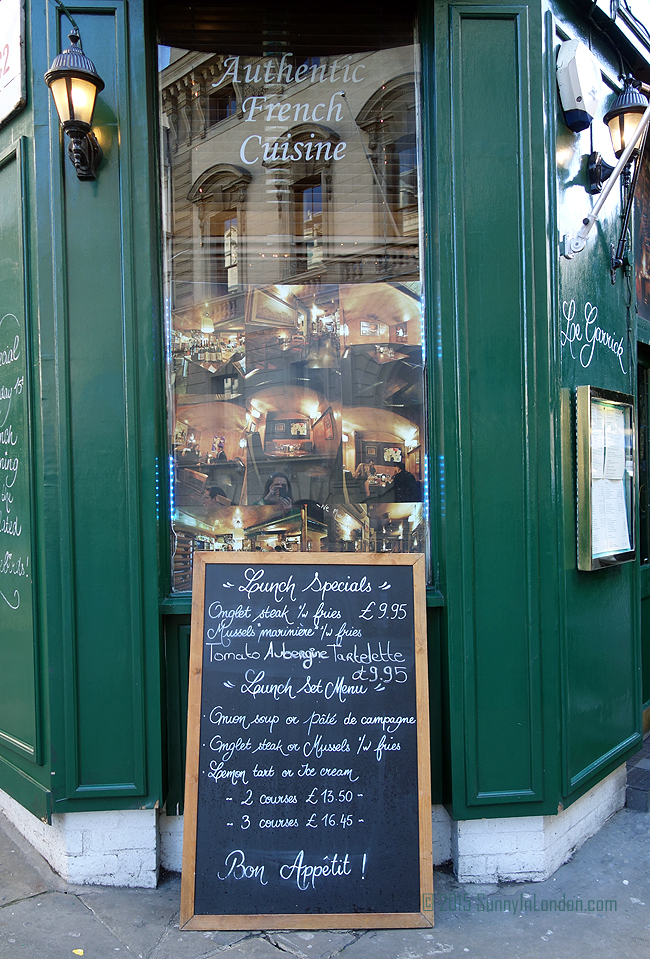 I had a bit of extra time before a meeting, so I took a stealthy, sneaky step inside. I couldn't resist.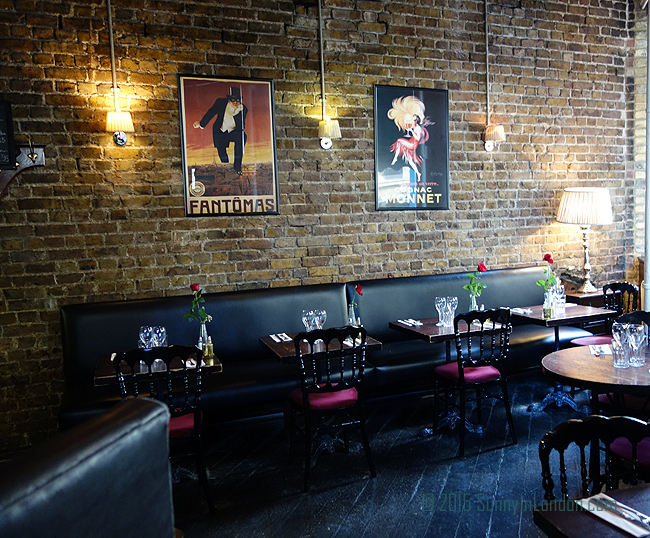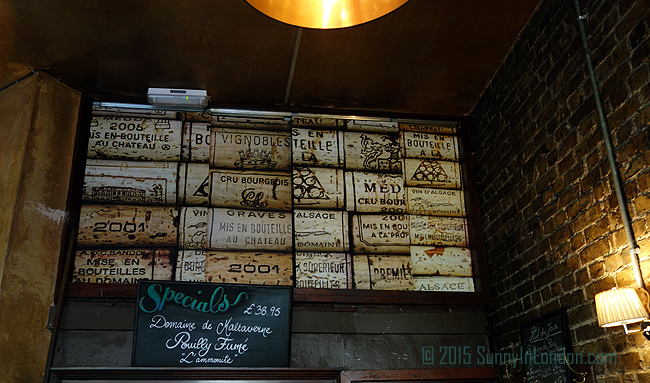 With just a few tables, I was starting to get a bit nervous. It looked really intimate. Mr. Sunny wasn't available for dinner the night I could go, so I asked my friend Nicole (an expat from Florida also) to join me. She's working hard on a doctorate degree in London and has been a friend for over 20 years.
Then, when a representative from Le Garrick let me know that they were excited to see me and the restaurant is super romantic, I really felt bad. To add an extra bit of salt to the wound, they suggested I try the Cassolette De Calamars au Piment D'Espelette and the Confit de Canard avec Haricots Lingots. (That's a calamari starter and duck main course for those like me- 'Je ne parle pas francais') 😉
Why did this hurt so much? Mr. Sunny and I always get calamari when it's on a menu. And, one of his absolute favourites is duck. He was going to be really disappointed to miss this dinner!
When I arrived, I was surprised to learn our table was downstairs. I had no idea there was an entire seating area below the street level. There is booth seating and candlelit alcoves, romantic nooks and secluded corners every where. And to reflect the London Theatreland location, there's plenty of show posters for decorations.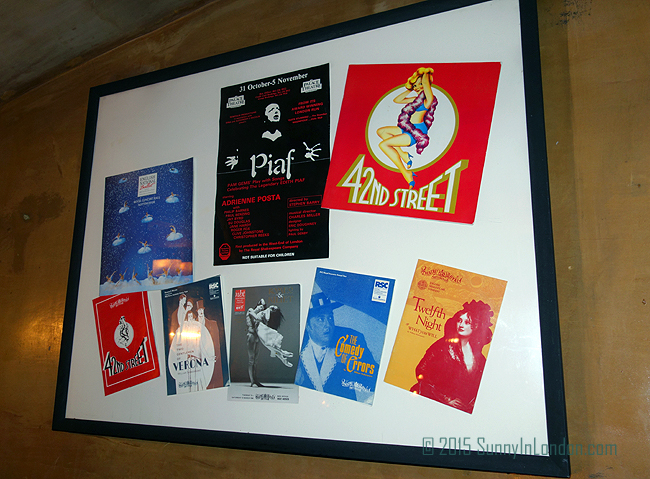 As I waited for Nicole, I was reviewed the authentic menu which is inspired by cooking from the South West region of France. It is overwhelming.
Items at Le Garrick I wanted to order:
– Risotto aux Champignons Sauvages (Wild mushroom risotte cooked in white wine and cream with truffle oil and fresh parmesan shavings). You've seen me order risotto a few times on the blog. It's something I love to cook and eat.
– Onglet Sauce au Poivre ou Bearnaise (Also known as the 'butcher's choice' served with peppercorn or bernaise sauce and fries).
– Filet de Saumon et Ratatouille (Salmon fillet served with homemade Ratatouille)
– and…. 'Le Garrick' Burger. Yep. I could've easily had one of those too!
It was torture. I wanted all of them.
Then, I noticed all the food Mr. Sunny loves also including: Moules Frites, Escargot de Bourgogne, and three dishes with duck.
Since Nicole seemed to be running a few minutes late, I decided to check my phone to see if she had messaged me. I realised I didn't have mobile service in the lower level.
It was que sera sera for me at this point. All the makings of a perfect romantic evening were in place, except my date. I decided to surrender to champagne.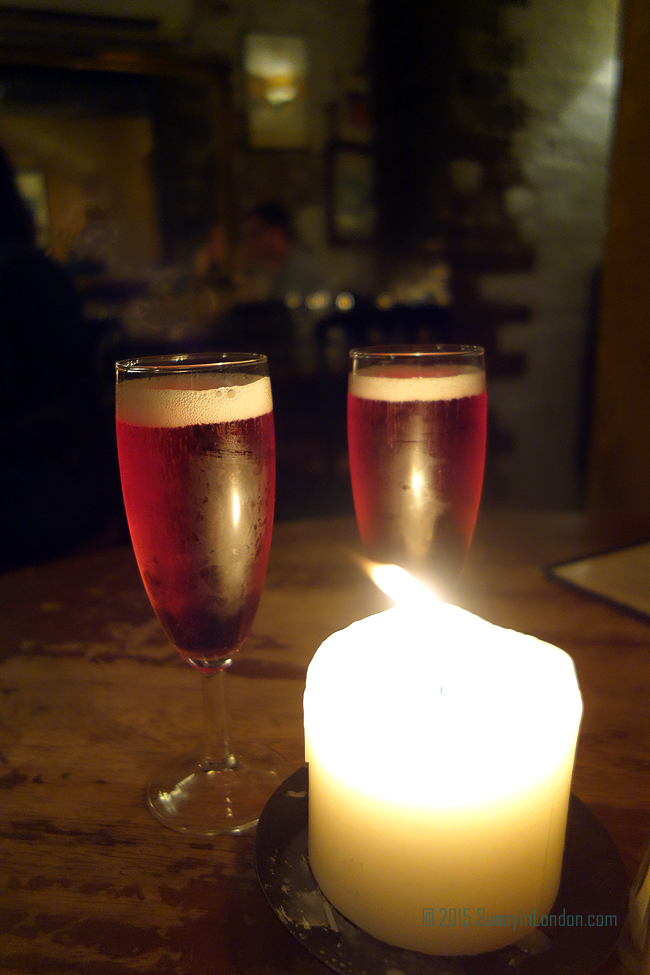 She arrived just in time for us both to enjoy their Ruby Crystals. This champagne cocktails has creme de cassis, Dubonnet vermouth and a touch of Angostura. Tres bien!
We decided to share our Starters and had the Calamari and Coquilles St Jacques (Seared fresh scallops served on a bed of rocket and red pepper salad.)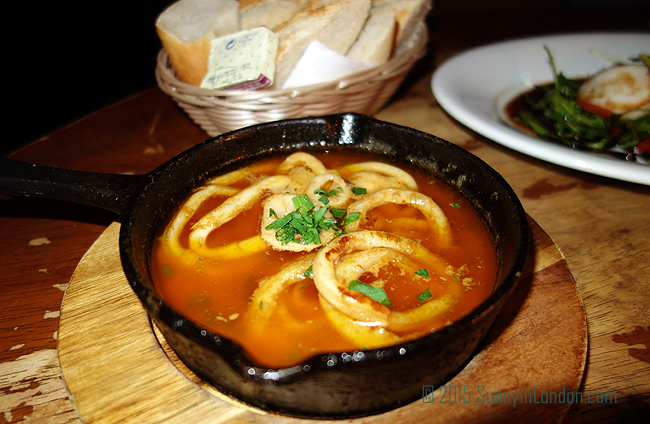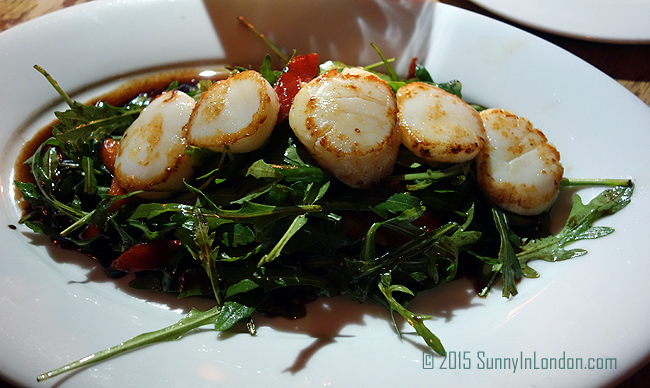 Both were cooked and presented perfectly. It's easy to see why the coriander, chilli and ginger sauce makes the calamari such a hit at Le Garrick French restaurant.
Next, Nicole selected the very popular Boeuf Bourguignon. Despite trying not to appear like we were sharing food a la the Disney 'Lady and the Tramp' spaghetti scene, I had a few bites of her beef. It fell apart effortlessly and tasted rich and beautiful!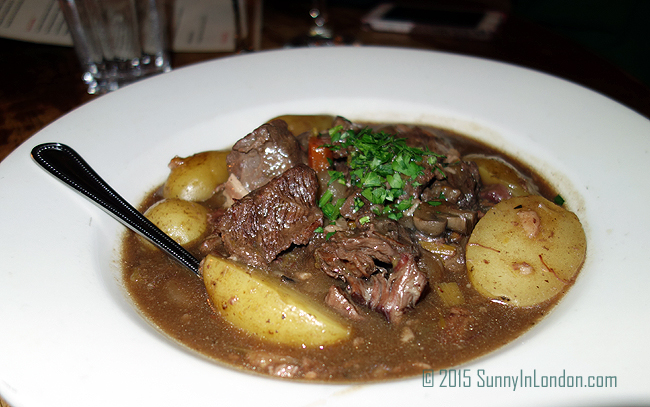 For my main course, I picked the Faux Filet sauce au Poivre ou Bernaise, upon our server's recommendation and loved it.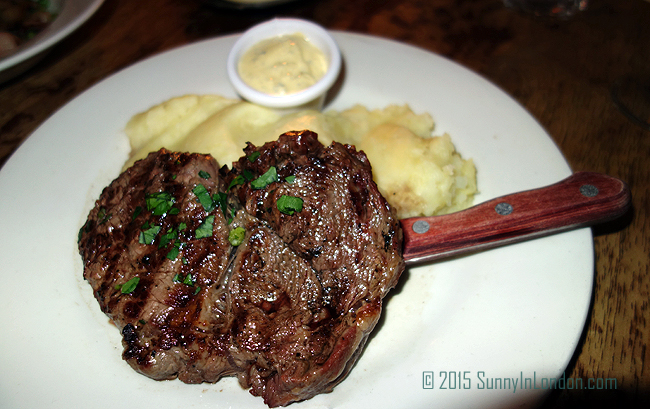 Our Starters were paired with a white wine picked by our server as well. We were so happy with her choice that we also had her select our glasses of red wine to match our main course food as well. She gets a big booze gold star for the evening! She also added this tasty dish below to our main courses that is lick your lips delicious!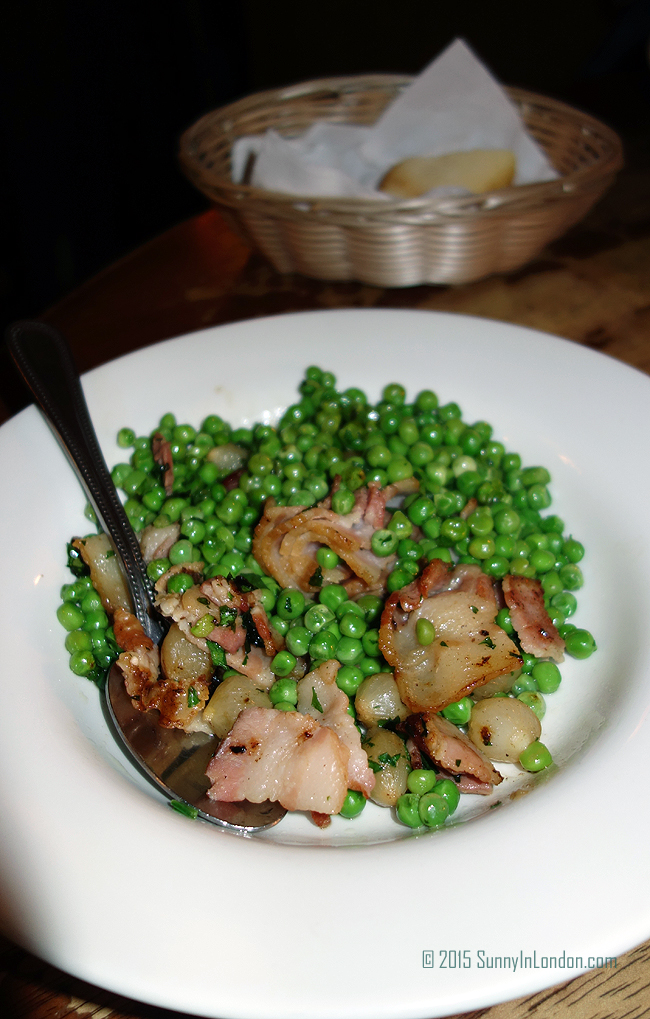 Finally, we couldn't resist dessert, even though it didn't seem like we had room for anything additional.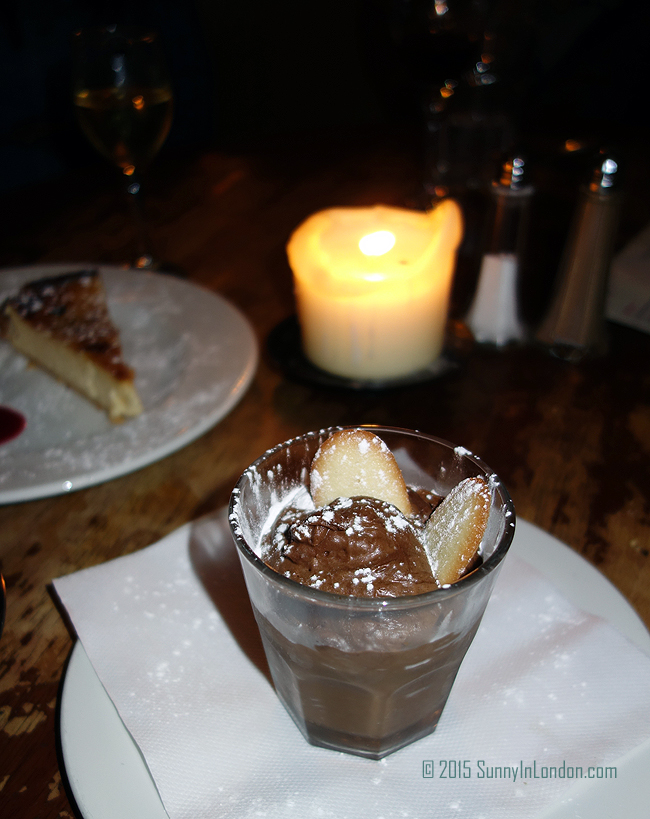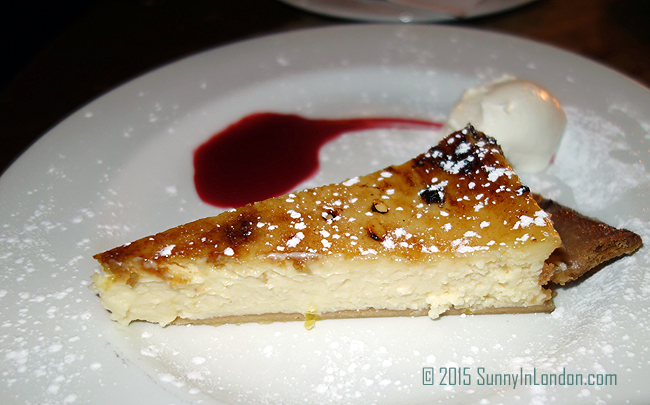 The pictures are of Petit pot au chocolat (homemade chocolate mousse) and Tarte au citron (homemade lemon tart served with creme fraiche and raspberry coulis). Oui! Oui!
We were at Le Garrick in Covent Garden for three hours. The food and service is exquisite. Even though there are a million reasons why this dinner would've been great for a romantic night with Mr. Sunny, I'm glad Nicole was able to join me.
Because of the experience, Le Garrick will most likely be where I spend either my birthday or Mr. Sunny's this year. It's definitely a place I need to revisit with him! And, now for the actual love story…
Love at Le Garrick Restaurant in Covent Garden:
Twenty eight years ago, Le Garrick opened in Covent Garden. In 2001, it was taken over by Dominika and Charles. They actually met in the restaurant some 8 years ago. Charles, a true French man, soon became a regular customer after discovering the restaurant.
His upbringing includes Toulouse, Burgundy and the Basque country. Many of the dishes are his family's recipes.
While they weren't there the evening I visited, I do hope Mr. Sunny and I can share some champagne and perhaps bottle(s) of wine with them some day. Meeting another couple who found love in London (especially Covent Garden) is always a great treat.
Le Garrick French style brasserie is located at 10-12 Garrick Street, Covent Garden London WC2E 9BH. Their pre and post theatre menus are available all year and last orders are at 11pm.
Opening hours:
– Monday-Saturday Midday-11pm
– Sunday: Midday-5pm (only in December)
Our dinner at Le Garrick was complimentary for the purpose of a review. This did not influence my opinion of the experience. I was truly disappointed that my husband wasn't available to enjoy this opportunity and will look forward to celebrating a birthday or other special occasion there with him soon!
Sunny friends, did you meet your significant other through a food experience? What romantic restaurants in London can you suggest?