Where should you go if you're looking to have a sugary holiday feast set in one of London's most luxurious hotels?
The Corinthia London Afternoon Tea!
I spent a few hours enjoying this decadent event, and I'm so excited to share the details with my Sunny friends. This 5-star hotel has been located on Whitehall Place for over a century. Its proximity to so many London landmarks makes it a practical venue for so many occasions.
However, 'practical' is not the word I would use to describe the interior, but that is exactly the point of luxury, right?
Come and take a journey through this glittering gem with me as we explore their festive tea…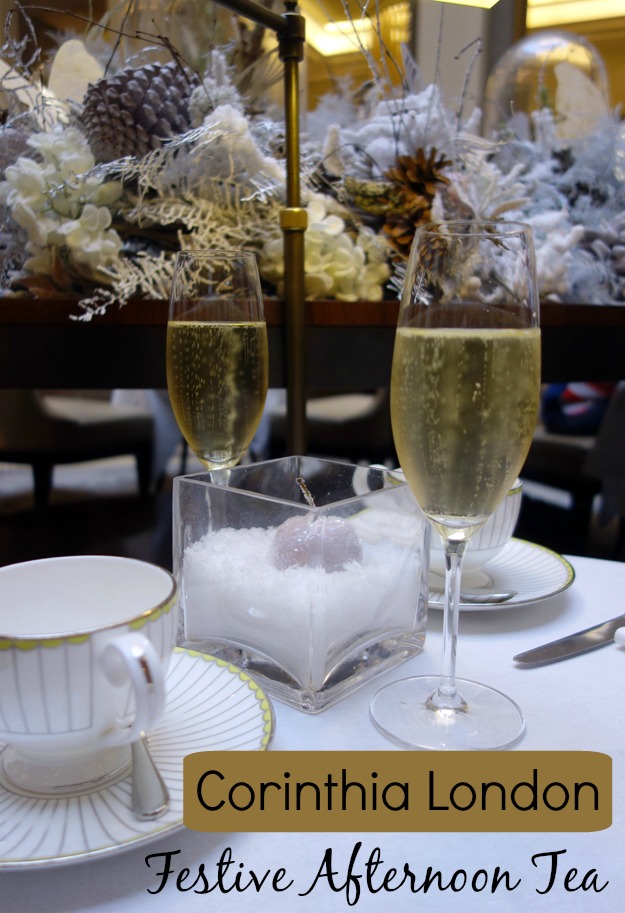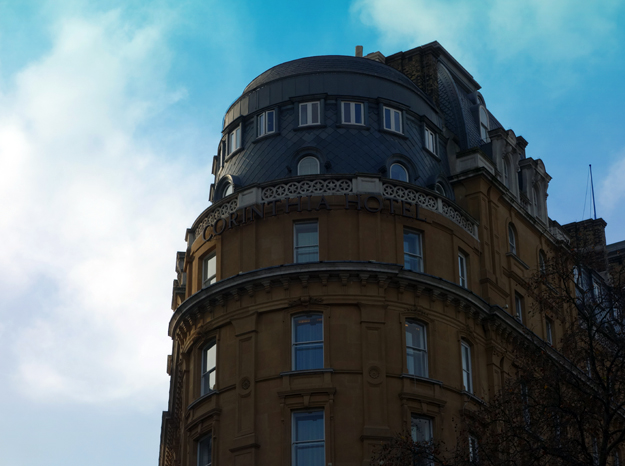 I was excited to find the hotel just around the corner from Embankment station. I did try to take a picture of The London Eye from the same spot that I took the photo above, but a big London bus planted itself in front of me. Honestly, I was just too excited to go in Corinthia London than stand around waiting to take yet another picture of the London Eye.
As I wrapped around the building, the prestige of the hotel seemed to stand taller than the Shard. I mean really- who's the genius who arranged to have a matching Burberry cab sitting outside?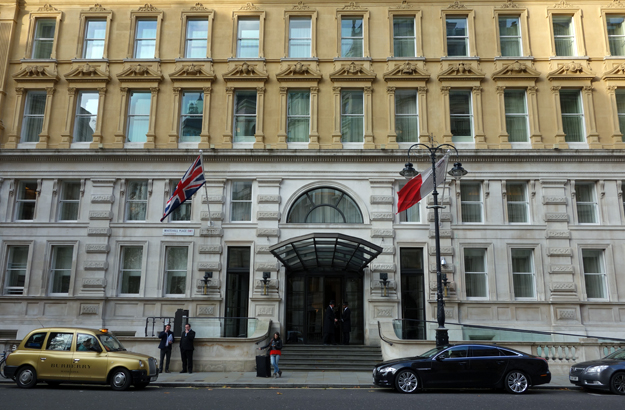 I quickly learned that entering this year's Corinthia London Afternoon Tea in the Lobby Lounge means being immediately transformed to winter wonderland in epic style.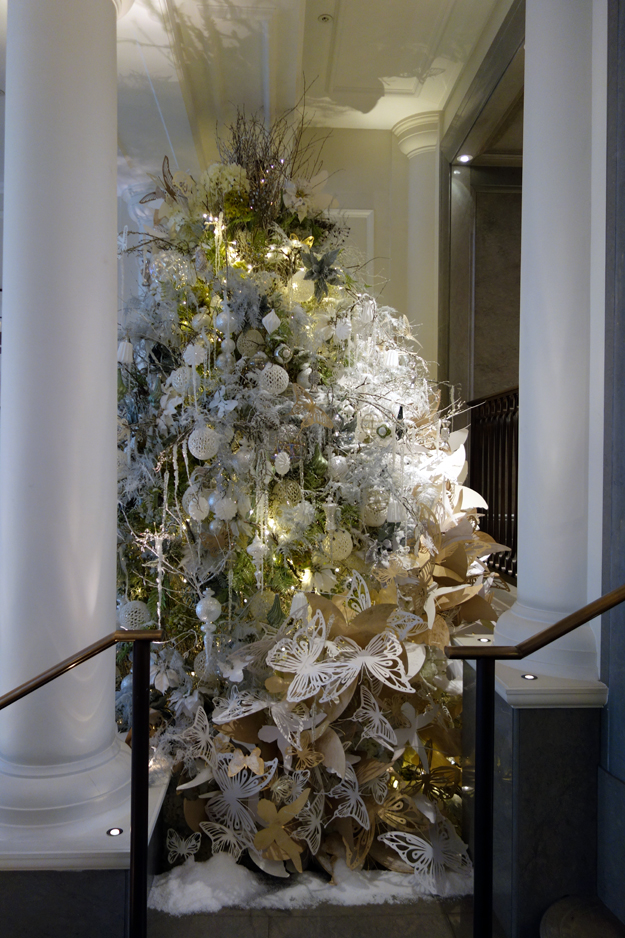 I have always loved the elegance of gold and ivory at Christmas. This tree covered in shimmering butterflies and ornaments is a striking start to your tea.
The Lobby Lounge has a giant 'centerpiece' in which tables are placed around. Parisian designer Chafik Gasmi's Full Moon chandelier floats high above the center of the Lobby Lounge in the dome. The Baccarat crystals flickering against all the snowy white decorations covered in butterflies make you feel as if you are inside a whirling snow globe.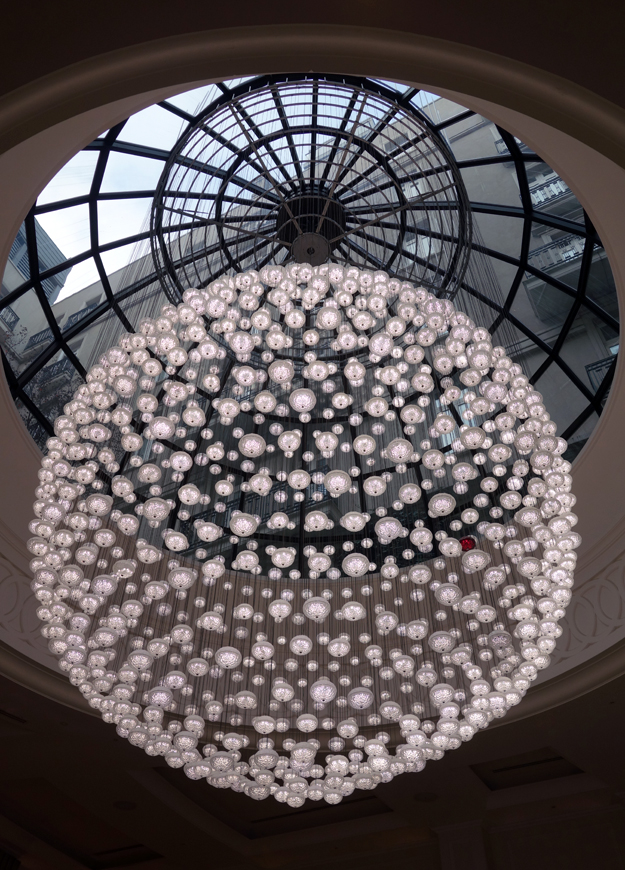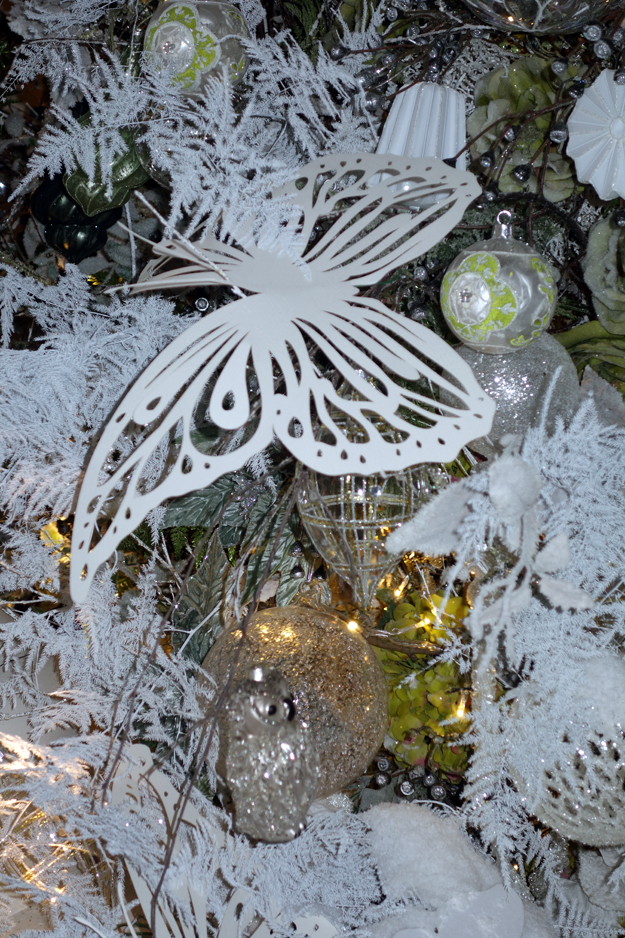 Because attending such a luxurious occasion was so special to me, I invited my Sunny mummy-in-law to be my guest.  She has had a fascinating career as a model and fashion agent in both London and around the world.
Plus, she certainly appreciates a glass of champagne, just like me. So, that's exactly how we started our Corinthia London Afternoon Tea.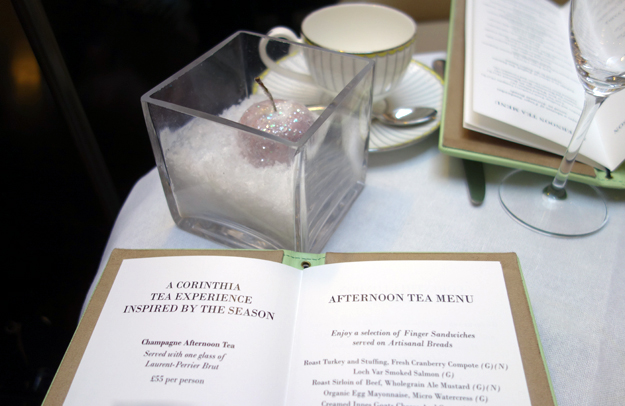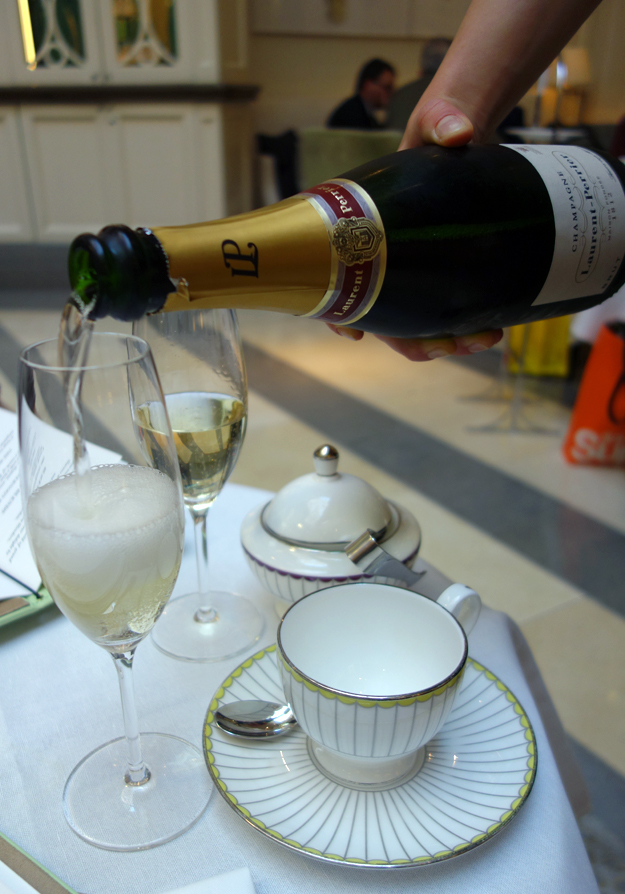 Next, we chose our tea.
She picked the 1885 Afternoon Blend from the Corinthia London Tea Blends. It's a smooth, elegant muscated Darjeeling, blended with a hint of smoky Lapsang and a touch of Keemun and Oolong. Since this was the second guest I brought to a festive afternoon tea in one week who picked a smoky tea, I opted for the peppermint tea just like I did earlier in the week. I quite fancied it and will continue to drink it as much as possible now.
The afternoon tea sandwiches in comparison to other Christmas teas are especially festive. We actually couldn't pick a favourite when we were asked because we really did feel they were each extraordinary.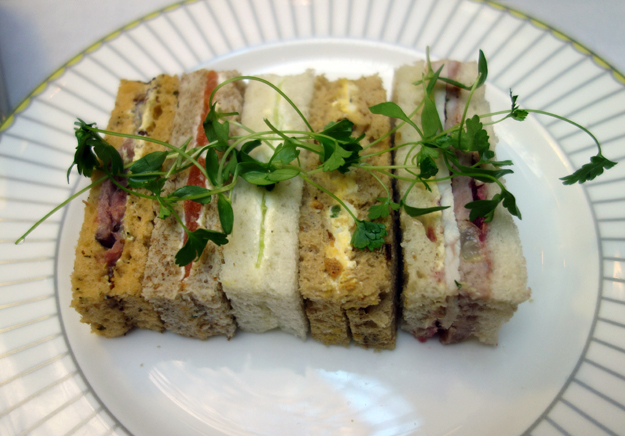 The Corinthia London Afternoon Tea sandwiches are:
– Roast Turkey and Stuffing, Fresh Cranberry Compote
– Loch Var Smoked Salmon
– Roast Sirloin of Beef, Wholegrain Ale Mustard
– Organic Egg Mayonnaise, Micro Watercress
– Creamed Innes Goats Cheese and Cucumber
Once finishing our sandwiches, we moved on to indulge in English Tea Fancies inspired by the Festive Season.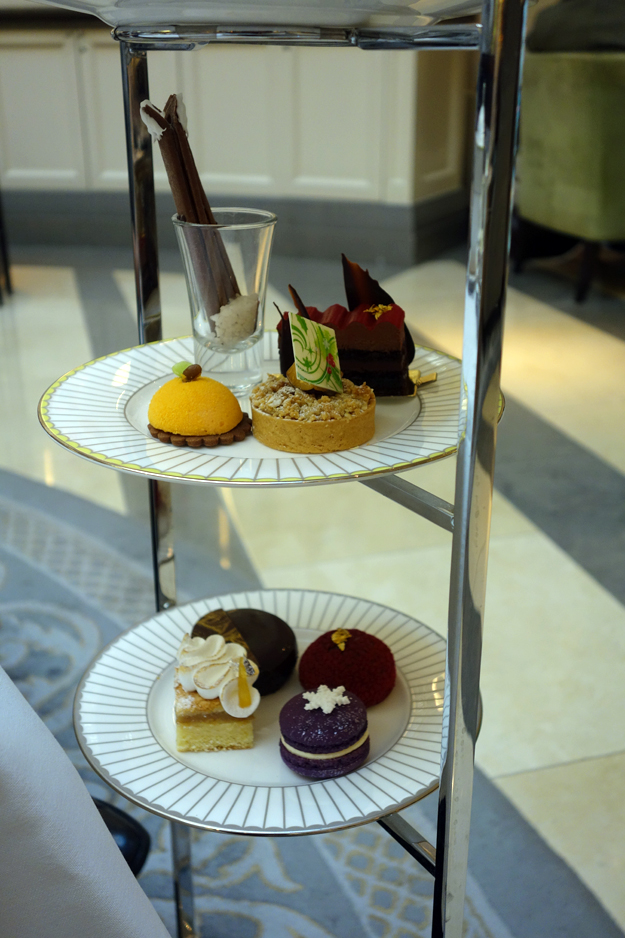 Our two story tower stretched up to our eyes and featured so many wonderful flavours capturing the true spirit, and actually tale, of the holidays. The plates hold treats called the Jack Frost, Stocking Stuffer, Sugar Plum Fairy, The Scrooge, Rudolph, Yuletide Treasure, Santa's Little Helper and Avalanche.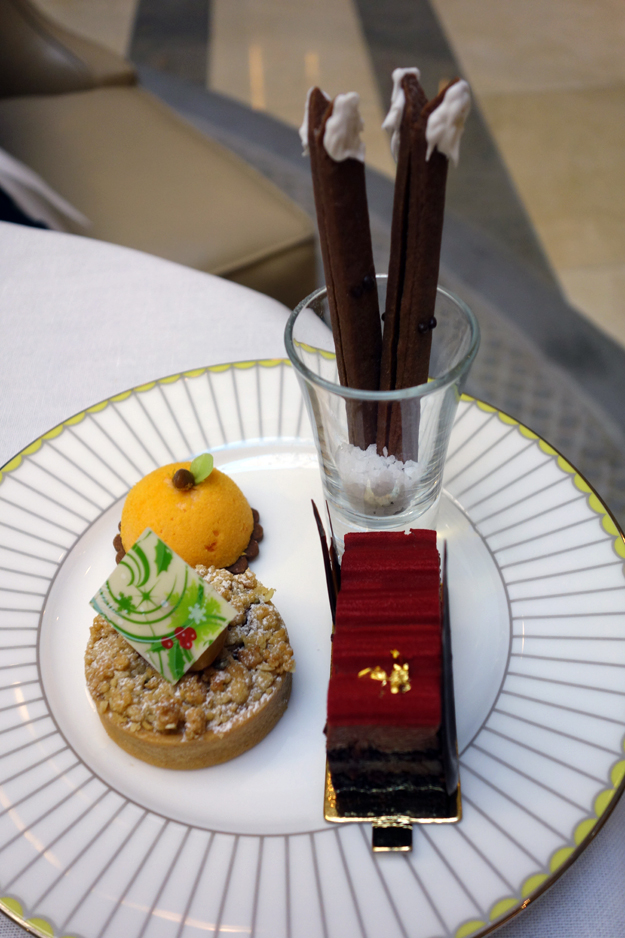 I'm going to tease you by only telling you the composition of my favourite- the Scrooge. It features chocolate roulade, tea infused Ganache and gold chocolate. It's a little shout out to my mom in Florida too because it's our favourite film to watch every year for Christmas.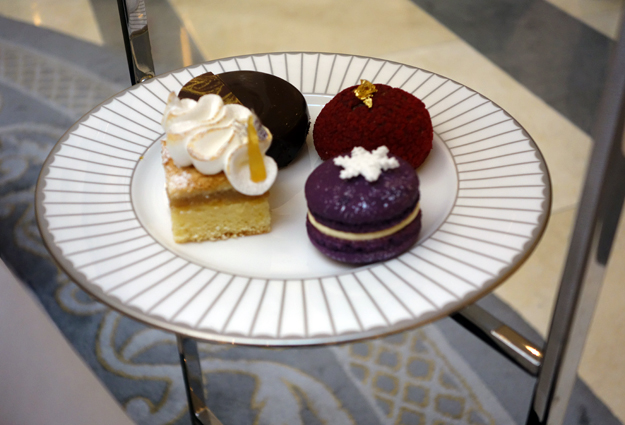 Oh, Sunny friends, and let's not forget the scones… The Corinthia London Afternoon Tea serves warm, scrumptious plain and raisin scones with their house preserves and clotted cream.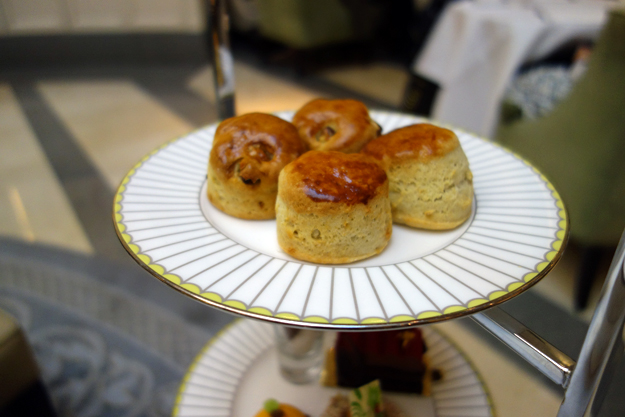 We loved this luxurious afternoon tea for its ambiance and truly festive food. The Lobby Lounge was filled with friends, families and business meetings, so it appeals people for an array of occasions.
The Corinthia London Afternoon tea experience is luxurious in quality and atmosphere. The food is outstanding and very festive. If it's not an extravagance in your holiday budget, I absoutely recommend popping in for a glass of Laurent Perrier to at least enjoy the breathtaking decorations.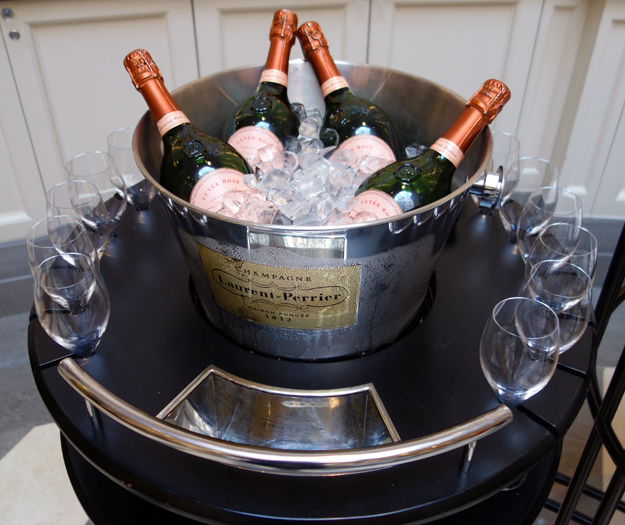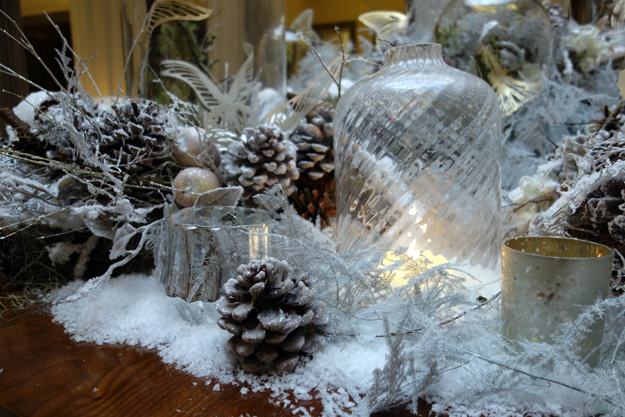 The Corinthia London Afternoon Tea also makes season specialities for the Chelsea Flower Show and London Fashion week.
Our afternoon tea was complimentary for the purpose of a review. This did not influence my opinion of the experience. The only thing that would've made the experience better is if my mother could've joined us too. Bah humbug! 😉