L'eto Caffe- Where the Carrots Come from Oz!
L'eto Caffe really crushed me with their launch party a few weeks ago. To celebrate the opening of their Brompton Road location, they hosted a champagne and cake filled evening that was simply fabulous. Except I couldn't eat anything.
Yes, Sunny friends, it was really poor planning on my part. You see, that afternoon I hit a hotel to review an afternoon tea that registers a £150 bill for two. Exquisite yes. Filling- very much so. Did I love it? Every morsel.
And that was the problem. By the time I made it to L'eto Caffe on Brompton Road, I felt like a Macy's Day Parade balloon about to burst.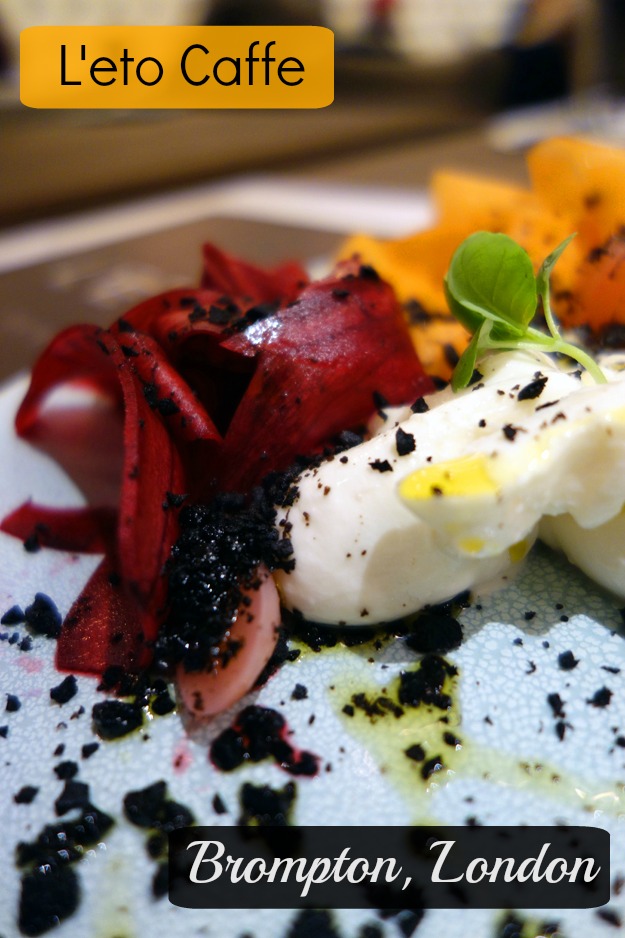 When I approached the glass windows of the caffe, it hit me. This was going to be painful. There were rows and rows and rows of dessert magnets screaming my name!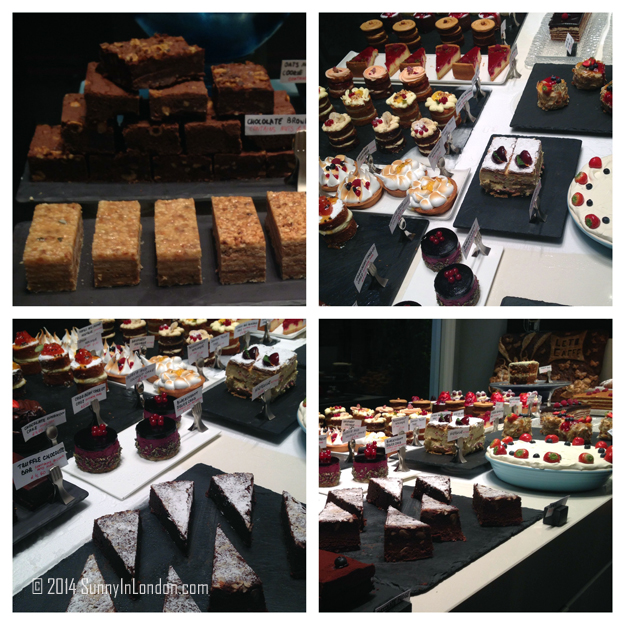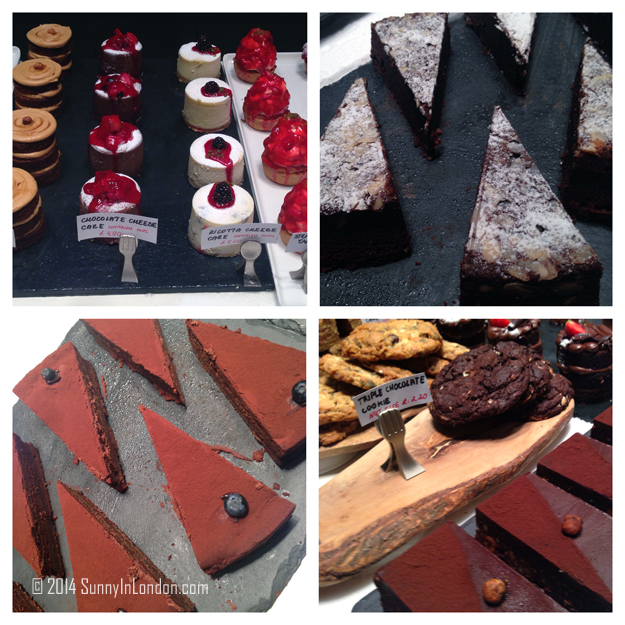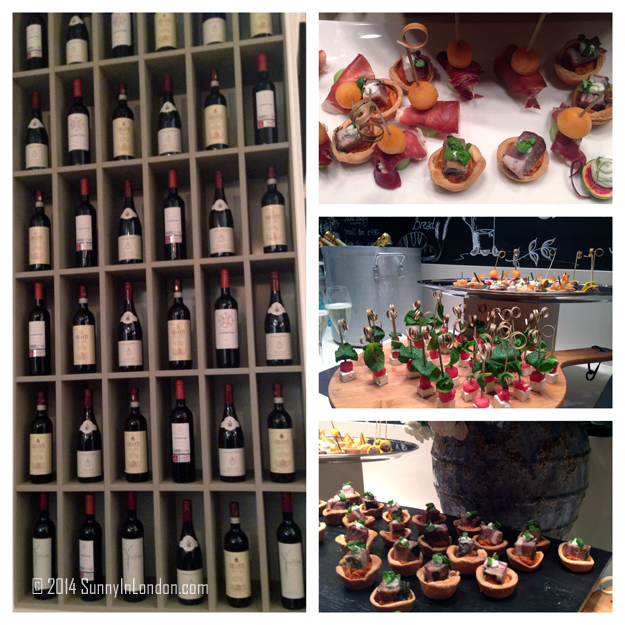 I stayed for about a half hour. I sipped a bit of champagne and stared longingly at all the delicious food I just couldn't manage to squeeze in. It was torture.
And then, it was as if Harry Potter's owl delivered an invitation to me for the Christmas Party at Hogwarts. An email popped on to my monitor while I was working a few days later…
It was an invitation to enjoy dinner at L'eto Caffe. Yessssss!
Mr. Sunny and I had a gorgeous meal there the evening we celebrated our one year wedding anniversary. It was incredible. We checked in to the Lancaster London and hit Winter Wonderland just long enough to work up an enormous appetite.
We immediately toasted our anniversary with glasses of red wine.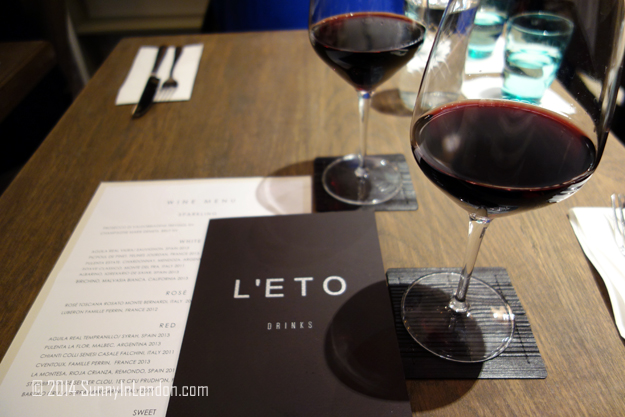 Next, we devoured our Starters. Mr. Sunny chose Blackened Bluefin Tuna, Pineapple, Crispy Onions and White Mango. I had a few bites, and I felt as if I transcended to Hawaii.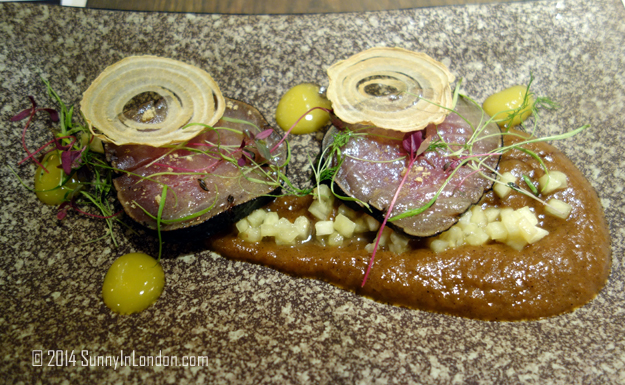 As I savoured the bites, images of palm trees, the ocean and sandy beaches swirled in my head. It was actually kind of funny as I sat in London across from Winter Wonderland.
I chose the Burrata, Heritage Carrots, Olive Crumble, and Basil Oil. Prepare yourself for some absolutely museum worthy images here, Sunny friends.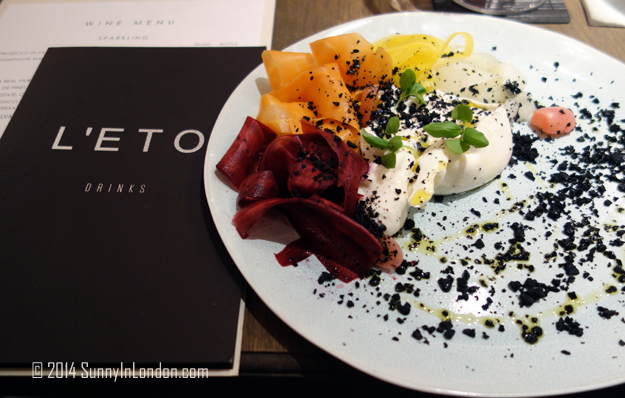 Ok, now I wasn't talking about my photography skills. This dish is a blaze of colours. From every angle it is a piece of art work. And the taste…. THE TASTE!
I could get all up in your grill with alliteration and fancy metaphors, but I won't. I'll just say The. Dish. Rocked.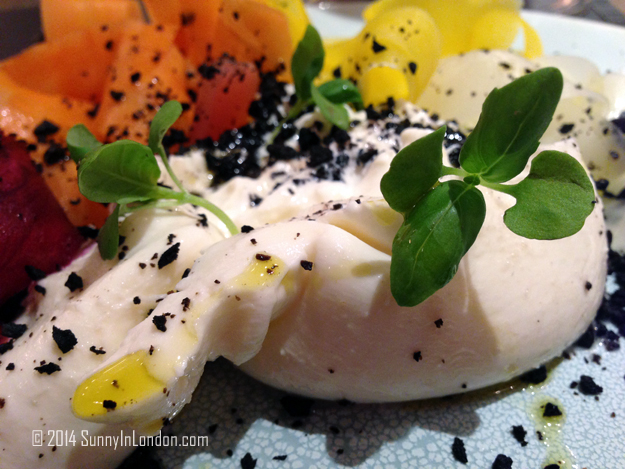 Since I was technically on the outer border of Winter Wonderland, I was curious if I had actually stepped in to Oz. The carrots of so many unusual colours made me feel like Dorothy discovering the Horse of a Different Colour.
Next is the tricky part. Mr. Sunny and I both desparately wanted the 'Allen's of Mayfair' Beef Fillet, Ceps, Selection of Onions, Crones and Rosemary Jus.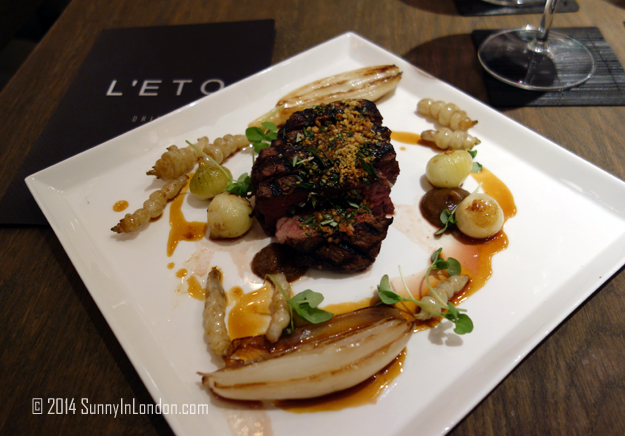 I almost pushed Mr. Sunny in to the Boneless Grilled Dover Sole, Sea Herb Butter, Quinoa and Fennel for his Main Course so we could have more pictures for you. However, the week before he had some extremely overcooked fish at a restaurant just around the corner. (The review never made it on to the blog).
Since it was our anniversary, we decided we would just pick what we both wanted. We were verrrrry happy with our decision!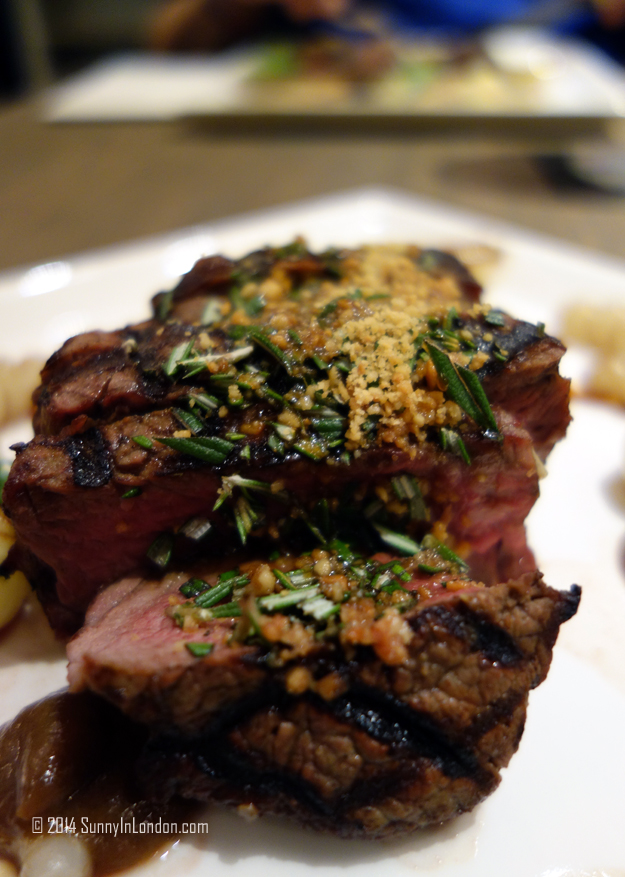 Now that's one piece of meat to dream about, don't you think? How could we deny each other that hunk of beefy love for dinner?
Making sure to save room for dessert for this visit, I let my Prince Charming choose for me.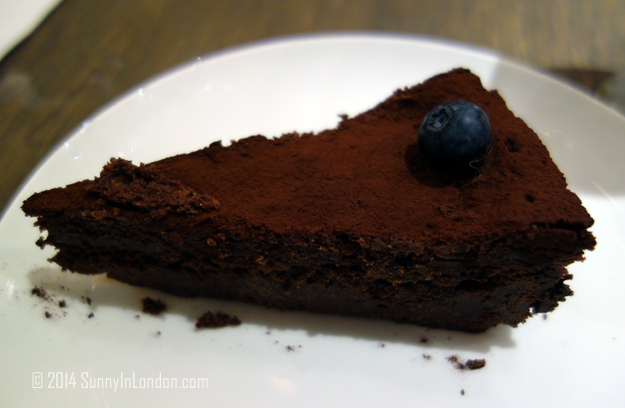 That's my gluten free chocolate fudge cake. And, yes every ounce was delicate, moist and divine.
Mr. Sunny picked a profiterole. He said it was perfect.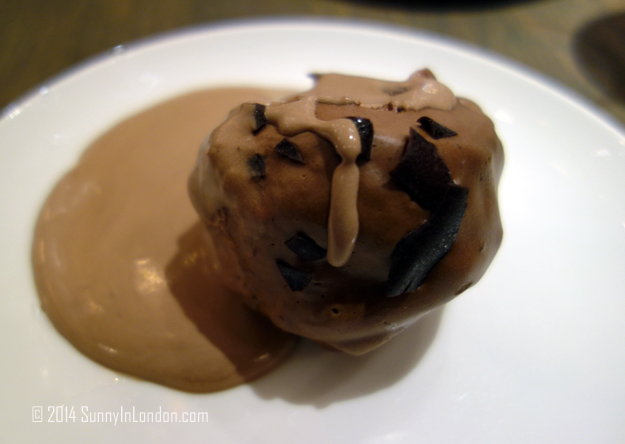 Before we left, we sipped on a few after dinner drinks to get ourselves ready for more wild rides at Winter Wonderland.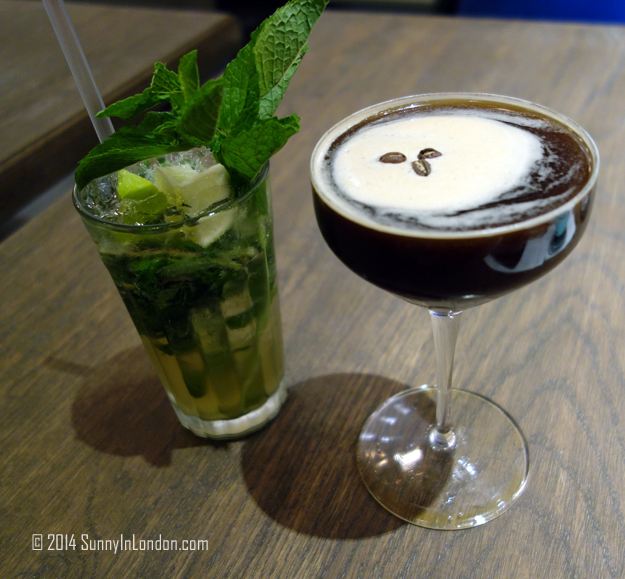 But just before we hit the door, I had to make sure you could see a little more of this fabulous new food opportunity on Brompton Road just inches away from Harrods in London.
Get ready. Get a fork. Goooooo…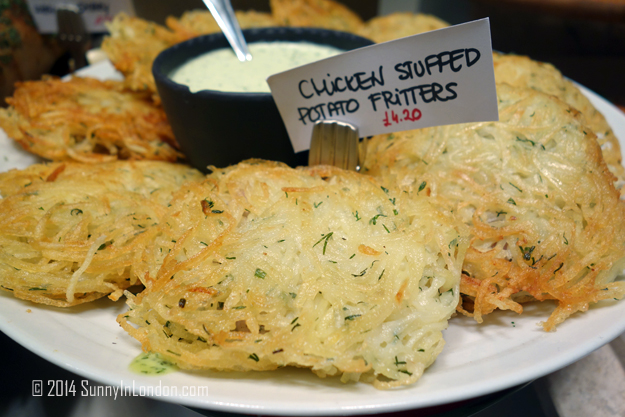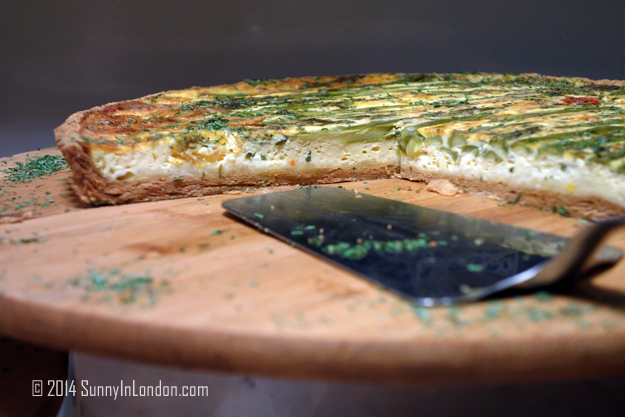 Easy does it. Save room for dessert!!!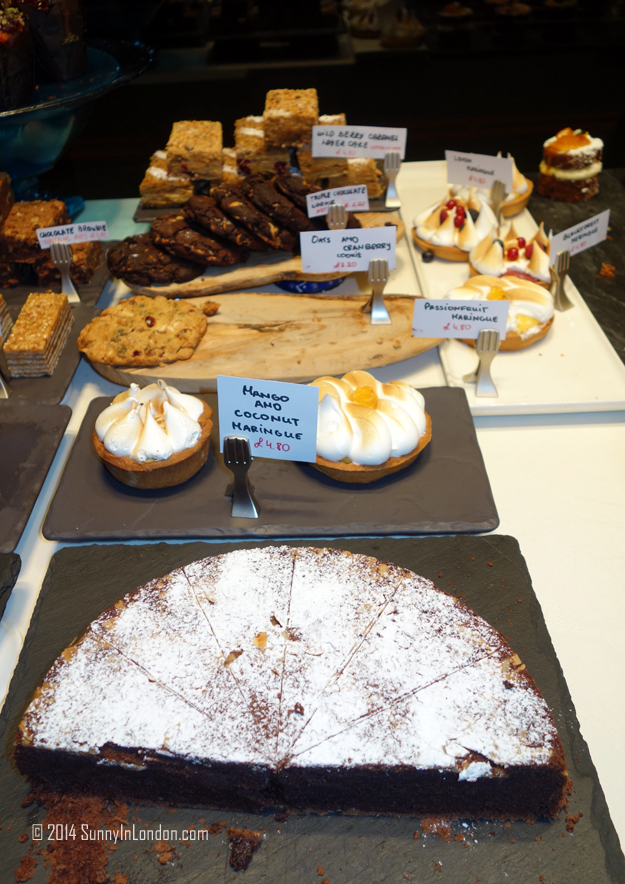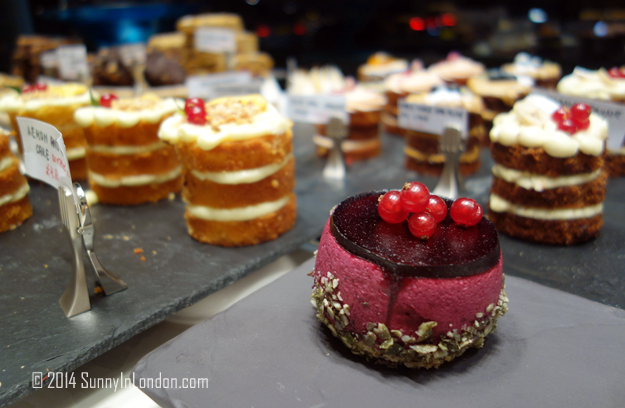 Now, wasn't that just amazing?
L'eto Caffe is located in Belgravia, Fulham, King's Road, Mayfair and Soho. They serve an a la carte menu for lunch and dinner at King's Road and Belgravia. There's also a brand new breakfast menu at both those places too. The Brompton Road L'eto Caffe has a private dining room downstairs that is a fabulous place to host a dinner for a group of friends or colleagues.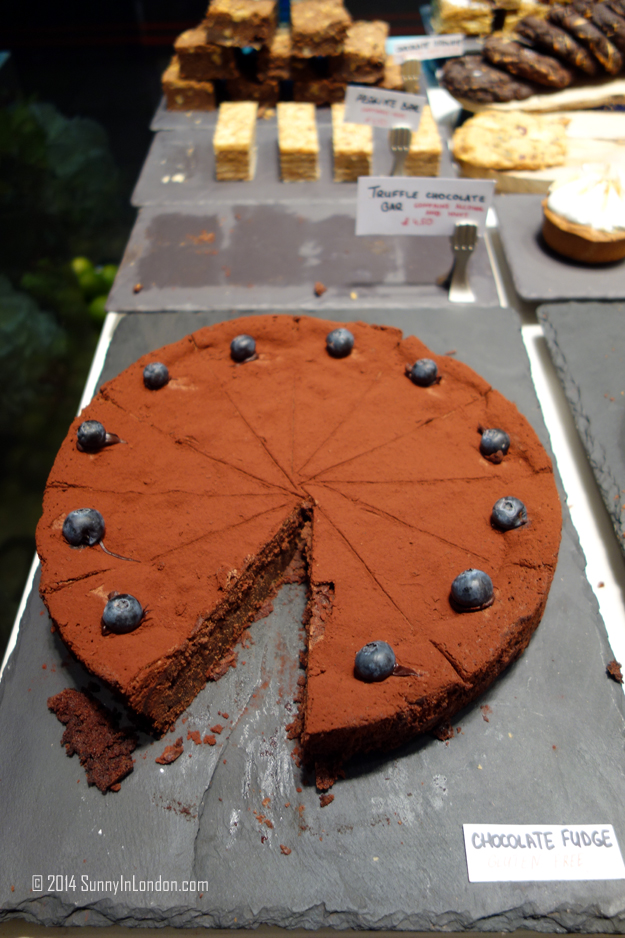 Our meal was complimentary for the purpose of a review. That doesn't change my opinion of the experience. I'm still wondering how they got me to be so excited about having yellow and purple carrots for dinner.