And the winner of the trickiest place to eat in London contest is… Sofitel London St James!
What?!
You mean you missed my tricky food contest? How could that happen?
Because it wasn't announced. Not to you or to me. The Sofitel London St James tricked me! And they got me good…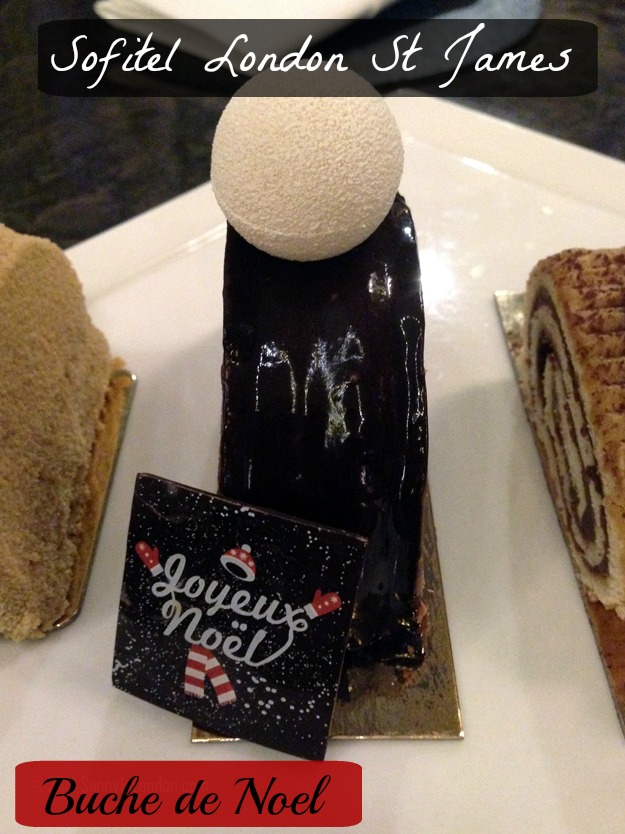 You see, a few months ago I was invited to Sofitel London St James for the launch of their Vegetable Exhibition showcasing the work of French artist Patrick LaRoche. I had a fabulous night viewing vegetable sculptures, eating vegetables and drinking lots of cocktails featuring vegetables.

And then I faced the feat of blogging about vegetables. Let me tell you, that was a big blogger challenge. Sunny in London almost went bust. But, I squeezed every ounce of creative vegetable juice I had- and blended things together better than a NutriBullet.
So, they invited me back for more food! I was the first blogger to get my hands on their buches de Noel for this Christmas season.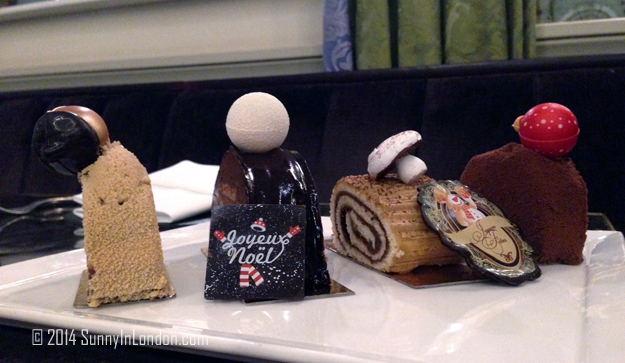 I'm very grateful the Sofitel London St James forced me to eat their vegetables first. There's no way I would've filled my stomach with one ounce of green or red raw stuff if I knew these were on the way…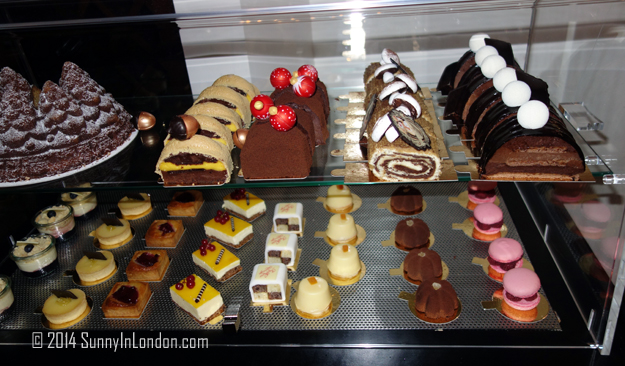 What's funny is- I actually went to the wrong place. Ooops!
Having been to the luxury hotel before, this hot shot from Florida went straight to The Balcon restaurant to begin the French feast. My friend and I experienced some initial confusion over our booked table. It was my fault. They seated us and then worked out that I was supposed to be in The Rose Lounge (pictured below on the left).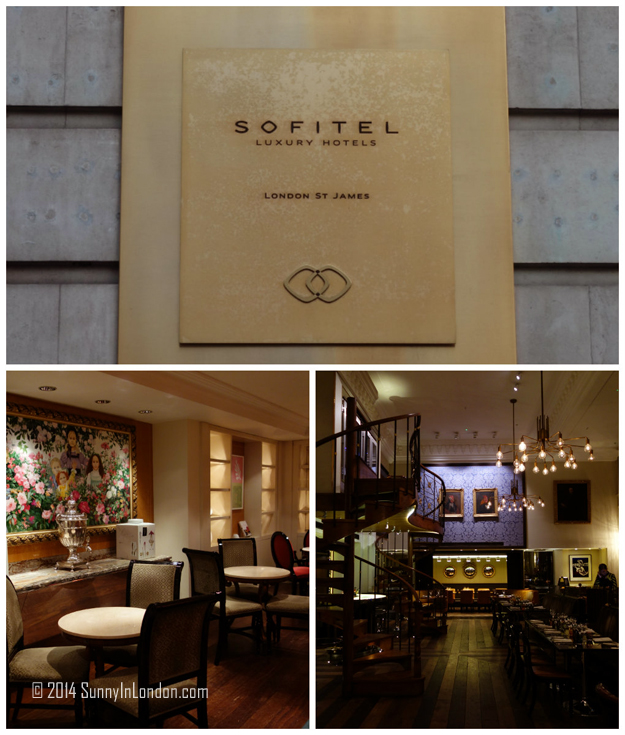 Our server was an absolute star. She handled the mix up with ease and didn't let it affect our experience. In fact, her solution was to immediately pour us champagne. I find it's life's elixir. Don't you agree?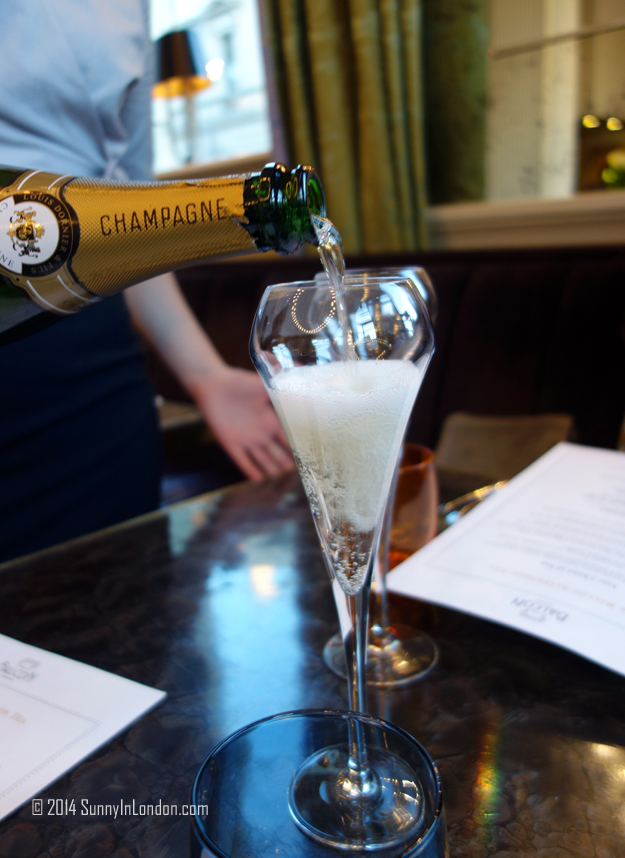 My friend and I slowly sipped our champagne as we pondered our tea selections. For the first time ever, I picked French Peppermint from the Herbal Tea selection. I loved this 'festive' tea so much I ordered peppermint tea the following day at a coffee shop. I think it'll be my new favourite.
My guest, who unbeknownst to me is a bit of a tea connoisseur, picked the Ceylon Lapsing. It's smoked over cinnamon wood, and let me tell you it was smokin'! She suspected they may have even added a bit of liquid smoke! Here's the pots in which they serve tea…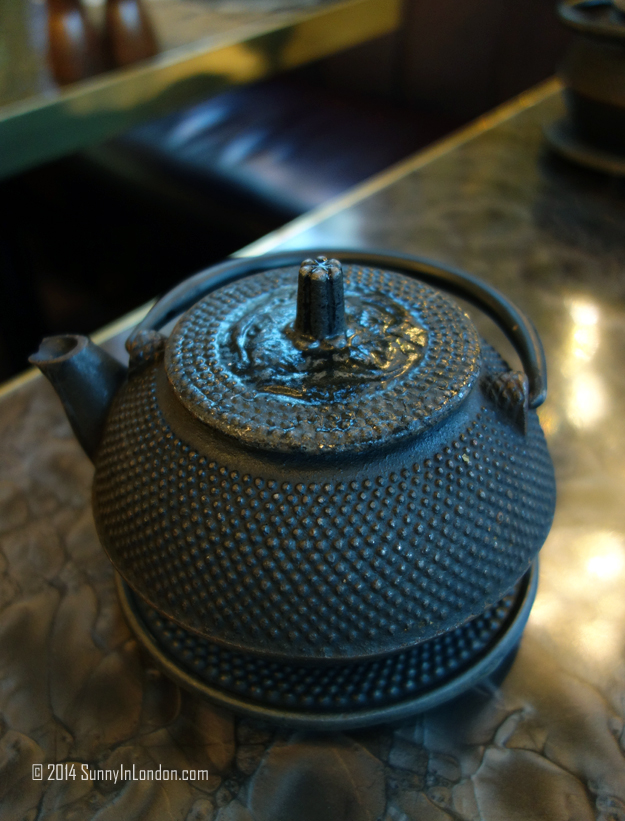 I really loved these. Next, we moved on to our food for afternoon tea. We both really loved the non-traditional presentation.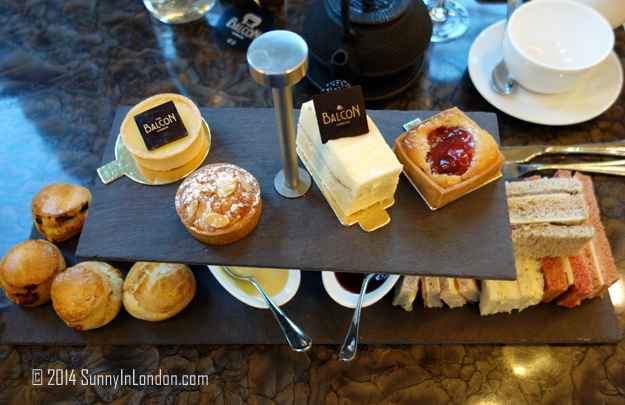 The sandwiches are part of the standard selection you find in an afternoon tea. However, the beetroot bread is pretty unique (and tasty!)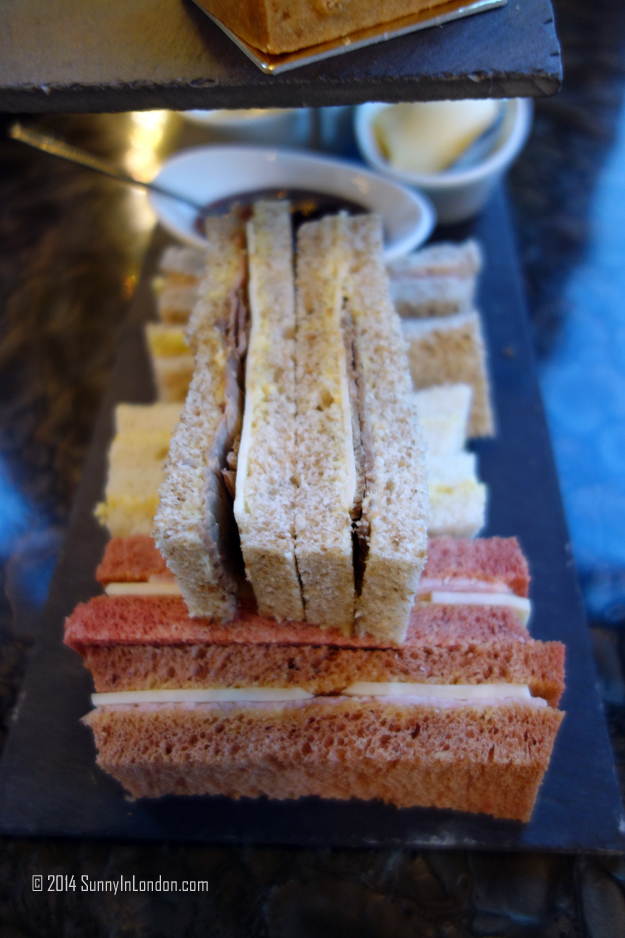 The freshly baked plain, sultanas and apricot scones are scrumptious and are served warm with Devonshire clotted cream, rose scented strawberry jam and lemon curd. Then there's the pastries…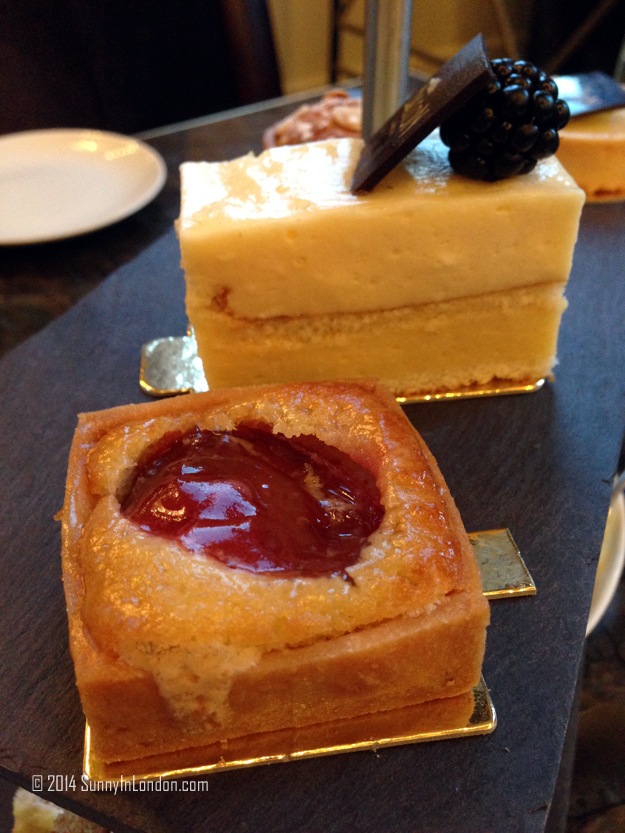 That's a close up shot of the plum and almond tartlet and pear entremets made with fromage blanc for the pear mousse and vanilla sponge. Yes, you can lick your lips now.
We desperately tried to finish everything. Both of us give this afternoon tea two thumbs up. Or should I say, two champagne glasses up? 😉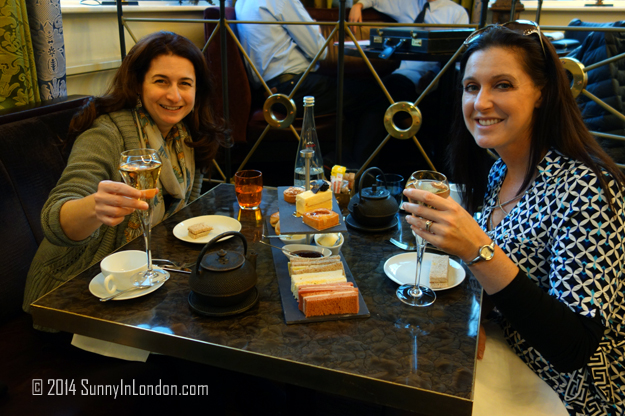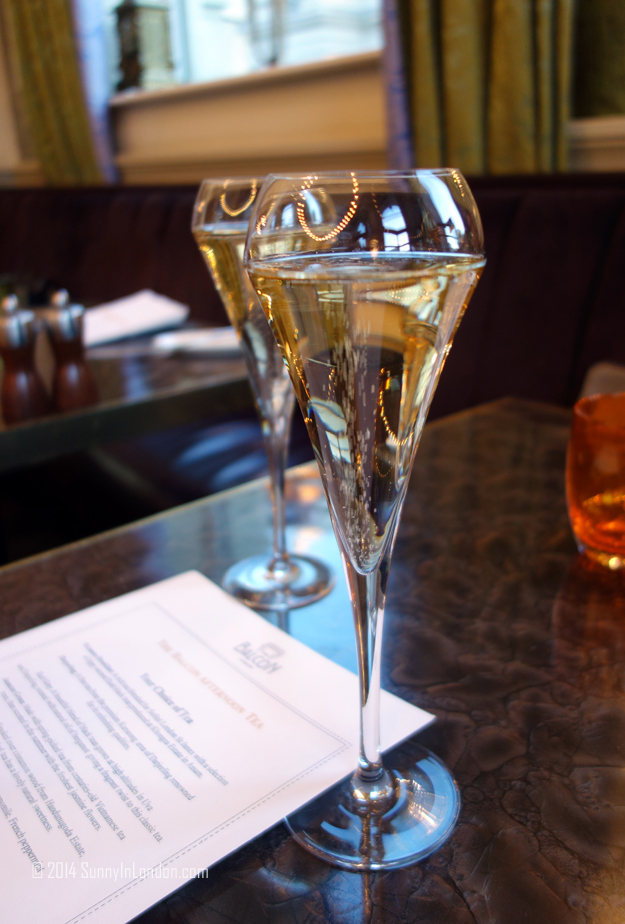 And then. And then. And then. They brought the buche de Noel!
Ooooo laaaaa laaaaa, Sunny friends! In order of appearance (back to front) here are your choices…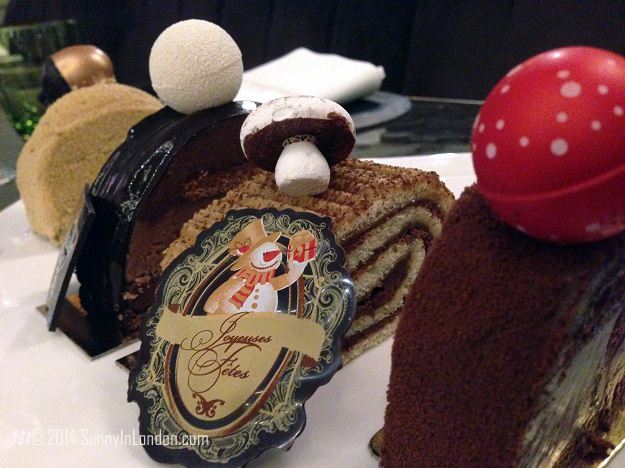 Sofitel London St James Buches de Noel:
–  Passion buche de Noel (passion fruit jelly and mango mousse with an addition of chocolate dacquoise biscuit)
– Praline buche de Noel (chocolate sponge biscuit with dark chocolate and brandy mousse)
– Traditional buche de Noel (vanilla sponge biscuit balanced with brandy syrup and coffee butter cream)
– Peppermint buche de Noel (blended dark chocolate and peppermint mousse, with the addition of lime zest and hints of citrus zing)
And oui, they are all tres magnifique!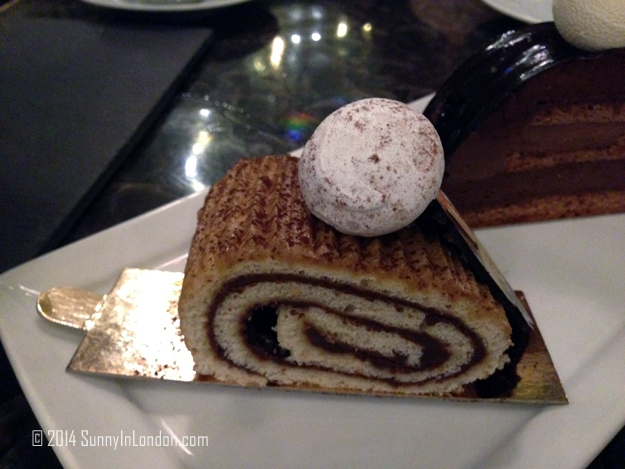 True to the French hotel's luxury standards, this festive afternoon tea is decadent and delicious! I'm so happy they tricked me in to eating my vegetables before I attempted to devour their buche de Noel!
In case you haven't guessed by now, 'buche de Noel' is a traditional French holiday dessert. Perhaps you recognize it as Yule Log? They're generally served with one portion of the end cut off in order to resemble a chopped off branch.
For your buche de Noel, you can visit the Sofitel London St James from December 1-25. That's right- it'll be boxed up and gone by Boxing Day!
Each of the four buches de Noel are found on The Balcon's Christmas menu and are available for afternoon tea in The Rose Lounge. If you choose the afternoon tea in The Rose Lounge, you will also be accompanied by the beautiful sounds of a harpist and enjoy a rose and litchi champagne cocktail.
The Balcon is available for dining all day (breakfast, lunch, dinner, morning tea and savouries). The full afternoon tea is £26.50. It's a creation of Executive Chef Vincent Menager.
Aside from wonderful ambiance and food, the Sofitel London St James is located within close proximity of Trafalgar Square, Piccadilly Circus and many other famous London landmarks.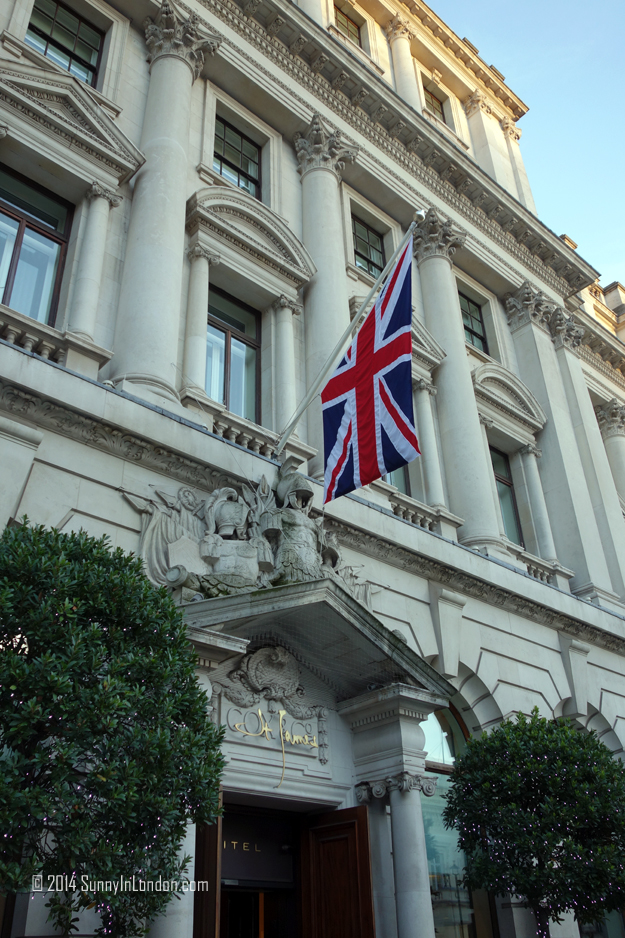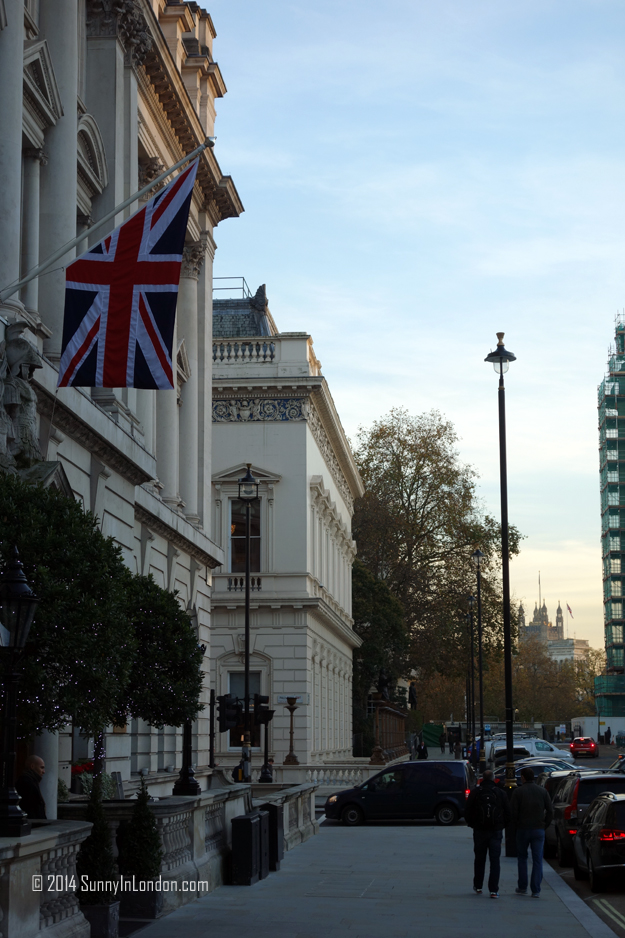 Our afternoon tea was complimentary for the purpose of a review. However, this doesn't affect my opinion. I am grateful the Sofitel London St James tricked me in to eating their vegetables first and then invited me back for this holiday treat. If you ask me if you should go to there for afternoon tea, I'll say, 'Oui! Oui!'
I'm visiting three Christmas afternoon teas this week in London at different hotels. Tell me, Sunny friends, which holiday teas have you tasted and recommend? And, who has a personal trainer who's available all next week? 😉