What should you do when you just aren't ready for summer to end? Treat yourself to some luxurious Indian Summer Cocktails at One Aldwych hotel!
After returning from a one month holiday in my home state Florida, I wanted to do something really fun with Mr. Sunny. Our first date night upon my return to London kicked off at the hotel's award-winning Lobby Bar, which we have been to many times.
We were invited to try the Indian Summer Cocktails made with Brecon Botanicals Gin. Once again, we were thrilled with another One Aldwych experience.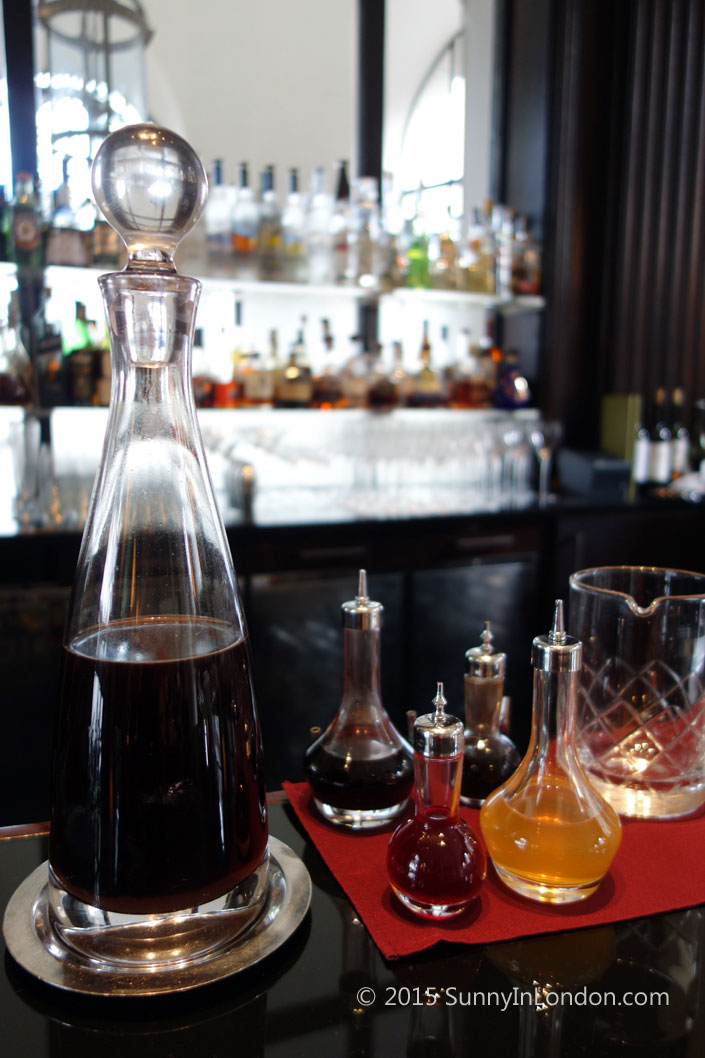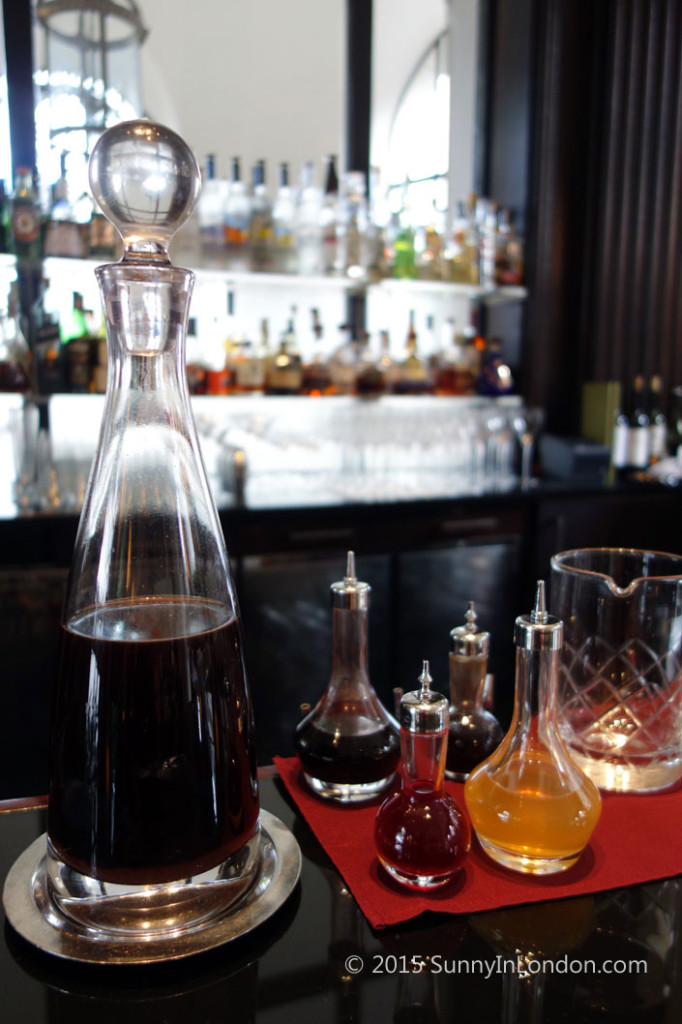 Why?
If you could capture all the beautiful sun and heat which melts your bones on a gorgeous summer night, it's in these glasses.
An Indian Summer is a period of unseasonably warm weather that occurs in the Autumn. These sexy cocktails make the liquid translation perfectly- even if there may have been a bit of rain the day we enjoyed them 😉
First, Mr. Sunny and I sipped on the Uncle Pepper and Summer Splash. Because he's not a pepper fan, he claimed the Summer Splash as his cocktail for this round. But, I was able to sneak a little sip of the Summer Splash.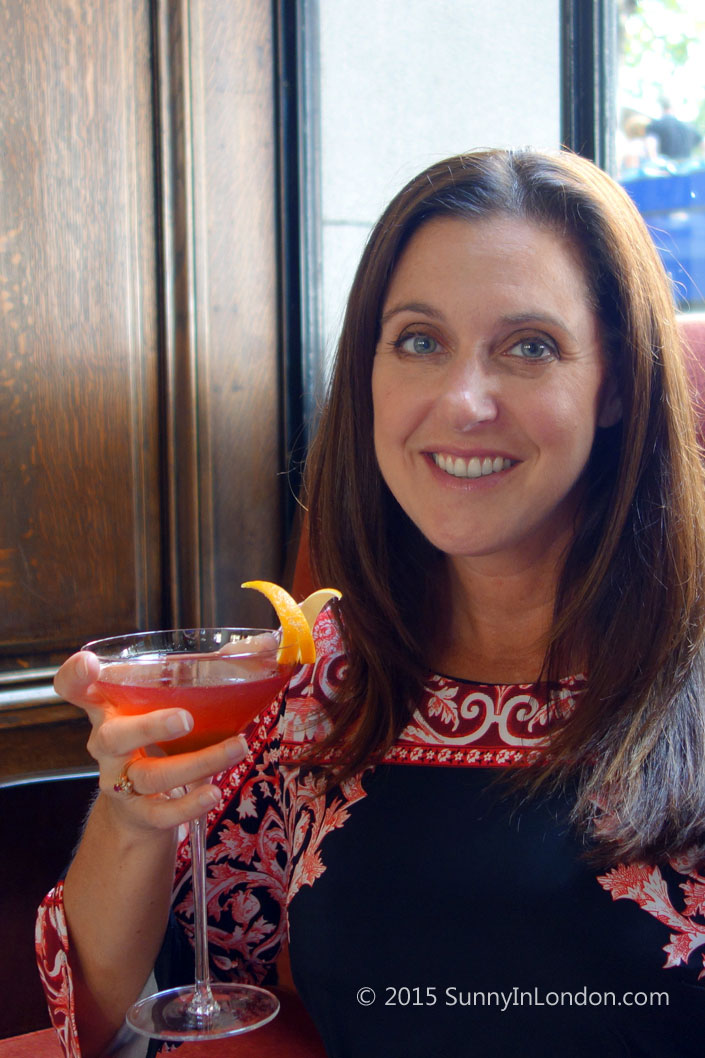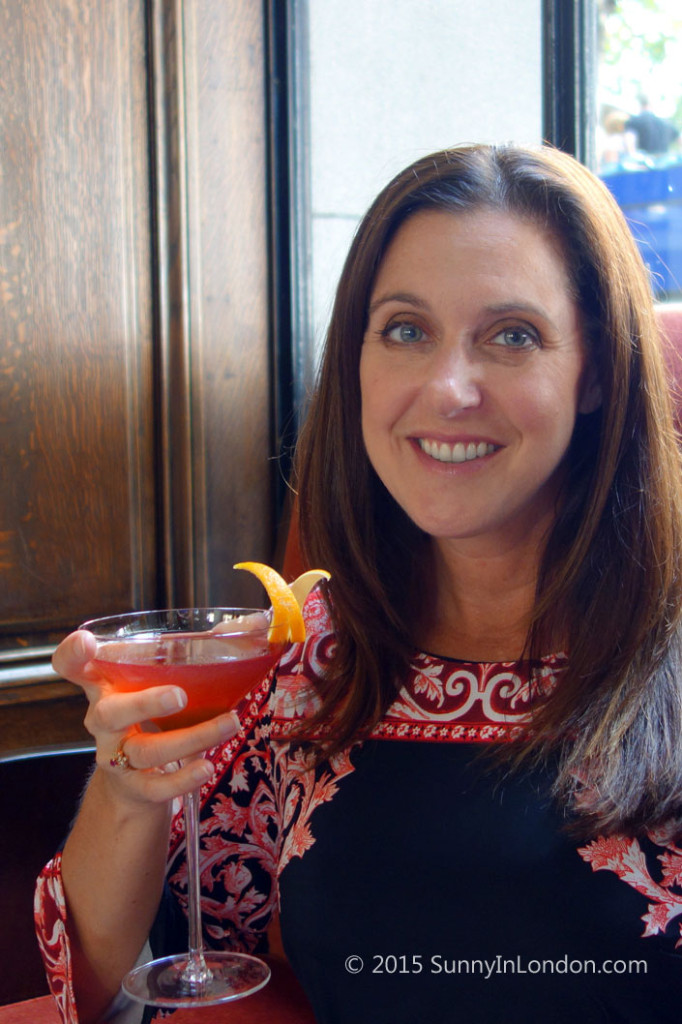 Aside from Brecon Botanicals Gin, his drink has Aperol, Cherry Heering and olive infusion, rhubard and ginger syrup, fresh lemon juice, Angostura bitters and a splash of Pedrino. It's served in a chilled coupette glass.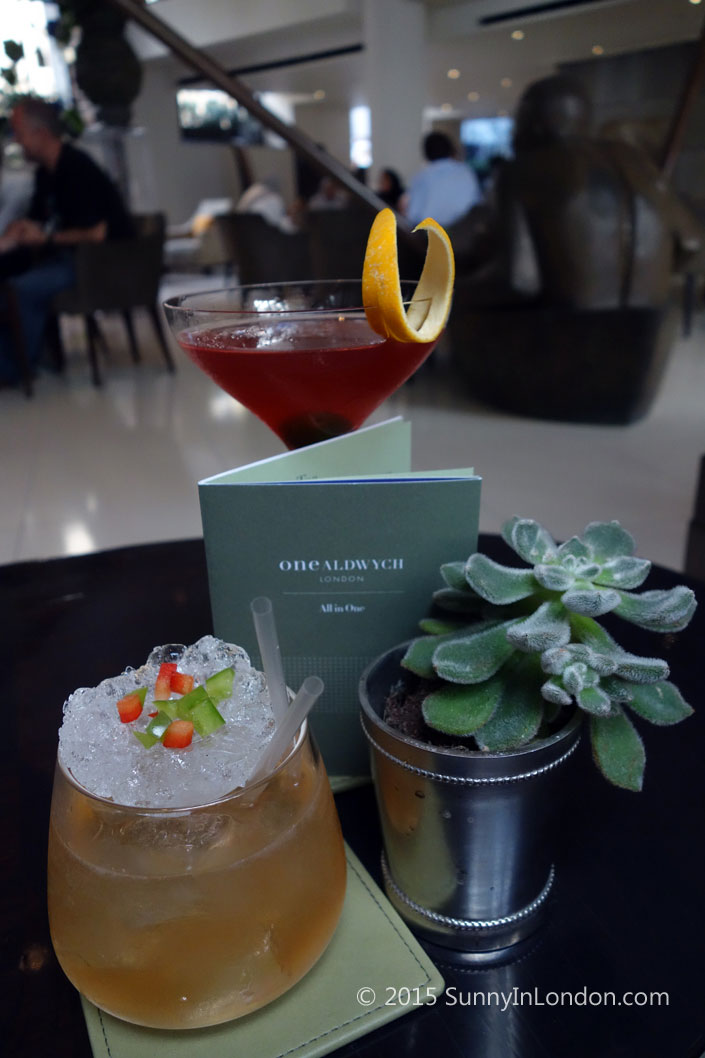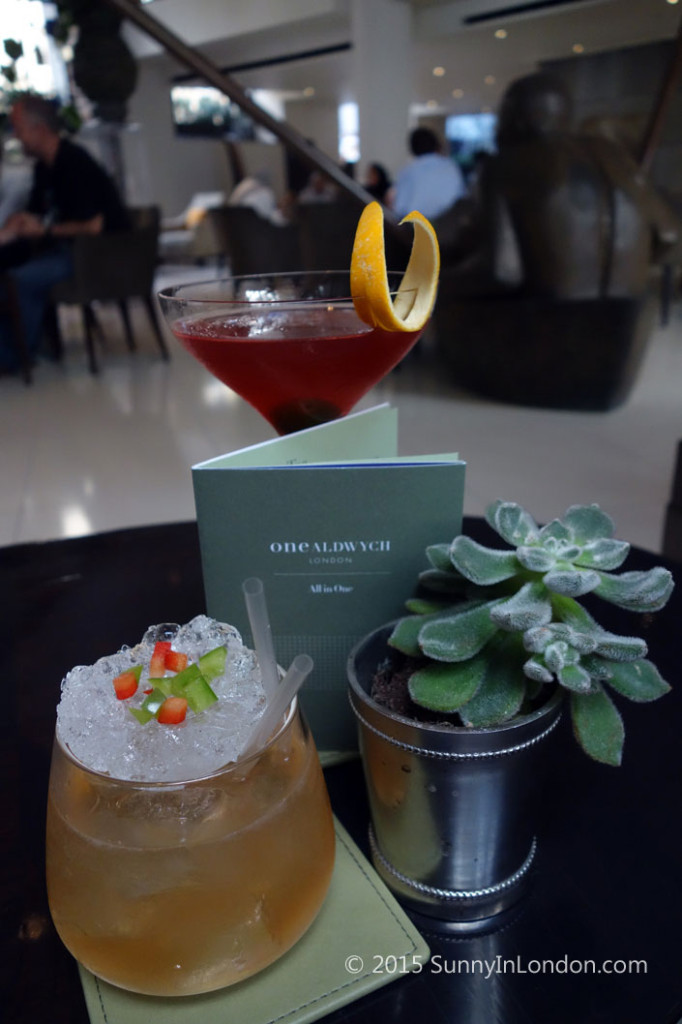 Next, we had the Bugs Bunny and Bittersweet Flakes.
I grabbed the chocolate treat. It has Brecon Botanicals Gin, Averna liquer, rosemary and bergamot syrup, bergamot juice and a splash of Pedrino. It's served in a chilled old-fashioned glass.
I'm going to tease you a bit here and not tell you what's in the Bugs Bunny. You'll just have to pop in to the Lobby Bar yourself for a round of Indian Summer Cocktails. But here is a picture…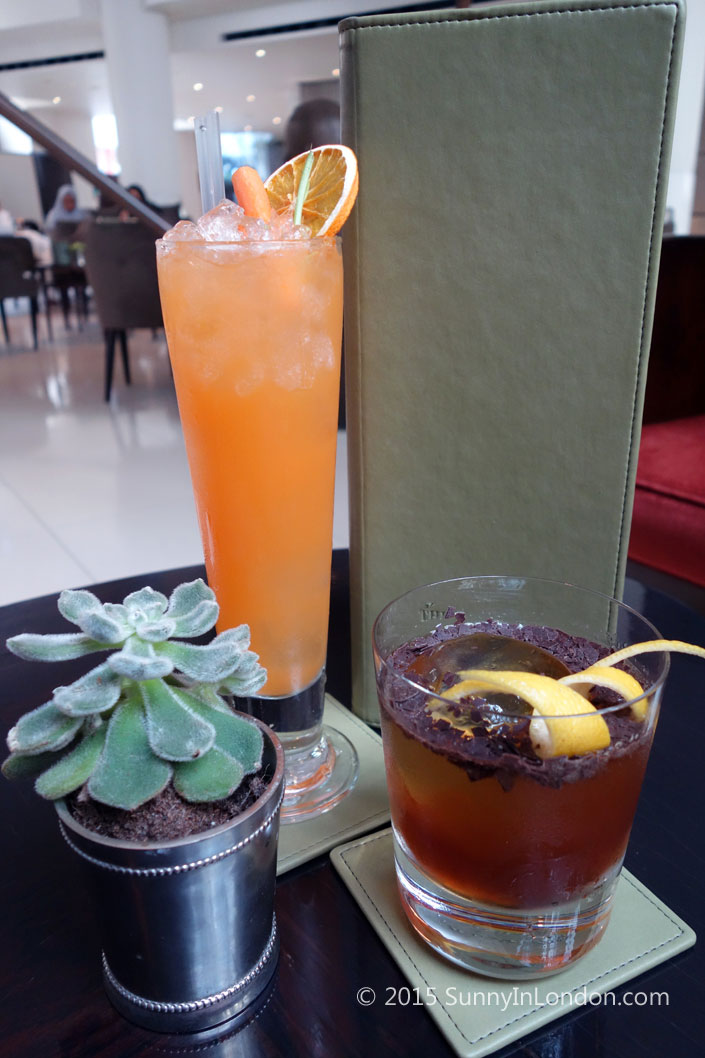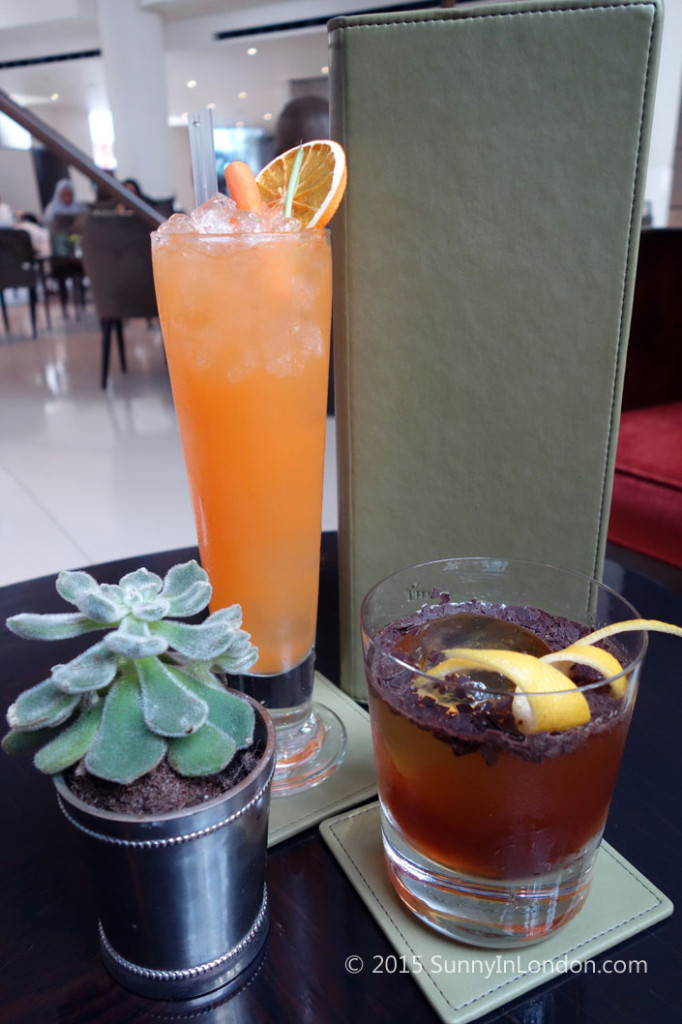 One Aldwych asked which one we preferred, as they're always keen to receive feedback. We both voted the Summer Splash. Between the ultra sleek glass and the silky smooth texture, it is the winner this time to us.
When I explained that it was the Lavender Cloud which caught my attention most in their recent Bloom Gin Flight, I learned that they were both created by the same mixologist at the Lobby Bar.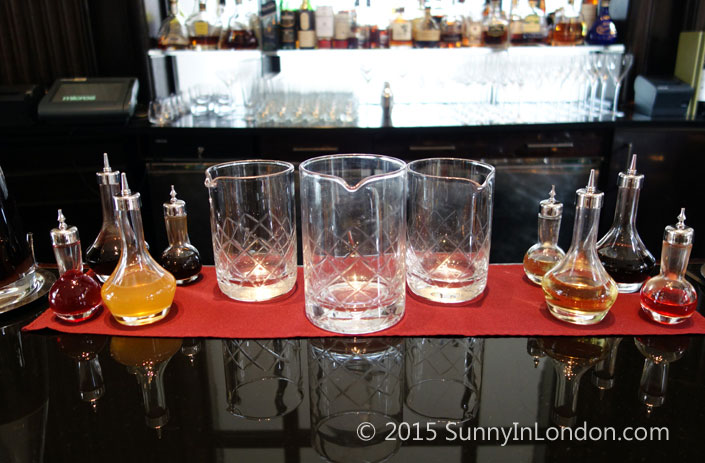 One Aldwych hotel's current flight of gin showcases Brecon Botanicals Gin.
I love that the hotel keeps their Drinks menu seasonally fresh and invites me to share them with you. My first visit to One Aldwych was to review the Charlie and the Chocolate Factory inspired afternoon tea back in February of this year.
I noticed while Mr. Sunny and I were enjoying our cocktails that several Lobby Bar tables were filled with this afternoon tea selection. So, I made sure to inquire about its status.
If this is something on your London List of Things to Do, you had better book now! They are nearly full for weekend reservations for the next few months. Please don't put this on your Autumn agenda without calling first to book.
The fact that our cocktails were complimentary has not influenced my review of One Aldwych hotel, except to reconfirm that every experience I have had there is five-star. In fact, during my holiday in Florida I saw a doctor to whom I was a patient when I lived in the state. During our conversation about living in London, he said the past two times he visited, he stayed at One Aldwych, and it was remarkable! I wasn't surprised. However, I was thrilled to hear this, especially since I recommend the hotel so much for the NFL in London Games to Americans.
If you visit their reviews on TripAdvisor, you will see that all of my reviews linked above match those of other travellers and Londoners who have been hotel guests for a holiday, dinner or drinks.
What's your end of summer drink? Do you change with the season or have a standard sipper no matter what the time or occasion?