Byron Burger has been hot on my 'must try list' ever since I hit Shake Shack in Covent Garden earlier this year. It seems American burger joints have ignited all over London. Queues often stretch around buildings for hot new places in high traffic areas.
Once I blogged and raved about Shake Shack, I hit Five Guys in both America and London to do a little comparison. Then, it was brought to my attention through tweets, emails and conversations that Byron Burger should enter my burger mouth arena. They've been in London since 2007 and bill themselves as 'proper hamburgers.'
I figured when the right time presented itself, I would give Byron Burger a go.
On a beautiful sunny day in London, Mr. Sunny and I decided to explore the beautiful Christmas holiday decorations in town. Late in the afternoon we hit our starving point and turned the corner to see this at 24-28 Charing Cross Road…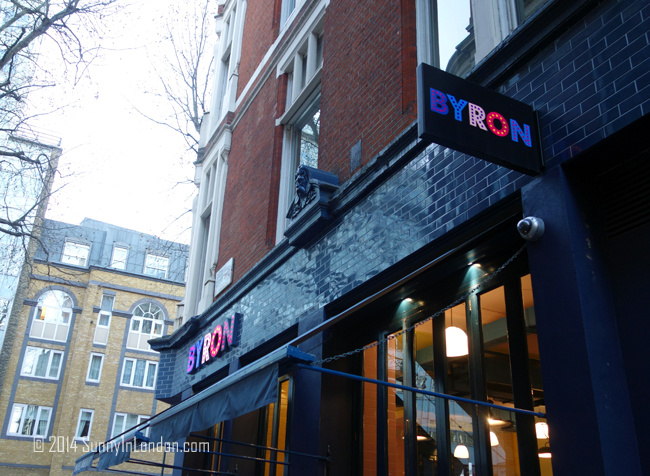 He suggested we test out their burgers, but I declined. My reason- it wasn't the real Byron Burger. The building just didn't look like all the other grey ones I had seen, so I thought this place was an imposter. Mr. Sunny explained that we were most likely standing in front of the original location. He showed me the 'proper hamburgers' label on a menu.
Once I agreed to go inside, we sat at one of the small tables. The space is tight, as tables are practically inches from each other. We placed our food order with a server and quickly received our drinks. Beer and red wine. Big surprise for us, right?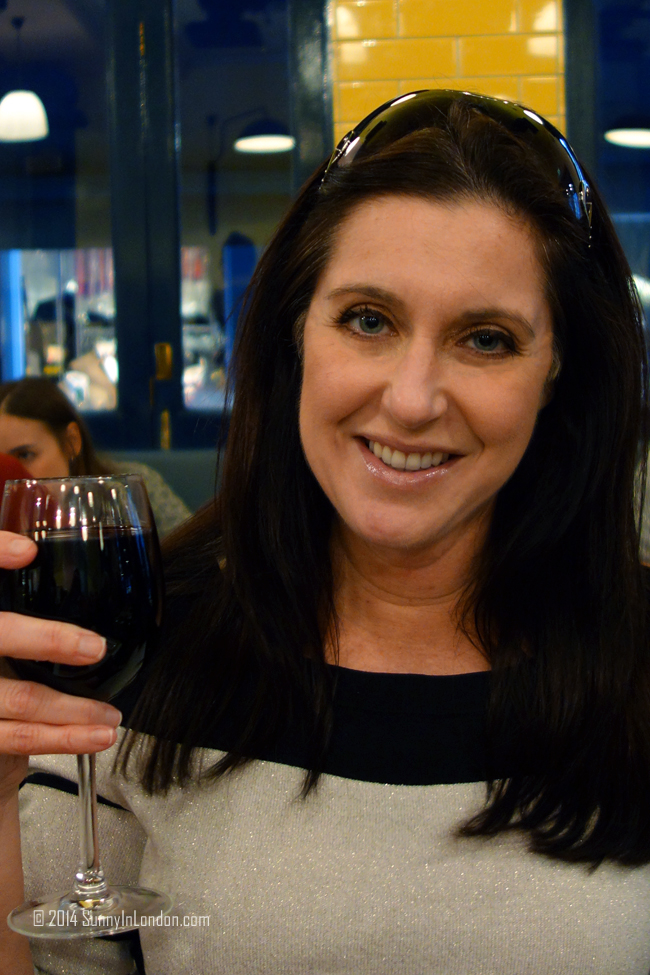 After a few sips, the manager nicely approached us about moving to a different table. Apparently a large party of men, who had likely just left a drinking session lasting a few hours in pubs, wanted to eat at Byron Burger also. The staff wanted to push all the tables near us together to seat them by us.
We were happy to move, because we didn't really fancy sitting near this potential circus. But, I made a cheeky request for a complimentary dessert if we did relocate. Nervy, huh?
Now back to my beef.
Since I wanted to have the original burger for a genuine report on the blog, I ordered the Byron.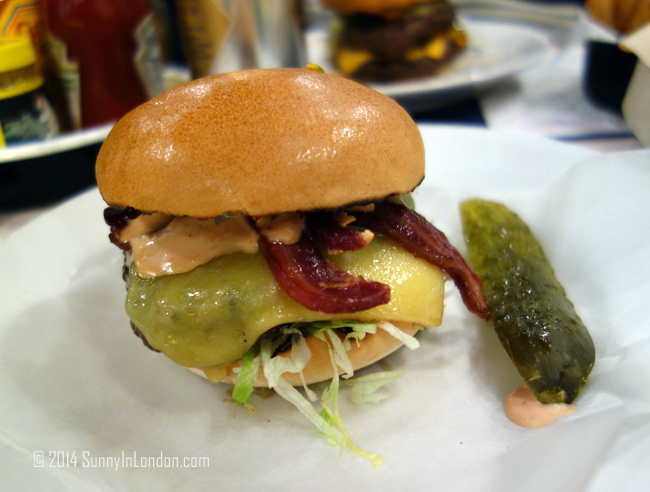 It's dry cure bacon, mature Cheddar, shredded iceberg, tomato, red onion and Byron sauce for £9.50.
Since Mr. Sunny was treating me to dinner, he got a little festive and fancy with his choice, the Holy Cheesemas.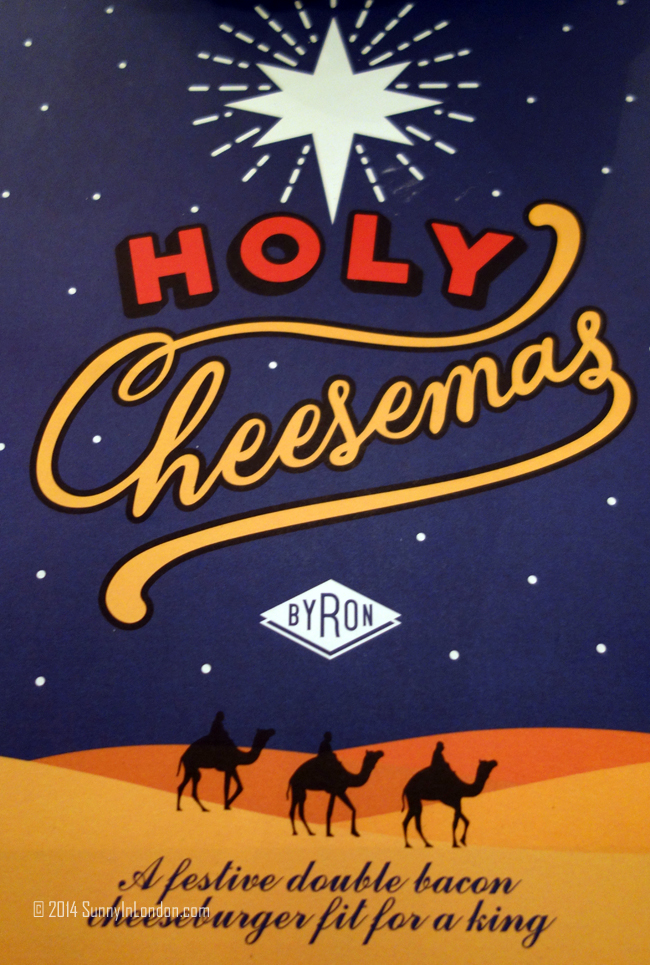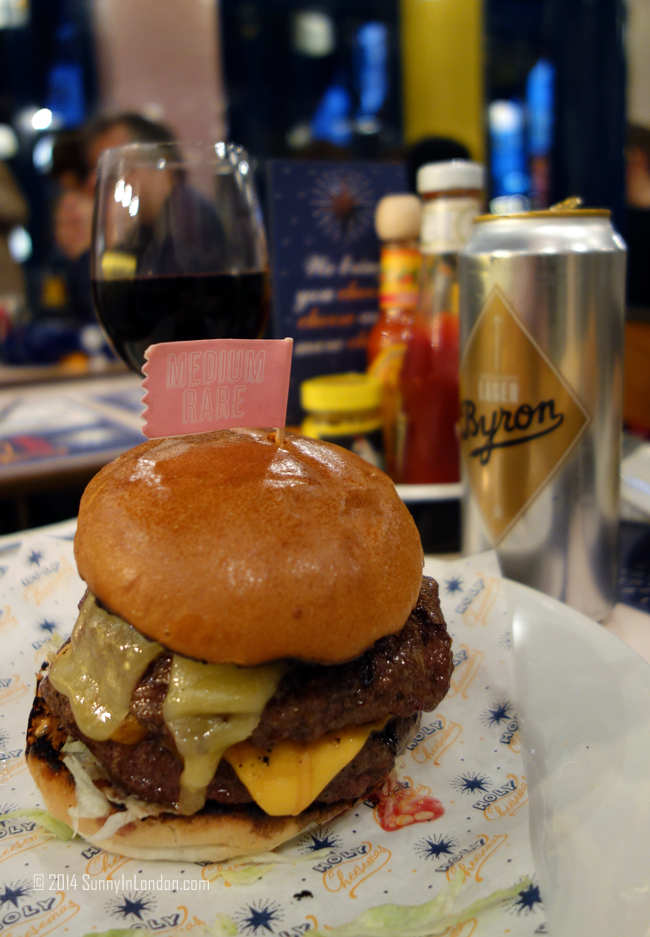 His burger was bang on beautiful. It's two 6oz hamburgers, American cheese, Monterey Jack, mature Cheddar, Red Leicester, dry cure bacon, red onion, shredded iceberg, pickles and Cheesemas sauce for a whopping £12.95. Ok, 'whopping' is a bit dramatic, especially when you consider Burger and Lobster offers their burgers for £20. But, it is the most expensive burger of the menu items we've eaten at Shake Shack and Five Guys.
Anyhow, Mr. Sunny had no problem digging in to his holy meatness. He says it was the first time he's ever had a burger that was actually cooked the way he wanted it- Medium Rare.
And, since Mr. Sunny was feeling extra generous, he also greased up our dinner with loads more food packed with chubby calories.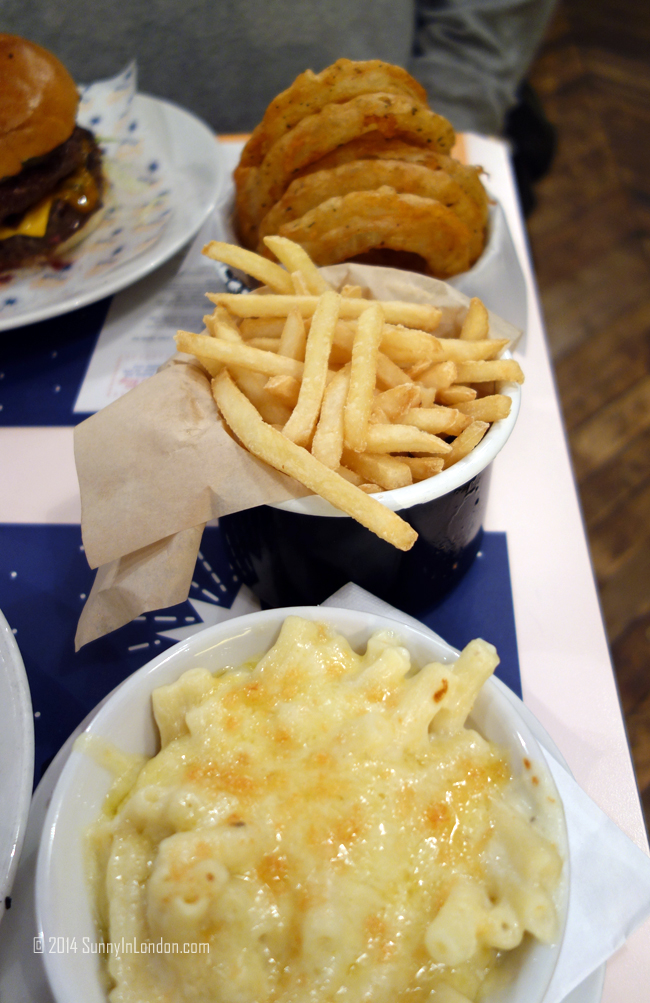 Yep. French Fries, Macaroni Cheese and Onion Rings.
I inhaled my burger, but made sure to save a bit of space for the last food treat, Caramel and Honeycomb Blondie with vanilla ice cream and caramel sauce.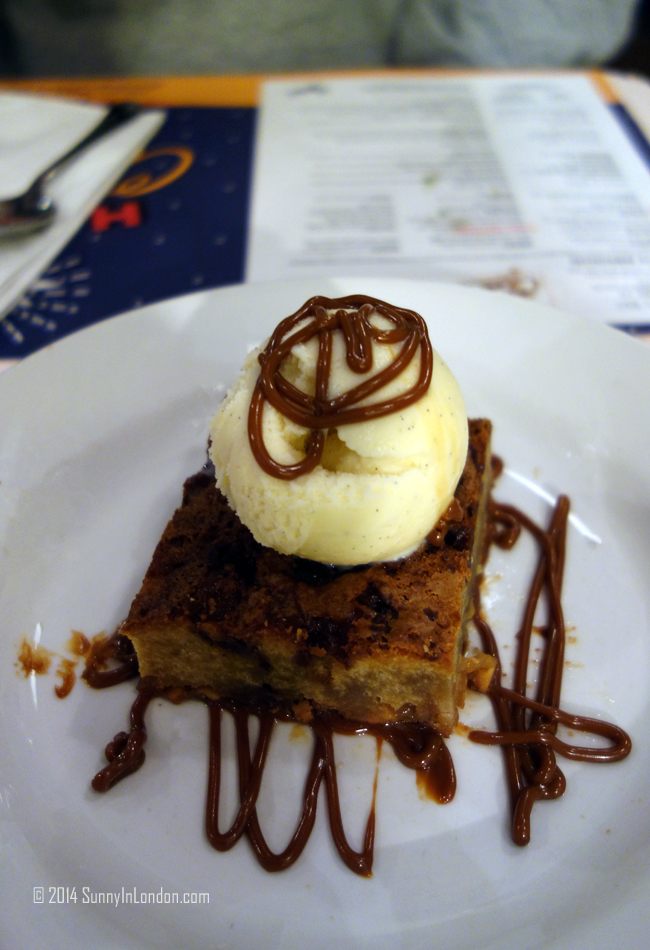 So, how did Byron Burger measure up in the American burger in London department? When comparing it to Shake Shack and Five Guys, it has some strengths:
Byron Burger Advantages:
– Great beef cooked right.
– No over the counter service. You have a server for your meal.
– They have a varied Drink menu. (Red and white wine, craft beer, bottled beer and cider, bourbon, 'pink and fizz', spirits, and milkshakes.)
– Four salads are on the menu. However, if you're reading this, you're probably not the kind of person who goes to a burger joint and orders green.
Who's Your Burger Daddy?
While I enjoyed the experience and thought the complimentary dessert was super cool, I'm still going two thumbs up on Shake Shack. I can't fault Byron Burger for anything. It's just that the sauce on the Shake Shack burgers makes my knees go all silly.
Now, what I haven't done yet is eat at Dirty Burger. I'm certainly entertained by the name. Because face it, there's nothing pretty about putting your hands and mouth around a big juicy burger. They also have my full attention with the breakfast burgers featured on their menu. I can fantasize that their combination of sausage and egg in the morning is something that would definitely get me out of a warm bed on a cold winter day.
What are your thoughts, Sunny friends? Who's your London Burger daddy?