Just how delicious is the Charlie and the Chocolate Factory Afternoon Tea at One Aldwych Hotel in London?
Well… Hold your breath. Make a wish. Count to three… Come with me… and you'll be in a world of imagination.
When I walked in to One Aldwych Hotel, I had no idea what to expect. I have seen both Chocolate Factory movies years ago. However, I didn't realise how popular Roald Doahl's book Charlie and the Chocolate Factory
 is in England, until I moved here last year. In America, the films Willy Wonka & the Chocolate Factory and Charlie And The Chocolate Factory are cult classics, but they don't really receive much more attention than that.
Mr. Sunny, however, spent many childhood Christmas days watching Willy Wonka and the Chocolate Factory. I hear it's a traditional Christmas Day movie for kids to watch in the UK.
Sadly, Mr. Sunny had to work the day of my afternoon tea, so I invited my mother in law to join me.
Prior to going, I asked Mr. Sunny to tell me about his favourite scene. His response, 'When that gum chewing American girl eats too much, turns blue and rolls away.' Hmmmm.
I made sure to leave my gum at home the day I took my golden ticket to my London chocolate factory.
My mother in law and I began the Charlie and the Chocolate Factory Afternoon Tea with very adult drinks. She chose the glass of Lallier Grand Reserve Champagne. I was eager to have the Charlie Cocktail.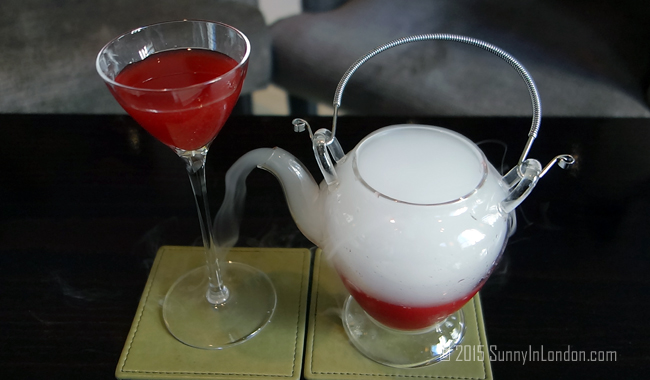 This berry fun drink whisked in front of me like a smoking cauldron of temptation. Just how I would imagine it would be served in a magical chocolate factory.
We giggled at our 'Fizzy Lifting Drinks' in our imaginary Bubble Room. The actual setting of this spectacular event is the One Aldwych Hotel Lobby Bar. It's airy, modern and colorful.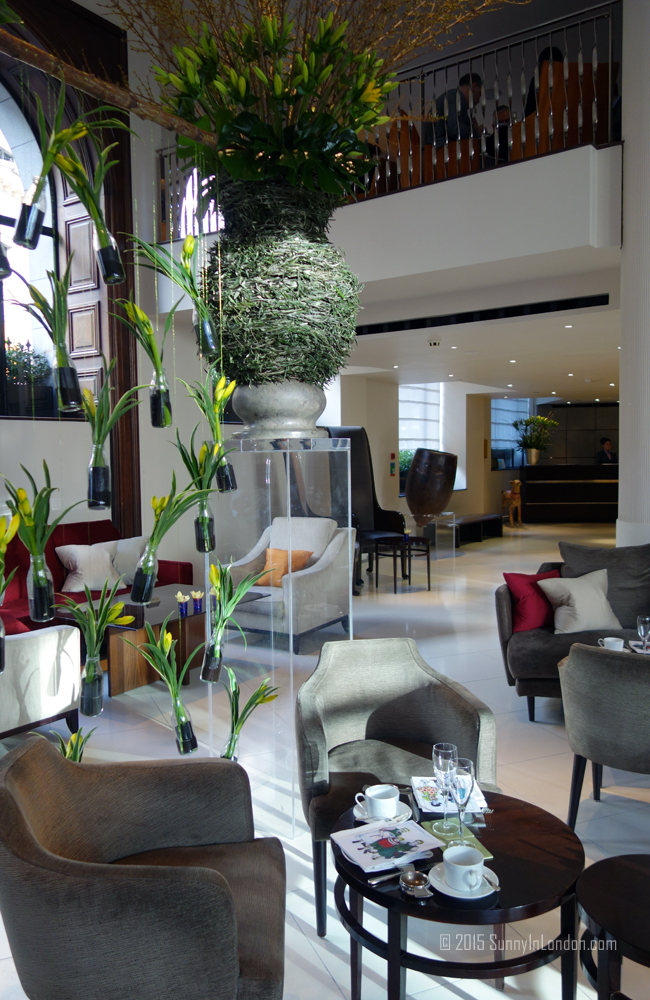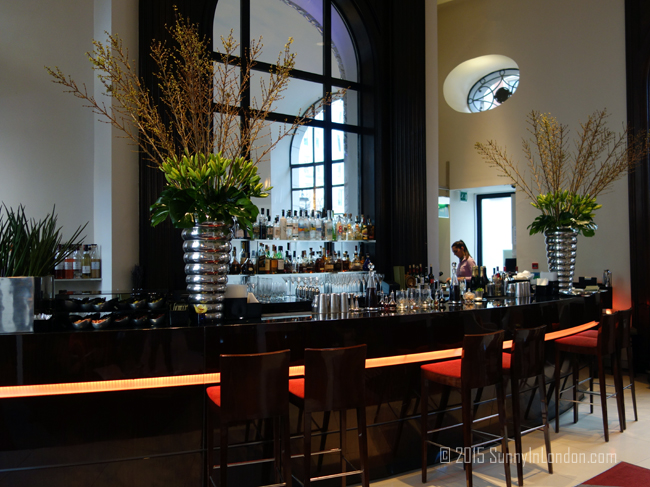 Each menu creatively has a sketch of one set of characters that take the Golden Ticket journey to the chocolate factory.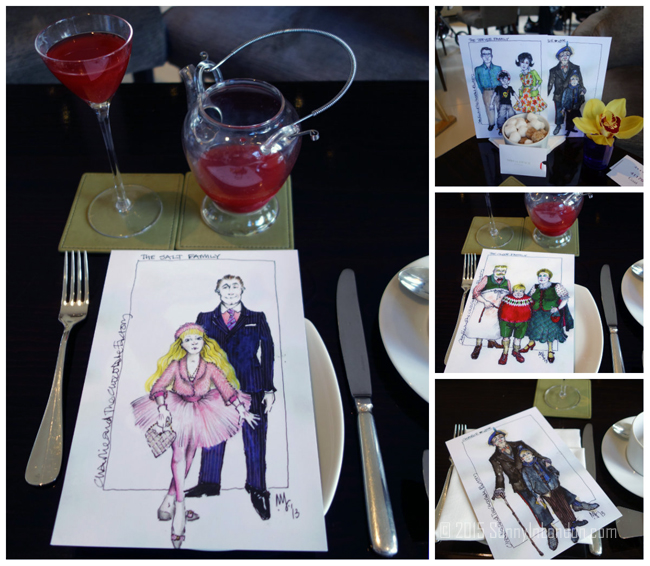 I investigated every corner, but I couldn't find a chocolate river. That was a bit disappointing. I wanted to give the wallpaper a little lick, but I figured that might embarass my mother in law just a bit 😉 And, no, I didn't see any giant edible mushrooms during my visit either.
However, as we sat sipping, we curiously watched the food delivery of the special themed afternoon tea as it was served to other tables. We also had a bit of tea that was absolutely extraordinary. We highly recommend the Smooth Caramel and Queen of Berries. Both are by the Tea Palace in Covent Garden.
Soon, our Sandwiches and Savoury courses arrived, and we were delighted. My mother-in-law picked food from the original menu.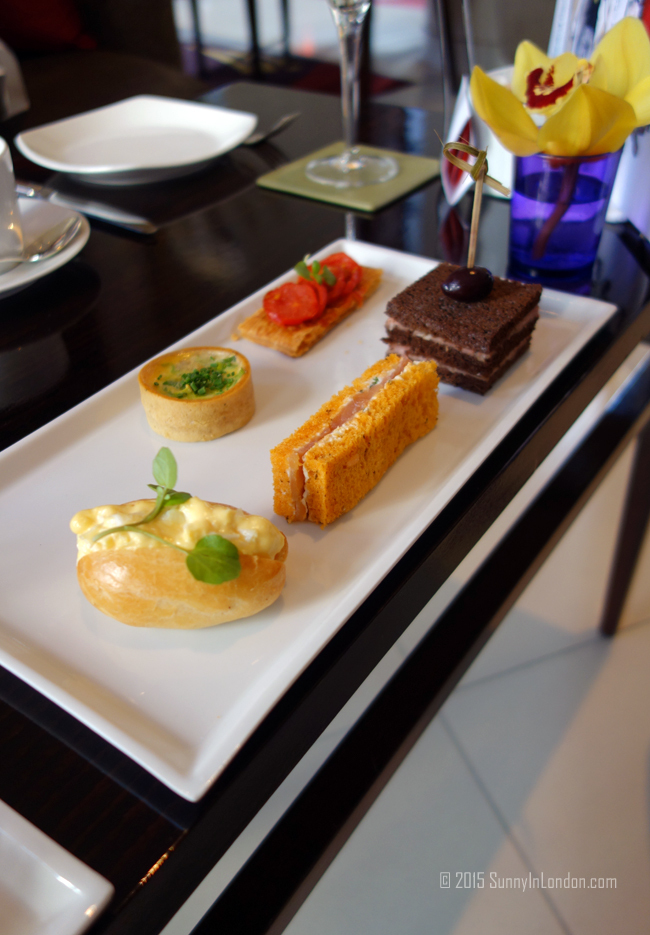 The afternoon tea sandwiches include: smoked salmon, egg mayonnaise and roast beef. I was especially jealous of her leek and stilton quiche. I ordered the gluten free afternoon tea, so my food was a bit different.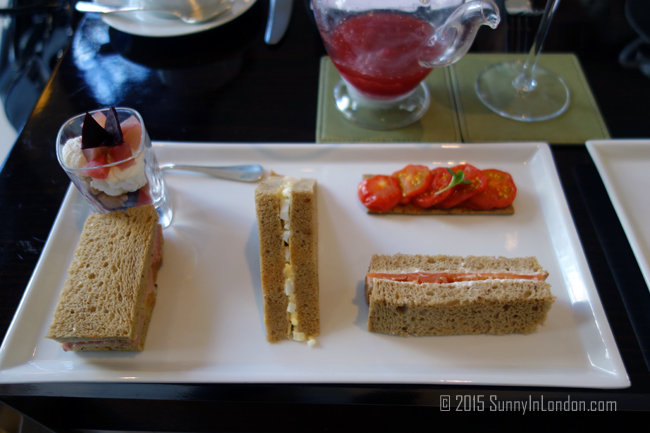 The sandwiches are the same, yet made with gluten free bread. Up on the left you can see a very yummy beet and goat cheese replacement for the leek and stilton quiche. We both absolutely loved the tomato tart. It is warm and gently explodes beautiful tomato love when you pop it in your mouth.
I have to give the One Aldwych Hotel a special recognition here. They had no idea I was going to order a gluten free afternoon tea and quickly created one for me. Although they accomodated me so easily, I suggest that if you have any special dietary needs, it would be helpful to request them when booking your table.
Gluten free sandwiches never really taste the same as regular bread. However, I can't imagine these sandwiches being any better.
Next, our scones and sweets selections arrived.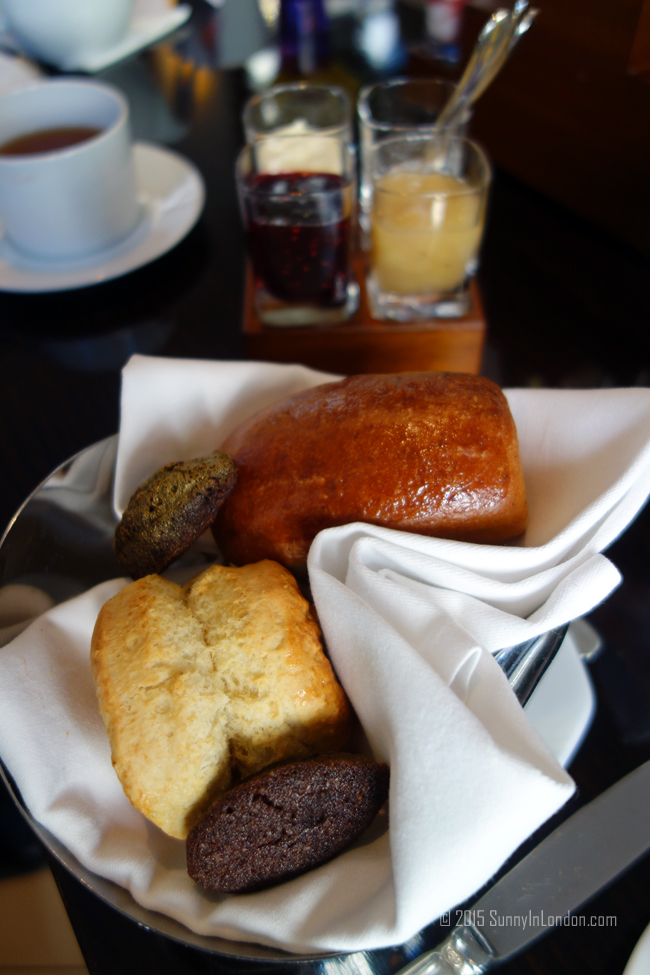 Sunny friends, this is really a spectacular sugar event, as it should be. If you've always wanted to unleash your inner Veruca Salt and have your very own golden goose egg without the fear of falling down a shoot afterwards, this Charlie and the Chocolate Factory Afternoon Tea is for you!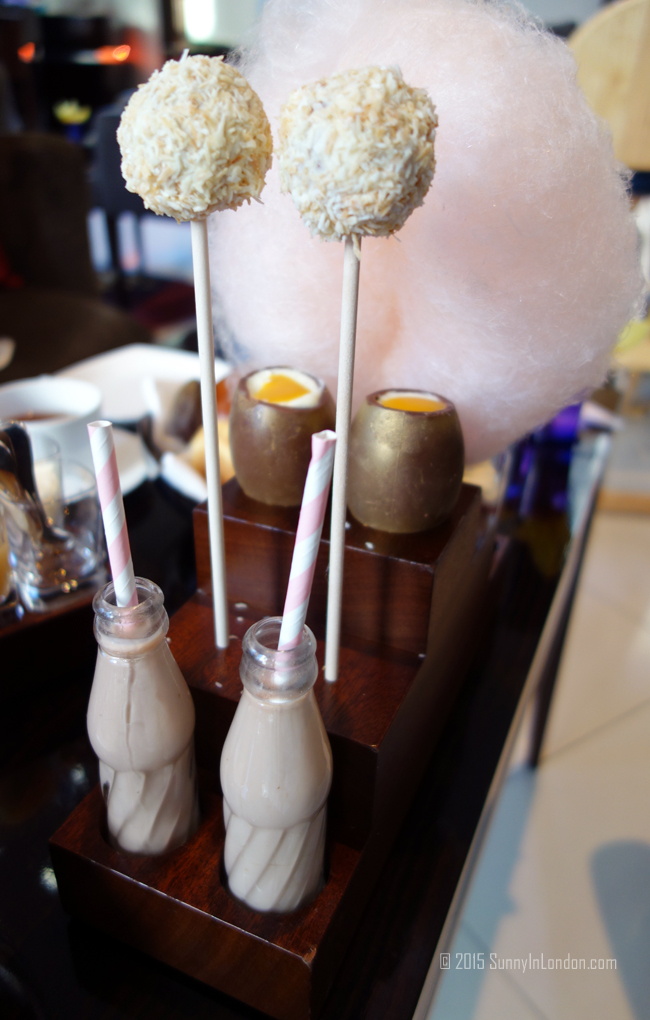 The golden chocolate egg filled with vanilla cheesecake and mango is a cream lovers dream! It has heavenly splashes of mango that fade in to the vanilla and chocolate flavour ever so delicately.
And how can you go wrong with lime, coconut and white chocolate pops? Wow!
Oh, and check it this little Eton Mess that surprises you under the candy floss trees…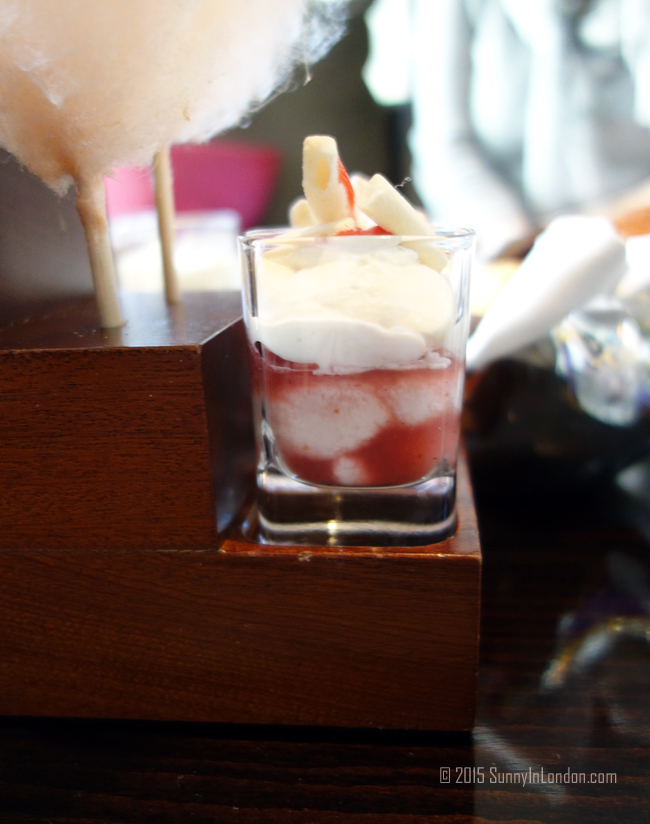 We felt as if we were challenged with everlasting gobstoppers. We tried so hard to finish every bite but it seemed humany impossible to do.
So what are my final thoughts about the Charlie and the Chocolate Factory Afternoon Tea at One Aldwych Hotel? "Run, Sunny friends! And don't stop until you get there!'
For details about this special themed afternoon tea, visit One Aldwych Hotel. It's located on The Strand just on the edge of Covent Garden.
Many thanks to One Aldwych for the complimentary afternoon tea for the purpose of a review. In the spirit of the story's end, I'm hoping that because I wrote an honest review, that I will be given my own chocolate factory… just like Charlie.
If you'd like to learn more about London, don't miss the Sunny News YouTube channel with videos that will help you learn about London like this…