Things to Do in Covent Garden- Pet a Reindeer!
Did you know one of the things to do in Covent Garden during Christmas is petting a real, live reindeer?
Yes, Sunny friends, it's true. Seeing the reindeer has been on my list of one of my top things to do in Covent Garden for the past few years, and I finally had the chance last weekend.
You see, back in 2011 I first learned that it was possible on certain dates to see Santa's reindeer in Covent Garden. Unfortunately, it's back when I lived in the US and wasn't due to visit Mr. Sunny here in London until December 23rd. The reindeer are sent back to the North Pole by then. I assume they need a few days to get ready for their big night.
Unfortunately, I haven't been in London for the Christmas season since then.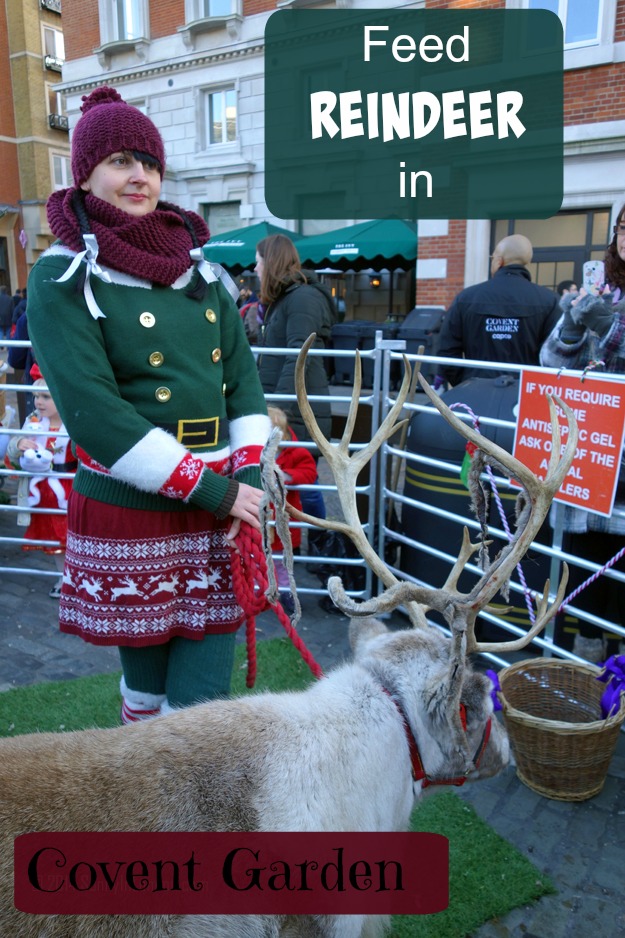 There's no doubt you have probably already seen the 22 foot reindeer that made its debut for this year's Christmas in Covent Garden celebrations. It's kind of tough to miss from any angle when you head in to the Piazza.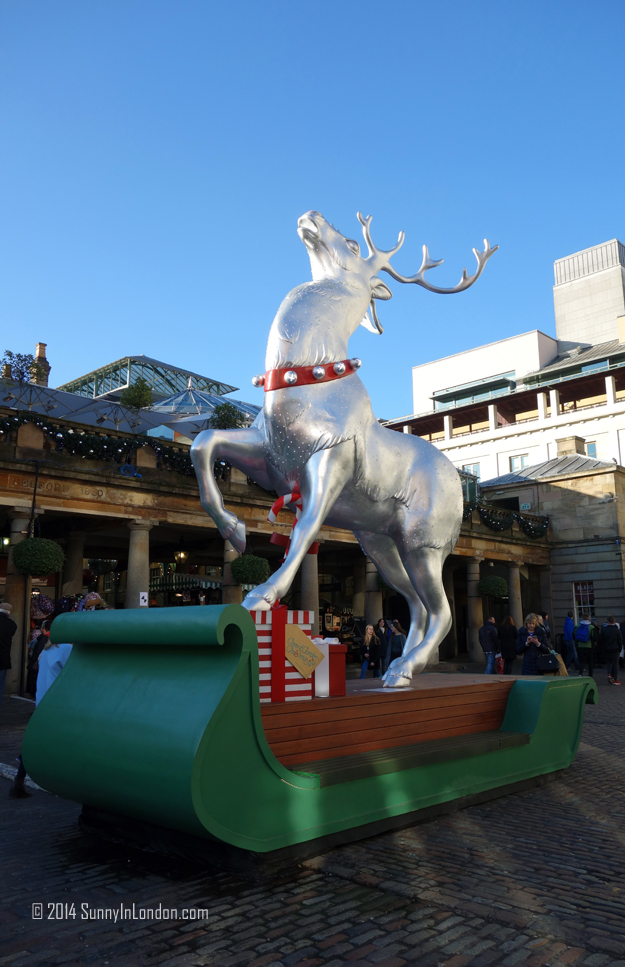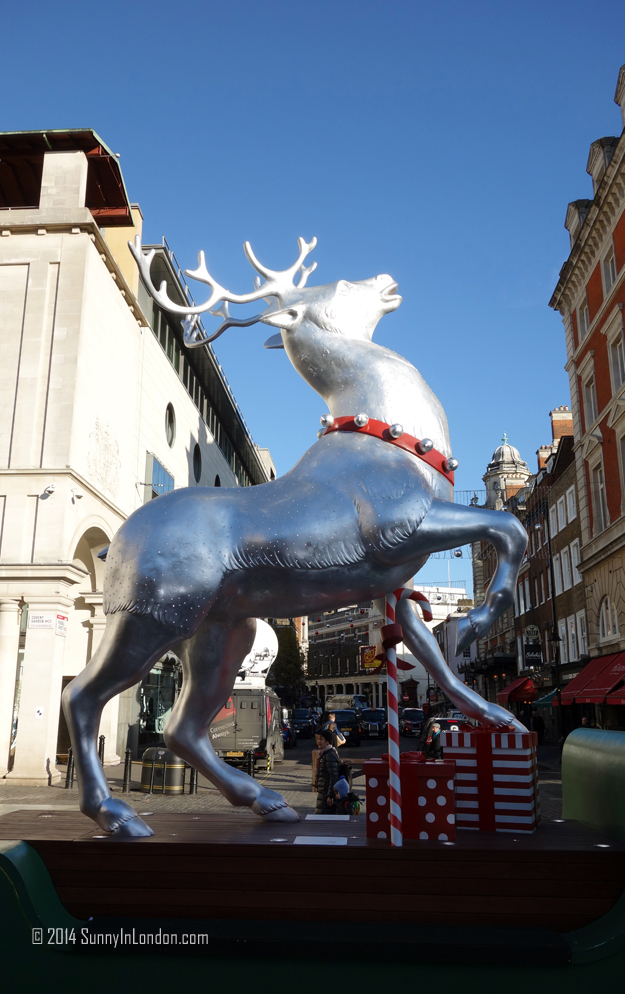 However, it takes a little bit of searching to find Santa's reindeer. But, isn't that what you'd expect from such magical creatures?
In fact, the reindeer in Covent Garden only make appearances on festive weekends. So, there's really just 5-6 opportunities for you to see them each Christmas season. This year, they made their debut appearance on November 8. Although I had hoped to be one of the first people there to see them, I actually didn't make it until this past weekend.
On a beautiful sunny Saturday in London, I made Mr. Sunny head to Covent Garden with me so I could finally see, and maybe pet, the reindeer.
When what to my wondering eyes did appear…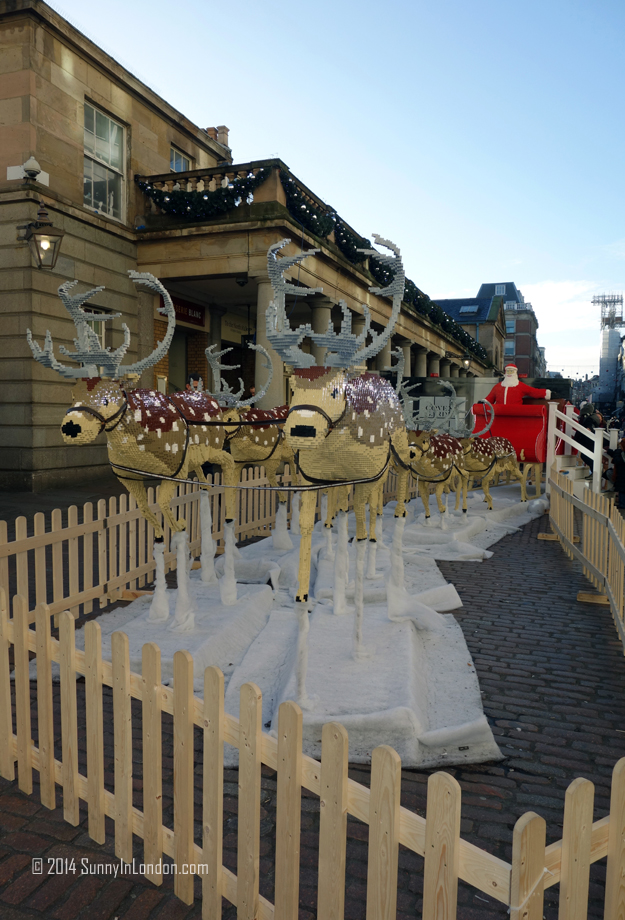 When we arrived, I was totally gutted. It sure wasn't a 'miniature sleigh and eight tiny reindeer'.
I couldn't believe it. I mean I really thought I knew Dasher and Dancer and Prancer, and especially Vixen! But, instead of their furry, moving faces, I found an entire sleigh and reindeer built from 700,000 colourful Lego bricks!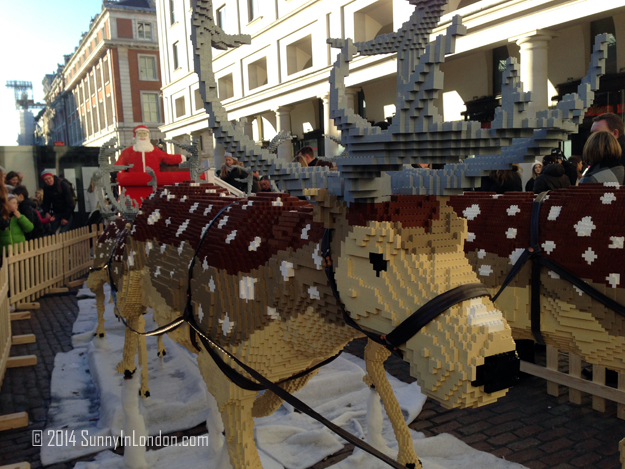 Everyone around me seemed in awe of this gimmick. 'Take a selfie with a reindeer!' they said.
Bah humbug, I tell ya'
I was devasted. I told Mr. Sunny there was just no way that my favourite neighborhood in London could let me down, not after having this on my 'things to do in Covent Garden' bucket list for so long. So, I started searching through every nook of Covent Garden's Apple Market. They haaaad to be somewhere!
Finally, I popped around to my favourite restaurant in the area, 21 Covent Garden, and asked someone who looked like he could be one of Santa's trusty elves standing outside.
He pointed just off to the side and said, 'There they are!'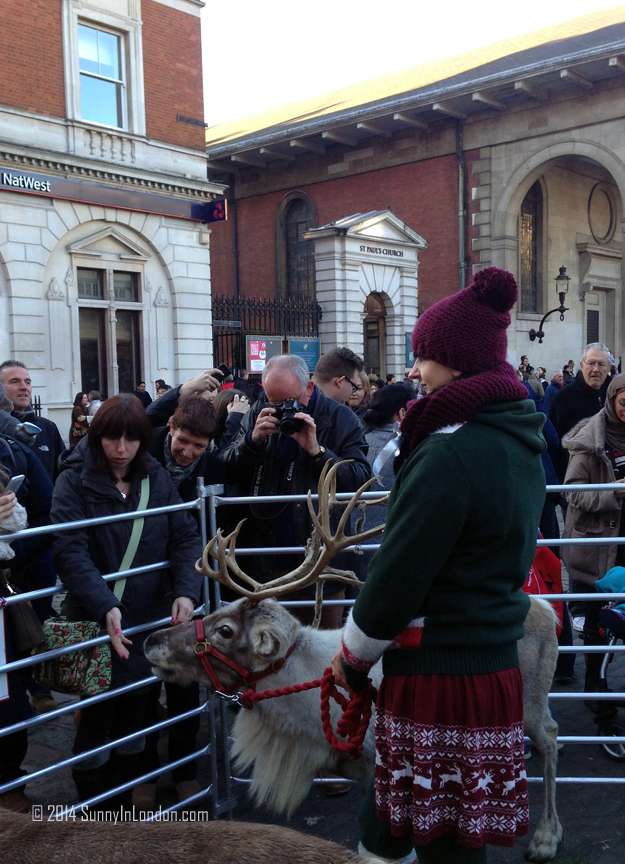 In a small fenced in area I could see two reindeer surrounded by tons and tons of people waiting to see Santa's power rangers.
I waited and waited until I could squeeze in through the layers of people so I could actually see the reindeer.
It took about 15 minutes to get in to see them. Oh, and reindeer aren't the easiest creatures to photograph.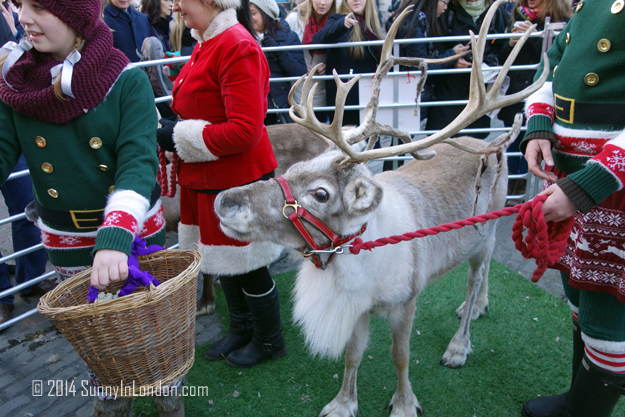 We played a lot of reindeer games to get their attention.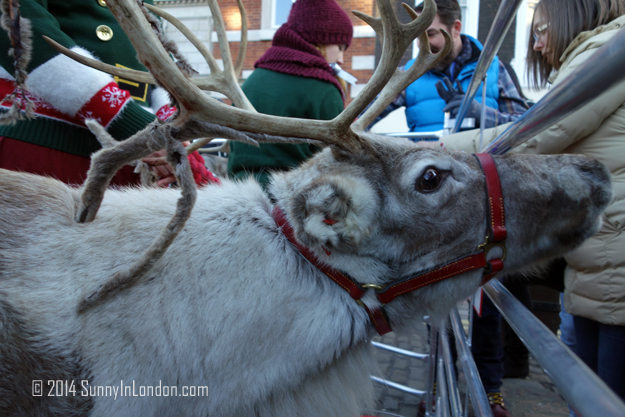 Then finally Cracker or Tinkerbell looked over at us. You see, that's apparently the names of the two reindeer that serve as Santa's back up sleigh pullers.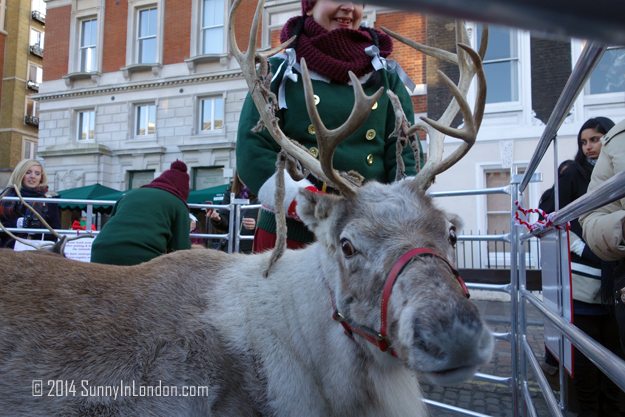 We coerced the reindeer in to coming closer, so I could say hello and fulfill my little Christmas dream.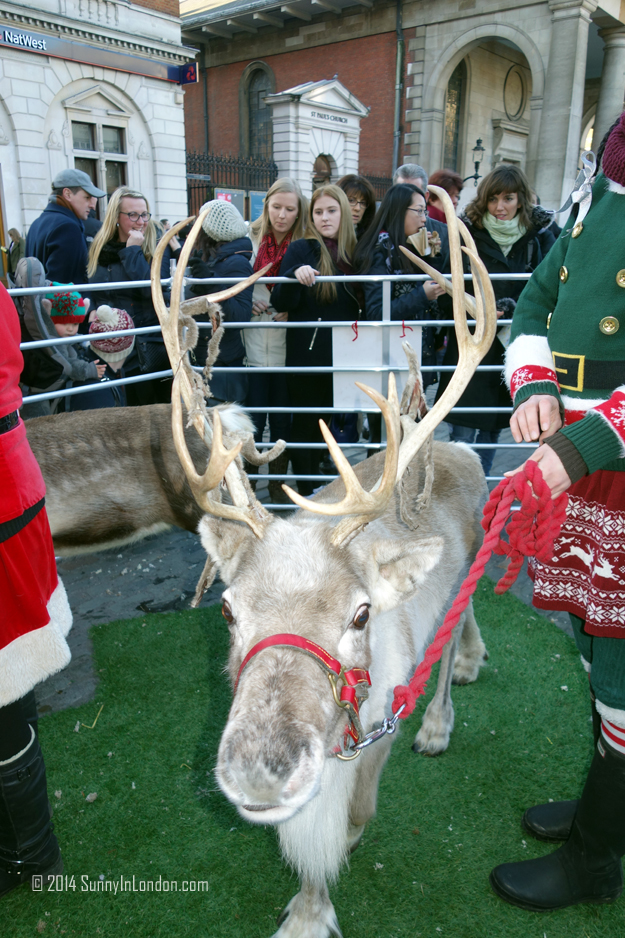 I let Mr. Sunny feed the reindeer with moss while I furiously snapped away on my camera.

It is an opportunity I don't think you'll get many places. Well, except the North Pole, I suppose.
This weekend (December 20 and 21) is their last appearance for the 2014 Christmas season. If you're looking for super fun and free things to do in Covent Garden this holiday season, stop by and see the reindeer.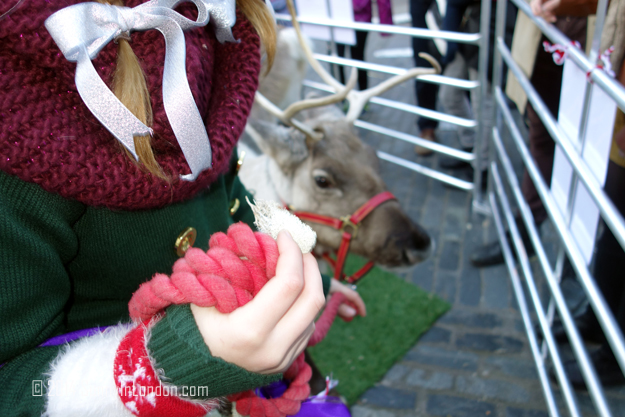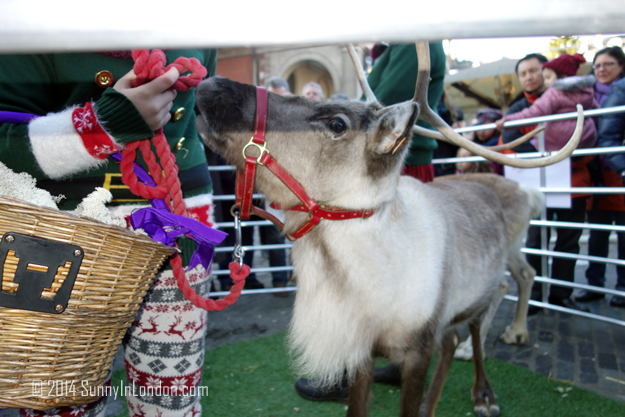 Be patient and have a well charged camera battery. I took about 50 pictures of these mystical animals. They don't stand still for long. I guess that's part of the job responsibilities on Christmas Eve though, if you think about it.
Happy Holidays and make sure you read the 'Differences between Christmas in the UK and America'. You better watch out… It's epic!
The opportunity to view reindeer in Covent Garden is complimentary (AKA free). The complimentary experience does not affect my opinion of the event. I truly believe I actually saw Santa's reindeer. 🙂